Description
Overstock
Everyday Free Shipping for Orders $45 and Over*
*Shipping excludes PO Boxes and international orders.
Home & Garden
Jewelry & Watches
Sporting Goods
Health & Beauty
Clothing, Shoes & Accessories
Crafts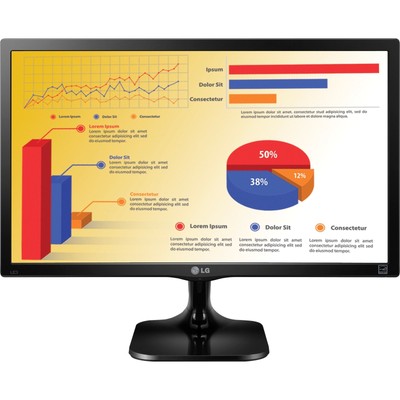 LG 24MC37D-B 24″ LED LCD Monitor – 16:9 – 5 ms
Product Description: LG 24MC37D-B 24″ LED LCD Monitor – 16:9 – 5 ms – 19 x 1080 – 16.7 Million Colors – 0 Nit – 5,000,000:1 – Full HD – DVI – VGA – 25 W – Black Hairline – T, EPEAT Gold
Reviews For This Product
great picture.
5
out of 5 Stars
Computer getting tired but this helped some.
Try These Other Categories
Bedding

Furniture

Crafts

Rugs & Carpets

Health & Beauty

Camping & Hiking
About Us…
Overstock has a simple mission:
To save people money. We serve customers world-wide by offering high-quality goods at unbeatable prices, all while maintaining a focus on superior customer service.
Need Our Help?
Our award-winning customer service agents are available 7 days a week.
Click here to contact us.
Overstock Standard Shipping Information
Combined shipping lets you get free shipping on Overstock orders totaling $50 or more. Put all the items you intend to purchase in your cart and check out; it's that easy.
Please note that items purchased from other eBay stores will void the combined shipping rate.
Standard orders ship within 1-3 business days, depending on the time the order is received, and arrive within 5-10 business days.
Custom Art: Up to 10 business days to ship and 1-4 weeks for delivery.
Oversized Items: Up to 10 business days to ship and 1-4 weeks for delivery.
We use all major mail carriers, including UPS, FedEx, and the United States Postal Service. Customers cannot specify the carrier of their choice.
Overstock Returns
Standard Return Policy for Electronics:

The items must arrive at our warehouse within 30 days of purchase. You
must return items in their original condition to qualify for a full refund. We will issue a partial refund of up to 70 percent if returned items have been opened,
used, or returned late.
Frequently Asked Questions
Frequently Asked Questions
')
// control the scroll value
if( settings.scroll 3 )
settings.scroll = 3;
var $navPrev = $el.find('a.ca-nav-box-prev'),
$navNext = $el.find('a.ca-nav-box-next');
// hide the items except the first 3
$wrapper.css( 'overflow', 'hidden' );
// the items will have position absolute
// calculate the left of each item
$items.each(function(i) {
$(this).css({
'*position' : 'relative',
position : 'absolute',
left : i * cache.itemW + 'px'
});
});
// navgate left
$navPrev.bind('cli'+'ck.contentcarousel', function( evnt ) {
if( cache.isAnimating ) return false;
cache.isAnimating = true;
aux.navgate( -1, $el, $wrapper, settings, cache );
});
// navgate right
$navNext.bind('cli'+'ck.contentcarousel', function( evnt ) {
if( cache.isAnimating ) return false;
cache.isAnimating = true;
aux.navgate( 1, $el, $wrapper, settings, cache );
});
});
}
}
};
$.fn.contentcarousel = function(method) {
if ( methods[method] ) {
return methods[method].apply( this, Array.prototype.slice.call( arguments, 1 ));
} else if ( typeof method === 'object' || ! method ) {
return methods.init.apply( this, arguments );
} else {
$.error( 'Method ' + method + ' does not exist on jQuery.contentcarousel' );
}
};
})(jQuery);
//EASING
jQuery.easing['jswing'] = jQuery.easing['swing'];
jQuery.extend( jQuery.easing,
{
def: 'easeOutQuad',
swing: function (x, t, b, c, d) {
//alert(jQuery.easing.default);
return jQuery.easing[jQuery.easing.def](x, t, b, c, d);
},
easeInQuad: function (x, t, b, c, d) {
return c*(t/=d)*t + b;
},
easeOutQuad: function (x, t, b, c, d) {
return -c *(t/=d)*(t-2) + b;
},
easeInOutQuad: function (x, t, b, c, d) {
if ((t/=d/2)