Magnetic Car Mobile Phone Holders offer a convenient way to use your mobile phone when driving. It comes with different materials, in different shapes and sizes, and offer different level of convenience some better than the others. So, whether you are looking for a spring or magnetic phone holder, CD slot phone holder, Air vent mount, Windshield or Dashboard mobile phone holder, all you have to do is know what suits your need and shop for it. Below is a list of the 10 best magnetic car mobile phone holders you can get.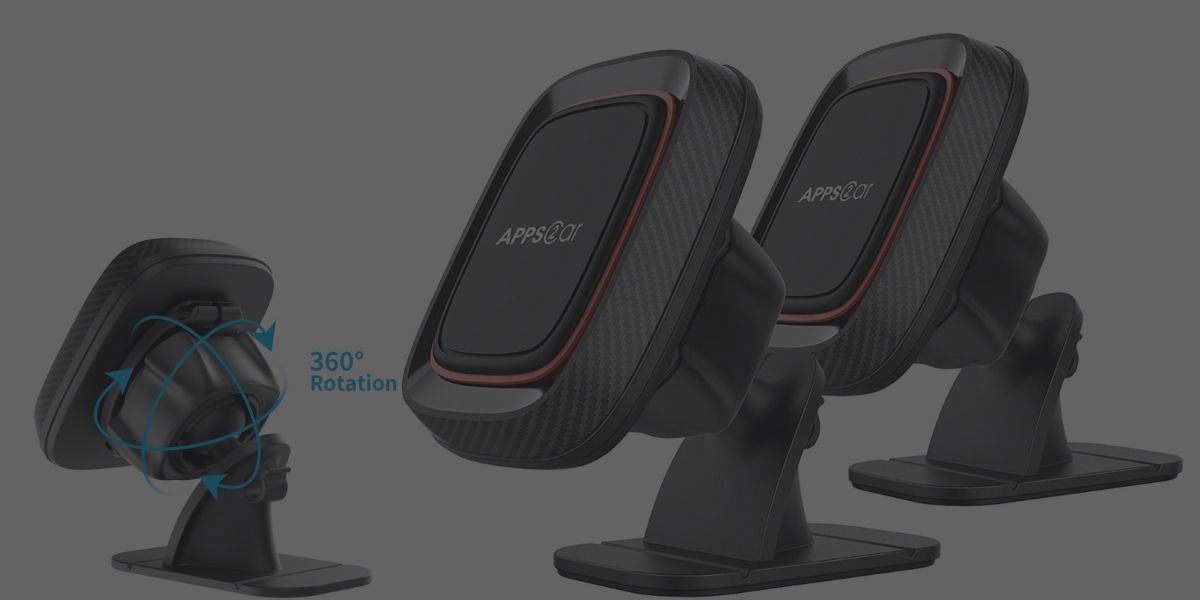 APPS2Car Universal Magnetic Phone Car Mount
APPS2Car magnetic mobile phone holder is a versatile phone holder for cars, home or offices and is compatible with most smartphones. It quickly secures a mobile device to flat surfaces like your car dashboard, windshield, or any smooth hard surface except leather and vinyl with the sticky gel beneath the suction cup.
The base industrial-strength suction cup provides a strong and secure hold for windshield mounts or whichever surface you decide to fix it. It provides you with 360° adjustable and extendable telescopic arm that provides you with optimal viewing.
Your phone is held securely by six powerful Neodymium magnets so don't worry about it falling off. These magnets offer a strong magnetic force that securely holds any size of smartphone and mini tablets.
The APPS2Car Magnetic smartphone mount comes with a round plate designed for QI wireless charging and with proper plate placement, the magnets will not interfere with wireless charging. The arm length is expandable and can be adjusted by pushing or pulling it. No need for screws.
This magnetic car phone holder comes only in Black and it costs $16.14 on Amazon.
Package includes:
1 x Suction cup magnetic car phone mount
2 x Metal plate (1 Rectangle,1 Rounded)
1 x Cat Shape Metal Plate
1 x Dashboard Pad
1 x Manual
---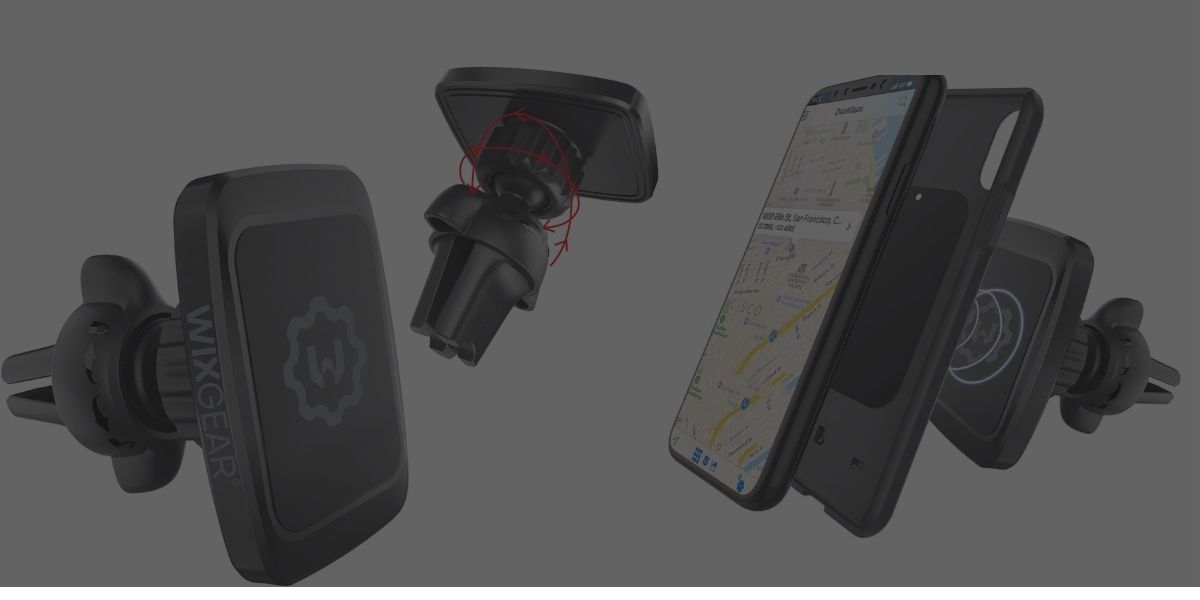 WixGear Universal Twist-Lock Air Vent Magnetic Car Phone Mount Holder
WixGear Universal Twist-Lock Air Vent Magnetic Car Phone holder is a uniquely designed magnetic phone holder secured in Air vent slot and is compatible with vertical and horizontal air vents. It is a simple yet effective car phone mount. When you put the phone mount into the air vent, all you have to do is to twist it and it stays in place.
It has a functional high quality rubber construction at the base of the mount to solidly hold the magnetic head that keeps your phone in place with the car vibrations and road impacts.
The 6 scientifically placed built-in magnets inside this magnetic phone holder generates intense magnetic field to hold your smartphone device and also keep it in a comfortable viewing angle while driving.
The magnetic mount won't affect your phone signal strength, battery or any other way. It costs $12.99 and only comes in black.
Package Includes:
1 x Magnetic Air Vent Mount,
3 x Metal Plates,
3 x Protection Films.
---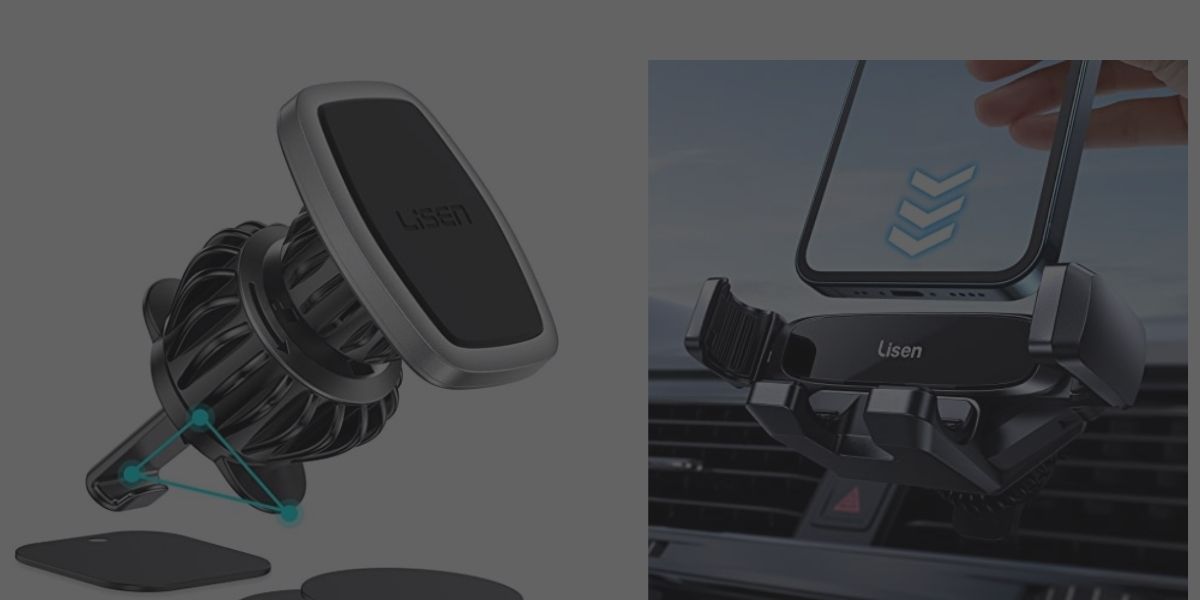 LISEN Car Phone Holder Mount
LISEN Car Phone holder is a simple design magnetic phone car mount compatible with all smartphones and tablets. It has a hook-shaped design with ultra stable clips and three grasp points for connecting it to the Air Vent for hands free use while driving without having to worry about it falling off over time.
It is very easy to install and has 6 powerful magnets that keeps your phone stable at all time even on a bumpy road. It comes with metal plates that needs to be used to lock your device firmly with the magnetic mobile phone holder.
Note that it is not compatible with round or vertical Air Vents but compatible only with horizontal Air Vents. It comes in color Black and Silver and sells at $12.99 on Amazon.
Package includes:
1x LISEN magnetic phone car mount,
2x Round metal Pad,
1x Rectangular metal Pad,
2x Round PE Film,
1x Rectangular PE Film.
---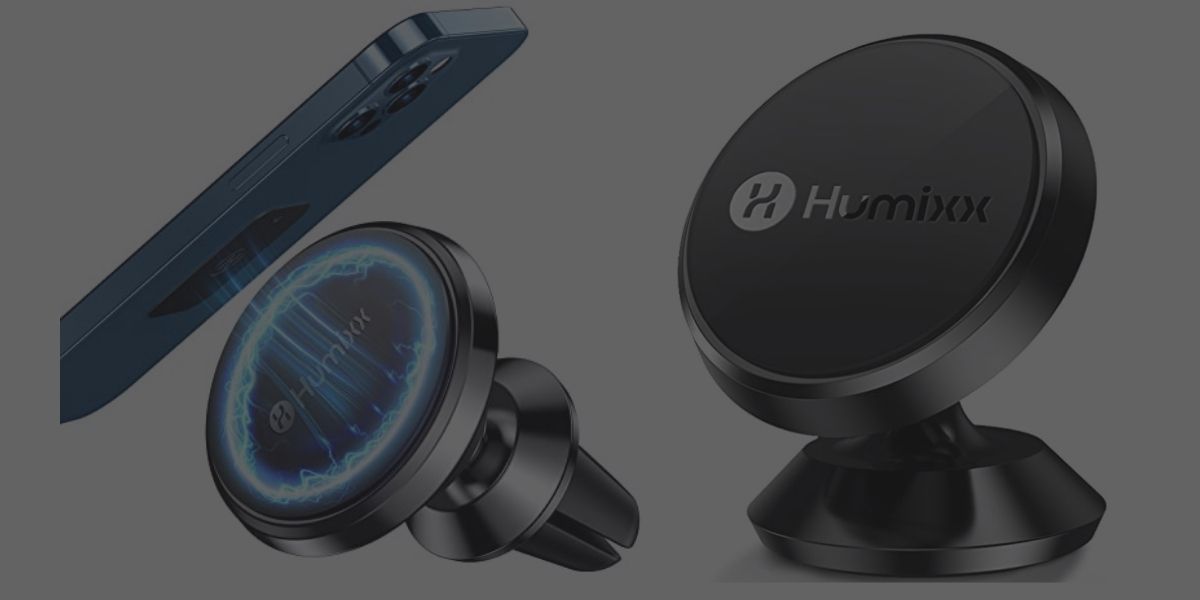 Humixx 360° Rotation Universal Magnetic Cell Phone Holder
Humixx 360° rotation magnetic car phone holder has a simple design and a wide range of compatibility for smartphones between 4-7inches. It is made of Aviation alloy and it's a portable stable smartphone holder for driving or any other way you decide to use it.
It has an elegant design with silicone pad that prevents scratches on your phone back. The Humixx 360° rotation magnetic car phone holder has 8 Neodymium magnets which will do an excellent job of securing your phone in place no matter how bumpy the road is. It's V-like rotatable design makes it easy to find the best viewing angle without any form of obstruction.
A premium 3M VHB adhesive firmly sticks it to the car dashboard or any other surface and leaves no marks after removal. It comes in Black and Silver color at a selling price of $18.99.
Package includes:
1x Humixx magnetic car mount,
2x circular metal plates,
2x protective film,
1x Manual.
---
FLOVEME Magnetic Phone Car Mount Holder
FLOVEME Magnetic Car Phone holder is compatible for smartphones that are 1.9 to 3.7 inches wide with a cable clip design and flexible rotation to any angle of your choice.
It comes with 4 powerful N52 magnets inside which doesn't affect the phone signal and supports wireless charging as long as the metal plates are properly positioned. This car phone holder is suitable for most road conditions
It costs $10.99 and is available in Aurora Silver & Mysterious Black color.
Package includes:
1x Car Phone Mount,
4x Magnetic Plate,
4x Protective Film.
---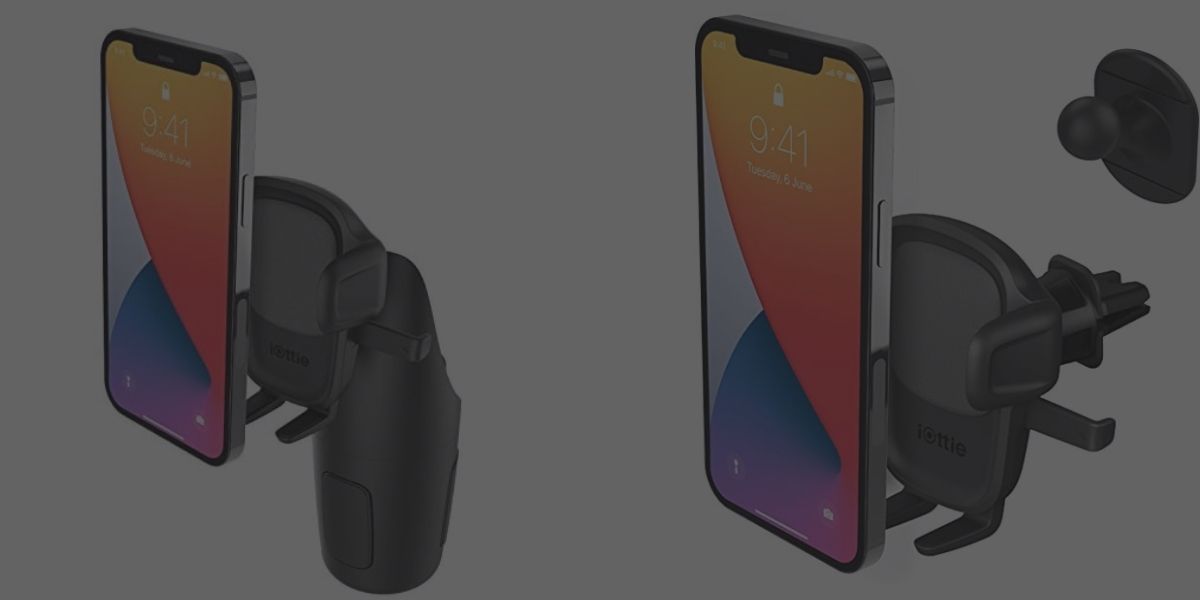 iOttie easy one touch 4 Dashboard and Windshield Universal Car Mount Phone Holder
iOttie easy one touch 4 is a universal car phone holder with a telescopic arm that extends up to 8.3inches and pivots on 225° arc. It allows you to easily mount your phone by pressing it against the easy one touch trigger and the arms closes firmly around your phone.
The foot at the bottom of the mount cradle can be removed or adjusted from left to right or up to down by loosening the knob behind the mount. It is compatible to hold phone and case combination from 2.3inches -3.5inches. It has just one color option which is Black and sells at $22.95.
Package includes:
1x iOttie easy one touch 4 car mount,
1x Manual.
---
SCOSCHE MAGDMB MagicMount Magnetic Car Phone Holder
SCOSCHE MAGDMB MagicMount phone holder comes with 4 powerful Rare-Earth Neodymium magnets which provides a strong and secure hold for your smartphone. The 360° adjustable head rotates to give you the convenience of turning your mounted device to an angle that suits you in your car, truck or RV.
It permits safe one-hand device use and access to all controls and ports. It has an integrated cable clip that secures your charging cable to the SCOSCHE MAGDMB magnetic phone mount. It comes in color Black and sells for $11.99.
Package includes:
1x SCOSCHE Mount,
2x Magnetic Plates,
1x Protective film,
1x Alcohol cleaning wipe, and
1x User manual.
---
IPOW Long Arm Universal Magnetic Cradle Cell Phone Holder
IPOW Long Arm magnetic cell phone mount is a flexible long arm mobile phone holder compatible with dashboard and windshield and comes with 4 extra metal plates (2 rectangular plates and 2 circular plates or 4 rectangular plates). it has a powerful N45 magnets that keeps your smartphone in place on bumpy roads. Use the rectangular plate for big or heavier phones.
The suction cup beneath has a strong lock mechanism inside to keep it holding up without wiggling and a heat-resistant gel adhesive. When removing the suction cup, unlock it first then pull slowly and when trying to fix it back and you want to restore the stickiness, was it with warm water and air dry it.
It has an easy control and shockproof arm which is 0.46 inch thick and 7.6inch long and it is easy to turn to your favorite viewing angle. To avoid any scratches on your phone back, stick the protective films to the front of magnet plate or the back of the phone. It comes in Black and costs $13.98.
Package includes:
1x IPOW long arm magnetic car mount,
1x 3M Sticky pad,
1x Manual.
---
WixGear Rectangular Head Universal CD Slot Magnetic Car Mount Holder
WixGear Rectangular Head car phone mount is a CD slot mount made with ultra thin Carbon steel plates compatible with most smartphones and offers hand free convince when driving. Installation is easy as you just have to insert it in your car CD Slot and screw it in place with the mounting screw.
The CD player functions well with the magnetic car phone mount attached to it so you don't need to worry about that. This powerful magnetic mount offers good grip for your phone even on bumpy roads and it is very easy to rotate or tilt to any viewing angle. It comes in Black color and sells for $11.99 on Amazon.
Package includes:
1x WixGear rectangular magnetic car phone holder,
2x Rectangular metal plates,
1x Circular metal plate,
1x Alcohol based cleaning wipe,
1x PE film.
---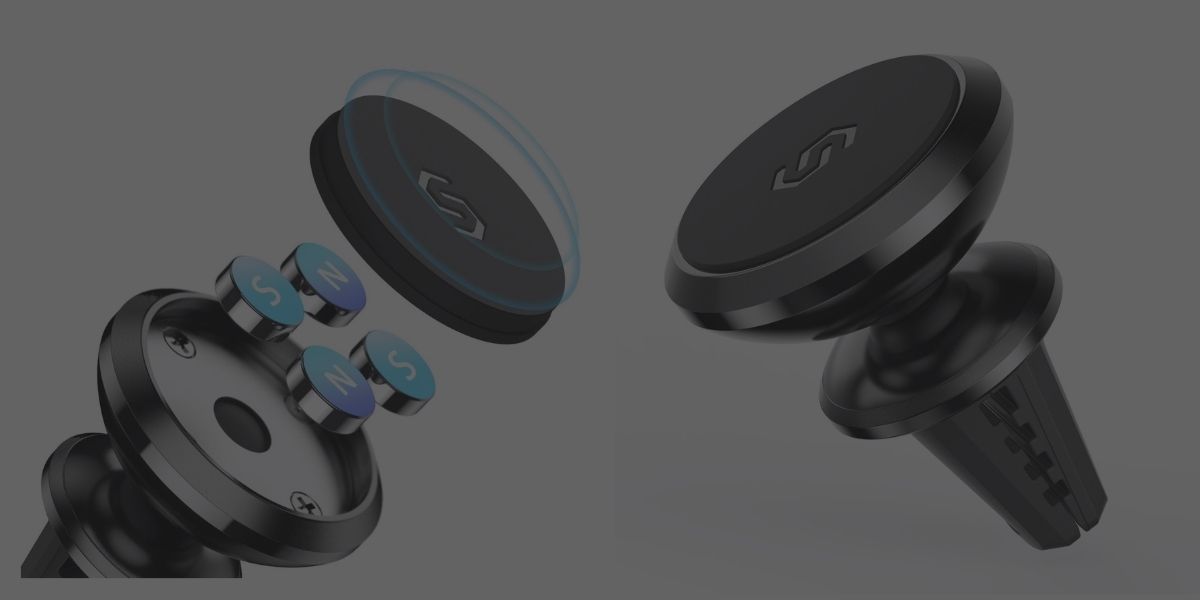 Syncwire Magnetic Car Phone Mount
Syncwire magnetic car phone mount offers 4th generation Neodymium magnets that gives your phone good grip and is compatible with most phones and cases except thick cases and battery cases. It can be adjusted at 360-degree rotation to fit your desirable viewing angle.
It has a solid body crafted with aluminum alloy and soft silicone with a smooth surface and a reliable 3M VHB adhesive pad that provides a strong sticky force to keep your phone steady in situation whereby you are driving on a bumpy road, sudden march on the brake or going over a speed bump.
Package includes:
1x Syncwire Magnetic Car Mount,
2x Metal plates,
2x Protective film,
1x Manual.
Conclusion
In conclusion, magnetic car mobile phone holders gives you a stress free navigation and easy access to your phone whether in your car, at home or in the office with the use of strong magnet.
Are you tired of holding your phone in your hand or on your lap while using a GPS? Or you just want to have easy access to your phone at all times while driving?
The above listed Magnetic Car Phone Holder provides you with all the flexibility you need with strong magnetic hold that is compatible with most smartphones and some phone cases.
FAQ
Q1. Can this product damage my device?
A1. No! The magnetic material used here is non-conductive which means there won't be any risk of damaging your device.
Q2. Is this safe to use?
A2. Yes!
Q3. Will this item fit my iPhone 6 Plus?
A3. Yes, it fits perfectly. It is compatible for a wide variety of smartphones.