Mobile phones are one of the most important gadgets that have been invented by man. It has become an integral part of our lives. They help us communicate with each other at any time or place but a problem arises when you want to use your mobile phone while sitting on a table or bedside and it is not within your reach. Mobile phone stands are made to overcome this issue as there are many types of stands available which will allow you to keep your device within easy reach. These stands come in different shapes and sizes and also prevents your phone from damage while lying around.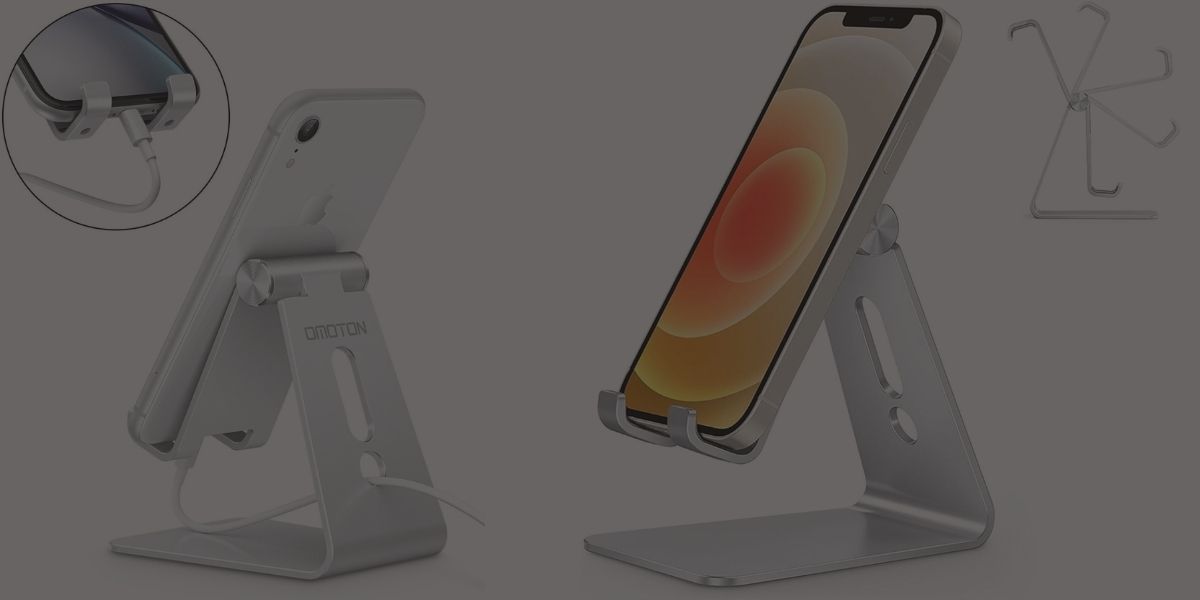 OMOTON C2 Aluminum Adjustable Cellphone Stand
OMOTON C2 stand is a solid aluminium cell phone holder that can be used in the office, bedroom, office, or anywhere with a desk. It is an elegant and stable cellphone stand that is compatible with any phone model size both horizontally and vertically. It offers superior stability at 3mm aluminium thickness compared to other stands with a height that is just perfect and won't get your charging cable damaged.
It has a 270° adjustable viewing angle with an anti-skid silicone pad to support your phone and keep it from getting scratched. It offers multiple colour options and gives you the hands-free convenience of operating your phone.
Features
Sleek and elegant design.
It can hold devices with heavy cases.
Anti-slippery and anti-scratch.
3mm aluminum thickness for stability.
It has an anti-skid silicone pad.
Adjustable viewing angle up to 270°
Specifications
Brand: OMOTON
Material: Aluminum, Silicone
Product Dimensions: 3.58 x 2.36 x 3.54 inches
Item Weight: 6.3 ounces
Colour: Silver, Black, Grey, Navy Blue, Purple, Red, Rose Gold
Price: $11.99 – $13.99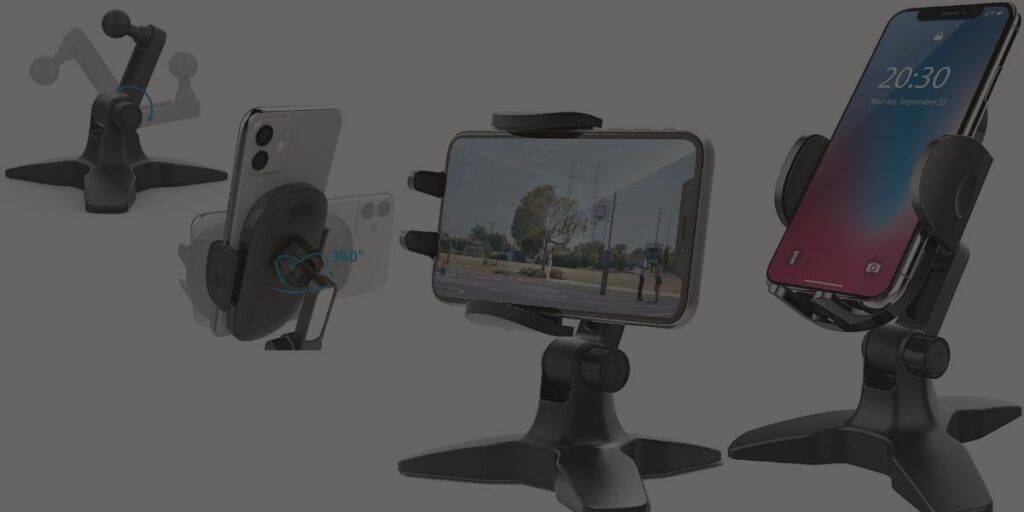 APPS2Car Adjustable Cellphone Stand
This is an adjustable desk cell phone holder for videos, for calls, for taking pictures, and other hands-free functionality that can be placed vertically or horizontally. It has a 360° rotation cradle holder for easy adjustment to the best viewing angle and fits most smartphones from 4.7-7 inches.
It has a solid build with heavy-duty materials, an anti-slip silicone pad to prevent your phone from getting scratched and wider button trays for a more sturdy stand. It has a simple design and a charging cable space for accessibility when you're using your phone and also wants to charge it.
Features
It has a stable tripod design.
Easily adjustable.
It has a quick release button at the back for easy mounting and removal.
Built-in metal counterweight.
it has a 360-degree angle adjustability.
Specifications
Brand: APPS2Car
Material: Silicone
Product Dimension: 5.55 x 4.84 x 2.91 inches
Item Weight: 9.9 ounces
Colour: Black, Gray
Price: $14.99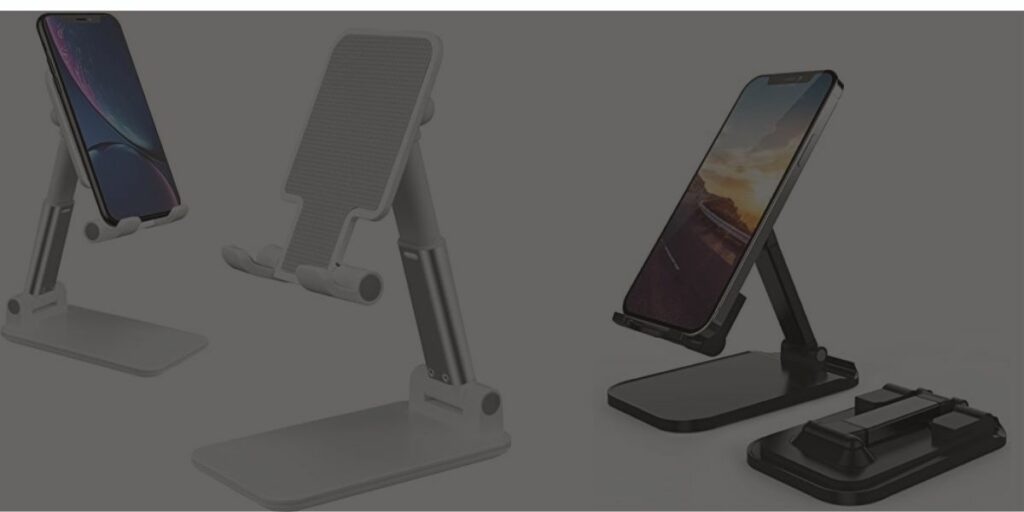 VICIALL Angle Height Adjustable Cellphone Stand
VICIALL adjustable height cell phone holder is a simple, foldable and stable cellphone stand compatible with mobile phones, iPads, or tablets and can be placed both vertically or horizontally. It has a foldable design that makes it easy to carry around, a charging port opening for easy accessibility when you need to boost your phone battery and alloy to increase the base weight.
It comes with a flexible angle adjustment of up to 180°, a stable base thanks to the silicone anti-slip pad and is sturdy enough to hold smartphones and tablets between 4-10 inches. The silicone pads at the top and bottom prevent your device from getting scratched and also keeps your device from tipping over as it offers great stability.
Features
Simple and elegant design.
Flexible height and angle adjustment.
Alloy thickened base with anti-slip silicone pad.
It is foldable.
It is compatible with phones and tablets between 4-10 inches.
Hands free convenience.
Easy access to the charging port so you can charge your phone while still in use.
Specifications
Brand: VICIALL
Material: Aluminum, Silicone, Rubber
Product Dimension: 5.08 x 3.54 x 1.02 inches
Item Weight: 8.6 ounces
Special feature: Adjustable, foldable, hand free
Colour: Silver
Price: $10.80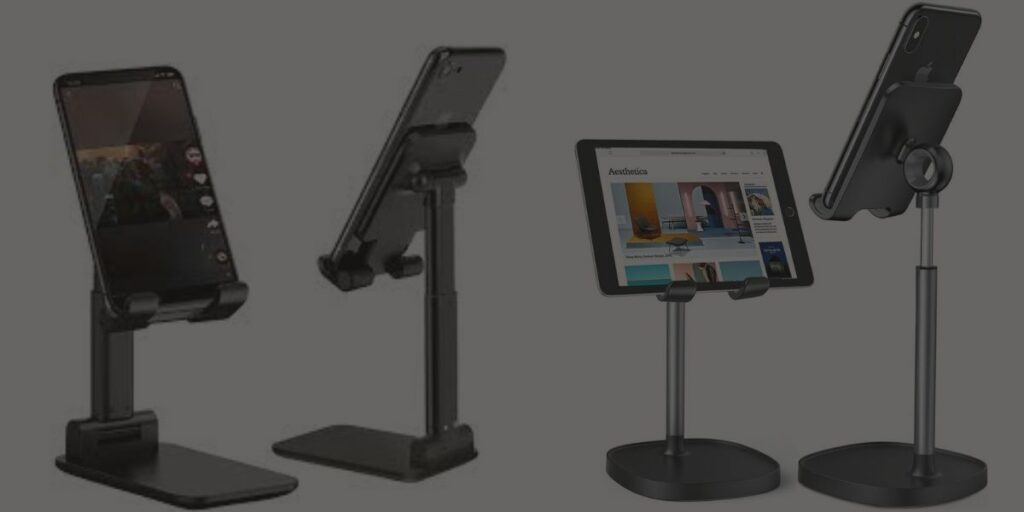 LISEN Angle Height Adjustable Cell Phone Stand
LISEN mobile phone stand for desk is a convenient hands-free desk stand compatible with all smartphones, iPads, and tablets between 4-10 inches and it's thick case friendly. It has a thicker and weightier base that can bear more than 4.5LBS and an aviation-grade metal rod for even better stability when the height is increased.
The LISEN adjustable cellphone stand offers 360° angle rotation, 9.06 height adjustment and a circle behind for cable arrangement to keep your desk neat. The base of the LISEN cellphone stand has a silicone pad for stability just as the feet are fully covered with a soft silicone pad to prevent your phone from getting scratched.
Features
The rod is made with Aviation-grade aluminum alloy metal.
The base has a built-in alloy plate for stability.
Silicone pads on the base and feet of the phone stand to prevent scratches.
A circle cable organizer at the back.
Reserved charging hole.
It has a wide range of compatible devices.
Height and angle can be adjusted.
Specifications
Brand: LISEN
Material: Aluminum, Silicone
Product Dimension: 4.33 x 4.33 x 8.53 inches
Item Weight: 8.5 ounces
Colour: Black, Blue, Green, Pink, Red, White
Price: $12.99 – $14.99
YOOZON Foldable Tablet Stand
YOOZON tablet stands for desk is an adjustable compact stand compatible with 7-11.6 inches iPads, Samsung Galaxy Tablets, phones, Kindle, etc which can be folded and taken wherever you go. It has an adjustable flat stand with metal weight for stability and non-slip silicone pads on the four corners of the base. It also has fully covered feet with rubber pads and cushions for anti-scratch and anti-slip with an adjustable height of up to 159mm and 130° adjustable rotation.
It has an exquisite ergonomic aluminium design, smooth edges, and surface polishing that offers excellent viewing at all times.
Features
It has a durable aluminum body and smooth edges.
It is foldable.
Both the height and angle are adjustable.
Silicone pads for anti-scratch and anti-slip.
Specifications
Brand: YOOZON
Material: Aluminum, Silicone, Rubber
Product Dimension: 5.55 x 3.94 x 1.14 inches
Item Weight: 15.7 ounces
Colour: Black
Price: $12.99
Conclusion
In conclusion, mobile phone stands for desks are very important accessories for every person who uses their smartphones frequently. They provide convenience and comfort during usage.
I hope this article will help you choose the right smartphone table stand for your needs.
FAQ
Q1. What kind of Mobile Phone Stands For Desk Should I Buy?
Ans.: There are many kinds of mobile phone stands for desk/tabletop available in the market all of which have their own advantages and disadvantages so before buying one make sure you know what you want or need. If you don't know anything regarding it then better consult any professional because they always guide us properly.
Q2. Which One Is Better – Plastic Or Metal?
Ans.: Well, both these things are good but according to our experience, we suggest you buy metal ones rather than plastic ones. Why? Because when you use plastic one it may break easily due to heavy load whereas metal one never breaks even under heavy loads. So, just keep this thing in mind while choosing the best mobile phone stand for desks.
Q3. How To Choose The Best Mobile Phone Stand For Desktop?
Ans.: Before buying one make sure you check out the features like material used, size, shape, colour, price, durability, portability, adjustability, etc.
Q4. Do All Of Them Have Same Features And Specifications?
Ans.: No! Some of them have more functions than others. Check out each product carefully before making a final decision.
Product Photo Gallery