Portable mobile phone speakers are a great way to listen to music on the go, indoor or outdoor. These days you can even take your phone calls using a portable smartphone speaker. In this article, I will be reviewing the 5 top portable mobile phone speakers with value for money.
Below is a review of portable mobile phone speakers with high-quality sound.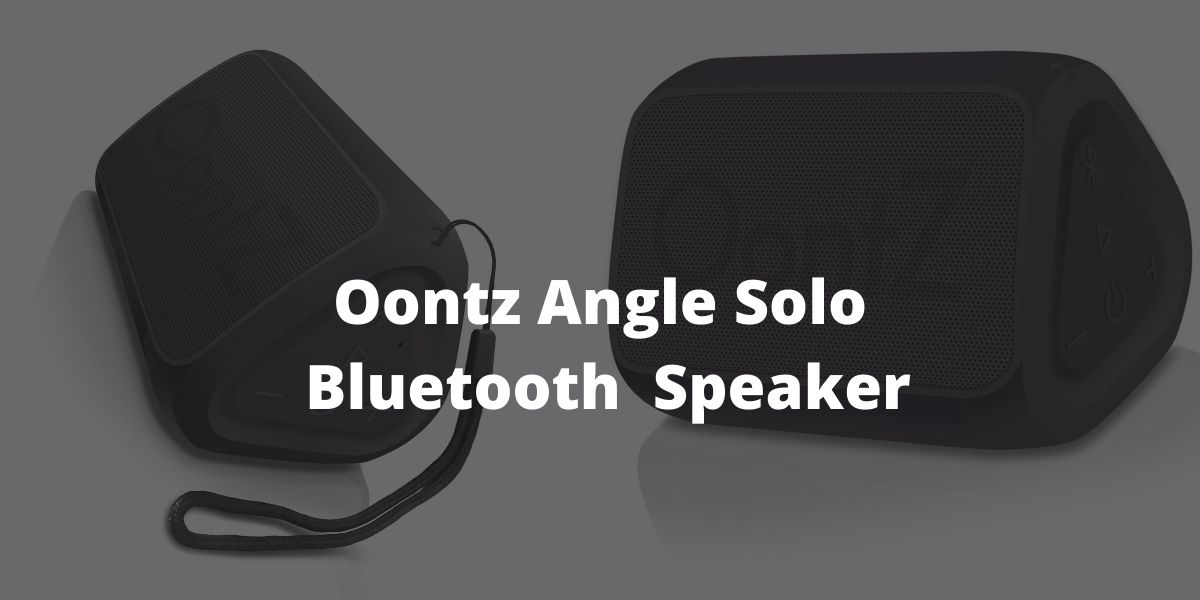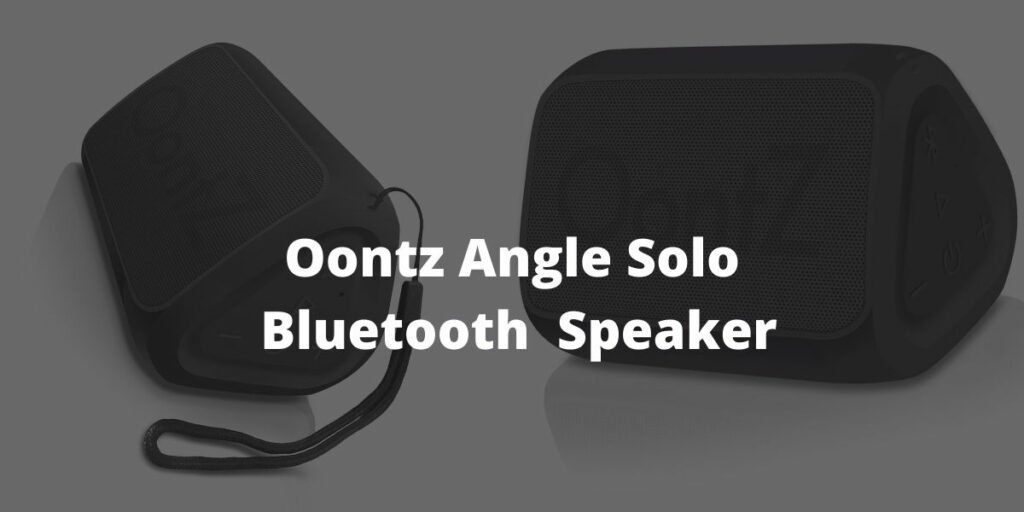 Oontz Angle Solo Bluetooth portable Speaker
The Oontz Angle Solo Bluetooth Speaker is a compact-sized wireless speaker and one of the most affordable ones with great sound quality. It has a Proprietary passive bass radiator design for effective bass output that can be placed horizontally or vertically with 2.8 x 2.75 x 3.9 inches dimension and a weight of 210g.
The Oontz Angle Solo neodymium driver delivers a really loud volume with pretty good clarity and efficient bass performance. It comes with a USB charging port and auxiliary input for connecting to non-Bluetooth devices behind a gasket. The OontZ Angle solo speaker supports the use of buttons for Play/Pause, Volume, and its lanyard makes it easy and more comfortable to carry around.
Although, like some other affordable Bluetooth speakers, performance is a little bit shaky as it sounds very well with some tracks and not so good with others. So to keep the speaker working right, the speaker Digital Signal Processor reduces the maximum volume and strips out certain frequencies.
It has an excellent battery life that a single charge can last up to 10hours at an average volume level and less than that if the volume is turned higher. It offers IPX5 water resistance which means it can survive submersion in shallow water for a few minutes and a built-in microphone so the speaker can also serve as a speakerphone.
Features
Loud balanced sound.
100ft Bluetooth range.
IPX5 water resistance/splash proof.
Built-in microphone.
Excellent sound quality.
Stylish design.
It comes with buttons.
Weighs 210g.
Specifications
Brand: Cambridge Soundworks
Connectivity: Wireless, Bluetooth
Bluetooth range: up to 100ft
Dimension: 3.9 x 2.8 x 2.75 inches
Weight: 210g
Water resistance: IPX5
Battery playtime: up to 10hours
Color: Black, Blue, Red, White
Price: $16.99
Pros
Splash proof/waterproof.
Light weight.
Incredibly high volume.
Built-in mic.
it is an affordable speaker with 360-degree sound.
Cons
Average battery life.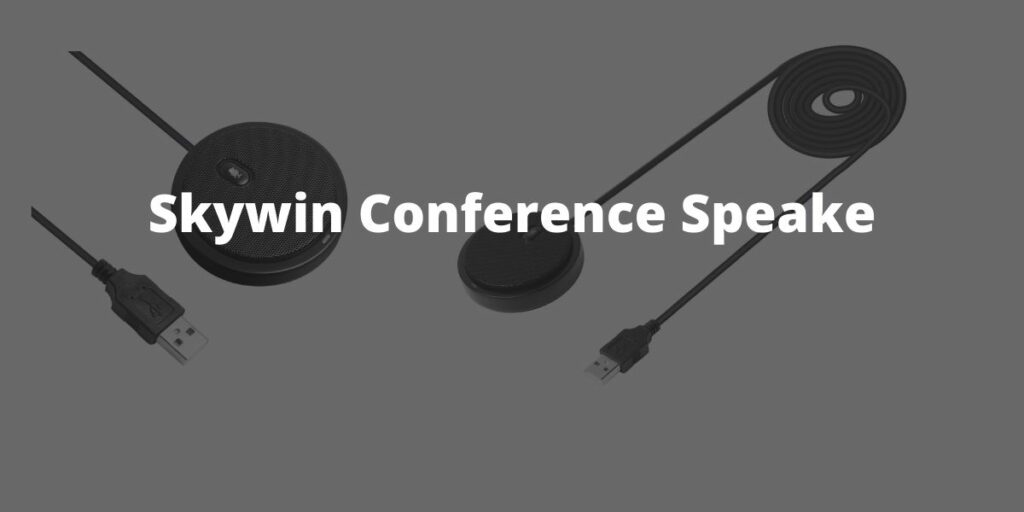 Skywin Conference Speaker
The Skywin Conference Speaker is a portable Home Office Wireless Conference Speaker with an in-built Omni-directional 360° microphone that has echo and noise cancellation and connects to your smartphone or PC. It has a unique design and measures 8 inches on all sides.
It comes with a rechargeable battery that lasts up to 5 hours of talk time and 300 hours of battery life on standby. It charges with the standard USB cord.
Features
Wireless Bluetooth connection.
Rechargeable battery.
Omni-directional 360° sensitive microphone.
Smartphone and PC compatible.
Specifications
Brand: Skywin
Connectivity: Wireless, Bluetooth
Dimension: 8 x 8 x 8 inches
Package Weight: 476g
Average Battery: up to 5hours
Price: $57.01
Pros
Excellent audio quality.
Easy setup for calls and meetings
Echo and noise cancellation feature.
Cons
Below average battery life.
DOSS SoundBox Touch Portable Wireless Bluetooth Speaker
The DOSS Soundbox speaker is a smart home device with 12W HD sound and bass delivered by full-range drivers and a passive radiator. It is a smart speaker with a seamless design and an illuminated touch control on top of it that handles the basic volume, next and previous control that you need.
The only button it has is the power button and it is located at the back of the speaker. It is a portable indoor and outdoor speaker that can be taken anywhere with IPX5 water resistance (1 meter of water for 30 minutes), a metallic design and a long-lasting battery. it is a premium speaker that can also be used as a party speaker.
This smart home device offers a built-in 2200mAh Li-ion rechargeable battery that enables up to 20 hours of music playback at a moderate volume level and can be recharged with a micro USB cable in 3-4 hours.
Features
IPX5 water resistance.
Sensitive touch control.
Bluetooth 4.0 technology.
Built-in microphone.
20hours playtime at 50% volume.
Multiple connectivity with the use of Line-in cables and micro SD card.
Specifications
Brand: DOSS
Connectivity: Wireless, USD, AUX, Built-in microphone
Dimension: 6.6 x 2.9 x 2.7 inches
Weight: 558g
Bluetooth range: up to 33ft
Water resistant: IPX5
Battery playtime: up to 20hours
Colour: Black, Blue, Green, Grey, Light Pink, Pink, Tiffany Blue, Yellow, Red, White
Price: $27.99
Pros
Multiple color options.
Up to 20hours of playtime with decent sound quality.
It is a waterproof speaker.
Compact size makes it possible to take it everywhere you go.
Built-in microphone for calls.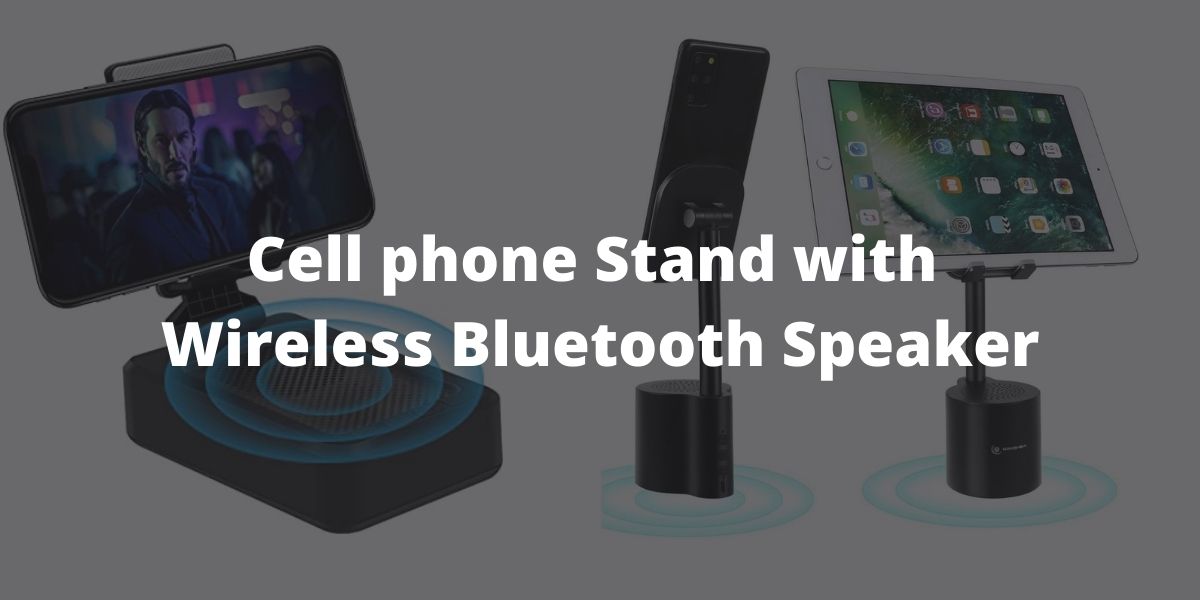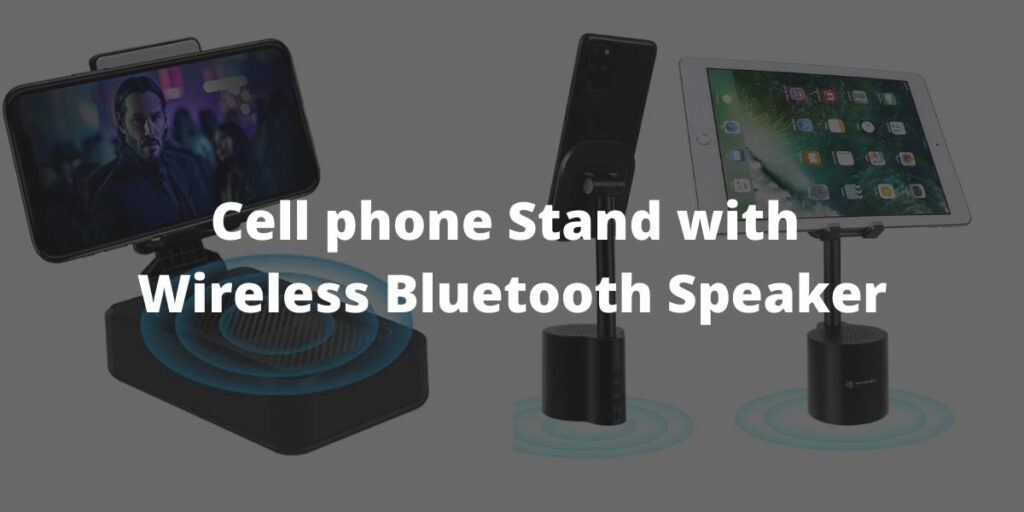 Cell phone Stand with Wireless Bluetooth Speaker
The cell phone stand with Bluetooth speaker is a foldable cell phone stand by Sonrinss compatible with Android and IOS phones. It is an adjustable phone holder with a beautiful design that can be placed on a tabletop. It is compatible with cell phones and iPads from 4 to 13 inches in size.
The wireless Bluetooth speaker delivers amazing sound quality with enhanced bass without distortion at the highest or lowest volume with a built-in microphone.
The Sonrinss cell phone stand with a wireless Bluetooth speaker has a phone stand, a power on/off button and indicator, volume buttons that also serves as next/back buttons and a pause button that can also answer or end a call.
It offers a stable stand that has multiple silicone non-slip pads to protect your phone and tabletop from scratches. It can be adjusted to any view of your choice.
Features
Bluetooth version 5.0.
Adjustable and foldable.
Stereo speaker and subwoofer.
Compatible with sizes 4-13 inches.
Silicone non-slip pads.
Rechargeable battery.
Compact design.
Specifications
Brand: Sonrinss
Connectivity: Wireless, Bluetooth 5.0
Dimension: 2.17 x 5.75 x 3.98 inches
Weight: 371.38g
Special feature: Adjustable, foldable
Color: Black
Price: $19.99
Pros
It serves as a Bluetooth speaker as well as a phone holder.
It has a broad device compatibility.
It is adjustable and foldable.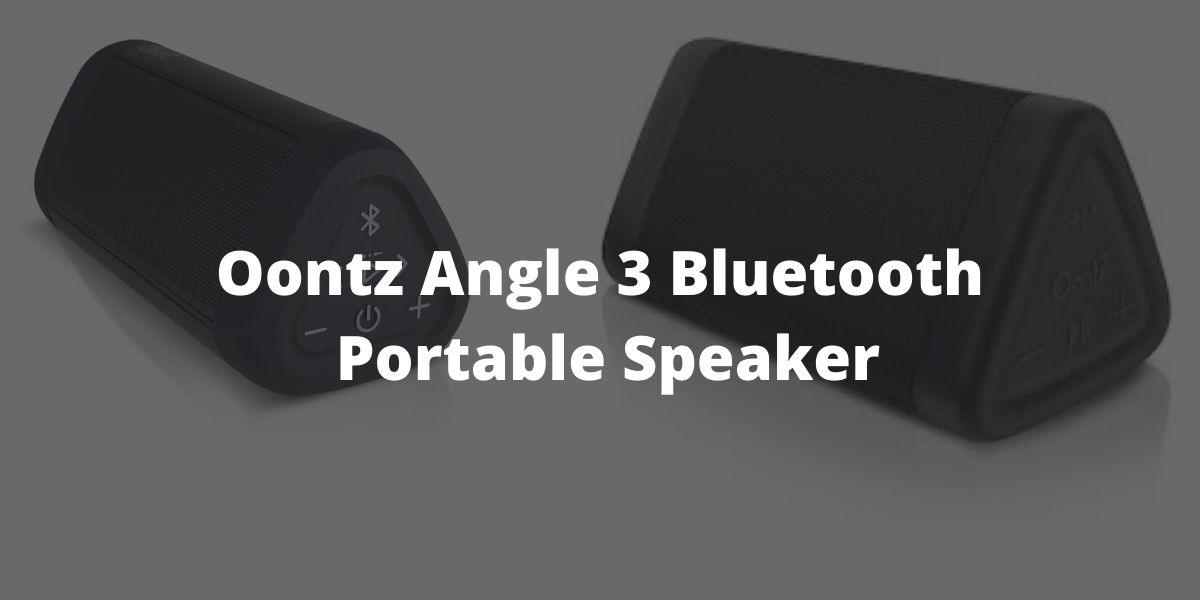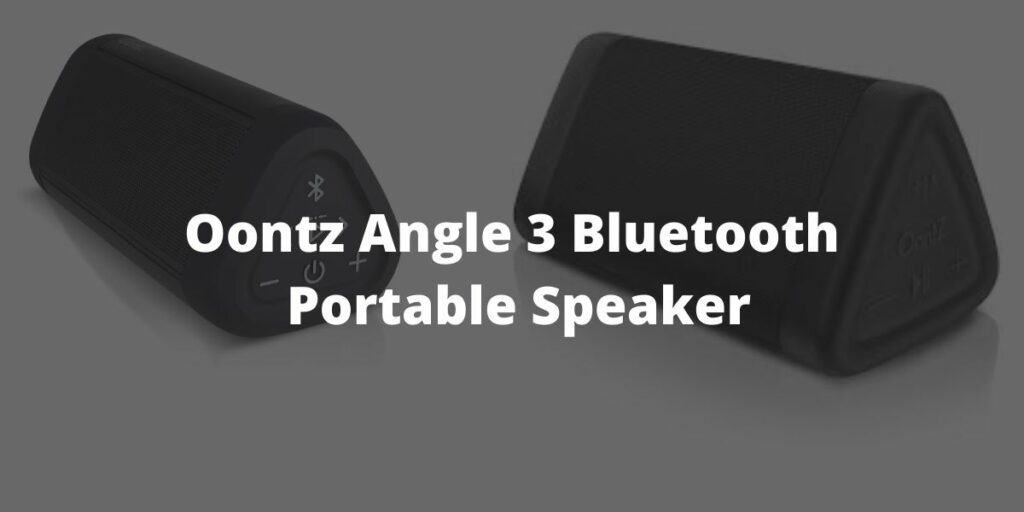 Oontz Angle 3 Bluetooth Portable Speaker
The Oontz Angle 3 Bluetooth Portable Speaker is a high-quality stereo speaker by Cambridge Soundworks with a stylish and portable design. It produces powerful sound with dual precision stereo drivers and rich bass from the passive bass radiator. It has advanced antennas that make a wide range of Bluetooth connectivity possible at 100ft.
The Oontz Angle 3 delivers a distortion-free full-range sound at the highest volume and has IPX5 water resistance which makes it splash-proof and rainproof. It offers up to 14 hours of music playback with a full charge at about 50% volume.
The Oontz Angle 3 is compatible to pair up with phones, tablets, laptops, and desktop computers. It can also be connected with non-Bluetooth devices using a 3.5mm audio cable.
Features
100ft Bluetooth range.
IPX5 water resistant.
14hours playtime.
Distortion-free sounds.
Built-in microphone.
Specifications
Brand: Cambridge Soundworks
Connectivity: Wireless, Bluetooth 4.2
Bluetooth range: up to 100ft
Dimension: 5.3 x 2.8 x 2.6 inches
Weight: 255g
Water resistance: IPX5
Battery playtime: up to 14hours
Colour: Black, Blue, Orange, Pink, Red, White, Red-Coke
Price: $25.99
Pros
Distortion-free even at maximum volume.
Water resistant.
Great for travels and outdoor fun.
Conclusion
In conclusion, the above listed portable mobile phone speakers are the best in the market presently with excellent sound quality even at the highest volume. Are you looking for a way to make your music circulate through an entire space? Are you in need of the perfect travel size Bluetooth speaker? We have picked out the top 5 for you so take a pick and enjoy a loud and smooth experience.
FAQ – Frequently Asked Questions
Q1. How long does each set last before needing charging?
A1. Each set lasts around 10 hours after being fully charged. If you plan to go hiking or camping then this would be enough for most people.
Q2. Are there any cons to owning multiple pairs of these speakers?
A2. Yes, there are many downsides to having too much stuff like this. For example, how often do we really need another pair of shoes? How about clothes? Or maybe books? These things add clutter to our homes and cause us stress. So why buy more than what we actually need?
Q3. Is it easy to connect these speakers to different types of smartphones?
A3. It's very simple. Just plug into the USB port and follow the instructions provided by the manufacturer.