Available since 2020, the Meta Quest 2 VR headset is an improvement from its predecessor – the original Oculus Quest. This high-end metaverse virtual reality (VR) headset is referred to as an all-in-one VR headset because of the thrilling highlight features it includes, which come with extraordinary experiences and give consumers premium satisfaction.
The Meta Quest 2 VR headset requires a Facebook log-in because it is a product of Facebook, presently known as Metaverse.
The Meta Quest 2 is a top-end VR headset that comes in two variants- 128 GB and 256 GB of memory. This Advanced all-in-one VR system is highly functional in gaming activity as well as other social functions.
This headset does not have cords as most traditional headsets do, which enables a fully immersive VR experience because you can take all of your games, exercises, shows, experiences, and more with you wherever you go.
Basically, Meta Quest 2 VR headset presents you with new opportunities to join up and connect with others through VR.
Meta Quest 2 VR Headset: Design
The Meta Quest 2 VR headset comes in a sleek, light and more comfortable design than its predecessors. This aesthetic headset features a plain strap and four camera devices. This strap is joined to the headset with a Velcro fastener. It allows you to adjust the top of the headset so that it can properly fit your face.
The headband expands as it has three elastic side straps, so it stretches and as well can go up and down in a way. The side strap connects to the back with two plastic sliding clips. The default strap makes it easier to keep the headband in place. The fitting is not so tight, so it can easily fall out of place if you do a quick turn.
This VR headset has a white plastic chassis weighing 17.7 ounces and measuring 4.0 x 7.5 x 5.6 inches (HWD) without the strap. The eye mask is made of black plastic and foam, providing comfort and a snug fit. This lightweight and ergonomic design allow users to enjoy an immersive virtual reality experience with ease and comfort.
There is a USB-C port and a 3.5 mm headphone jack on the left side of this headset, while the right side houses a power button with an indicator LED. At the bottom sits a volume control along with two pinhole microphones.
There is a glass spacer that takes the headset away from your face a bit when inserted to accommodate glasses if you are a spectacle wearer because the eye mask can be easily taken out. Also, you can as well adjust the position of the lenses if you desire. On the arm, there are speakers that produce sounds directly into your ears with the use of headphones.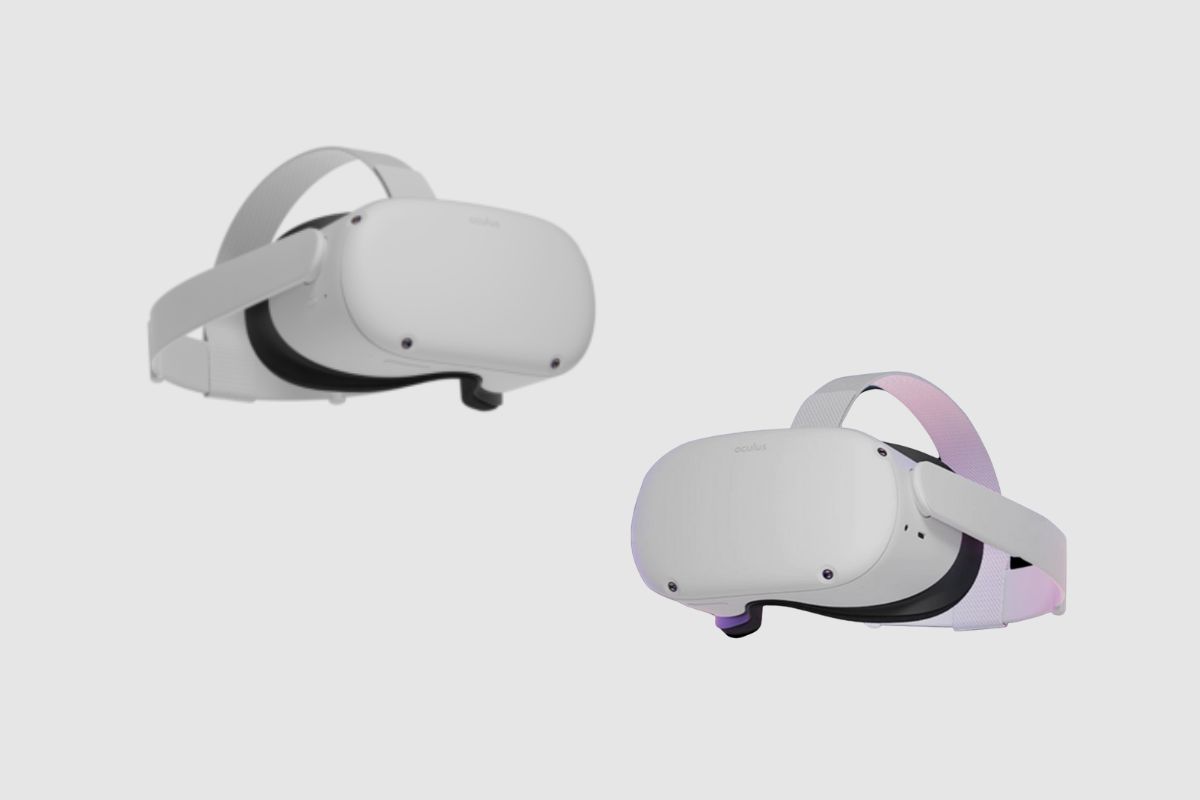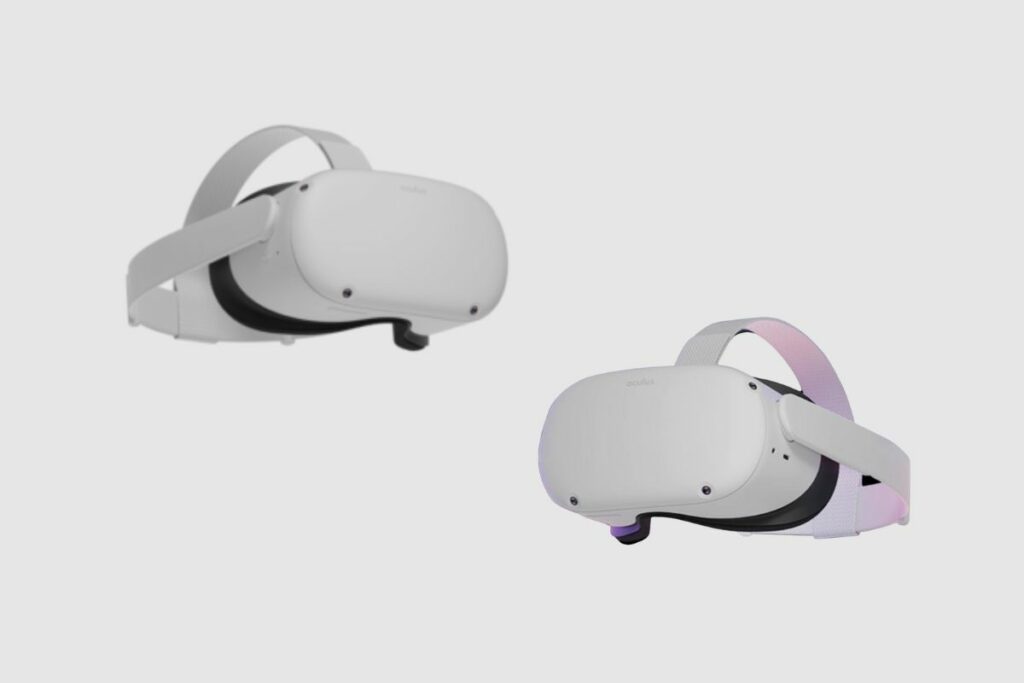 Meta Quest 2 VR Headset: Specifications
Chipset: Qualcomm snapdragon XR2 platform (7 nm), Octa-Core (1×2.84 GHz kryo 585 & 3×2.42 GHz kryo 585 & 4×1.8 GHz kryo 585) Adreno 650
Headset dimension: 4.0 by 7.5 by 5.6 inches (HWD), 17.7 ounces
Memory: 64/256 6 GB LPDDR5 RAM
Display: IPS LCD, 1832 x 1920 per eye, 120Hz, 90Hz native refresh rate, 72Hz, 90-degree field of view, adjustable IPD- three position slider- 58 mm, 63 mm, and 68 mm
Controllers: 9 x 12 cm (per controller with tracking ring), Weight: 126 g (per controller, with no battery installed), 2AA batteries, one for each controller
OS: Oculus mobile, proprietary Oculus store for apps and games, supports playing PC VR games via Oculus link and third-party wireless solutions
Audio: Inbuilt stereo speakers and microphone, 3.5 mm Audio jack, 3D audio support
Headset battery: 3,640 mAh, (14.0wh) lithium-ion (2-3 hours of use on a single charge), 10W (5V@2A) charging (around 2.5 hours for a full charge)
Connectivity: Wi-Fi b/ g/ n/ ac(5)/ ax (6), Bluetooth 5.0 LE, Type-C USB port, with USB Host support, 3.5 mm audio Jack
Play space: Support stationery and room-scale; up to 20 m x 20 m play can be outlined.
Tracking: 4 Front-facing for visual controller tracking, with gyroscopes and accelerometers in headset and controllers, Hand tracking (beta), supports 6 degrees of freedom (6DoF) head and hand tracking via integrated Oculus insight technology (inside-out tracking).
Meta Quest 2 VR Headset: Battery life
The battery life is up to 3 hours, and the charging time is 2.5 hours. Two to three hours of use are to be expected between charges. This usage duration may seem limited, but if you want to play for extended periods of time, you can double it by purchasing the $149 Quest 2 Elite Strap with battery and carrying case.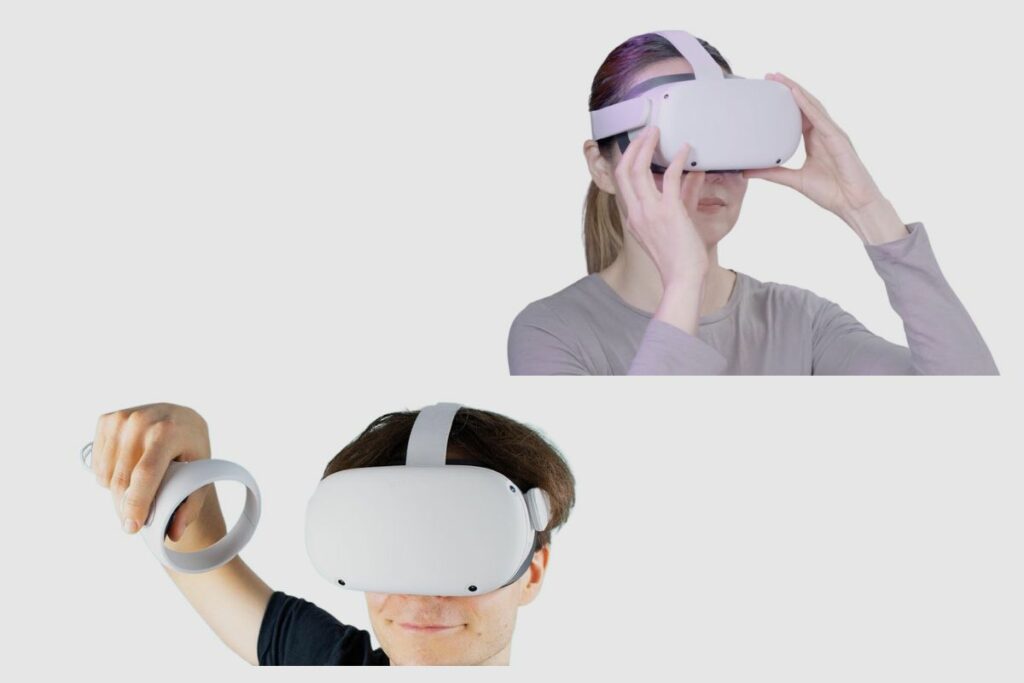 How to use the Meta Quest 2
The Quest 2 virtual reality headset comes with everything you need for a complete set-up, including the headset, charging cable, two touch controllers, two AA batteries, glasses spacer and power adapter. Also, you may wish to enhance your experience with some affordable accessories which can make the use of your headset more enjoyable.
Setting up this device takes just a few minutes. All you have to do is put on the headset, activate your account through the Oculus mobile app, and create your play area, and you are done.
This headset makes use of the Oculus Guardian system, an innovative feature that makes gaming safer and more efficient. By utilising the Oculus Touch controllers, users can easily map out a play space that helps to avoid collisions with walls and furniture.
Setting up the guardian space is simple; the pass-through+ cameras offer enhanced clarity to help players clearly visualise their surroundings. To further ensure safety, this mode has been designed to reduce the imbalances found in other pass-through cameras.
While playing, and you leave the Guardian boundary, the headset automatically switches to pass-through mode. This allows you instantly to see any physical surroundings you might bump into. You have the option to switch pass-through with a quick tap on the side of the headset. It is very useful as it helps you check in on the real world every moment.
This headset recommends a 6.5 by 6.5-foot space for room-scale VR, which allows you to freely work around a virtual space for an interesting virtual experience. If you lack enough space to play, you can create a stationary boundary to allow you to play Quest 2 while sitting or standing at a spot. You can cast your Quest 2 on your TV if you have one available.
Conclusion
In conclusion, the Meta Quest has significant upgrades over its predecessor – the Original Oculus Quest, like increased RAM and chip specs, greater resolution, and double the battery life of the controllers, amongst many others. This VR headset is designed to offer comfort, with its lightweight and compact size that makes it suitable for both indoor and outdoor use.
This versatile virtual reality headset keeps you immersed in the gaming world and also allows you to access 360-degree videos and apps around all genres. With the Quest 2 Elite Strap with battery and carrying case battery, you can get extended battery life for additional playtime.