The Meta Quest 2, which was initially known as Oculus Quest 2 is a virtual reality (VR) high-end metaverse headset introduced in 2020. This VR headset has a sleek design, a comfortable feel and a solid build that enables it to perform efficiently with detailed virtual reality experiences. As a product of Facebook, now known as Metaverse, this headset requires a Facebook log-in.
The Quest 2 is still in line with its predecessor – the Oculus Quest, but with improved upgrades like a more solid processor, a crisp screen and a lighter design. Being a standalone device, the Quest 2 offers you easy access to features that make virtual reality unique and captivating. It delivers a top-notch virtual reality experience at a considerable price with minimal setup.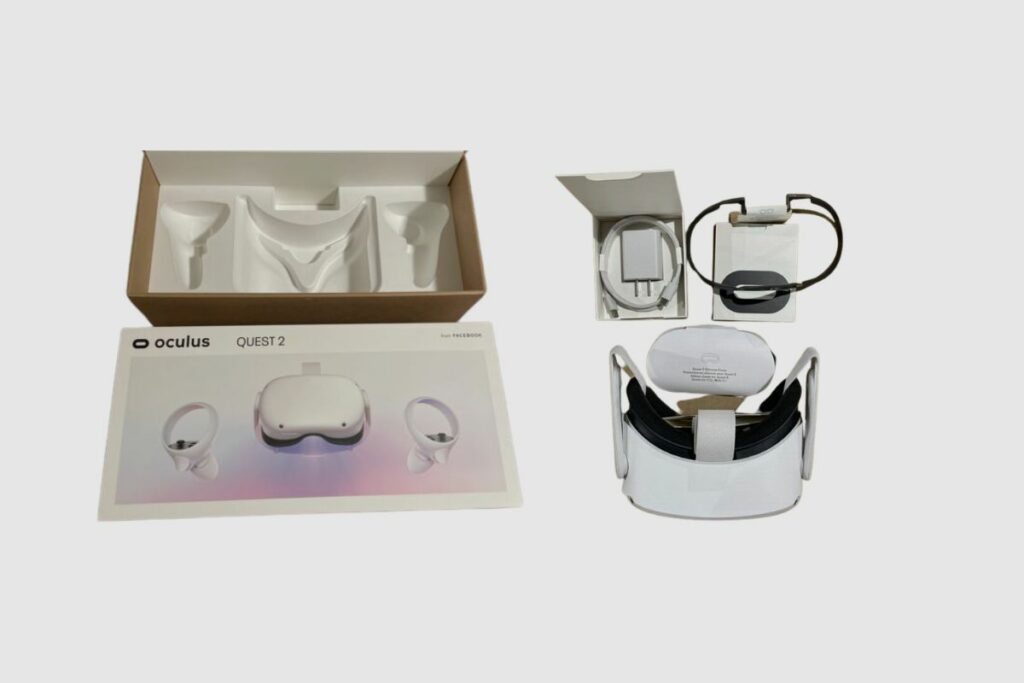 Unboxing of the Meta Quest 2 VR Headset
The box content reveals the Meta Quest 2 advanced all-in-one VR headset, 2 touch controllers, a charging cable, 2 AA batteries, a power adapter, and a glasses spacer.
Meta Quest 2 Review: Design
The Quest 2 has a smaller and lighter look than that of its predecessor. It measures 4.0 x 7.5 x 5.6 inches (H x W x D) apart from the strap with a weight of 17.7 ounces. The sleek plastic chassis of the headset is white, while the plastic and foam eye mask at the back of it is black. On the front faceplate, you will find four position tracking cameras along its edge.
On the left side of this headset are a USB-C port and a 3.5 mm headphone jack, while the right side houses the power button alongside an Indicator LED.
Underneath the headset sits a volume rocker with two pinhole microphones.
You can adjust the position of the lenses or insert a glass spacer that takes the headset a little bit away from your face to accommodate glasses, as the eye mask can easily be pulled out.
However, if your glasses are particularly large frames, the experience will be slightly inconvenient.
The headband has a three-side elastic strap that expands over plastic arms and can rotate somewhat up and down. There are speakers that deliver sound into your ears with the absence of headphones on the arms. The strap on top is joined to the headset with Velcro fasteners, which enables you to adjust the top of the Quest to fit your face. At the back connects the side strap along with two plastic sliding clips.
With the default strap, it is quick and easy to adjust the headband; however, the fitting is not very strong. So it can shift in position if your head turns quickly.
Meta Quest 2 Review: Display
The Quest 2 supports a 120 Hz refresh rate, which is an upgrade over its predecessor. It offers a 1,920 x 1,832-pixel picture to each eye, with a
resolution of 1,600 x 1,440 pixels. The display is 5.46 inches with a pixel density of 773 PPI and radiates with 100 nits. On normal use, the screen can be brighter, but the luminance value looks up to the low persistence mode.
Motion Controls
The dual motion controllers powered by a double A battery that comes with the Quest 2 have oval-curved handles with a top just like a ring that allows you to track through the headset's cameras. The two drivers stay in place perfectly under your index and middle fingers. The surface that has the circular control at the top of the handle has a larger setup, and it offers a convenient space to place your thumb when you are not operating with the two-face buttons or analogue stick.
The current design of the controllers offers a thicker feel, and you can hold it firmly. Also, while engaging in extreme gameplay sessions, the battery compartment door will be less likely to fall off. The redesign featured on the Quest 2 is not a bad one, the few changes make the controller offer a better experience.
This headset supports hand tracking, so you can use the Quest 2 with your bare hands. Basically, the headset's camera works with the posture, guidance and shape of your hands. Having this feature on, your hand can move effortlessly in front of the headset to control the in-system pointer. Tweaking your thumb and forefinger for a while gives you a click, while tweaking and holding serve as a click and drag.
Although the hand-tracking feature operates well, this controller cannot be used as a substitute for most apps. You can as well make use of your hand to control the meta quest 2's menu system.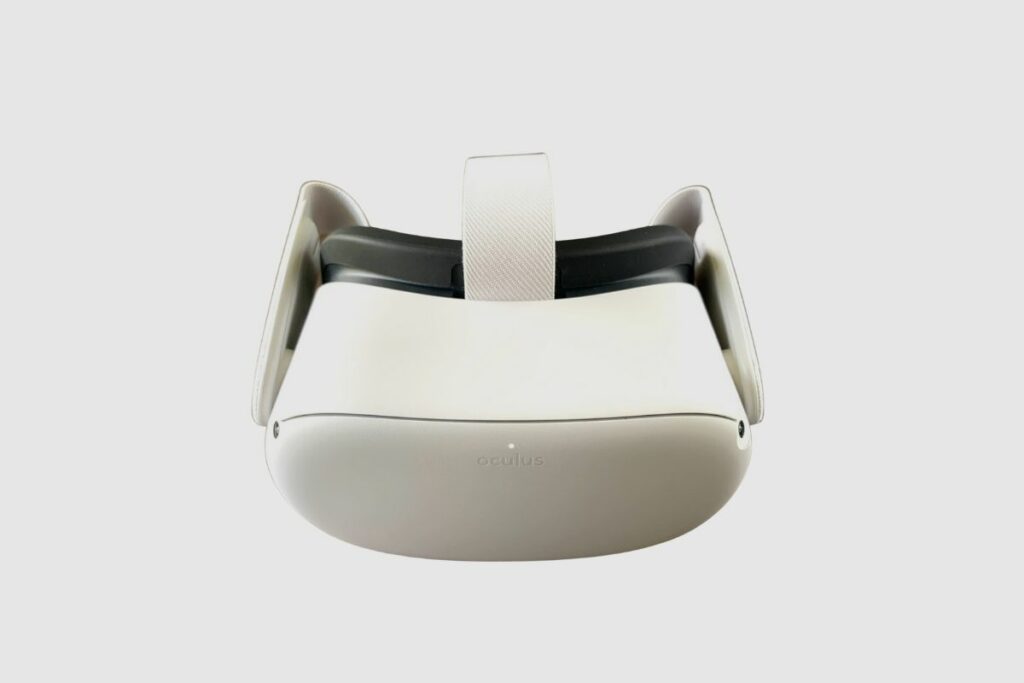 Meta Quest 2 Review: Audio
The headset's strap support has speakers built into it, which distribute stereo sound in left and right directions. The sounds are audible and crisp enough to reach the drama and every angle of the audio response of your games while having your ears free to make you conscious of your environment. If you want to play privately, to prevent people around you from hearing sounds from your games, you can connect the 3.5 mm jack to your headphones.
The inbuilt microphone is crisp enough for interacting in multiplayer games, as well as running some voice searches in different UI elements of apps that support it. Overall, speech recognition is detailed.
Connectivity and Meta store
The Meta Quest 2 makes use of the same in-headset menu system and store as the first quest. This allows you to access a couple of irresistible VR games and experiences; all can be accessed and tracked through your combined meta account.
You get access to various entertaining software via the store without a PC, like super hot VR, Beat Saber, Rez infinite, and Tetris effect, amongst many others.
You can also enjoy the full breadth of the steam VR store with the optional $79 Link cable. The 16.4-foot (5 m) USB-C cable enables you to attach the quest 2 to a compatible PC to access its VR software library. The length of the Meta link cable and its flexibility make it great for VR applications.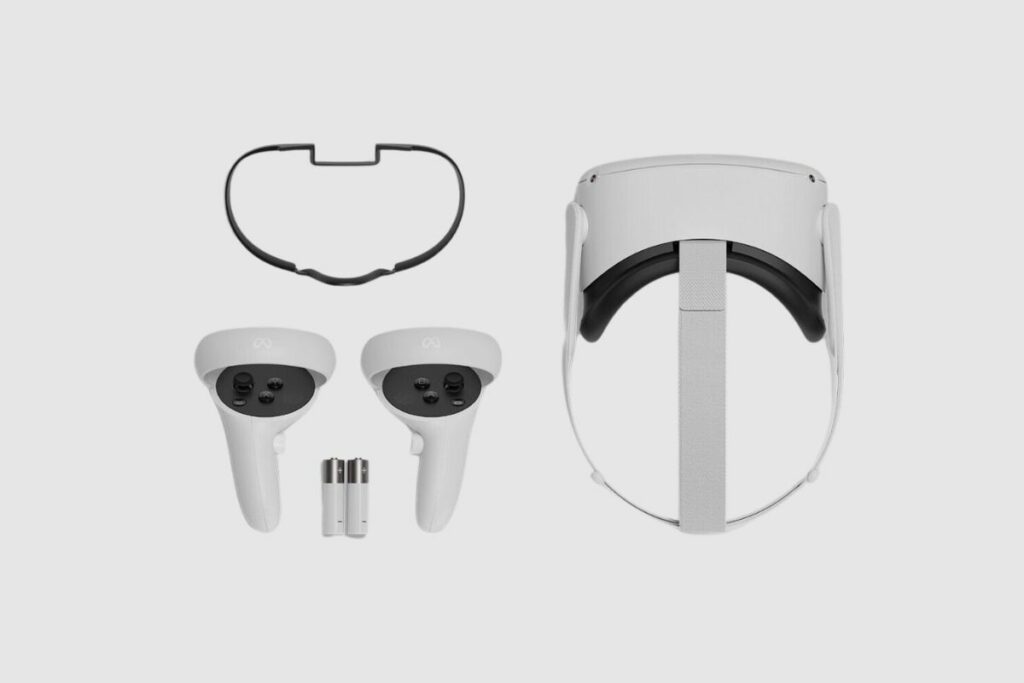 Meta Quest 2 Review: Battery life
The Quest 2 makes use of double A batteries that can charge fully in 2.5 hours. The expected battery life of this device is between two and three hours of use between charges, which is short for extensive gaming or long media sessions.
If you want longer gaming sessions, then you can invest in the Quest 2 Elite Strap with battery and carrying case, a version of the accessory strap with a built-in battery pack that costs $149.
Meta Quest 2 Review: Cost
The cost of this headphone varies based on its memory storage. The Meta Quest 2 virtual reality headset with a 128 GB model retails at $399.99, while the 256 GB model costs $499.99.
Hardware
The Meta Quest 2 is equipped with a Snapdragon 865-derived snapdragons XR2 processor, which is a notable improvement over the original Quest. It offers 6 GB of RAM, and with its faster chipset, greater accuracy in performance is guaranteed. This device also introduced a model with 64 GB of storage, but it cannot be expanded.
It comes standard with 128 GB, which is not expandable. A 256 GB model is also available.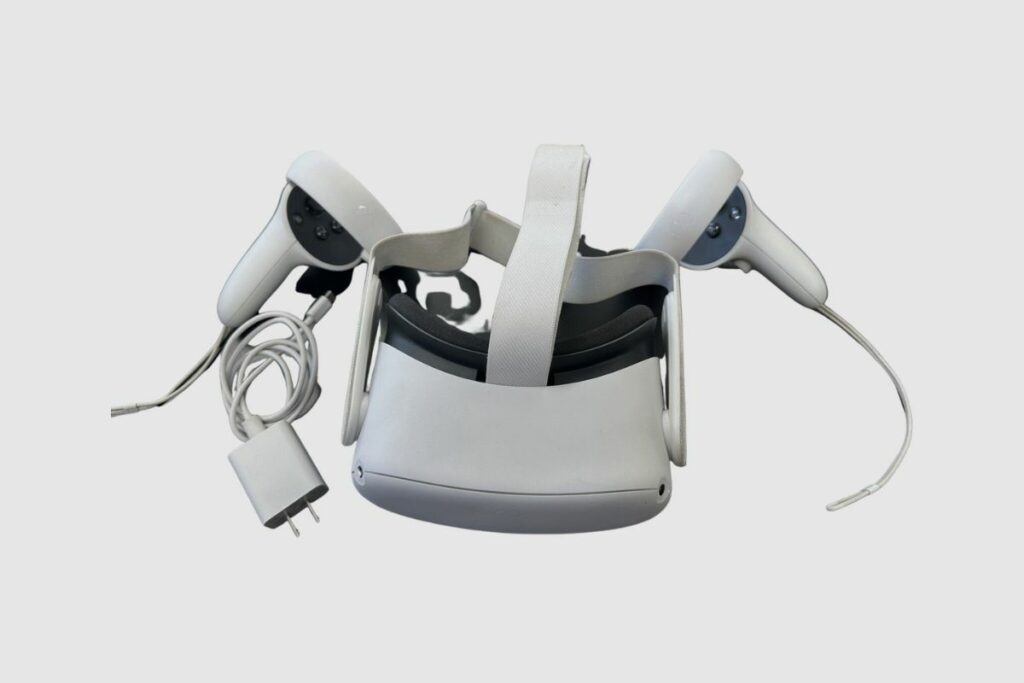 Software and App
The Quest 2 has the ability to get hold of the best virtual reality games available. With yearly events like the Meta Quest Gaming showcase and imaginative ideas on display, the system keeps giving a healthy connection to games.
There is an available library containing tons of games and apps on the quest. Some of the list of these games includes; the best VR fitness games, VR horror games, and Oculus Quest 2 games.
There are over a hundred Meta Quest 2 games that are separately sold, and some free trials as well. These games can be played with your headset; they include all sorts like shooters, puzzle games, fitness titles and meditation apps. These games are fit for everybody, depending on the one you choose.
It provides you with social experience given the Facebook account requirement, which may not be acceptable by everyone, but it is unavoidable as well. The menu system enables you to browse apps, play games and video content, manage the storage on your headset and as well connect to friends via Facebook.
While some people can enjoy VR for many hours without complaint, some of these games cause people to be nauseous, which may limit play sessions or cause you to stop playing abruptly. Most of these games come with different settings that bring comfort and relief, like snap turning or features that make moving on a spotless nauseating.
Virtual reality does not only give you an insight into simulating characters but other lives and cultures as well. There are amazing apps from National Geographic along with other organizations which enable you to experience a bit of virtual tourism through visiting locations around the globe. You will definitely find meditation spots and fitness studios available in app form.
There are available apps to download, like Amazon Prime Video, YouTube and Netflix. YouTube VR tops it as it allows you to enjoy 360-degree videos and get hold of a wealth of content uploads. It gives you a crisp and immersive view and also allows you to bring the wide screen to the position you are seated.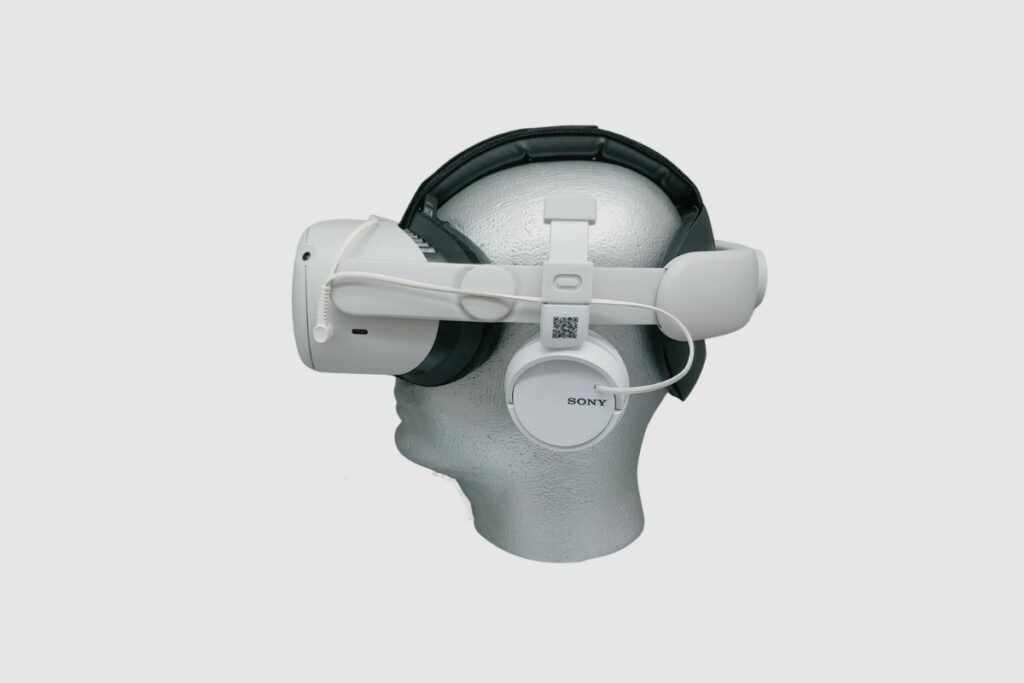 Meta Quest 2 Review: Performance
Given that the Meta Quest 2 uses a Snapdragon XR2 chip combined with 64 GB of RAM, it offers a smooth performance. Navigating the menu is smooth and fast, and there is no major slowdown when playing games.
Quest 2 makes use of the guardian system; this allows you to draw boundaries around the space you are playing. This enables the headset to warn you when you are about to cross the designated area. The system is very active and is quick to remember the particular areas you choose and allows you to create a circle for games so that you won't need a lot of movement or walking around.
The four cameras of the headset continually look through the surrounding area to ascertain your position, while the internal sensors focus on tracking orientation. Also, the camera tracks motion data from the controller, as stated. The experience it offers is a full six-degree-of-freedom (6 DOF), just as same to its predecessor, the feeling it presents is fascinating.
It presents crisper and sharper displays, given its pixel resolution. With its higher resolution display that guarantees immersive viewing, it is able to take out targets at a distance and align headshots for a super-fun experience.
This headset can be used to watch YouTube in VR. It offers a wide simulated screen right in front of you and makes you feel as if you are viewing or watching videos from a television or theatre. It keeps you totally engrossed and fascinated.
Playing games like the Pistol whip, Beat Saber and Vader immortal run smoothly while offering a sharper and crisp view with no crashes.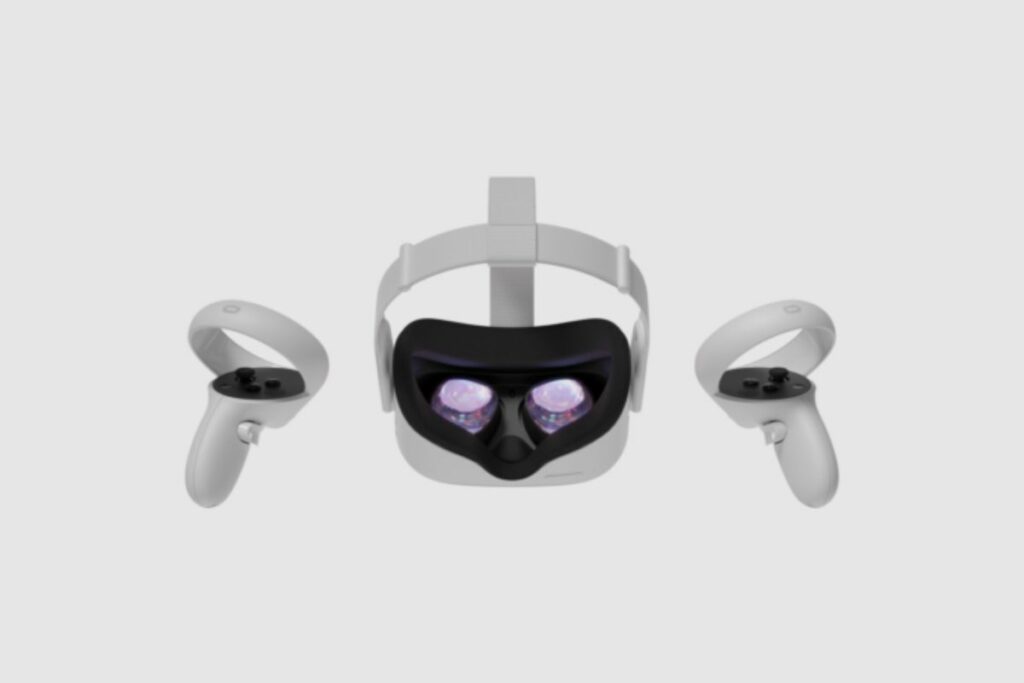 Buyer's Guide
Having discussed the designs, controllers, audio and performance of this device, you can see that the Quest 2 is easy to use and provides users with a premium experience. It offers the best VR gaming experiences.
You can connect a cable to the quest to give you access to tethered PC VR experiences as well. And with its Guardian room tracker, you may want to enjoy a free-roaming experience without worrying about obstacles that might disturb you from your digital world.
However, if you do not want to be part of Facebook, as it is a major requirement of Quest 2, and you are always nauseous of VR games, then it is best for you to consider other alternatives that measure up to your specific requirements.
It is also worth noting that the battery life of the Quest 2 is not long-lasting, so if you are particular about playing games for an extensive period of time, then it is best that you purchase the Quest 2 Elite Strap with battery and carrying case, a version of the accessory strap with a built-in battery pack that costs $149. This accessory will give you extra playtime.
Conclusion
In conclusion, the Meta Quest 2 is an all-around entertaining virtual reality (VR) headset that comes packed with lots of interesting games and applications to keep you entertained.
This VR provides users with an amazing experience on social, cultural, and fitness, amongst others. Beyond gaming, you can enjoy watching videos and learning to play instruments alongside many other cool features.
FAQs – Meta Quest 2 Review
Q: Is the Meta Quest 2 a standalone device?
A: The Meta Quest 2 does not require a computer or any other device for it to function. So, it is a standalone device.
Q: Does Meta Quest 2 come with built-in games?
A: It has a few training apps that serve as a guide to help you learn how to use the device; also, there is a library consisting of free and paid games that can be accessed from the device.
Q: How much does Meta Quest 2 cost?
A: The Meta Quest 2 comes in two different versions-the 128 GB memory which costs $399.99, and the 256 GB of memory which costs $499.99.
Q: Is Meta Quest 2 the same as Oculus Quest 2?
A: Yes, the Meta Quest 2 was originally called the Oculus Quest 2. The name was only renamed by Facebook, so they are the same product.
Meta Quest 2 Review: Image Gallery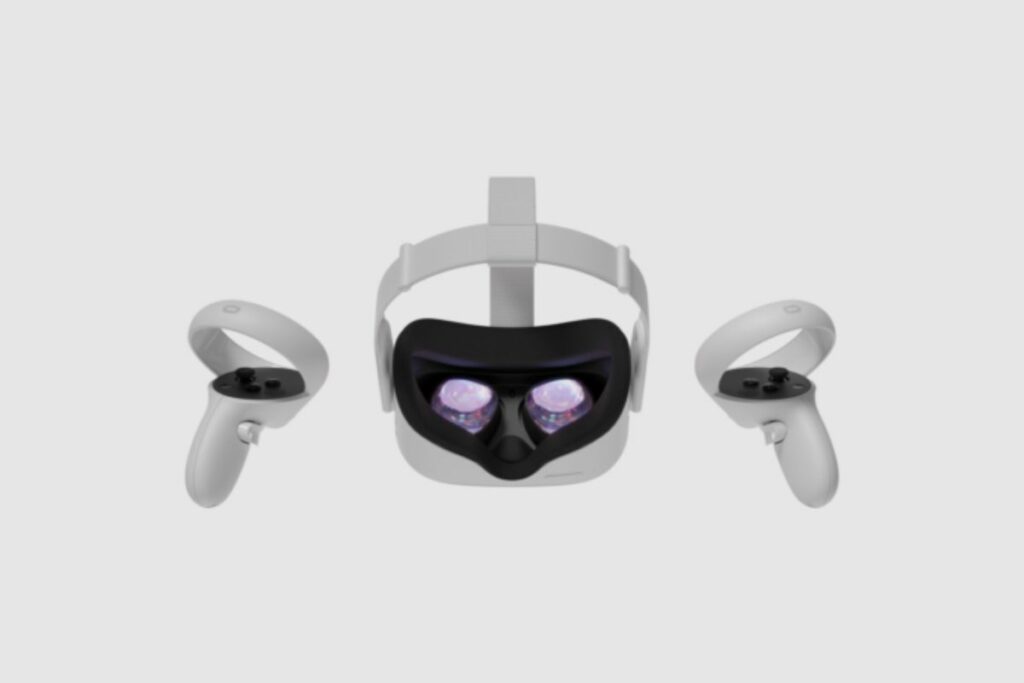 Other Related Post: Exploring Meta Quest 2's Graphics and Sound.