The need for fast data transfer speeds, charging, and video outputs on a universal cable connection have brought about the development of Thunderbolt technology by Intel.
So far, we have witnessed the production of Thunderbolt 1, Thunderbolt 2, Thunderbolt 3 and the most recent, which was released in 2020- Thunderbolt 4. Each Thunderbolt technology has a bit of improvement from its predecessors. 
Thunderbolt 4 technology connects devices using a single USB-C port. Just like the Thunderbolt 3, Thunderbolt 4 has a bandwidth of 40Gbps which makes it the fastest and most secure port available in the market today. Despite having the same bandwidth as Thunderbolt 3, the minimum PCle data requirement of 16Gbps is increased to 32Gbps with Thunderbolt 4.
On a single connection, you can power your devices, transfer large volumes of data at fast rates and display a video source to an external monitor at the same time. Thunderbolt 4 can be connected to thunderbolt devices, USB peripherals, and PCle devices and can be used to charge phones or lightweight notebooks of not more than 100W.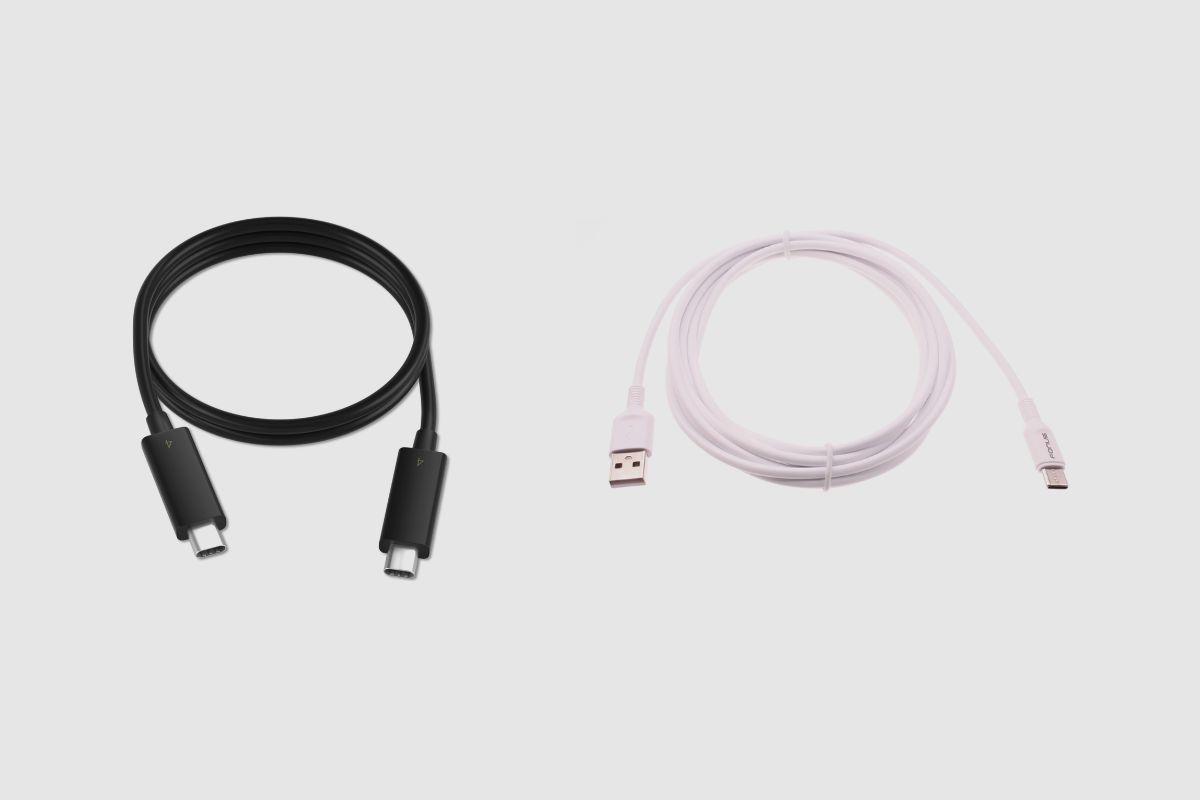 Is Thunderbolt 4 the same as USB-C?
Universal Series Bus (USB) are of different types, but Type-C, popularly known as USB-C, stands out because it is a connector type that features a small reversible connector which makes it easy to plug in. USB-C cables allow for higher data transfer rates and can be used to charge several devices. The versatility of the USB-C allows for it to support multiple standards and interface types, such as DisplayPort 1.2 and Thunderbolt.
While the Thunderbolt 4 and USB-C share similar features such as the ability to transfer data at 40Gbps and deliver up to 100W of power, audio and video, it is important to note that Thunderbolt 4 uses a USB-C connector which is backwards compatible with all USB standards to connect devices and computers.
It is a communication protocol that provides the required features for a computer to communicate with other devices using a USB connection.
What is the Thunderbolt 4 port used for?
As the latest generation of Thunderbolt, Thunderbolt 4 ports can be found on laptops with 11th Generation Intel Core mobile processors or PCs that come with a Thunderbolt 4 controller.
Being a versatile technology; the Thunderbolt 4 ports provide higher bandwidth for the connection of high-speed devices. These ports are built to ensure that multiple connecting devices are convenient.
For instance, game lovers will enjoy the port's expansion Thunderbolt 4 offers because a high-speed monitor and other gaming accessories can be connected while the gaming space remains organised.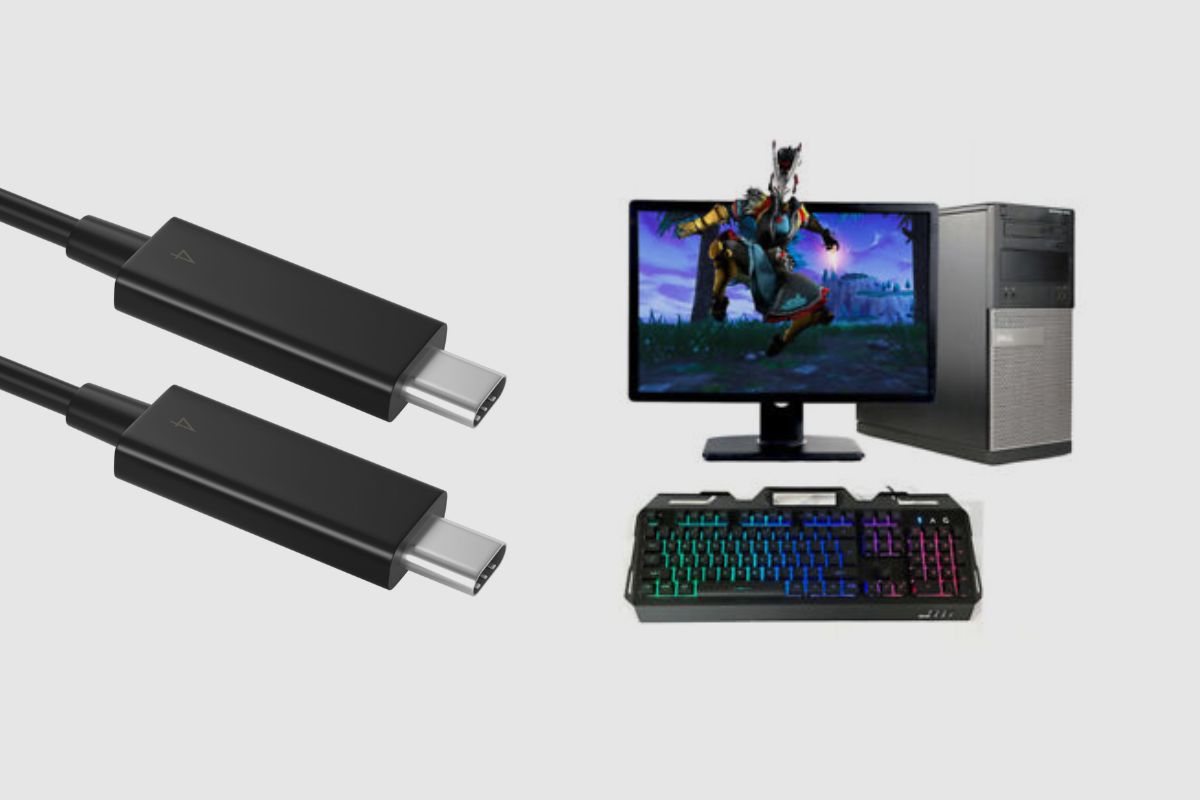 Do I need Thunderbolt 4 on my PC?
Having prior knowledge of the features of Thunderbolt 4 will help to determine if you need the Thunderbolt 4 on your PC; some of the basic features include:
Connection of more than one display: Thunderbolt 4 supports the connection of multiple displays to your computer. Thunderbolt 4 ports are compatible with numerous connection protocols, including previous versions of Thunderbolt, USB, DisplayPort, and PCle. The ports fit standard USB-C type connectors
Provides support for two 4K displays or one 8K display
Higher bandwidth: Thunderbolt 4 ports have a bandwidth of 40Gbps which means that data can easily be moved in and out of external storage in less time.
Thunderbolt 4 ports deliver high-speed data transfer and can simultaneously deliver power to compatible devices.
Increased security: Thunderbolt 4 offers VT-d-based security that prevents security threats by altering requests from external devices and granting proper permission
Wake up from sleep: With Thunderbolt 4, your PC can quickly be brought out of hibernation mode by shaking the mouse or tapping the keyboard with the aid of peripherals that are connected via a dock.
Thunderbolt 4 provides ease of use with its mobility.
The quality connection between the device and the PC is guaranteed with Thunderbolt cables.
You can expand your PC capabilities with docking stations and external devices.
Can I use a USB-C cable for Thunderbolt 4?
USB-C cables feature a new smaller connector shape that is reversible and easy to plug in. They also carry more power and can be used to charge laptops. As a result, USB-C cables can be easily used for Thunderbolt 4.
What is the difference between a Thunderbolt port and a USB port?
Although USB ports and Thunderbolt ports are universal, Thunderbolt ports have features that make them exceptional such as their compatibility with USB devices and cables, the ability to connect external 4K monitors together and add docking stations which makes the connection of numerous peripherals convenient, especially for game lovers.
Unlike Thunderbolt ports, USB ports can be found on several devices. Thunderbolt is an expensive technology, and as such, most budget PCs and devices do not support Thunderbolt.
Also, with Thunderbolt ports, you are guaranteed higher bandwidth. This means that you can quickly transfer large volumes of data to an external hard drive in little time.
Does Thunderbolt 4 require a special cable?
Since it is backwards compatible with all USB standards, Thunderbolt 4 works perfectly with any cable that has a USB connector, including USB4, USB 3.2, USB 3.1, and USB 2.0, and as such, it does not require a special cable.
Conclusion
In conclusion, the versatile connectivity options, flexibility, speed, and other features of the Thunderbolt 4 makes it a secure and easy way to transfer large volumes of data from one computer to another.