JBL FLIP 5 Waterproof Portable Bluetooth Speaker
Design -

75%

Performance -

79%

Battery Life -

77%
Bluetooth speakers are a prevalent gadget in our social gatherings and homes. Different brands make them with different series and different specifications. The JBL FLIP 5 is a good portable speaker but with lesser features than the Flip 4. It is a wireless speaker with good stereo sound and an IPX7 rating waterproof feature.
Design
The JBL FLIP 5 Waterproof Portable Bluetooth speaker is a tough cylindrical-shaped Bluetooth speaker with IPX7 water resistant rating. The exposed passive bass radiators are protected on both sides with a tough rubber which seals them against damage that may be caused by water.
It is slightly bigger and weighs more than its predecessor with a 4mm wider driver (40mm-44mm) and an extra 4W of amplification over the JBL FLIP 4, but it's still small enough to fit into your bag.
Behind the speaker's lower part is the power button, USB-C input for charging and the Bluetooth pairing button.
The playback buttons on this speaker are built along the side into the fabric covering the speaker, and on the front is the JBL logo. There is a tiny loop with a string attached to it built into the speaker so that you can hang it in certain places or spots like your shower head or a door handle. The string is, however of cheap quality, so you should replace it with a more suitable string like a paracord. The JBL Flip 5, like most of its predecessors, is straightforward, well built, and has an impeccable finish. Only the Bluetooth and power buttons have lights on them.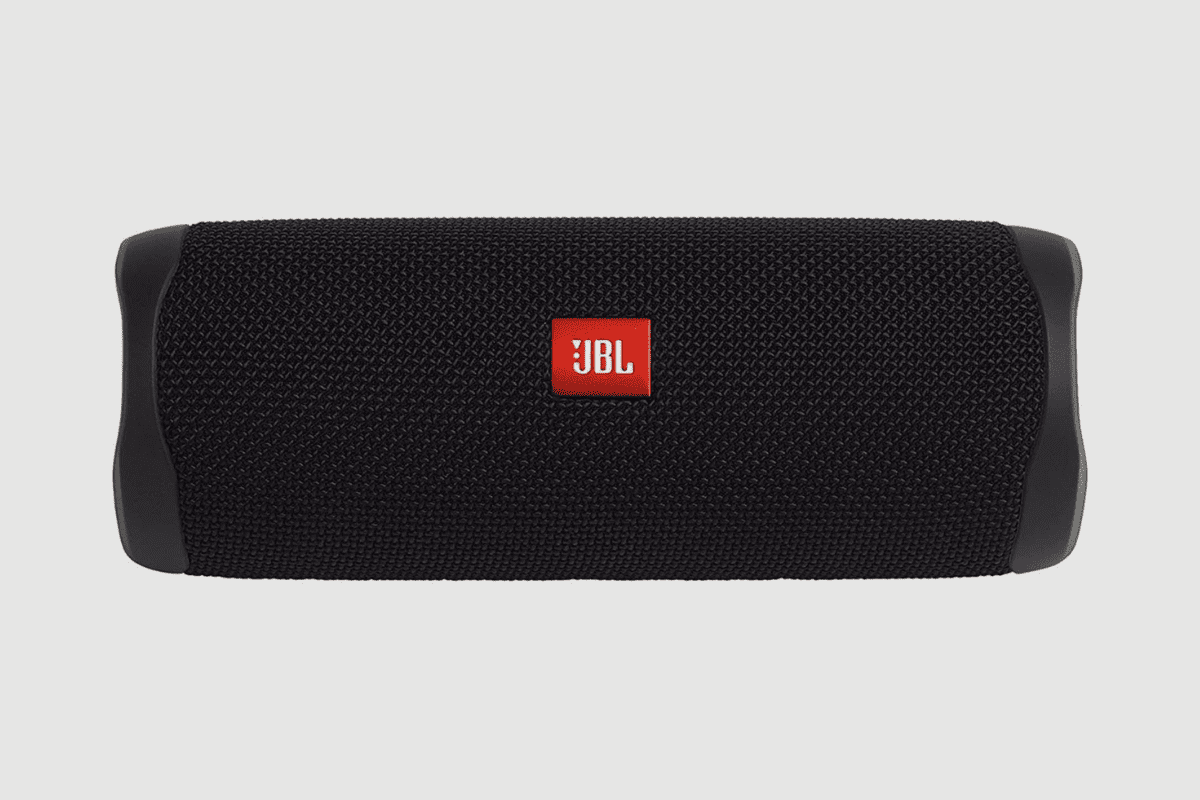 Performance
The JBL FLIP 5 has a solid connection strength with almost no issues. It has a good sound quality with greater power output and a racetrack-shaped 44mm driver for higher sound amplification. It offers a PartyBoost mode which allows you to pair a second JBL speaker to add more volume to your party. So if you have two JBL speakers or you have a friend with a JBL speaker, this feature would be very useful for you. It supports Bluetooth 4.2 over the newer Bluetooth 5.0, which means slower data speed and a shorter wireless connection range.
The pairing of the JBL Flip 5 is straightforward and seamless, like any other reliable Bluetooth speaker. All you have to do is to press the Bluetooth button next to the power button and click on Bluetooth on your device to check for JBL FLIP 5 under available devices, and when you click on it to pair your device with your Bluetooth speaker.
Another thing worth appreciating about the JBL FLIP 5 is that it comes in a wide variety of colours such as Black, Teal, Pink, Orange, etc. The volume buttons are designated by a plus and minus sign for volume up and volume down respectively. The speed of charging on the JBL FLIP 5 has also been improved.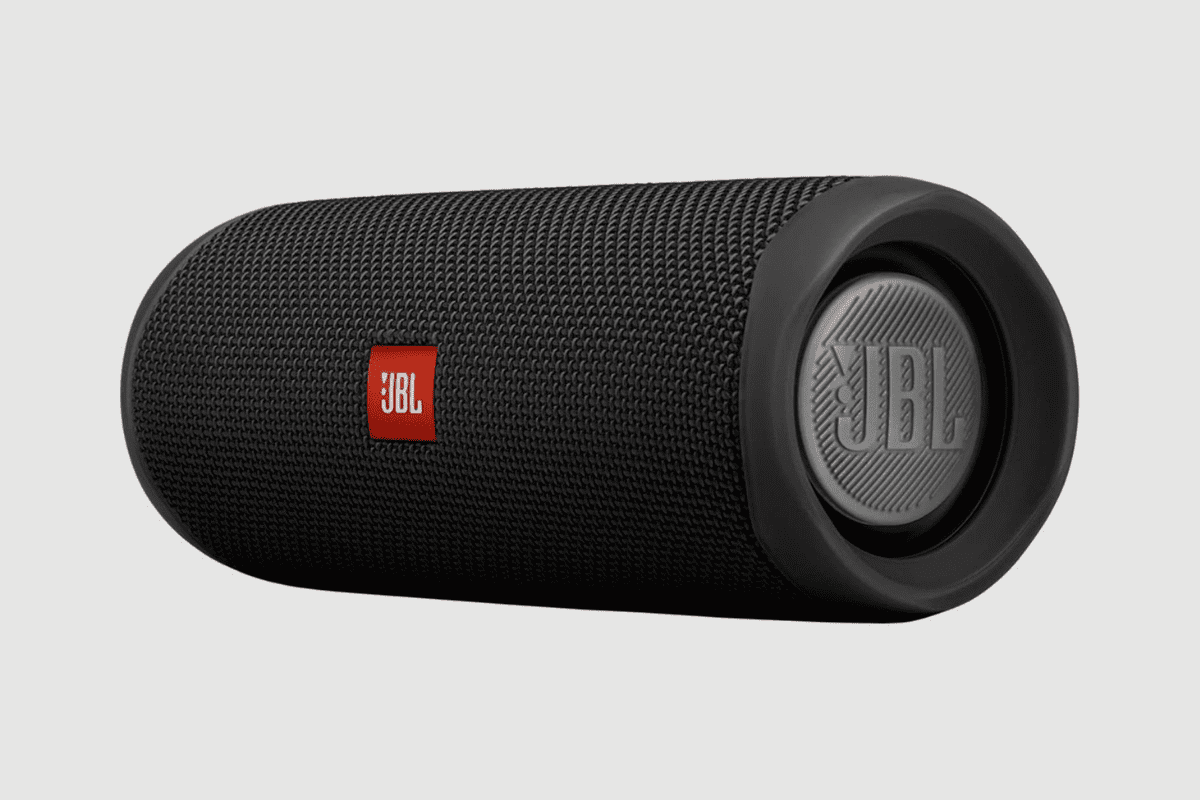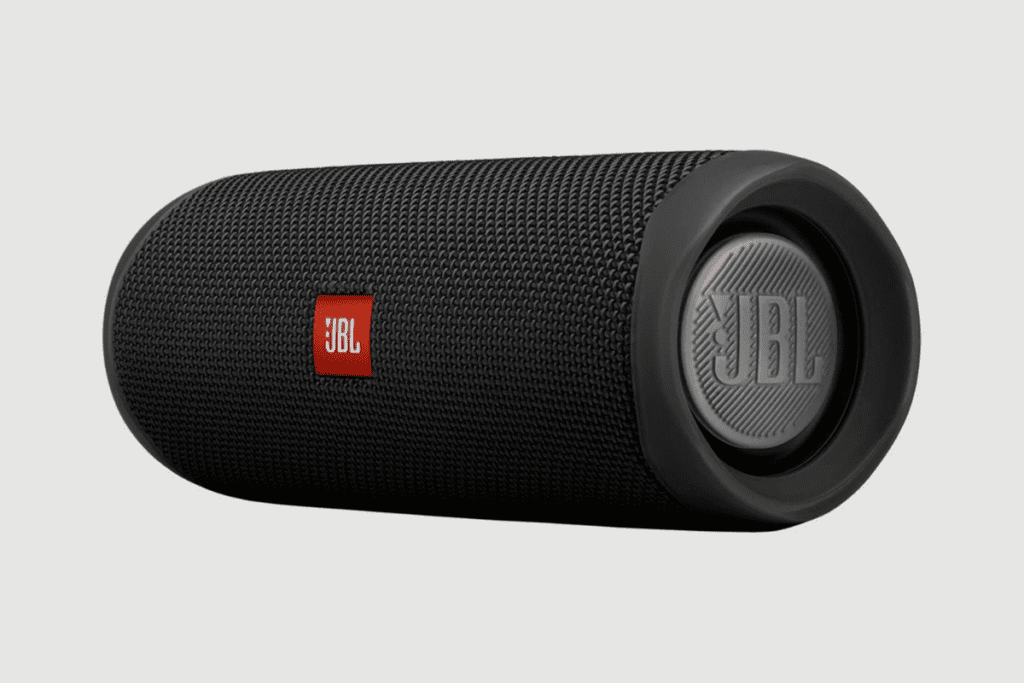 Battery life
The JBL FLIP 5 portable Bluetooth speaker comes with a 4800mAh rechargeable battery which offers up to 10 hours of battery life for constant playback against the 12 hours JBL claims. The battery life this speaker offers is enough for a day at the beach or poolside. It comes with a USB-C port and charging cable. The charging port reduces the charging time from 3hrs30min to 2hrs30min. This is about an hour faster than the JBL FLIP 4.
Features
It has a solid build.
It has an IPX7 waterproof.
Good battery life and reduced charging time.
It is lightweight and portable.
It supports USB-C charging.
Solid sound quality.
It has a great sense of acoustics.
It has a PartyBoost pairing feature.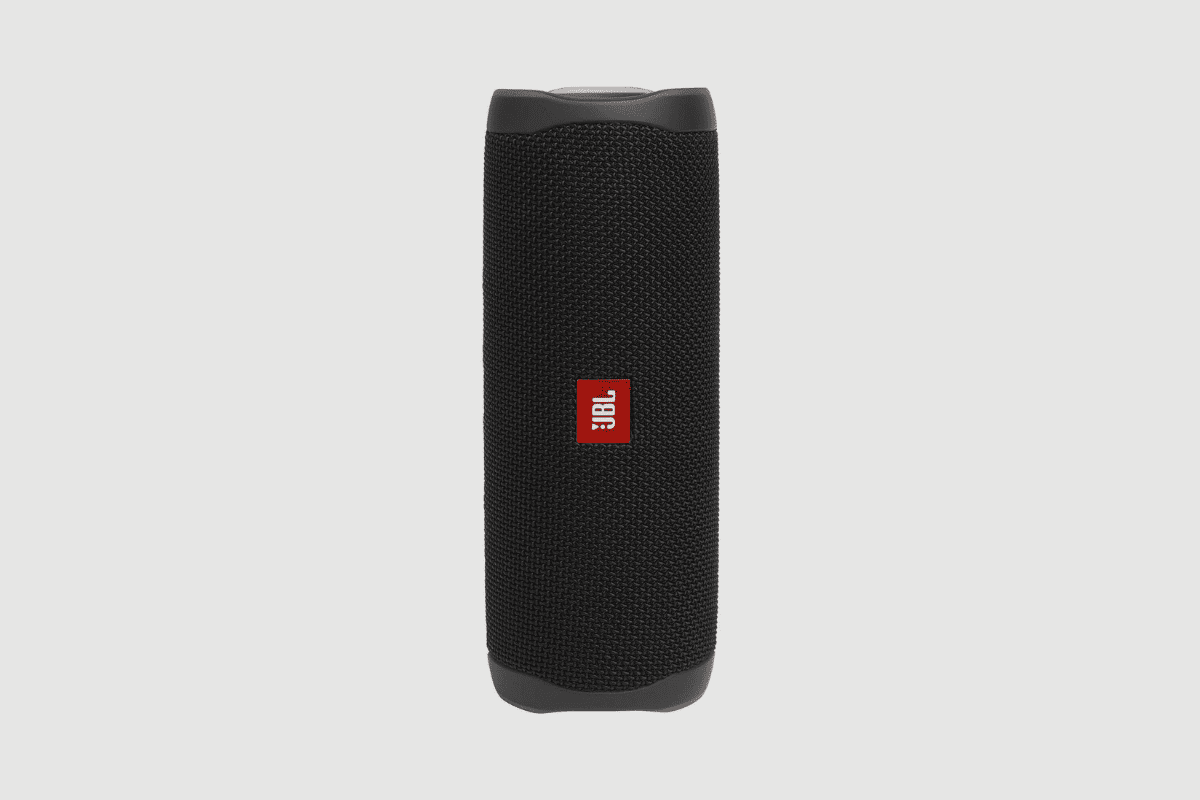 Specifications
Brand: JBL
Connectivity: Bluetooth
Dimensions: 18.1 x 6.9 x 7.4 cm
Weight: 0.54kg
Waterproof: IPX7
Bluetooth version: 4.2
Frequency response 65Hz–20kHz
Battery life: Up to 12 hours
Pros
It has an IPX7 waterproof design.
It is lightweight and portable.
It has good battery life.
It has the "PartyBoost" stereo pairing feature.
Cons
It uses Bluetooth 4.2
It doesn't have a 3.5mm input port.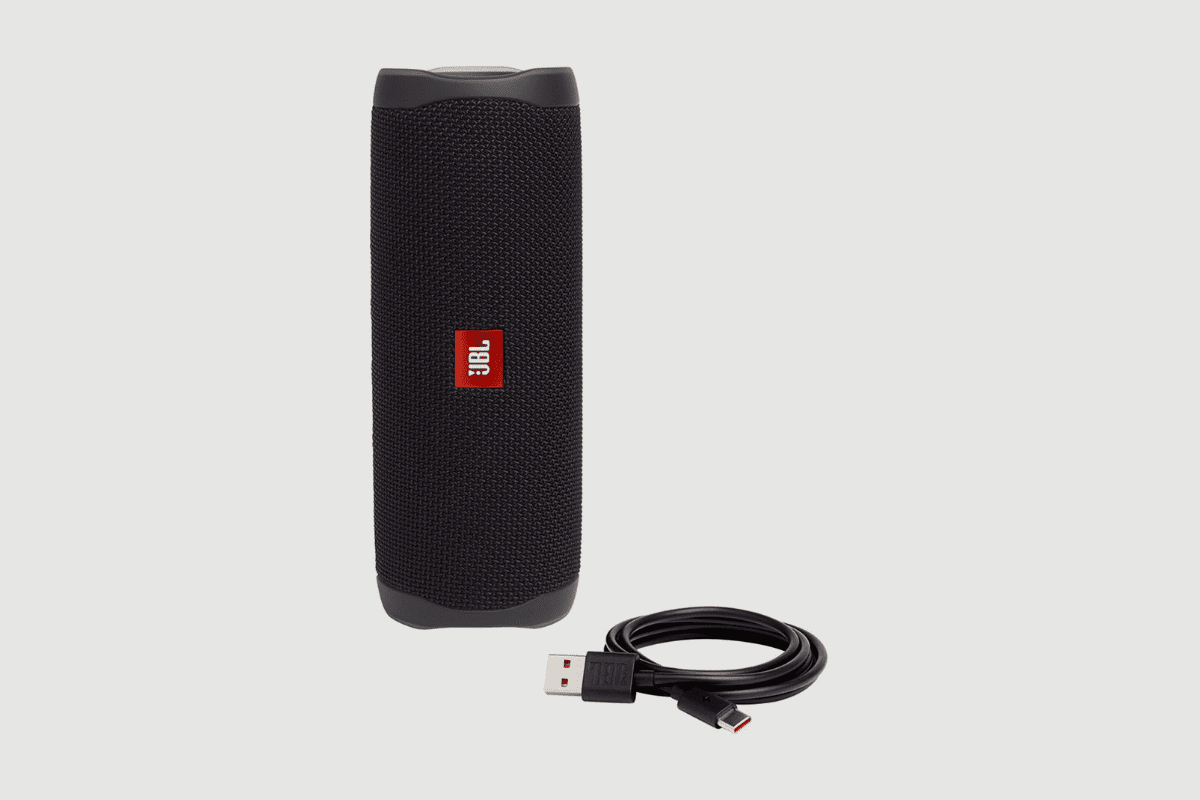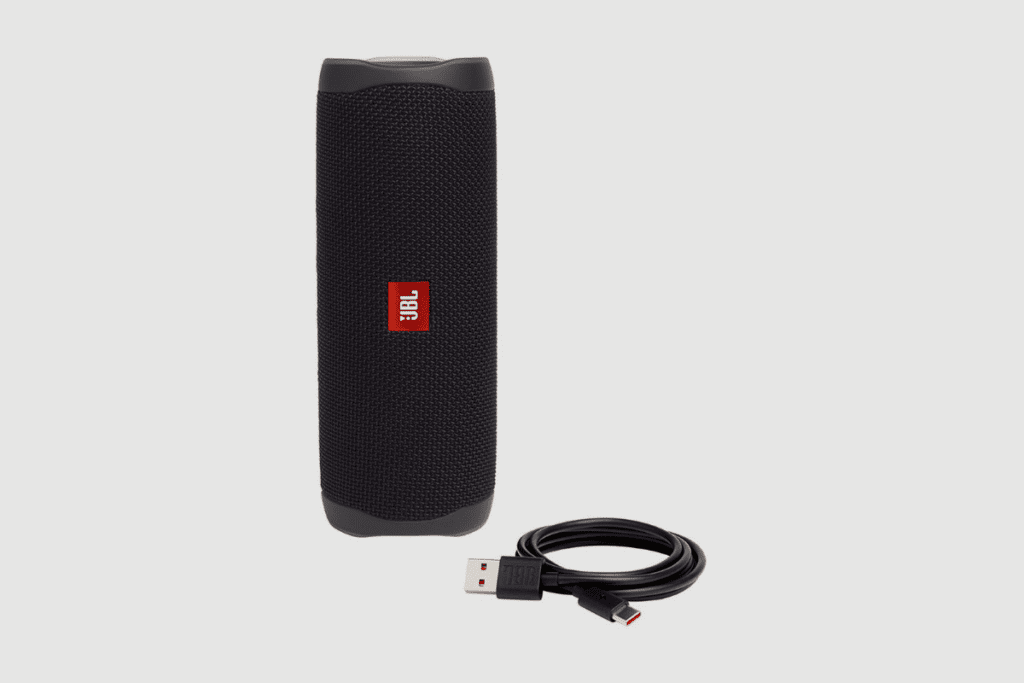 Buying guide
The JBL Flip 5 waterproof portable indoor and outdoor speaker is a nice speaker with even nicer features. It is a good speaker for companionship when going to the beach, poolside, on hikes, camping, for shower singers and even small gatherings with friends. It has an IPX7 coverage for resistance against water. The JBL FLIP 5 is not much of an improvement compared to the FLIP 4, but if you realise that you need a second speaker to enhance the party mood or volume in your parties, the JBL FLIP 5 has a PartyBoost feature that gets you covered. If not, you can invest in the likes of the UE Hyperboom or the JBL Boombox with great speakers, and you wouldn't have an issue partying along.
How much is the JBL FLIP 5 Waterproof Portable Bluetooth Speaker
The successor of the JBL FLIP 4, the JBL FLIP 5, was launched in August 2019 at $119.95. It is a bass-laden Bluetooth speaker with punchy sounds and a rugged design. It is a direct competitor with the JBL Charge 4 and comes in a wide variety of colours such as Forest Green, Fiesta Red, Grey Stone, Ocean Blue, River Teal, Desert Sand, Steel White, Dusty Pink, Mustard Yellow, Cameo or Squad and Midnight Black.
JBL FLIP 5 Waterproof Portable Bluetooth Speaker Available series
The JBL FLIP Bluetooth speaker series are available in multiple variations. They include the JBL FLIP 1, FLIP 2, FLIP 3, FLIP 4, FLIP 5, and FLIP 6 being the latest version. Each model has its own unique set of features and specifications.
Is the JBL FLIP 5 Waterproof Portable Bluetooth Speaker worth buying?
The JBL FLIP 5 is a good and reliable Bluetooth speaker that you can put your money on. If you don't own a Bluetooth speaker and you intend to get one, the JBL FLIP 5 is a great choice or do you have an old Bluetooth speaker, and you want to upgrade to a better one? It is a good and affordable option. It is covered with a waterproof fabric; it has a good battery life, great sound quality and a size that fits perfectly into your bag.
Conclusion
In conclusion, the JBL FLIP 5 Bluetooth speaker is a tough device with good features, great sound amplification and excellent overall performance. It is one of the best budget speakers you would see around, and it's suitable for outdoor events thanks to the IPX7 water-resistant rating.
Related Article: 5 Best Portable Mobile Phone Speakers with Value for Money.
FAQ – JBL FLIP 5 Waterproof Portable Bluetooth Speaker
Q: Is this speaker compatible with Android devices?
A: Yes, it works with all Android phones and tablets.
Q: Does the JBL FLIP come with a carrying case?
A: No, it does not.
Q: How long does the battery last?
A: You can expect about 12 hours of continuous playback time from the JBL FLIP speaker.
Q: Why should I buy the JBL FLIP Bluetooth speaker?
A: It's a versatile speaker that can be used both indoors and outdoors. It's easy to carry and doesn't take up too much space. It has clear audio without distortion.
Product Image Gallery