Embarking on the quest for the perfect budget-friendly laptop for middle school students? Allow me to navigate you through the intriguing world of Lenovo Ideapad 1 vs Ideapad 1i laptop. On the surface, these two machines may seem quite similar. But dig a little deeper, and you'll discover critical differences – the Ideapad 1 comes with an AMD processor, while the Ideapad 1i carries the mark of an Intel Pentium processor.
In this blog post, I'll break down these distinctions further to empower you to make an informed decision that may be tailored to your unique needs and budget. Buckle up for this enlightening journey!
Related post: Lenovo IdeaPad 1i Laptop Review.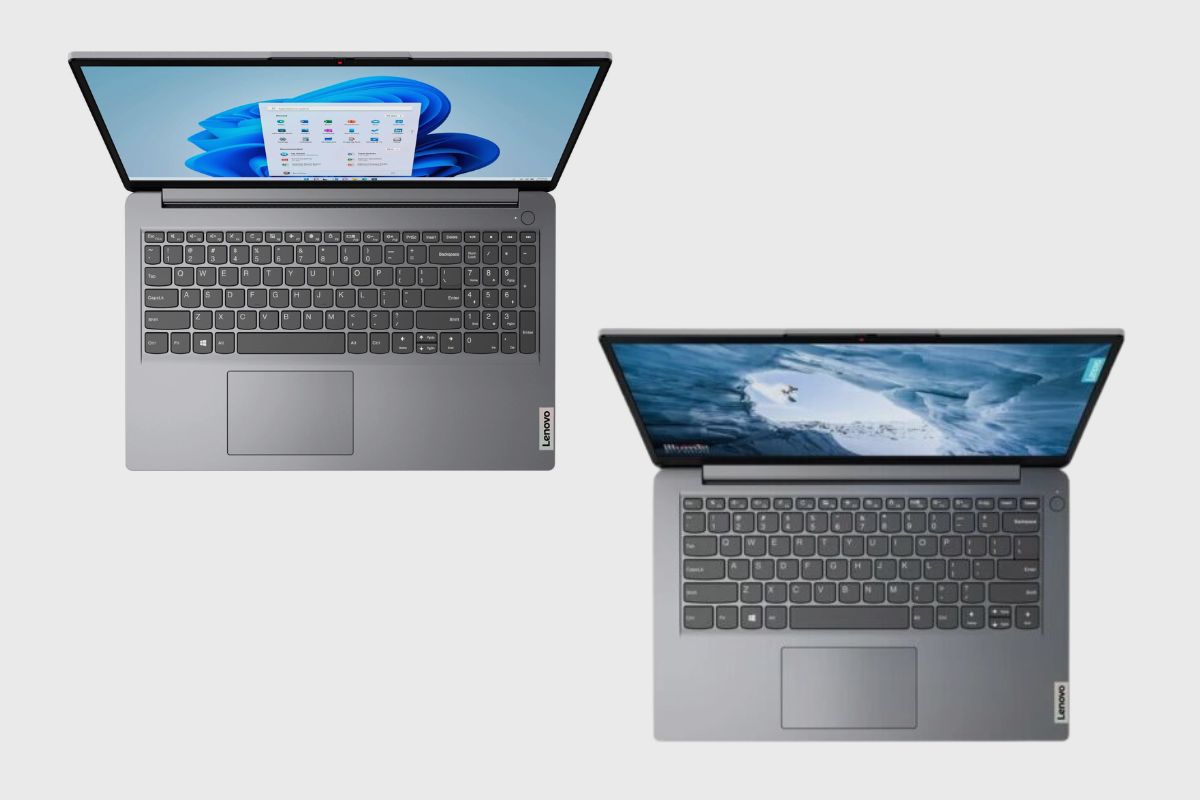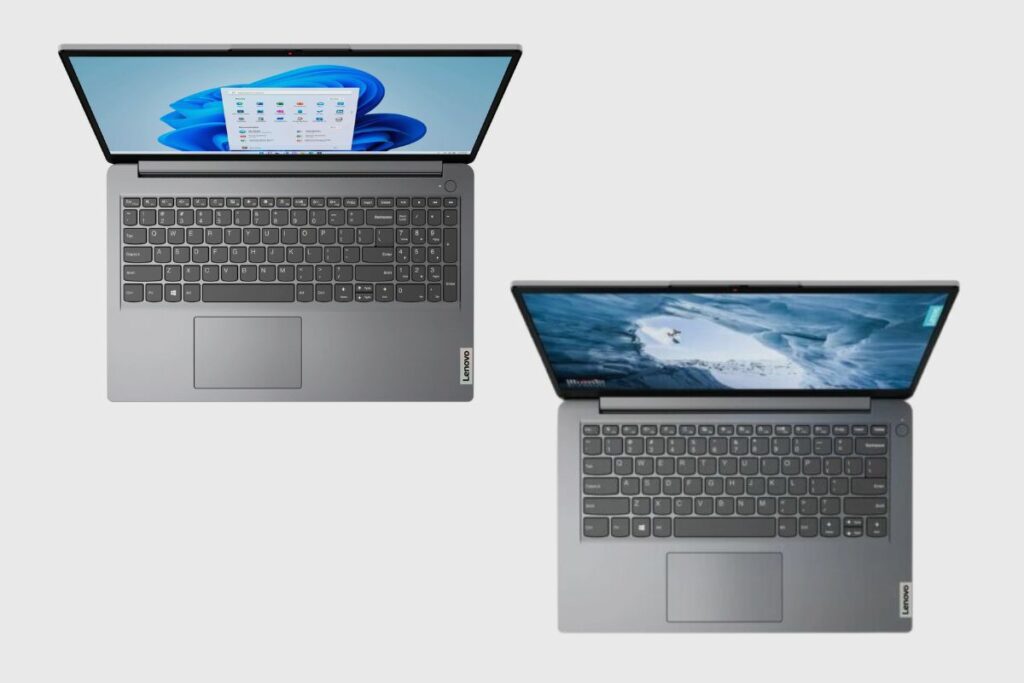 Specifications – Lenovo Ideapad 1 vs Ideapad 1i
When comparing two devices, the best place to start is with a quick recap of each of their specs to have a brief look at how they stack up against each other. However, given how Lenovo swaps out parts each year, I'm going to be sticking with the 14-inch, 2023 versions of each
| | | |
| --- | --- | --- |
| Category | Lenovo Ideapad 1 | Lenovo Ideapad 1i |
| Processor: | AMD 3020e Mobile Processor | Intel Pentium Silver N6000 4 x 1.1-3.3 GHz, Jasper Lake |
| Graphics adapter: | Integrated AMD Radeon™ | Intel UHD Graphics (Jasper Lake 32 EU) |
| Memory: | 4GB | 4 GB |
| Display: | 14″ FHD (1920 x 1080) TN, 220 nits, anti-glare, 45% NTSC | 14-inch 16:9, 1920 x 1080 pixel, 141 PPI, 60 Hz |
| Storage: | 156GB SSD | 128GB SSD |
| Connections and Ports: | 1 USB 2.0, 2 USB 3.0/3.1 Gen1, 1 HDMI, Audio Connections: 3.5mm, Card Reader: SD | 1 USB 2.0, 2 USB 3.0/3.1 Gen1, 1 HDMI, Audio Connections: 3.5mm, Card Reader: SD |
| Networking: | 802.11 a/b/g/n/ac (a/b/g/n = Wi-Fi 4/ac = Wi-Fi 5/), Bluetooth 4.2 | 802.11 a/b/g/n/ac (a/b/g/n = Wi-Fi 4/ac = Wi-Fi 5/), Bluetooth 5.0 |
| Size: | 12.9 x 9.25 x 0.71 inches | 12.81 x 8.52 x 0.7 inches |
| Battery: | 45 Wh, 3-cell | 42 Wh, 3-cell |
| Weight: | 3.1 lbs (1.36 kg) | 3.09 lbs (1.4 kg) |
| Operating system: | Microsoft Windows 11 Home | Microsoft Windows 11 Home |
As far as differences go, there isn't much to say about the two; they are very similar laptops, and just by looking at them, it would be hard to tell them apart. However, upon closer inspection, you'll begin to notice some slight differences.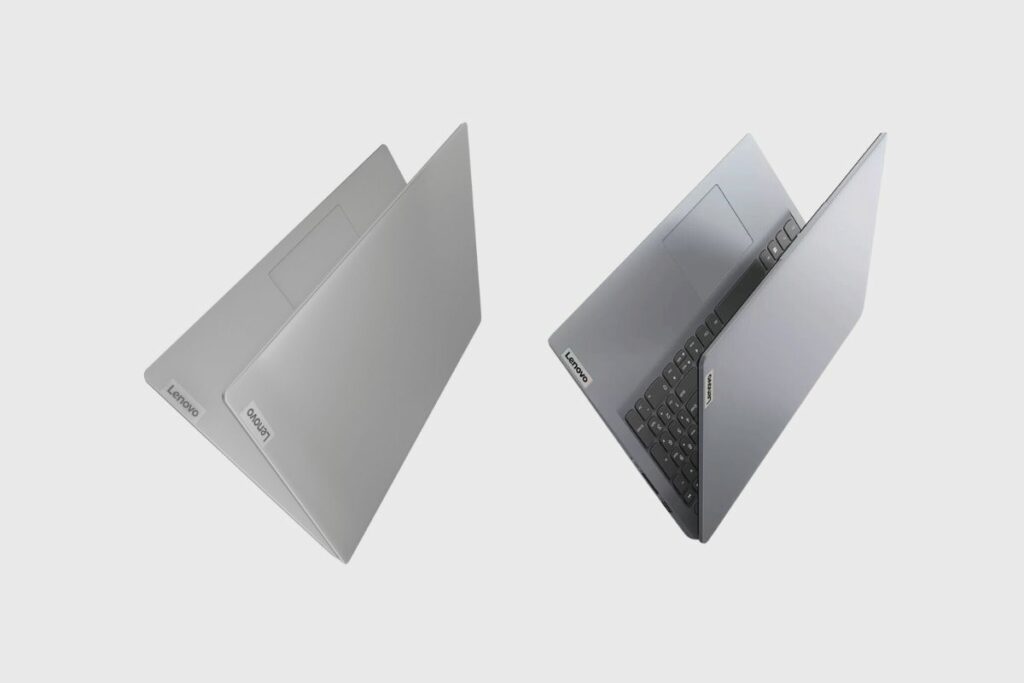 Design and Build Quality Comparisons
As far as design and build quality are concerned, there isn't much separating the two laptops. Just from the eye test alone, you might not be able to tell the two laptops apart. They are both all-plastic laptops with similar frames and narrow bezels that invoke a very old-school design. They both have the same plastic flex around the keyboard, and while they may come in different colours, they still have the same basic Lenovo badge off to the side.
From a design standpoint, you could easily say that Lenovo built the same laptop from the same simple design and made it twice, and that wouldn't be an unfair assessment of the two. They look very dull and are based on the same simple template, but then again, this is a budget laptop, and while the plastic doesn't feel too premium on either of them, it doesn't feel cheap or flimsy either.
Weight and Size Comparisons
While they both share similar design languages, there are also a few key differences between the two. The IdeaPad 1 measures 12.9 x 9.25 x 0.71 inches (HWD) and weighs 3.1 pounds, compared to the IdeaPad 1i, which measures 12.81 x 8.52 x 0.7 inches and weighs 3 pounds. While both may not be ultra-modern, sharp-looking ultrabooks, they are still fairly compact and don't weigh too much; funny enough; they are almost the same weight.
Colours
If you don't like grey, you can also find the IdeaPad 1 14 in the alternative Ice Blue finish from some retailers. While the Ideapad 1i also comes in grey, it also has a silver and blue version too.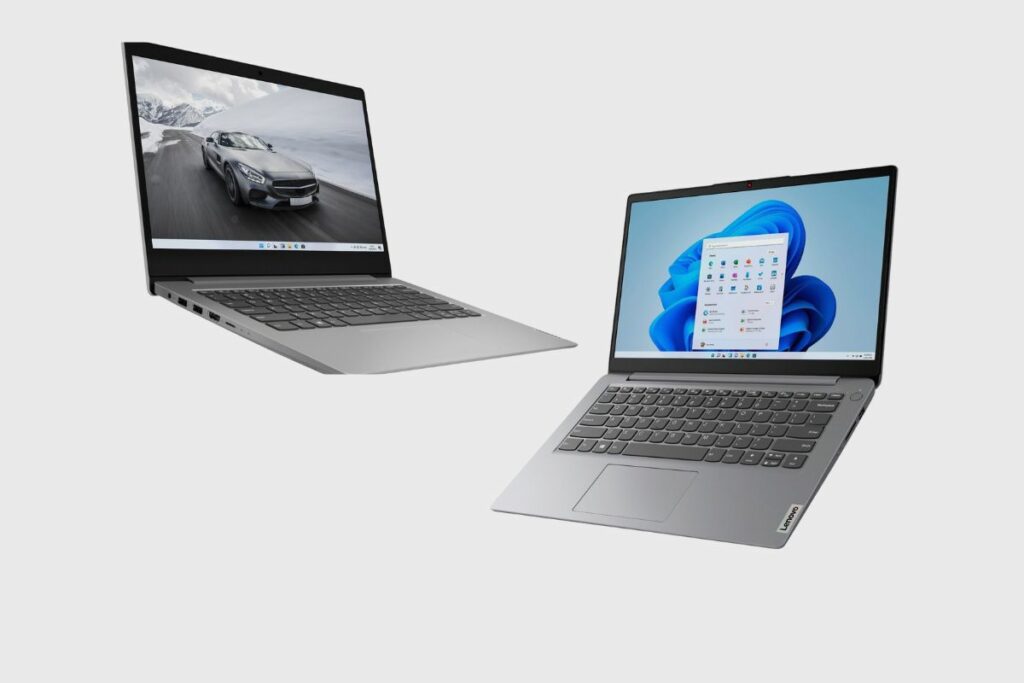 Display Quality and Size Comparisons
One of the IdeaPad 1-14's best features is its full HD display, which helps it stand out from the sea of lower-quality screens on laptops that are priced lower. The screen size is slightly bigger than the 13.3 inches found on most other ultraportable computers, measuring 14 inches on the diagonal.
The 1,920 by 1,080-pixel native resolution is largely responsible for the vivid colours and clear typography. Many low-cost laptops are only capable of HD resolution, which results in 1,366 by 768-pixel sizes and can cause text on a 14-inch or 13-inch screen to appear fuzzy.
My main issue with the IdeaPad 1 14's display is that its backlight is relatively dull, with a maximum brightness rating of only 220 nits. The brightness is adequate for most indoor viewing situations when set to maximum, but as I lowered the brightness slider a few notches, visibility immediately declined. The matte-finish screen does not support touch input, although it is quite effective at reducing glare from outside light.
While the Ideapad 1i may share the same 1080p display with the Ideapad 1, which is an upgrade on last year's model, it also has much better viewing angles, given its high-quality IPS panel. It is also a 60Hz refresh rate panel with a 16:10 aspect ratio. All of which makes it an amazing laptop for watching videos and movies, but it still falls into the same problems as the Ideapad 1.
It still has a very low peak brightness of 220 nits, which is very disappointing to see or not see because, in bright light or daylight, your screen will be plagued by glare. So, please be wary of that. The screen doesn't also have a matte finish, so your display will find it hard to reduce the glare from outside.
However, both laptops share similarly disappointing low scores in terms of colour accuracy, with both having a 45% NTSC rating and a 54% SRGB rating. All of this makes it very difficult to get any creative work done, like photo or video editing.
Audio Quality Comparisons
The speakers on both laptops are what you would expect at this price point. Only clean mids are produced; however, when the volume is increased by more than 50%, distortion occurs. However, I'm not really shocked by this because I anticipated them doing something similar. Although I won't really encourage it, I would advise using headphones or external speakers when watching or listening to media on this laptop.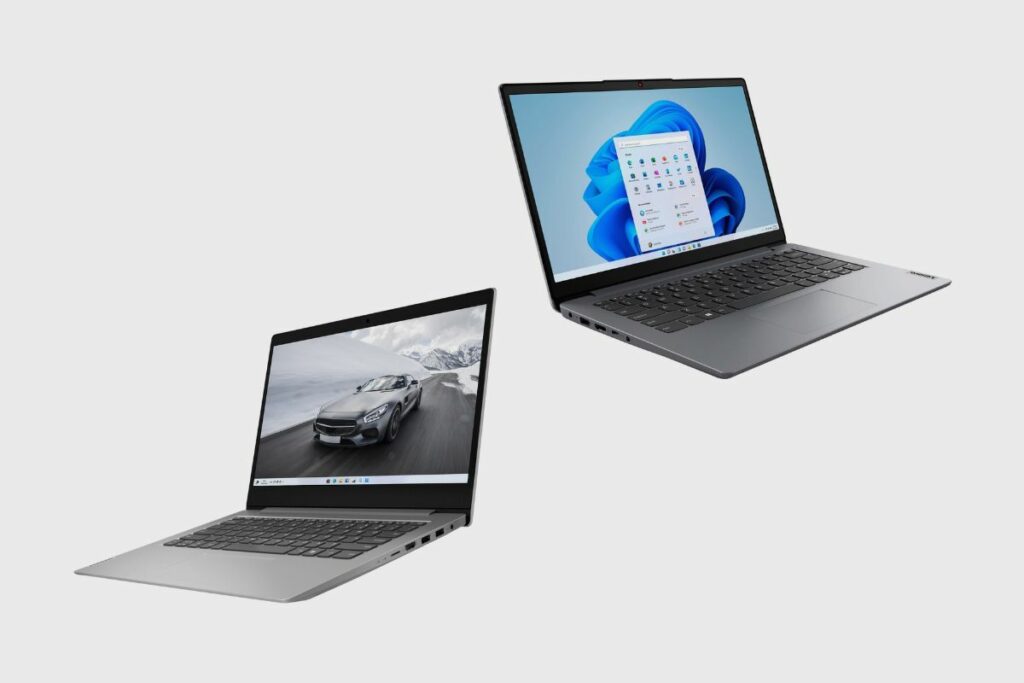 Performance and Hardware Comparisons
On the performance and hardware side of things, the Ideapad 1 has a similarly specced AMD 3020e Mobile Processor to the Ideapad 1i's Intel Pentium Silver N6000 4 x 1.1–3.3 GHz, Jasper Lake processor. Both of these are pretty low-spec processors and will find it very hard to perform very demanding tasks or even casual gaming.
They both have integrated graphics chips, but the AMD Radeon chip inside the Ideapad 1 is slightly better than the Intel UHD Graphics chip inside the Ideapad 1i, so please don't expect to be playing God of War 2018 on the Radeon chip just because I said it was better than the Intel UHD chip.
As far as performance is concerned, I experienced no hangs or crashes while downloading apps or browsing the web with just one tab open. Although there are some rare instances of lag, especially when resizing or maximising app windows, the overall performance of this laptop is remarkably fast.
Since Windows 10 S Mode only allows apps downloaded from the Microsoft Store to be installed, you will need to exit S Mode to instal some apps, but doing so is simple and cost-free.
I compared the IdeaPad 1 14's benchmark results with those of the Modern 14 and three other laptops to see how its performance compares to a few main rivals.
With more powerful Ryzen and Core CPUs and larger 15-inch screens, the Asus VivoBook 15 and Lenovo IdeaPad 3 15 are one rung up the price and size ladder. The IdeaPad 1 14 is more directly competed with by the Asus Laptop L410, which has a similar Intel Celeron processor and a $265 price tag.
None of these machines scored above 4,000 on the PCMark 10 test, which I normally consider to denote exceptional performance on daily chores like word processing, online surfing, and videoconferencing. The VivoBook 15 scored 3,387, the IdeaPad 3 15 scored 3,323, and the IdeaPad 1 scored 2,295, all of which were significantly higher than the Asus Laptop L410's score of 1,465 on this test.
I was unable to perform my picture editing benchmark on IdeaPad 1 14 and 1i since it has only 4 GB of memory, which is insufficient to run Adobe Photoshop. However, the laptop was able to hack it on the 3DMark and Superposition gaming benchmarks, producing unsurprisingly low results. With an average frame rate of barely 10 frames per second on the lenient 720p Low Superposition test, the IdeaPad 1-14 is not a gaming laptop. On the other hand, you shouldn't expect to play 3D games on a laptop this cheap.
On the other hand, the Lenovo Ideapad 1i uses an extremely basic CPU called an Intel Pentium chip to do office duties. Since the Pentium chip inside is not a very high-performance chip, nothing even remotely demanding should be expected to run smoothly on it. As long as the tasks are simple daily duties like using Microsoft Office apps, reading the web, playing music or movies, and other similar things, it handles multitasking quite well.
Storage and Memory
As far as storage is concerned, both laptops come with varying levels of storage that range from 128 to 256 GB. On the bright side, both laptops come with SSDs, so while the storage space may not be much, the laptops will certainly be very fast, which is a definite plus considering there isn't much space to begin with.
Furthermore, both laptops come with at least 4 GB of memory, and while that is good for some light tasks, it is certainly not good enough to do a lot of things, and that makes it way less appealing to do a lot of things.
Finally, both the RAM and SSD on each laptop are soldered onto the motherboard, meaning you are stuck with both the storage and RAM you start with, and that only serves to hinder the laptop from being viable as a cheap option that can be upgraded.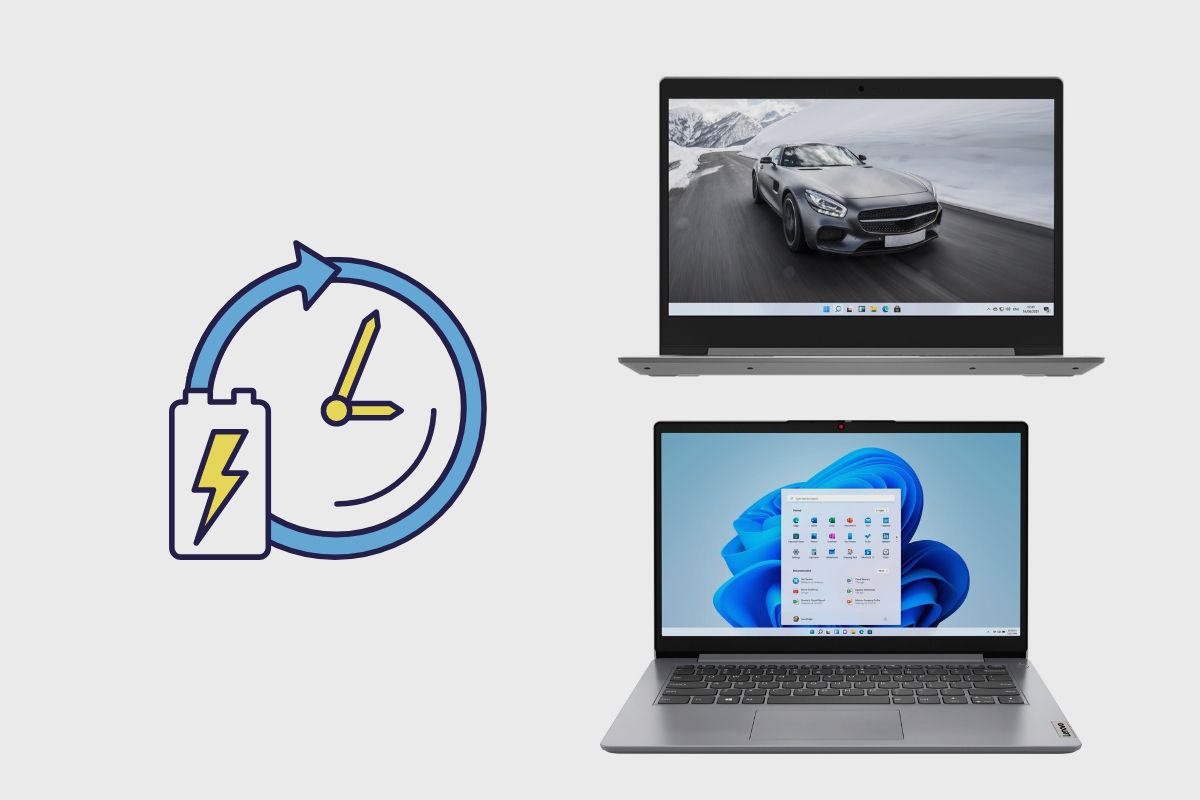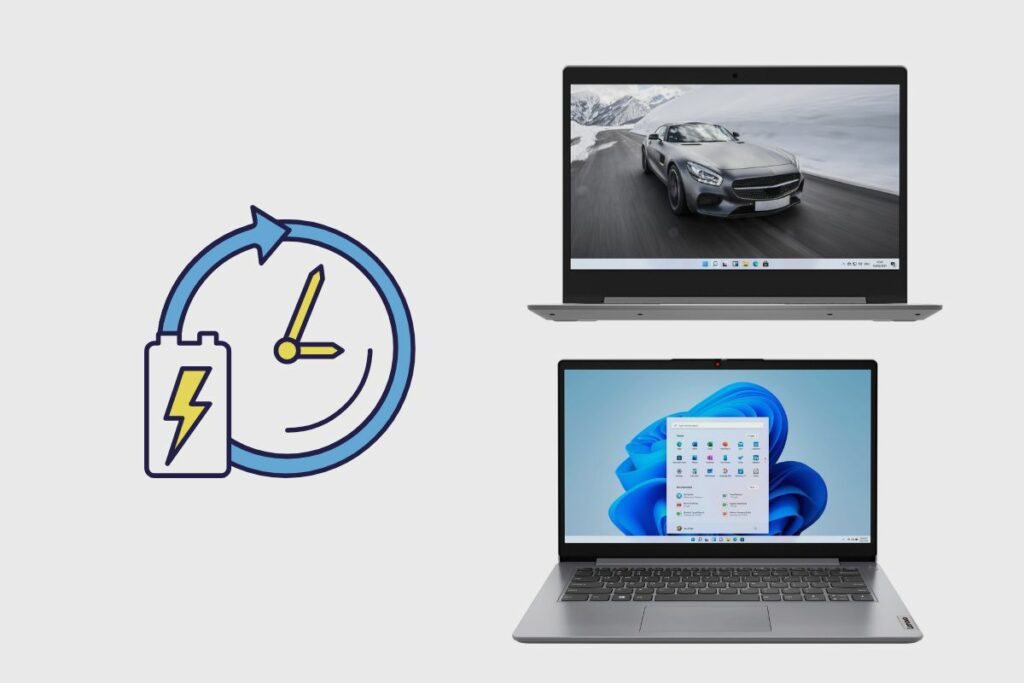 Battery Life
Though you should anticipate a respectable battery life, the IdeaPad 1 14 won't let you down in this regard. My rundown video test, which involves watching a 720p video file at 50% screen brightness with Wi-Fi off, revealed that the battery lasted for 12 hours without an external power source. With higher loads, though, the battery might only last around 7 or 8 hours.
The IdeaPad 1i 14, on the other hand, lasts for around 8 hours on a single charge, so you won't need to worry about bringing your charger with you wherever you go. However, I noticed a noticeable decrease in battery life when undertaking demanding tasks like playing games.
Port Diversity and Connectivity Options
As far as connectivity options are concerned, both laptops come with similar Wi-Fi and network capabilities, with a noticeable difference in their Bluetooth capabilities. The Lenovo Ideapad 1-14 comes with Bluetooth 4.2, while the Lenovo Ideapad 1i-14 uses the newer Bluetooth 5.2.
The Lenovo Ideapad 1 14 has two USB 3.1 Gen 1 Type-A ports, a full-size HDMI video output, a microSD card slot, a connector for the barrel-style power adapter, and other ports and inputs, while the Ideapad 1i has a single USB C 3.2 port that only supports data transfer and two USB 3.2 Type-A ports that support charging a charging connector, an HDMI 1.4 port, and an audio combo jack. Given that many laptops skimp on I/O by incorporating fewer and slower ports like USB 2.0, this is incredibly positive.
Keyboard and Trackpad
Given that Lenovo is known for its keyboards and trackpads, I wasn't surprised to see that both laptops have excellent trackpads that are comfortable and excellent to type on and scroll with. While these 14-inch models feel light and compact, the trackpad is wide and large enough for me to use. There is also enough space for the palm rests, and both laptops have enough key travel for my pretty large fingers to type on.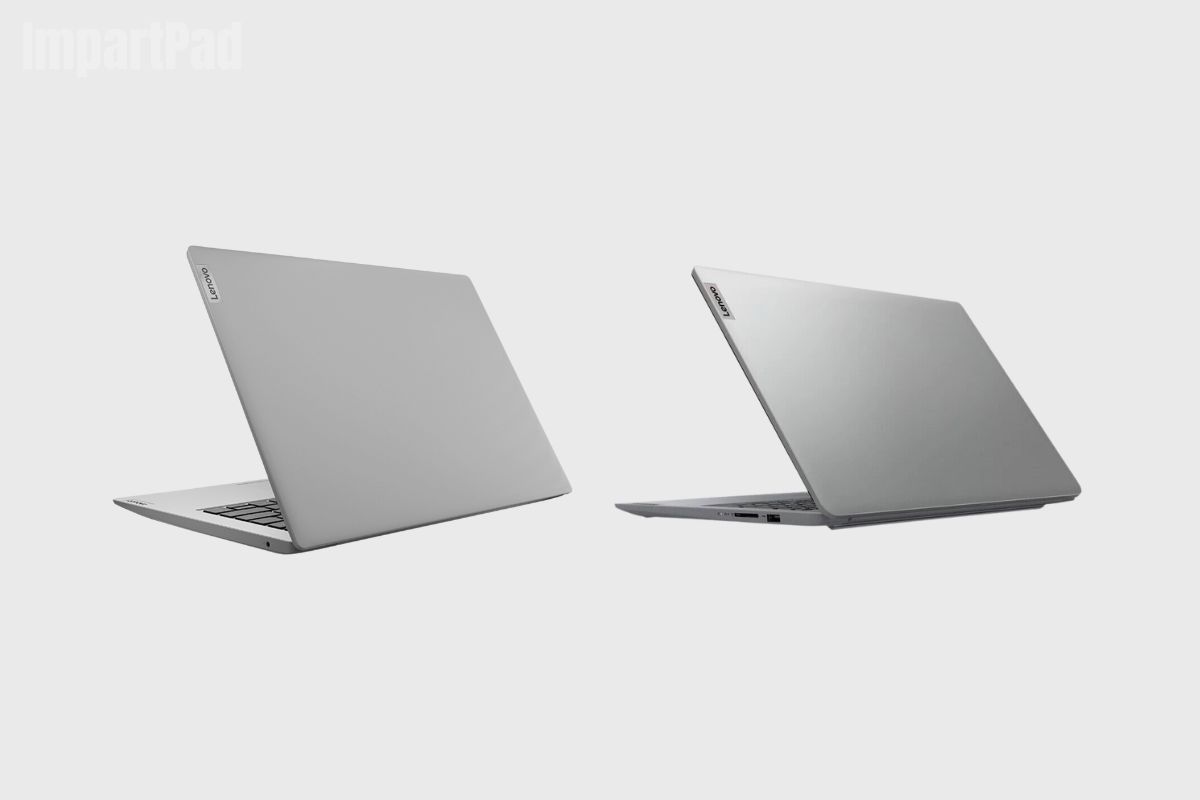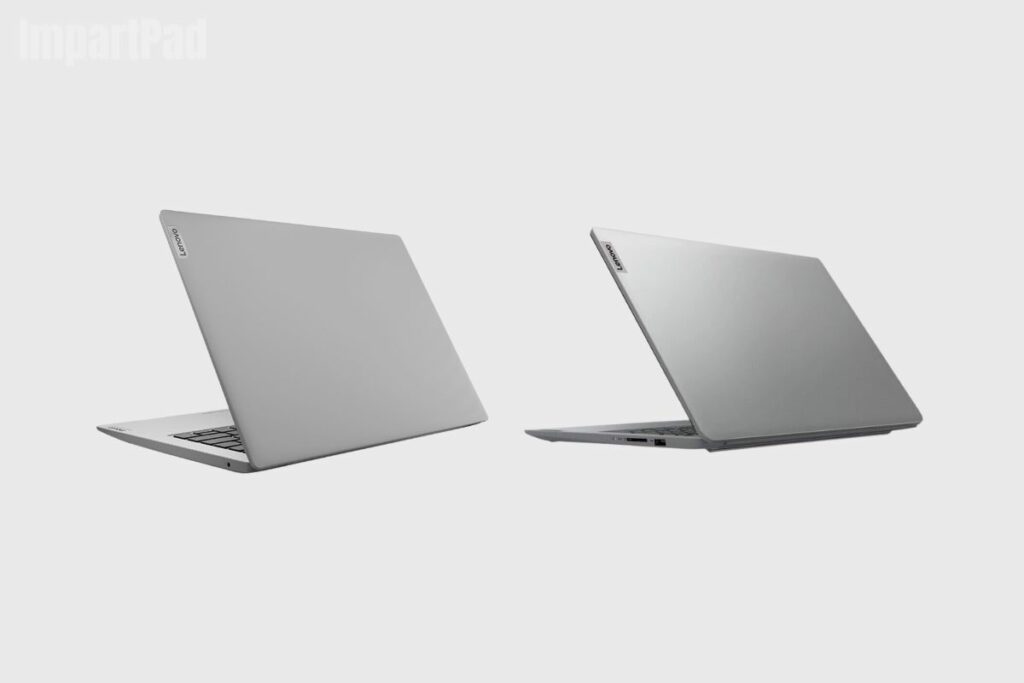 Pricing and Availablity
Regarding the price, you can find both laptops on Amazon and other storefronts for about $200 or less. These laptops usually go on sale and could even be bought for less. If you can buy this laptop for anything less than $180, you have gotten a lot of value for your money.
Which laptop is better, the Lenovo IdeaPad 1 or the Lenovo IdeaPad 1i?
Let me be completely honest with you right now: there isn't much difference between both laptops and while the AMD processor in the IdeaPad 1 is slightly better than the Pentium processor inside the IdeaPad 1i, it is only a marginal boost in performance. There isn't much to separate these laptops, and in the end, it all comes down to which processor you prefer and how much storage you can live with.
Final Thoughts
Both IdeaPad 1 and IdeaPad 1i are great entry-level budget laptops that are good enough to get the job done. They know what they are, and they don't shy away from that. They are laptops for very basic tasks and shouldn't be expected to do much else. Personally, I prefer the IdeaPad 1 because of its AMD processor. AMD makes great processors, and it still provides more power than the Intel-based processor on the "i" version.
However, that is my choice, and now I will leave that choice to you. Let me know which IdeaPad you prefer and which one you would like to buy. If you have bought an IdeaPad 1, let me know how it worked out for you in the comment section below.
Other related posts to read:
References: