Getting your hands on the right 2-in-1 laptop is a very difficult thing to do. There are so many options available to you that it could be overwhelming. However, when it comes to designing an excellent laptop with an impressive level of performance, you can't look past the Lenovo ThinkPad X1 Yoga Gen 6 and the Microsoft Surface Laptop 4. 
Both laptops offer excellent value for money and an even greater level of performance. They both offer tablet mode functionality with greater key travel, larger screen sizes, and even faster performance than any tablet you can find.
However, in the battle for supremacy, there can only be one 2-in-1 laptop that reigns supreme, and that is what we are going to find out today. We want to know which laptop is better, the Lenovo ThinkPad X1 Yoga Gen 6 or the Microsoft Surface Laptop 4.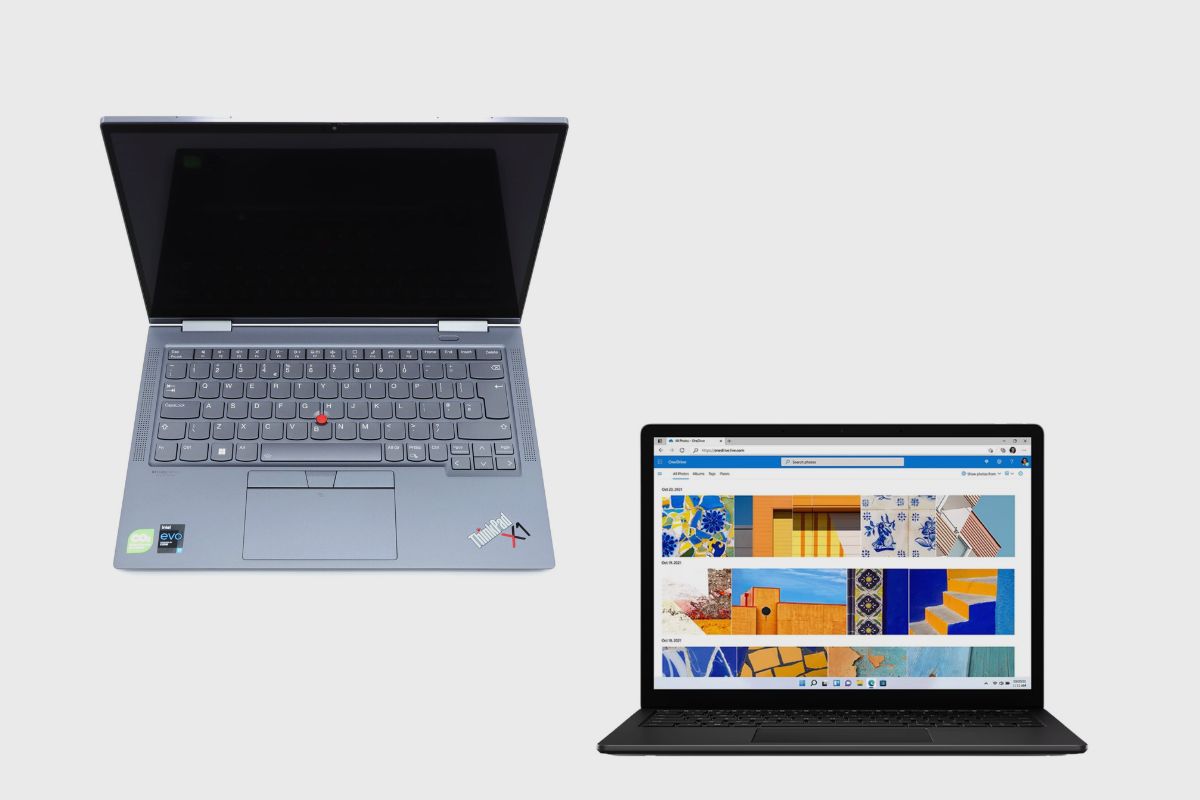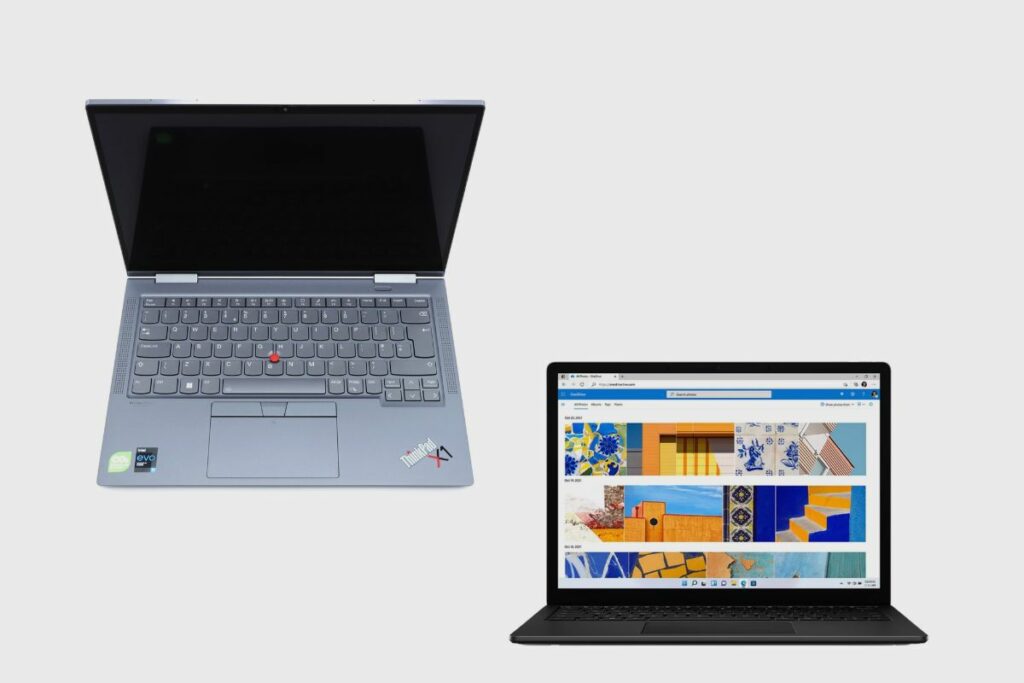 Specifications
When comparing two devices, the best place to start is with a quick recap of each of their specs to have a brief look at how they stack up against each other.
| | | |
| --- | --- | --- |
| Category | Lenovo ThinkPad X1 Yoga Gen 6 | Microsoft Surface Laptop 4 |
| CPU: | Intel Core i7-1165G7 | 11th-Gen Intel Core i7-1185G7 (Core i5 also available) |
| Graphics: | Intel Iris Xe | Intel Iris Xe |
| RAM: | 16GB | 16GB (8GB, 32GB also available) |
| Screen: | 14-inch, 1920 x 1200p, IPS touchscreen, 400 nits | 13.5-inch touch-screen, 2256 x 1504 (201 PPI) |
| Storage: | 512GB PCIe SSD | 512GB SSD (256GB, 1TB also available) |
| Ports: | 2x USB Type-C Thunderbolt 4 (DisplayPort, Power, and Data), 2 x USB Type-A Gen 1 (One always on), 1 x HDMI 2.0, 1 x 3.5mm combo jack, 1 x Kensington lock | 1x USB-C, 1x USB-A, Surface Connect port, headphone jack |
| Connectivity: | Wifi 6, Bluetooth 5.2 | Wi-Fi 6/Bluetooth 5.0 |
| Camera: | 720p w/ privacy cover | 720p |
| Weight: | 3.0 lbs (1.35kg) | 3lbs/1.35kg |
| Size (W x D x H): | 12.32 x 8.77 x 0.59 ins (313 x 223 x 14.9 mm) | 12.1 x 8.8 x 0.57 inches |
| Battery: | 57WHr | 10:46 (tested, web surfing) | Up to 17 hours (Microsoft's claim) |
Design and Build Quality Comparisons
From a design standpoint, both laptops look very simple and clean; neither laptop comes out of the box with all the bells and whistles going off. They both have a simple yet elegant design that can best be described as minimalist.
The X1 Yoga G6 in Strom Grey has a fully redesigned aluminium body, making it stand out from standard ThinkPads in black. In comparison to the previous model, which also had a dark grey case, the keyboard is no longer black. It sports a ThinkPad X1 logo stamped on the lid's corner, catty-cornered by a subtle Lenovo mark. Aside from the red cursor button in the middle of the keyboard, there is absolutely no other artistic flair.
The aluminium surfaces feel cool to the touch, and the sides have brushed aluminium. The base model's central portion can only be minimally dented, and there are no creaking sounds, which indicates that stability is also extremely good. The lid doesn't seem worse; it is also quite solid, and even under heavy pressure, I cannot cause picture distortions. In contrast to black ThinkPads, I also observed that the grey surfaces are less likely to attract fingerprints.
The Surface Laptop has always been a simple and elegant piece of hardware, and the Surface Laptop 4 is in no way different. The 13.5-inch Surface Laptop 4 that I currently have with me is one of the lightest and thinnest laptops I've ever used that isn't completely terrible to type on.
The Microsoft Surface Laptop 4 lid is composed of aluminium and has no flex, just like the ThinkPad. And unlike many other touchscreen laptops available today, the hinge is so sturdy that when you poke the screen, you don't need to readjust it afterwards or brace it with your other hand. By itself, this makes using the touchscreen much more practical and makes it seem less like a gimmick. Other laptop manufacturers may absolutely take note of this.
Weight and Dimensions
The Surface 4 has the same dimensions as the Surface Laptop 3, weighing 2.8 pounds and measuring 12.1 x 8.8 x 0.6 inches. The Surface Laptop 4 is not quite as small as the X1 Yoga Gen 6, which weighs under 3 lbs (1.35 kg) and measures 12.32 x 8.77 x 0.59 in (313 x 223 x 14.9 mm). The difference between the two computers, though, is extremely small, and both should be very comfortable to carry around and compact enough to slip into a backpack or briefcase and soon forget about.
Colours
As far as colours go, the Surface Laptop 4 comes in four distinct colour options. You can get it in matte black, which is my personal favourite; sandstone, which seems a bit dust-resistant, platinum, which is just a glossier sliver; and finally, ice blue, which is by all accounts a very pale blue that almost looks silver.
Microsoft already has my heart with the matte black design, but the other colours are just alright. On the other hand, Lenovo chose to go in the opposite direction and only pick one colour option, which is a simple storm grey. I think storm grey is nice, but nothing beats matte black, and that is exactly what I like to see.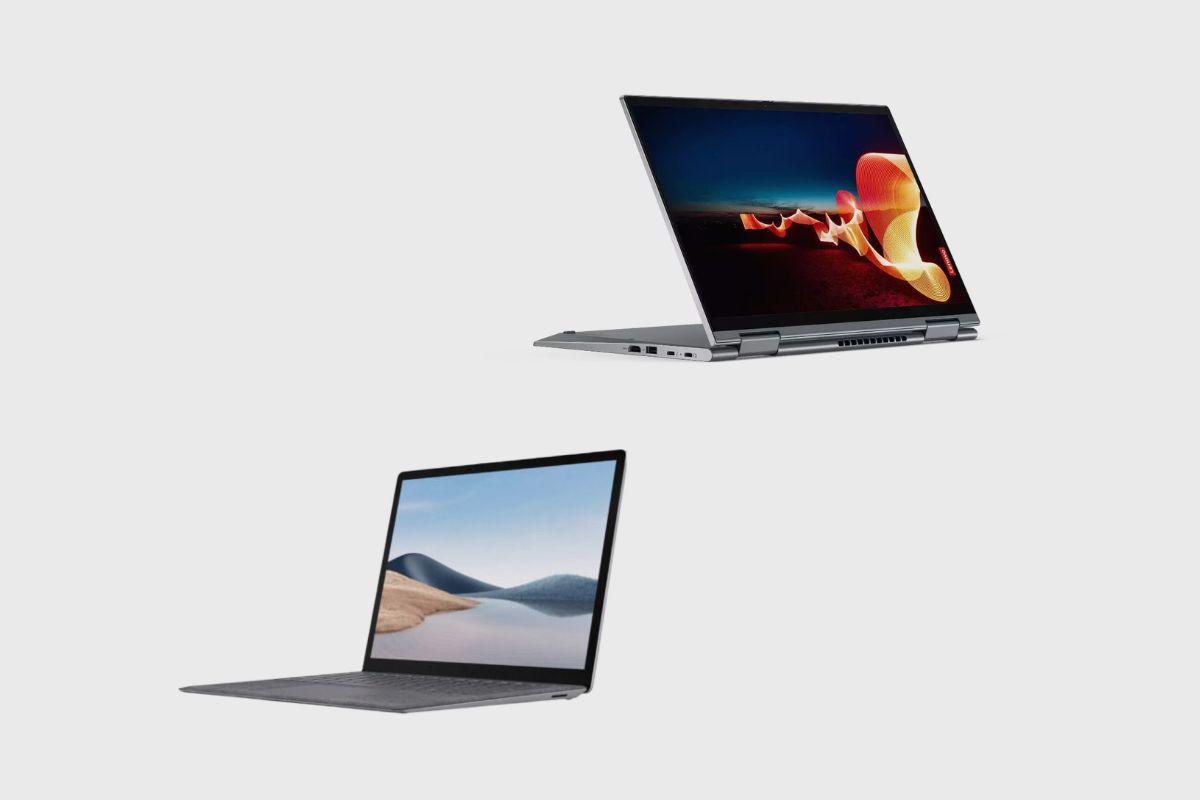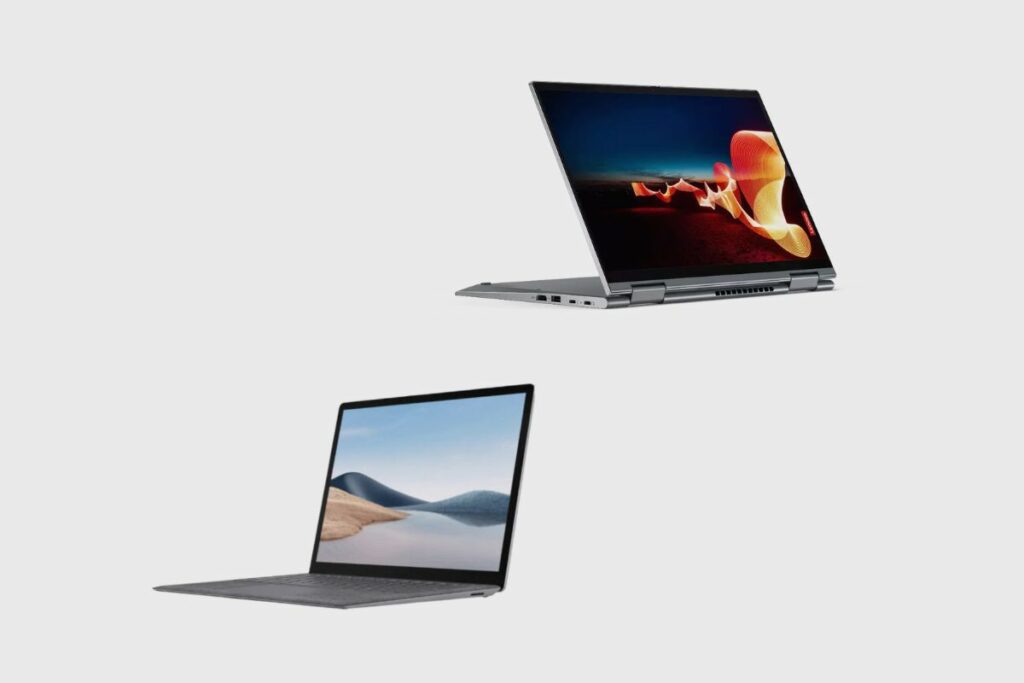 Display Quality and Screen Size Comparisons
The Surface Laptop 4's 13.5-inch, 2256 x 1504-pixel screen has many advantages, especially if you do a lot of reading, editing, or anything else that benefits from the extra vertical space given by its 3:2 display ratio.
However, when I exited productivity mode and began streaming TV and films on the laptop, I was disappointed by how dreary and washed-out several scenes appeared. Blazing colours could sometimes jump off the screen, as in Bad Boys 2's blazing orange explosions or Stormfront's brilliant purple lightning discharges in The Boys. However, in dark environments or settings with a lot of muted blues and greens, the colours tended to fade and merge, making it difficult to pick out detail.
I also noticed my reflection a lot more than I'm used to seeing when working on a laptop, even with the brightness up. In the absence of rigorous testing data, I'm hesitant to say that the Surface Laptop 4's screen is more reflective than most, but it certainly appears so. This didn't cause any issues for me, but it's worth noting if you want to use the gadget frequently in strong lights or direct sunlight.
When tested with our light gun, the screen produced an average of 348.6 nits of screen brightness. That's good, beating out the Lenovo Thinkpad 14s Yoga (313 nits) but trailing both the Intel and AMD editions of the 15-inch Surface Laptop 3 (366 and 380 nits, respectively).
On the other hand, Lenovo provides four 14-inch displays for the X1 Yoga G6, all of which feature a 16:10 aspect ratio. Again, you may choose between three glossy screens (FHD, FHD with ePrivacy, and 4K) or my test unit's matte FHD touchscreen (1920 x 1200 pixels), which is the base configuration. The resolution is slightly better, but the panel is essentially the classic low-power type from LG Philips, and I expect Lenovo will use panels from several manufacturers once again.
The subjective visual impression is excellent, but due to the matte surface, colours are not as vibrant as on glossy screens. Bright surfaces appear slightly grainy as well, but matte panels are worse in this aspect. For productive usage conditions, I would absolutely prefer the matte touchscreen.
The contrast ratio is over 1900:1, and the average brightness is 404 cd/m2. Although response times are very poor and ghosting is noticeable, backlight leakage is not a significant issue either. We found no evidence of PWM flickering.
For the display analysis, I employ the X-Rite i1 Pro 2 spectrophotometer and expert CalMAN software. There is no discernible colour cast because the panel is already properly calibrated out of the box. Except for 100% blue, almost all colours fall within the critical DeltaE2000 deviation range of 3 when compared to the sRGB reference colour space.
My own calibration slightly reduces the deviations, but I was unable to get rid of the blue outlier. You can still edit images and videos with this panel because it almost entirely covers the sRGB gamut.
Personal Thoughts
As far as the displays on both laptops are concerned, I think the ThinkPad X1 Yoga beats out the Surface 4. This is mainly due to its impressive colour saturation and way better screen brightness figure. The gap between the two laptops may not be very wide, but it is certainly not minimal.
Audio Quality Comparisons
On the speaker side of things, the Dolby Atmos technology, which Microsoft claims enables the laptop to create richer, more spatially accurate sound by pushing it out from underneath the keyboard and reflecting it off the screen, is the main talking point surrounding the Surface Laptop 4's speakers.
Even though I'm not an audiophile, I can attest that the Surface Laptop 4's speakers produce excellent audio for both music and movies. Massive Attack's 'Angel' and other bass-heavy songs still have a kick to them, and while I watched the Godzilla vs Kong video, I found myself checking to see if the laptop wasn't truly shaking in sync with the bass drops.
However, more well-balanced songs truly bring out the best in the Surface Laptop 4's speakers, and when I put on Ckay's "Halleluiah", I was thrilled by how loudly the vocals boomed out throughout the room without losing any of their warmth. If I hadn't known, I probably wouldn't have thought the music was coming from someone's laptop as I moved down the hallway or into an adjacent room and could still clearly hear Ckay's lovely voice.
The sound quality is excellent for both conferencing and video playback; however, the ThinkPad X1 Yoga lags behind the Surface 4. Though the bass is definitely limited, the sound is nevertheless quite linear and rich. However, at louder volumes, the base unit's front would somewhat vibrate. Clearly, it is still far inferior to the Surface 4.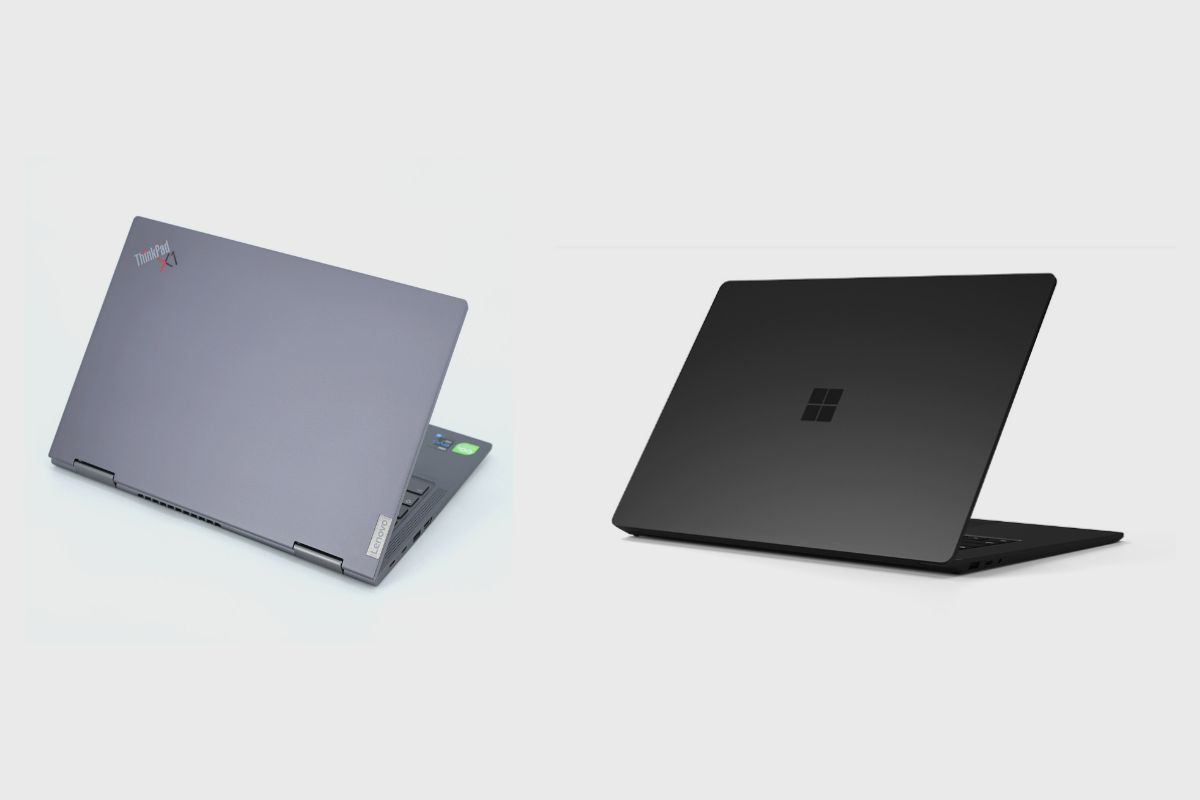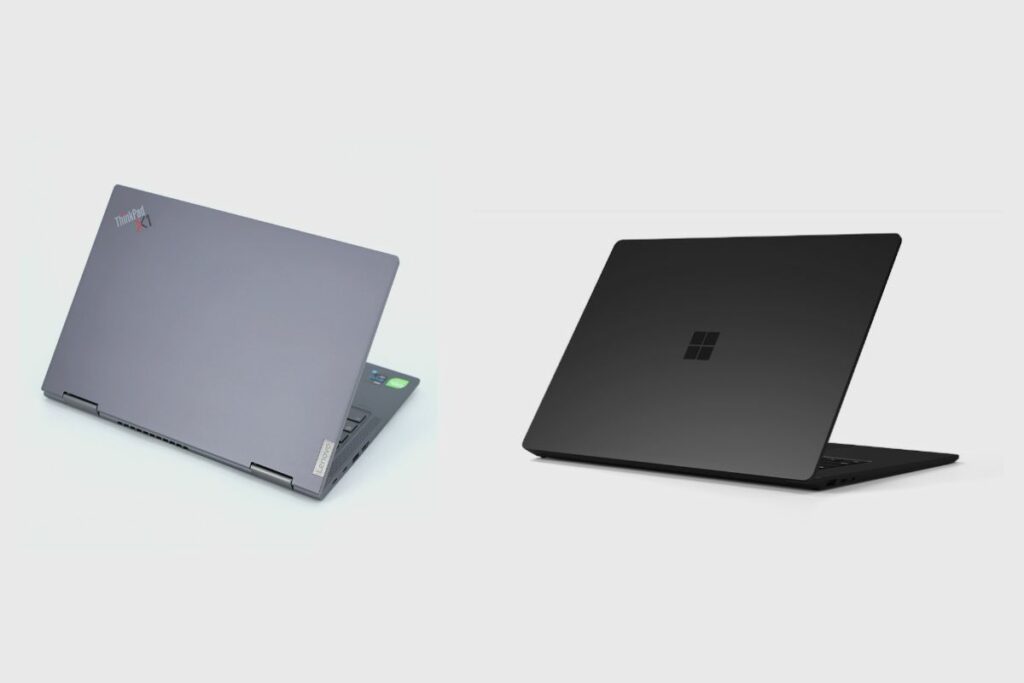 Performance and Hardware Comparisons
As far as performance is concerned, this Lenovo ThinkPad X1 Yoga Gen 6 model is updated with new Intel Tiger Lake processors, making it the first in this line to have Intel Evo certification with Intel Iris Xe graphics.
The Core i7-1165G7 is the "middle" model; the i7-1185G7 and two i5 chips are also available. The quad-core from the Tiger Lake generation can operate at speeds of up to 4.7 GHz on one core or up to 4.1 GHz on all four cores at once, respectively. Lenovo has both power limits (PL1 & PL2) set to 64W, which hardly imposes any restrictions on CPU usage. You will profit from high clocks during brief peak load scenarios, but the cooling system certainly cannot sustain this level for very long.
The processor immediately levels off at usage of about 28 watts (4x 3.2 GHz), as seen by our Cinebench loop. This is a good result, and the HP Spectre x360 14, which has the same processor, performs about as well as our test unit. On the other hand, the Tiger Lake UP4 CPU in the X1 Titanium Yoga is around 35% slower than the old Comet Lake i7 with cores in the EliteBook x360.
The processor's strong single-core performance, which is vital in everyday settings, is one of its main advantages. In this regard, Intel still has an advantage over AMD, but in multi-core situations, Intel is completely outmatched.
The Surface Laptop 4, on the other hand, is outfitted with the same Intel Core i7-1185G7 and 16GB of RAM, so it was able to handle everything I threw at it. The Surface Laptop 4 doesn't show any signs of slowing down, not even when we filled it up with literally dozens of Chrome tabs while streaming music from YouTube and conversing on Slack and Discord.
The Surface Laptop 4 is impressive since it can perform all of those tasks without slowing down while using battery power, which is something that most modern laptops should be able to achieve.
The performance of these laptops is evident when they are plugged in. The Surface Laptop 4 scored a respectable 4,998 points in Cinebench R23, which is approximately what we would anticipate from this chip.
Similar to this, the Surface Laptop 4 received a single-core score of 1,356 points and a multi-core score of 4,918 in Geekbench 5. The Surface Laptop 4 can do the job if you're looking for a super-portable laptop that can handle some work.
Additionally, despite not being designed for gaming, the Surface Laptop 4 managed to score a respectable 5,151 points in 3DMark Fire Strike, indicating that it should be able to play some of the best independent games. Just keep in mind that Cyberpunk 2077 cannot be run at its highest settings.
Personal Thoughts.
While both laptops produce similar levels of performance, they still have some slight differences in CPU architecture, which makes for only minimal differences in performance.
Port diversity
For better or worse, Microsoft's Surface Laptop 4 has fairly limited port diversity and options. A Surface Connector is present on the right side of the device for charging, and there are USB-A, USB-C, and a headphone jack on the left.
It's great to see a traditional USB-A port on a contemporary gadget like this, and pairing it with a USB-C port gives this laptop some excellent flexibility when it comes to connecting external devices. It's unfortunate for anyone planning to purchase powerful external devices like GPUs or high-capacity SSDs that this USB-C connection does not support Thunderbolt 4.
I also really enjoy it when a laptop manufacturer incorporates a little SD card reader or a stylus cubby into the sides of their product, even if a part of me prefers a compact, straightforward chassis without a bunch of odd holes in it.
While the Surface Laptop 4 is fairly limited in its port diversity, the ThinkPad X1 Yoga excels in this case. It has excellent port diversity and very good variation in input options. The ThinkPad comes with two Thunderbolt 4 ports on the left side; you still get two regular USB-A ports as well as a full-size HDMI output.
Although there is no denying that photography runs on equal parts passion and SD card capacity, I would have preferred to see an SD card slot since the types of creative professionals who will benefit the most from this 2-in-1 almost all incorporate photography in some capacity in their work. Fortunately, there are sufficient ports so that an SD card adapter won't cause too much obstruction.
The garaged stylus that is present is very pleasant to use, albeit obviously not as comfortable as a full-sized pen would be. However, I will always prefer the ease of a stored stylus that I won't lose, and that can be rapidly charged in between classes or over a lunch break, any day.
Storage and Memory Comparisons
The 512GB SSD that comes with the Surface Laptop 4 worked admirably when we requested it to duplicate 25GB of multimedia files, doing so at a respectable rate of 562.73 MBps. Additionally, it boasts a staggering 16GB of RAM, giving it unparalleled multitasking capabilities.
The story is likewise fairly similar for the ThinkPad X1, which also features a quick PCIe 4.0 512GB SSD and 16GB of RAM. However, the X1 Yoga is limited to 16GB and is soldered to the motherboard, whereas the Surface Laptop 4 can be purchased with an additional 32GB version.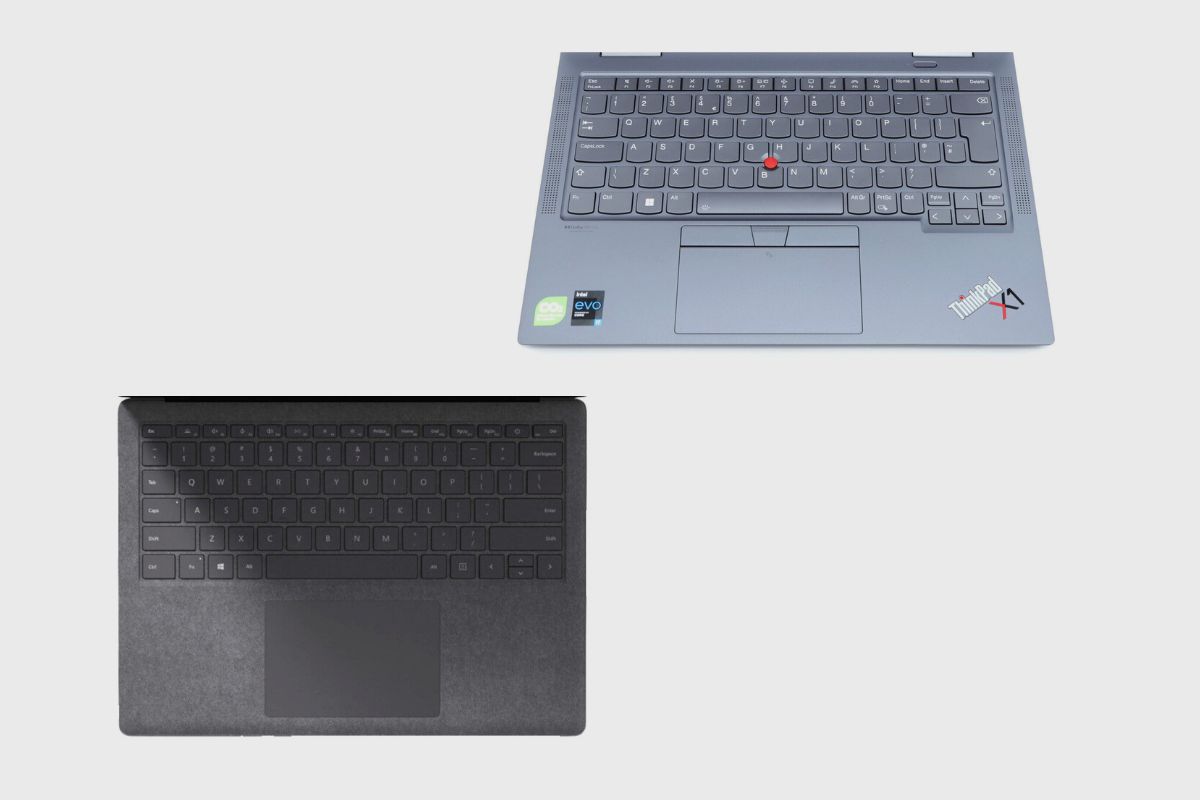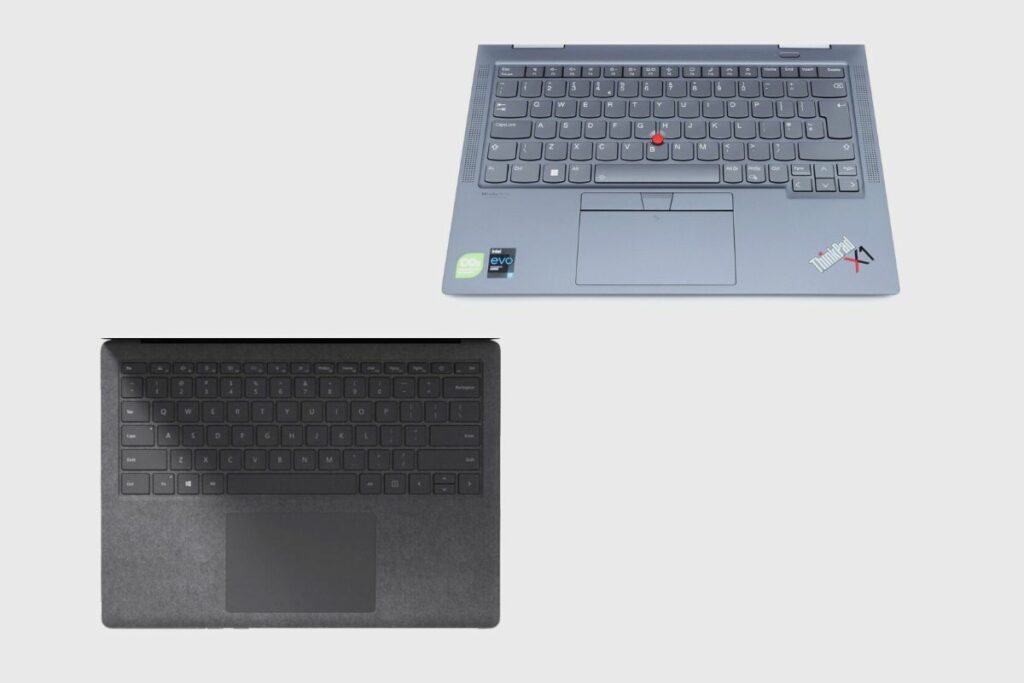 Keyboard and Trackpad Comparisons
The presence of an amazing keyboard and trackpad setup on every Lenovo laptop has become fairly standard; even entry-level laptops have top-notch keyboards. Since the X1 Yoga is one of their priciest laptops, the keyboard and trackpad configuration is amazing.
With its unique tactile response, key travel, and key spacing, the X1 Yoga is a delight to type on. My fingertips glide across the keys with ease. Even though I'm not particularly skilled with them, the button cursor doesn't interfere with my typing in any way, and the mouse buttons were conveniently positioned above the trackpad even though they weren't extremely responsive.
Lenovo now has a touchpad that is 11.1 cm wider, and the handling is just as excellent as it was before. Good gliding capabilities are provided by the smooth surface, and gestures are effectively carried out. The pad fits into the base unit flawlessly, and the clicking sound is well-muffled and gives off a premium appearance.
In direct comparison, the TrackPad buttons fall short because they move a little bit and make a poor clicking noise. They continue to function flawlessly, and the TrackPoint is once again a very effective substitute for cursor movements.
Although not nearly as amazing, typing on the Surface 4 is still fairly engaging and entertaining. The Microsoft Surface Laptop 4's keyboard's Alcantara texture and the perfectly sized keys make typing on it more comfortable than on most other laptops I've used. The 1.3mm of travel and pleasing click of the keys made it easier for me to type swiftly without bottoming out.
The 4.5 x 3-inch glass touchpad that is located beneath the keyboard is also pretty pleasant to use; it feels close to the keyboard but yet gives my large, awkward sausage fingers plenty of room to wander around. It seemed as responsive to touch as the laptop's touchscreen, and I had no issue utilising gesture commands on either surface. However, it is somewhat disappointing and challenging to get past the lack of buttons on the trackpad.
Battery Life Comparisons
You can be confident that you'll receive at least nine hours of battery life out of the Lenovo ThinkPad X1 Yoga Gen 6 because of its Intel Evo certification. In my general-use performance testing with PCMark 10, I discovered that it lasted considerably longer, lasting an average of 13 hours and 14 minutes.
In my Blu-ray movie test, it didn't last as long, but it still managed an average runtime of 10 hours and 39 minutes, with its best time coming in at 12 hours and 31 minutes. For work, school, and, if you're working from home, potentially both, this is more than enough time to consider it an all-day laptop.
And if you do need a little more power to get you through a particularly long day, it has Rapid Charge technology that can recharge the battery during your lunch break as long as the power supply is at least 65W.
Microsoft, on the other hand, has made some wild promises about the Surface 4. For example, the 13.5-inch Surface Laptop 4 with AMD hardware is said to have a battery life of up to 19 hours, while the Intel model is said to have a battery life of up to 17 hours. I don't know what planet the marketing team at Microsoft is from, but on planet Earth, there aren't a lot of laptops in existence that can last for 17 hours at a time, and the Surface 4 is no different.
However, my dearest reader (in Lady Whistledown's voice), the Surface Laptop 4 is a beautiful machine, and it truly does last a long time on a single charge; I was able to unplug and get through a 9-hour workday of intermittent writing and editing while listening to music and watching videos, never once worrying that the battery would die on me.
However, as amazing as it is, the Surface Laptop 4's battery life falls short of the hype. The Intel-based 13.5-inch Microsoft Surface Laptop 4 lasted a little less than 11 hours (10:46:23) in my lab tests, which are based on active, continuous web browsing, which is a nice improvement over the 9 hours and 32 minutes the Intel-based Surface Laptop 3 lasted during my tests.
All in all, it still falls well short of the wildly overstated 17-hour battery life touted. However, this should not be a reason for concern because it outperforms the X1 Yoga and provides more than adequate battery power for the majority of users.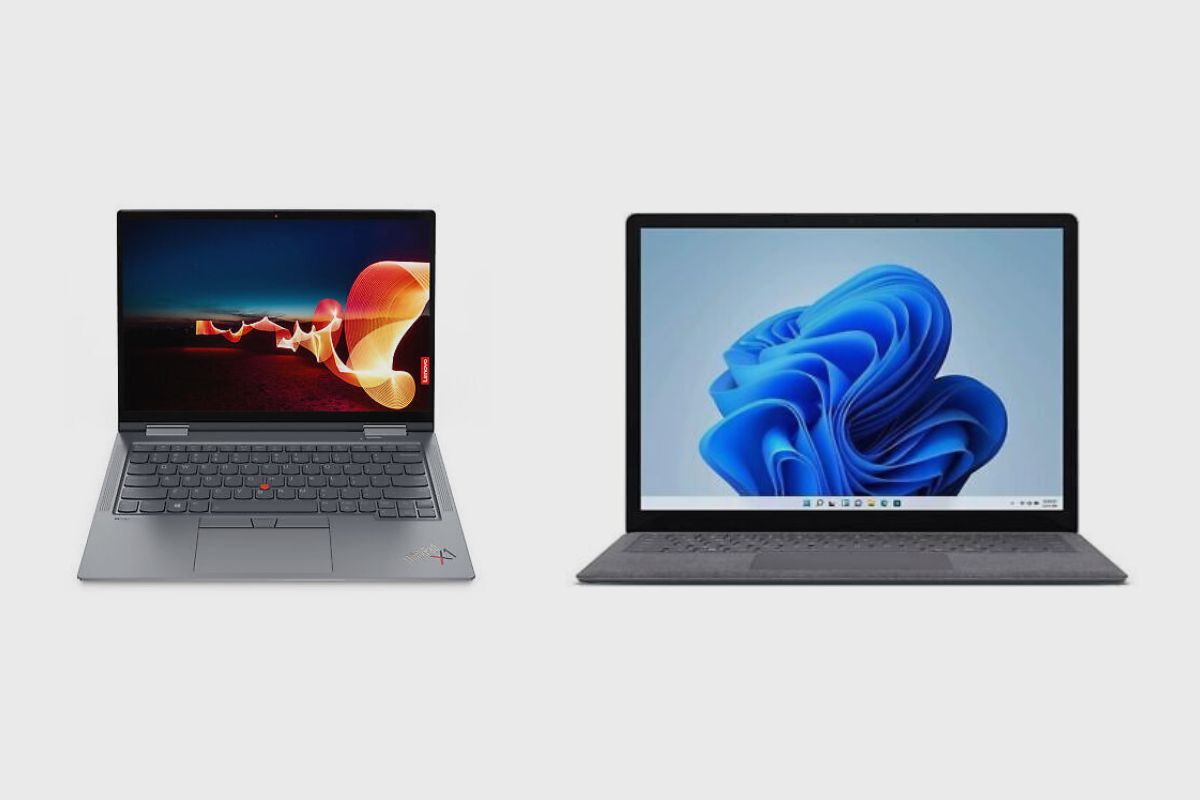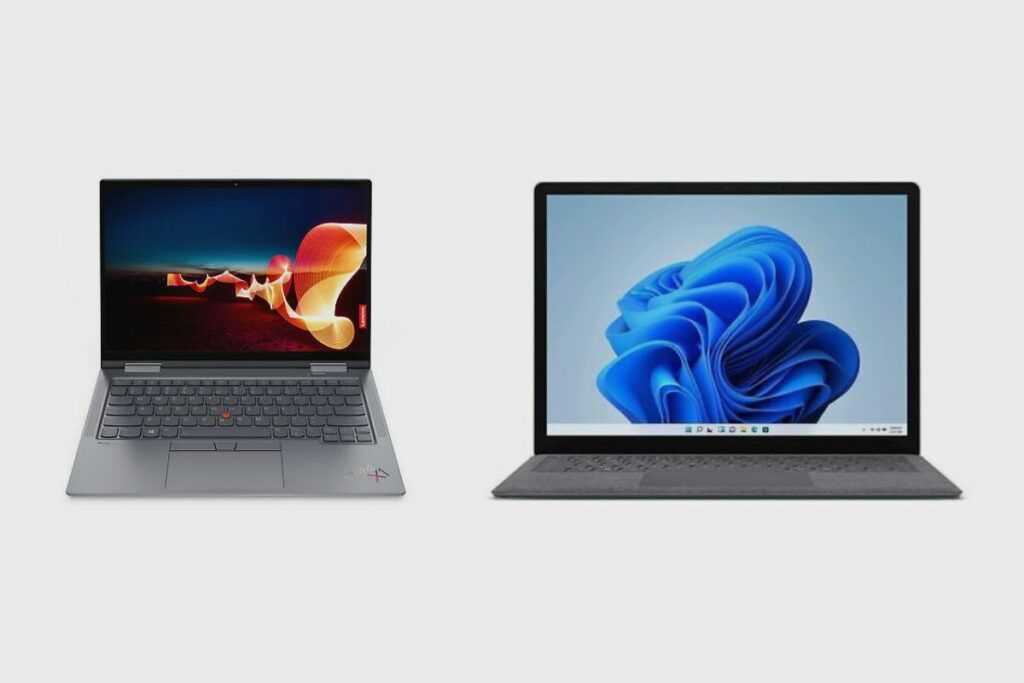 Price comparisons
A Surface Laptop 4 purchased from Microsoft will set you back a minimum of $899 for the 13.5-inch model and $1,299 for the 15-inch model as of April 15, 2021, in the US and April 27, 2021, in the UK. Those entry-level machines come equipped with 256GB SSDs, 8GB of RAM, and AMD Ryzen 5/7 4000-series processors.
If you require more power, you may configure the Surface Laptop 4 with beefier internals; you may have to pay up to $2,299 and $2,399 (respectively) for the two variants if you do so.
The Surface Laptop 4 differs from its predecessors in that both sizes can be configured with either an AMD Ryzen 5/7 4000-series processor or an Intel 11th Gen Core i5/i7 CPU, albeit the 15-inch model is only compatible with the more expensive Core i7/Ryzen 7 processors.
However, given that it's 2023 and the laptop has been around for a while, the simplest models are available on Amazon for roughly $700–$800, and I believe it is a pretty reasonable price. The more robust variants are nonetheless extremely expensive. On Amazon, I was able to buy one with a Ryzen 7 CPU for roughly $1800, which is still a huge price drop but still a lot of money.
On the other hand, the Thinkpad X1 Yoga Gen 6 holds at a stable $1000 on Amazon, which seems like a fair price given that at launch, it was available for $1500. However, a few price variations still exist among the X1 series, and that is largely due to a difference in its internal components.
So, which is better? The Lenovo ThinkPad X1 Yoga Gen 6 or The Microsoft Surface Laptop 4?
In all honesty, this is a very difficult one to call. On the one hand, both laptops share similar internals, and the specs are very closely aligned. They share similar battery life ranges, and they both have very similar levels of performance.
From a design standpoint, I prefer the clean and simple design of the Surface 4, but that is based on my personal preference, and it wouldn't be hard to find someone else who prefers the elegant design of the X1 Yoga. There may be slight differences in their displays, and the X1 Yoga is more colour accurate, but to the untrained eye, these differences are very minimal.
I'm almost tempted to call this one a draw, and I just might because it is very hard to tell which laptop is better than the other. In a case like this, the best option is the one you can find for the cheapest because they are both equally kickass laptops.
Final Thoughts
My opinion of the ThinkPad X1 Yoga G6 is that it is quite remarkable. The performance is better, you get current ports and interfaces, and the keyboard is a little bit better (even though the predecessor had a superior unit). The chassis does not suffer from build quality issues.
The new 16:10 panel also appeals to me. The new matte panel is equally as convincing as the extra vertical space. The matte panel has advantages outside, and the subjective visual perception is excellent. With four speakers, the X1 Yoga G6 also has a better audio system.
However, there is also plenty to like about the Surface Laptop 4 It offers Windows aficionados an ultraportable with superior components housed inside a gorgeous, lightweight chassis that outperforms the Surface Laptop 3 in many respects.
The Surface Laptop 4 is one of the greatest Windows laptops you can purchase thanks to its superb speakers, longer battery life, and internal enhancements; however, I would have preferred to see Microsoft try some more dramatic modifications to the Surface Laptop formula. Thank you so much for reading this one. Please feel free to ask as many questions as possible, and I'll try to get to them as soon as I can.
Image Gallery – The Lenovo ThinkPad X1 Yoga Gen 6 Vs The Microsoft Surface Laptop 4: Which is Better?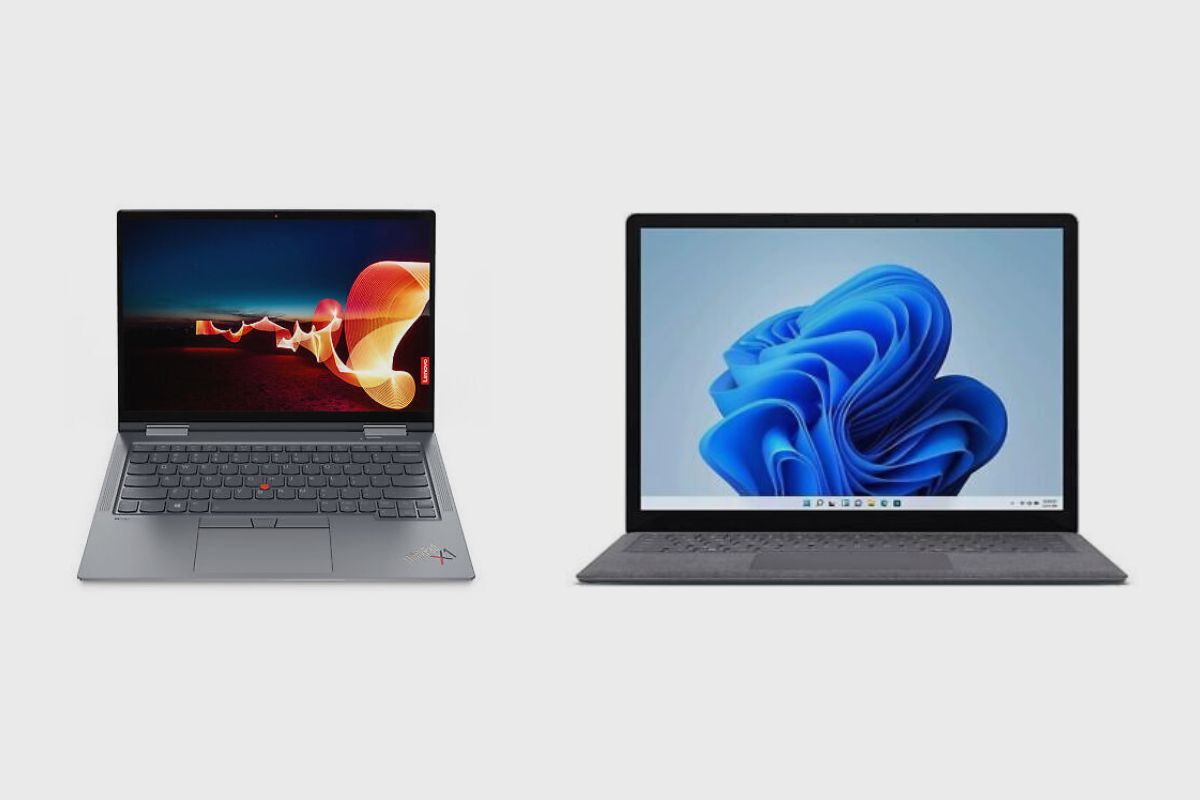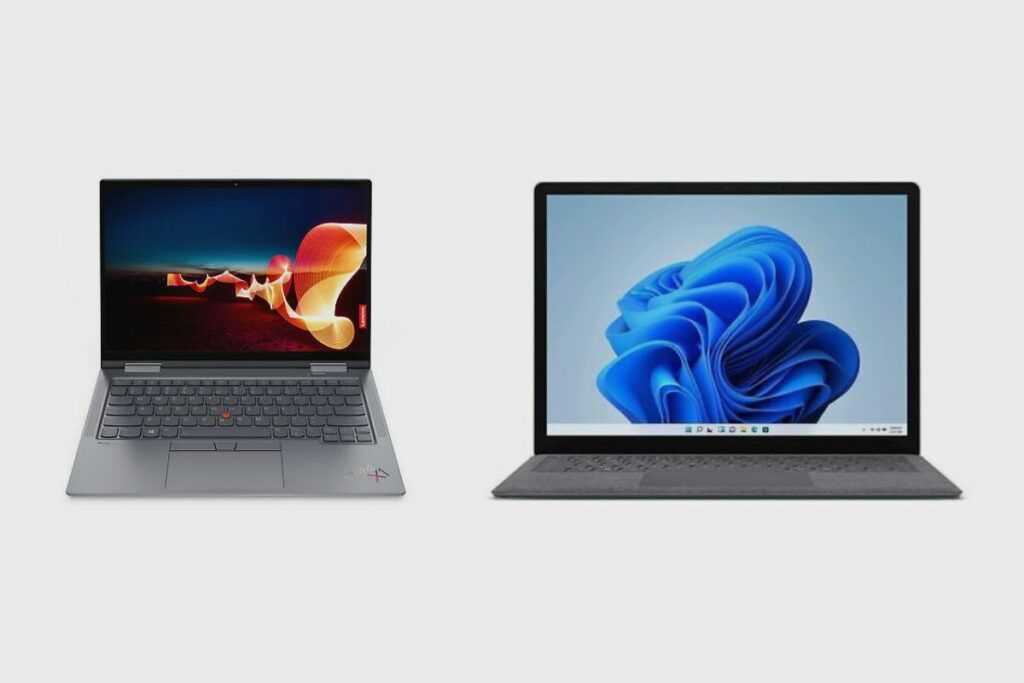 ---
Related Posts:
References: