The Lenovo ThinkBook 14s Gen 3 is the third iteration of the widely popular ThinkBook Yoga line of laptops they have produced. It is the third instalment of a successful brand, and like many long-running products, designing another iteration is a skill, and in Lenovo's case, it is a skill they have mastered.
The Yoga Gen 3 is Lenovo's attempt at bringing their very successful laptop brand into the current generation while slightly refreshing its design, specs, and hardware in a way that can tempt new customers into making a purchase and pull in fans of the product to upgrade their older models. However, like with any product getting a new release, it is important to have an overview of the key features of the laptop to know if it is worth making the upgrade or not.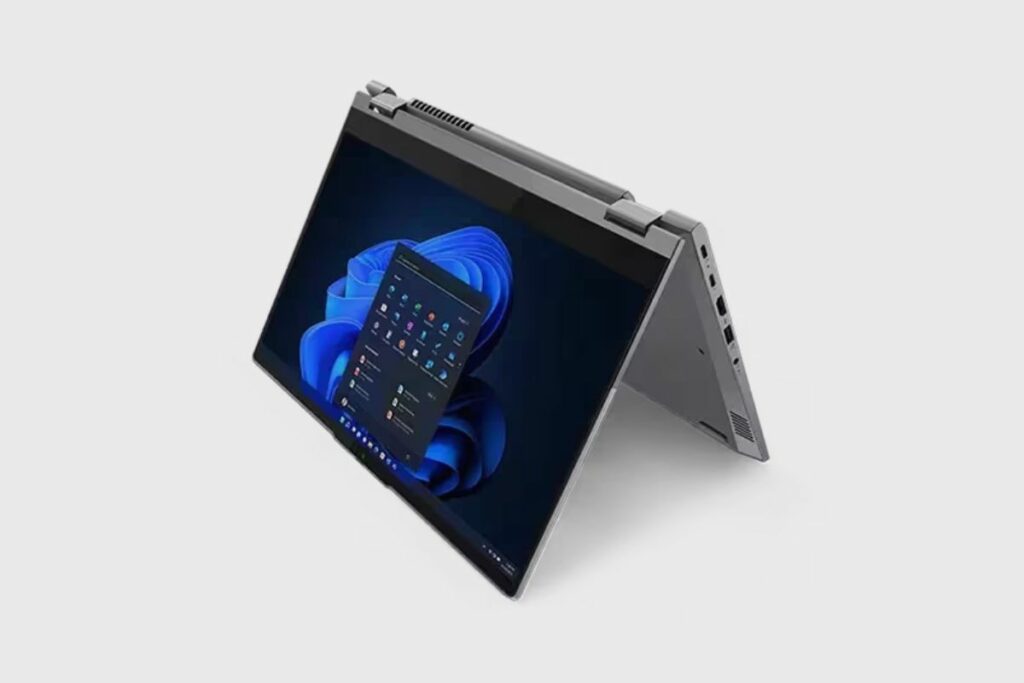 Overview and Key Features of the Lenovo ThinkBook 14s Yoga Gen 3
The older 2nd Gen model and the more recent 3rd Gen model aren't really that different from one another, according to Lenovo. In terms of design and build quality, Lenovo has stayed true to its strengths and played it safe. Expect the same aluminium construction as the model from the previous year, and strangely, it comes in the same colours, which leads me to believe that Lenovo isn't particularly concerned with making many modifications to this laptop.
I believe the R&D department had no fresh ideas they could present to the higher-ups at the board level, as all I can see are very minor changes to what is already a good laptop, and the design team was given a very small budget to create a new laptop for the current generation. They could have really blown this one out of the water, though, if they had been more daring.
What significant upgrades did Lenovo make to the ThinkBook 14S Yoga Gen 3 to make it valuable, then? The quick answer is Not much, I guess. Lenovo improved the laptop's build quality but didn't make any significant modifications; instead, they sought to lessen the flex in the keyboard and display.
Which is a pleasant addition but not particularly noteworthy. The connector selection is nearly identical to last year, with the inclusion of a second USB-C port being the sole notable change. They also preserved the bottom-firing speakers, which is a strange choice given how unpopular they are. The fingerprint scanner remains in the same location, and there is no IR facial identification software for the webcam, which remains the same 720p camera as previously. The keyboard is the same as last year, although there have been a few tweaks.
In actuality, Lenovo only made three distinct new changes to this laptop: the display, which has a new aspect ratio; the CPU, which is now powered by the newest Intel 13th Gen processors; and the batteries, which are now bigger and marginally better. Aside from those three changes, however, I don't think Lenovo made many other significant new adjustments. Oh, and the keyboard also had a tiny modification, lest I forget. The keyboard is still excellent for typing, but they made two grave mistakes with it. We'll get to those later.
Lenovo ThinkBook 14s Yoga Gen 3 Specs
A multifunctional 2-in-1 laptop with excellent characteristics for the modern business worker is the Lenovo ThinkBook 14s Yoga Gen 3. Its slim and portable design, which measures 0.67 by 12.6 by 8.5 inches, makes it ideal for productivity on the go. This laptop offers the highest processing speed and clearest pictures thanks to its Intel Core i5-1335U processor with Intel Iris Xe Graphics. The native resolution of the 14-inch display is 1,920 by 1,080, guaranteeing vivid colours and fine details.
The ThinkBook 14s Yoga Gen 3 offers a fluid and safe operating system because it runs Windows 11 Pro. It has 16GB of RAM, which provides quick memory for effective multitasking, as well as a 512 NVMe PCIe SSD for storage. This laptop also has 802.11ax wireless networking capabilities, enabling quick and dependable wireless connections. All things considered, the Lenovo ThinkBook 14s Yoga Gen 3 is a strong and adaptable professional laptop with great specs and a small footprint. It is ideal for professionals who need a dependable and effective tool for work and productivity when on the go.
Design
The Lenovo ThinkBook 14s Yoga Gen 3 fuses a modern aesthetic with efficient functionality. Business people on the run may depend on it because of its aluminium body, which emanates style and toughness. Both Mineral Grey and Abyss Blue, two sophisticated colour choices for the laptop, let users select a design that best fits their tastes.
The "ThinkBook" label that is present on the case's bottom right side, indicating the laptop's affiliation with the renowned ThinkBook brand, is one standout design element. To further emphasise the laptop's reputable heritage, the "Lenovo" branding runs vertically down the top left corner.
The Iron Grey backlit keyboard offers effortless typing even in dimly lit environments, allowing users to work comfortably at any time. The bottom touchpad offers multi-finger motions and precision navigation, which improves the user experience overall.
Overall, the Lenovo ThinkBook 14s Yoga Gen 3 is a stylish and expertly crafted laptop that successfully mixes form and function. It is the perfect solution for business workers looking for a dependable and fashionable laptop due to its aluminium body, numerous colour options, ThinkBook branding, backlit keyboard, and touchpad.
The Display
The aspect ratio of the ThinkBook 14s Yoga Gen 3's display is the only significant adjustment Lenovo made; otherwise, everything is virtually unchanged but slightly improved. The change in aspect ratio, on the other hand, cannot be compared. The ideal aspect ratio for watching movies and doing work is 16:10, which is typically used on most computers.
However, occasionally, someone attempts something novel in the hopes that it will succeed and everyone will adopt the new aspect ratio. I don't understand how anyone believed mounting a 16:9 monitor on this laptop was a smart idea, but that is not the case here. The Lenovo staff that approved this design should really rethink their decisions.
Since trends often come back, I know they must have felt they were bringing one back. However, while I hate to shatter their bubble, trends stop for a reason, and in this particular instance, they shouldn't be brought back. The ratio of 16:9 is awkward and ugly to look at.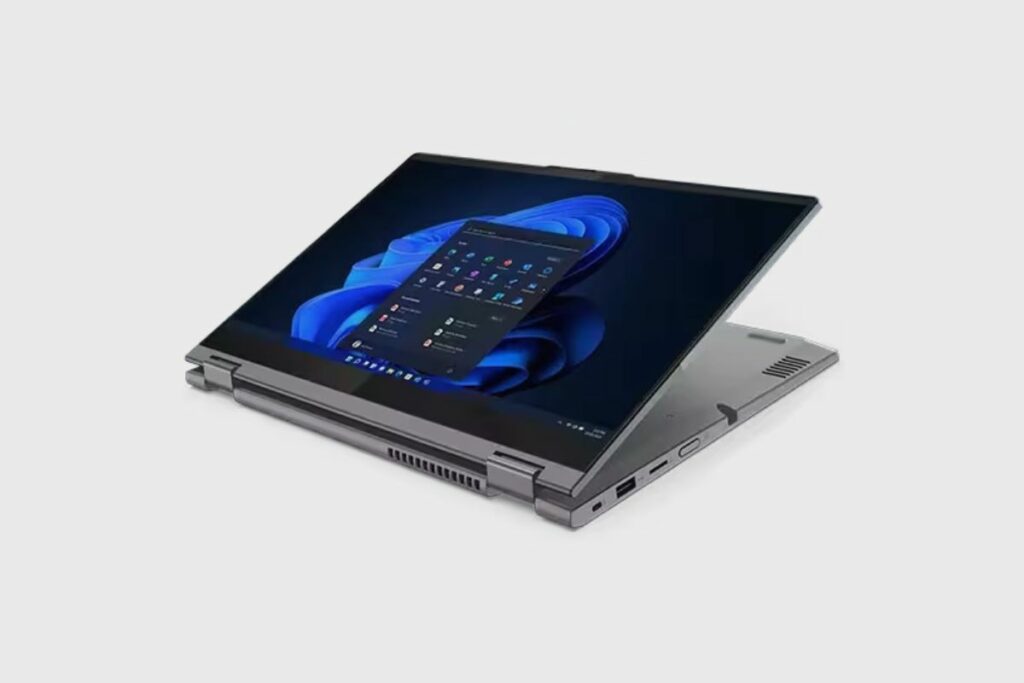 The Processor
When building a new laptop, switching to a new generation of processors is always a good idea, and the Lenovo team couldn't go wrong with this decision. The ThinkBook 14s Yoga Gen 3's latest 13th Gen Intel Core i7 and Intel Core i5 CPUs all function flawlessly, and the Core i5-1335U one I'm evaluating right now does as well. The lack of an EVO certification on this laptop, like the one from the previous year, still makes me a little upset.
Performance
By simulating several actual productivity and content-creation activities, UL's PCMark 10's main benchmark gauges overall performance for office-focused apps like word processing, spreadsheets, web browsing, and videoconferencing. I also use PCMark 10's Full System Drive test to assess a laptop's storage throughput and load times.
Three additional tests that focus on the CPU and make use of all available cores and threads assess a computer's suitability for processor-intensive applications. I downscaled a 12-minute video clip from 4K to 1080p resolution using HandBrake 1.4, an open-source video transcoder (shorter conversion times are preferred). Maxon's Cinebench R23 generates a complex picture using that company's Cinema 4D engine. Speech recognition, PDF rendering, and machine learning simulations are all available on Geekbench by Primate Labs.
Finally, I compare each system's capacity for content production using PugetBench for Photoshop from workstation manufacturer Puget Systems. PugetBench for Photoshop is an automatic add-on for Adobe's Creative Cloud image editor that carries out several standard and GPU-accelerated activities, such as opening, rotating, and resizing photos, as well as adding masks, gradient fills, and effects.
The ThinkBook fared brilliantly in PCMark 10 and PugetBench's productivity and creative benchmarks, making it a trustworthy alternative for everyday office tasks and simple content creation but not for taxing workstation workloads. This laptop is intended for the vast majority of employees inside a business, not for highly specialised roles required to deliver premium assets or items to customers and clients.
Graphical Performance
Given their poor performance ratings, it's not surprising that these laptops' integrated graphics chips fall short of gaming notebooks' and mobile workstations' discrete GPUs. While you're not working on it, the ThinkBook may be able to get away with merely casual gaming and video streaming—no fast-twitch action. I would never consider using this laptop for anything other than business.
The Batteries
To test the battery life on the Lenovo ThinkBook 14s Yoga Gen 3 I played a locally stored 720p video file (the free Blender movie Tears of Steel) with the display brightness set to 50% and the audio volume at 100%. I made sure the battery was fully charged before the test and turned off the Wi-Fi and the keyboard lighting. I could indeed use the laptop for a respectable 12 hours, which is a respectable rating.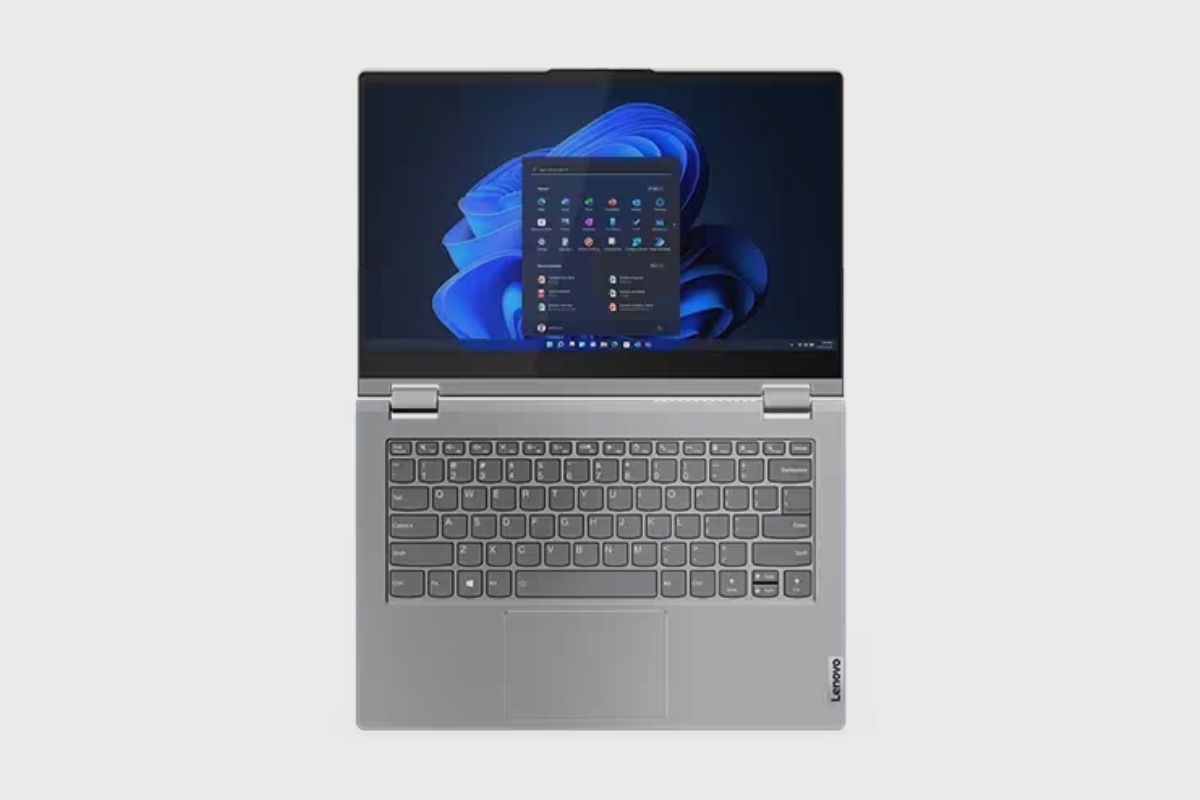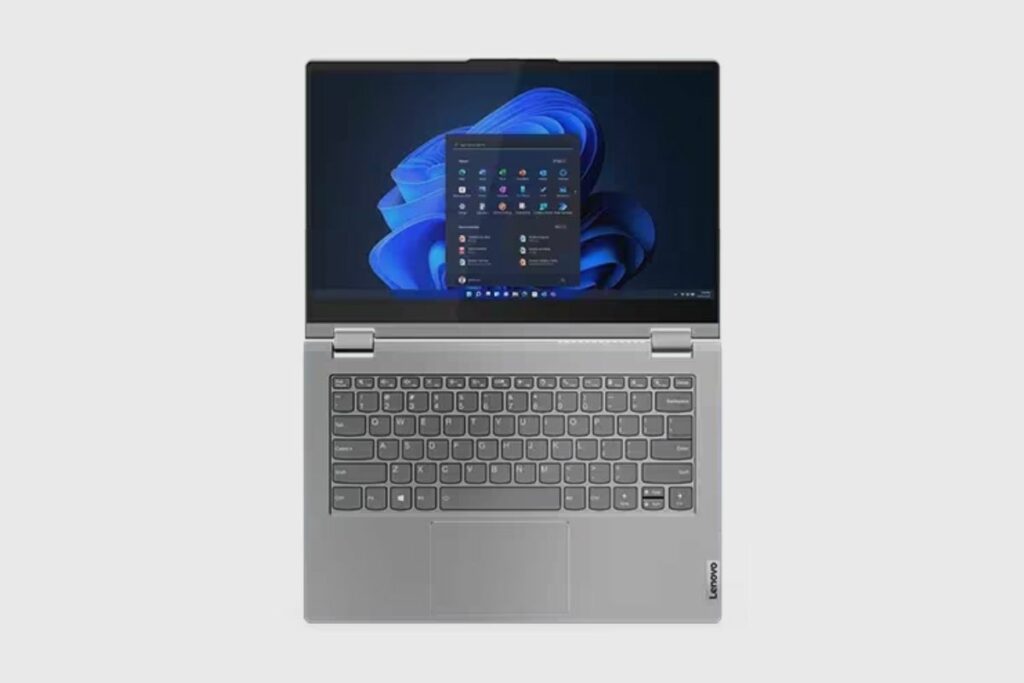 The Keyboard
The backlit keyboard commits two fundamental crimes: Instead of being arranged in an inverted T, the cursor arrow keys are initially arranged in an awkward row with full-size left and right, as well as challenging-to-hit half-height up and down, stacked between them. Then, it pairs the four arrows with the Fn key rather than having distinct Home, End, Page Up, and Page Down buttons.
Despite this, the keyboard still allows me to type quickly and satisfactorily, but at first, my sentences were jumbled until I realised how crucial it was to touch the space bar on our test device firmly. The medium-sized buttonless touchpad glides and taps easily despite having a somewhat harsh click.
Ports and expansion
The ThinkBook 14s Yoga Gen 3 is a highly adaptable business laptop thanks to its numerous connectors and extension possibilities. To meet diverse connectivity requirements, it has a combination of current and legacy ports.
There are two USB-C ports on the laptop's left side, one of which supports Thunderbolt 4/USB4 technology for blazing-fast data transfer and connecting to an external display. The second USB-C connector is USB 3.2 Gen 2, which offers speedier file transfers and peripheral device connections.
The laptop also includes an HDMI port, which is convenient for connecting to external monitors or projectors. Additionally, there is a USB 3.2 Gen 1 port for seamless connectivity with USB-enabled devices. A headphone/microphone jack is also available for audio needs. For system recovery, the ThinkBook 14s Yoga Gen 3 features a pin-sized NOVO hole, allowing users to easily access the recovery environment when needed.
You may ensure the security of your device by inserting a Kensington lock into the slot on the laptop's right side. A USB 3.2 Gen 1 port is also present for additional peripheral connectivity. Users can transfer data from compatible devices or expand capacity thanks to the availability of a micro-SD card reader.
For quick and safe login, the power button on this side also incorporates a fingerprint reader. Finally, the pen slot makes it simple to store and access the digital pen. The ThinkBook 14s Yoga Gen 3 offers the adaptability and connection required for modern business needs with its variety of ports and extension possibilities.
Connectivity
Wide-ranging connectivity choices are available with the Lenovo ThinkBook 14s Yoga Gen 3 to increase your productivity and adaptability. Wi-Fi 6, the most recent wireless technology, is included in this 2-in-1 laptop to ensure quick and dependable internet connectivity. Even in crowded areas, Wi-Fi 6 allows for seamless surfing, streaming, and downloading.
The ThinkBook 14s Yoga Gen 3 supports Bluetooth 5.1 in addition to Wi-Fi 6, making it simple to pair and synchronise your wireless peripherals, including mice, keyboards, and headphones. In comparison to earlier versions, Bluetooth 5.1 delivers faster data transmission rates, increased reliability, and increased range.
The ThinkBook 14s Yoga Gen 3 should be noted as lacking a cellular data option. This implies that to access the internet while on the go, you'll either need to connect to Wi-Fi or use a different mobile hotspot.
With Wi-Fi 6 and Bluetooth 5.1, the Lenovo ThinkBook 14s Yoga Gen 3 offers state-of-the-art wireless connectivity that will meet all of your personal and professional needs.
Audio and video
The Lenovo ThinkBook 14s Gen 3 offers impressive audio and video features that enhance the overall user experience. The stereo speakers deliver clear and immersive sound quality, thanks to the integration of Dolby Atmos technology. With Dolby Atmos, users can enjoy a multidimensional audio experience that adds depth and richness to their content. However, it is worth noting that the volume may need to be raised higher than usual to fully appreciate the stereo sound.
In terms of video capabilities, the ThinkBook 14s Gen 3 provides flexible webcam options. Users can choose between a 720p or 1080p resolution, depending on their preferences and requirements. The fixed focus ensures a sharp and clear image, while the manual privacy shutter offers added peace of mind when it comes to privacy. Additionally, the dual microphone array with noise-cancelling capabilities ensures crisp and clear audio during video calls or recordings.
The 14-inch display of the ThinkBook 14s Gen 3 features 1080p resolution and anti-glare technology, minimising reflections and enhancing visibility even in brightly lit environments. With 250 nits of brightness and narrow bezels, users can enjoy vibrant and sharp visuals with an immersive viewing experience. The presence of two 2W Harman speakers at the bottom further enhances the audio output, delivering powerful and rich sound quality.
In summary, the Lenovo ThinkBook 14s Gen 3 offers impressive audio and video features, including stereo speakers with Dolby Atmos, flexible webcam options with privacy features, and a high-quality anti-glare display. These features combine to provide users with an immersive multimedia experience that is perfect for both work and entertainment.
Final Thoughts
The Lenovo ThinkBook 14s Yoga Gen 3 is a good small-office convertible; in fact, I named the previous model the best small/medium business laptop in my previous review. My test gadget, at $1,700, isn't the best offer from Lenovo, as you can pay $500 less on the company's Yoga 7i 14 consumer model and get a sharper screen and faster CPU, as well as a more modern 16:10 display and the perks of the ThinkPad X1 Yoga Gen 8 for about $100 more. The ThinkBook will serve you well, but it isn't remarkable, in my opinion.
Related Posts: