One of the most important things on any laptop is "sound," and the audio drivers on the Lenovo ThinkPad X1 Yoga Gen 6 provide the speakers on it with able audio and impressive sound processing.
Audio processing and sound direction are all very important parts of the listening experience for attuned listeners. So, in this article, I'll be talking about the audio drivers on the Lenovo ThinkPad X1 Yoga Gen 6, what they do, why they're important, and how you can fix any audio driver issues you may face. I'll also talk about the speakers and audio system on the Lenovo ThinkPad X1 Yoga Gen 6.
What are Audio Drivers?
Your operating system's ability to interface with audio devices such as internal sound cards, speakers, headsets, and microphones is facilitated by the audio driver software.
Lenovo THINKPAD X1 YOGA 6TH GEN TYPE 20XY 20Y0 Audio Drivers
The Thinkpad X1 Yoga 6th Gen Type 20XY 20Y0 from Lenovo is a potent and cutting-edge laptop that needs top-notch audio drivers to deliver the highest sound quality. A dependable audio driver makes sure that audio output is of the highest calibre and that sound playback is seamless, free of latency or distortion.
A variety of audio drivers are available from Lenovo that is tailored specifically for the Thinkpad X1 Yoga 6th Gen Type 20XY/20Y0. Visit the Drivers & Software link on the Lenovo website to get the most recent audio drivers. Select the make and model of your device, then restrict the search results to just show audio drivers.
6.0.9087.0 and 6.0.9086.1 are the audio driver versions that are compatible with Windows 10 (64-bit). The Dolby Atmos Speaker System technology in the latter edition provides unmatched immersive sound output, while the Intel Smart Sound Technology in the earlier version improves audio output quality. Users of Windows 11 (64-bit) can download version 6.0.9166.1, which has more advanced features and better performance.
Users of the Lenovo Thinkpad X1 Yoga 6th Gen Type 20XY/20Y0 frequently use the Realtek Audio Driver version in particular. This driver offers enhanced audio capabilities and functionalities and is compatible with Windows 10 and Windows 11 (64-bit) operating systems. It produces excellent sound quality and is optimised to function with the device's built-in speakers, audio jack, and microphone array.
The audio performance of your Lenovo Thinkpad X1 Yoga 6th Gen Type 20XY/20Y0 can be improved, and your overall user experience can be improved by installing the most recent version of the Lenovo audio drivers. To ensure that your device is operating at its peak, be sure to download and install the correct version of the audio driver from Lenovo's official website.
Why do I need audio drivers?
Your speakers won't produce sound if the necessary audio driver isn't installed. It's time to update your sound drivers if you experience audio problems, such as choppy music or missing sound effects in games, or if your Windows machine is completely silent.
How do I Install Audio Drivers for the Lenovo ThinkPad X1 Yoga Gen 6
To install audio drivers for your Lenovo ThinkPad X1 Yoga Gen 6, you will need to go to Lenovo's homepage, then go to their support page, search for your laptop, and then install the required drivers. Or you can click on this link, go directly to the site, and download it yourself.
Audio
Lenovo only included two speaker modules in the X1 Titanium Yoga but four in the X1 Yoga G6. Two are adjacent to the keyboard, and two are at the bottom. Conferences and media playback both benefit from the excellent audio quality. Although the bass is limited, the sound is nevertheless quite linear and rich. However, at louder volumes, the base unit's front would somewhat vibrate.
Ports/IO
This convertible has a physical connection that matches the EliteBook x360 1040 G8 with two Thunderbolt 4 (USB Type-C) ports, two USB 3.2 Gen 1 Type-A ports, an HDMI 2.0b video output, and an audio combo jack. Only one Thunderbolt 4 and Type-A connector are available on the Latitude 7420 2-in-1, but it enviably includes a microSD card slot.
The rearmost Thunderbolt 4 port is used to connect the AC adaptor. On the right side, there is a Kensington Nano security lock slot as well. Connectivity for Bluetooth 5 and Wi-Fi 6 is provided via the trusted Intel AX201 network card. An optional 4G or 5G WWAN modem is used. Lenovo sells a USB-C-to-Ethernet converter for wired networks for roughly $30. Oddly, Lenovo does not provide any sort of SmartCard reader.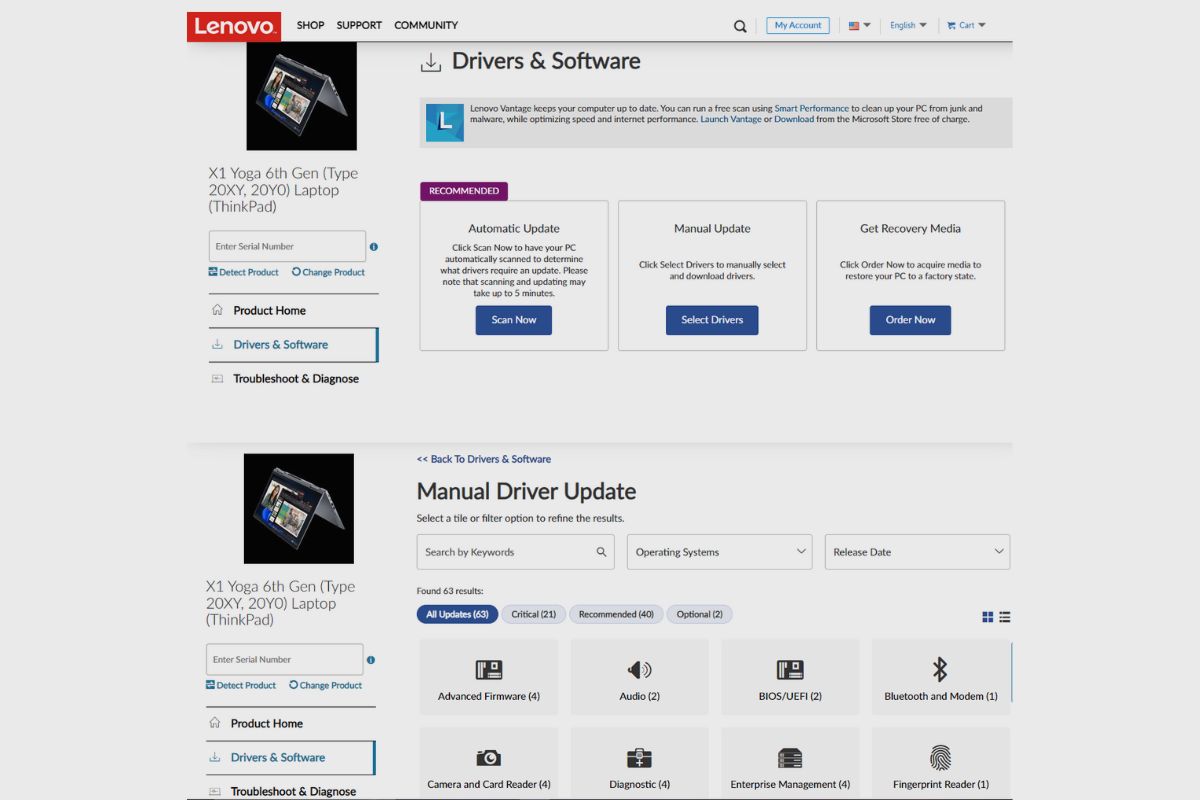 Lenovo ThinkPad X1 Yoga Driver Download
Find the most recent Lenovo ThinkPad X1 Yoga drivers here. You've arrived at the proper location. I'll walk you through downloading and installing the drivers you need to get your device up and operating smoothly in this article. I have you covered for everything from firmware updates to audio drivers. To understand more about Lenovo ThinkPad X1 Yoga driver downloads, keep reading.
Step 1 – Download Your Driver
The correct drivers must be downloaded before updating your Lenovo ThinkPad X1 Yoga Gen 6. You must choose the operating system and driver version that work with your laptop before you can download.
For your specific laptop model, Lenovo offers an online driver archive with every driver that is currently offered. The archive search is a helpful tool to identify individual drivers based on your needs if the desired version or OS is not accessible.
However, you can use the Lenovo Driver Update Utility if you're unclear of which driver to download. This tool can automatically determine the technical requirements of your laptop and download the appropriate driver for you.
It's preferable to go directly to the Lenovo website to ensure that you're always utilising the latest recent drivers. They frequently issue new drivers; therefore, visiting the support website specifically for your laptop is advised.
In conclusion, installing the proper driver is essential to getting the greatest performance out of your Lenovo ThinkPad X1 Yoga Gen 6. To find the most recent driver available, use the Lenovo Driver Update Utility or visit the Lenovo website.
Step 2 – Install Your Driver
The next step is to install the driver for your Lenovo ThinkPad X1 Yoga 6th Gen model on your Windows computer after you have downloaded it. You must first launch your computer's Device Manager before you can proceed.
You can handle hardware attached to your Windows system with the aid of the Device Manager. You can check details about the device, its condition, and any related drivers. You can either use the Windows search bar to look for the Device Manager or the keyboard shortcut "Windows Key + X," then choose "Device Manager" from the list of options that appears.
Once you have opened the Device Manager, you need to locate the device and its associated driver that you wish to update. This can be done by expanding the relevant category of devices and locating the specific device that requires a driver update.
Once you have located the device, right-click on it and then select "Update Driver" from the context menu. This will open a new window that gives you two options for updating the driver: "Search automatically for updated driver software" or "Browse my computer for driver software."
Choose "Browse my computer for driver software" if you have already downloaded the driver. You can choose the location where the downloaded driver has been saved by clicking on the next set of options that will appear.
Select the downloaded driver by navigating to the location where you saved it. After that, follow the instructions to finish installing the driver. Depending on the device and driver you are updating, these questions could change. Nevertheless, they typically offer choices like "Instal," "Next," "Finish," or "Yes."
Once you have completed the installation prompts, the device driver will be successfully updated. You can verify that the driver has been installed correctly by checking the device's properties in the Device Manager and ensuring that the driver version is the updated one.
Conclusion
All in all, the Lenovo ThinkPad X1 Yoga Gen 6 is a fairly solid laptop with an impressive range of features and port diversity. Its speaker system is very inspiring, so if you intend to use this laptop for a long time, then you're in good hands.
I'd suggest getting a new set of headphones to go with them because the speakers might be a bit much for some, so a pair of headphones might help focus the audio for you. Thank you so much for reading this article. Please feel free to ask a few questions in the comments section, and I'll get to them as soon as possible.
---
Related Posts:
References: