Since Ring launched its original video doorbell in 2014, the company has become a staple in the smart home security market. While they didn't create the market for smart home technology and home security systems, they perfected what others were still trying to figure out.
The sleek yet simple and effective design of the Ring video doorbell made it a hit with consumers. Even though there were still a few kinks to sort out, the promise of what they could become made Amazon acquire the company for $1 billion in February of 2018.
Today I'll be reviewing the Ring Video Doorbell wired and trying to figure out if Ring is a budget-friendly option that is worth the price of admission or if there have been too many sacrifices made to make it more widely available.
Specifications for the Ring Video Doorbell Wired
It comes with a 1080p Camera
A motion and light sensor
Night Vision
Infrared LED lights
The doorbell button
Microphone and speakers
An installation kit
The Unboxing
In addition to the Ring video doorbell wired, you will also find a blue Ring branded security screwdriver, two security screws, two mounting screws and their corresponding mounting plastic frames, a cable jumper, Ring's branded sticker, a wall mount frame, a face plate, a quick start manual, and a user's guide. However, it does not come with a chime system or an angle mount.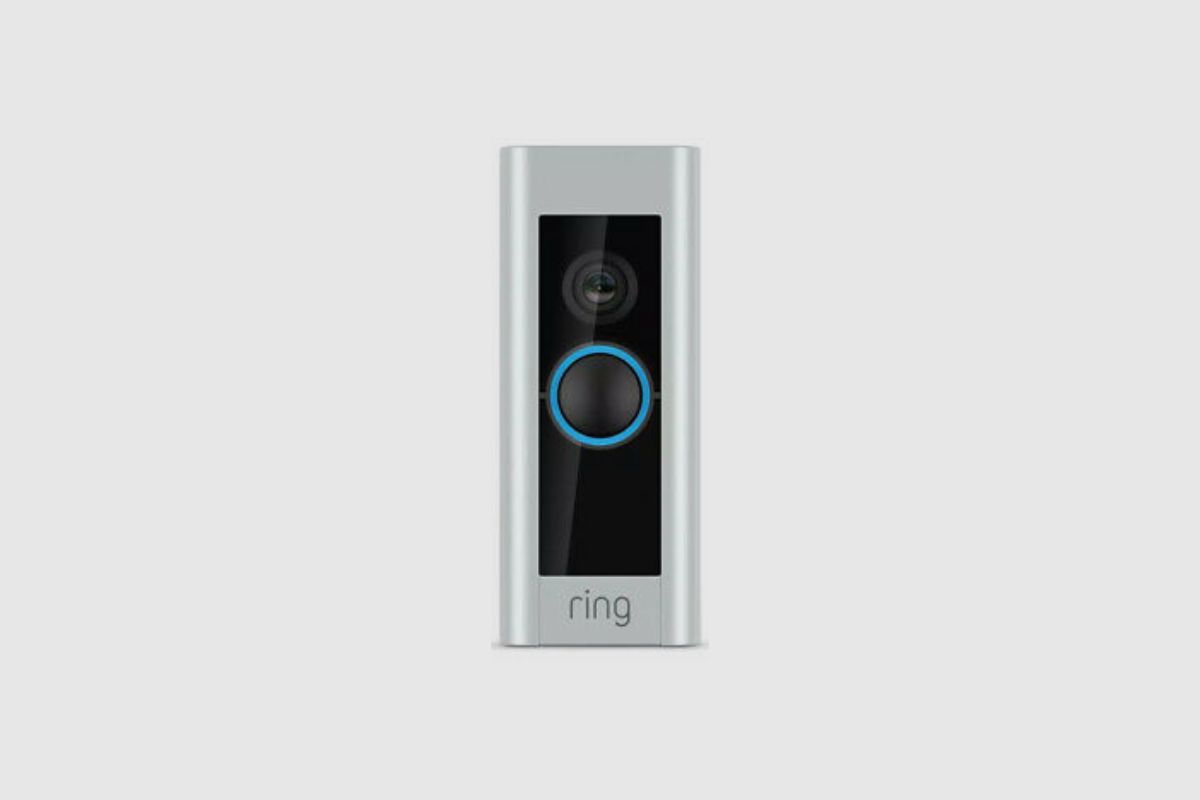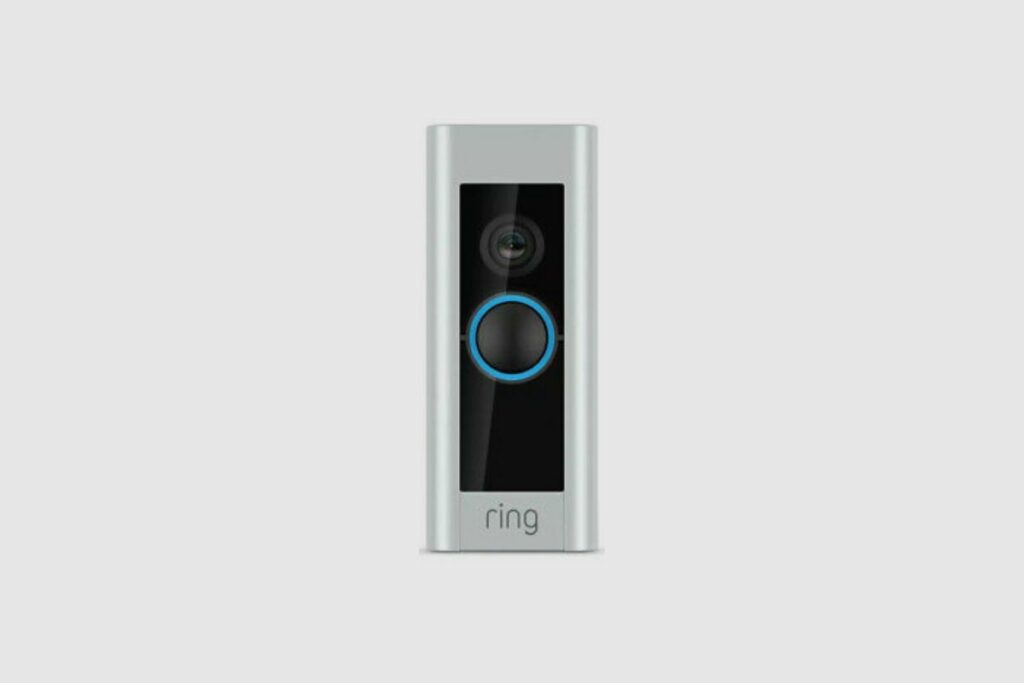 Design – Ring Video Doorbell Wired
The Ring Video Doorbell wired is in the mould of a mini device, with a small frame and sleek matte black finish along with Ring's classic silver face plate.
It has its iconic round doorbell button in the middle as well as the infrared LED light wrapped around it.
The 1080p camera sits on top, and the motion sensor is on the top right corner of the device. While the speakers and microphone sit at the bottom also, there is a security screw underneath the device.
Installation – Ring Video Doorbell Wired
The installation is quite simple and should only take you less than thirty minutes to set up. Here's a step-by-step guide to getting you up and running;
Step 1; The first thing you need to do is turn off the power to your old doorbell connection box. If you don't have one, you will need to call an electrician to set one up for you.
Step 2; If you have a connection box, then connect your Ring jumper cables to your current doorbell terminal by screwing them both together tightly.
Step 3; Connect your ring doorbell to the exposed wires where your old doorbell used to be, using your screwdriver to connect them to your doorbell's electrical terminal.
Step 4; Mount your Doorbell to the frame using the mounting bolts (you may need a drill to mount it if your spot is made of concrete; however, if it's not, then a drill is not required).
Step 5; Put on your faceplate and turn on the power.
Step 6; Wait a moment while the device boots up, then you should hear the device say, "Welcome to Ring video doorbell; please complete installation on the Ring app".
App Setup – Ring Video Doorbell Wired
Step 1; Download and sign up to the Ring app, scroll to the bottom and tap on set up the device.
Step 2; Scan the QR code on the side of the device.
Step 3; Pick a Wi-Fi Network you want to connect to
Step 4; Wait till setup is successful; then, the device should say the connection was successful.
App Settings and Key features
Rich Notifications; You can pick the amount of notifications you get from the doorbell. Whether it is on every Motion Alert or when the doorbell is pushed. So it can send a notification whenever any sensors have been tripped.
The Ring Video Doorbell has two different modes that you can use: live feed mode and review mode. Live feed mode will send you notifications whenever someone is at your door, while review mode allows you to see a snapshot or video of whoever triggered the motion sensor or push notification.
If you click the gear icon, you can toggle on/off Ring alerts, Motion, and detection alerts.
You Can also link other devices to your Doorbell, whether it's a smart lock, Alexa, or Echo device, and you can also use your echo devices as chimes for your doorbell tone.
You can activate a people mode so that the AI in the device will only send alerts when people trip the motion sensor.
You can also pick a motion zone to limit unnecessary notifications from things not within the motion zone.
You can change the Recording lengths and snapshot capture mode from every 30secs to 1min, 2mins or even 5mins.
You can also activate a privacy mode which can blur out the background on the images you see coming into your phone.
Non-stop power
It also has a 5-second pre-recording mode which allows the device to automatically save the past five seconds of your videos recorded when the motion sensor is tripped to stop or at least capture the faces of people trying to steal your things from your porch.
Two-way communication capabilities.
It will record both sides of the conversation when the two-way mic and speakers are in use.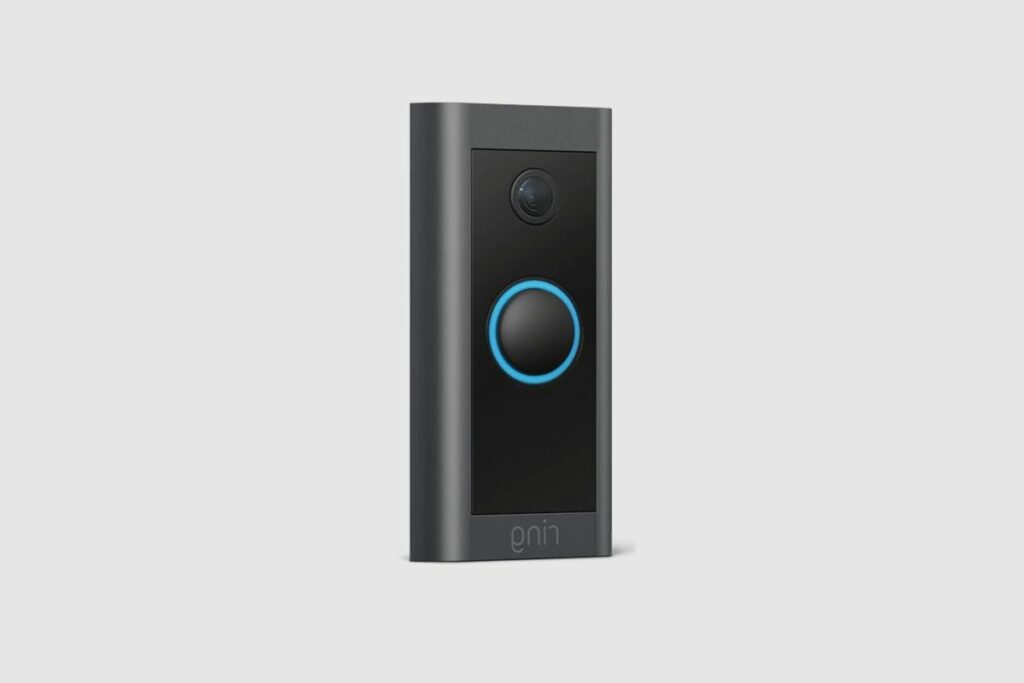 The Audio and Video Quality
The Device has a simple 1080p camera that captures at 15fps, which is good but not great. However, it does not have a night light, so when the night vision mode is activated, it is permanently stuck in black and white, but the night vision mode is very clear and visible even when there are no ambient lights on.
It also has a 155-degree horizontal and a 90-degree vertical field of view. These are good viewing angles for a front-facing doorbell but not for an angled view, and it, however, does not come with an angle mount.
The audio quality of the Ring Video Doorbell wired is excellent, and we had no trouble hearing each other clearly on both sides of the conversation. Whether I was speaking from my phone or my echo device, the other person's voice came through loud and clear.
Pricing and Availability
It is available on Amazon and directs from the Ring site, all for about $60. You can also pay for a Ring protection subscription; a basic subscription costs $3 a month or $30 a year for access to cloud storage and active video monitoring on a single device.
There is also a premium package that costs $10 a month or $100 a year to have access to everything on the basic plan, along with 24/7 ring monitoring.
Pros
Affordable
User-friendly app
Solid build
Great camera
Cons
Accessories add to cost
Missing Alexa Greetings
No Pre-Roll Features.
Is the Ring Video DoorBell Wired worth It?
The Ring Video Doorbell Wired is a great device, and at its price point, it's a good device to have. However, there are a few drawbacks to it. They are not the worst things to miss, but they are still very necessary.
For example, there are a lot of accessories missing, which is understandable because they cut the price down. But an angle mount would have been much appreciated. Additionally, the installation can be a bit tricky. Furthermore, its Wi-Fi bandwidth is a bit limiting, and it doesn't suit a large house where the Wi-Fi isn't close by.
Even with these drawbacks, this is still a very good device. It gives you access to all the main features found on the other ring video doorbells. Plus, its integration with Alexa and other hubs is seamless. Lastly, it is very durable.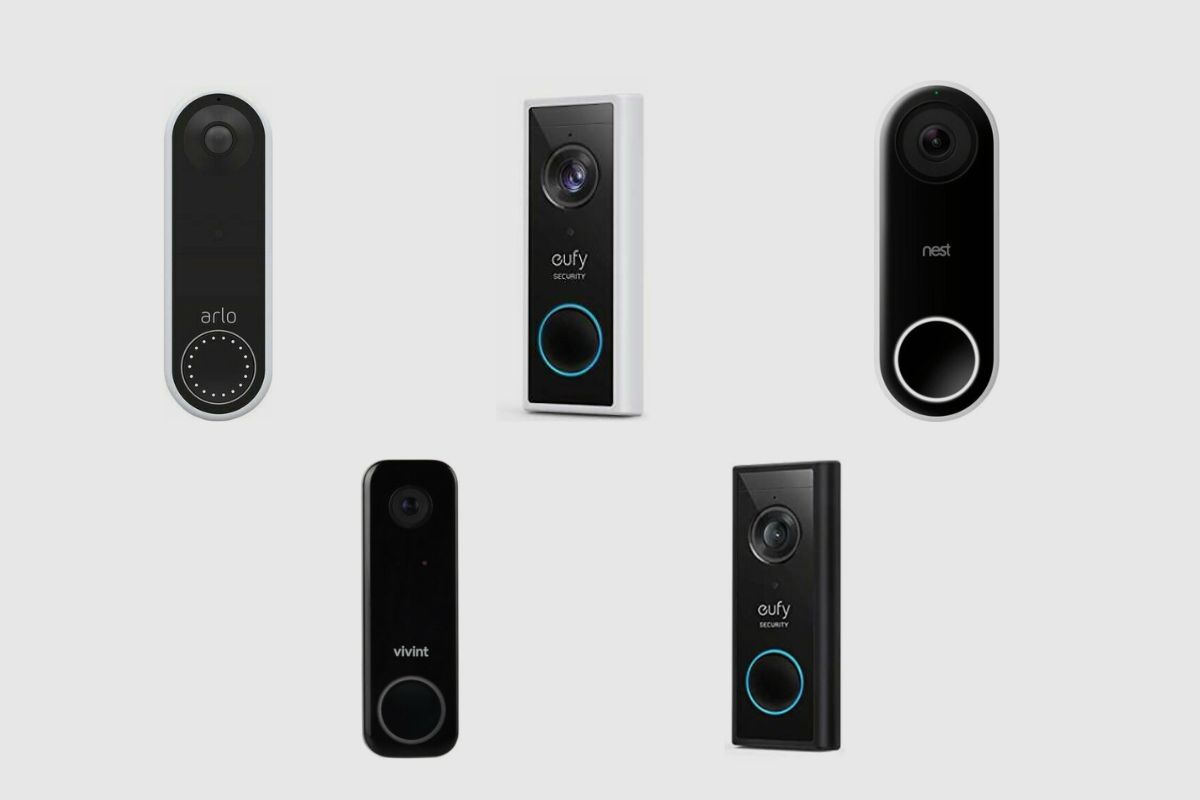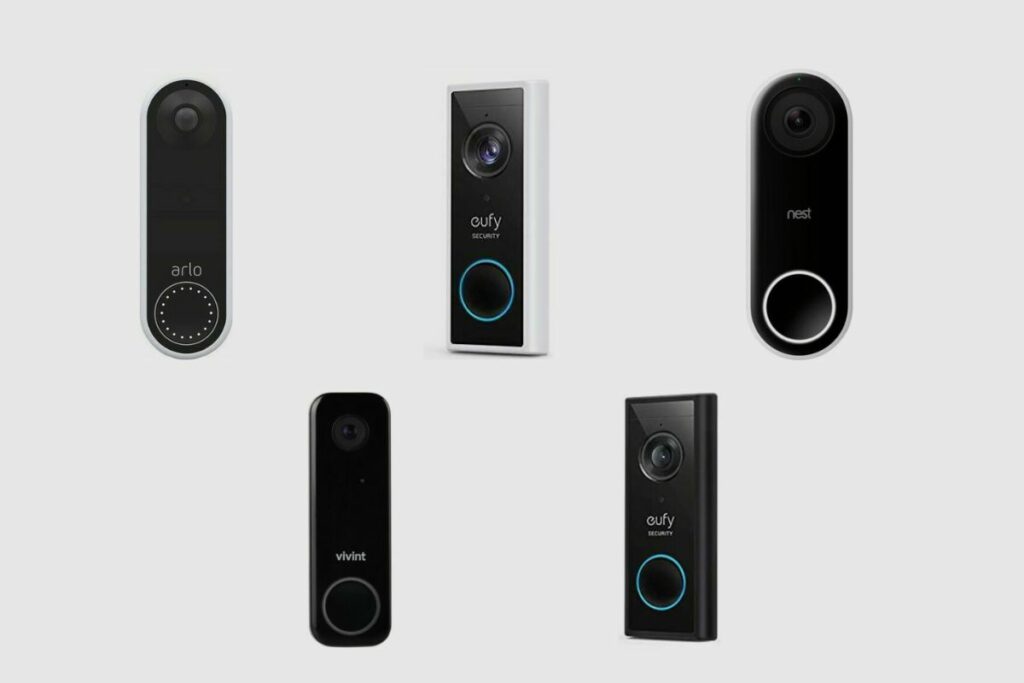 5 Alternatives to the Ring Video Doorbell Weird
Arlo Essential Video Doorbell Wired
This sleekly designed doorbell can send you alerts when a package has been delivered to your doorstep; it has a 180-degree field of view and a square aspect ratio to limit blind spots.
It's also compatible with Alexa, Google assistant, and apple home-kit. It costs about $127 on Amazon and $150 at Walmart.
The Eufy Security Video Doorbell 2k Weird;
This is a subscription-free hard weird option; it has up to 2K resolution output, person detection, local storage, customisable responses, and a separate wireless chime.
It's also compatible with Alexa, Google assistant, and apple home-kit. It costs about $100 on Amazon and $150 at Walmart.
The Eufy Security Video Doorbell 2k Battery-Powered
This is similar to the previous option, but the only difference is the battery power which lasts up to about four months on a full charge. It's available on Amazon for $200
This option offers an all-around video recording system. It's got an AI-powered motion-detection and facial recognition software.
It almost feels like overkill because of the number of features it has for just looking after a door. It's also compatible with Alexa and Google assistant. It costs $149 on Amazon and Walmart.
At $229, this may be the most expensive one on the list, but it is one of the best out there, with a superb 180-degree field of view, two-way audio, and a digital pan and zoom feature.
You can tell it is stacked to standard. It's got an infrared sensor and a night vision view. Although it does have one very apparent drawback, and that's its 720p camera which is a bit of a letdown, to be honest.
Our Verdict and Conclusion
This device meets the price of admission, which is also budget-friendly. It is a solid device, and impressed with how much "Ring" were able to keep intact and transfer over from the pro versions, although I was a bit disappointed with the lack of accessories and faceplates available. All in all, it is still a very good device, and it meets and clears most of the industry standards.
FAQs – Ring Video Doorbell Wired
Is the Ring Video Doorbell Wired Safe?
This is a very durable device, and all the features on the device are made to keep you safe and protected, and you can also pay for Ring's 24/7 round-the-clock monitoring for added security.
Also, the device is heavily encrypted to protect it from hackers, and it also comes with a number of other security features that make it a top choice for home security.
Product Image Gallery – Ring Video Doorbell Wired Review