The Huawei P40 lite 5G is an improvement from its predecessor – the Huawei P40 Lite.
Some of the new features include the integrated fingerprint sensor, premium design, a blisteringly fast 5G network, powerful chipset, 64 MP AI Quad Camera system, a 6.5-inch expansive display, Huawei 40 W SuperCharge and better network compatibility.
All these features run on Huawei P40 Lite 5G with the EMUI 10.1 Operating system.
Does Huawei P40 Lite have a fingerprint?
The P40 Lite 5G comes with a side-mounted fingerprint scanner sensor. It also has facial recognition – which means either or both methods can be used to unlock the smartphone, as it recognises stored faces as well as fingerprints. Although the P40 Lite 5G touchscreen responds to touch directly, there can be some resistance to the fingertips during drag-and-drop and swipe movements that are slightly too much.
Does P40 Lite 5G have wireless charging?
The P40 Lite 5G does not support wireless charging, but it supports 5W reverse charging and fast charge with the Huawei SuperCharge. This 40W wired charging can charge your phone up to 70% in only 30 minutes.
Does the Huawei P40 Lite have a glass back?
The Huawei P40 5G has a stunning design with a glass front, glass back, and metal made with plastic body frame body material and comes in a minimum bezel display. It also has corning gorilla glass protection and supports 2.5D curved glass, which can protect the phone from scratches or minor accidental falls.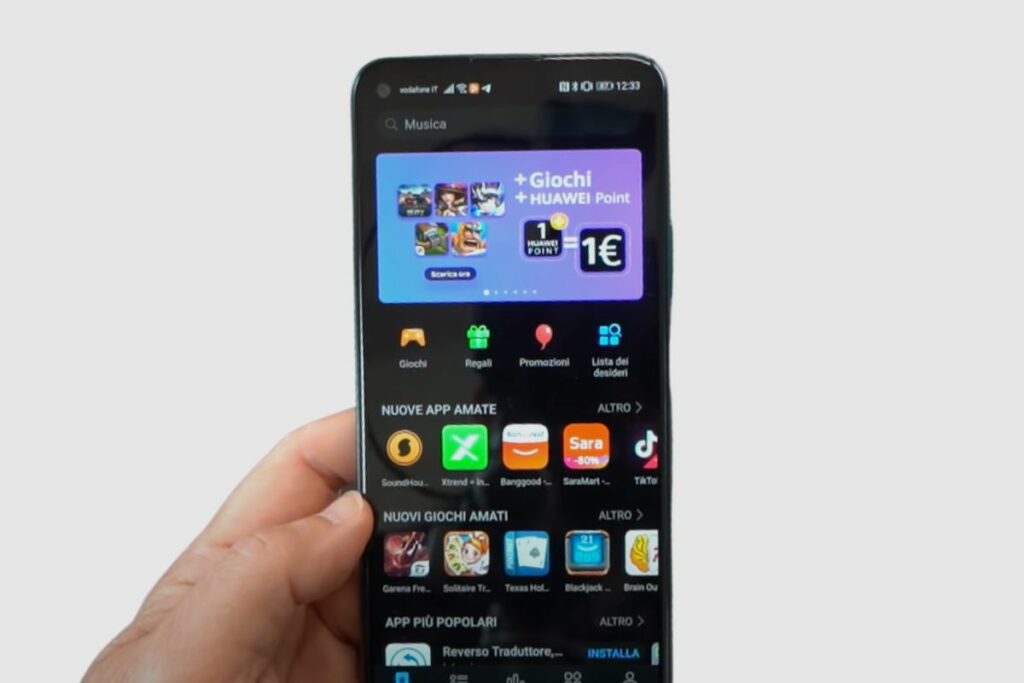 Does the Huawei P40 Lite have a Google Play store?
Just like all new Huawei phones, the P40 Lite 5G has been barred from accessing the Google Play Store and Google Services apps like YouTube, Google Maps and Chrome. The P40 Lite 5G uses Huawei's Mobile Services instead of Google Mobile Services. This means that Google's mobile apps and the Play Store do not run on the P40 lite 5G.
While this might discourage buyers, it is important to note that you can still log into the web versions of certain Google apps like Gmail, Google's search engine and YouTube through your internet browser on the P40 Lite 5G.
Despite not having a Google Play store, the Huawei P40 Lite 5G has some Huawei Mobile service apps that make the user experience enjoyable, such as Huawei AppGallery, which offers a variety of interesting apps that you can use and some handy Huawei-exclusive apps.
Another is the Huawei Phone Clone app which can be achieved with both iOS and Android and lets you copy over most of your apps, like WhatsApp and Facebook, from your previous phone to the P40 lite 5G.
This can be done seamlessly with just a QR code scan that does not require WiFi or a data connection. Some of the apps supported on the Phone Clone app are Alipay, Amazon shopping, BBC news, candy crush saga, Deezer, Instagram, Messenger, SwiftKey keyboard, Telegram, Twitter, WPS Office, Yahoo mail, Zedge, and so many more.
There's also Huawei's petal search engine that searches other app stores where you can download apps like Google Maps and Chrome from lesser-known stores. Petal Search automatically sources the app and installs it; this means that there is no need to navigate to the third-party app stores you are downloading from.
Does the Huawei P40 Lite have 5G?
Huawei P40 Lite 5G comes with a Dual Nano SIM card size that supports dual SIM standby, 5G Connectivity or 5G Band. It also supports a 4G network at the same time, both SIM slots support LTE and 5G, but the latter is impossible with both slots at the same time. Not only does this phone have 5G connectivity, but it can also connect to 4G, 3G and 2G connections.
Various other connectivity options on the Huawei P40 Lite 5G include Wi-Fi 802.11 a/b/g/n/ac, Mobile Hotspot, NFC, and Bluetooth v5.1. It supports dual-band, WiFi direct, and WiFi calling (you can use WiFi for WhatsApp, Viber, Skype or Facebook for calling). It also supports Edge and VolTE and is able to determine its location using GPRS, BDS, GPS, GLONASS, GALILEO and so on.
Conclusion
If you are looking for a mid-range of android smartphone, the Huawei P40 lite 5G is a great option as it comes packed with amazing features compared to other smartphones within the same price range.
Although this phone does not have access to Google services, Huawei Mobile services have loads of fun apps you can access.
The 5G connectivity is not the only stand-out feature of this phone; it comes with a fingerprint sensor and is a great camera phone.