The Acer Aspire 5 has a series of models that come in different processors, configurations, specifications and prices. In fact, this laptop has over 60 variants of models to choose from, depending on your budget and preferred features. 
You get to choose between the latest Intel Core or AMD Ryzen processors, with NVIDIA graphics for multitasking and productive performance, as well as experience accelerated photo and video editing with NVIDIA graphics.
You also get to choose between a 14, 15 or 17 FHD or QHD display with optional touch-screen availability. Acer Aspire 5 laptops feature the next-generation in connectivity Wi-Fi 6E, which is perfect for high-speed file sharing and smooth 4K streaming, and Bluetooth 5.2. They also have a Thunderbolt 4 port, connecting two 4K displays for multitasking.
This feature, amongst many others, makes it easy to find an Acer Aspire 5 laptop that will suit your needs in terms of price, performance, and productivity.
This article will focus on the Acer Aspire 5 A515-55T-53AP released in January 2021.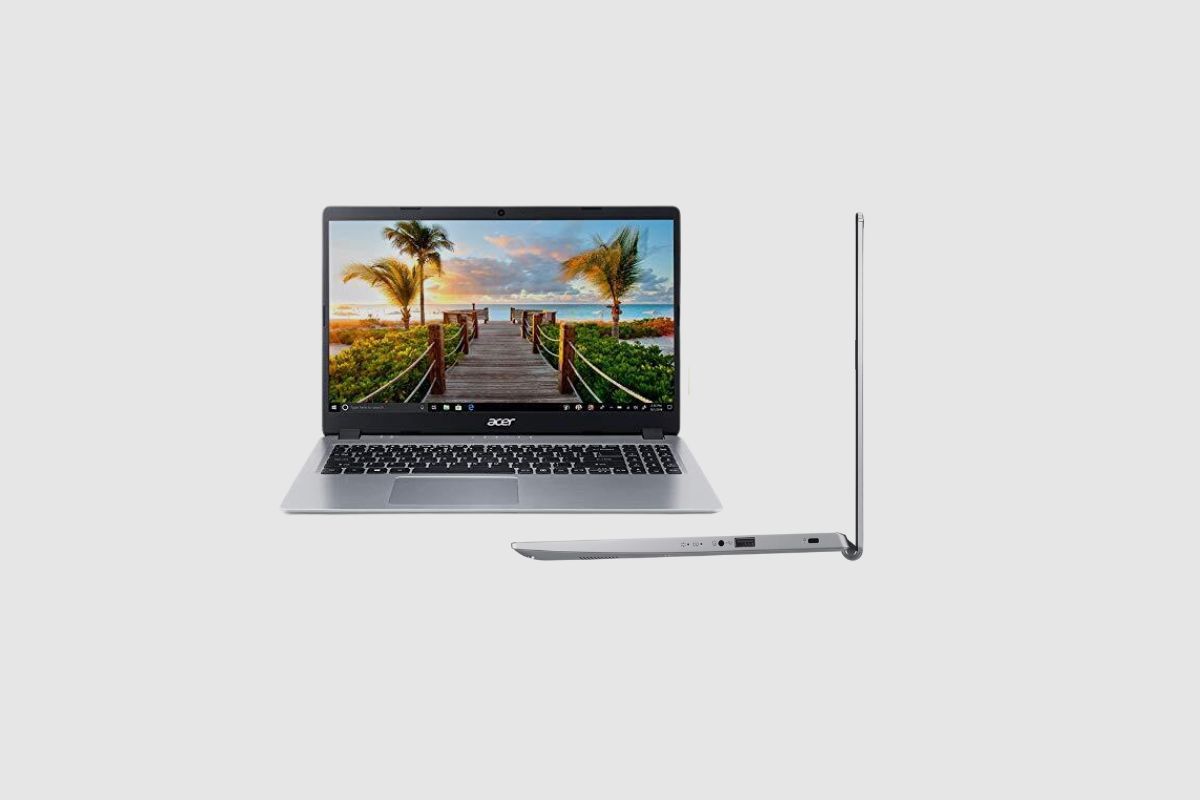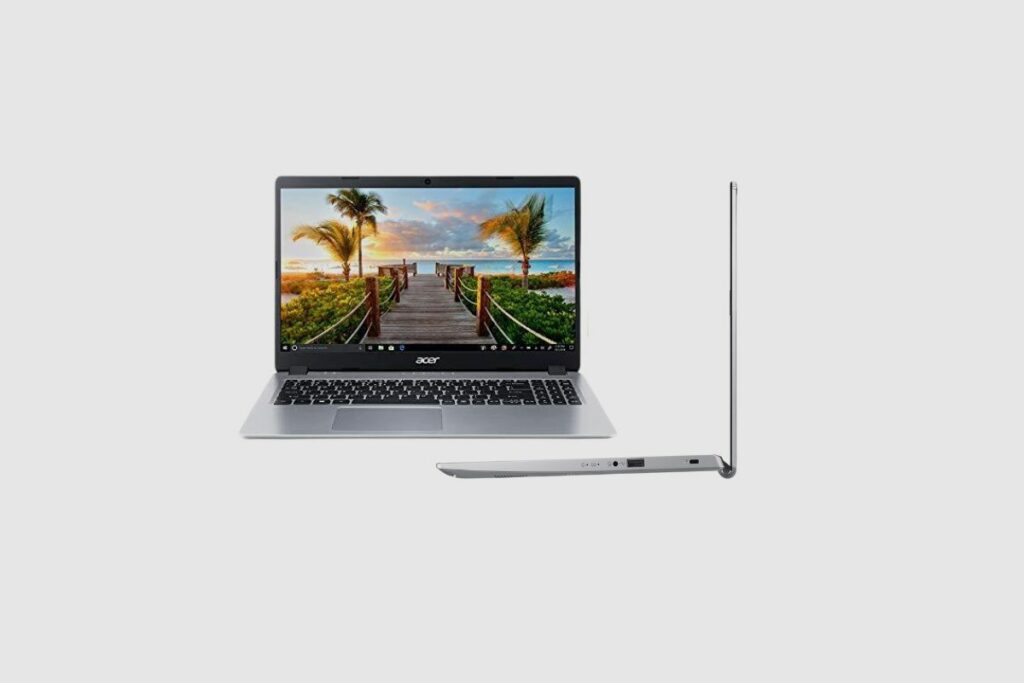 What is the Acer Aspire 5?
The Acer Aspire 5 is a budget-friendly laptop that still offers good performance and features. It's a good choice for students or anyone who needs a basic laptop for everyday tasks. However, it's not powerful enough for gaming or other demanding tasks.
Acer Aspire 5 Laptop Specifications
The Design
The 17.95 mm Aspire 5 A515-55T-53AP touchscreen notebook laptop features a plastic build with an aluminium cover and elevated hinge design with ergonomic features. It has a narrow bezel and is available in 5 colour options to fit your style: black, silver, blue, pink, and gold. This laptop weighs 1.8 kg, so you can do more whenever and wherever you are.
The touchpad supports Microsoft Precision gestures with an optional backlit keyboard, chiclet-style. You can also expel up to 10% more heat with the air-inlet keyboard.
For sound, this laptop has 2 built-in stereo speakers, Acer Purified Voice Technology and 2 built-in microphones.
On the sides, you will find the USB-C port, Kensington lock, power adapter, full-size Ethernet slot HDMI, USB A and USB 3.1 port, and a headphone jack. There are 4 ports in total: 1 USB 2.0 port, an HDMI 2.0 port and 2 SuperSpeed USB 5Gbps Type A ports, one of which can be used for offline charging.
The Display
The Acer Aspire 5 sports a 15.6-inch screen size with a resolution of 1366 x 768 HD widescreen LED-backlit Touch Display, Intel UHD Graphics, an aspect ratio of 16:9, a Comfy View (Matte) Touchscreen with a dimension of 0.71 x 14.3, x 9.9 inches.
Boasting an 81.61% screen-to-body ratio, you can enjoy colour-rich Full HD IPS and Acer visual technologies for dynamic colour optimisation and viewing comfort with the Acer BlueLightShield and Acer Colour Intelligence.
This laptop uses 3-cell lithium-ion battery technology with a 48Wh battery capacity. On a single full charge, the Acer Aspire 5 A515-55T-53AP can last for up to 8 hours.
The price of this laptop varies in different purchase stores; the product retails at $749.99 on Amazon, and on the Acer store, it costs $599.99. Although, the prices may vary depending on other factors.
Included in the box are the Acer Aspire 5 Laptop, a 45W AC Adapter, a power cord and a quick start guide.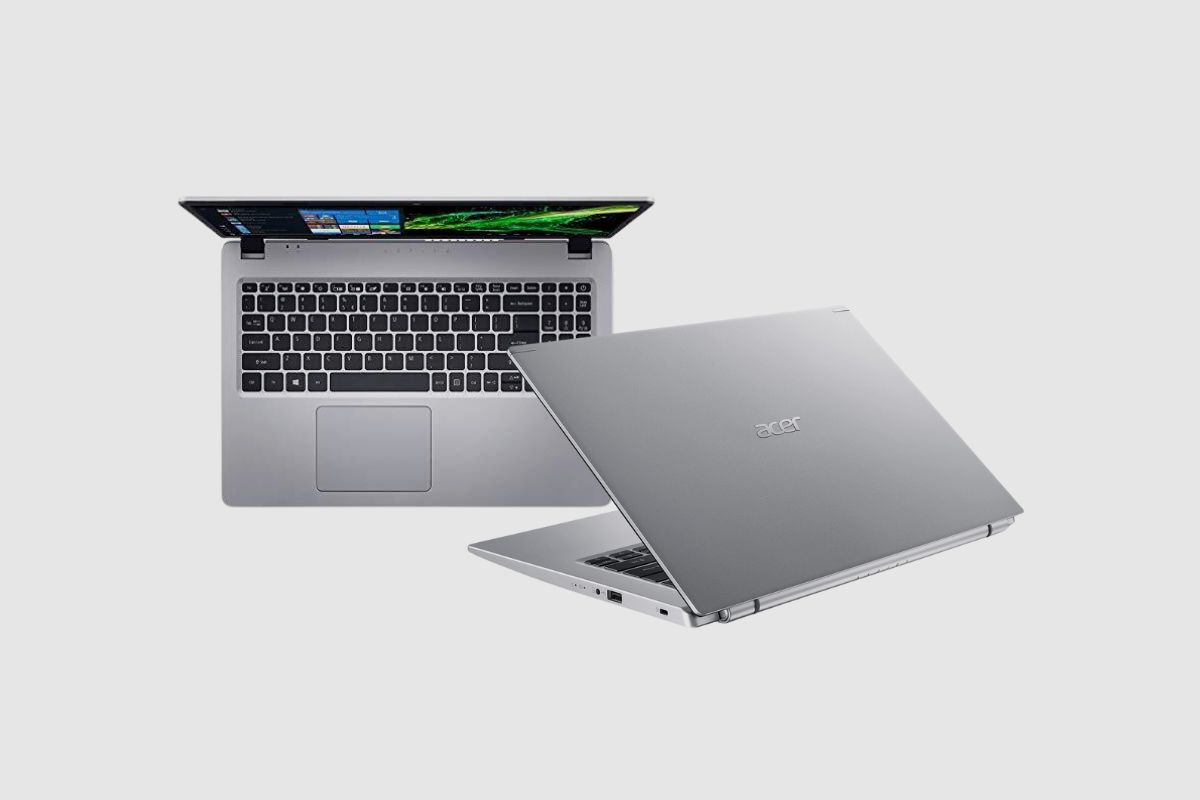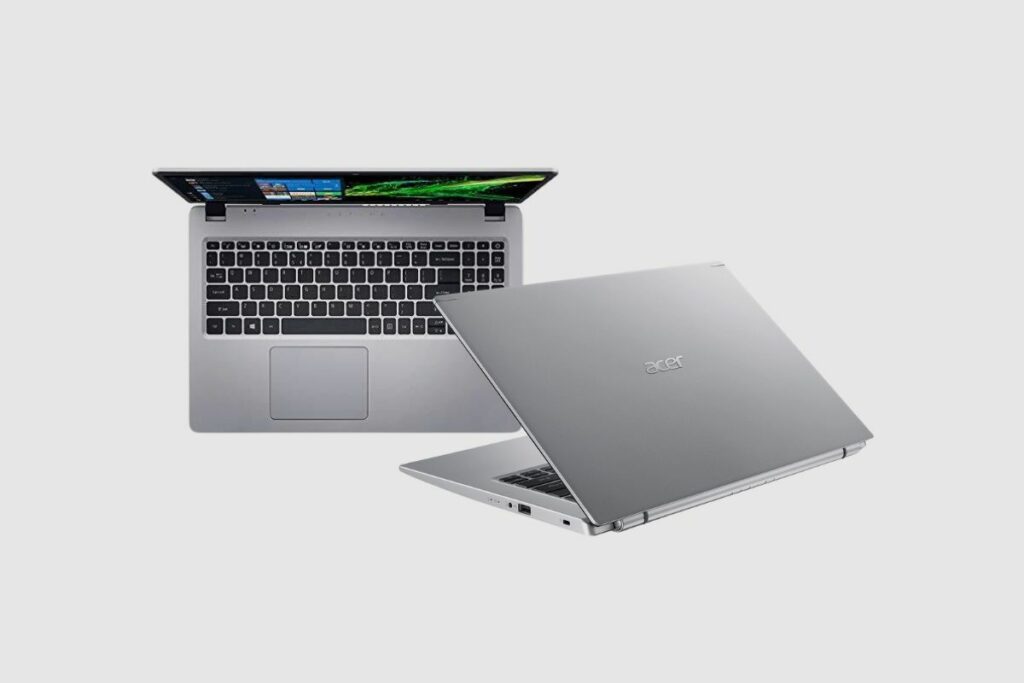 What are the main features of the Acer Aspire 5?
The main features of the Acer Aspire 5 laptop are:
Windows 10 Home is eligible for a free upgrade to Windows 11
Intel Core i5-1035G1 processor Quad-core 1 GHz with Turbo Boost Technology up to 3.6GHz (6 MB Smart cache
Intel UHD Graphics shared memory
15.6″ HD (1366 x 768) 16:9 ComfyView (Matte) Touchscreen
8 GB, DDR4 SDRAM
256 GB SSD
It supports multitouch gesture
4 ports options:
1 – USB 3.1 (Type-C) Gen 2 port reversible Type-C connector
2 X super speed USB 5Gbps 3.1 Gen 1 type A Gen 1 Port (one with offline charging)
1 – USB 2.0 Port and HDMI Port with HDCP Support
HD Webcam (1280 x 720)
Windows Hello fingerprint reader
It is Cortana certified and designed. For enhanced sound quality, it also comes with Acer True Harmony.
Intel Wireless Wi-Fi 6 AX201 802.11ax Dual-Band 2.4GHz and 5GHz featuring 2×2 MU-MIMO technology (Max Speed up to 2.4Gbps) improves the average network throughput by up to 3 times and reduces latency by up to 75% compared to Wi-Fi 5 (802.11ac), 10/100/1000 Gigabit Ethernet LAN (RJ-45 port), Bluetooth 5.0 connectivity.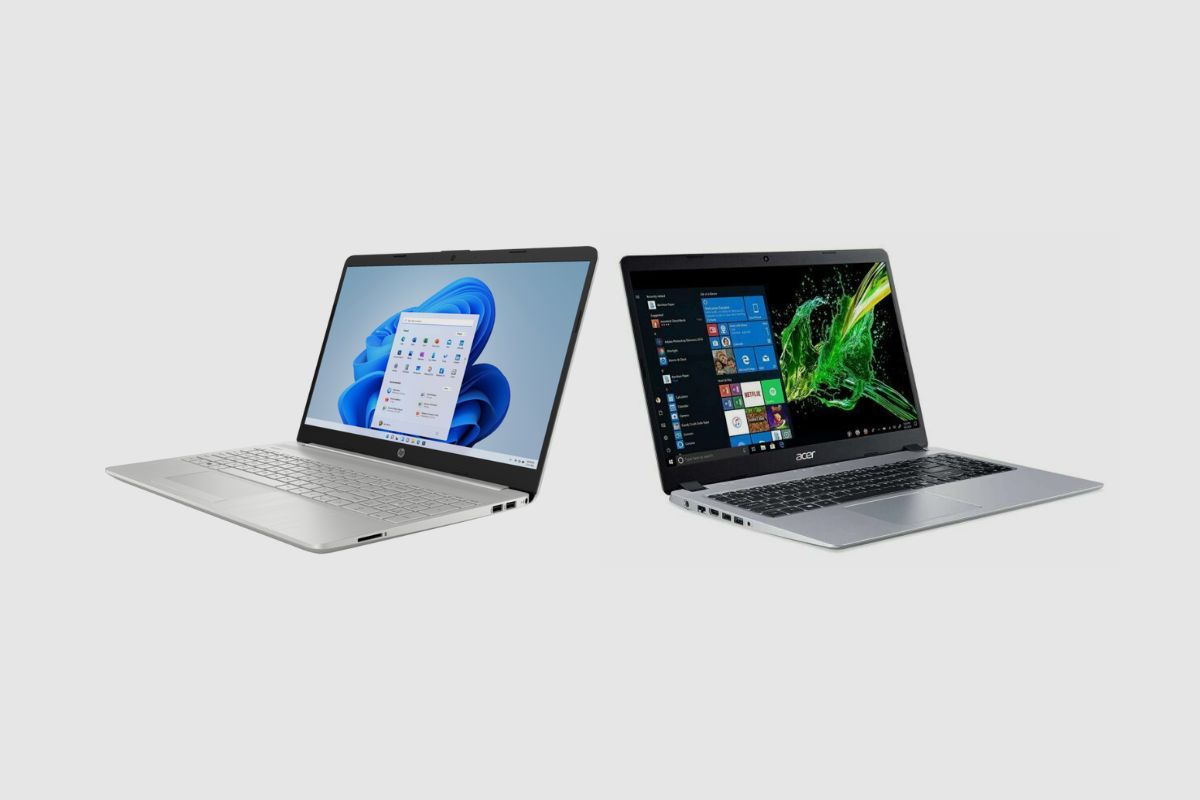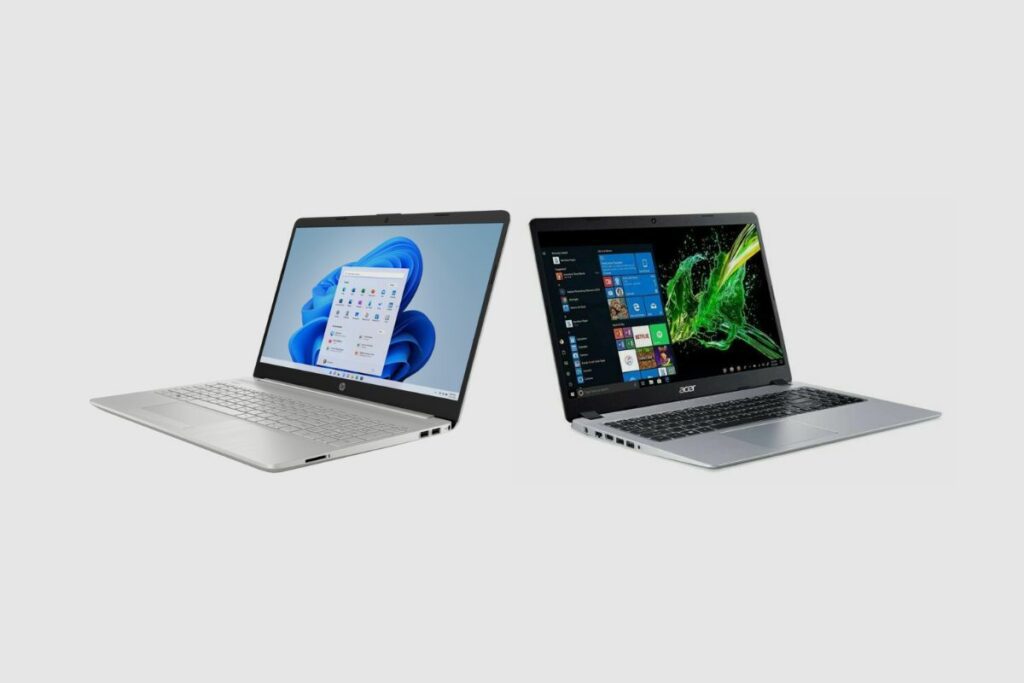 How does the Acer Aspire 5 compare to other laptops on the market?
When it comes to providing excellent value for your money, you can bank on the Acer Aspire 5. It has a price ranging from $340 – $949.99. It uses a nice IPS display panel with an anti-glare, matte coating that helps reduce reflections from ambient lighting.
The base model of the Acer Aspire is great in the performance of basic tasks, but if you want more out of the laptop, there are other configurations to choose from.
For performance, the model with an 8-core, 16-thread AMD Ryzen 7 5700U configuration of about $750 would beat other laptops within this price range. This configuration of Acer Aspire 5 delivers amazing performance whether you are surfing the net, gaming, doing productivity work or running intense applications: this model breezes through these tasks.
The Radeon RX Vega 8 GPU has 4k video playback, so you can stream 4k HDR content from Netflix, YouTube and the like seamlessly. You can as well run GPU-intensive applications AutoCAD without any glitches.
Unlike most modern laptops, the Acer Aspire 5 hardware is easy to upgrade. You can upgrade the m.2 SSD, and it also provides a port for adding SATA 3 SSD, including the SSD Harness and cables. Other major laptops don't add this feature to theirs, but Acer seems to be charting off its own course in this aspect.
This laptop also has a variety of ports for you to choose from. There are 2 different types of USB ports: an HDMI port that supports a 4kat 60Hz refresh rate and an Ethernet port. Also included is the intro wireless chipset that supports Wi-Fi 6 dual-band 2.4 and 5GHz.
With the Acer Aspire 5, you have the choice to select either Intel or AMD configuration. At the low price range, Acer 5 offers AMD Ryzen 3 Intel Core i3, but at the higher configuration, you have the Ryzen 7 and Core i7 to choose from. Acer also offers models with discrete Nvidia GPUs that are great for gaming and content creation.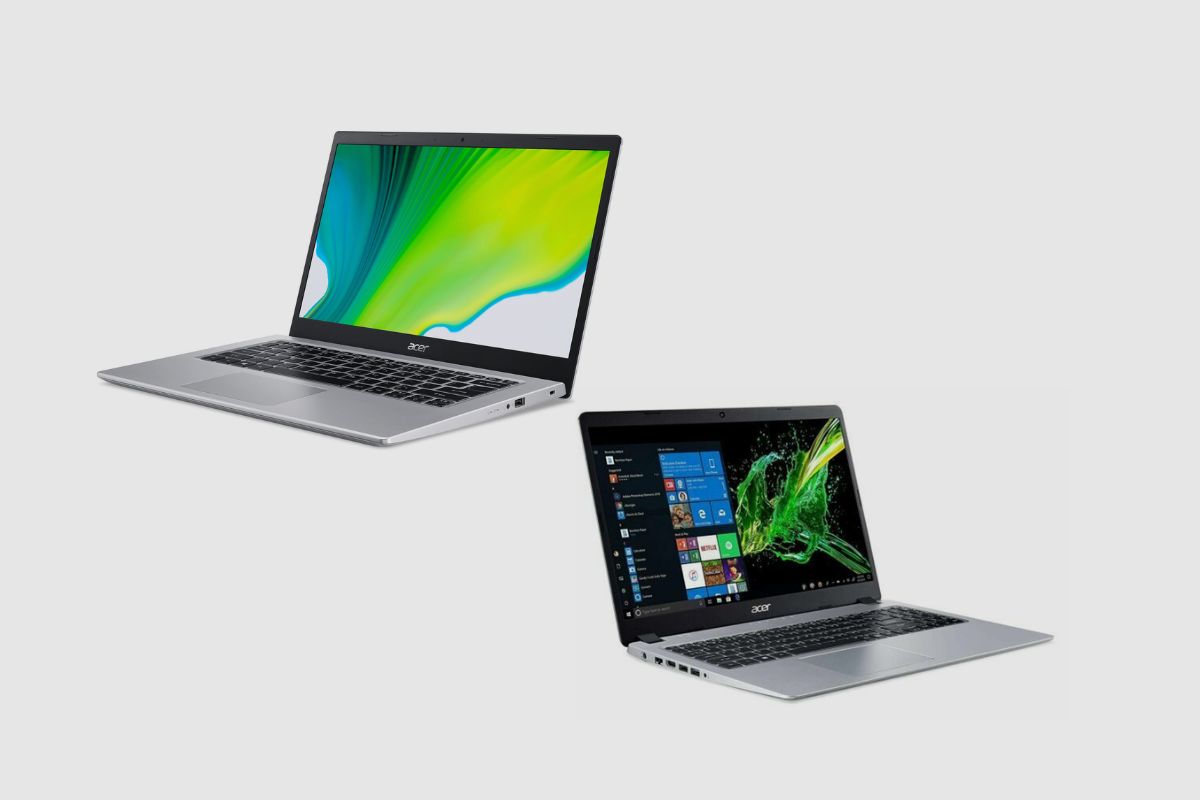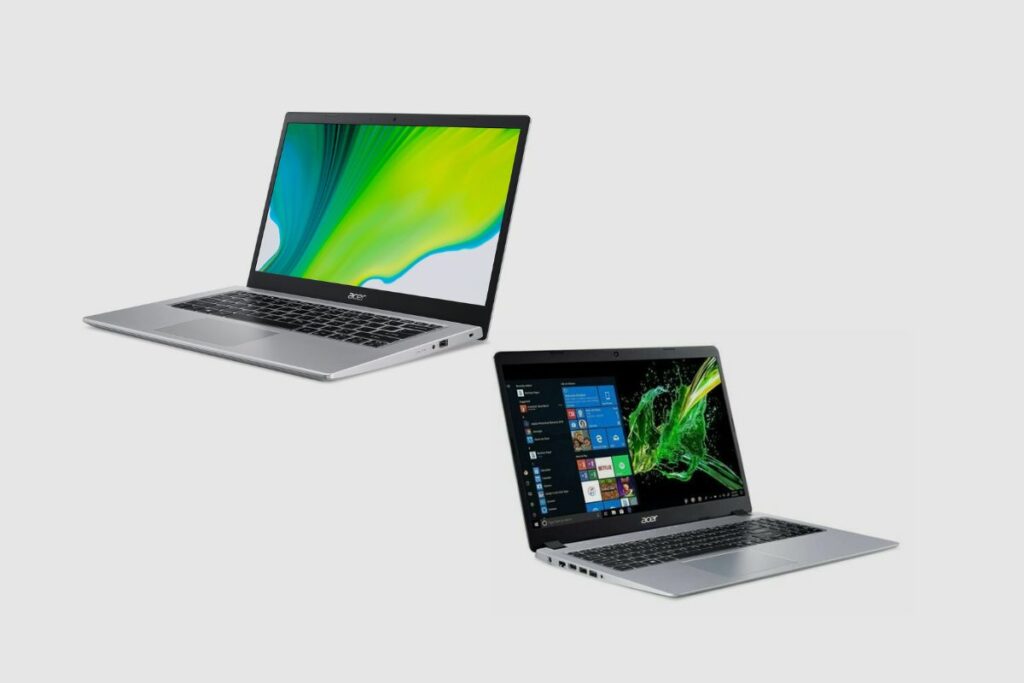 What are the pros and cons of the Acer Aspire 5?
Pros
Sleek exterior
Fingerprint reader: You can use the fingerprint reader to sign in without a password
Thin and light
It is affordable
Full-size Ethernet and HDMI ports
Comfortable backlit keyboard
Great audio quality
Decent port choice
Cons
Susceptible to bloatware
Average battery life
The touchpad is a little hard to use
Average webcam
Who is the Acer Aspire 5 best suited for?
The Acer Aspire 5 is best suited for those that want a budget-friendly laptop, especially students and on-the-go workers.
How easy is the Acer Aspire 5 to use?
This laptop is convenient enough to use for basic tasks without experiencing any difficulties. It provides all the features that a middle-range laptop should have and even more.
Performance on the Acer Aspire 5 is not slow, but playing heavy games or carrying out some highly intensive tasks can result in slow performance. Otherwise, the Aspire 5 is as simple as it gets to use.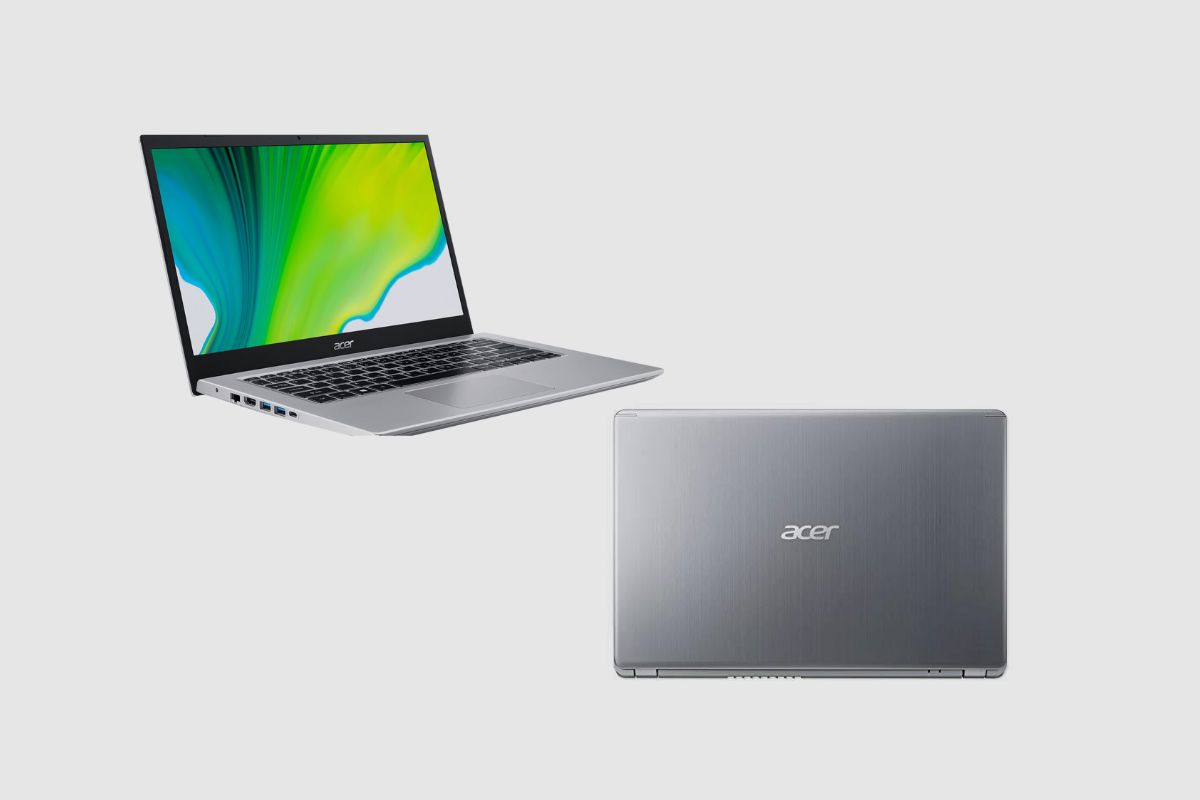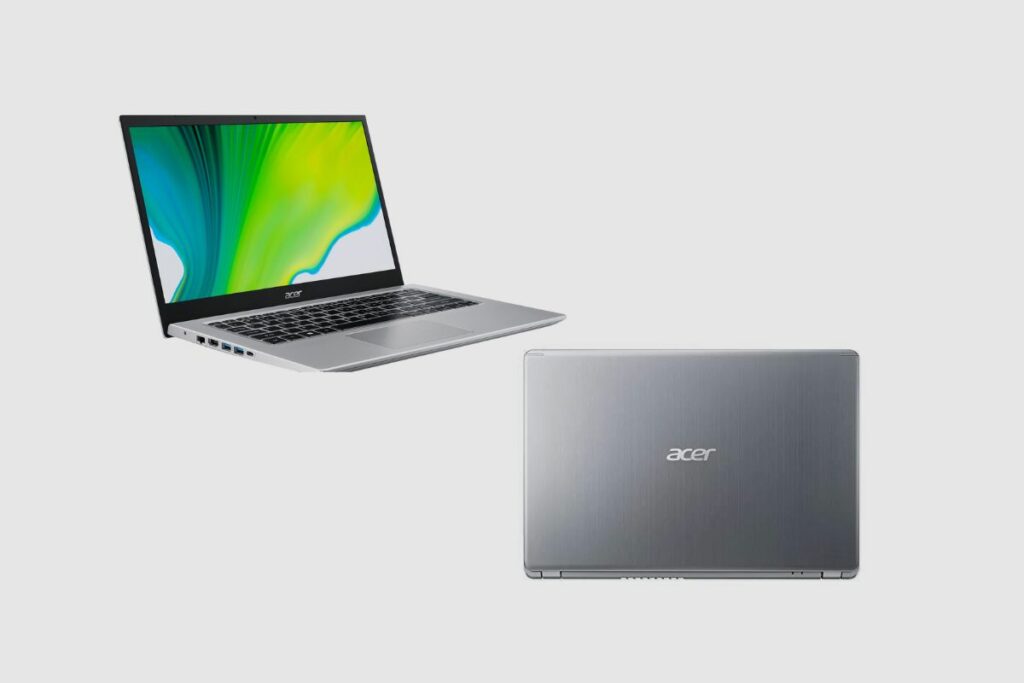 What are the most common problems with the Acer Aspire 5?
Some of the most common problems with the Acer Aspire 5 laptop include the following:
Overheating problem: This occurs when heat is increased in excessive amounts in your Acer Aspire 5. As a result, the internal components of the laptop can be damaged through electrical devices or components that produce heat and fans inside the laptop.
Slow Hard Drive: This can be because of the operating system – Windows 10, which can cause slow transfers and take more time to load programs due to disorganised information, which takes more time to put through data fragments on the drive.
Battery draining fast: Since the Aspire 5 has a mediocre battery capacity (except the ones with higher configurations), it will require frequent charges to keep running.
Sluggish performance and slow boot time: Your laptop might suffer from sluggish performance and hangups when you run multiple applications simultaneously. If it takes more time to boot, then auditing the programs such as Bootloader is necessary.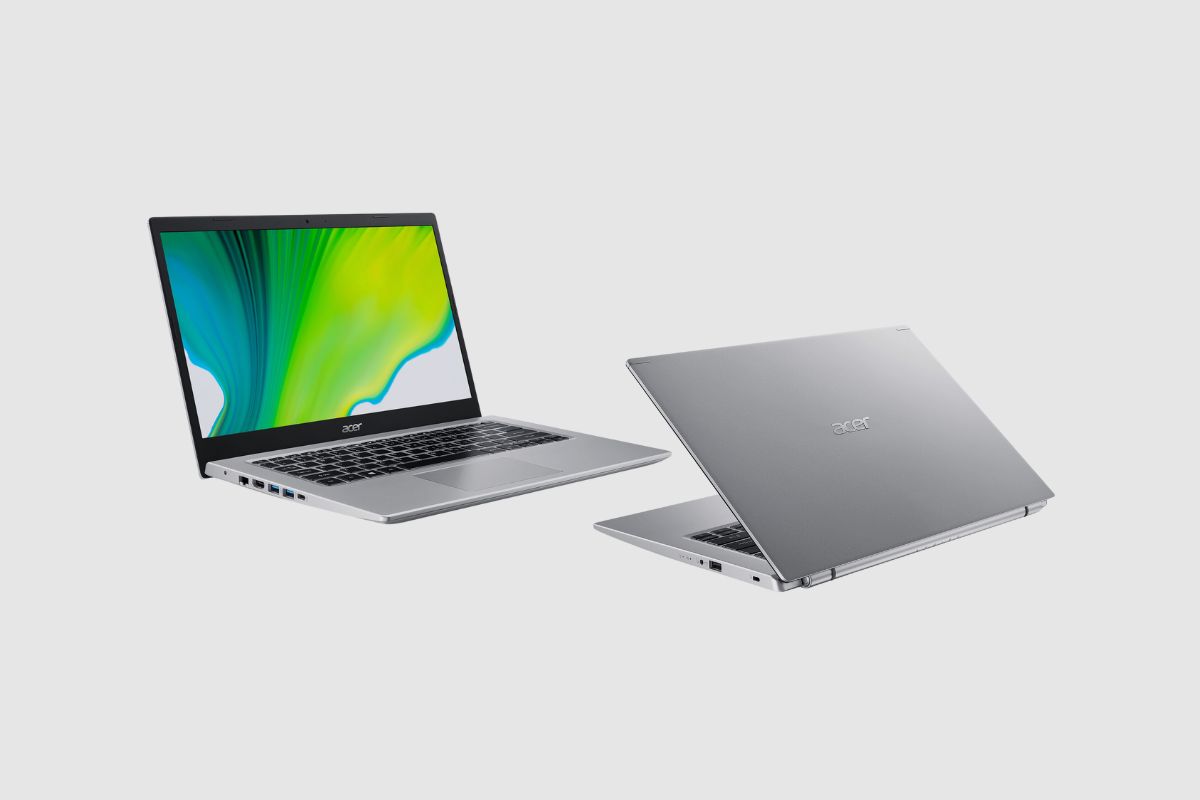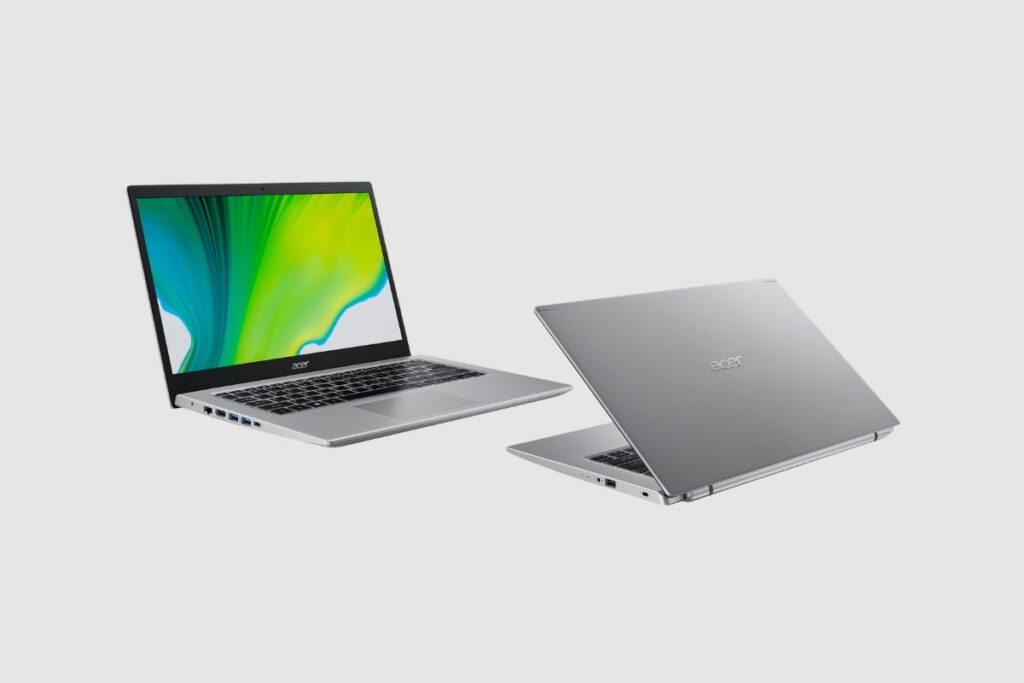 How can I avoid problems with the Acer Aspire 5?
To avoid problems with your Aspire 5 laptop, take note of the following:
Regularly clean vents because they can get clogged with dust, which will, in turn, prevent airflow around the fan blade. It is also advised that you place your laptop in a cooler room with proper space for ventilation.
In the situation of a slow hard drive, there is an in-built Windows tool called Disk Defragmenter for clearing this problem easily. To access this tool, simply click on the Windows button and search "Defragment and Optimize Drives". Click on the result and start the process.
Since the Aspire 5 has an average battery life, you can invest in a backup battery.
Upgrade RAM
Conclusion
In conclusion, Acer says the Aspire 5 is for "a range of customers who want to get the most bang for their buck".
Touch screen lovers will totally enjoy all the features that the Acer Aspire 5 A515-55T-53AP comes packed with, like its powerful graphics and processors, fast Wi-Fi, and plenty of storage and memory. This laptop is an ideal choice for students and on-the-go workers as it provides great value for its cost and guarantees users of exceptional performance.