The Acer Aspire 5 laptop is an affordable, versatile, and responsive laptop that is designed for everyday use with a very solid feature set for its price. But in a hyper-competitive laptop market, the Acer Aspire 5 must have some solid components to compete with other brands. However, like many pieces of technology, the Acer Aspire 5 is also liable to break down or get damaged.
So, in this article, I'll be going over why the Acer Aspire 5 won't turn on and how you can turn it on yourself or at least manage to turn it on before you take it in and get it repaired. So, sit tight and get ready to fix your Acer Aspire 5 laptop.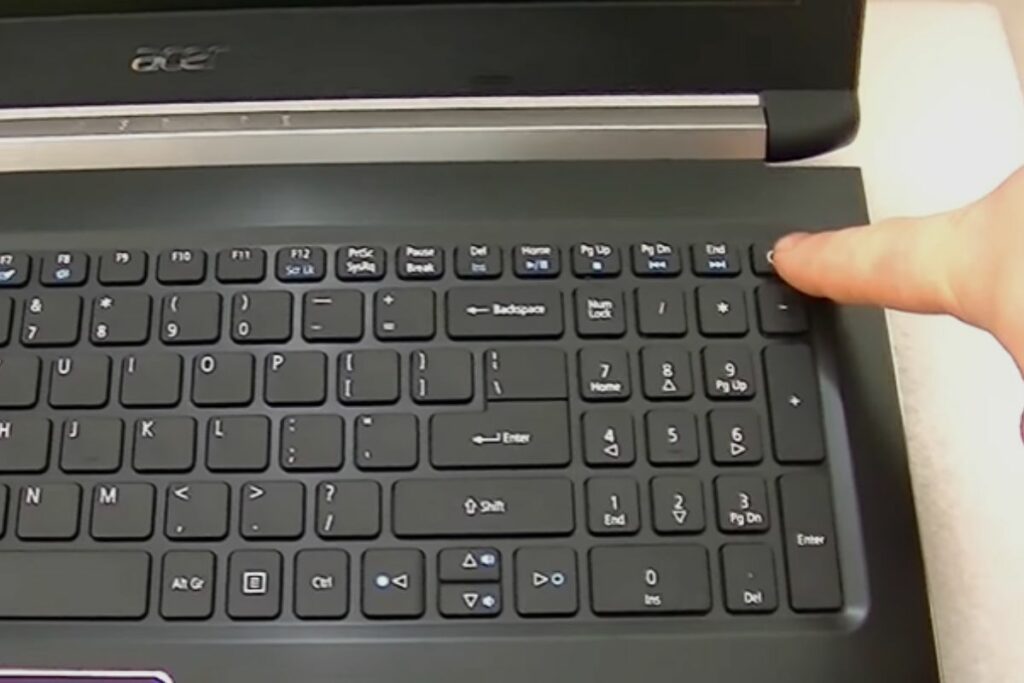 How to Turn on an Acer Aspire 5 Laptop?
So, if you use an Acer Aspire 5 laptop, you will notice that your on-off switch has been integrated into your keyboard, and it is not an uncommon feature to find on many laptops. However, it is possible for your Acer Aspire 5 to stop working or for it to stop powering on even when your laptop is fully charged. This happens because the keyboard might have been short-curated, or your power vault might have been bridged.
So, sometimes you might have to press the power button and press another button to turn it on. This occurs because your power button is faulty, and you will have to keep pressing a button on your keyboard to turn it on. However, once you stop pressing the button, your laptop will still turn off. If this is the case, you will need to change the keyboard on your laptop so that the problem can be resolved.
You can also try and press and hold the power button for 20 seconds to see if it will turn on. If that process doesn't work, then you will need to check the voltage of your laptop.
Try and Use a Multimeter and Track the Voltage of Your Laptop
Another method for turning on your laptop is to use a multimeter to measure the voltage on the battery connector to see if it is functioning properly. To do this, remove the cover of your laptop, remove your HDD, and then use a voltage tracker to determine the voltage of your laptop. If your laptop produces a voltage of 7.7 volts from its battery, it is in good working order. If it is not producing 7.7 volts, the problem is with your battery, and you may need to replace it or take it in for repairs.
However, if your laptop produces a normal battery voltage, you will need to inspect your components and determine whether there is a problem with the power section. If there are no defective components, you may need to resolder or use hot air to keep the MOSFET and other components on the board, including the RAM chip, powered up. After that, reassemble your laptop and test it to see if it will turn back on. If it turns on, your problem has been solved. If it does not work, you may need to take it in to be repaired.
Another solution that may help you turn on your Acer Aspire 5 would be to open the laptop and then disconnect the battery from the laptop. Wait for 20 seconds, then plug the battery back in, and then try and turn the laptop on after you have coupled it back together.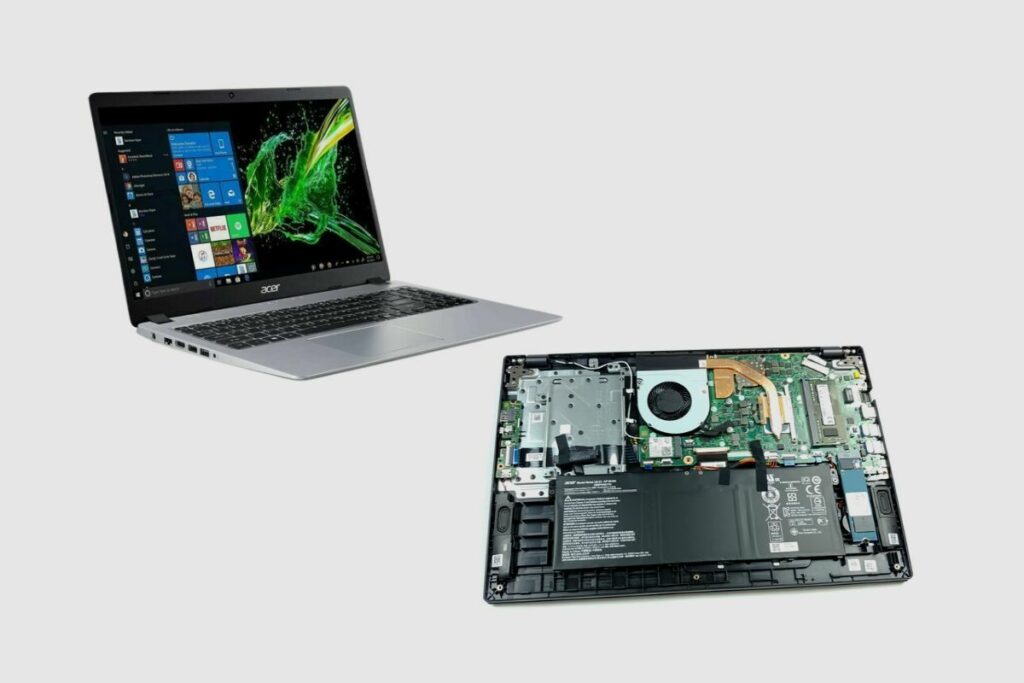 You May have to Disassemble it and Find the Capacitor.
Another option that may work for your Acer Aspire 5 is to disassemble the laptop. Remove the laptop's cover first, then disconnect the battery cable, then remove your HDD or SSD, then remove the Wi-Fi card, then remove the cooling pan, then disconnect the flex cables, then remove the battery, and finally remove the screws on the motherboard and take out the motherboard.
After that, plug in the motherboard and measure the voltage with a multimeter tester before measuring the power of the motherboard. As long as you can measure a consistent voltage current, you should be fine.
So, once the measured voltage values are normal, it can be judged that the power supply circuit of the motherboard is good. Then take a magnifying glass and look all over the motherboard to make sure there is no damage to the motherboard. A stable voltage value is about 18-19 volts.
Following that, you must measure the voltage from the battery and ensure that the motherboard's power supply circuit is not faulty. Then, in diode mode, measure the capacitor's value. When you arrive at the capacitor, you should notice that it has blown, and this should be the source of the problem. Remove the capacitor with a hot air gun set to 400 degrees and an airflow of 60.
The voltage should be fine after removing the shorted capacitor. Then install the motherboard and attempt to turn on the laptop. If it comes on, then you can reassemble the laptop and connect everything back together. The laptop should be working well, and everything should be back to normal.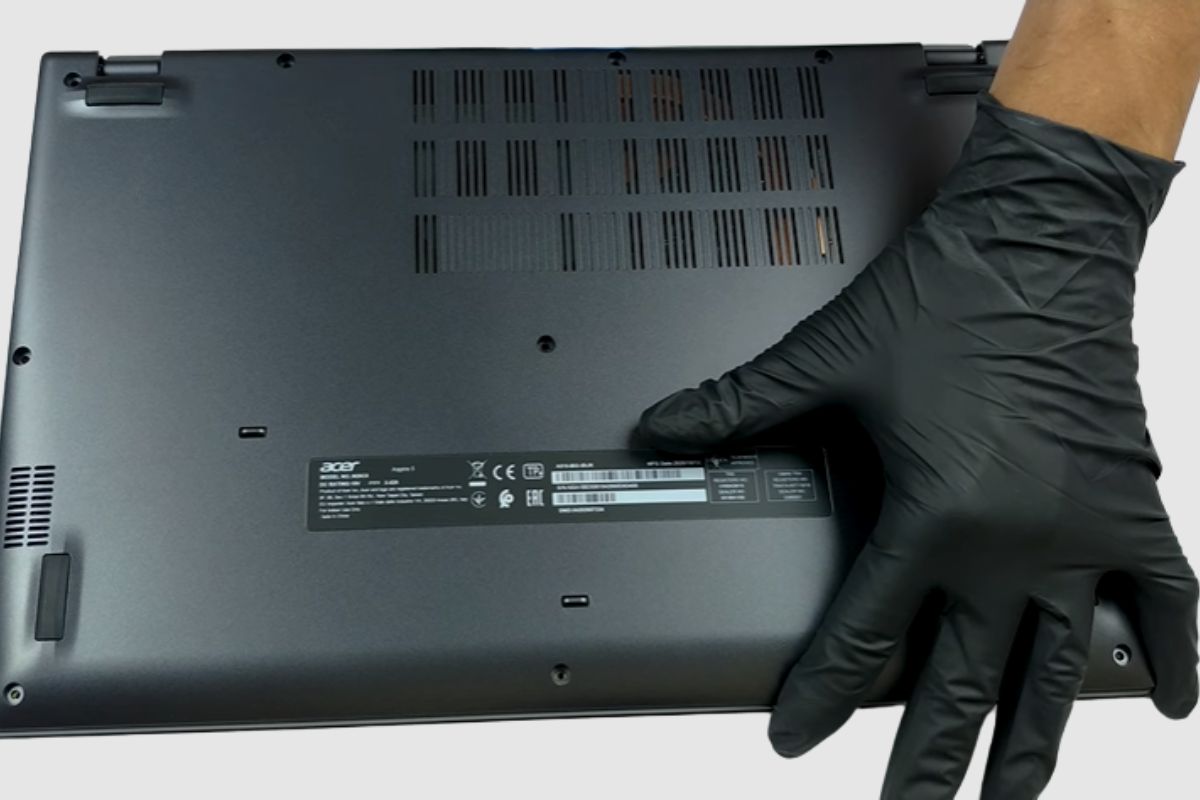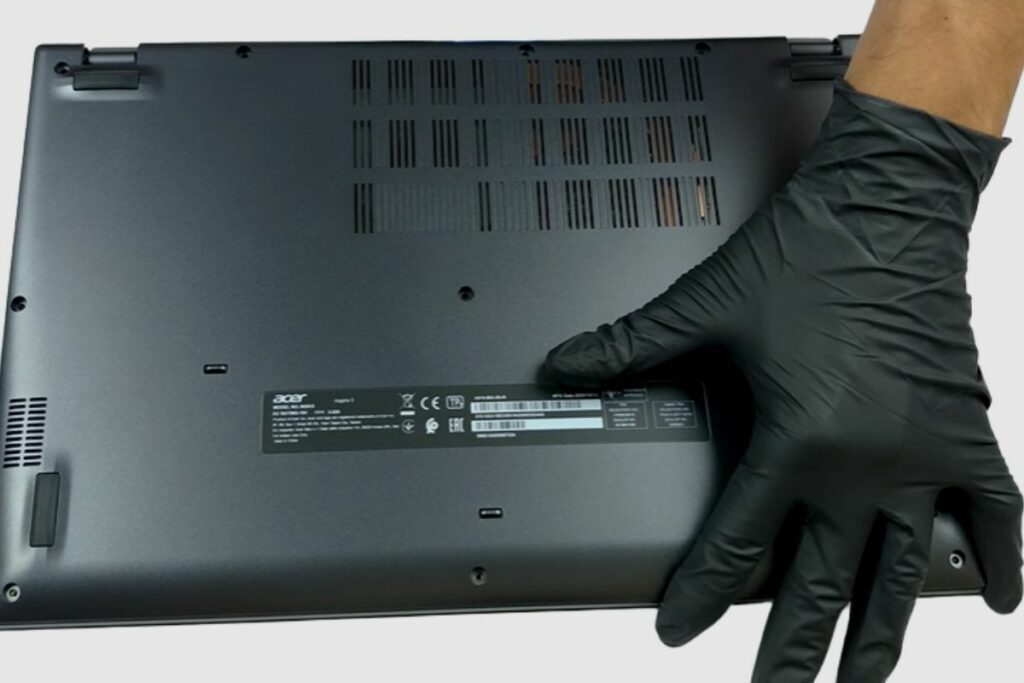 How to Open an Acer Aspire 5
Opening an Acer Aspire 5 is a simple process. All you need to do is get a Philips head screwdriver and remove all the bolts at the back of the laptop. There are about ten screws that you will need to remove. There are nine that are all around the back of the laptop and one in the centre. Then you can proceed to take off the clamps holding the back of the Acer Aspire 5.
After that, you should be able to remove the back of the Acer Aspire 5. Then disconnect the battery cable, remove your HDD or SSD, remove the Wi-Fi card, remove the cooling pan, disconnect the flex cables, remove the battery, remove the screws on the motherboard, and remove the motherboard.
Conclusion
Like any piece of technology, the Acer Aspire 5 laptop can be damaged or have issues. I hope with these bits of vital information; your laptop will begin to turn on and work. Please make sure you have a voltmeter, screwdrivers, and a multimeter before you try to fix your laptop.
Also, please be aware that opening your laptop may void your warranty, so if your laptop is having any issues and is still under warranty, please try to take it in for repairs before you try to repair it yourself. If you have any questions, please leave them in the comments section, and I'll do my best to answer them. Thank you.