Released in 2019, the Acer Aspire 5 is an affordable Windows laptop that is highly productive and functional. This laptop is equipped with combined features that enhance solid performance, thanks to its Intel or AMD processors and Nvidia or AMD graphics choices. These laptops perform multitasking jobs efficiently and provide excellent outputs.
This laptop presents a large display screen size for an immersive viewing experience and a great keyboard for a comfortable typing experience. It is made up of powerful components, which makes it versatile and an ideal laptop choice for students, as well as office and remote workers.
The Acer Aspire 5 has a variety of models to choose from, depending on your budget and preferred features. Some of the best Aspire 5 models include:
Acer Aspire 5 A515-56-73AP: This laptop is an 11th Gen Intel Core i7 that comes with a 15.6-inch Full HD IPS display. It is equipped with Intel Iris Xe graphics, 16 GB DDR4, 512 GB NVMe SSD, and Wi-Fi 6, alongside a fingerprint reader and a backlit keyboard. It weighs 3.64 pounds and costs $699.
Acer Aspire 5 A515-54-59W2: Weighing 3.97 pounds, this laptop is powered by the 10th Gen Intel Core i5. It has a 15.6-inches full HD IPS display and a backlit keyboard. It comes with 8 GB DDR4, 256 GB PCle NVMe SSD, Wi-Fi 6 and a fingerprint reader. This laptop retails at $430.99.
Acer Aspire 5 A515-46-R14k: This 15.6-inches Full HD IPS laptop model works with Amazon Alexa. It runs on Windows 10 Home and has an AMD Ryzen 3 3350U Quad-core processor. It comes with 4 GB DDR4 and 128 GB NVMe SSD alongside a Wi-Fi 6 and a backlit keyboard. It costs $374.00.
Acer Aspire 5 A515-46-R3UB: This model weighs 4 pounds, with a 15-inch screen and a backlit keyboard. It makes use of an AMD Ryzen 3 processor and comes with 4 GB DDR4 and 128 GB NVMe SSD. It also has Wi-Fi 6 connectivity. This Windows 11 home (S mode) laptop works well with Amazon Alexa and costs $356.91.
Acer Aspire 5 A515-56-32DK: This laptop presents a 15.6-inch Full HD IPS display with a weight of 5.46 pounds. It is equipped with an 11th Gen Intel i3 dual-core processor, 4 GB DDR4, 128 GB NVMe SSD and WiFi 6 connectivity. It runs on Windows 11 in S mode. This laptop is priced at $309.99.
Acer Aspire 5 A515-45-R3SU: This model weighing 1.76 kg has a 15 full HD IPS with an AMD Ryzen 7 octa-core processor. This laptop has an 8 GB DDR4 and large storage of 512 GB NVMe SSD alongside Wi-Fi connectivity. This laptop runs on Windows, comes with a backlit keyboard and has a price tag of $660.99.
Acer Aspire 5 A515-45-R74Z: This model runs on Windows 11. It comes equipped with an AMD Ryzen 5 Hexa-Core mobile processor, AMD Radeon graphics, 8 GB DDR4, 256 GB NVMe SSD and WiFi 6 connectivity. It features a 15-inch Full HD IPS and a backlit keyboard. Having a weight of 1.76 kg, this laptop costs $400.99.
Having listed some models of the Acer Aspire 5 models, you can see that they all have distinct and powerful features that make them stand out amongst other high-performance laptops within its price range.
While each model has different specifications, this article is focused on the Acer Aspire 5 A515-57 as it comes packed with some of the best features that guarantee users of reliable performance.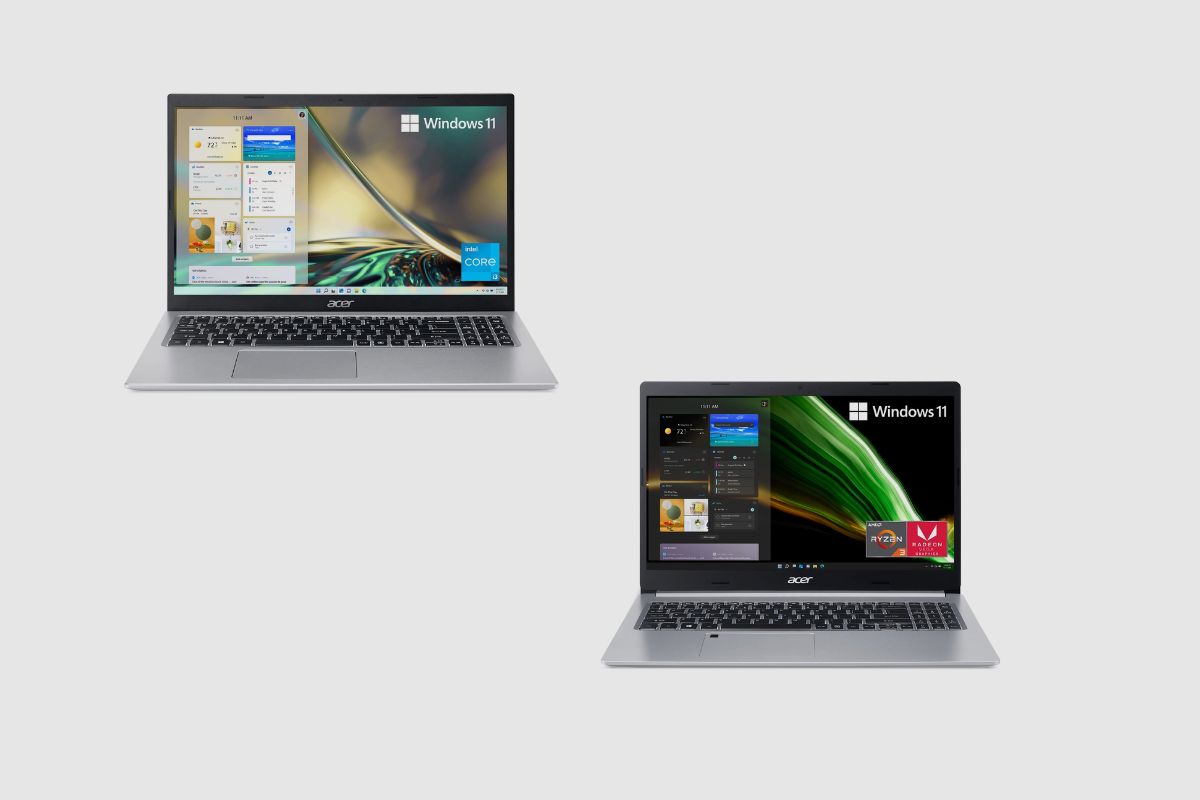 Design
The outer part of the lid of the Acer Aspire 5 is made of plastic, with an aluminium magnesium alloy in the lid alongside a sleek keyboard deck. This laptop has a build quality that gives it a sturdy look. With a weight of 3.88 pounds and 0.70 inches in thinness, this laptop is portable and can conveniently fit into a laptop bag.
Display
The Aspire 5 offers a great display with its 15-inch screen size, 16:9 display ratio and large bezels, which offer a clear and immersive viewing experience.
This laptop performs exceptionally well at productivity tasks, as it has an 81% screen-to-body ratio that offers a wide viewing angle. It also offers a 282 nits colour brightness, which is vivid enough for indoor settings. The colours are not so great, with 65% of sRGB and 48% of AdobeRGB, but the accuracy is fair enough with the DeltaE 2.79, as well as a 740:1 contrast.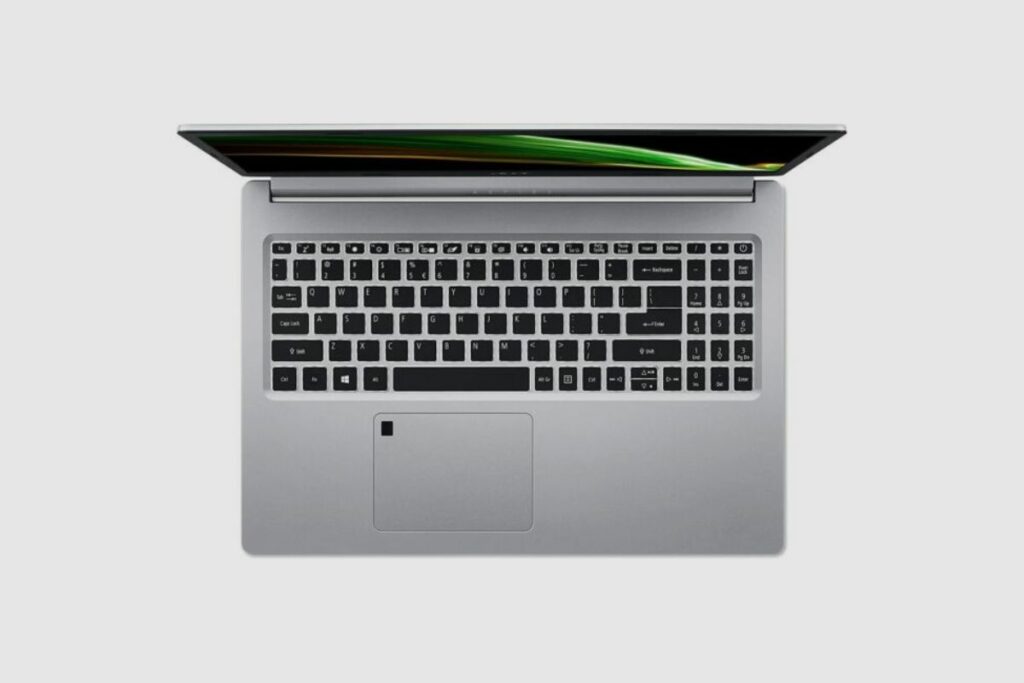 Keyboard
The Acer Aspire 5 offers a great backlit keyboard with comfortable keys and a sizable amount of key spacing.
The touchpad is large and comfortable for use, especially with a smooth surface that allows Windows 11 multitouch gestures; this works well because of the Microsoft precision touchpad drivers. Also, the sounds are not loud or clicky sounds and the buttons are even and soft to feel when in use.
There is an optional fingerprint reader integrated into the top left corner of the touchpad, which enables Windows 11 Hello passwordless login. The 720p webcam offers Acer's noise reduction technology.
Interfaces/ports
In terms of expandability, the Aspire 5 provides great options. The RAM can be upgraded, and it has a second storage slot for another SSD.
The Aspire 5 is made up of the following ports:
1 x HDMI 2.1
3 x USB 3.2 Gen 1 Type-A
1 x USB 3.2 Gen 2 Type-C with thunderbolt 4
Ethernet port
1 x 3.5 mm audio jack
Specifications
Dimensions in H x W x D are 0.7 x 14.3 x 9.4 inches
It weighs 3.90lbs (1.77kg)
The screen size is 15.6 inches, with LCD display screen type
The screen resolution is 1920 x 1080
The operating system is Windows 11 Home
The processor is a 12th Generation Intel core i5 1235U
Graphics is GPU: Intel Iris Xe Graphics
RAM: 8GB DDR4 SDRAM
SSD: 512GB PCI Express
Power Adapter: 65W
Battery capacity: 3-cell lithium-ion (Li-on)
Battery life is estimated at 7 hours
Fingerprint sensor: Multi-touch gesture
It has a backlit keyboard
Audio:
Speaker: 2x stereo
Mic
Connectivity:
WiFi: IEEE 802.11a
Bluetooth: Bluetooth 5.2
Included in the box of this laptop are Aspire 5 A515-57-52YQ Notebook, a lithium-ion battery and an AC Adapter
Battery life
The Aspire 5 entry-level 50Wh battery can last for about 7 hours of web browsing. The battery life will vary depending on usage.
This laptop may not go through a full day if the workflow is much, but with the 65W battery charger, you can get it charged for extensive work.
Price
The Acer Aspire 5 retails at $700. But, this price differs depending on the store you buy from or your location.
Pros
Comfortable keyboard/touchpad: The Aspire 5 keyboard is easy and simple to use with its well-sized key caps and proper spacing when typing. The touchpad comes with a smooth surface, and a comfortable typing experience is guaranteed.
Outstanding functionality: This laptop offers solid performance in productivity and is great for multitasking.
Great port choice: This laptop allows users enough port options to select from.
Incredible expandability: The Aspire 5 is impressive in expandability. The RAM of this laptop is upgradeable, and it has a second storage slot for another SSD,=.
Cons
Below-par battery: With just 7 hours of battery life, the battery of this laptop will need frequent charges to work for longer periods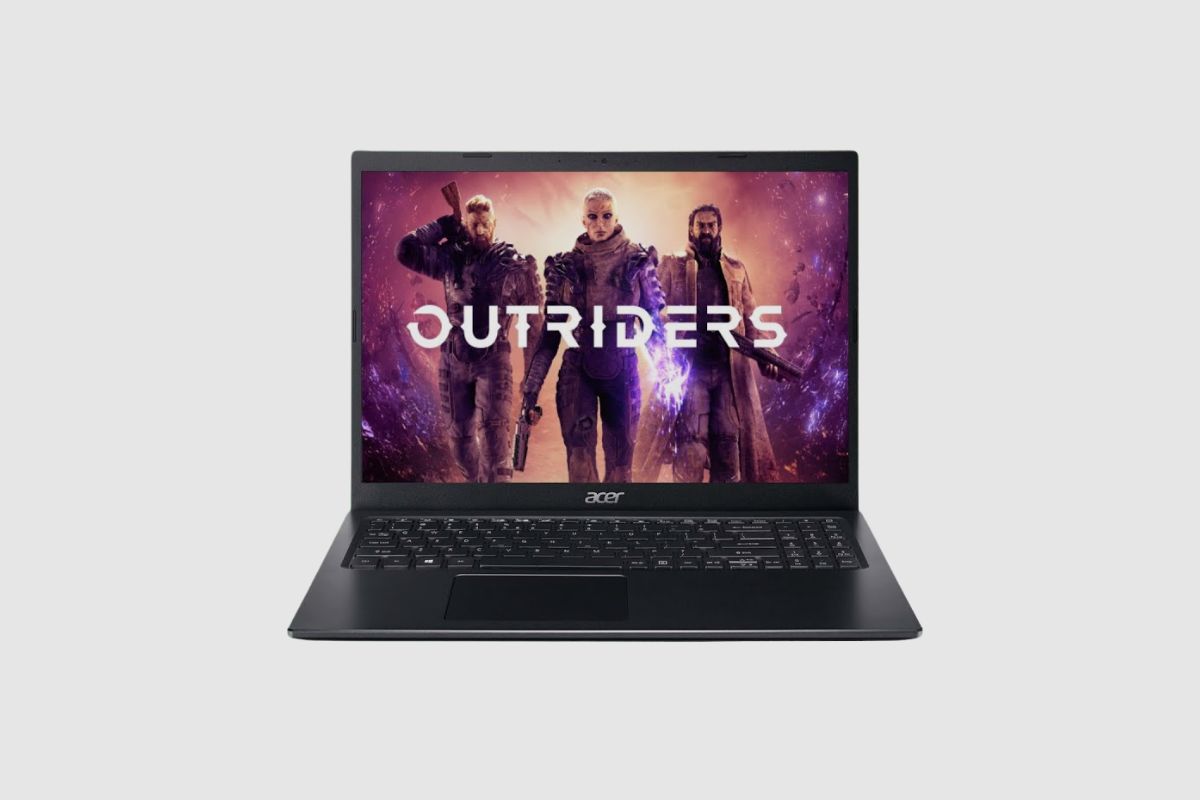 Performance
The Acer Aspire 5 is equipped with the Intel Core i5-1235U, a 15-watt 10-core and 12-thread that performs intensively and speedily, resulting in increased productivity.
This laptop has large storage for large files and can toggle between applications without slowing down. It has great multitasking abilities, which means it can deliver efficiently even while pressured by the workload.
The downside of this laptop is its battery life, which can last for just 7 hours. This is minimal, given the top capabilities possessed by this laptop.
Also, despite not being designed to be a gaming laptop, it can run some light games efficiently.
The overall performance of the Acer Aspire 5 A515-57-52YQ is satisfactory and reliable.
Software
The Acer Aspire 5 runs on Windows 11, which makes it easier for you to toggle between different virtual desktops. With Windows 11 on this laptop, you can set up a virtual desktop in a way that is like a Mac and toggle between many desktops at once for work, school or personal activity.
Conclusion
In conclusion, the Acer Aspire 5 is an amazing entry-level laptop that is on par with most of the best laptops in the market today. It is fully equipped with high-end features that make it stand out.
This laptop is budget-friendly and provides great value for its cost thanks to its versatility, portability, and excellent multitasking abilities. The Acer Aspire 5 is an ideal laptop choice for students and business owners as it efficiently performs basic tasks.