Alongside the HP Envy, HP Chromebook, and HP Pavilion, the HP Spectre x360 is one of the 2-in-1 convertible laptops produced by HP. Although there are certain similarities among these laptops, they each have features peculiar to them.
Lovers of convertible laptops will particularly enjoy the features convertible laptops come packed with. These laptops are built with a design that enhances versatility, especially since they effectively function as a laptop and tablet, which in turn maximises productivity. These laptops can be conveniently used for work in any environment.
The HP Spectre x360 is available in Poseidon blue, nightfall black and ash silver colours and comes in models based on screen sizes to enable users to choose their preferred model. This laptop is available in 13, 14, 15, and 16-inch models. While each model has features peculiar to them, certain features cut across all models.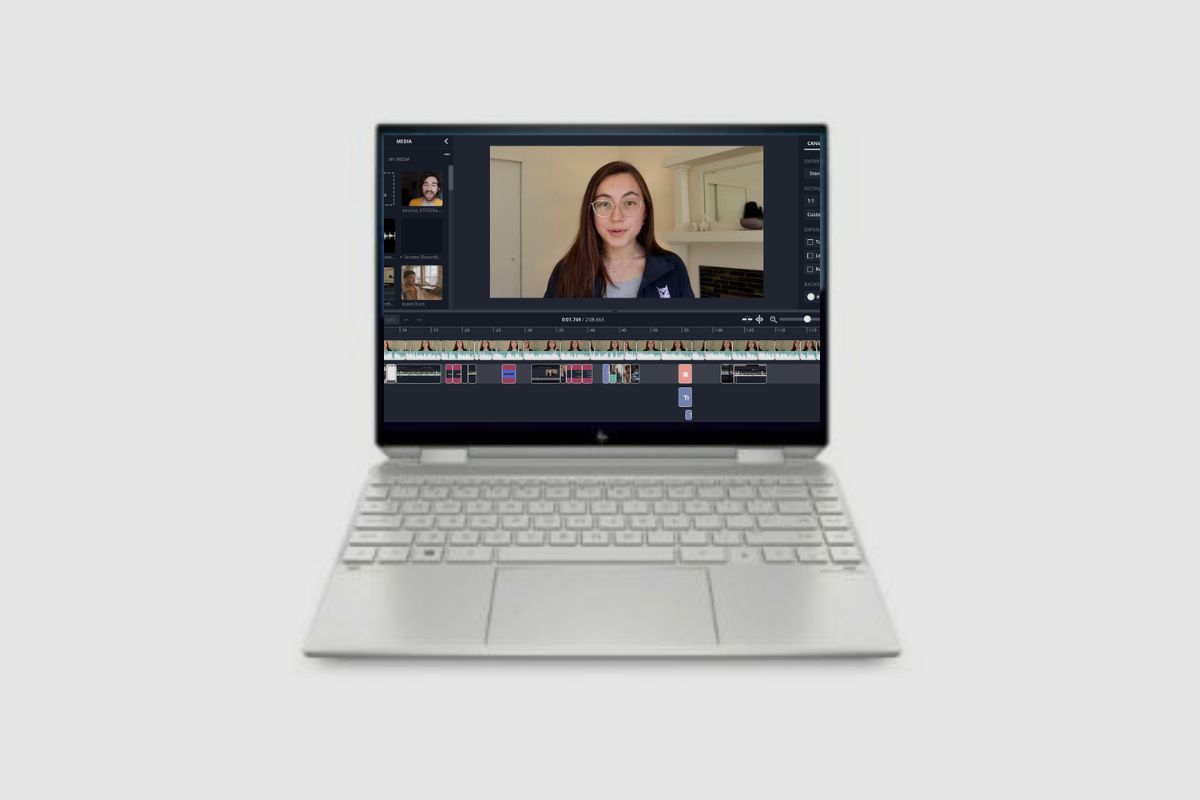 Is The HP Spectre X360 Good For Video Editing?
HP Spectre x360 laptops are commonly known for their ultra-slim and portable design, the latest Intel processors and graphics that guarantee speedy performance, advanced storage capacity, various port options, nice webcam, excellent security features and impressive battery life.
Just as the name implies, video editing is the process of manipulating, rearranging and structuring video shots to your desired outcome. This is a feature mostly used by content creators in the post-production of their videos.
Video editing laptops have basic specifications that make them perform video editing tasks seamlessly. Some of these features include:
Screen size: A large screen size provides users with a comfortable viewing experience. The larger the screen size, the easier you can view and run your video editing jobs. A laptop with at least a 15-inches screen size is decent enough to run video editing tasks.
Display resolution: A laptop with a higher display resolution means there are more pixels, and with more pixels, manipulating colours for accurate images is assured. Therefore, for video editing jobs, a laptop with UHD/4K UHD is a great choice.
Operating system: The operating system is another important feature to consider for a video editing laptop; this is because it determines the kinds of editing software that can run on the laptop. Some of the best OS for video editing laptops are Windows 10, macOS, and Linux.
Processor: Known to be the heart of the laptop, a high-powered CPU is one of the essential prerequisites of a video editing laptop. A laptop with more cores will enhance the rate at which programs will run on your laptop. In other words, the more cores, the faster your laptop will operate. For video editing, a laptop with at least 4 cores like the Intel Core i5 or i7 is recommended; however, you can aim for a 6-core processor.
Memory/RAM: Memory-intensive tasks like gaming, programming, and video editing require more RAM. This is because the RAM serves as temporary storage for information, and as such, when you edit a video, these changes are immediately stored in your RAM. Editing 4K videos require more RAM, and a minimum of 32-64 GB RAM is considered to be an ideal choice.
Storage capacity: A laptop with sufficient Solid State Drive (SSD) serves as an external storage option to store your videos and run your video editing jobs smoothly and at a quicker rate. Depending on your budget, a laptop with 256 GB – 1 TB is a good choice.
Graphics card: Depending on the kinds of video editing software you want to use, a laptop with a dedicated/discrete GPU may be necessary. This is because a laptop with a solid graphics card can provide additional features, especially if you want to add any kind of VFX, heavy-coloured grading, animations and hardware-accelerated rendering. Discrete GPUs such as the AMD Radeon or NVIDIA GeForce GTX, or MX, are great GPUs for video editing.
Sound quality: Most video editing tasks require sounds, especially music videos or narrative videos. A laptop with speakers that provide good audio quality is important to enable you to adjust the sound levels when necessary.
Battery Life: As expected, high-intensive tasks like video editing are power-consuming. Therefore, a laptop with good battery life is a good choice as it will save you the stress of having to frequently charge your laptop. A laptop with an impressive battery life will also help you do your video editing tasks on the go.
Specs of the HP Spectre X360
Operating system: Windows 11 Home
Colour options: nightfall black, dark ash silver, and Poseidon blue
Screen sizes: 13, 14, 15, and 16-inches
The design is ultra-slim and portable
CPU: Intel Core processors
GPU: Intel Iris Xe graphics
The battery life of the HP Spectre X360 is impressive
Incredible audio custom-tuned by experts at Bang and Olufsen
Presence of a fingerprint reader and Hello IR camera
Hp Active pen: helps to navigate, draw and sketch at ease
HP Quick drop: enables users to share folders between their phone and personal computer
HP command centre: This allows you to tailor your PC performance, fan speed and external temperature.
Ports available are:
MicroSD card reader
Headphone jack
2 x Thunderbolt 3
1 x USB Type-A
Performance
Video editors are guaranteed speedy work with the Intel Core processor and Intel Xe graphics. The Spectre x360 also has a Windows 11 Home OS that can efficiently run several kinds of video editing software.
Some other impressive features that make this laptop perform exceptionally in video editing include its 13, 14, 15, and 16-inch models that allow users to choose their preferred screen sizes. But that's not all – this laptop has an outstanding battery life, 512 GB of SSD storage, 8 GB LPDDR4 RAM, cool display, amongst others.
Thanks to its combination of features, the overall performance of the HP Spectre x360 laptop for video editing is excellent.
3 alternatives for video editing
Some of the best laptops for video editing are listed below:
Apple MacBook Pro (16-inch)
Costing $2499, this laptop is a solid choice for content creators. This laptop comes with high-end features such as the Liquid Retina XDR display that provides high brightness, Apple's new M1 Pro chip processor that guarantees speedy performance, 3 Thunderbolt USB-C ports, as well as sufficient memory and storage with 32 GB of unified memory and 512 GB, 1 TB, 2 TB, 4 TB, 8 TB SSD storage options.
The Apple MacBook Pro comes packed with powerful components and all the necessary features required for a good video editing laptop.
Dell XPS 17
For multitasking purposes, the Dell XPS 17 is one of the best laptops available in the market today. Built with a sleek, portable design, this laptop costs $1499. The 17-inch screen size with an FHD display makes it great for video editing since it enhances the viewing experience and produces accurate colours.
Some other impressive features of this laptop are its 11th Generation Intel Core i9 processors, customisable display, sufficient memory, storage capacity, GPU, and port options.
ASUS Zenbook Duo 14: Considered to be laptops that are majorly designed for creators, Zenbook laptops offer a variety of cool features. The Zenbook Duo 14, in particular, is great for video editing, as it has a 4-sided frameless Nano Edge FHD display, as well as a secondary screen/control pad that serves as a control panel, touch screen and more.
With an 11th Generation Intel Core i7, 1 TB PCIe SSD storage, and up to 32 GB DDR4 memory, and Nvidia GeForce MX450 GPU, this laptop perform video editing tasks excellently.
Conclusion
In conclusion, the HP Spectre x360 is a great laptop choice for creatives and content creators as it is affordable and efficiently performs high-intensive tasks like gaming, programming, and video editing.
Video editors will love the features that this laptop comes packed with as it boasts several cool features that put it on par with other video editing laptops available on the market today.