Jabra Elite Active 65t Wireless Earbuds are truly wireless headphones with good performance. It is a sports earbud but can also be used as your everyday true wireless headphones. They support multi-device pairing which means you can connect to your PC and smartphone at the same time. It also has an excellent battery life and good audio quality.
Design of the Jabra Elite Active 65t Earbuds
The Jabra Elite Active 65t Wireless Earbuds has a portable design with a thick and sturdy build made of plastic. It has a secure design for in-ear stability during sports or everyday use with the ability to filter out ambient noise.
They are shaped to fit into your ear canal comfortably with 3 sets of Ear-Gels included in the pack for you to pick the right size that fits comfortably in your ear for better sound quality. The large design might get a little uncomfortable after a while if you have really small ears so you would have to take it out from time to time but if you want a choice that would fit your small ears perfectly, the newly improved Jabra Elite Active 75t earbuds.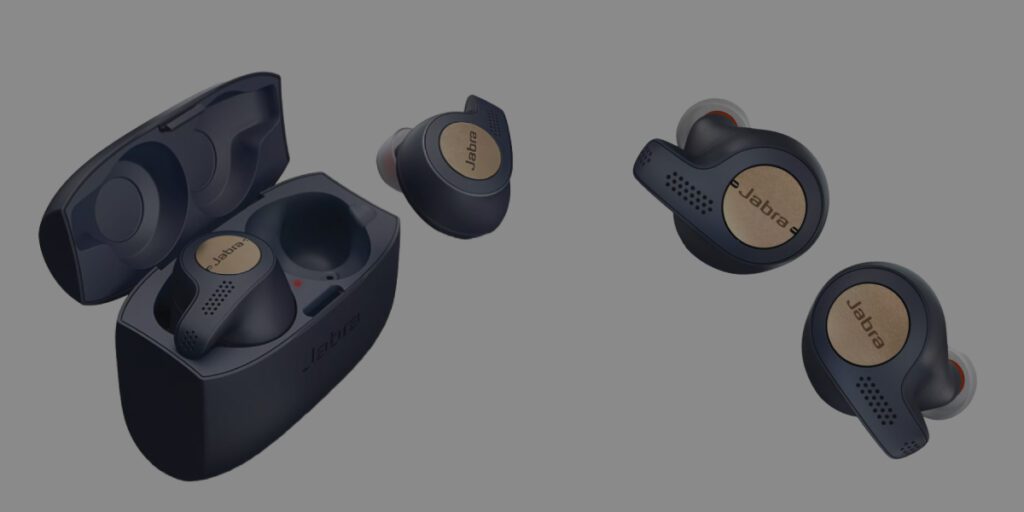 Sound, Performance and Battery life
Jabra Elite Active 65t Earbuds has pretty decent performance with passive noise cancellation. These wireless earbuds are able to reduce background noise but they struggle with some bass sounds like truck honk, trains etc. It comes with a 3rd generation true wireless stability to reduce music and call dropout.
The Elite Active 65t Wireless Earbuds have great sound quality. Once it connects to your smartphone, you don't have to connect it again. It reconnects automatically when you bring it out of the charging case. It comes with a microphone frequency that ranges between 100 Hz – 10 kHz and a speaker frequency that range between 20 Hz – 20 kHz.
These truly wireless earbuds have physical control buttons on both the right and left earbuds for volume control, skip a track forward or backward, play or pause and activate voice assistance. Using the buttons might be a little confusing at first because of all the functions they perform but I assure you you will get a hang of it in no time.
They are breathable earbuds with sweat resistance suitable for an intense sport. You can also download the Jabra Sound+ companion app for Android and iOS to use the integrated motion sensor and personalize your Jabra Elite Active 65t Earbuds.
It comes with a compact size protective case which also serves as the charging case. These earbuds on a single charge provide you with 5 hours of battery life and extra 10hours from the case. 15minutes of quick charge of these wireless earbuds would give you 1hour 30minutes of usage.
Features of the Jabra Elite Active 65t Earbuds
Thick and durable build quality.
It has a compact and lightweight design that would fit comfortably in your pocket.
Passive Noise Cancellation.
Motion sensors for fitness tracking.
It comes with a charging case.
It offers 3 different sets of Ear-Gels for a perfect fit.
IP56-rated dust and sweat resistance.
Good in-ear stability.
Excellent battery life.
It connects to your smartphone easily.
Specifications
Brand

Jabra
Compatible device:
Smartphones, tablets and PC
via Bluetooth connection

Material:

Plastic, silicone
Connectivity

Wireless, Bluetooth 5.0
Dimensions

0.27 x 3 x 2.25 cm
Weight

65g
Colour

Titanium Black
Price
£68.20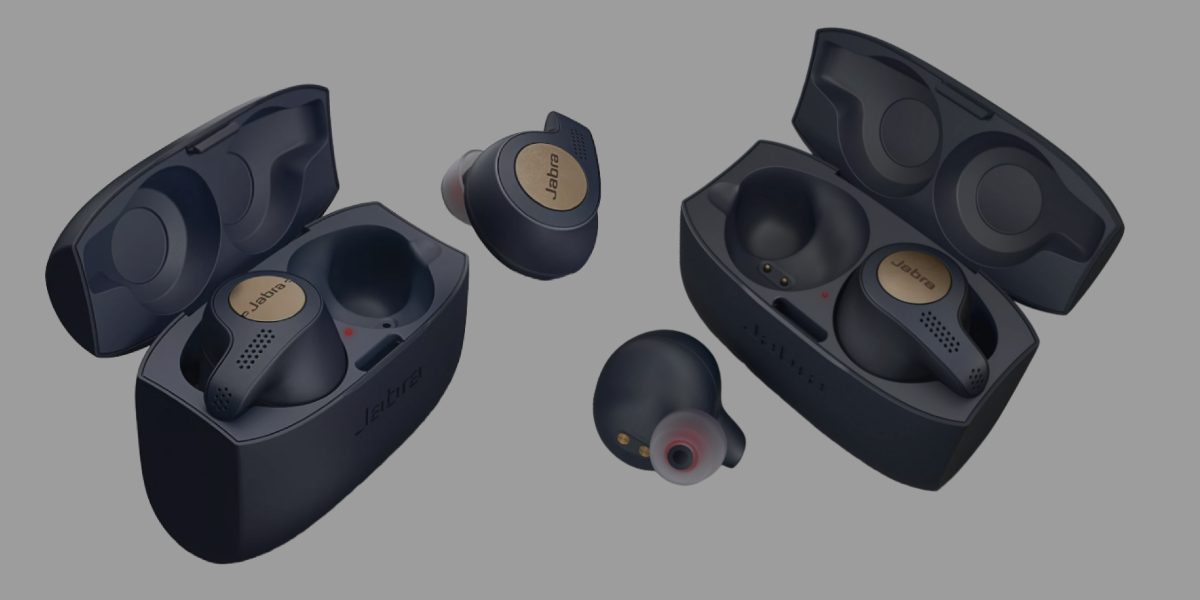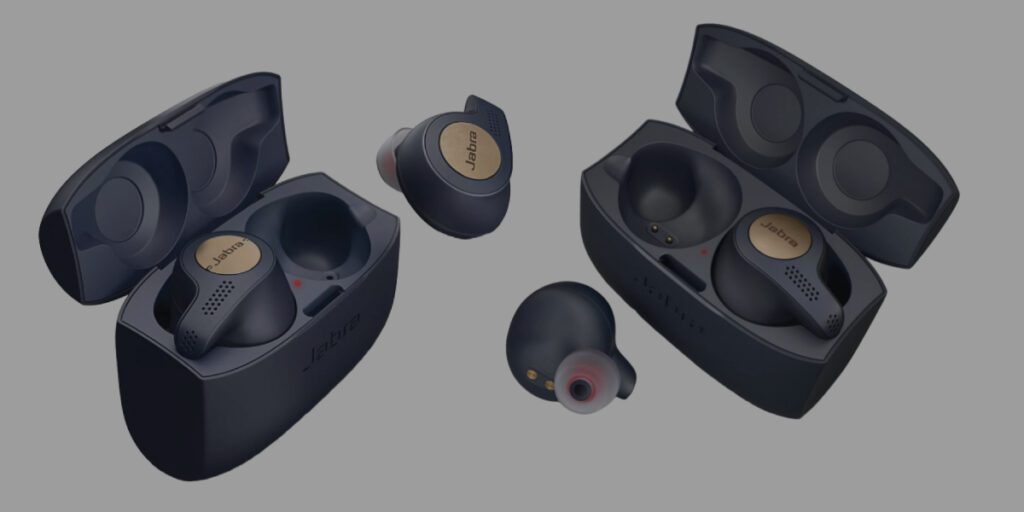 Pros
Lightweight design.
Good build quality.
In-app sound equalizer.
Great battery life.
Sweat-resistant; Great for sports
Cons
Protective Case is not magnetized; the earbuds easily fall out
Buying Guide
Jabra Elite Active 65t Earbuds is good and reliable truly wireless headphones with excellent battery, good sound quality, sweat and dust resistance and excellent connection. The Elite Active 65t Earbuds is an excellent and affordable choice compared to the Apple Airpods.
Available series
Listed below are the available series of the Jabra Elite Active;
Jabra Elite Active 65t
Jabra Elite Active 75t
Jabra Elite Active 85t
Conclusion
The Jabra Elite Active 65t Earbuds is an excellent choice if you don't want the Apple Airpods. They are reliable, durable and sturdy with excellent battery life and steady sound quality. Do you want affordable earbuds with great quality? The Elite Active 65t Earbud is a great choice.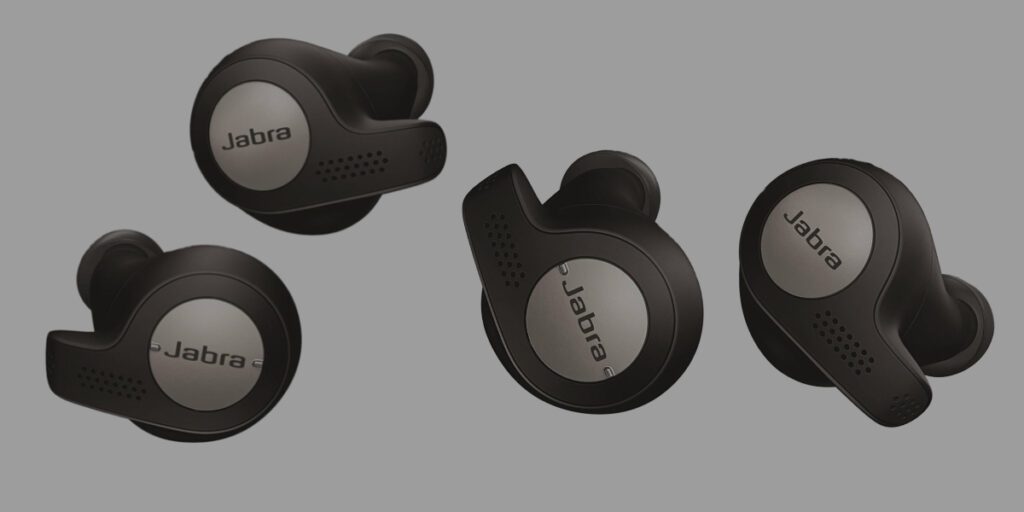 FAQ – Jabra Elite Active 65t Earbuds
Q1: How do I know whether my phone supports Bluetooth 5.0?
Answer 1: If your mobile phone does support Bluetooth 5.0 there should be a notification about it appearing on your screen after connecting to the earbuds. This will appear once you have paired the earbuds with your phone. If you see no such notification then unfortunately your phone doesn't support Bluetooth 5.0.
Q2: Does this work well when used outdoors?
Answer 2: Yes, these earbuds offer IP56 water resistance so you won't need any additional protection while using them outside. However, please note that we cannot guarantee their performance under extreme conditions like rain etc.
Q3: Can I connect multiple devices simultaneously?
Answer 3: Yes.
Q4: What happens if I lose power during the pairing process?
Answer 4: You'll get a warning message asking you to reconnect or cancel the pairing process. Once you disconnect the earbuds by pressing the button located near the right side of the earbuds, they will automatically re-pair themselves.
Q5: Will the charging cable stay attached even when the earbuds aren't being worn?
Answer 5: Yes, the charging cable stays in place until you remove the earbuds. It's also easy to detach the cable as long as you press down firmly on both ends of the cable.
Q6: Is there a way to control volume without having to touch the buttons?
A6: Yes, you can use voice commands to adjust the volume up/down. Simply say "Hey Google" followed by "adjust volume". For example – Hey Google, increase volume 10%.
Product Image Gallary