Jabra Elite Active 75t Earbuds are truly wireless Bluetooth earbuds that fit perfectly into your ears with Active Noise Cancellation to block out background noise. It has a secure fit as a result of the compact shape and offers up to 24hours of battery life great for everyday life on the go.
Design – Jabra Elite Active 75t Earbuds
The Jabra Elite Active 75t earbud is a durable and compact earbud with an ergonomic design for maximum comfort. The design of the Elite Active 75t is the same as that of the Elite Active 65t but in a much smaller size with 3 different sizes of Ear-Gels for users comfort which also helps to increase the audio quality.
The Elite Active 75t wireless earbuds come with a better grip finishing to make sure your earbud stays in place during workouts. So, you don't need to worry about your earbuds falling off when running or participating in other athletic activities.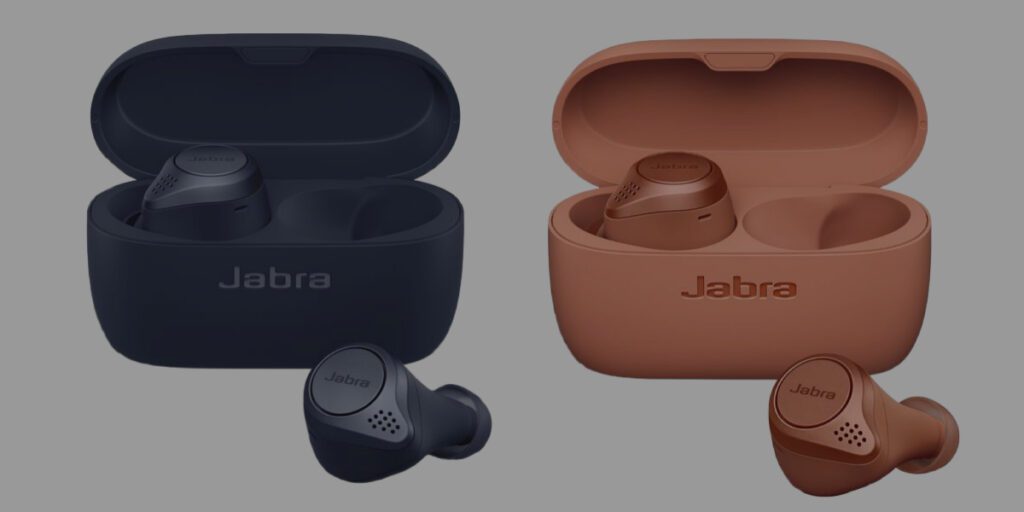 Sound, Performance and Battery life
Jabra Elite Active 75t earbuds have a great sound quality with Active Noise Cancellation (ANC) which helps to block out all the unwanted background sound and a Hear-Through transparency feature that lets in ambient sound. It also comes with an IP57 water resistance rating and a Sound+ app where you can adjust the sound profile with the use of the equaliser.
It boasts of an improved functionality compared to its Elite Active 65t predecessor or the Elite 75. It simultaneously isolates surrounding noise with the use of an integrated pressure relief vent while still maintaining a solid response.
This pair of earbuds have an automatic ear detection sensor so it goes off when you remove it and comes back on when you put it in your ear. It comes with a slightly rugged small-sized charging case that would fit comfortably in any pocket size. The case is not water-resistant but it offers great protection for your earbuds.
These Bluetooth Earbuds have a very good battery life of about 7hours 30minutes on a single charge and 24hours of power in the charging case. You also have to personalize your earphone experience with the use of the Jabra Sound+ app for Android and IOS phones.
key Features
Active Noise Cancellation to filter ambient noise.
It has an extra coating for dust and sweat resistance.
Excellent battery life.
IP57 water resistance rating.
It offers 3 sizes of Ear-Gels for a perfect fit.
It has a hear-through transparency mode activated by a tap on the left earbud.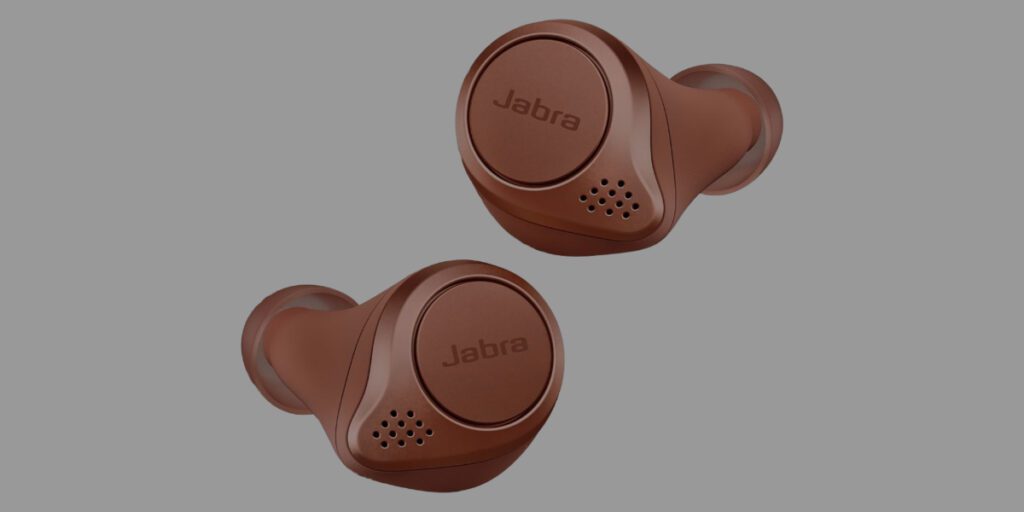 Specifications
| | |
| --- | --- |
| Brand: | Jabra |
| Compatible device | Smartphones, PC, Tablets |
| Material | Plastic, silicone Ear-Gels |
| Connectivity | Bluetooth 5.0, Wireless |
| Dimensions | 6.24 x 3.66 x 2.7 cm |
| Weight | 46g |
| Colour | Titanium Black, Copper Black, Dark Grey, Navy, Sienna, and Mint |
| Price | £119.00 |
Pros
It has a great sound quality for calls and music.
Great fit.
24 hours of battery time.
It is Dust, Sweat and Water resistant.
Cons
It doesn't support wireless charging.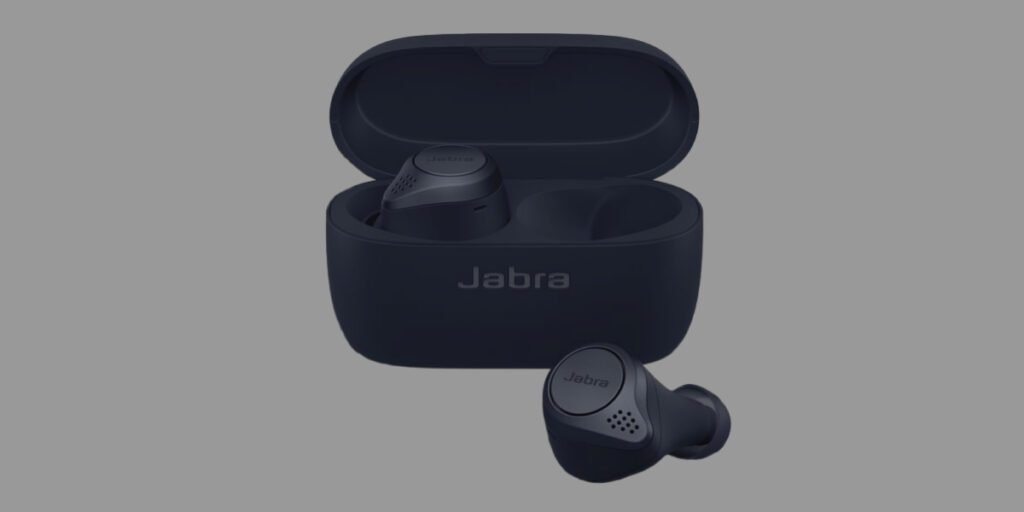 Buying Guide
Although a lot of people choose over the ear headphones because it is easier to take off, put on and also gives that solid feeling of stability, the Jabra Elite Active 75t Bluetooth earbud is still an excellent choice for sportspersons. It has enough grip that it wouldn't fall of when in use and also comes with different sized Ear-Gels for the maximum level of comfort.
Available series
The Jabra Elite Active wireless Bluetooth earbuds available series includes;
Jabra Elite Active 65t,
Jabra Elite Active 75t, and
Jabra Elite Active 85t.
Conclusion
The Jabra Elite Active 75t earbuds is a versatile earbud that comes as a great choice for sports enthusiasts like runners and also for regular everyday users that want to use earphones aside from the Apple Airpods. It offers the great sound quality, waterproof protection and long battery life.
Are you an exercise enthusiast looking for the perfect earbuds that fit perfectly? Are you tired of your earbuds falling off when running? Jabra Elite Active 75t earbuds would guarantee you the peace of mind you need with the two-year warranty in case of sweat or dust damage.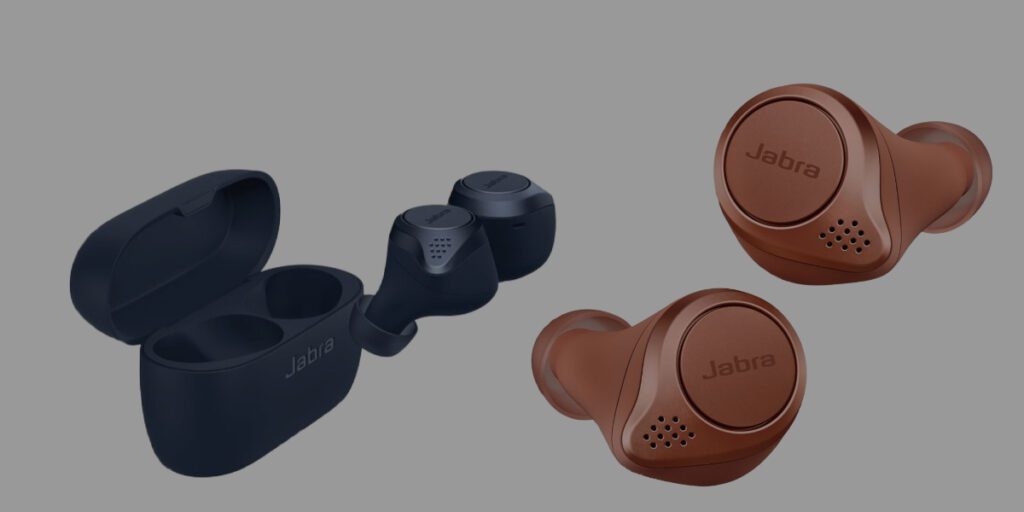 FAQ – Jabra Elite Active 75t Earbuds
Q1 – Is this compatible with all devices or just some specific ones?
Answer 1 – This particular product can be used with most smartphones and tablets including iPhone XS Max, Samsung Galaxy S10e, Google Pixel 4 XL, OnePlus 8T, etc.
Q2 – Can I charge them using a USB Type C port?
Answer 2 – Yes, you can charge them through a USB type c port. You don't have to worry about any compatibility issues since the charger itself is designed specifically for this purpose.
Q3 – Do they work well during workouts?
Answer 3 – Yes.
Q4 – Will they get damaged easily while working out?
Answer 4 – No, they won't get damaged easily even though they are made up of plastic material.
Q5 – What size do the silicon tips come in?
Answer 5 – They come in three different sizes; Small, Medium and Large.
Q6 – Does it support wireless charging?
Answer 6 – No, unfortunately not.
Q7 – Which one is better between Jabra Elite Active 75 t and Jabra Elite Active 65t?
Answer 7 – Both products offer similar features but there are slight differences between each other. So we recommend going for the best option depending upon what suits you more.
product image gallery