Microsoft unveiled the Surface Go 2 in May of 2020, to be exact. As a result, Microsoft's products are now more visually appealing than in the past. The Surface Go 2 is one of Microsoft's mid-range tablet PC devices currently in the market.
Recently, I decided to put the Microsoft Surface Go 2 to the test while on the move without having to take up too much space in my bag.
After putting the device into both intense and lite use, here are my findings.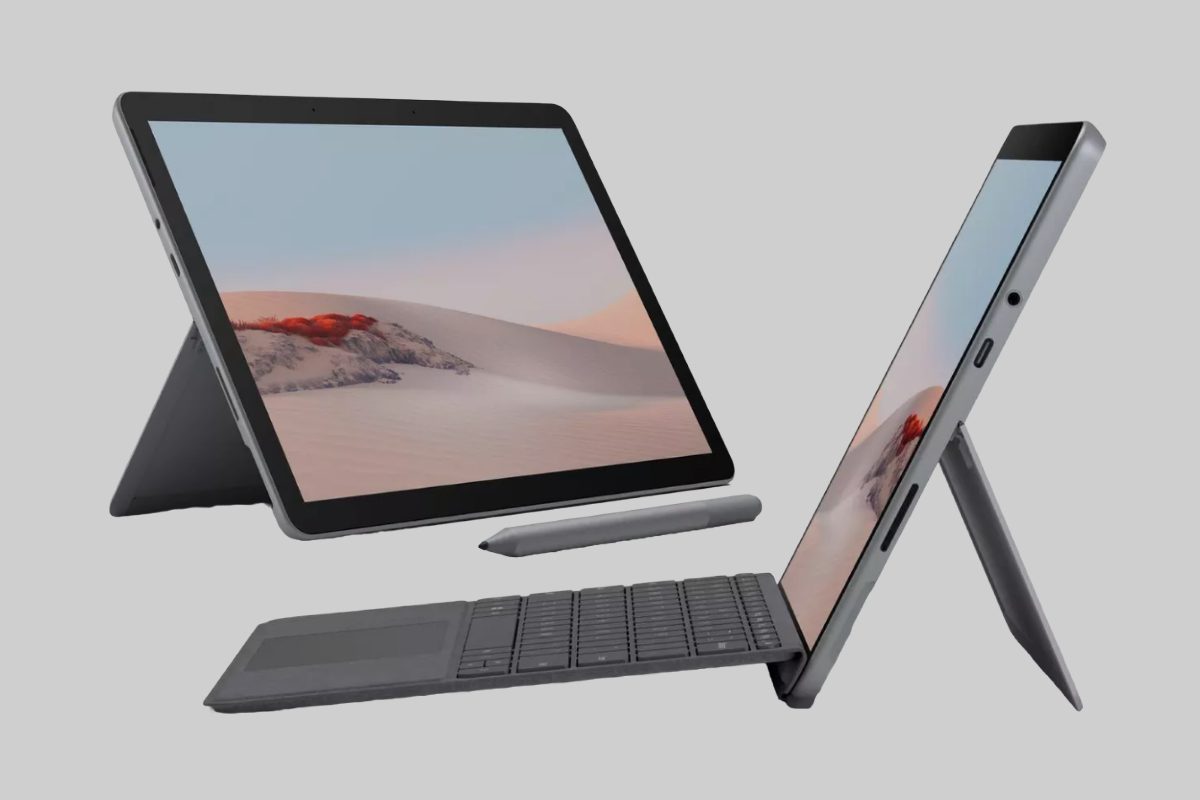 The Design of the Microsoft Surface GO 2
At first glance, the Surface Go 2020 appears identical to the Surface Go 2018, with its magnesium body and the same size (245x175x8.3mm without the keyboard); this reaffirms the previous model's excellent build quality, which was not prone to bend, robust, and decisively resistant.
Back stands are great since they can be adjusted to any chosen angle for the 2-in-1 to be supported in any circumstance, whether it's at a desk or as a leg rest support.
When it comes to connectivity, the Surface Go has the same buttons and ports as the Surface Go 2018: power, volume rocker, 3.5mm audio jack, and an SD card slot (MicroSDXC card reader).
The proprietary power port also has USB-C 3.1 (no Thunderbolt), which is a great solution because it allows you to recharge the device using an appropriate power supply.
Regarding the keyboard, which is sold separately and is also available in Alcantara, there is not much to add since it is the same as in 2018 (which makes the Surface Go 2 backwards compatible): The 14 mm keys are slightly smaller than the standard, but this does not affect their usability, which is really great considering their size.
The stroke of the keys is longer than normal, and pressing them produces a quality sound and feel. As soon as you've taken the measurements and written them down, you'll be comfortable with the answer in no time.
If you adore colour, you'll appreciate the excellent sRGB fidelity (98.6%), average DeltaE colours (1.89%), greys (2.7%), and a contrast ratio of 500:1 on this display.
The 335 nit brightness, up from the previous model's 328 nit brightness, is a sign of a high-quality display that is viewable even in low-light conditions and is even extremely bright.
However, I had some issues using it in direct sunlight because of the Gorilla Glass 3's anti-reflective coating. When it comes to accuracy and timeliness, the touchscreen shines even though it has a few too many fingerprints.
The display of the Microsoft Surface GO 2
Its PixelSense display has grown in size from 10 inches to 10.5 inches, giving it a pleasing visual appearance of fewer bezels as soon as you open it.
A 3:2 aspect ratio and a resolution of 1920×1280 pixels (220 PPI) make it relatively easy to have two windows open simultaneously, for example, a greater percentage of web pages in the vertical direction. It is a Full HD screen of average quality.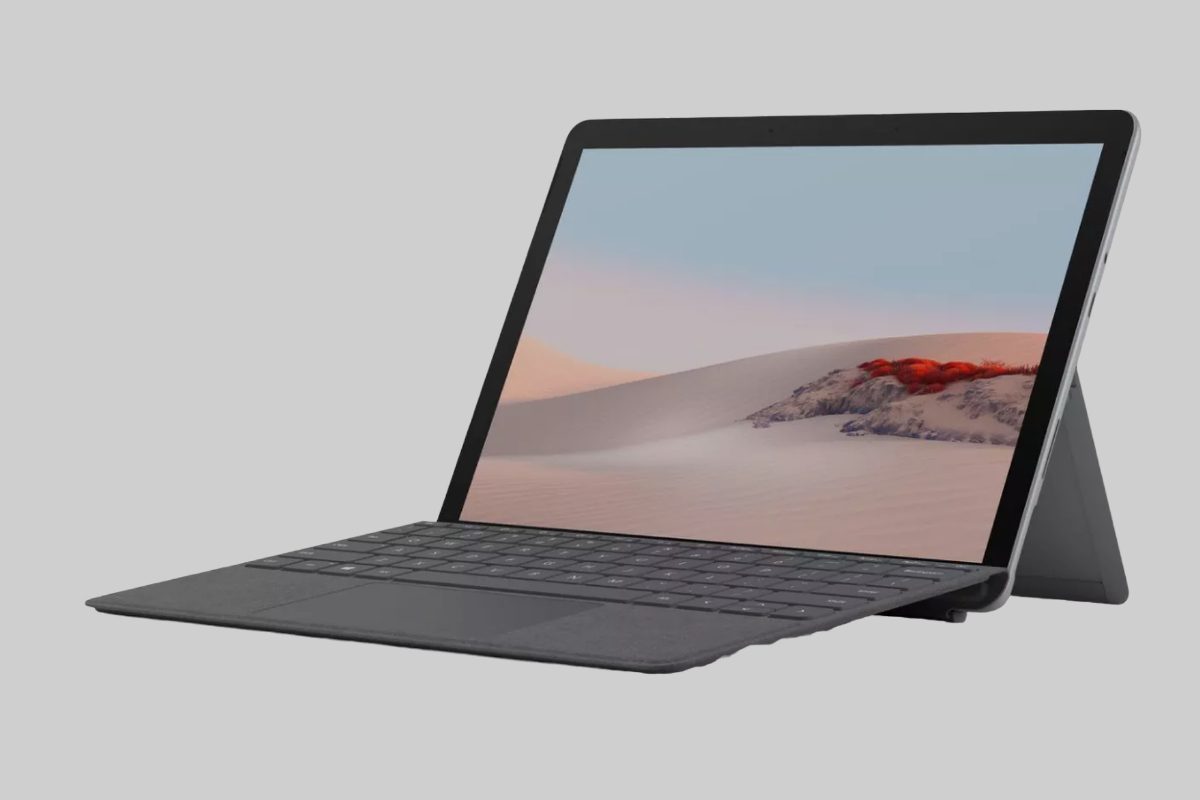 The Microsoft Surface Go 2's Performance
To unlock and use the PC, you only need to give it an Alcantarandows Hello's identification, it works flawlessly both with and without eyeglasses owing to the front-mounted IR sensors.
These are followed by two microphones and a 5-megapixel camera with 1080p video recording capability, which is impressive for a tablet this tiny.
That's why a device like the Surface Go 2's videoconferencing and workplace or classroom usage, which covers navigation, word processing, the Office suite, and watching activities, might be a key to understanding the Surface Go 2 material that is available in several formats.
Some tiny safeguards in the associated software encourage this interpretation, such as the ability to photograph a chalkboard and transfer the photos directly into One Note or Word.
The speakers are in a good location since they are not blocked by the user's hands, regardless of the handle or operating mode. There is ordinary sound quality with a little bottom, but the volume may go higher.
When using Windows 10 on the Surface Go 2, you can only use apps from the Microsoft Store since Windows 10 runs in S mode.
You should deactivate your PC to get the most out of it. Switching to the Home version and being able to install third-party programmes is as simple as clicking a wizard. When you are going to download and install an external programme, the system will suggest this method to you automatically.
It performs what it's supposed to do, as long as you don't multitask excessively. Because of this, the applications work well, and even opening several tabs in Chrome isn't a problem.
In this case, I'm referring to the model I used for testing, the mid-range model with an Intel Pentium 4425Y CPU (dual-core, 4 threads, 1.7 GHz) and 128 GB of PCIe SSD storage as standard.
The sequential read and write performance has increased by around 50%, and the random read and write speed has also improved substantially compared to the previous model, as I observed.
In comparison to the original Surface Go, there has been a gradual boost in CPU and GPU performance, mostly owing to the increased operating frequency. Despite the unavoidable heat throttling, the system never seemed sluggish.
Despite the unavoidable heat throttling, the system never seemed sluggish.
Battery life
On batteries and with saving mode on, the situation changes slightly, and it is not unusual to observe some little slowdown, nothing that renders the solution entirely inoperable.
But given its small size and mobility, I was hoping for a bit more battery life.
It was supposed to last 10 hours according to Microsoft, but it barely lasted a few while I used it, and it discharges equally even when idle.
Furthermore, upgrading to a newer Surface Go 2 with a bigger battery has no effect on battery life (by 0.7-watt-hours).
The Microsoft Surface Go 2 Features
The Surface Go 2's major characteristics include being the smallest in the Surface line.
In addition, there are WiFi and LTE versions.
With this 2-in-1 PC, you can use your notebook PC or tablet seamlessly.
In terms of specs, it comprises an Intel Core m3 CPU from the 8th generation and a 10.5-inch touchscreen display.
In addition to all of that, it has fast charging capabilities and is USB-C compliant.
The SD CARD slot (MicroSDXC card reader) that Apple devices have steadfastly refused to accept may be used with a Micro SD card. Having this edge gives you a significant competitive advantage.
Microsoft Surface Go 2 specifications
The dimensions of the body are as follows: 245.9mm wide, 175.9mm high, and 8.3mm thick (9.65 x 6.9 x 0.33 inches).
10.5-inch PixelSense monitor.
1920 x 1280 pixels is the screen resolution (220 PPI).
3:1 aspect ratio.
A contrast ratio of 1500 to one.
10 points for Corning Gorilla Glass3. touch screen
RAM: 4GB or 8GB RAM is available.
Intel CoreTM m3 Processor 8th Generation, Pentium® Gold Processor 4425Y
Enhanced security with TPM 2.0.
Face recognition for enhanced security.
Windows 10 Professional is the operating system (New Customers Get a 1-Month Trial of Microsoft Office 365).
Wireless weighs 544g (or 1.2lbs).
Weight of the LTE Advanced: 553 g (1.22 lb).
The following storage device is used: eMMC (Wi-Fi) SD (Solid State Drive) card – 128 GB.
Battery life: The average gadget user can expect to get 10 hours out of their battery.
On the graphics side, we get Intel UHD Graphics 615.
The following connections are available on the Surface: USB-C, 3.5 mm headphone jack, Surface Connect Port, MicroSDXC Card Reader, and nano-SIM tray (LTE).
Windows Hello Camera, Video, and Audio Cameras for signing in face-to-face (front), 5.0-megapixel camera on the front of the device (1080p HD video), 8.0-megapixel autofocus camera on the back (1080p HD video).
Studio with two far-field microphones.
Dolby Audio TM 2W premium stereo speaker with digital processing.
The wifi is compliant with IEEE 802.11 and supports Bluetooth 5.0 and higher. The Qualcomm Snapdragon X16 LTE modem supports LTE Advanced 1 nanoSIM and can deliver data rates of up to 600 Mbits per second.
Support for eSIM with GPS Assist and GLONASS (LTE).
An aluminium and magnesium alloy framework.
Buttons for Volume and Power.
The hardware comes with a one-year warranty guarantee.
The pros
In addition to allowing you to watch streaming movies without using your battery or broadband, the CPU also facilitates video conferencing applications.
Quick battery charge.
Enhance security, such as the facial recognition feature.
 It comes with a USB-C port.
 They are beautifully designed.
It can be used with an external keyboard.
The video is in 1080P and has a larger screen than the previous model. 
The cons
Microsoft Surface Go 2 is relatively slow.
The Accessories are sold separately and are expensive.
The duration of the battery's life can drain quickly.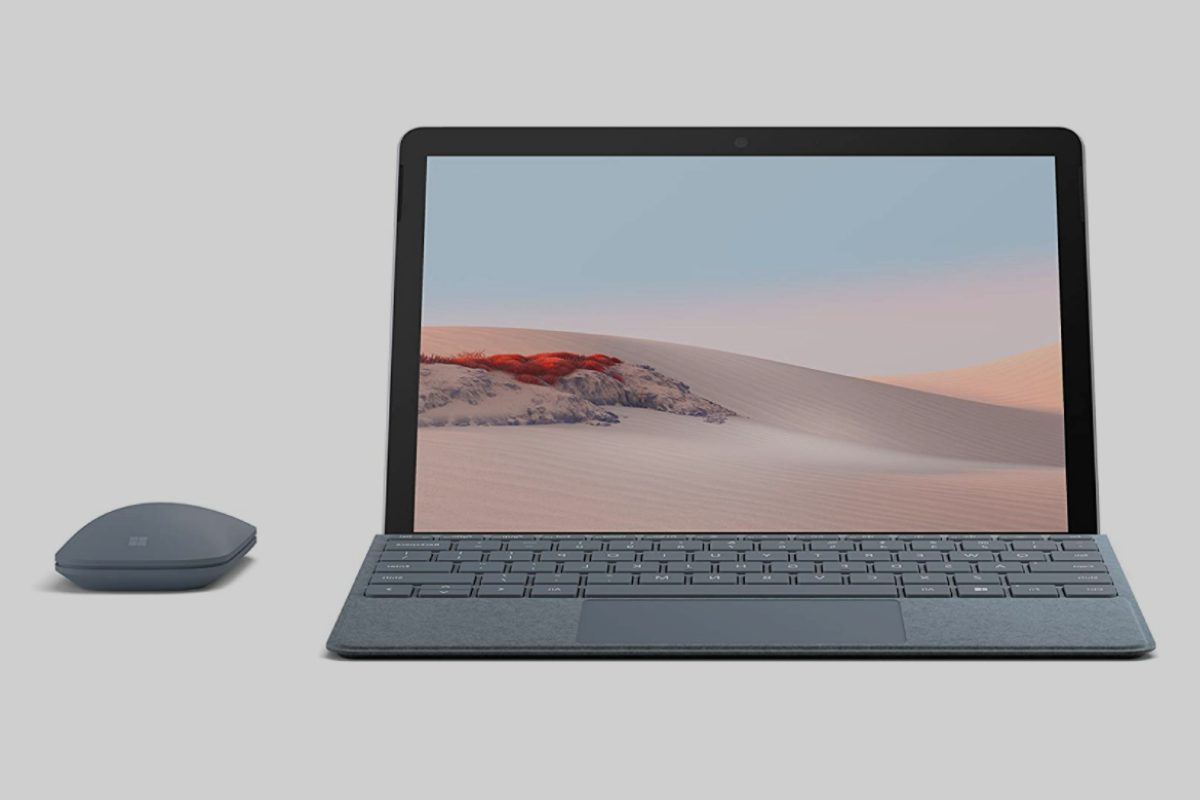 Buyer's Guide
The Microsoft Surface Go 2 is an improved version of the 2018 Surface Go. The Intel Core m3-8100Y is noticeably faster compared to previous low-end Intel CPUs.
The new 10.5-inch Surface Go 2 is ideal for working and relaxing simultaneously.
A beautiful touchscreen and Windows security for you and your entire family are all included in this tablet/laptop hybrid.
When you add the physical keyboard to the Surface Go 2, the keyboard input feels good, mainly because it is both a keyboard and a protective cover.
The tablet's battery life is not great. I got around 4 hours of use from intense usage when testing the device.
One other thing to note is that you will need to keep your hands away from the tablet when charging because it becomes pretty hot when you do so.
Given the limited battery life, I would not recommend this device to anyone who requires a longer usage time.
On the side of the device accessories, they are wildly expensive. The keyboard will cost you approximately $99. Although, the keyboard is of good value.
On the performance side, the device is quite slow. And the worst part is that applications keep crashing, and everything runs slowly.
Because I was hurrying to meet a work deadline, I nearly crushed it to bits on the floor. It was a colossal failure!
It's also agonisingly slow. For example, it takes 45 seconds for Skype to launch after clicking on the icon. The worst-case scenario is that a client is waiting on the other end of the call, eager to talk with me.
Removing the built-in One Drive programme resolved the problem for me.
However, even though Skype now opens in under two seconds, this tablet no longer syncs with the rest of my Windows 10 setup.
Sketching with Surface Go 2 Stylus
You can only draw squiggles on the touch screen if you wish to use a stylus, so unless you want to explain to your employer how your kids did your job, I don't recommend sketching on it.
Is Microsoft's Surface Go 2 more user-friendly than the iPad?
You will have to try both of the devices to find out for yourself which you will prefer. As for me, I like the iPad since it is more multifunctional and efficient than the Surface Go 2.
The Microsoft Surface Go 2 Series
The Surface Go 2 comes in three different series; the Core M3 Wifi, 8GB, 128GB SSD, Pentium, 4GB, 64GB eMMC, and the Pentium, 8GB, 128GB SSD.
How much is the Microsoft Surface Go 2?
The most affordable option is $540.63, and the intermediate model costs around $736.60.
Is the Microsoft Surface GO 2 worth buying?
The Microsoft Surface Go 2 is a good supplement for those that need an on-the-go tablet just as an addition to their primary solid PC or laptop. If you need a high performing device, the Microsoft Surface Go 2 is not a good option.
Also, If you're okay with gadgets that are a bit light and portable, then this is for you. However, the Surface Pro 7 is the superior option if you are after high performance and like a more sharp display.
Conclusion
The Surface Go 2 is a device designed specifically for specific usages. Keep in mind that many corporate applications now run on the cloud, so the servers do the bulk of the work, reducing the need for a notebook to a purely graphical user interface.
In conclusion, the Microsoft Surface Go 2 is an excellent option if you're looking for an ultra-portable PC without giving up tablet ease.
I hope you found this Microsoft Surface Go 2 review helpful? If yes, please kindly share your thoughts in the comment section below.
Frequently Asked Questions for the Microsoft Surface Go 2 – FAQ.
Who should buy a Microsoft Surface GO 2?
The Microsoft Surface Go 2 is a mid-range performance tablet PC that is good for less intense computer tasks.
What can you do with the Surface Go 2 from Microsoft?
The device can be used for work and entertainment purposes. It also works well when playing lite games.
This gadget can be used for just about everything except those tasks that need high levels of computer resources.
Is the Microsoft Surface Go 2 a good gaming system?
The Microsoft Surface Go 2 is not designed for optimal performance for gaming. Although you can play some low resource-intense games on it, it's not a suitable tablet for gaming.
Are the Surface Go 2 accessories worth the money?
The Microsoft Surface Go 2 has different types of accessories, and the most known accessory for the Surface Go 2 is the detachable keyboard which is priced at about $99.
Can the Surface Go 2 be used as a laptop replacement?
It all depends on your requirements for a laptop. The Microsoft Surface Go 2 is a 2-in-1 device that can serve you as a laptop and as a tablet.
It should be fine if you want to use it for basic online needs or work-related tasks that do not require much computer resources. But, if it's anything intense like video editing, gaming or any software that requires high resources, then I'll suggest you buy a proper laptop or desktop for such needs.