Security cameras have fast become one of the most secure means of protecting your homes, offices and properties. With these cameras, you can conveniently monitor activities that go on around you directly from your smartphone or tablet.
Among the various brands that produce security cameras today, the Reolink 8-channel outdoor security camera stands out.
The Reolink 8-channel outdoor CCTV security camera is a great quality camera that is reliable, budget-friendly and super-easy to set up.
The four combined ultra HD standard security cameras possess key features that provide clear and seamless security solutions for users. It can be replaced and increased to up to a total of eight recording channels.
This camera comes with efficient desktop software as well as an improved smartphone app that gives you information and ongoing happenings all around the globe in real time. With its upgraded 5mp IP camera type, security solutions are enhanced to give users a 4k ultra HD quality image.
The Reolink 8-channel outdoor CCTV security camera system offers an advanced 3D-DNR technology that reduces noise at night while users enjoy sharp images during the day or at night. This security camera system has different models with cool features, but this article focuses on the RLK8-410B4-5MP PoE system.
The Unboxing
The package comprises the Reolink 8 Channel video recorder with 2 TB hard drive, four B500 5mp POE cameras, 48/52 power supply, mounting screws and drill templates, four waterproof cable covers, four 18 m/60ft cat5 cables, a USB mouse, HDMI cable, and a quick start guide.
Specifications and features
The colour available is white.
Dimensions in L x W x H 14.76 x 7.68 x 11.42 inches
The weight is 13.31 pounds (6.04 kg)
The power source is a corded electric
Compatible devices are cameras and personal computer
It has up to 2TB memory storage capacity
The operating systems are windows, iOS, macOS, Android
It has an IR LED Night vision
The night vision range is 100 feet
It has a viewing angle of 80 degrees
Smart motion detection is present
The frame rate is 30fps
It uses a CMOS optical sensor technology
The signal format is digital
It features smart motion detection in the camera.
The Reolink 8-channel outdoor CCTV security camera is made up of amazing features that make it standard enough to guarantee maximum security, and also measure up with some of the best security cameras available in the market today. These features include:
Clear HD and night vision: With its 5MP Super HD camera, it captures clear videos during the day and at night. This camera offers high-quality night vision up to 100ft with its 18pcs infrared LEDs, which gives you extra security even at night.
Smart motion/vehicle detection: This feature helps you to recognise people and vehicles, thereby reducing unnecessary alerts caused by animals or shadows. You can also customise the type of motion you want and get alerts when necessary.
PoE system: You can connect each IP camera to Reolink NVR for both power supply and video transmission using a single network cable. This system makes the setting up process easier for DIY fanatics and amateurs.
Advanced video recording: With the built-in mic, the system takes out ambient sound while providing extra security to give a maximum of 24/7 recording.
IP66 weatherproof: This camera has a rating that enables it to withstand all weather conditions.
Easy to install: This camera is easy to fix and install, and as such, you do not have to be a professional or demand professional service to install this camera system in your home or office.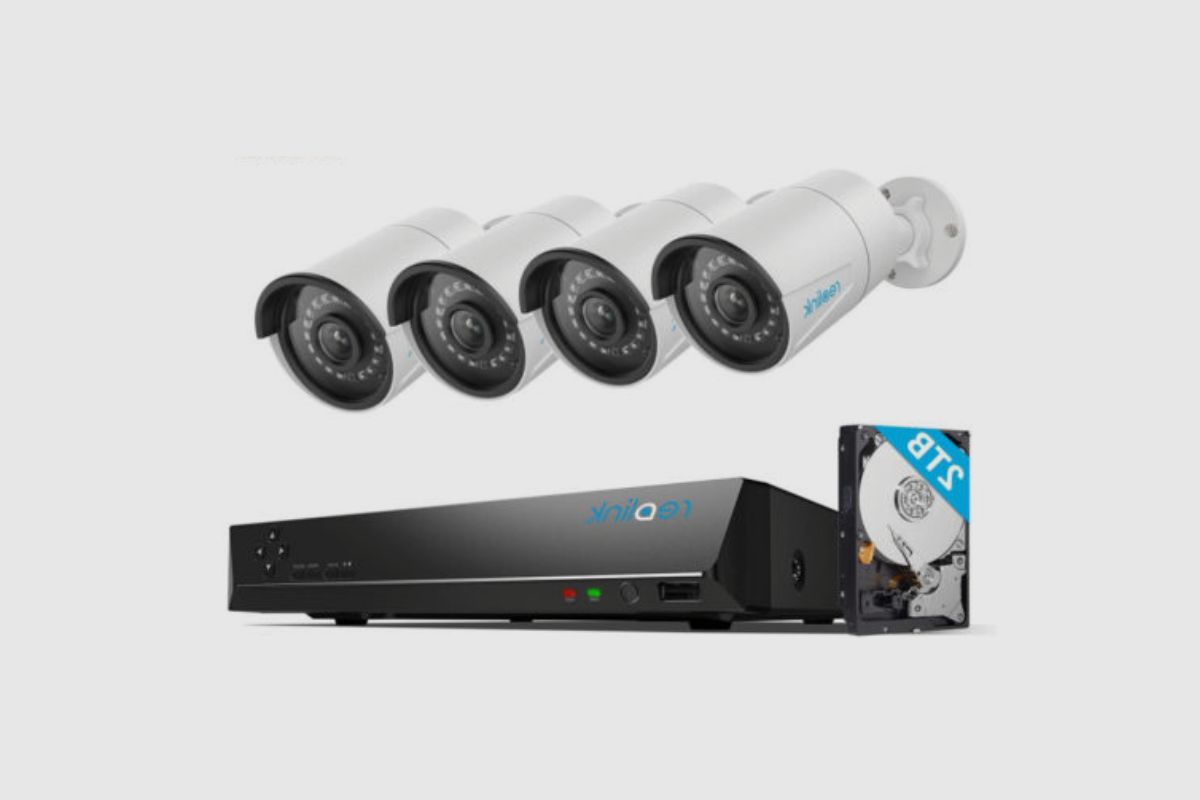 Battery life
The Reolink 8-channel outdoor uses a wireless security camera that can be charged by a universal 5V 2A phone adapter. The high-capacity rechargeable battery will last for about 180 days on standby mode.
The outdoor security camera will serve 1-4 weeks of one charge on a regular basis. The Reolink solar panel offers a continuous power supply outdoors to avoid climbing up and down ladders for constant recharge.
Note that the power adapter and Reolink solar panels are sold separately.
Cost
The Reolink 8-channel outdoor CCTV camera system retails at $559.99
Pros
Super HD 5MP resolution: With a pixel resolution of 2560×1920, the 5MP RLK8-410B4 has close to 2.4x the resolution of 1080p full HD and also 1.3x the resolution of 1440p. This HD resolution provides a clear home security recording with sharp details.
Supports all Reolink PoE IP cameras: You can have continuous 24/7 recording, motion detections, live views, playbacks, and other features using all 5MP/4MP PoE IP cameras, as they work well with Reolink PoE NVR systems. The supported 5MP/4MP cameras are RLC-410, RLC-511, RLC-420, etc.
Quality colour night vision: Thanks to the enhanced infrared radiation for a full day of surveillance with a lot of LED light, the 5MP/4MP guarantees users of clear night vision with up to 100ft long distance.
Easy to set up PoE: This camera features Power over Ethernet (PoE), alongside a network cable connecting each IP camera to the NVR for power supply and video signal transmission. It is a real plug-and-play security system.
Motion detection and quality alerts: This camera has the ability to detect moving objects and blow alerts in case of danger. It keeps you informed in real-time as soon as there is an intruder.
Effective Reolink app: Using the Reolink free app, you can have remote access and control through the Reolink client software on Windows PCs and Mac computers or through the IE browser. You can stream live.
Video playback: It comes with a playback feature that enables you to be updated on any event you might have missed out on. It allows you to:
4-channel playback that happens simultaneously
Rapid search for events that happened at different times
Playback relevant records for evidence
You can conveniently go back to different hours, minutes and days to view events missed using the timer axis designed under the split screen.
Continuous recording and monitoring: It has a pre-installed 2 TB HDD for 24/7 recording and monitoring, but you can install an external hard disk drive using e-SATA for more storage, up to (4 TB). You can also have a longer recording using motion detection recording, which triggers recording when motion is detected. This camera supports all cameras recording at the same time (up to 8 cameras).
Cons
The solar panel is not included in the package; therefore, it has to be purchased separately.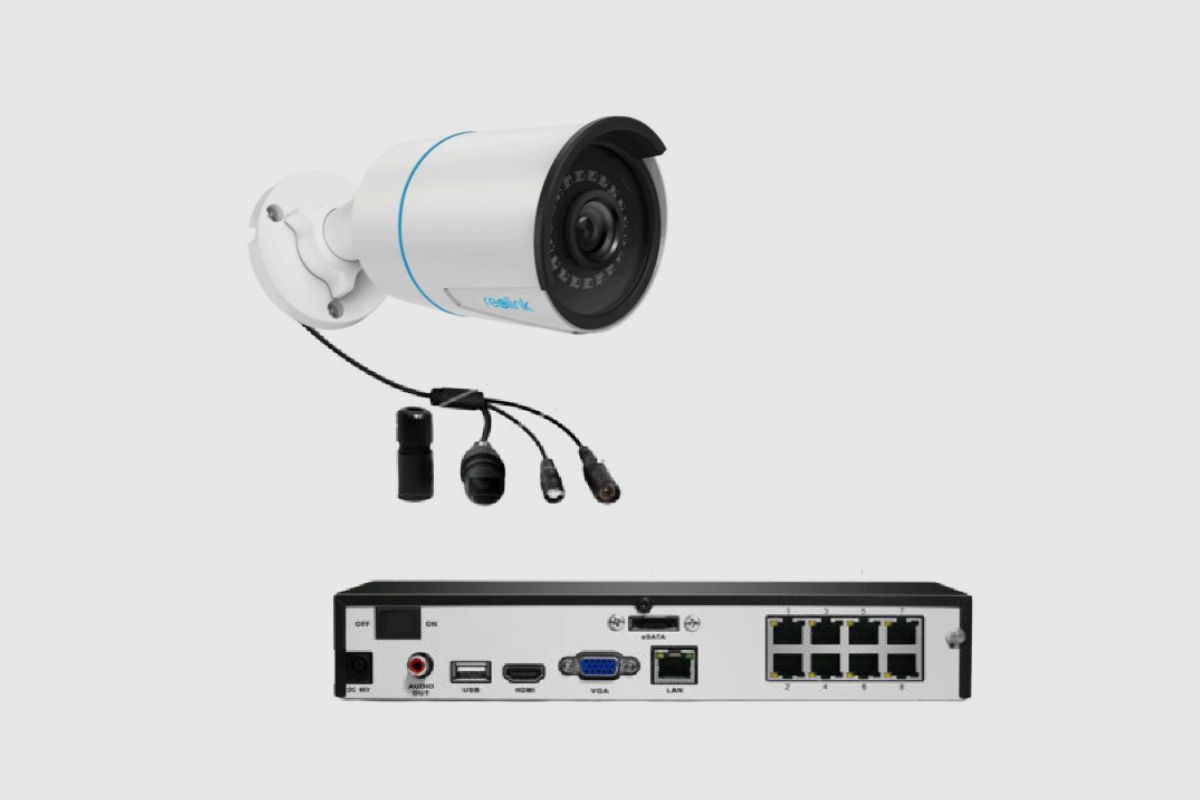 Buying guide
The review of the Reolink 8 channel outdoor CCTV security camera system is aimed at providing a detailed explanation that will help you determine if this camera variant is best suited for your home.
There are loads of vital features to consider before buying this camera. They include:
Storage options: This camera has a pre-installed 2 TB for local storage, alongside an external hard disk drive (up to 4 TB) supported for more storage.
Video quality: The 5MP RLK8-410B4 with a pixel resolution of 2560 x 1920 and the 4MP RLK8-410B4 with a pixel resolution of 2560 x 1440 provides bright and clear images and recording in natural colours. It supports all cameras recording at the same time (up to 8 cameras).
Easy installation: This camera is described as a real plug-and-play security system; therefore, the [process of setting up is completely easy, even for amateurs. It is a wired PoE security camera system.
Specific alerts: The RLK8-410B4 camera system detects movement and triggers alerts when there is danger. It will give you a quick notification when there is an intrusion via email photos or 30-second video clips. The app also enables you to push notifications to your mobile device and save and upload captured images and videos to an FTP server. The buzzer in NVR makes a sound warning in case of danger.
Having explained the factors to consider before purchasing this camera, it is obvious that it is a great security camera to have in homes. However, if it does not measure up to your requirements or budget, you can consider any of the 5 alternative cameras listed below:
Arlo's essential spotlight camera
Ring Floodlight cam
Nest cam IQ outdoor
Eufy floodlight cam 2 pro
Reolink Argus 2.
Conclusion
Security cameras are essential for homes since they serve as a deterrent against crime and are a means of security against home invasions. The Reolink 8 RLK8-410B4-5MP has proven to be a quality home security camera system with its Power over Ethernet (PoE) and other unique features that make it stand out.
It is equipped with an IP66 weatherproof that makes it withstand all weather conditions, a super HD clear recording and motion detection and alerts that trigger when an object is detected. In conclusion, this camera guarantees users of overall maximum security in their homes.
FAQs – Reolink-8 Channel Outdoor CCTV Security Camera System Review
What is the pixel resolution of the RLK8-410B4-5mp?
The 5MP RLK8-410B4 has a pixel resolution of 2560 x 1920, while the 4MP RLK8-410B4 has a pixel resolution of 2560 x 1440.
Is RLK8-410B4-5mp a PoE camera?
This Poe camera uses a single Ethernet cable for both network access and electric power.
Does the RLK8-410B4-5MP support other Reolink PoE cameras?
This camera gives continuous 24/7 recording, motion detections, and live views, as it supports other Reolink IP PoE cameras.
Image Gallery – Reolink 8-Channel Outdoor CCTV Security Camera System Review