One of the best ways to protect your homes and offices is with the use of a security camera. Beyond just serving as a deterrent for criminal activities, these cameras allow you to monitor your home and ultimately increase security for your properties.
When choosing a security camera, some vital factors to consider are surveillance area, storage options, scalability, video quality, etc.
Asides from the Reolink 8 Channel outdoor security camera, there are other standard security cameras that possess key features. These cameras are designed with standard specifications that put them on par with some top security cameras on the market today. These cameras include: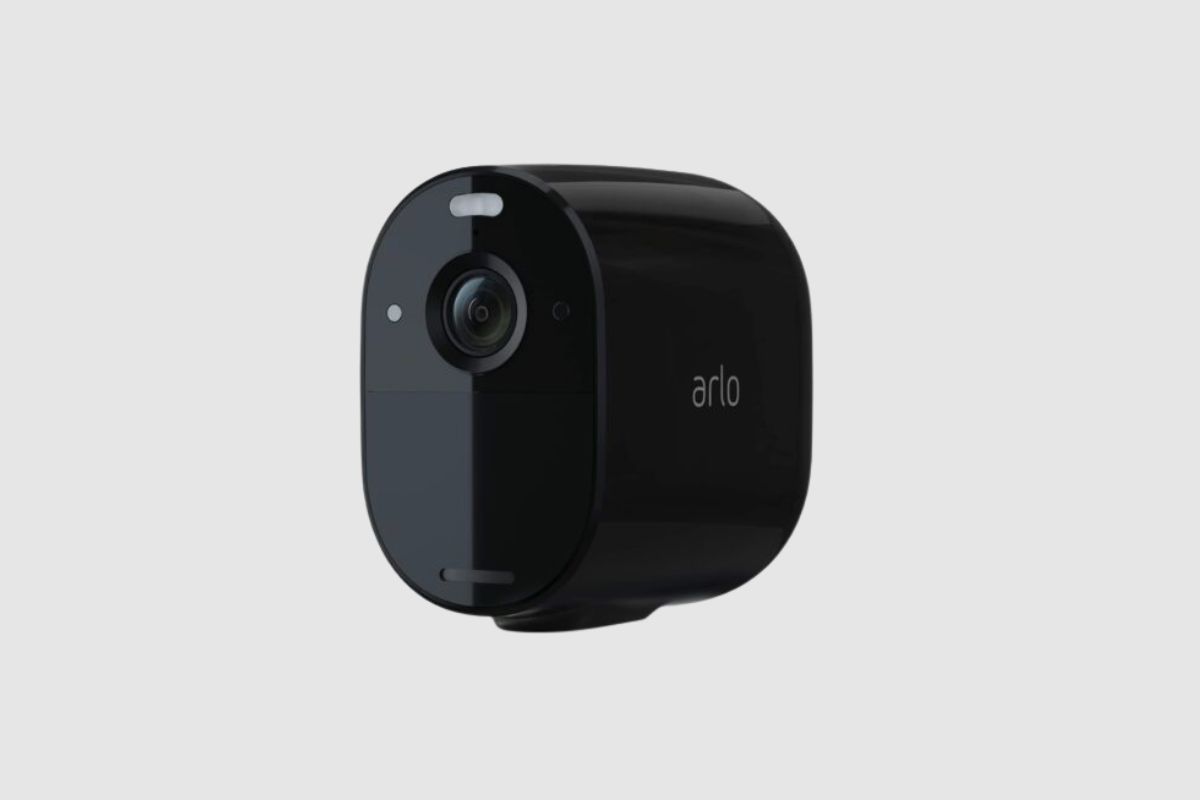 1. Arlo's Essential Spotlight WiFi security camera
The Arlo Essential comes with an in-built spotlight that illuminates a particular angle it is close to, given its brightness. It is active enough to draw the attention of an intruder to the camera present but not so bright enough to illuminate a wide area.
This camera is affordable, features major outdoor security capabilities, and supports HomeKit, Alexa, and Google Assistant. It is an easy-to-use security camera with a 1080p video which can be easily controlled from your phone. It is completely wireless, waterproof, and guarantees overall protection.
Features
Great spotlight camera/siren: The Arlo essential provides direct security and wide and clarity videos with its 130° viewing angle to ensure all-around secure protection. The motion-activated spotlight and siren also dissuade invaders from your home.
Voice assistant support: This camera offers multiple voice assistant options which enable you to connect and control the camera with your voice.
Weatherproof: It has a build that makes it resistant to rain, cold, snow, sun and any form of the weather condition for solid protection in any weather.
Fantastic audio: With its two-way audio, you can hear and speak to visitors using the built-in speaker and microphone in the Arlo app wherever you are.
Colour night vision: It comes with a combined night vision or black and white. This allows the camera to continue to provide colour even in low-light conditions.
Arlo app: When connected to the Arlo app, you will receive instant alerts to your smartphone when the camera detects motion.
Battery Life
The Arlo essential spotlight camera comes with a lithium-rechargeable non-removable battery that lasts up to six months without charging. This is based on usage of 4000 seconds per month, 30 seconds per stream, including day/night events, and splits of 2:1. It takes about four hours to recharge the battery using the bundled micro USB cable and adapter.
Cost
The Arlo Essential spotlight camera costs $129.99.
Pros
It offers colour night vision
It has voice control support
Features sharp 1080p HD video
Brilliant Motion alert
Hub is not necessary
It is easy to set up and use
Cons
It requires a subscription for video recording and other features
It is pricey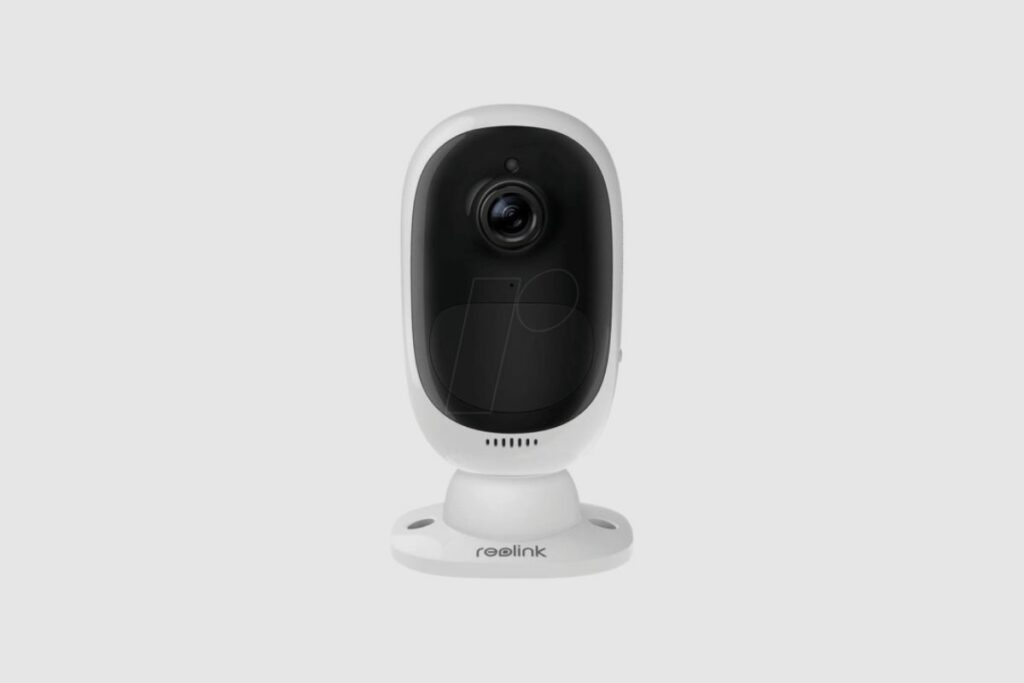 2. Reolink Argus 2
The Reolink Argus 2 is a wire-free security camera with WiFi connectivity and a rechargeable battery. It is a multipurpose camera that can be placed on a shelf, table, at the front and back door, or from one room to another to keep an eye on very important things or people. This camera is weatherproof, which makes it great for outdoor and indoor purposes.
Features
Excellent 1080p HD video: The Argus 2 provides sharp detail videos with a 130-degree wide viewing angle.
Quality audio: The camera has two-way audio that allows you to speak and listen using the built-in microphone and speaker. You can also record voice alerts for different situations.
Large storage: you can back up your footage in two different ways, which include;
Local: The Argus 2 comes with a micro-SD slot that can automatically store up to 64 GB of videos.
Cloud: Events can be saved on cloud storage for seven days with 1 GB total worth of space. You have an option of 30 days for personal use.
Artificial intelligence: This feature helps you distinguish people from other moving objects like animals or leaves blowing in the wind and only detects armed people.
Battery life
The Argus 2 has a rechargeable battery that enables you to charge directly to an outlet or via a Reolink solar panel.
The battery can be recharged up to 500 times, and certain factors like usage, working environment, and settings can affect the battery life. However, on a single full charge, the battery can last for about 1-4 weeks, depending on the working environment and connection frequency.
Cost
The Reolink Argus 2 costs $129.99, and the price varies depending on the place of purchase.
Pros
Full HD resolution
Weatherproof
It has a local and cloud storage option
It is fully wireless
Two-way audio
Easy installation
Cons
It doesn't support other smart home devices
Lacks an SD card
The siren is not so loud
It is not good for colder climates
No optical zoom on the camera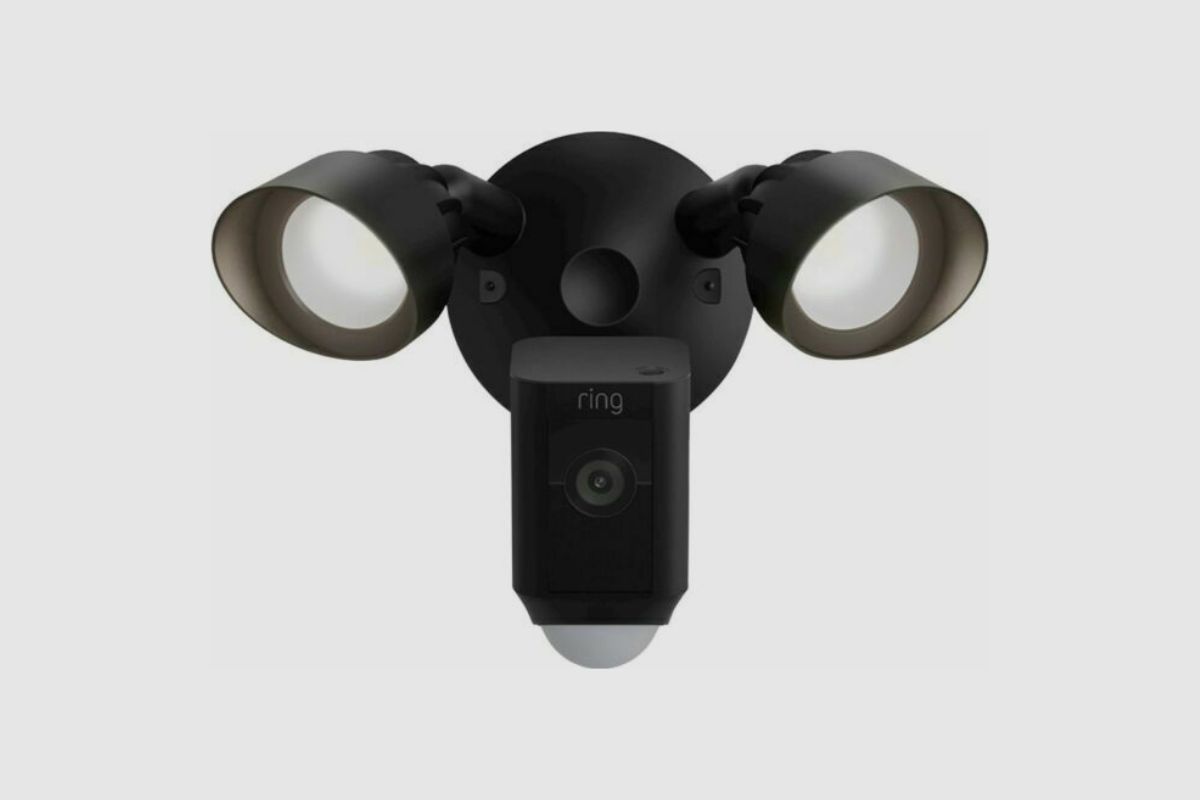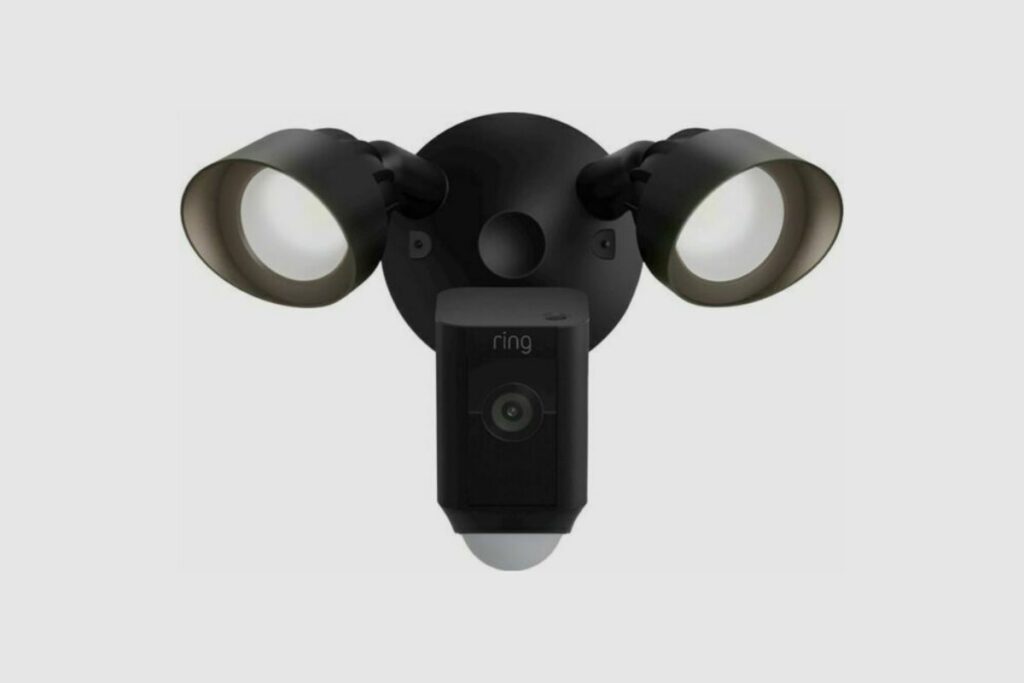 3. Ring Floodlight Cam
The Ring Floodlight cam is a reliable camera that offers high-quality video and strong LED lighting for solid protection against intruders. It is a hardwired security camera that comes with a two-way audio communication system so that you can view, listen and speak to anyone outside your home with an added security siren alarm. The collective features of this security camera guarantee users of outstanding performance.
Features
Smart motion detection: The Ring camera gives users control over how their camera detects motions, the alerts received and data remaining. When the camera detects motion, it sends an activity alert immediately.
Standard HD video: This camera provides crisp and clear video in any kind of weather with a detailed quality image with a 140-degree field view.
Excellent Two-Way talk: The audio and sound quality is great, except for the ambient noise, which is hard to avoid.
Ring Set-up App: This feature allows you to link devices so that you can have a view of a single dashboard from all ring cameras. You can create a link to alert one camera to another when it carries on an activity.
Ring app control: you will get notifications on your phone or tablet to keep you updated on things happening in your home.
Battery life
On normal use, the Ring Floodlight cam battery is powered to last for a year on a set of batteries. However, the battery life depends greatly on the camera settings, usage and even weather.
The battery's depletion can cause a reduction in brightness, which is why Ring recommends using standard alkaline batteries in floodlight batteries.
Cost
The Ring Floodlight cam costs $199.99, but this can vary depending on the store of purchase or location.
Pros
Multiple smart motion zones
The floodlight is very bright
Active 110dB security siren
Wide 140-degree field view
Supports Amazon Alexa
Cons
Night vision is not sufficient
Lacks Artificial intelligence features
Smart home integration is limited
4. Nest cam IQ outdoor
The Nest cam IQ outdoor is a fantastic camera packed with cool features. It comes with a standard 1080p HD and HDR, which enhance the light quality in a video, with the capability to zoom in twelve times. It has a Google Assistant integration, artificial intelligence, great conformation and sturdy software that helps it deliver an excellent security performance.
Features
Battery Life
The Nest cam IQ outdoor cam uses a rechargeable lithium-ion battery. Having this battery installed is quite easy, and it works for a while before charging.
The battery is expected to last for 1.5 to seven months, which varies depending on the level of activity.
Cost
The Nest cam IQ outdoor cost $349.
Pros
Installation is quite simple
Clear two-way audio
It presents a clear live video feed from anywhere
Night vision offers clarity visuals in the dark
Intuitive app interface
Supports cloud recording service
Integrated with Nest's other services
Cons
Nest-aware access to many features
Location options may be limited due to the power cord
Lacks SD card and local storage support
It has high bandwidth usage
Fantastic videos: With its 1080p HD video alongside 4k sensors, HDR, and intelligence imaging, the videos produced by the Nest cam IQ outdoor are super-clear.
Weatherproof: It comes with an IP66 rating which makes it durable and resistant to rain, sun, cold and any weather condition.
Great night vision: The Nest cam IQ outdoor camera has the ability to see things that appear to be far in the darkest of nights.
Artificial intelligence: The cam has person detection, which enables the camera to differentiate between people, animals and other moving objects. With Nest awareness, you can get facial recognition,
Nest aware: You can add on 5, 10, or 30 days of cloud storage with Nest aware. You will get facial recognition like a dog barking, a person speaking and a familiar face alert. Also, you can create activity zones, which focus on areas that the Nest cam IQ outdoor should be particular about.
Google Assistant Integration: The Nest cam IQ outdoor supports Google Assistant, which means you can command it with just your voice. You can also live stream footage from Google home hub or watch Chromecast.
5. Eufy Floodlight Cam 2 Pro
The Eufy Floodlight cam 2 Pro offers great image and lighting options. It captures stellar 2k images day and night with its camera pan tilting 360 degrees horizontally and 130 degrees vertically. This camera provides two levels of security that come with a bright outdoor light and surveillance camera in one device.
It presents three integrated LED panels that offer 3000 lumens of brightness that can be switched on and off using the Eufy app or voice control. It enables colour temperature adjustment from 3000 to 5,700 kelvin, which gives you a preferred choice either between warm and cool whites. The Eufy Floodlight cam has the option of storing video locally on 8 GB worth of internal storage or in the cloud.
Features
Powerful brightness: This camera features the brightest floodlight in the security category. With its three-panel setup, 3000 lumens are produced, which illuminates a large area and keeps intruders far away.
Adjustable panel: The dual side panel joins to the centre panel and pivots about 90° to point to the side instead of the front, which makes it adjustable and easy to point to the side where light is needed the most.
Customised colour temperature: The white light can be tuned to fit different moods and needs. The temperature of the white colour ranges from a warmer soft white (3000 k) to cooler daylight (5700 k). With the Eufy camera, you have an option to choose from different colours to lightning modes and schedules.
2k quality video: The Eufy floodlight pro can record videos at 1920p (2k) resolution, which gives an overall crisp and clear quality of live video recordings.
Eufy app and active motion alert: It presents a security app that controls your outdoor camera and floodlights. Also, you can send motion alerts when the camera spots an object. It has simple motion detection and motion zones.
Built-in siren: This camera comes with a 100-decibel alarming siren that can be linked to motion detection to stir up fright.
Smart home compatibility: This security camera supports Amazon Alexa and Google Assistant smart home ecosystems.
Battery Life
The Eufy floodlight camera 2 pro requires a 110v-240v constant power supply device. It can only be hard-wired.
Cost
The price of the Eufy floodlight camera 2 pro is $299.99. However, the price may differ depending on the store.
Pros
Powerful, customisable three-light panels
Pan-tilt functionality
Stunning 1920p video resolution
Stellar human detection capabilities
Cons
It is pricey
Non-expandable built-in video storage
Lacks cloud storage option
Supports only wired installation
Conclusion
In conclusion, all the above-listed security cameras are highly recommended as they are integrated with excellent features and powerful capabilities that ensure outstanding performance.
Although some of these cameras are pricey, they provide great security value for their worth. These cameras are also versatile and can be placed in any part of your home. Most importantly, these cameras protect your homes from invaders, and they can effectively function in any kind of weather, given their weatherproof feature.
Image Gallery – 5 Best Alternatives to the Reolink 8 Channel Outdoor Security Camera.