In 2019, the Sony WF-1000XM3 Truly Wireless earbuds were released and an updated firmware later in the year came with some improvements such as Amazon Alexa support. It has a comfortable design and a strong Bluetooth connection strength.
It is a part of the 1000X noise cancellation headphone series which means a lot is expected of it. The WF-1000XM3 is a great and stylish headphone with excellent features such as noise cancellation. In this Sony WF-1000XM3 review, we will be seeing how well the WF-1000XM3 still works today.
Design
The Sony WF-1000XM3 wireless headphone has a stunning pill-shape design with no protrusive bulk and each earbud weighs 8.5g. They are quite comfortable and snug and fit perfectly in your ear which means they are not likely to fall off your ears when going down the street. It comes with different sizes of non-slip rubber and foam ear-tips for different ear sizes to ensure maximum comfort.
Both earbuds have touch controls and by default, tapping the left earbud twice alternates between ambient sound and noise cancellation modes while double-tapping the right earbud skips between tracks. Pressing a finger on the left earbud reduces the volume and lets in ambient noise. You can also program the touch controls with the Sony Headphones Connect app to get your desired voice assistant either Amazon Alexa, Google Assistant or Apple's Siri.
It also has an automatic ear detection feature that pauses and plays music whenever you remove or insert the earbuds. It comes with a rechargeable case that has a copper lid that doubles as the charging pack for your earbuds. Its magnetic interior secures the earbuds in place and is connected to the charging pins. It is available in silver and black.
Performance
The Sony WF-1000XM3 is a solid earbud even though it's been around for a few years compared to the Sony WF-1000XM4. It makes use of 6mm drivers which exudes clear rhythms with spatial detail. The WF-1000XM3 sounds great. The bass frequency is appreciated but there is no 'boom' or a pronounced thump, treble comes across with some emphasis. Overall, it boasts all the right frequencies with the right amount of restraints. The noise cancellation feature on this earbud is not as great as that of other premium ANC headphones.
It offers customizable touch controls via Sony's Headphone Connect app with a stable connection. Here you can equalise the sound, customise controls, enable ambient sound control or make other adjustments. The Sony WF-1000XM3 has a QN1e HD noise cancelling processor which offers a good degree of passive noise isolation and a minimal level of noise cancellation but fortunately, Sony provides a good amount of ear tips for you to choose from so the best thing to do is pick out one that fits your ear the most so as to maximise its noise-cancelling performance.
It also uses a 24-bit audio processor and does not support Sony's LDAC Bluetooth extension or aptX HD. The microphone quality is also very good for calls in a quiet or less noisy place. You can pair your earbuds using a traditional Bluetooth pairing process or via NFC and it can only connect to one device at a time.
Battery life
The Sony WF-1000XM3 wireless headphone is tested to provide you with up to 5 hours of battery life on a single charge with the noise cancellation feature on and a few more hours of playback without noise cancellation. Quick charging of 10 minutes would give you 90minutes of playback. When the earbuds completely run out of power, it takes 90minutes to charge it back and about 3 hours to charge the case which provides you with three additional charges for your earbuds. The WF-1000XM3 comes with a USB-C charging cable.
Features
It has a comfortable build.
It supports adaptive sound control.
It offers a good listening experience.
It supports Google Assistant, Apple's Siri and Amazon Alexa.
Noise cancellation feature.
Specifications
Brand: Sony
Model Number: WF-1000XM3
Connectivity: Bluetooth 5
Dimensions: 142 x 119 x 64 mm
Weight: 8.5g (per earbud), 79.3g (case)
Waterproof: No
Pros
It has a modern and comfortable design.
It has a good sound quality.
Google Assistant and Amazon Alexa support.
Adaptive sound.
Intuitive touch controls.
Noise cancellation.
Cons
It struggles with noise in-flight.
Does not support LDAC.
It is not suitable for workouts or sports.
No water-resistance.
Buying guide
The Sony WF-1000XM3 true wireless earbuds are an excellent pair with NFC and Bluetooth pairing with a partnering connect app that allows you to make EQ changes which is not a common thing amongst headphones these days. These earbuds don't have sweat resistance which could be an issue for persons living in a place with a humid climate.
Like other high-end wireless headphones with proximity sensors, the WF-1000XM3 detects when in use and when taken out. The Sennheiser MOMENTUM True Wireless 2, Bose Quiet Comfort Earbud and the Jabra Elite Active 75t are all excellent alternatives to the Sony WF-1000XM3 with great features, some better than the other.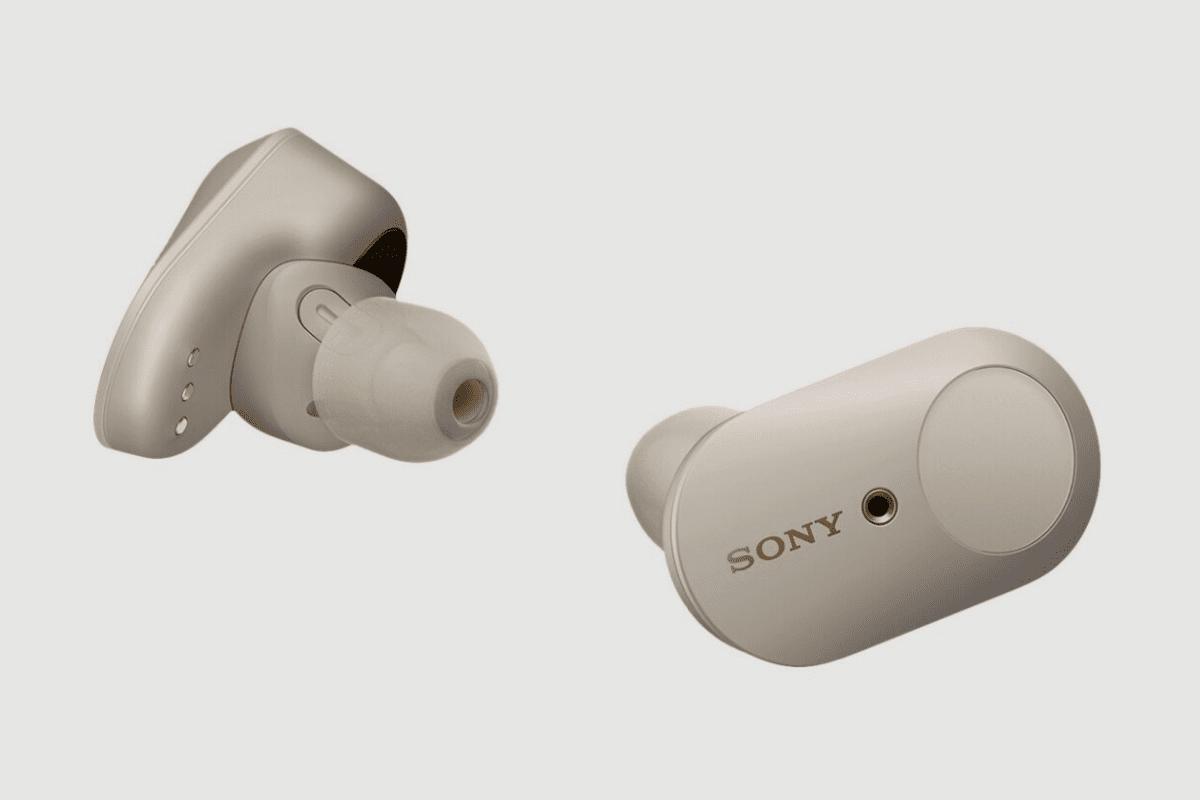 How much is the Sony WF-1000XM3 Truly Wireless Noise Cancelling Headphones?
The Sony WF-1000XM3 earbuds are priced at $230. However, you can get them at discounted prices these days especially during black Friday deals. They are much cheaper than the over-the-head model (WH-1000XM3) they share the same technology with. It is available in silver and black.
Sony WF-1000XM3 Truly Wireless Noise Cancelling Headphones Available series
The Sony WF Truly Wireless earbuds series only includes the WF-1000XM3 and the newer and better WF-1000XM4 version.
Is the Sony WF-1000XM3 Truly Wireless Noise Cancelling Headphone worth buying?
The WF-1000XM3 is a solid and comfortable earbud with an ergonomic fit and rubber nozzle. It offers a decent sound quality but lacks bass response. Its noise-cancelling performance for background noise is average. It doesn't come with any extra accessories like a carrying pouch or a charger and it is best suited for people who want a truly wireless set of headphones that can play music for long periods of time without having to worry about battery life. Although it doesn't offer sweat resistance and it's outdated compared to the newer WF-1000XM4, it's still a good choice to go for.
Conclusion
In conclusion, the 1000XM3 earbud is a top-notch device with good battery life, noise cancellation and angled ear-tips nozzles to alleviate pressure along the ear canal. The Sony WF-1000XM3 True Wireless Headphone is still an excellent choice for purchase even though they have been usurped by the newer WF-1000XM4.
If you want a pair of stylish, solid true wireless earbuds with good sound quality, and a comfortable fit, the WF-1000XM3 might just be the right choice for you. However, if you have extra cash to spare, the Sony WF-1000XM4 is the better option with its Bluetooth 5.2 firmware, an IPX4 rating, better ANC, and improved battery life.
FAQ
Q: Is there a way to turn off the Sony WF-1000XM3 Truly Wireless Noise Cancelling Headphones?
A: Yes, you can disable the noise cancellation mode through the settings menu.
Q: How to charge my Sony WF-1000M3 Truly Wireless Noise Cancellation Headphones?
A: You need to connect the charging cable to the USB port on your laptop or an adapter.
Q: Can I use the Sony WF-1000XM3 Truly Wireless Noise-Cancelling Headphones as a wired headset?
A: Unfortunately, you cannot use the Sony WF 1000XM3 Truly Wireless Noise -Cancelling Headphones on your PC or Mac computer. If you wish to do so, you will need to buy a separate wired headset.
Q: Can I use my Sony WF-10000XT Truly Wireless Noise-Cancel Headphones with Amazon Echo Dot?
A: Fortunately, the Sony WF 100000XT Truly Wireless Noise Cancelling Headsets supports Amazon Alexa. This means you can say "Alexa" to activate voice commands while listening to music.
Product Image Gallery