The Oculus Quest 2 had a few launch demos that came preinstalled on the headset when it was released on October 16, 2020, for a starting price of $299 for the 64GB model and $399 for the 128GB model.
At launch, the Oculus Quest 2 came with a few free demos that you could play on it, but you couldn't actually finish the games because they were demos. So they only gave you a taste of the full game, but you had to buy them to finish them.
The likes of Beat Saber, Creed, Journey of the Gods, Space Pirate Trainer, and Sports Scramble are all games pre-loaded onto the Oculus 2 headset for you to play and enjoy while you get the hang of playing games on the Oculus Quest 2 Headset. Beat Saber, in particular, was one of the smash hits that was released on the Oculus Quest 2 that made me sit up and take the Oculus Quest seriously.
Beat saber is a rhythm-based game that allows you to slice the digital note blocks of some of your favourite songs while getting a nice sweat on. Think of it like Guitar Hero, but instead of matching the notes of the songs to win the game, you're slicing the beats to rack up a very impressive high score. To this day, my favourite level to play is Eminem's Rap God level. So, there are a few demo games that come with the Oculus Quest 2, and I think Beat Saber is the best one to actually pay for.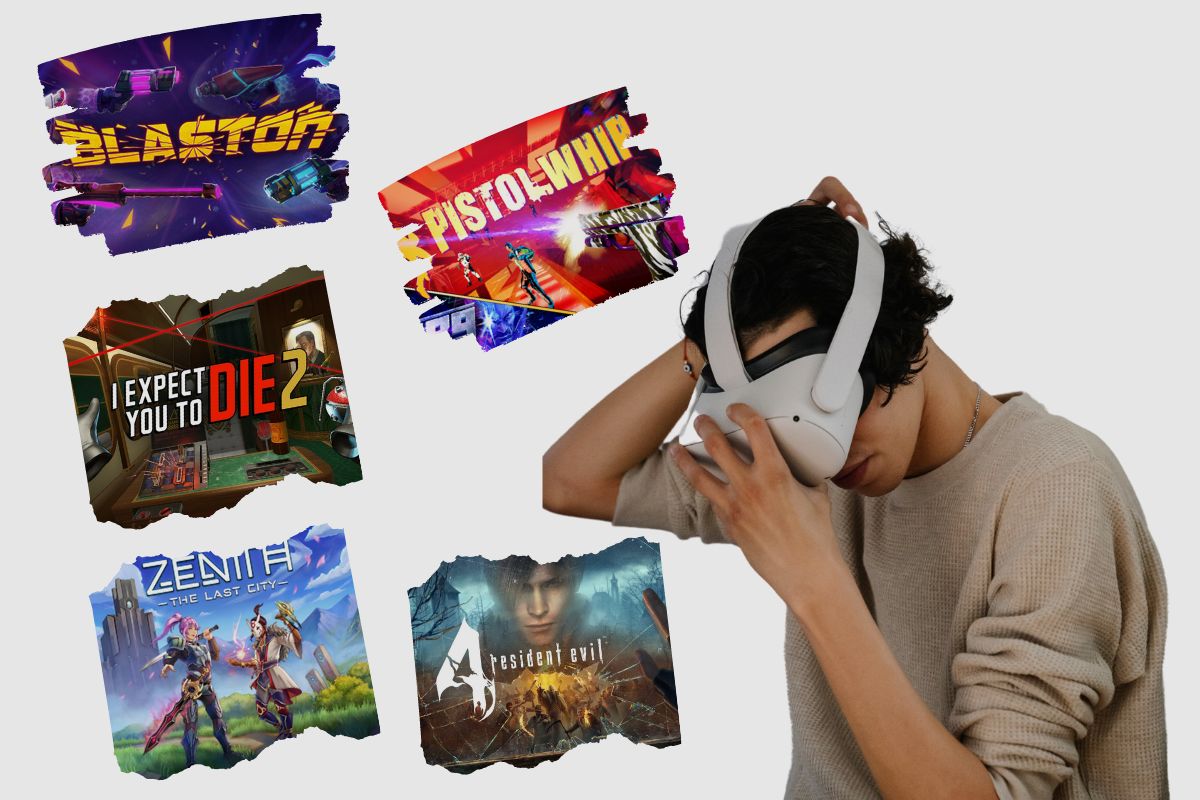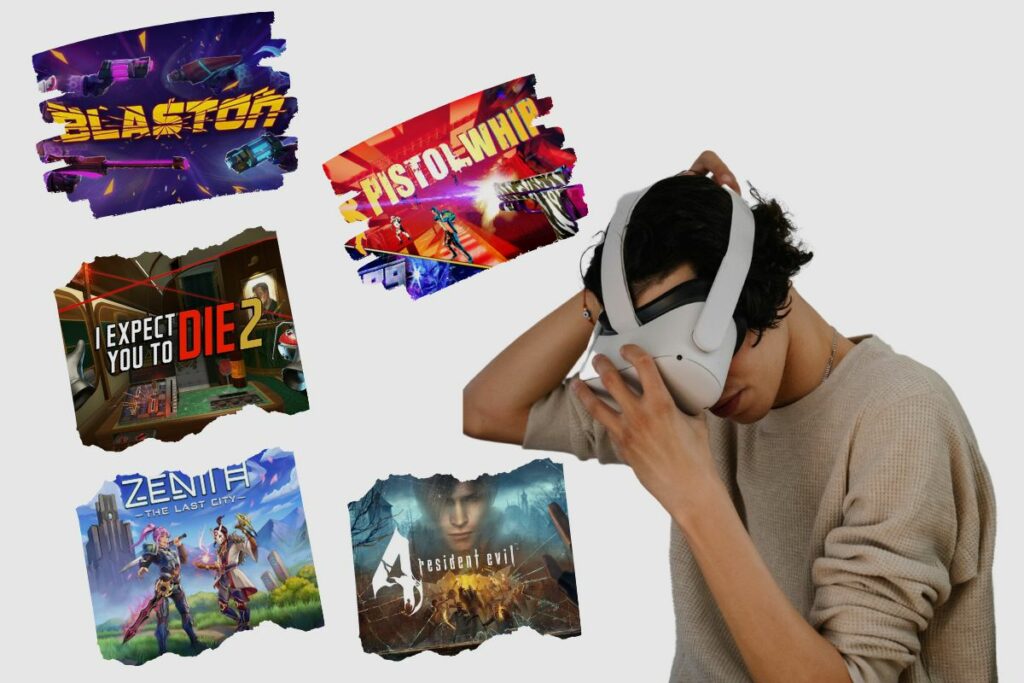 Overview of Oculus Quest 2 Games
There are a wide variety of games on the Oculus Quest 2. You have your single-player adventure games like Star Wars Vader's Immortal Trilogy and HalfLife Alex. Rhythm-based games like Beat Saber and Pistol Whip. Horror games like The Walking Dead and Resident Evil 4 Platform puzzlers like Lucky's Tale and Moss Book 2. Finally, you have your competitive shooters like Population One, Supershot VR, and Phantom Covert Ops.
There are a plethora of VR games that you can play on your Oculus Quest 2 that should keep you busy for as long as you want. Whether you are jumping and puzzle solving or wielding a light sabre like the ultimate version of Darth Vader.
You have so many options to pick from and enjoy that it almost feels insane to think of how the VR space was a few years ago. When it seemed like almost nobody was making games in VR, we are now in a state where everyone and their grandmother is making a VR game for people to play and enjoy.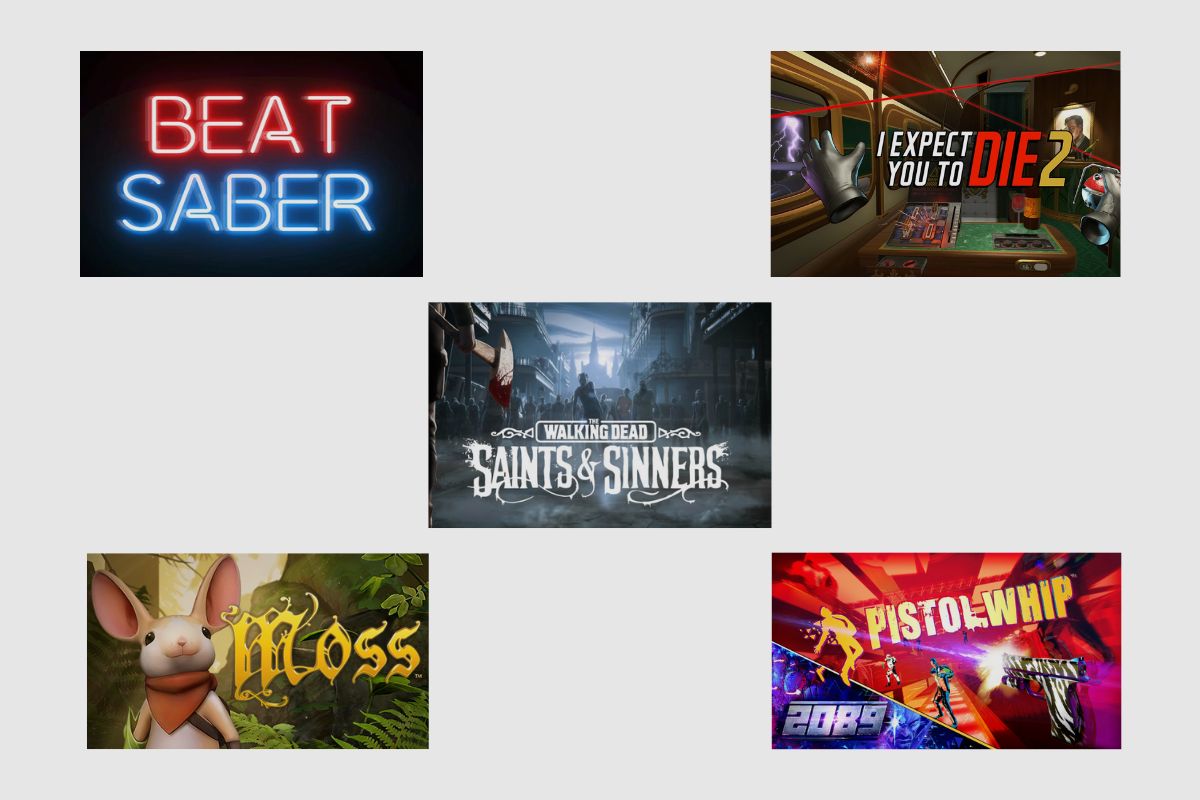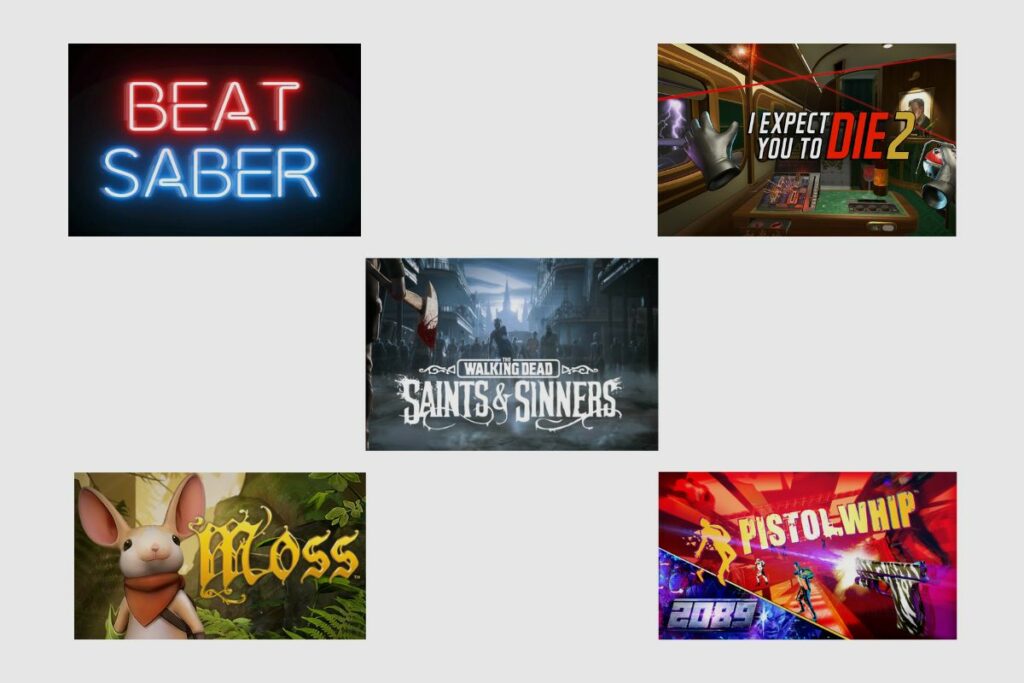 Most Popular Oculus Quest 2 Games
Whether you are looking for a competitive shooter, an action platformer, a single-player adventure game, or even something arcadey to play with your friends, here are some of the most popular games you can play on the Oculus Quest 2
1. Beat Saber
Beat Saber is one of those eternal games that will always have a dedicated fan base because of its simple yet addictive gaming mechanics. All you have to do is pick a song and use your lightsaber to tear through some blocks coming at you. It may sound very simple, but it's in its simplicity that a lot of fun can be had.
At lower difficulties, it can be a great way to show people how much fun VR can be, as well as how to play games in VR. However, when you ramp up the difficulty level, the beauty of the game shines through, and you can almost find yourself slicing through blocks at super high speeds like you are Goku using Ultra Instinct.
It's a fun game to play, and it is suitable for people of all ages. Oh, and did I forget to mention that it has some of the best-licensed songs available? I mean, the Rap God level is by far the best in the game.
2. I Expect You to Die 2
If you've ever wanted to be James Bond, the super spy, this is your chance. Then I Expect You to Die is the perfect spy thriller that will get your blood pumping as you are involved in a high-stakes game of tactical espionage. as you take control of a spy trying to save the world from a shadowy criminal organisation trying to take over the world.
It has a lot of puzzle-solving scenarios that will give you extremely satisfying "eureka" moments and make you feel like you have the biggest brain in the world while also putting you through a gauntlet of extremely difficult enemy encounters that will leave you stressed but very satisfied when you win. I expect you to die is a solid game that delivers in many situations and is always fun to play.
3. Moss
Moss is a very adorable mouse who traverses lushly detailed environments and fights some robot bugs with her sword as she tries to save her world. The gameplay loop primarily consists of tinkering with each mini-level to open up the exits and solving numerous puzzles, which you do by using the left thumb stick to control your character and your other hand to solve environmental puzzles.
The gameplay loop of puzzle solving is broken up by enemy encounters, which allow you to swing your sword around and bash some robot bugs, which adds some much-needed excitement to the game. It is not a difficult game to play, but you will still have a lot of fun playing it.
4. Pistol Whip 2089
This is a fast-paced shooter that allows you to shoot as many enemies as possible without getting killed in the process. This game also added a level of rhythm and beats to the gameplay loop by giving you bonus points for killing enemies on the beat. Consider it a more violent form of dancing.
The 2089 update adds a fully designed campaign mode and some extra levels to play in, as well as new enemy types and some new weapons. The best thing about pistol whip is that it makes you feel like the best shooter in the world.
5. Walking Dead Saints and Sinners
The Walking Dead: Saints and Sinners is the first AAA single-player game in the Quest series. For an immersive horror experience, this mammoth effort combines a protracted campaign with gratifying physics and authentic settings. Every important decision you make will have equally serious repercussions as you sneak, shoot, and scavenge your way through a New Orleans overrun with zombies.
You can create improvised equipment with a plausible weight and scale thanks to a clever crafting mechanism. You'll need to grasp these weapons correctly because they are prone to shattering after repeated usage, much like in real life. You must choose the best strategy to accomplish goals between decaying weapons and a constrained stamina system. Stealthy methods could make things more challenging as a task progresses.
Multiplayer Games Compatible with Oculus Quest 2
If you enjoy playing games with your friends and not all by yourself, then getting a few multiplayer games that you can play with some of your friends online would be a great idea. So, here are a few multiplayer games that you and your friends or a stranger can have fun playing.
1. Population One
Population One has a variety of PvP and PvE modes and is a battle royale game comparable to Fortnite. To take on the rest of the world, form teams of three players with other players. Population: One requires just as much shooting as it does building, climbing, and gliding, so you'll need to be inventive.
2. Star Trek – Bridge Crew
Take command of the USS Aegis and dare to venture where none have gone before. You and your fellow Starfleet crew members must pilot your ship into unexplored space in Star Trek: Bridge Crew. For a new perspective on each operation, take on the role of a captain, tactical officer, engineer, or helm officer.
3. Zenith: The Last City
You should try Zenith: The Last City if you like MMO games like World of Warcraft or Final Fantasy XIV. After making your unique character, join forces with others to form a guild and go on a raid or participate in a public event. Gain experience points by exploring dungeons, finding treasure, and defeating bosses to become stronger.
4. War Planes: WW1 Fighters
In Warplanes: WW1 Fighters, you can take on hundreds of missions in more than a dozen different aircraft after selecting a side. You can trade the medals you acquire from completing missions to improve your talents. You can change the controls to make them feel more arcade-style or realistic.
5. Mirewood Manor
While you are free to tour Mirewood Manor alone, it is recommended that you accompany two or three friends. You'll run through hazardous escape rooms, unearthly ghosts, and never-ending jump scares. The main plot alone can easily take you ten hours to complete, plus there are extra game modes and mini-games for even more entertainment.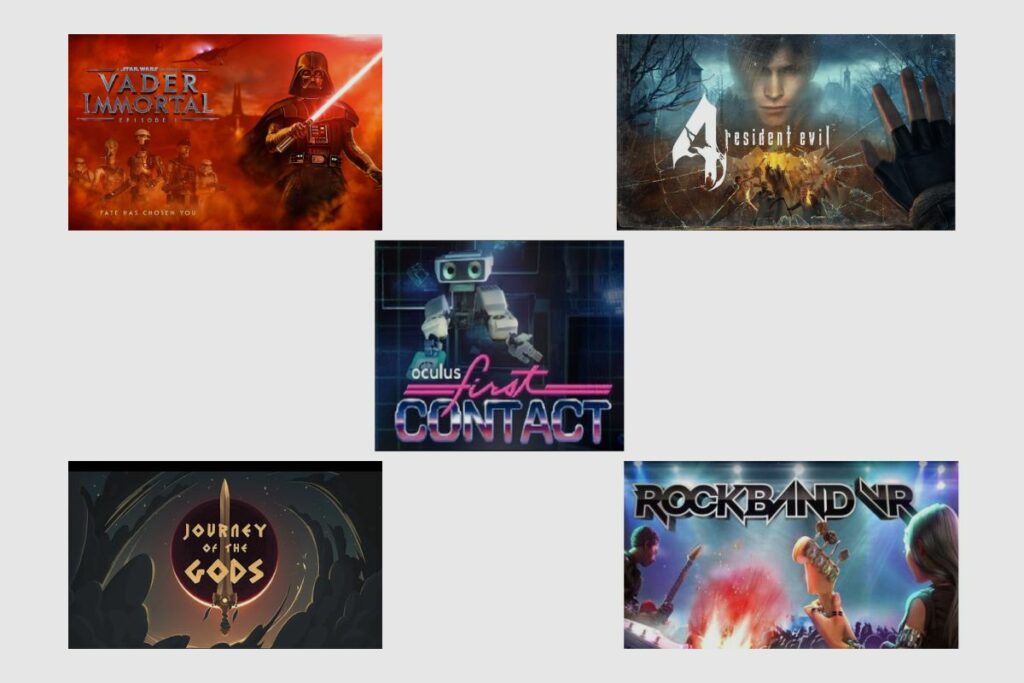 Best Oculus Quest 2 Exclusives
The Oculus Quest 2 has a lot of incredible games, but not every game is optimised perfectly to work perfectly on the Oculus Quest 2. However, Oculus-exclusive games are always the best, and it's difficult to find games that work as well as on Quest 2. So, here's a list of some of the best Oculus Quest 2 exclusives.
1. Star Wars: Vader Immortal
One of the best things about VR gaming is that it provides a level of immersion unlike anything else. It truly allows players to step into the shoes of their controlled character and perform a variety of actions with their own hands, which makes for a very enjoyable experience. As a result, games that allow players to virtually become their favourite characters are bound to be entertaining. The prospect of meeting the legendary Darth Vader himself is enough to entice many players to check out this incredible experience!
2. Resident Evil 4 VR
One of the most renowned video games ever created is Resident Evil 4, and most gamers would adore the opportunity to experience it in virtual reality while seeing events unfold from Leon Kennedy's point of view. There is no better moment to play the classic game with a completely new degree of immersion since the remake of this title is coming sooner rather than later. Resident Evil 4 VR is exclusive to Meta VR and works well, but some could say that the game isn't as challenging now that players can freely direct their assaults using motion controllers. Regardless, it's still a fantastic experience that lovers of inventive VR horror should check out.
3. Oculus First Contact
Although virtual reality (VR) is steadily making headway in the entertainment industry, most people find it to be somewhat daunting. The "shock" of being totally submerged in a virtual world prevents certain gamers from easily entering a VR environment. Thanks to the abundance of "introductory" VR games, gamers can learn more about the technology. On Meta systems, there are a few excellent options, but Oculus First Contact stands out from the crowd. By putting players in a vibrant, toy-filled universe, this sci-fi playground with futuristic, 1980s-style design will help them learn how to engage with the VR environment.
4. Journey of the Gods
In the RPG Journey of the Gods, which is only available on Meta systems, the player faces off against the forces of the Chaos Moon. The first-person game offers a variety of fighting options as well as a strikingly vibrant colour scheme and whimsical appearance. The gameplay is remarkably similar to that of most classic RPGs. Anyone looking for a solid fantasy game in VR will find a mix of puzzle-solving, world exploration, and satisfying fighting that will more than satisfy their demands.
5. Rock Band VR
For a while, the Rock Band series was the most well-known rhythm game franchise. Following the rhythm game explosion of the late 2000s and early 2010s, excitement for the brand has recently waned. However, a Meta-exclusive edition published in 2017 brought it back for the next generation. More than 60 songs are included, the majority of which are the most popular ones in the Rock Band library.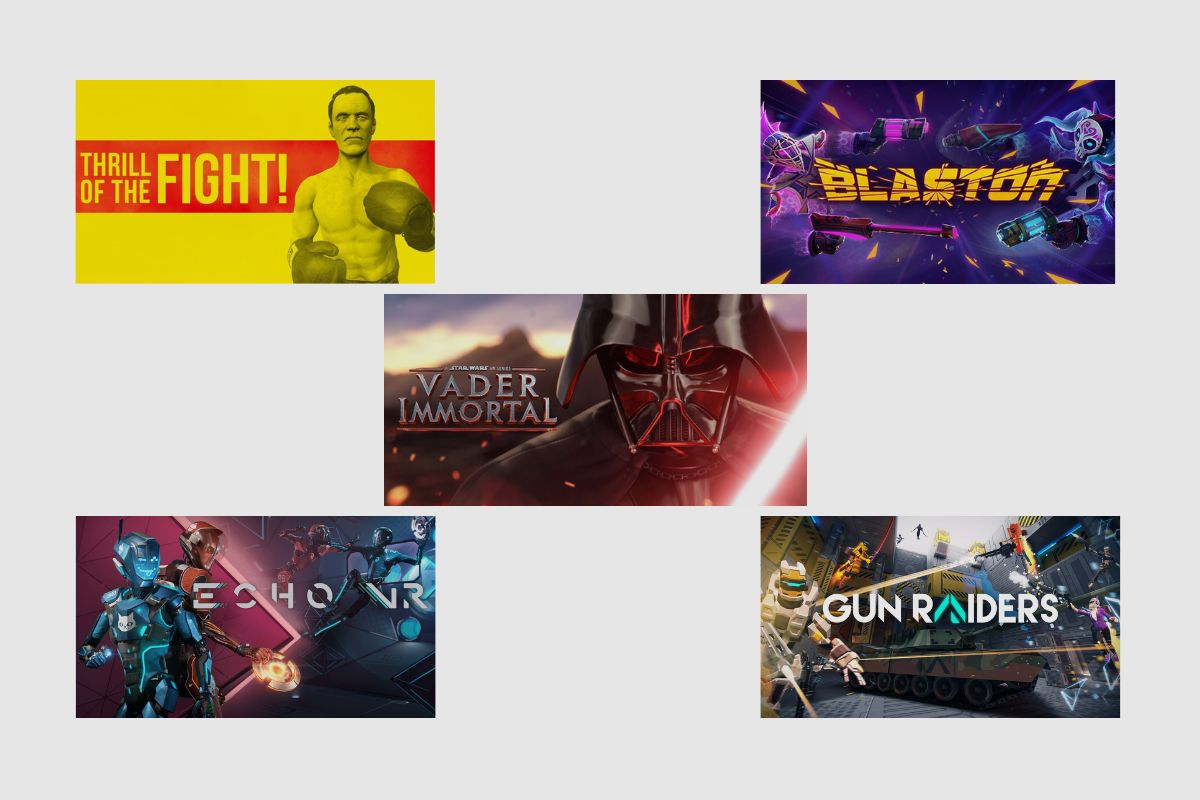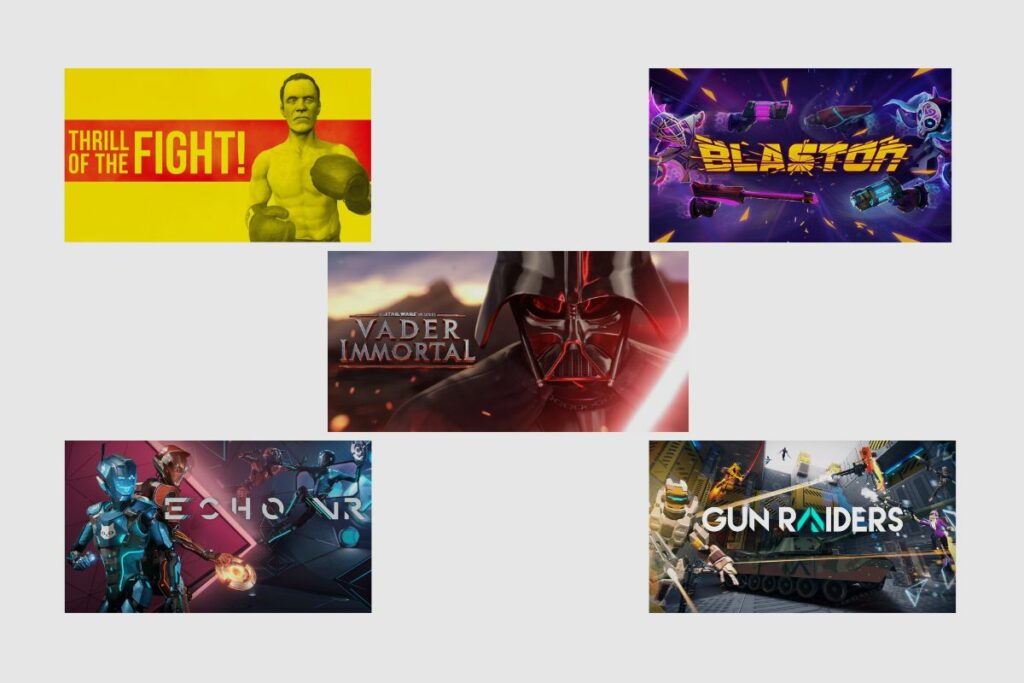 Affordable Oculus Quest 2 Games
Something that most people don't enjoy about Oculus Quest 2 games is their price, and sometimes they can be very expensive. So, here's a list of some cheap but fun games, and a few free ones, too, because who doesn't like free games?
1. Vader Immortal Episode 1,2 and 3
The entire series costs $10, but each episode is too brief (and, frankly, lacks a little replay value). Still, it's a must-have for any Star Wars fan and a fantastic way to get others interested in virtual reality. Until Batman: Arkham Asylum appears on Quest, this is the recommended primer for interested newcomers. Following the brief story, you can take on some "arena" challenges that involve using a lightsaber to battle robots using remote controls. This series consists of three "episodes," each costing $10 and featuring a dramatic increase in overall quality. For continuity in the plot, you should own them all.
2. Thrill of the Fight
While Creed receives a lot of attention due to its well-liked Rocky Balboa connection, another challenger has entered the Quest market. This time, the game is more of a boxing simulator than a boxing game. To play Thrill of the Fight in true RoomScale, you'll need a minimum of 6.5′ x 6.5′, and to win, you'll need to use all of your dodging, evading, blocking, and punching techniques. This is a cheap and thrilling game you must acquire if you want to get sweaty while playing virtual reality, and at $10, this is an option you shouldn't sleep on
3. Blaston (Free)
This shooter has recently become free-to-play, allowing you to engage in 1v1 duelling with friends, family, and enemies. Perfect your loadout and get ready to fight as you race for weapons and shoot a hail of hellfire at your opponents while Matrix-dodging through this creative bullet hell meets futuristic duelling game. Spend money on cosmetics or don't; either way, it's a ton of fun.
4. Echo VR (Free)
Without being stationed on the ISS, zero-g sports aren't viable, and even then, you definitely shouldn't mess around. You will launch quickly toward the goal in this fast-paced game of ultimate frisbee meets hockey meets whatever, elude the opposition team, and hurl your Tron-style frisbee thing for victory.
5. Gun Raiders (Free)
For those who play a lot, shooter games are a need, and Gun Raiders is one of the best free choices out there. Players can experiment with a range of different shooter game modes in this game, honing their abilities with various weapons and making new friends while launching attacks. It's a fantastic starting point for novice Oculus users.
This is a fantastic choice for someone who wants to try out everything the Oculus has to offer without having to spend $10–30 per game, even though their community is quite turbulent, as are most public VR communities. While it could be the less expensive option, that does not in any way make it a bad one because of the variety of game modes and movement mechanics that are uncommon among shooter games.
These are just a few of the free and affordable games you can get for your Oculus Quest 2.
Conclusion
The Oculus Quest 2 comes with a wide variety of games, and it is awesome to see so many people getting into the virtual reality space and developing so many games for it. The likes of Beat Saber and so much more are all leading the charge for playing games on the Oculus Quest 2. They prove that gaming in VR is not just a phase, but it's here to stay. Thank you so much for reading this; please leave all of your questions in the comment section, and I will get to them as soon as I can.