The Apple MacBook Air with the M1 Apple silicon chip is a laptop computer designed for use on the go. It ships with the latest Apple M1 chip which makes its performance faster compared to the previous generation or other laptops available today. The design remains largely unchanged from the previous models but we will be looking into what changes Apple has made to improve the overall experience of this device.
Design – Apple MacBook Air
The design of the new M1 MacBook Air hasn't changed much between generations both with the interior and exterior. The design is almost identical to the Intel-based MacBook Air Apple released last year. It has a 13-inch screen size aluminium chassis with an iconic, wedge-shaped, fanless design, touch ID, fingerprint scanner, a huge trackpad, a comfortable magic keyboard, good speakers, and silver trims around the edges.
Display
The MacBook Air has a 13-inches screen size with a Retina LED-backlit display, 2560 x 1600p resolution at 227ppi density, and 400nits of brightness. It supports the P3 colour range for bright and wide colours with True Tone, which adjusts the colour temperature on the display based on ambient lighting conditions.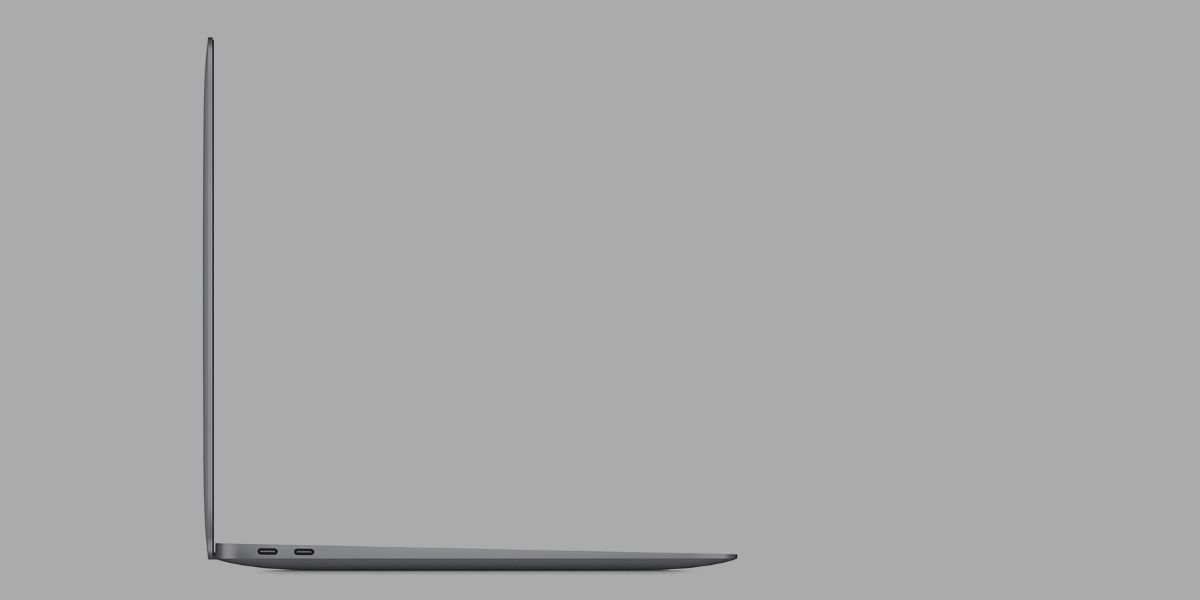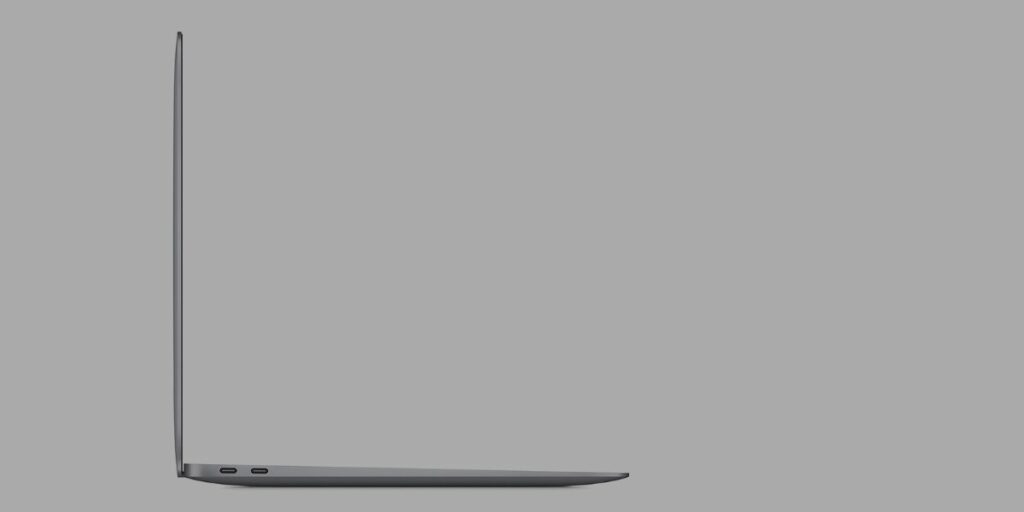 Performance and Battery life
Apple has been able to avoid messy processor transition by carefully integrating its new processor and software. The MacBook Air with Apple silicon M1 chip is a superfast laptop that exceeds expectations on nearly every level. It has an integrated 8-core CPU with 4 high-performance cores and 4 efficiency cores, 7-core GPU, 16-core neural engine, 8GB RAM configured up to 16GB and 256GB storage configured up to 2TB. The neural engine is designed for a different, faster machine learning workload and can execute a staggering number of operations per second.
It handles photo and video editing with ease. Although, It might get a little slow when using third-party apps because they are not yet optimized for the M1's ARM architecture which is one of the prominent features the M1 Apple silicon brings. You can open up to 10 tabs even in chrome without having to worry about your laptop slowing down.
Unlike the 13-inch MacBook Pro, the M1 SoC MacBook Air comes with an aluminium heat spreader which in other words means it is silent, fanless, and doesn't get hot but lukewarm when under a lot of loads. This is a remarkable and almost unbelievable feature. This device wakes up instantly and seamlessly from sleep mode with your apps and already opened tabs quickly catching on.
in terms of connectivity, it supports Wi-Fi 6 and Bluetooth 5.0 which allows you to connect wirelessly to different peripherals. It has the same 720p webcam as the previous version which isn't very good for a laptop of this standard but it'll get the work done.
The battery life on this MacBook isn't bad at all. It would give you about 9 hours of battery life with average usage and about 3 hours with a heavy workload. As for the charging, it comes with a 30W charging adapter and cable.
Features
Good quality microphone.
Aluminum chassis.
Updated options on the function row.
Supports some iPadOS and iOS apps.
RAM 8 GB, 256GB storage.
720p Facetime HD Webcam.
Display 13inches retina display
Dual built-in speaker system.
Touch ID.
Fingerprint scanner.
Comfortable magic keyboard.
It has 2 thunderbolt ports.
Specifications
Operating system: Apple macOS
Processor: Apple M1 chip; 8-core CPU
GPU: 7-core GPU; 16-core Neural Engine
Display: 13.3-inches IPS, 227ppi, 400nits brightness
Resolution: 2560 x 1600pixels
Wireless Connection: Wi-Fi 6, Bluetooth 5.0
Dimensions: 0.63 x 11.97 x 8.36 inches
Weight: 1.29kg
RAM: 8GB
Storage: 256GB
Ports: 2x Thunderbolt ports
Camera: 720p FaceTime HD webcam
Sensors: Touch ID sensor
Battery: 49.9Wh
Color: Silver, Gold, Space Gray
Pros
Incredible performance.
It is lightweight.
Intel-based apps work well.
it has an excellent battery.
Cons
Webcam is not as good as expected.
Limited external display options.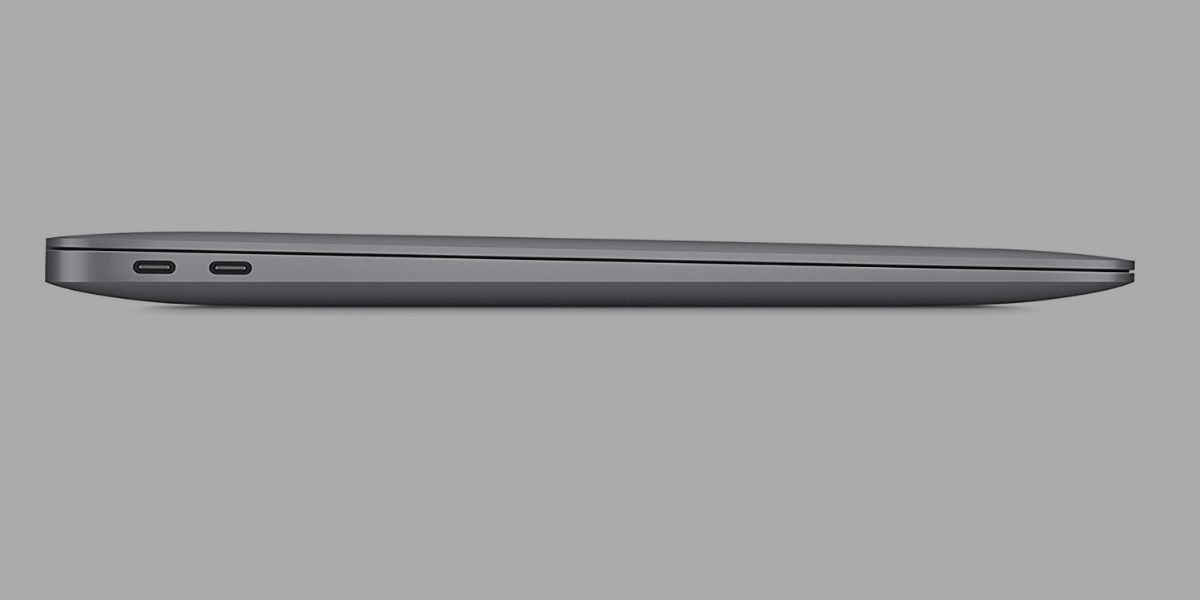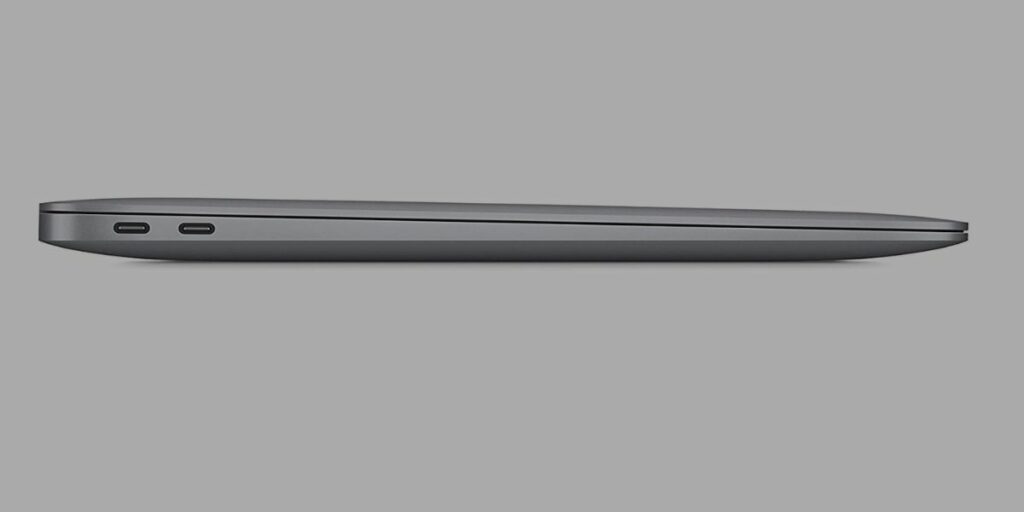 Buying Guide for Apple MacBook Air
The 2020 M1 MacBook is a great laptop with excellent overall performance and a portable design suitable for travelling, school or offices. It can be used for everyday tasks such as web browsing or word processing and comes with a 720p webcam. The MacBook Air M1 is available in 3 colours and can be configured to different RAM or storage sizes. So when shopping for the 2020 MacBook with Apple silicon, be sure to confirm the RAM and Storage size.
How much is Apple MacBook Air
Apple MacBook Air is a great laptop and a little expensive you might say at $999.99. But even though there are other high-performance laptops in the market for a lot lower price tag, the M1 MacBook Air has the most outstanding performance you can get in the market.
Available series
The Apple MacBook is a good laptop that has grown over time from using an intel core processor to using the new M1 processor, improved battery size and general performance inclusive. Here is a list of available series based on their sizes and year of production.
Apple MacBook Air M1 (13-inch, 2020)
Apple MacBook Air Retina (13-inch, 2019)
Apple MacBook Air Retina (13-inch, 2018)
Apple MacBook Air (13-inch, 2017)
Apple MacBook Air (13-inch, 2015)
Apple MacBook Air (13-inch, 2014)
Apple MacBook Air (13-inch, 2013)
Apple MacBook Air (13-inch, 2012)
Apple MacBook Air (11-inch, 2012)
Apple MacBook Air (13-inch, 2011)
Apple MacBook Air (11-inch, 2011)
Apple MacBook Air (13-inch, 2010)
Apple MacBook Air (11-inch, 2010)
Apple MacBook Air (Mid 2009)
Conclusion
Overall the new MacBook Air with M1 is one impressive device. It packs amazing hardware inside a very compact body with faster performance. So if you're looking for a portable computer that delivers solid performance and lasts for long hours under moderate loads then check out the new MacBook Air with the M1 chip.
FAQ – Apple MacBook Air Supercharged by the M1 chip
Q. What's the best size screen for me?
Answer: If you want something small and lightweight, go for a 13inch or 15inch screen size. If you prefer bigger displays, choose 17inch options.
Q. Can I upgrade the ram myself?
Answer: Yes, you can do it yourself. However, we recommend contacting an authorized service centre for professional help.
Q. Does the battery last long enough?
Answer: It depends on how heavy are you using the machine. The average user should be able to use their MacBook Air for about 9 hours before needing to charge it again.
Q. How many Ports does it come with?
Answer: 2 Thunderbolt ports.
Q. What is the difference between USB 3.0 & USB Type C?
Answer: Both have different connectors. But they both support data transfer speeds up to 10Gbps.
Q. Is it compatible with iOS devices?
Answer: Yes! Apple uses its own proprietary connector called "Thunderbolt". This allows users to easily connect multiple peripherals including iPhone/iPad, iPod touch, etc.
Q. Which operating system comes installed in it?
Answer: macOS.
Product Image Gallery