HP Envy X360 laptops are premium 2-in-1 convertible PC laptops with an exquisite, sleek and light design. These laptops are available in different models that have two distinct display options, which are 13-inch and 15-inch.
HP Envy X360 laptops have a 360-degree hinge which means they can be converted to a tablet or laptop; this feature makes them efficient for working in all environments. They also come packed with cool features that make them standard laptops.
Related Post: Is the HP Envy x360 Good for Photo Editing?
Some of the top models of the HP Envy X360 laptops include:
HP Envy X360 Convertible laptop – 15t-es-100
HP Envy X360 Convertible laptop – 13t-bd100
HP Envy X360 15.6inch 2-in-1 laptop PC
HP Envy X360 laptop 2-in-1 15t-ew000
These laptops are powered by the AMD Ryzen and Intel core processors and have lots of features; some of the features are:
4k Ultra HD display that ensures vibrant and accurate colours for a great viewing experience
Available in 13 inches and 15 inches
Ultrathin and lightweight
The operating system is Windows 11 Home
Lightening fast creativity is guaranteed, thanks to the multi-core Intel Core processors with NVIDIA graphics and AMD Ryzen processors with Radeon graphics
Memory and storage are fast with up to 1TB PCle SSD storage and up to 16GB DDR memory and storage
The battery life of HP Envy X360 laptops is impressive
HP enhanced lighting for enhancement of brightness, colour and effects during video calls
Great sound quality with HP dual speakers and audio custom-tuned by experts at Bang & Olufsen
Digital Pen: With this, you can sketch, write and navigate smoothly
HP Display Control: This increases versatility with calibrated colour space presets for different creative scenarios
HP Quickdrop: Sharing content between your mobile phones and PC is convenient with this feature
HP Command Center: This feature allows you to customise your PC performance, fan speed and external temperature
Available ports are:
Headphone/microphone combo
Drop jaw SuperSpeed USB Type-A
Adapter plug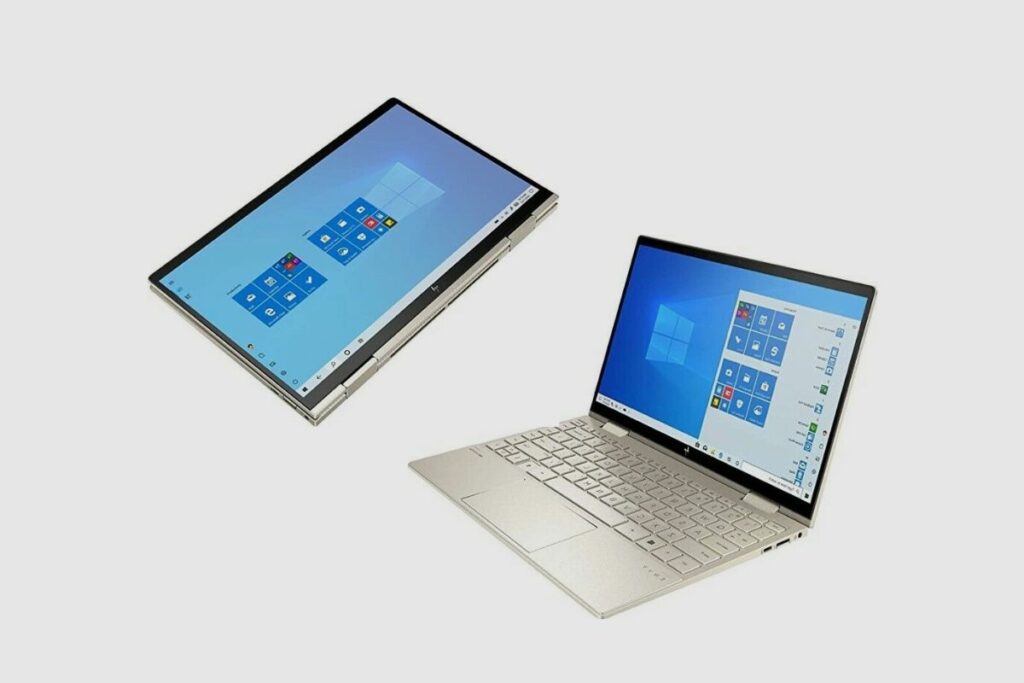 Are HP Envy X360 laptops any good?
HP Envy X360 laptops are quality and standard laptops because aside from being a 2-in-1 PC, they have a powerful CPU and graphics, a sleek lightweight design, vibrant display and impressive battery life, all within an affordable price range. The amazing features of these laptops have put them on par with some of the best laptops available today.
Does the HP Envy X360 overheat?
A stack-up of dust and debris in and around the air vents of your laptop can cause an airflow obstruction and cause the fans to work harder than normal to remove the heat. Also, lack of adequate ventilation around the laptops can result in overheating of HP Envy X360 laptops.
To prevent overheating, ensure sufficient ventilation around your HP Envy X360 laptops and regularly clean the fan vents. Note that you do not have to completely open your laptop to clean the vents; all you have to do is:
Turn off the laptop and disconnect the power cord
Move objects away from the laptop
Locate your laptop vents which are usually underneath and by the sides of your laptop
Use canned air to remove the dust from the vents
Allow the laptop to cool off for 5-10 minutes
Plug in your power cord and turn on the laptop
Listen to the fans to observe if the fan is working correctly
How long will the HP Envy X360 last?
The battery life of these laptops varies depending on the model. However, HP Envy X360 laptops are known to offer a long-lasting battery life.
In terms of life span, the estimated average life of HP laptops ranges from 5-6 years when it comes to high-end devices, but affordable and budget-friendly HP models last 3-4 years. When handled with care and proper maintenance, these laptops can last longer than the estimated time.
Why does my HP Envy get so hot when charging?
It is not unusual for laptops to generate heat while charging, especially when used in the charging process, and as such, there is no cause to be worried. However, it is important that you ensure that there is adequate ventilation around your laptop.
Conclusion
In conclusion, HP Envy X360 laptops are ultra-thin laptops with sleek designs and features that provide a powerful performance that boosts productivity and entertainment. Their 360-degree hinge makes these laptops versatile because they can be used as either a laptop or a tablet.