People use the Meta Quest 2 VR headsets for a variety of tasks like playing VR games, exercising, and even learning, but more recently, a lot of people have been asking if they can use their headsets to watch movies. The answer is YES; you can watch movies and TV shows with your Meta Quest 2 Virtual Reality headset.
Sometimes, users may choose to watch movies, TV shows, or YouTube videos on their Meta Quest 2 VR headset. This is because the headset offers a cinema-like experience right in front of your eyes.
The Meta Quest 2 has a fast-switch LCD and a resolution of 1832 x 1920 per eye, resulting in a clear and detailed viewing experience that is hard to find elsewhere.
Due to its variable refresh rate, you can switch between 60, 72, and 90 Hz to provide you with smooth and fluid frame rates, all of which improve the viewing experience. So, join me as I explain the various ways you can watch your favourite shows and movies on your Meta Quest 2.
Related post: Does the Meta Quest 2 Come with A Link Cable?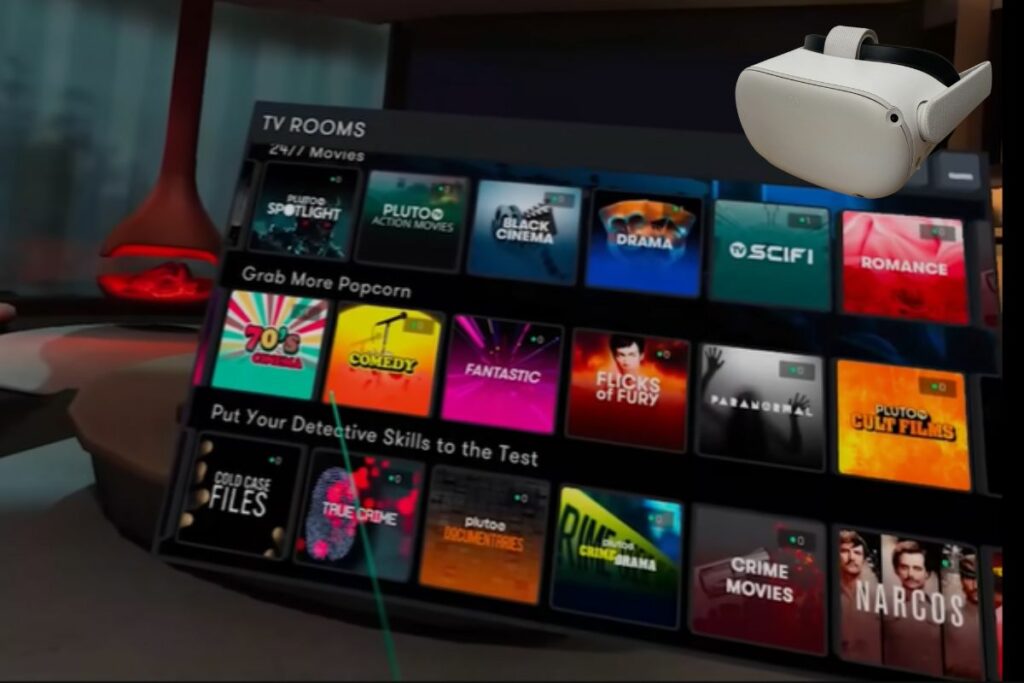 How to stream Netflix on your Meta Quest 2
If Netflix is your preferred streaming platform, there is good news. It is extremely simple to begin watching Netflix content on your Meta Quest 2. The simplest way to accomplish this is to download the Netflix app from the app store. It is, by definition, free. To watch content, you must have a Netflix subscription.
When you use the Netflix app, you get to sit in a cute log cabin with a massive screen to watch your content on. It's big and imposing, and it's probably bigger than the TV in your living room. It also has the advantage of being your own private screen, so no one can see what you're watching. To begin, follow these steps:
On the right-hand controller, press the menu button.
At the bottom, click on the orange and white shopping bag icon (the store).
At the top of the screen, click the search button.
Using the on-screen keyboard, enter "Netflix."
Click on the app and then on the Download button.
Once downloaded, you can access it via the apps button (nine squares on the right-hand side of the menu)
You'll need to sign in to your Netflix account once you've opened it.
Follow the instructions to log in there, or if it's easier, in a browser outside the headset.
Begin watching
When watching, you can select "Void Theatre" or keep the log cabin backdrop by selecting the button in the upper left corner of the screen (on the mantlepiece). You enter a state when all you can see is the screen and its surrounding blackness.
The choices include the ability to resize and move the screen to make watching even more comfortable. This is a terrific way to watch Netflix because you can easily do it while lying in bed, sitting in the living room, or in another room of your house.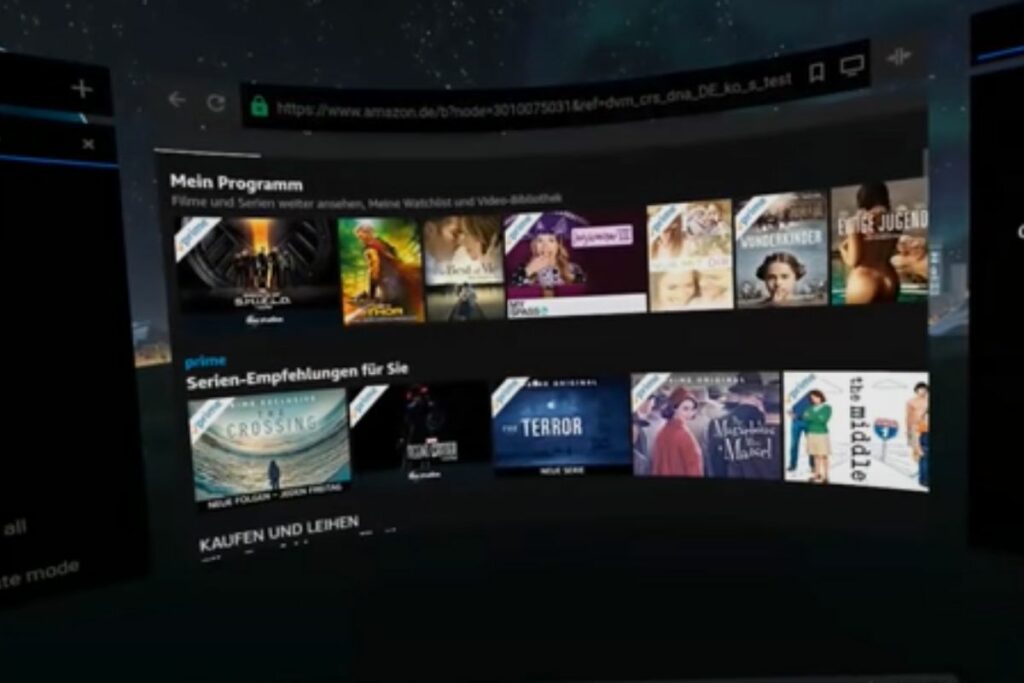 How to stream Amazon Prime Video on your Meta Quest 2
USA and United Kingdom Amazon Prime subscribers can put on their preferred portable VR headset and enjoy Amazon Prime Video on their own personal screen.
Users can access all Amazon Prime Video content using the Prime Video VR app in a virtual reality viewing environment. All of your favourite Prime programmes are available for regular viewing, just on a big, private screen. You may browse all the available content and start shows or movies with the click of your controller in a virtual cartoon town after putting on your VR headset and launching the app.
By shutting out the outside world and focusing just on the video content, you may enjoy a much more intimate and private viewing experience. Additionally, it replicates the theatre experience in your house without the high cost of large screens, projectors, or surround sound systems.
You can also watch other 360-degree VR-style videos on Amazon Prime Video VR. You can also watch other 360-degree VR-style videos on Amazon Prime Video VR.
Follow these steps to get started:
Press the menu button on the right-hand controller
At the bottom, select the orange and white shopping bag icon (the store).
At the top of the screen, click the search icon.
Search for "Prime Video VR"
To download the application, click on it.
After downloading it, you can access it by clicking the applications button (nine squares on the right-hand side of the menu)
Open the app and sign in using your Amazon Prime credentials.
Enjoy
Streaming content with Bigscreen on your Quest 2
You can use Bigscreen, which is a free app, on your Quest 2. With the help of this programme, you can easily enter your own virtual theatre. Bigscreen is not just for watching TV and movies; it can be used for a variety of purposes. It can also be used to participate in virtual social interactions, attend virtual schools, and remotely monitor your desktop screen.
However, Bigscreen may also be used to view a wide variety of content. To view in privacy, you can also let your buddies share your screen.
Remote desktop is the simplest way to watch with Bigscreen, so follow these steps to get started:
First, download and install the Bigscreen software by using your Quest 2 to search the store.
When there, select the remote desktop link.
Visit the Remote Desktop website in your browser while doing this on your PC and download the programme there.
Link the app to your VR app after launching it on your computer.
All that's left to do is open your browser and log into your preferred streaming service or video website to start watching.
If you want to watch anything from Hulu, Paramount+, or Disney+, a big screen is the best option. Simply perform the actions outlined above and then open the pertinent websites in your preferred browser.
How to watch YouTube on your Meta Quest 2
As you might have guessed, your Quest 2 has a tonne of options for streaming video content. YouTube is one of them. You can get a specialised YouTube VR app from the app store. You can use this app to get all the standard YouTube content that you would typically enjoy. You also have access to all of YouTube's 360-degree and virtual reality content.
Conclusion
The Meta Quest 2 is a great way to unwind and catch a feature-length film or a great TV show. Whether you are doing that by yourself or you are meeting up with friends in a Bigscreen theatre, watching a movie with your Meta Quest 2 is immersive, entertaining, and a visual spectacle. It's a great way to meet up with friends who live far away or even nearby. The Meta Quest 2 is a lot of fun, and it is something everyone should try and experience.