If you want to download games for your Meta Quest 2 VR (also known as the Oculus Quest 2), don't worry, it's a straightforward process. To get started, follow this guide, and you'll be able to play as many games as you'd like.
Simply head to the Meta Quest Store on the mobile app or in your headset to download new apps and games. Once you've purchased or downloaded an app, it will appear in your side panel.
To download new content from your headset:
To access your universal menu, press the controller button on your right.
Choose Store.
Choose the files you wish to download.
If it's a purchase, choose the price, or choose Free if it's a download.
To download new content from your phone:
Select Store from the bottom menu after launching the Meta Quest app.
What you want to download is tapped.
If it's a purchase, tap the price. If it's a free download, tap Free.
Remember to put on your headset and visit the "Not Installed" part of your panel to view any newly added or purchased content that hasn't yet finished downloading if you're having problems doing so. To download your games without experiencing any network issues, you should also make sure that your internet connection is steady.
For purchases, I recommend using the mobile app rather than the website. The main reason for this is that you must enter your payment method on Quest 2 every time. You'll find it more convenient because your mobile device can remember previous cards.
Many Oculus Store VR games include a free demo that you can download. It's only a small portion of the overall experience, but you can see if the title matches your gaming preferences.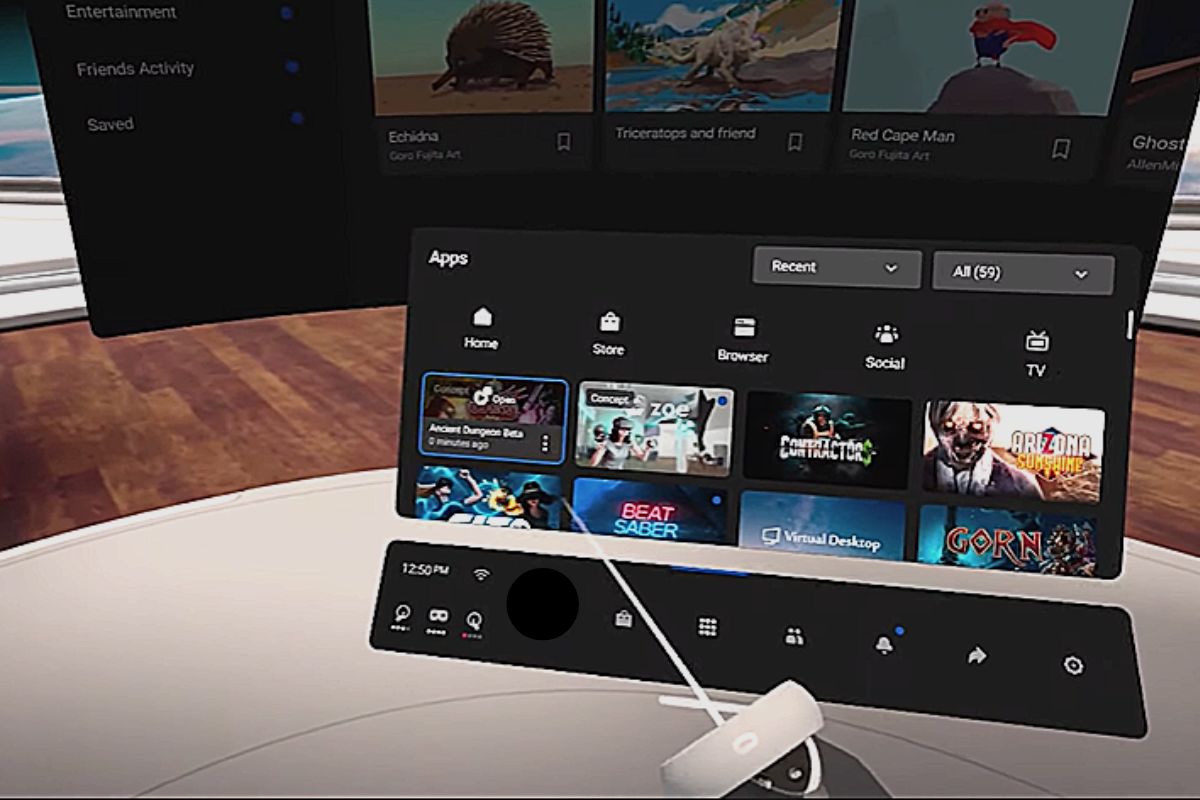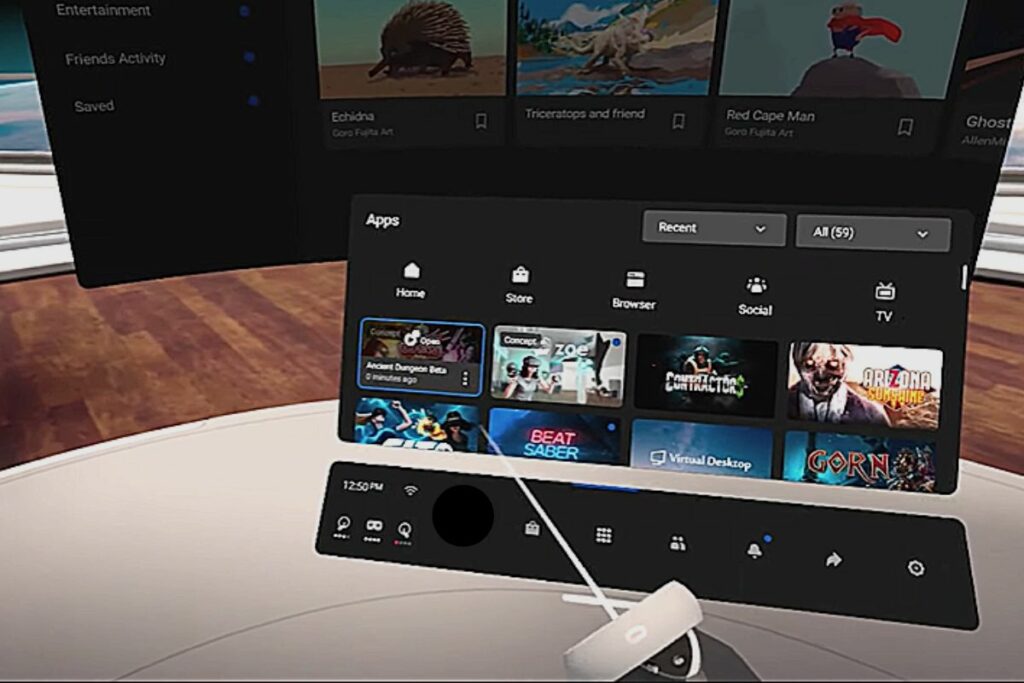 How to Get Games on Steam for Your Oculus Quest 2
Steam is the next place to find VR games. There are several games available on Steam VR, both for purchase and for free. Although you can buy some Oculus Store titles on Steam, you won't be able to put them on your headset that way.
You'll put them on your PC instead. This is preferable because some of the more demanding games necessitate high-end gaming gear to function properly.
Additionally, there are primarily two ways to use your Meta Quest 2 to play Steam VR games. The headset can be connected to the PC using either Oculus Air Link or a USB-C cable. Be aware that if your internet connection isn't the finest, the latter may be jerky.
Air Link
Just a quick note: the Windows 11 update earlier this year caused some performance issues for Air Link users. I strongly advise against using Windows 11 until the issue is resolved if you want to play PC VR content on Meta Quest 2.
The beta version of Meta's Air Link software in the Oculus PC app is the official way to play PC VR content wirelessly on Quest. It was initially limited to Quest 2, but with the V30 software upgrade, it was made available for Quest 1 as well.
Keep in mind that Air Link may not be suitable for everyone—performance and reliability may be unstable or variable depending on your personal setup and network hardware.
How to Set up Air Link
The first step is to enable Air Link on your Quest. To do so, navigate to Experimental Features in your quest's Settings menu. In this tab, there will be a switch to enable Air Link. You must also confirm that your quest is linked to your router.
When you turn on Air Link, a dialogue box appears informing you of the necessary configuration and equipment; click Continue.
Once enabled, you can access Air Link from the Quest's Quick Settings menu by selecting the bottom left corner of the Quest taskbar, as shown in the screenshot below.
The first time you launch Air Link, you must pair it with your PC. Select your PC from the list of linked networked devices. You may also be required to validate a pairing code displayed on your computer.
Launching Air Link
Once activated and paired, Air Link can be launched whenever you want from the Quick Settings option in the Quest toolbar. As long as your desktop computer is turned on and the Oculus software is active, you should be fine.
Once Air Link is activated, using a PC VR headset or a cabled Oculus Link connection to play PC VR games should proceed in the same manner. Enjoy!
How to Set Up a Wired Connection
For greater moving range, we advise obtaining a longer cable. Standing and playing more demanding games shouldn't require more than fifteen feet. Follow these steps to set up your wired connection.
Download the Quest 2 app to your computer.
Your headset should be connected to the computer using a USB-C connection.
Open the Quest 2 app, then select Devices.
Choose your Quest 2 headset by selecting Add Headset.
After setting up your computer, click the Link (Cable).
Launch the Steam client.
Play your Steam games by launching Steam VR.
When connected through a cable, you shouldn't encounter any internet-related lag or delays. The USB connection is quite reliable.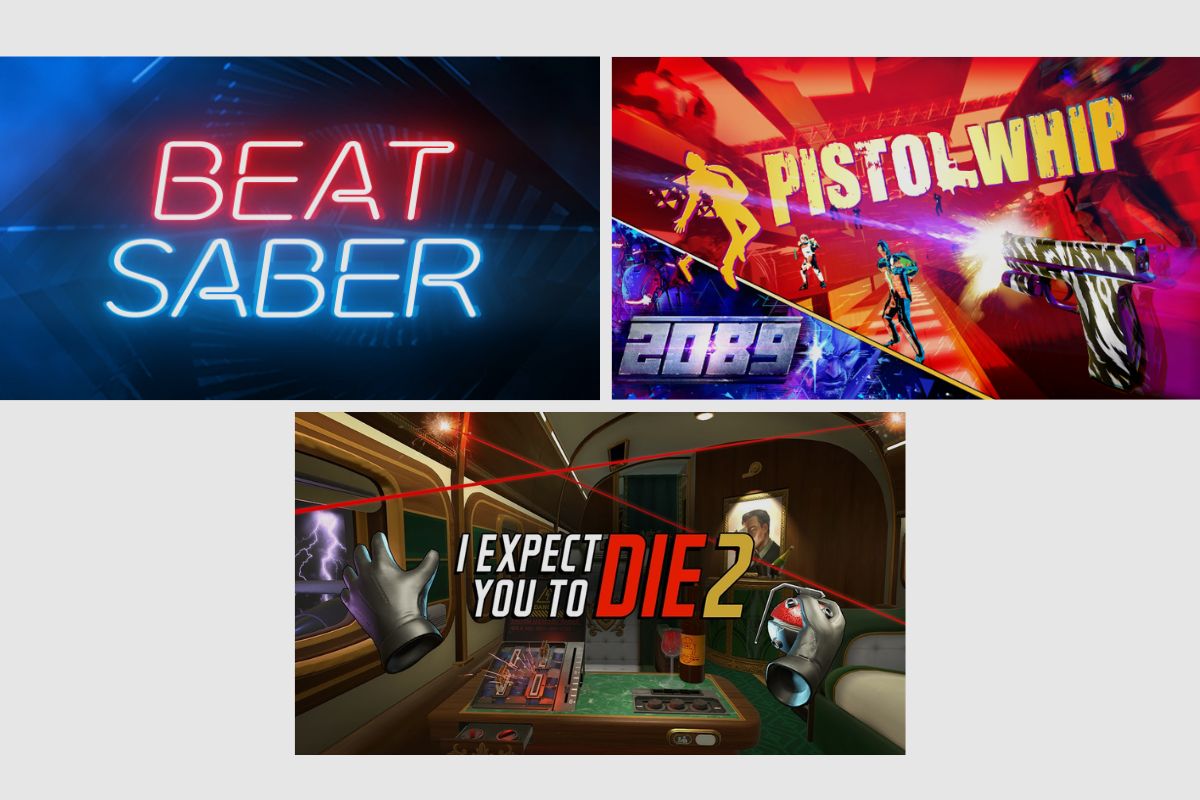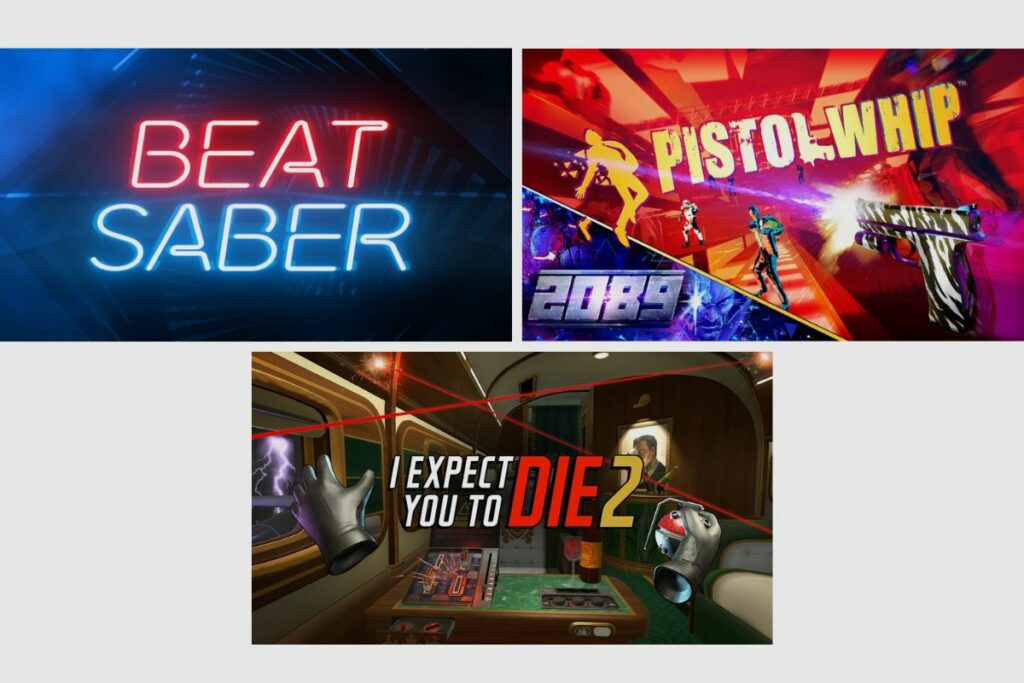 Most Popular Oculus Quest 2 Games
Whether you are looking for a competitive shooter, an action platformer, a single-player adventure game, or even something arcadey to play with your friends, here are some of the most popular games you can play on the Oculus Quest 2
1. Beat Saber
Because of its simple yet addictive gaming mechanics, Beat Sabre is one of those timeless games that will always have a dedicated fan base. All you have to do is choose a song and use your lightsaber to slash through some incoming blocks. It may appear simple, but there is a lot of fun to be had in its simplicity.
It can be a great way to show people how much fun VR can be, as well as how to play games in VR at lower difficulty levels. When you increase the difficulty level, however, the game's beauty shines through, and you can almost find yourself slicing through blocks at super-high speeds like Goku using Ultra Instinct.
It's a fun game that can be enjoyed by people of all ages. Oh, and did I mention it has some of the best-licensed songs on the market? I mean, by far, the best level in the game is Rap God.
2. I Expect You to Die 2
If you've always wanted to be a super spy like James Bond, now's your chance. The ideal spy thriller, Then I Expect You to Die, will make you feel as though you are playing a high-stakes game of tactical espionage. as you assume control of a spy attempting to defend the planet from a mysterious criminal organisation that wants to rule it.
While putting you through a ringer of extraordinarily challenging enemy encounters that will leave you stressed but incredibly satisfied when you win, it also has a lot of puzzle-solving scenarios that will give you extremely satisfying "eureka" moments and make you feel like you have the biggest brain in the world. A good game that delivers in a variety of circumstances and is always enjoyable to play is called "I expect you to die."
3. Pistol Whip 2089
You can kill as many enemies as you can in this quick-fire shooter while avoiding being killed in the process. By awarding bonus points for eliminating foes while the beat is playing, this game also brought a sense of rhythm to the gaming cycle. Think of it as a more aggressive kind of dance-dance battle.
A fully developed campaign mode, a few extra stages, new enemy types, and some new weaponry are all included in the 2089 update. The best part about pistol whip is that it gives you the impression that you are the world's best shooter.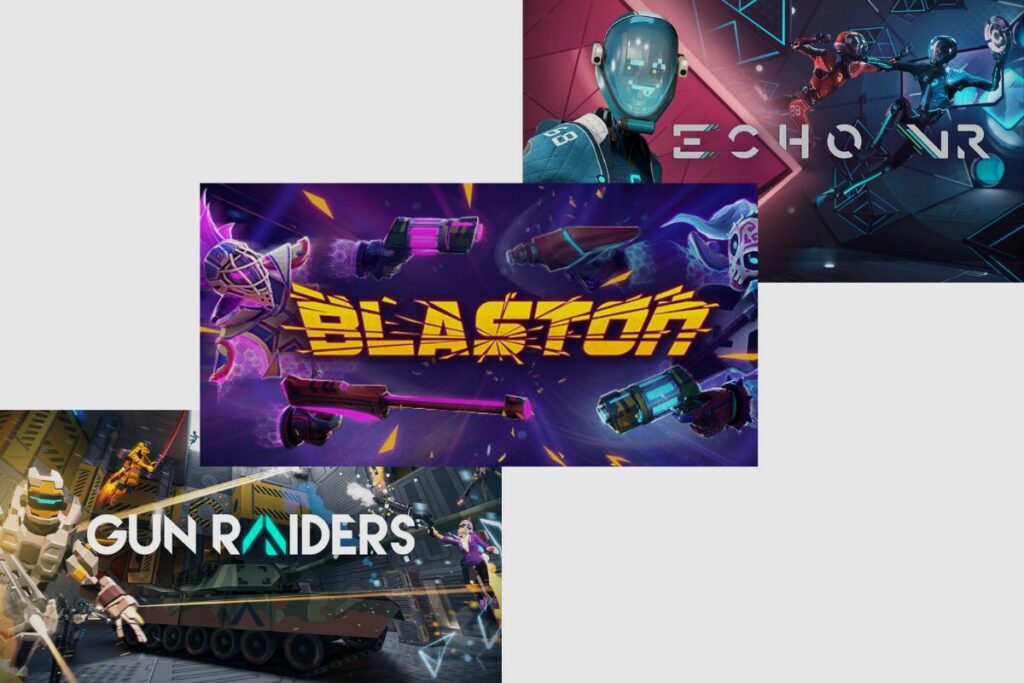 Best Free Games on the Oculus Quest 2
There are a lot of free games on the Oculus Store, and these are some of the best free games you can get on the store.
1. Blaston (Free)
This shooter has recently gone free-to-play, allowing you to compete in one-on-one battles with friends, family, and enemies. Prepare your loadout and get ready to fight as you race for weapons and fire a hail of hellfire at your opponents while Matrix-dodging your way through this inventive bullet hell meets futuristic duelling game. Spend money on cosmetics or don't; it's a lot of fun either way.
2. Echo VR (Free)
Zero-g sports aren't possible unless you're stationed on the International Space Station, and even then, you shouldn't take any chances. In this fast-paced game of ultimate frisbee meets hockey meets whatever, you'll launch quickly towards the goal, elude the opposing team, and hurl your Tron-style frisbee thing for victory.
3. Gun Raiders (Free)
Shooter games are essential for those who play a lot of games, and Gun Raiders is one of the best free options available. In this game, players can experiment with a variety of different shooter game modes, honing their skills with various weapons and making new friends while launching attacks. It's an excellent starting point for new Oculus users.
Conclusion
As technology advances, VR games get more sophisticated. One of the best VR headsets for gaming and social media browsing is still the Quest 2. It merely takes a few clicks and taps to download games for it, and it takes no time at all. Which VR game is your favourite? What could the Oculus Store do better, in your opinion? Comment below with your thoughts, and let me know.
Related Posts: