The Meta Quest 2 has an astonishing selection of games, including fan favourites like Beat Sabre and Vader Immortal. To indie-developed games like Moss and Moss 2, which produce beautifully crafted areas and characters that keep you coming back for more.
In short, the Meta Quest 2 features an enormous game library. There are so many games on their list that you could play for hours. However, not all games on the famous Meta App Store are fantastic. So, in this article, I'll provide you with a list of fantastic games that you can download and enjoy. So stay tuned, because this list will be fun.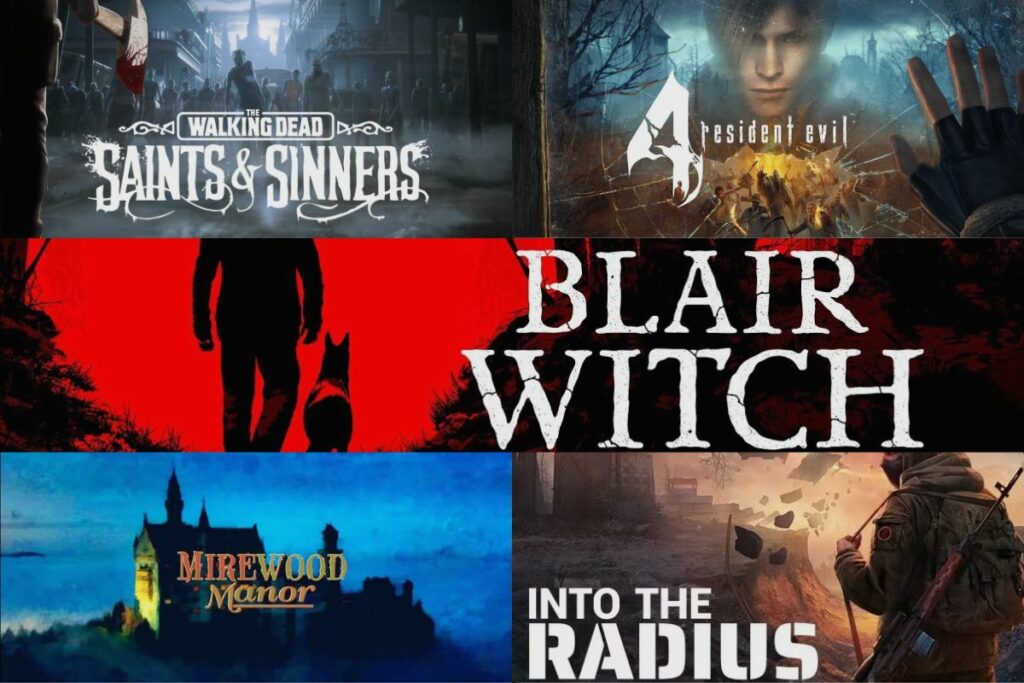 Meta Quest 2 Horror Games
Playing horror games on the Meta Quest 2 is one of the best parts of using the VR headset. The jump scares are more intense because they get right up in your face. The gore and death animations are more realistic because of the hyper-detailed images being produced by the headsets, and sometimes you can't tell the difference between what is real and what is not. VR headsets take horror games to the next level, and it is an experience everyone should enjoy. So, with that in mind, here is a list of some of the best horror games to play on the Meta Quest 2.
1. Walking Dead Saints and Sinners
The Walking Dead: Saints and Sinners is the Quest series' first AAA single-player game. This massive effort combines a lengthy campaign with satisfying physics and authentic settings to create an immersive horror experience. As you sneak, shoot, and scavenge your way through a zombie-infested New Orleans, every key decision you make will have dire consequences.
Thanks to a sophisticated crafting system, you can make improvised equipment with a reasonable weight and scale. You must hold these weapons correctly because, like in real life, they are prone to fracturing after continuous use. Between deteriorating weaponry and a limited stamina system, you must choose the best strategy to achieve your objectives. As a task continues, using covert tactics may make it more difficult.
2. Resident Evil 4 VR
Resident Evil 4 is one of the most famous video games ever made, and most gamers would love to experience it in virtual reality while seeing events unfold from Leon Kennedy's point of view. There is no better time to enjoy the classic game with a brand new level of immersion, as the remake is on the way sooner rather than later.
Resident Evil 4 VR is exclusive to Meta VR and works well; however, some would argue that the game isn't as difficult now that players can freely target their assaults with motion controllers. Regardless, it's a terrific experience that fans of innovative VR horror should try.
3. Mirewood Manor
While you are allowed to tour Mirewood Manor on your own, it is encouraged that you bring two or three people with you. You'll have to navigate dangerous escape chambers, strange ghosts, and never-ending jump scares. The main plot alone can easily take you ten hours to complete, and there are other game modes and mini-games to keep you entertained.
4. Into the Radius
Most individuals will be taken aback by Into the Radius. There's no doubt that the title has all the markings of an action game, with enjoyable objectives, terrific fighting, and a plethora of adversaries to defeat. Fans will remember the frightening components of this title long after they've finished playing.
The horror FPS has enemies who can truly shock the player, pushing them to think quickly and take them out before they cause major harm. This game's setting exudes a real sense of suspense, and players will need to keep their brains and reflexes sharp if they don't want to be overwhelmed by what this game has in store for them.
5. Blair Witch
The film wasn't particularly frightening, and on its own, Blair Witch is a fairly ordinary horror title that didn't break any new ground. However, with the addition of VR, it quickly became one of the most terrifying titles in this genre.
The improved immersion of Meta Quest 2 makes each step difficult to take, with players attempting to avoid the horrors that stalk them in this game. It's by far one of the best virtual reality horror games.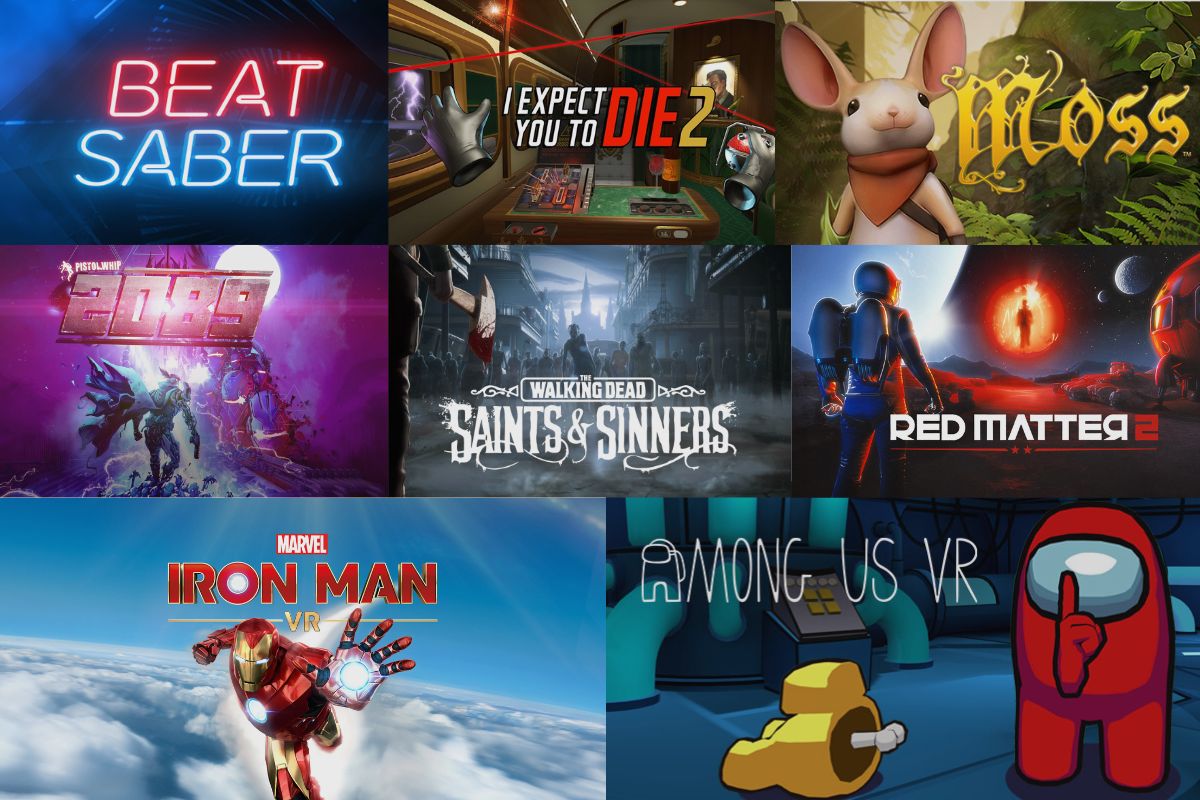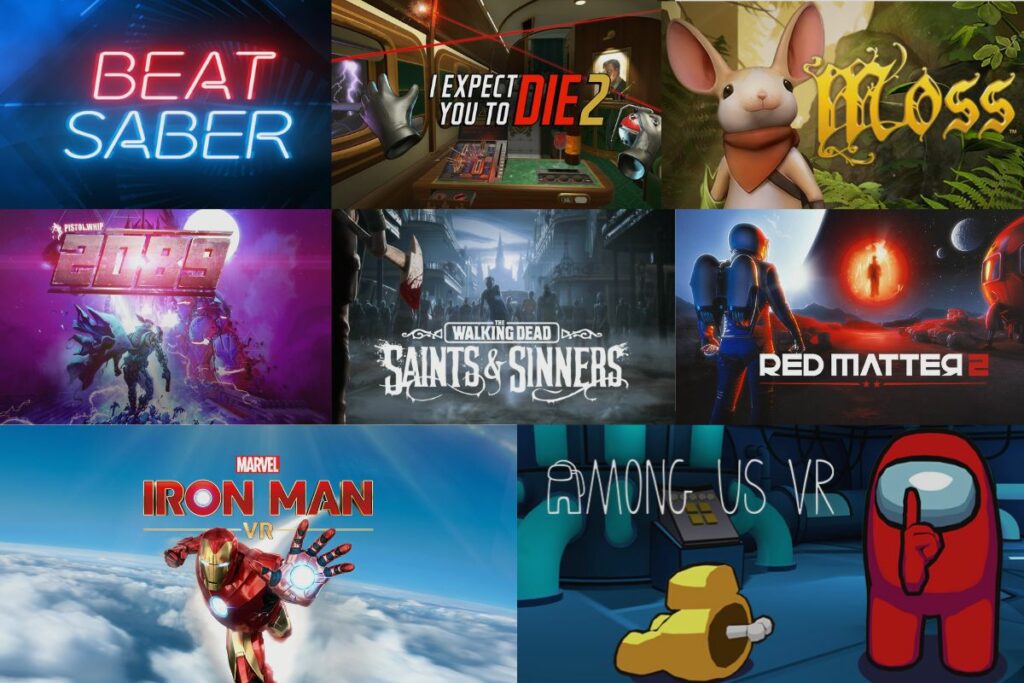 Most Popular Oculus Quest 2 Games
Whether you are looking for a competitive shooter, an action platformer, a single-player adventure game, or even something arcadey to play with your friends, here are some of the most popular games you can play on the Oculus Quest 2
1. Beat Saber
Due to its straightforward yet compelling gameplay mechanics, Beat Sabre is one of those timeless games that will always have a loyal following. All you have to do is choose a song and slash through some incoming blocks with your lightsaber. Despite how straightforward it may seem, there is a lot of enjoyment to be found.
It can be a fantastic method to teach people how to play games in VR and to demonstrate how much fun VR can be at lower levels of difficulty. The brilliance of the game, though, really comes into its own when you boost the difficulty; you'll practically feel like Goku utilising Ultra Instinct as you slice through blocks at breakneck rates.
It's a fun game to play, and it is suitable for people of all ages. Oh, and did I forget to mention that it has some of the best-licensed songs available? I mean, the Rap God level is by far the best in the game.
2. I Expect You to Die 2
If you've ever longed to be the superspy James Bond, this is your opportunity. Then I Expect You to Die is the ideal spy thriller that will have your heart racing as you play a high-stakes game of tactical espionage. You play as a spy attempting to save the planet from a dark criminal outfit attempting to take over the world.
It has many puzzle-solving scenarios that will give you extremely satisfying "eureka" moments and make you feel like you have the biggest brain in the world, while also putting you through a slew of extremely difficult enemy encounters that will leave you stressed but very satisfied when you win. I expect you to Die is a solid game that delivers in many situations and is always fun to play.
3. Moss
Moss is a very cute mouse who travels through exquisitely drawn locations and uses her sword to battle some robot bugs as she attempts to save her habitat. The main gameplay loop entails fiddling with each mini-level to reveal the exits and solving countless puzzles, which you accomplish by controlling your character with the left thumb stick and resolving environmental puzzles with your other hand.
Enemy encounters allow you to swing your sword around and pound some robot bugs, which adds some much-needed adrenaline to the basic loop of solving puzzles. Although it is not a challenging game to play, you will still have a great time doing so.
4. Pistol Whip 2089
This is a fast-paced shooter in which you must shoot as many enemies as possible without being killed. This game also added a sense of rhythm and beats to the gameplay loop by awarding bonus points for destroying monsters when the beat was playing. Consider it a more aggressive style of dancing.
The 2089 update includes a fully planned campaign mode, fresh stages to play in, new enemy types, and new weapons. The best part about Pistol Whip is that it makes you feel like the world's best shooter.
5. Walking Dead Saints and Sinners
The Walking Dead: Saints and Sinners is the first AAA single-player game in the Quest series. For an immersive horror experience, this mammoth effort combines a protracted campaign with gratifying physics and authentic settings. Every important decision you make will have equally serious repercussions as you sneak, shoot, and scavenge your way through a New Orleans overrun with zombies.
You can create improvised equipment with a plausible weight and scale thanks to a clever crafting mechanism. You'll need to grasp these weapons correctly because they are prone to shattering after repeated usage, much like in real life. You must choose the best strategy to accomplish your goals between decaying weapons and a constrained stamina system. Stealthy methods could make things more challenging as a task progresses.
6. Green Hell VR (Quest 2 & Quest Pro)
Green Hell VR takes the popular flatscreen survival game and immerses players in a whole new level of intensity on the Quest 2 and Quest Pro platforms. Developed by Schell Games, this virtual reality adaptation brings the lush and dangerous world of Green Hell to life in a way never experienced before.
Compared to the PC VR version, the Quest 2 version has been streamlined specifically for standalone VR play. While the graphics may not be as high-fidelity as the PC version, the gameplay remains intact, providing players with a challenging and immersive survival experience.
One of the standout features of Green Hell VR on the Quest 2 is the meticulous VR interaction. Players can physically reach out and grab objects, chop down trees, start fires, and build shelters, all with intuitive hand movements. The level of immersion truly enhances the intensity and realism of the game, making every decision and action feel more impactful.
Whether you're a fan of the original game or new to the Green Hell experience, Green Hell VR on Quest 2 and Quest Pro offers a unique and thrilling survival adventure. Strap on your VR headset and step into the dangerous depths of the jungle – but remember, in this hostile environment, every choice matters.
7. Red Matter 2
Red Matter 2 is a visually stunning sci-fi adventure game that is available on both the Quest 2 and Quest Pro platforms. In this immersive experience, players are transported to a futuristic world where they must unravel the mysteries of a secret research project gone wrong.
The game focuses on environmental puzzles and occasional combat, offering a slow-paced gameplay that encourages exploration and strategic thinking. As players navigate through the game's atmospheric environments, they will encounter various challenges that require them to manipulate their surroundings and solve intricate puzzles.
One of the standout aspects of Red Matter 2 is its impressive visuals. The game boasts stunning graphics and beautiful sci-fi vistas, immersing players in a visually captivating experience. Whether it's exploring abandoned research facilities or traversing breathtaking landscapes, every scene in Red Matter 2 is a treat for the eyes.
Whether you're playing on the Quest 2 or the Quest Pro, Red Matter 2 delivers an engaging and immersive sci-fi adventure. With its focus on environmental puzzles, slow-paced gameplay, and breathtaking visuals, this game is a must-play for fans of the genre.
8. Marvel's Iron Man VR
Marvel's Iron Man VR is an action-packed virtual reality game that allows players to step into the shoes of Tony Stark and experience the thrill of being Iron Man. With the release of the Quest 2 version, this immersive superhero experience has been taken to new heights.
In Marvel's Iron Man VR, players have the opportunity to fly through the skies as Iron Man, utilising his iconic flight and fighting capabilities. As they journey through the game's storyline, players will confront Ghost and her army, battling them in various locations and facing intense challenges along the way.
The Quest 2 version of Marvel's Iron Man VR brings improved graphics and performance, making the experience even more immersive. With the enhanced visuals and smooth gameplay, players can truly feel like they are inside the armoured suit, fighting enemies and saving the world like Tony Stark.
With its addictive gameplay and immersive storyline, Marvel's Iron Man VR offers an unparalleled superhero experience. Whether it's soaring through the skies, blasting enemies with repulsor rays, or solving challenging puzzles, players will be captivated by the action and excitement of being Iron Man. Strap on the virtual reality headset and get ready to become the iconic superhero in Marvel's Iron Man VR.
9. Among Us VR
Among Us, VR takes the popular deception and intrigue gameplay of the original game and transports it into the virtual reality world of Meta Quest 2. This exciting adaptation allows players to fully immerse themselves in the cat-and-mouse chase as crew members try to identify the Imposter among them.
In Among Us VR, players find themselves aboard a spaceship, working together to complete tasks and ensure the ship's smooth operation. However, unbeknownst to the crew, there is an Imposter hidden among them, intent on sabotaging their efforts and eliminating them one by one.
The addition of virtual reality to Among Us intensifies the experience, as players can physically move around the spaceship, interact with objects, and communicate with fellow crew members using voice chat. This heightened level of immersion enhances the thrill of the game, making players feel as if they are truly onboard the spaceship, unravelling the mystery, and hunting down the Imposter.
Among Us VR on Meta Quest 2 is a captivating experience that brings the beloved deception and strategy of the original game to life in a whole new way. Get ready to test your deductive skills and outmanoeuvre your friends as you embark on this thrilling virtual reality adventure.
Conclusion
It is fantastic to see so many individuals entering the virtual reality arena and creating so many games for it, and the Meta Quest 2 includes a wide selection of games. Games on the Meta Quest 2 are being pushed by titles like Beat Sabre and many others. They demonstrate that VR gaming is not a fad but rather a trend. Thank you so much for reading this. Please leave all of your questions in the comment section, and I will get to them as soon as I can.
Related Posts:
Resources: