It can be very frustrating to get locked out of your phone when you have forgotten your password on your Samsung Galaxy A02s. Or sometimes, we can get a bit lazy when we don't want to unlock our phones with our passwords.
Getting your phone unlocked can become a bit of a drag, especially when you don't have the time.
In this article, I'll be going over some of the ways you can unlock your phone when you have forgotten your password. So, sit tight and just give this article a few minutes of your time so you can learn how to unlock your phone without the password with just a few steps to get it done.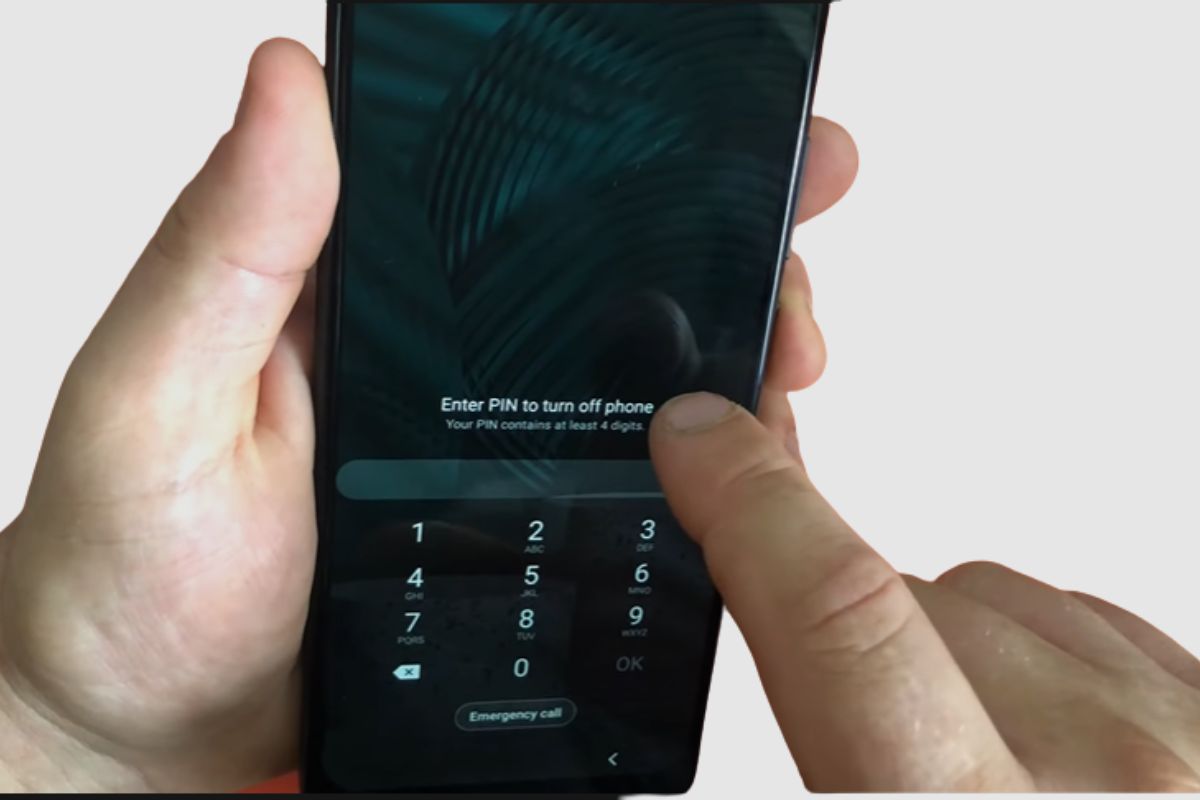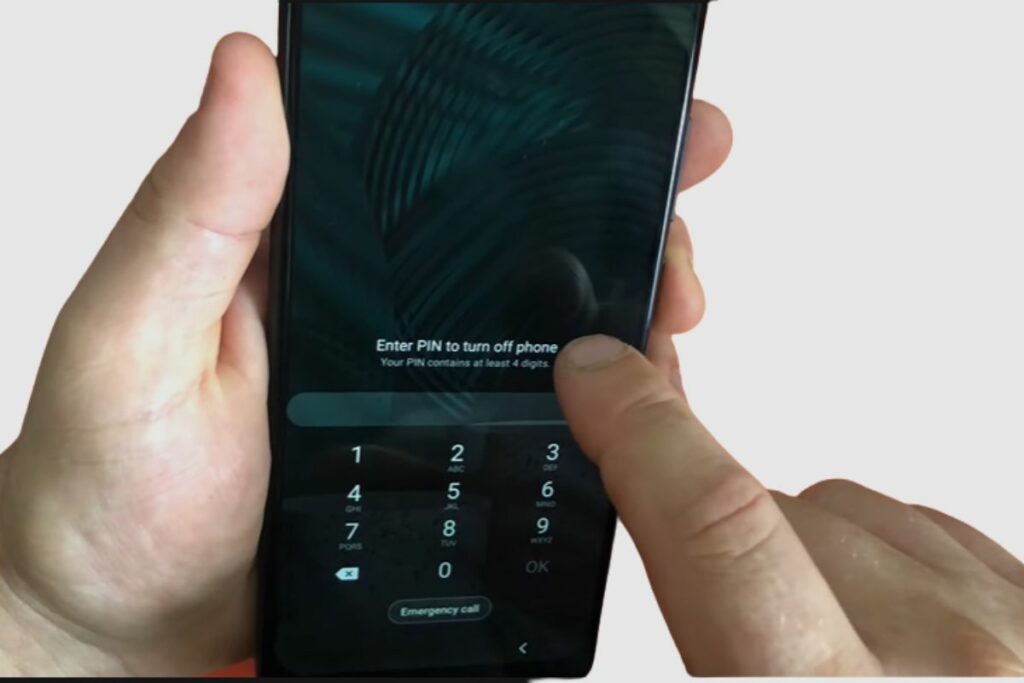 Here are a few examples of the different kinds of blockages your SAMSUNG Galaxy A02s might have.
Blocking the screen with a password, pattern, or face lock. You must use Android Recovery Mode to remove that type of blockade successfully; from there, you can successfully perform the Hard Reset operation.
If you forget your Google account login information, Google Verification / Factory Reset Protection is available. You must figure out how to link a new Google account to your SAMSUNG Galaxy A02s.
You can Unlock Your Samsung Galaxy A02s by Biometric methods like:
Use your fingerprint to unlock the SAMSUNG Galaxy A02s by scanning them.
Try using face ID unlock by the front camera for face recognition.
You can try the advanced security measures available on some devices, such as Iris or intelligent Scan.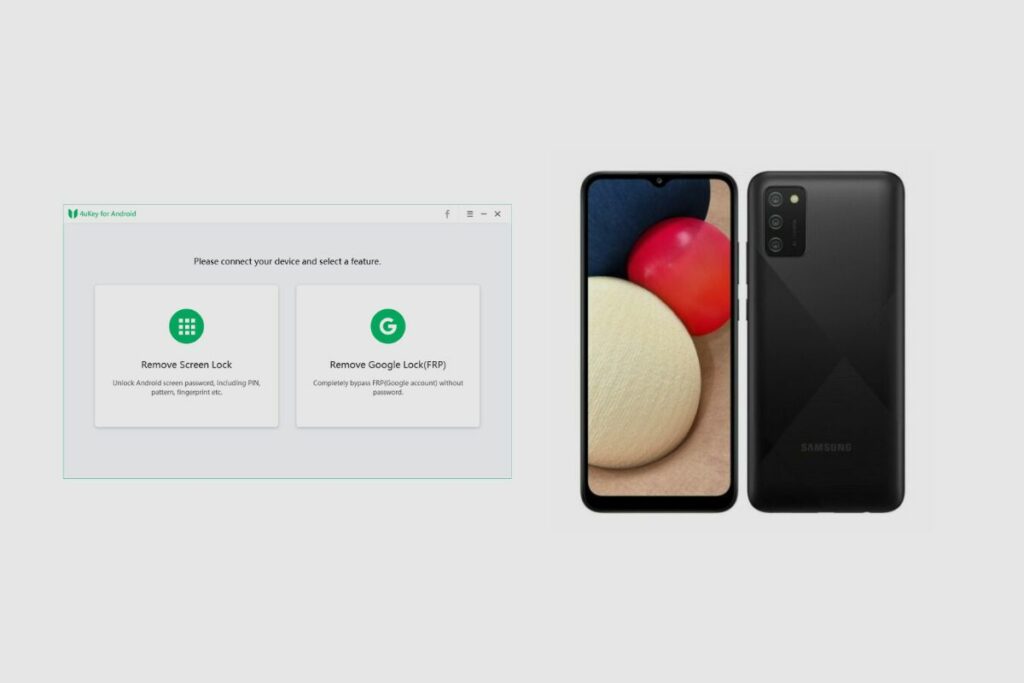 You Can Unlock Your Samsung Galaxy A02s by Using 4UKEY for Android.
To unlock a Samsung A02S without using a pattern or password, you can use a specialised Android lock screen removal tool. The incredible software Tenorshare 4uKey for Android enables you to access Android devices devoid of a passcode.
Your forgotten Samsung A02s pattern, PIN, or password can be removed in a matter of seconds with just a few mouse clicks. In addition, 4uKey for Android can assist in three simple steps with bypassing Google account verification on a Samsung device.
After downloading and installing this tool on your Mac or Windows computer, follow the instructions below to learn how to unlock Samsung A02s without a password.
Step 1.
Once you activate Android 4uKey, your device needs to be connected to the computer using a USB cable before you start the program. Then you must select the Remove Screen Lock option that is offered.
Step 2.
Choose "Remove Screen Lock" from the two options presented, and then click "Start" to start the procedure.
Step 3.
Check the box that says, "Removing the lock screen will erase all data on this device." Once that is done, a notification will pop up and show you, "The screen lock will be automatically removed by 4uKey for Android".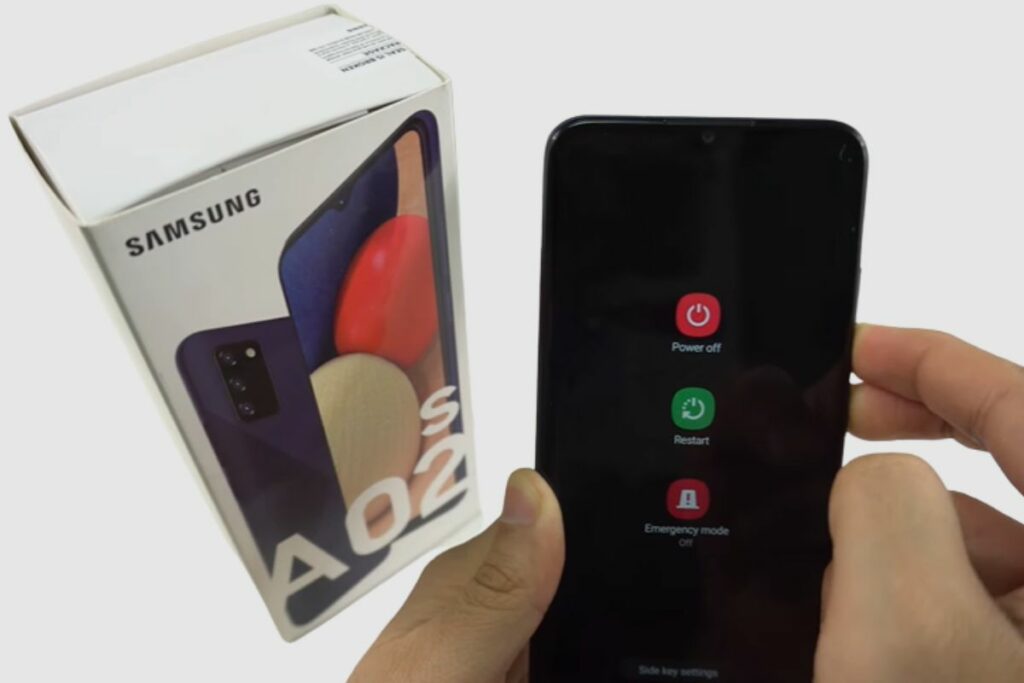 You Can Unlock Your Samsung Galaxy A02s by Using a Factory Reset
The Samsung Galaxy A02s can also be unlocked using a factory reset, which doesn't require the installation of any software on your device. However, since the initial setup of your device requires signing in with your Google account, you should be aware of your Google account credentials before performing a factory reset.
Follow the instructions below to hard reset your Samsung A02s and erase the forgotten password if you can recall your linked Google account and password.
Turn off your Samsung A02s.
If you don't see the Samsung A02s logo on the screen, press the Power and Volume Up buttons together.
An option to wipe data or perform a factory reset will be available when your phone is in recovery mode. Press the power button to choose it after using the volume down button to navigate to the option. Then choose Factory Data to reset using the same method. The reset procedure will begin right away. Select "Reboot system now" when finished, and then wait for your Samsung A02s to restart.
Please note that if you previously used your Samsung A02s to sign into Google, you will need to do so again after performing a factory reset. However, you can use 4uKey for Android to bypass your Google Account on your Samsung device if you can't remember your Google Account details.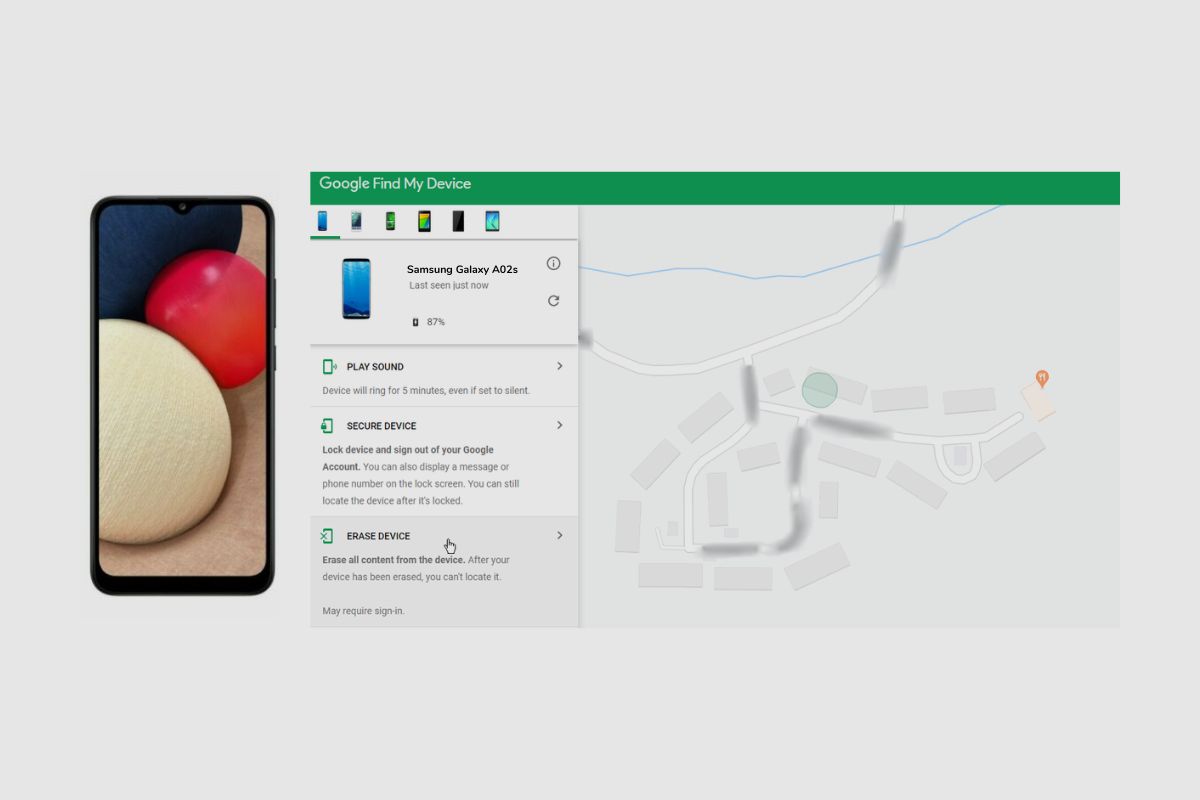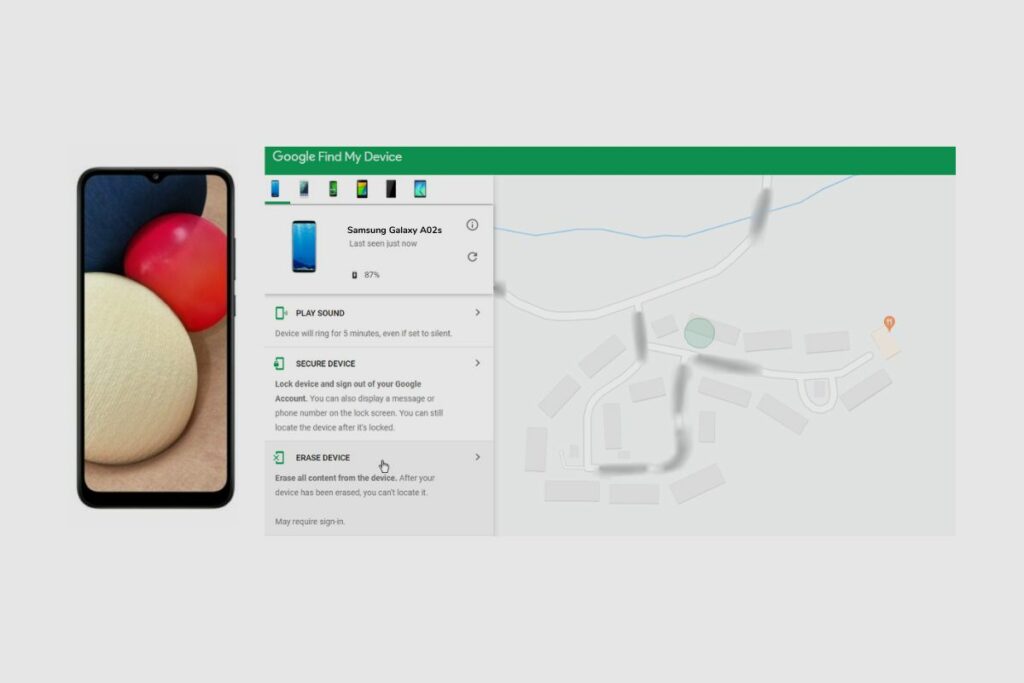 You Can Unlock Your Samsung Galaxy A02s by Using Google Find My Phone
There is another way to remotely unlock the Samsung A02s in addition to the previously mentioned steps. You'll need the Google account login information from your phone to use this method.
Keep in mind that when you reset your device, all your data will be lost. The Samsung Galaxy A02 can be unlocked using Google Find My Device by following the instructions below.
Using any web browser, go to the Google Find My Device website and sign in using your Google account.
Select the locked device after logging into the account, then select "ERASE DEVICE."
Click the green "ERASE DEVICE" button on the following page, followed by the "Erase" option.
Once finished, the process of deleting data will begin, and the lock screen will be removed throughout.
Your phone should restart with its default settings retained, at which point you can finish the initial setup by following the on-screen instructions.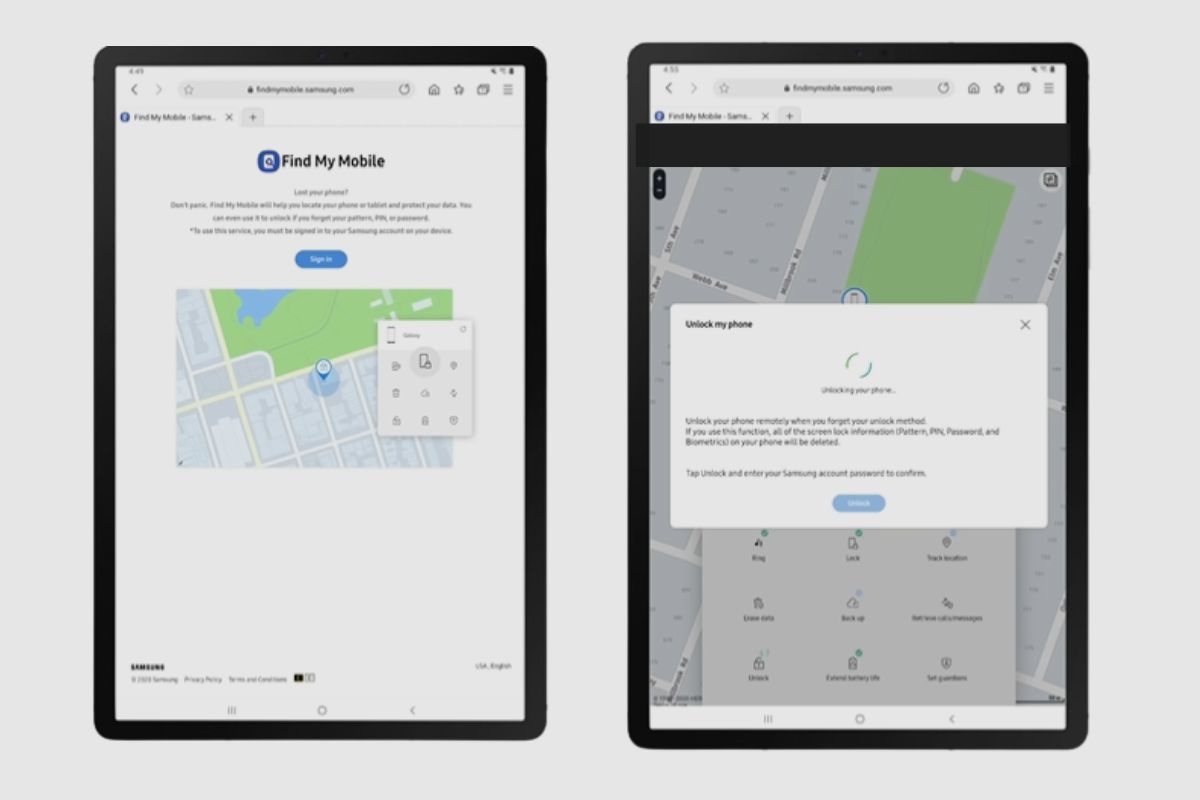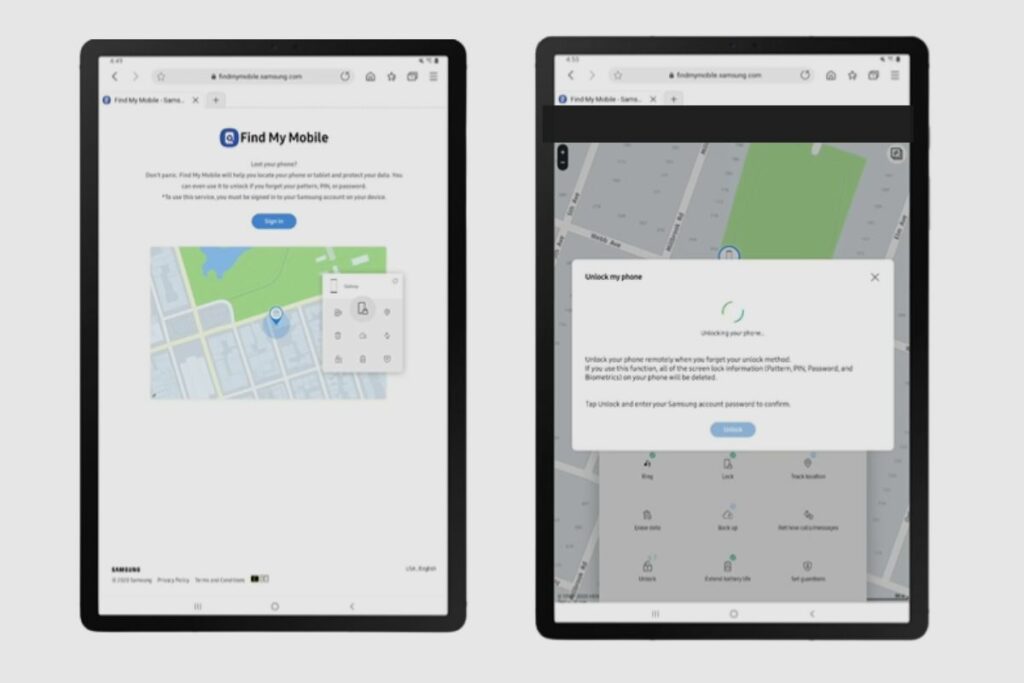 You Can Unlock Your Samsung Galaxy A02s by Using Samsung's Find My Phone
You can use Samsung Find My Mobile to get your Samsung A02s unlocked if it is connected to an active Samsung account and has the Find My Phone feature enabled. Let's look at how to use the Find My Mobile feature to unlock the Samsung Galaxy A02s without a password.
Keep your computer, or other device turned on and networked. Then use a computer or another phone to access the Samsung Find My Mobile website.
When you log into your Samsung account, all your registered devices will be visible. Choose the one that needs unlocking.
Go to the Unlock option in the right pane and confirm by clicking Unlock. You'll need to enter the Samsung account password.
The Samsung A02 unlocking process will begin automatically after selecting Next.
You can pick up your phone and log in without entering the previous password once you see the message "Your phone is unlocked."
Conclusion
Forgetting your password can be a very difficult situation. However, I have given you a few tips that you can use to unlock your phone when you forget your password. However, some of these methods are dangerous, and you should be careful when you use them to unlock your phone so that you don't damage your phone in the process of trying to unlock it. I hope you found this article useful. Please leave your questions in the comments section below, and I'll do my best to answer them. Thank you.