Magnetic phone holders are designed to help make your smartphone accessible to you while driving. They are pretty easy to install; however, they come with instruction manuals on installation and usage.
They are made for users to access their phones while on the road conveniently. It is easy to use and can be used with most types of phones.
This magnetic phone holder is made from very sturdy materials and comes with a strong magnet that holds the phone firmly in place.
Magnetic phone holders also come with an anti-slip rubber ring that keeps it steady when you place your phone on it. It is one of the best selling products because it offers convenience, safety, portability, and protection at the same time.
Before they get an item, many people try to verify and ascertain that what they want to buy really suits their needs and is within their budget. That is why in this content, we will be discussing the advantages and disadvantages of having a magnetic phone holder.
Is A Magnetic Phone Holder Worth Buying?
The Magnetic Mount phone holder is one of the essential accessories you need as a car owner. It is worth buying, especially if it's the Magnetic phone holder-type, which also supports wireless charging.
Phone holders make it easier for you to operate your smartphone in either portrait mode or landscape mode while driving your car. The magnetic phone mount is very crucial, particularly when you need to use the map application on your phone as a navigation tool to your destination or when stuck in traffic and need to join a virtual meeting.
Magnetic phone car mounts are very easy to install on vehicles, air vents, and other plain surfaces because of the strong adhesive used to make them, and some of the different adhesive mounts are the windscreen mount, dash mount, vent mount, bar mount, bike phone mount, suction-cup mount and so on.
The adhesive and strong magnet doesn't cause any damage to the interior of your car/surfaces or even the mobile device. The metal plate on the phone car mount makes it easy for your phone to fuse to the front of the car mount.
In fact, when driving at high speed, your phone is still secure to the magnetic phone holder unshaken. The advantage of the magnetic phone holder is that it won't dislodge from its position and cause damage to your android phone (other smartphones) or lead to an accident.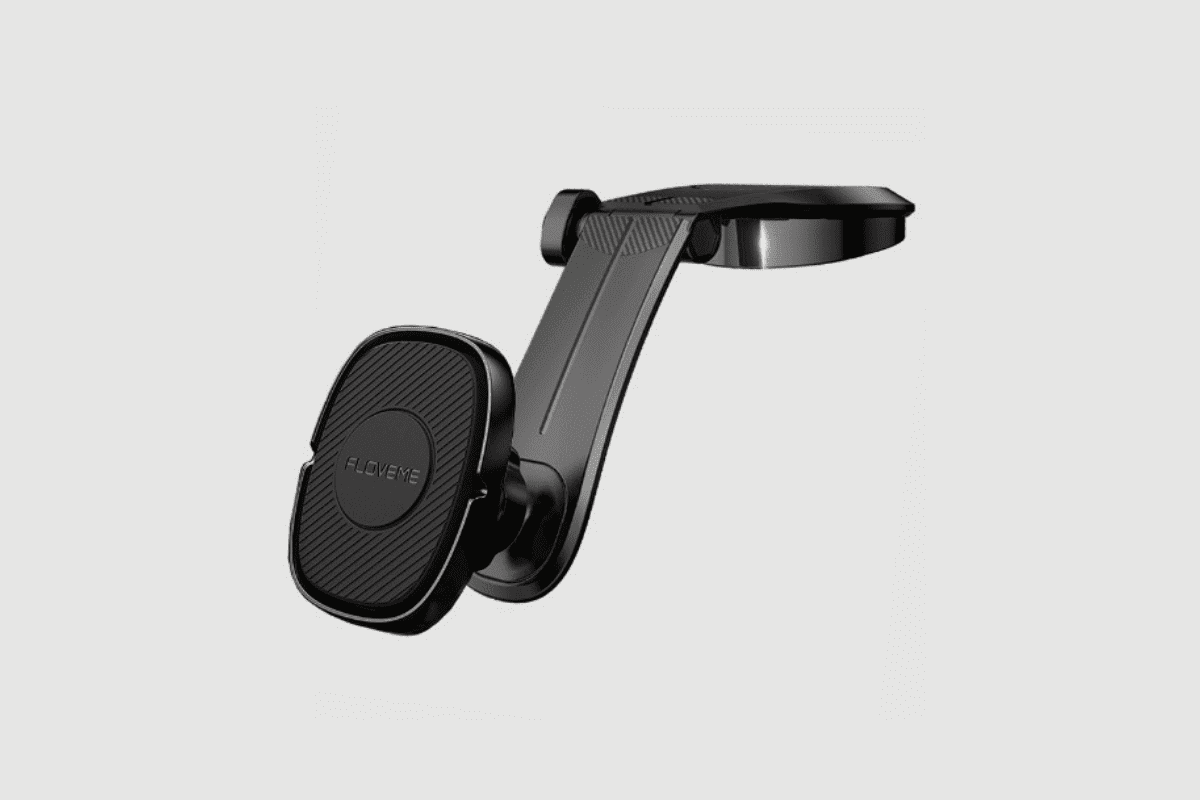 Are Magnetic Phone Holders Good?
The Magnetic phone holders are meant to be a good product and accessory to make life easier for its user. But then, because we have different brands producing magnetic phone holders and some of them use inferior and low-quality materials as such the resulting product is poor and doesn't serve the purpose of a magnetic phone holder.
However, if you are thinking of getting a magnetic phone holder, I suggest you go for the best, not minding the cost because it is better to get quality products that will work and won't damage your smartphone or car. Because getting a cheap and low-quality magnetic phone holder may cause your phone to fall and the screen smash. You also don't need to fear losing your phone data while using a magnetic phone holder as a magnet doesn't tamper with your phone memory in any way.
Does Magnetic Phone Holder Damage Phone Battery?
Magnetic phone holders don't cause damage to the battery of your smartphone. Since I have been using magnetic accessories, I haven't experienced any issue with my phone battery or the battery lifespan. So I believe if you are using good products from the top-recommended brands such as; iOttie, Ainope, WixGear, Floveme, your smartphone battery is very safe and secure.
Although some users have reported lower battery percentages after using a magnetic phone mount, this can be as a result of using the navigation tool while the phone is placed on the magnetic phone mount. I believe we all know that using GPS takes a lot of energy, and as much as your phone battery is not affected by the magnetic phone holder, your phone's compass might be. For Samsung Galaxy phones with a stylus, the stylus function on your phone is affected when attached to the phone mount but once removed; your stylus function will no longer be affected.
Which Magnetic Phone Holder Is Best?
There are a lot of magnetic phone holders and brands out in the market now, unlike a few years back. And as such, one has to be very careful of the brand you are buying and the store from which you will be making your purchase, as a lot of store owners now sell fake brand Magnetic phone Holders.
The top and best brands that produce quality and durable magnetic phone holders are; WixGear, iOttie, Koomus, Bestrix, Kenu, Apps2Car, and Maxboost, just to mention a few good ones.
Conclusion
Magnetic phone holders are the most selling car mount accessories today because of their many essential and unique features. The reliability of the built-in Magnets of the Phone mount makes using a smartphone while multitasking with other activities very easy and stress-free. Magnetic Mount Phone holders are mini-sized and easy to install, causing no damage to any of your property.
For me, the magnetic phone holders are worth buying and quite affordable for all the excellent features and comfort it brings to your life. If you own a car and are yet to get a car mount phone holder, I encourage you to get one today, and you will be happy you did.
Product Image Gallery