Having prior knowledge of which smart home platform your smart lock works with is important because it will guide your decisions on the exact smart locks to purchase.
Smart locks that work with Alexa allow users to use their voice as keys to lock and unlock doors, track their doors to be certain about the lock and unlock status, automatically unlock features as you approach your door, notifications and alerts, a wide selection of connectivity and integrations and provides a temporary key as a voice command for a family member.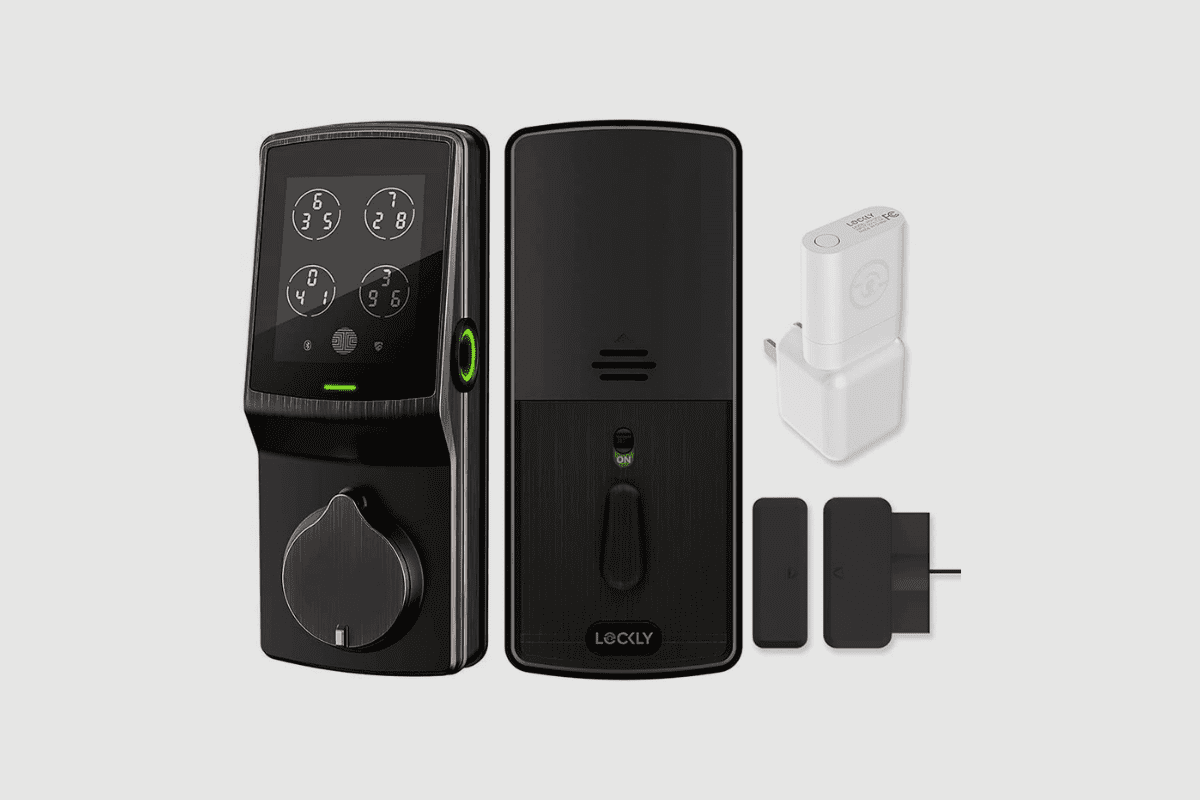 1. Lockly Secure Pro
This is a fingerprint, Bluetooth and WiFi-enabled smart lock by Lockly. It is available in two editions – deadbolt and latch.
The Pro version comes with a WiFi bridge and a wireless door sensor that allows remote control outside of Bluetooth range and allows users to get notifications when their door opens and closes.
Temporary codes can also be created for guests and family members.
The Lockly secure pro is perfect for hotels, condos and accommodations where people are frequently coming and going but require unique passcodes to gain entry. This smart lock costs $299.99.
Features
At Home Privacy Mode
Auto-lock
Security safe mode
3D Fingerprint sensor: This grants access to as many as 99 fingerprints in an instant
Secure Digital Keypad
Universal Fit
Real-time alerts & logs
e-Key distribution
Offline access code: This enables you to send codes remotely without internet access
Door sensors which allow you to check your door status
Voice control works with Google Assistant and Amazon Alexa
Pros
Long battery life
Easy installation
Design is solid
Allows offline creation of ekeys and user codes
Low battery notification
Cons
No HomeKit integration
Does not support IFTTT
8 user code memory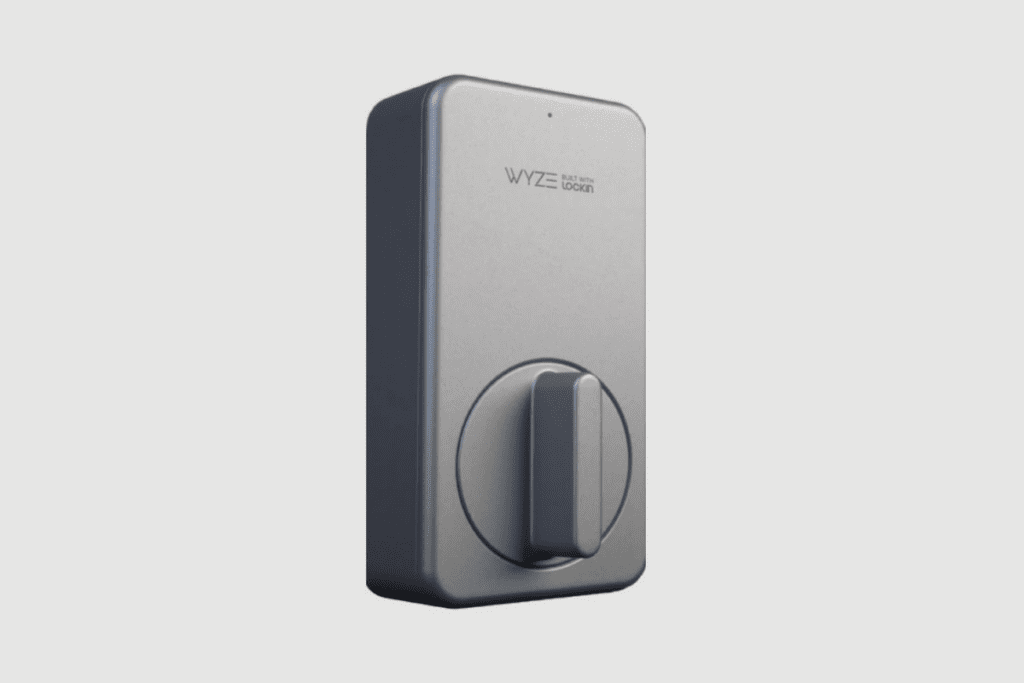 2. Wyze Lock
Available in just silver colour, the Wyze lock is a keyless door lock that enables users to gain entries into their homes or offices while still retaining their deadbolt. The Wyze lock is affordable and durable.
The Wyze lock package comes with the smart lock, 4 AA batteries, Wyze Lock Gateway, an adhesive strip, a mounting plate, 3 adapters and a quick start guide. The Wyze lock costs $129.98.
Features
Voice controls – This allows you to control your smart lock handsfree using Amazon Alexa or Google Assistant
Remote access, which allows users to remotely lock/unlock their doors within the Wyze Mobile app
Door Position Detection – Inbuilt sensors will notify you on whether your door is open, closed or locked.
Lock history
Auto-Lock/Unlock
Two-factor authentication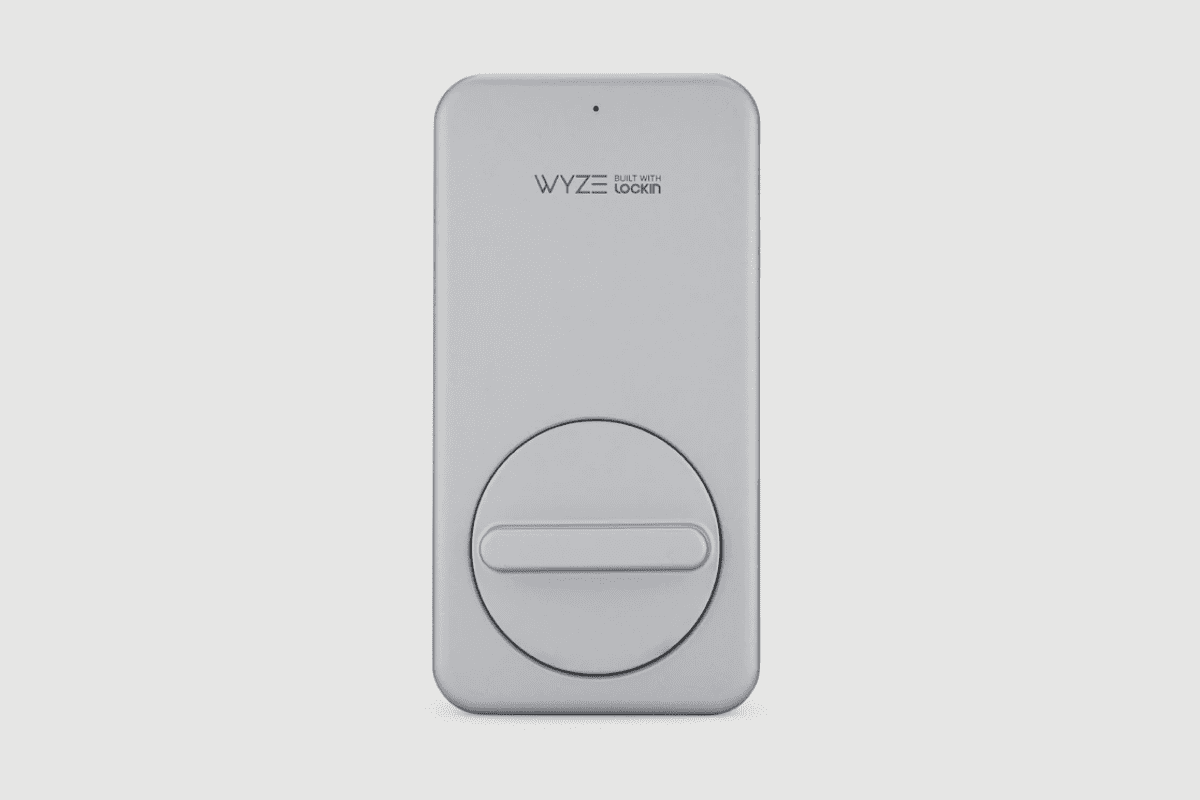 Pros
The Wyze smart lock is affordable and durable
Quick installation
Auto-lock/unlock
Reliable and secure
Voice commands enabled
Cons
Access is app-based
This smart lock is powered by a battery
3. Yale Assure Lock
Costing $169, this sleek smart lock by Yale has a touchscreen keypad that allows users to enjoy keyless entry to their homes. This smart lock has a variant of finishes like satin nickel, black, brass and bronze. With the Yale Assure lock, unique codes can be sent to people and deleted after use.
Features
Auto-lock and relock
Sleek and simple design
It is compatible with basically all smart home platforms like Amazon Alexa, Apple Homekit and Google Assistant.
Backup charger
BHMA Grade 2 certified
Pros
Easy installation
Auto-lock when approaching the door with your smartphone
Design is solid
Cons
The touchscreen does not respond on time.
Requires extra module to control the lock remotely
4. August Wi-Fi Smart Lock
Available in matte black & silver colour, this smart lock is one of the leaders of smart locks and can easily fit the style of any home with its sleek design.
This Wi-Fi smart door lock lets for easy installation since users can continue to use their existing keys.
The August Wi-Fi smart lock is particularly useful for renters because it saves them the stress of installing a brand new door lock. This smart lock by August costs $229.99.
Features
DoorSense sensor: This enables users to know when someone opens or closes the door but leaves it unlocked
Geofencing: By default, your door automatically locks or unlocks as you leave or approach home
Biometric verified access
This Wi-Fi smart lock works with Alexa, Google Assistant and Siri to enable voice to lock and unlock your door, as well as check the status of your door to be sure if it is locked or unlocked.
Built-in secure Wi-Fi connection
Smart alerts
August mobile app: This app is compatible with Android and iOS devices
Notifies you when your batteries are running low
Remote access
Pros
Installation is not difficult
Compact size
Sleek design
Wi-Fi and Bluetooth are inbuilt
You can keep your already existing deadbolt
You do not require additional hardware to connect to Wi-Fi
Works with multiple smart home platforms
Cons
Short battery life span
Costly
5. Schlage Connect Smart Deadbolt
This smart lock by Schlage stands out because it integrates advanced features, particularly with Z-Wave Plus, which provides enhanced security.
It is available in a variety of designs and colours that perfectly fit into any home decoration, and the Schlage Connect smart deadbolt has a variety of finishes such as aged bronze, bright brass, bright chrome, matte black, satin chrome and satin nickel.
It also comes in contemporary, traditional and transitional styles, which allow users to choose their desired style based on their preferences. The Schlage Connect smart lock costs $219.99.
Features
Keyless entry and remote access
Z-Wave Plus security, which provides advanced security
ANSI Grade 1 security rating
Voice control is enabled with Amazon Alexa
Inbuilt ring alarm system
Pros
Different styles and finishes to choose from
ANSI grade 1 security rating
The ring alarm system is built-in
Cons
Hardware is bulky
Does not have a smartphone app
Installation is not easy
Does not work with a variety of smart home platforms
Conclusion
In conclusion, smart locks that work with Alexa offer users high functionality with advanced features, especially their remote access, voice control, and auto-lock/unlock, while providing maximum security.
These smart locks are hereby recommended for users who are lovers of Amazon Alexa.