Lenovo hasn't done much to differentiate the older 2nd Gen model from the newer 3rd Gen model. Lenovo has played it safe here regarding build quality and design and stuck with what works for them. So expect the same aluminium build as last year's model, and it also oddly comes in the same colours as before.
So what are the major changes Lenovo has made to the ThinkBook 14S Yoga Gen 3 to make it worthwhile? The short answer is; nothing much.
However, Lenovo has made some improvements to the build quality of the laptop – reducing the flex in the keyboard and display, which is a decent addition. Still, such an upgrade is not significant enough to warrant much excitement.
The port selection is almost the same as last year, with the addition of a second USB-C port the only noteworthy addition. They also kept the same bottom-firing speakers, which is odd, given that no one likes them.
The fingerprint reader is still in the same place as before, and there is no IR face detection software for the webcam, which is also still the same 720p camera as before. And the keyboard is still the same as last year, but they have made a few changes there.
The only new changes they made to this laptop came in three distinct places, the display, which has a new aspect ratio; the CPU, which is now running the latest Intel 13th Gen processors; and the batteries, which are now bigger and slightly better, but aside from that, there are not many new changes that Lenovo has made as far as I am concerned.
Oh, and before I forget, they also made a minor change to the keyboard. It is still great to type on, but not as expected compared to other laptops' keyboards within the same range, but we'll get to that.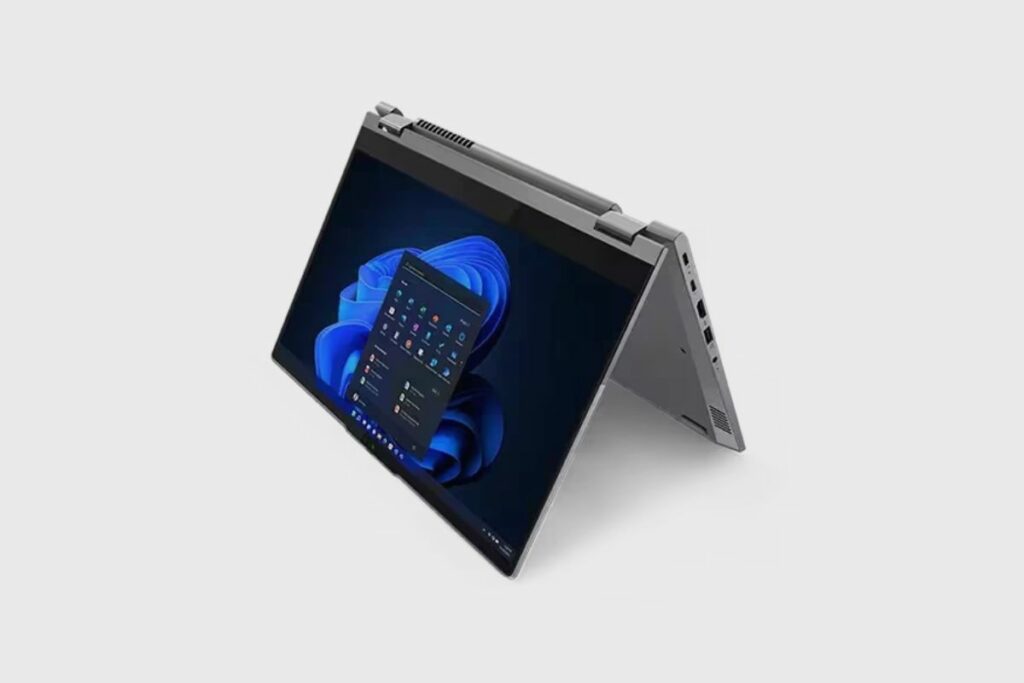 Lenovo ThinkBook 14s Yoga Gen 3 Specifications
The Lenovo ThinkBook 14s Yoga Gen 3 is a versatile 2-in-1 laptop with impressive features for modern business professionals. With a sleek and compact design measuring 0.67 by 12.6 by 8.5 inches, it is highly portable and perfect for on-the-go productivity.
Powered by an Intel Core i5-1335U processor and Intel Iris Xe Graphics, this laptop delivers maximum computing power and crisp visuals. The 14-inch display boasts a native resolution of 1,920 by 1,080, ensuring vibrant colours and sharp details.
Running on Windows 11 Pro, the ThinkBook 14s Yoga Gen 3 provides a seamless and secure operating system. It comes with 16GB of RAM, offering speedy memory for efficient multitasking.
Additionally, this laptop features wireless networking capabilities with 802.11ax, enabling fast and reliable wireless connections.
Overall, the Lenovo ThinkBook 14s Yoga Gen 3 is a powerful and versatile business laptop with impressive specifications and a compact design. It is perfect for professionals on the go who need a reliable and efficient device for work and productivity.
Design
The Lenovo ThinkBook 14s Yoga Gen 3 combines sleek design with professional functionality. Its aluminium body exudes class and durability, making it a reliable companion for business professionals on the go. The laptop is available in two elegant colour options: Mineral Grey and Abyss Blue, allowing users to choose a style that suits their preferences.
One notable design feature is the inclusion of the "ThinkBook" label at the bottom right of the case, showcasing the laptop's association with the renowned ThinkBook brand. Additionally, the "Lenovo" branding runs down the top left vertically, further emphasising the laptop's trusted pedigree.
The backlit keyboard, featured in Iron Grey, ensures seamless typing even in low-light settings, enabling users to work comfortably at any time. The touchpad at the bottom provides precise navigation and multi-finger gestures, enhancing the overall user experience.
Overall, the Lenovo ThinkBook 14s Yoga Gen 3 is a visually appealing and well-designed laptop that combines style and functionality. Its aluminium body, available colour options, ThinkBook branding, backlit keyboard, and touchpad contribute to its overall premium aesthetic, making it an ideal choice for business professionals in search of a reliable and stylish device.
The Display
Lenovo's only major change to the ThinkBook 14s Yoga Gen 3 was its display's aspect ratio; everything else is still largely the same but slightly better. However, the same can not be said about the change in aspect ratio.
Usually, most laptops use a 16:10 aspect ratio, which is great for watching films and doing work and is the gold standard.
However, occasionally, someone tries something different, hoping that it will come off and everyone will switch over to the new aspect ratio. However, this is not one of those situations, and the team at Lenovo that sanctioned this design should really reconsider their opinions because I don't know how anyone thought putting a 16:9 display on this laptop was a good idea.
I know trends always repeat themselves, and I'm sure they thought they were bringing a trend back, but I hate to burst their bubble, but there's a reason why trends stop, and in this case, this trend shouldn't be brought back. 16:9 is an awkward choice, and it's not pretty to look at.
The Processor
Making the shift to a new generation of processors is always a good idea when designing a new laptop, and this is something the Lenovo team couldn't get wrong. The new 13th Gen Intel processors on the ThinkBook 14s Yoga Gen 3 all run great, and the Core i5-1335U version I'm currently testing runs great. However, I'm still a bit disappointed not to see an EVO certification on this laptop, just like last year's model.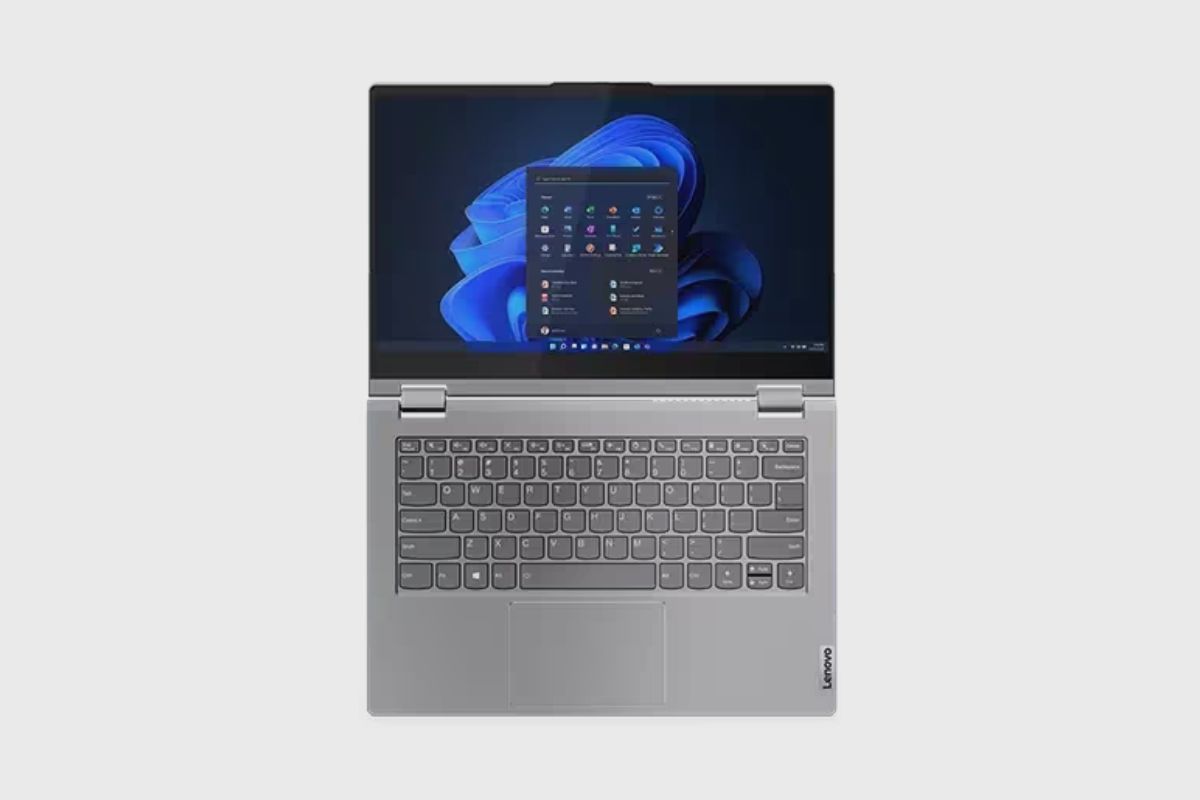 Performance
The primary benchmark UL's PCMark 10 uses measures the overall performance of office-related applications like word processing, spreadsheets, web browsing, and videoconferencing by simulating several real-world productivity and content-creation tasks.
I also conduct the Full System Drive test in PCMark 10 to evaluate a laptop's storage throughput and load time.
Three additional tests evaluate a computer's suitability for processor-intensive applications by concentrating on the CPU and making use of all available cores and threads. Maxon's Cinebench R23 renders a complicated scene using that company's Cinema 4D engine, and we use HandBrake 1.4, an open-source video transcoder, to downscale a 12-minute video clip from 4K to 1080p quality (shorter conversion times are preferable). Geekbench by Primate Labs simulations include speech recognition, PDF rendering, and machine learning.
Finally, I use PugetBench for Photoshop by Puget Systems, a workstation maker, to evaluate the content-creation abilities of each system. PugetBench for Photoshop is an automated add-on for Adobe's Creative Cloud image editor that performs a variety of general and GPU-accelerated tasks, including opening, rotating, and resizing images, as well as applying masks, gradient fills, and filters.
The ThinkBook performed admirably in the productivity and creative benchmarks of PCMark 10 and PugetBench, giving it a reliable option for routine office duties and simple content production but not for demanding workstation workloads. This laptop is for the great majority of people within an organisation, not for highly specialised roles expected to provide customers and clients with high-quality assets or goods.
Graphical Performance
The fact that these laptops' integrated graphics chips fall short of gaming notebooks and mobile workstations' discrete GPUs shouldn't have been a surprise, given their low-performance ratings. The ThinkBook might be able to get away with only the most casual gaming and media streaming while you're not working on it—not fast-twitch action. We simply wouldn't think of using this laptop for anything other than business.
The Batteries
I played a locally stored 720p video file (the free Blender film Tears of Steel) while setting the display brightness to 50% and the audio volume to 100% to test the battery. Before the test, I made sure the battery was completely charged and turned off Wi-Fi and the keyboard backlight. I was able to use the laptop for a reasonable 12 hours, which is a decent rating.
The Keyboard
The two notable flaws on the back-lit keyboard: The cursor arrow keys are first placed in an awkward row rather than an inverted T, with full-size left and right and difficult-to-hit half-height up and down arrows piled between them. Then, rather than including separate Home, End, Page Up, and Page Down keys, it pairs the four arrows with the Fn key.
Despite this, the keyboard still has the satisfyingly fast typing feel I've grown accustomed to, although my sentences first became garbled until I discovered the importance of firmly tapping the space bar on our test device. However, it has a little hard click, the medium-sized buttonless touchpad glides and taps without difficulty.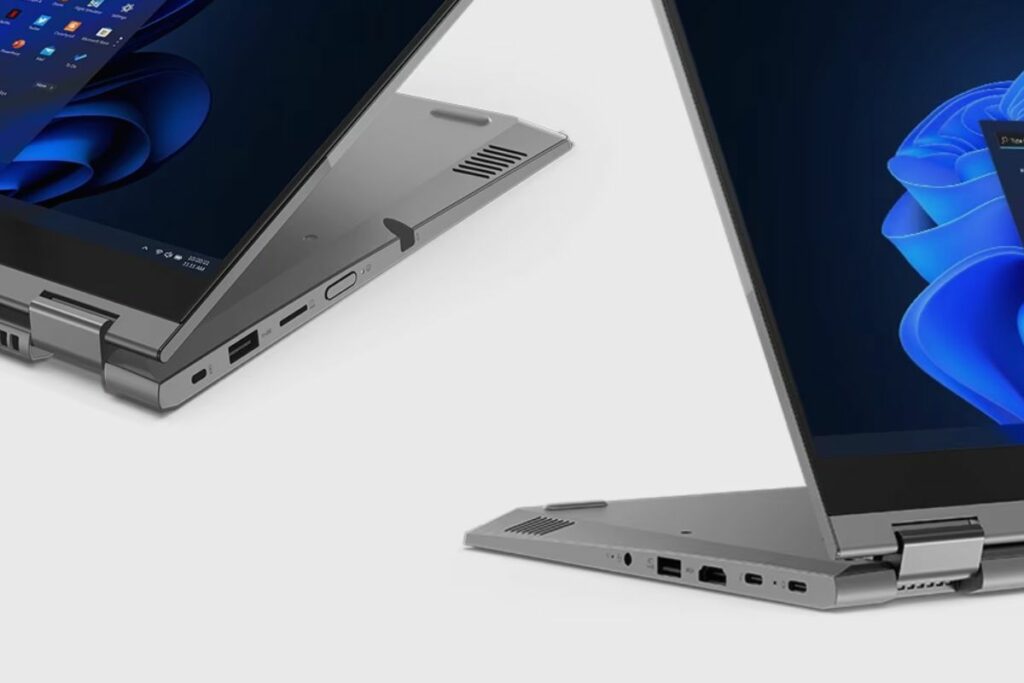 Ports and expansion
The ThinkBook 14s Yoga Gen 3 offers a wide selection of ports and expansion options, making it a highly versatile business laptop. It features a mix of modern and legacy ports to cater to various connectivity needs.
On the left side of the laptop, you'll find two USB-C ports, one of which supports Thunderbolt 4/USB4 technology for lightning-fast data transfer and external display connectivity. The other USB-C port is USB 3.2 Gen 2, allowing for faster speeds when transferring files or connecting peripheral devices.
The laptop also includes an HDMI port, which is convenient for connecting to external monitors or projectors. Additionally, there is a USB 3.2 Gen 1 port for seamless connectivity with USB-enabled devices. A headphone/microphone jack is also available for audio needs.
For system recovery, the ThinkBook 14s Yoga Gen 3 features a pin-sized NOVO hole, allowing users to access the recovery environment when needed easily.
Moving to the right side of the laptop, you'll find a Kensington lock slot to ensure the security of your device. There is also a USB 3.2 Gen 1 port for additional peripheral connectivity. The inclusion of a micro-SD card reader enables users to expand storage or transfer data from compatible devices.
The power button on this side also integrates a fingerprint reader for quick and secure login. Lastly, the pen slot allows for convenient storage and easy access to the digital pen. With its array of ports and expansion options, the ThinkBook 14s Yoga Gen 3 provides the flexibility and connectivity necessary for modern business needs.
Connectivity
The Lenovo ThinkBook 14s Yoga Gen 3 offers a wide range of connectivity options to enhance your productivity and versatility. This 2-in-1 laptop is equipped with Wi-Fi 6, the latest wireless technology, ensuring fast and reliable internet connectivity. Wi-Fi 6 allows you to experience seamless browsing, streaming, and downloading, even in crowded environments.
In addition to Wi-Fi 6, the ThinkBook 14s Yoga Gen 3 also supports Bluetooth 5.1, allowing you to easily connect and synchronise your wireless peripherals such as mice, keyboards, and headphones. Bluetooth 5.1 offers improved stability, range, and data transfer speeds compared to previous versions.
It's important to note that the ThinkBook 14s Yoga Gen 3 does not offer a cellular data option. This means that you'll need to connect to Wi-Fi or use a separate mobile hotspot for internet access when you're on the go.
Overall, the Lenovo ThinkBook 14s Yoga Gen 3 provides cutting-edge wireless connectivity with Wi-Fi 6 and Bluetooth 5.1, ensuring seamless and efficient connectivity for all your business and personal needs.
Final Thoughts
In conclusion, while the Lenovo ThinkBook 14s Yoga Gen 3 establishes its position as a commendable option for small offices, it doesn't necessarily hold its ground as the absolute best value-for-money proposition from Lenovo.
Although the predecessor model received praise as the optimum choice for small to medium businesses in my earlier review, this iteration doesn't quite follow suit, with its price point of £1,700 being a notable caveat.
More economical alternatives exist within Lenovo's portfolio itself, such as the Yoga 7i 14 consumer model which, for a lower cost of around £500 less, offers a superior display, a faster processor, and a modern 16:10 aspect ratio screen.
Even the advanced features of the ThinkPad X1 Yoga Gen 8 are available at a modest increment of approximately £100. Therefore, despite the ThinkBook's adequate performance, it falls short of being exceptional.
Image Gallery – What's New About the Lenovo ThinkBook 14s Yoga Gen 3?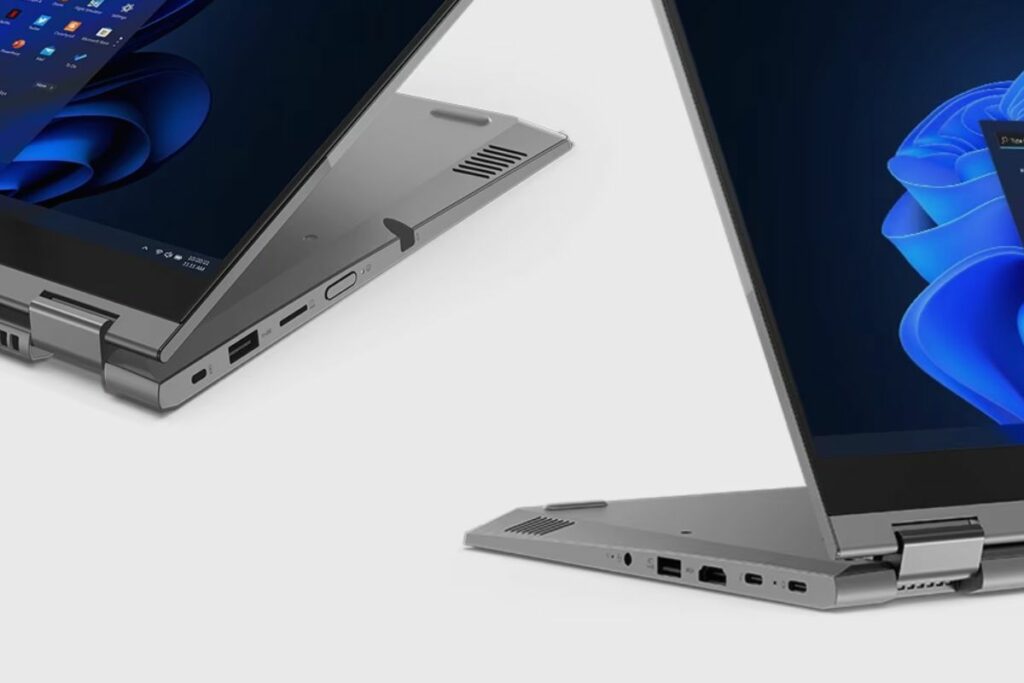 Related Posts:
References: