The Lenovo ThinkBook 14s Yoga is a very solid mid-range laptop that is suitable for a variety of interests and tasks. Whether you are a finance expert working at Goldman Sachs or a digital content creator trying to edit videos and photos for your blog or social media posts, the 14s Yoga is a solid all-rounder that gets the job done. 
However, one thing that stands out about the ThinkBook 14s Yoga is its very colour-accurate display, which makes it a good pick-up for creatives. However, its limited variation in port diversity and IO makes it a less ideal companion for a creative on the go.
Since the ThinkBook 14s is not a creator-focused laptop, it still doesn't have all of the ports that most creators want. To be honest, most laptops don't have the number of ports that their creators want. This is why they always have docks or docking stations on hand to enhance their creative productivity. So, in this article, I'm going to be showing you the different types of docking stations that are compatible with the Lenovo ThinkBook 14s.
Top 10 Docking Stations Compatible with the Lenovo ThinkBook 14s
Since the Lenovo ThinkBook 14s has USB-C, USB-A, and Thunderbolt 4 ports available, it is virtually compatible with almost all kinds of docking stations and is easily able to connect multiple docking stations to multiple devices, allowing anyone to have multiple USB-connected devices to work independently or cohesively with the ThinkBook 14s Yoga. So, here's a list of ten of the best Docking stations for the Lenovo ThinkBook 14s.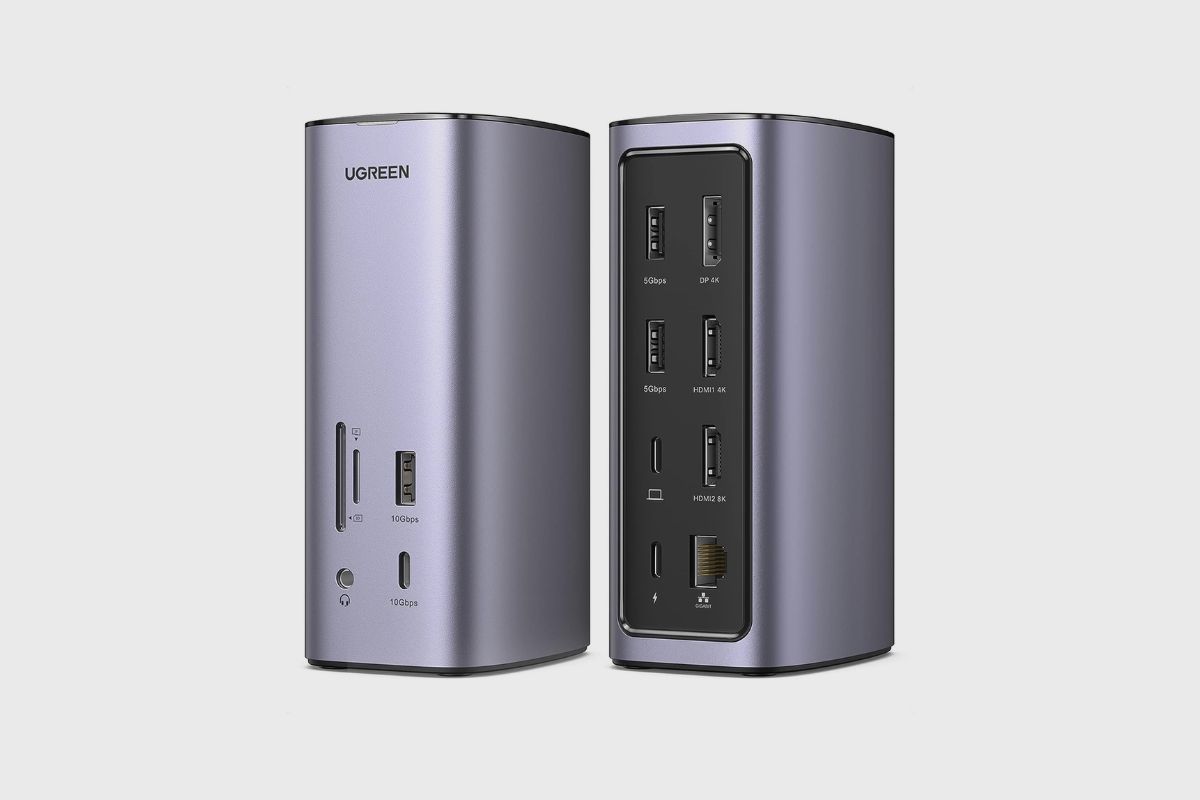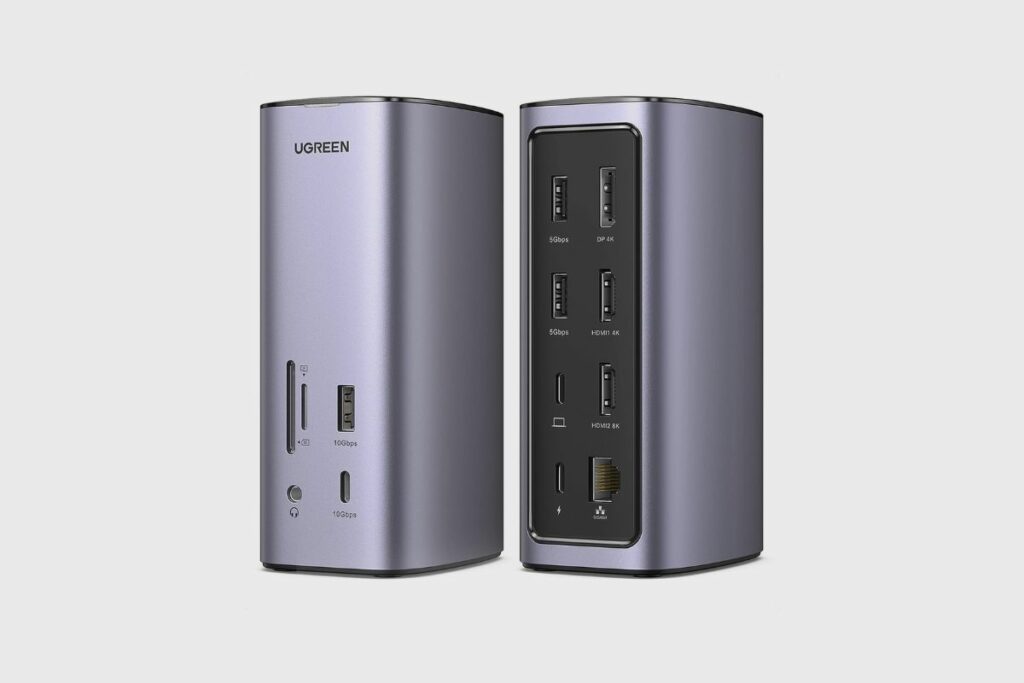 1. The Ugreen USB-C Triple Display Docking Station
Professionals who need to attach several displays and peripherals to their computers for business or anybody else who needs a more effective way to connect their equipment will find the Ugreen USB-C Triple Display Docking Station to be suitable. One USB-C downstream port, three USB-A downstream ports, two HDMI, a DisplayPort, Ethernet, a 3.5mm audio jack, and SD and microSD card slots make up the device's total of 13 connections.
This dock stands out from competing products thanks to its elegant, small design and performance. It is compact enough to fit into a backpack for travel and takes up less workspace. It can drive up to three extended 4K 60Hz displays in both macOS and Windows, and one HDMI connector can support up to 8K at 30Hz, which is a feature that other docks lack.
Since I've been using this dock for the past six months, multitasking has become considerably simpler for me. The lack of a power supply is the only issue, though. It functions quite well without external power, but you'll need to plug an AC adapter into the USB-C PD connector if you wish to charge your laptop at the same time or connect a few high-powered gadgets.
Price on Amazon: $300.
Pros:
Stylish and portable design
Good range of ports
Multiple extended screens are supported on M1 Macs
100W USB PD power delivery
Cons:
Needs a USB-C adapter for charging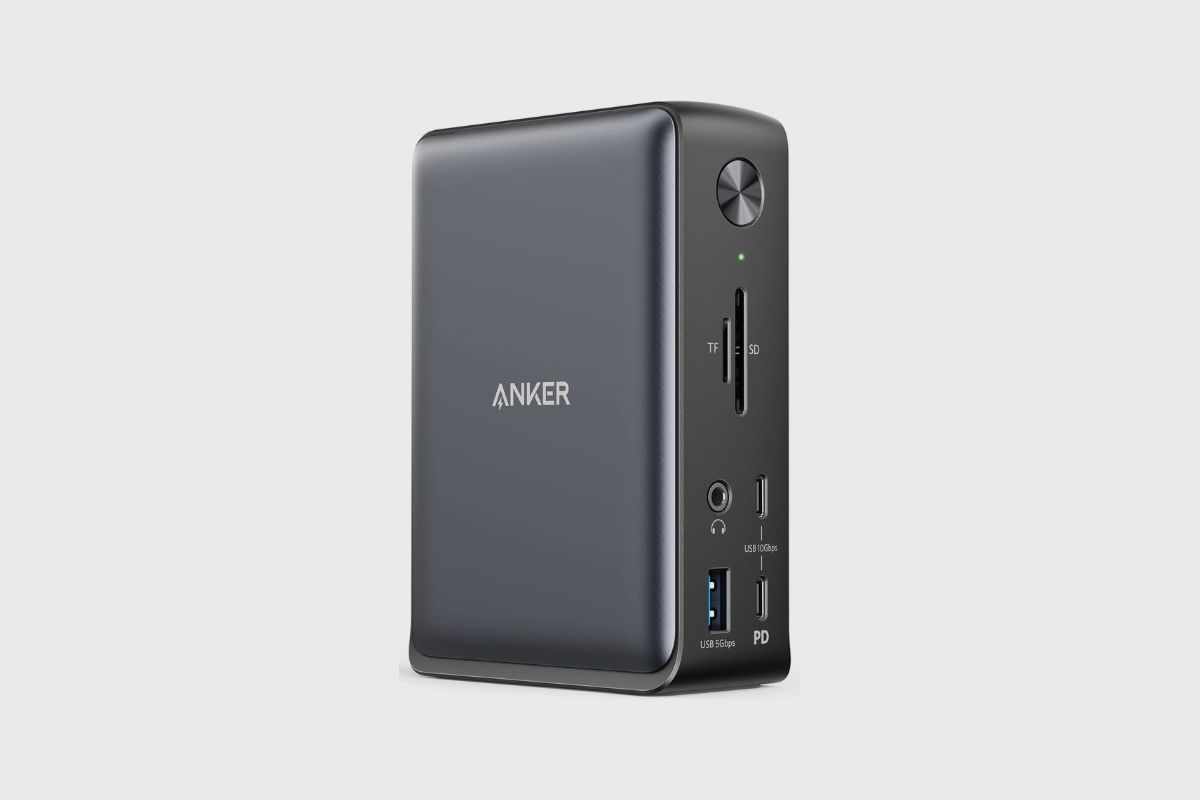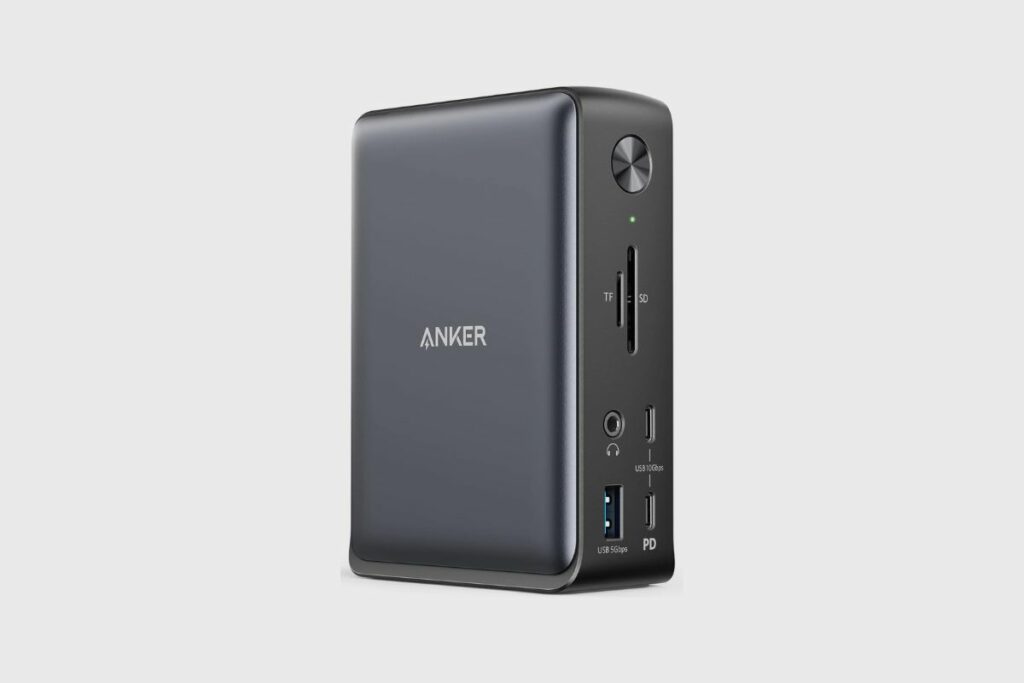 2. The Anker 575 USB-C Docking Station (13-in-1)
The Anker 575 USB-C Docking Station (13-in-1) has more ports than any other USB-C dock, including three USB-A ports, three USB-C ports, two SD card slots, a 3.5mm audio socket, two HDMI ports, a DisplayPort connector, and an Ethernet jack. Furthermore, it comes fully assembled with a power supply and supports up to three external displays and high-speed laptop charging.
The dock has a massive 135W power supply that enables it to charge the host laptop up to 85W and accessories up to 18W via one of the two downstream USB-C connections. Three external 1080p displays and one 4K at 60Hz monitor can both be driven by it. Unfortunately, unlike the Ugreen dock, it only supports one extended display on Macs. This dock has all the necessities needed to transform any USB-C laptop into a powerhouse without costing a tonne of money, even though it isn't as elegant or small as the Ugreen dock.
Price on Amazon: $239.
Pros:
Various ports
Charges laptops with a lot of power quickly.
It has three Display ports.
Cons:
It does not support dual 4K displays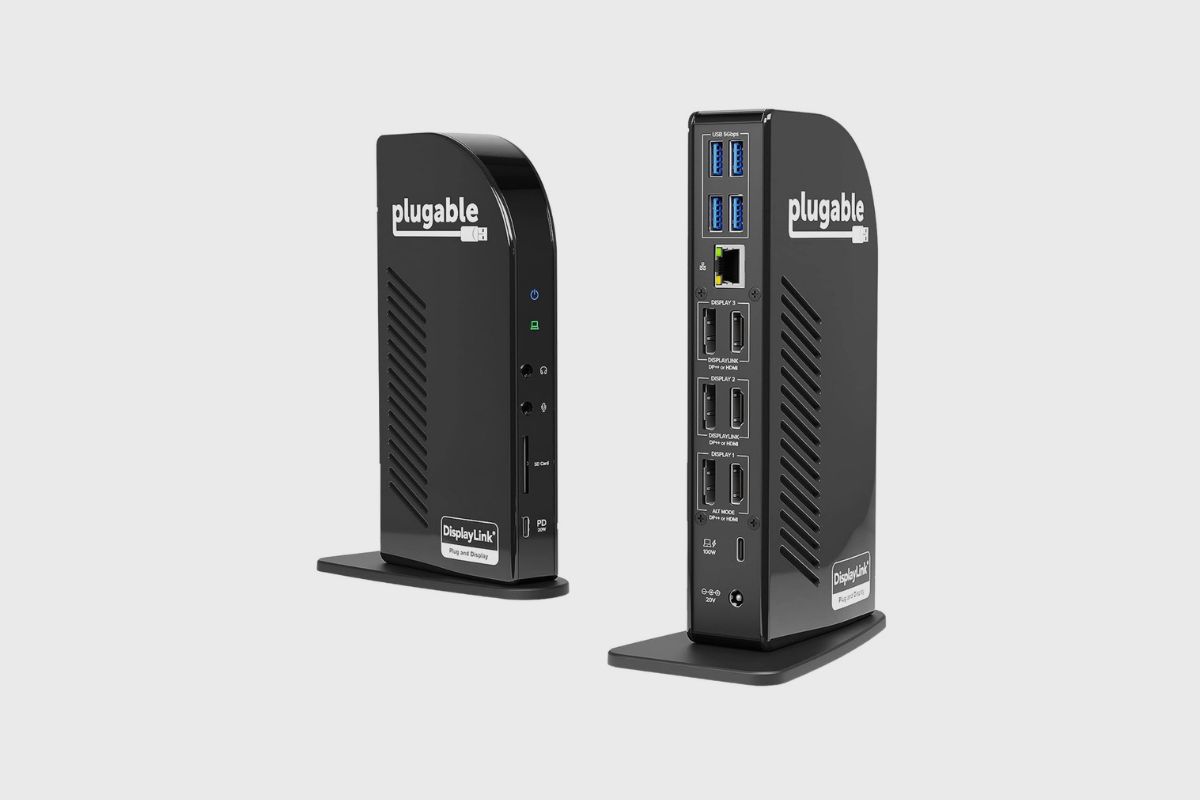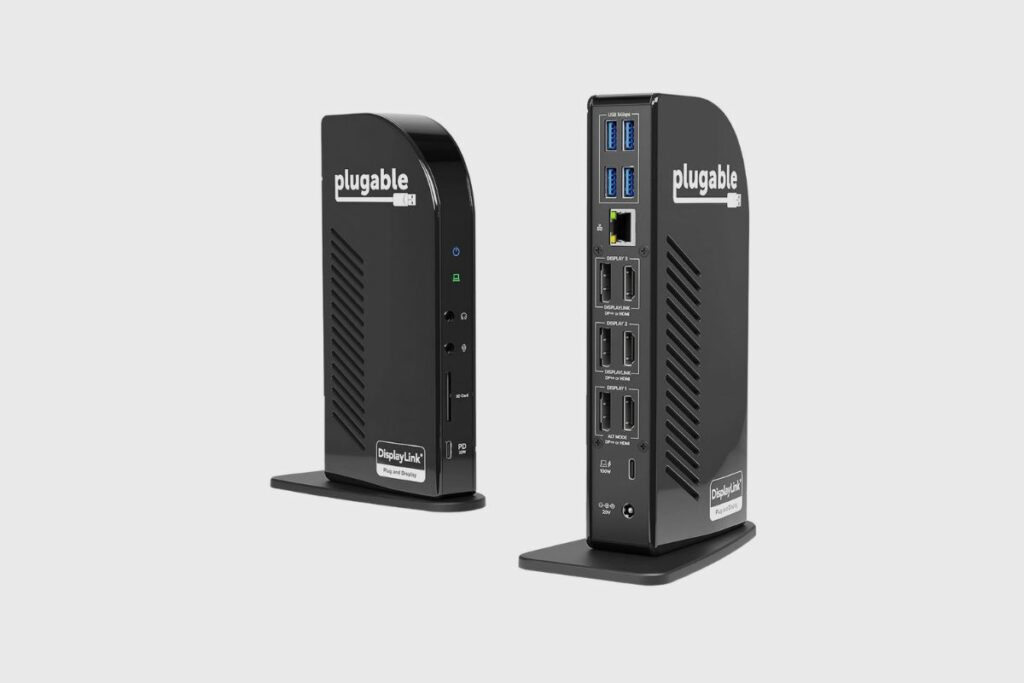 3. The Plugable USB-C Triple 4K Display Docking Station (UD-ULTC4K)
To drive up to three 4K60 monitors on Windows and Mac, including the most recent M1 and M2 Macs, the Plugable USB-C Triple 4K Display Docking Station (UD-ULTC4K) employs DisplayLink. It's more reasonably priced than the Ugreen option and comes with a power supply, although some people might not like the cheap, plasticky look.
The department of the display, however, is where this docking station excels the best. With three DisplayPort and three HDMI ports, you may connect up to three 4K/60Hz displays to your laptop using either DisplayPort, HDMI, or a combination of both. For greater screen space for multitasking, you can expand or mirror the displays on both Windows and macOS.
The UD-ULTC4K distinguishes itself from other triple monitor docking stations by supporting 4K connections at 60Hz. Additionally, a power supply is included, allowing for a tidy and uncluttered configuration. This allows you to charge your laptop right out of the box. It contains a second 10Gbps USB-C connector with a 20W power output for charging modern gadgets like smartphones, tablets, and other USB-C devices.
The dock's additional features are good. A Gigabit Ethernet jack, an important SD card slot for producers, four USB-A ports for connecting legacy devices, and separate audio jacks for microphones and headphones are all included. Although it isn't as stylish as Ugreen's offering, it works just as well for a lot less money.
Price on Amazon: $279.
Pros:
Several connectors, including four USB-A ports
Supports three displays at a maximum resolution of 4K at 60Hz on Windows and Mac.
Charges your computer and other devices
It has an HDMI or DisplayPort option
Cons:
It has a very simple design.
US only.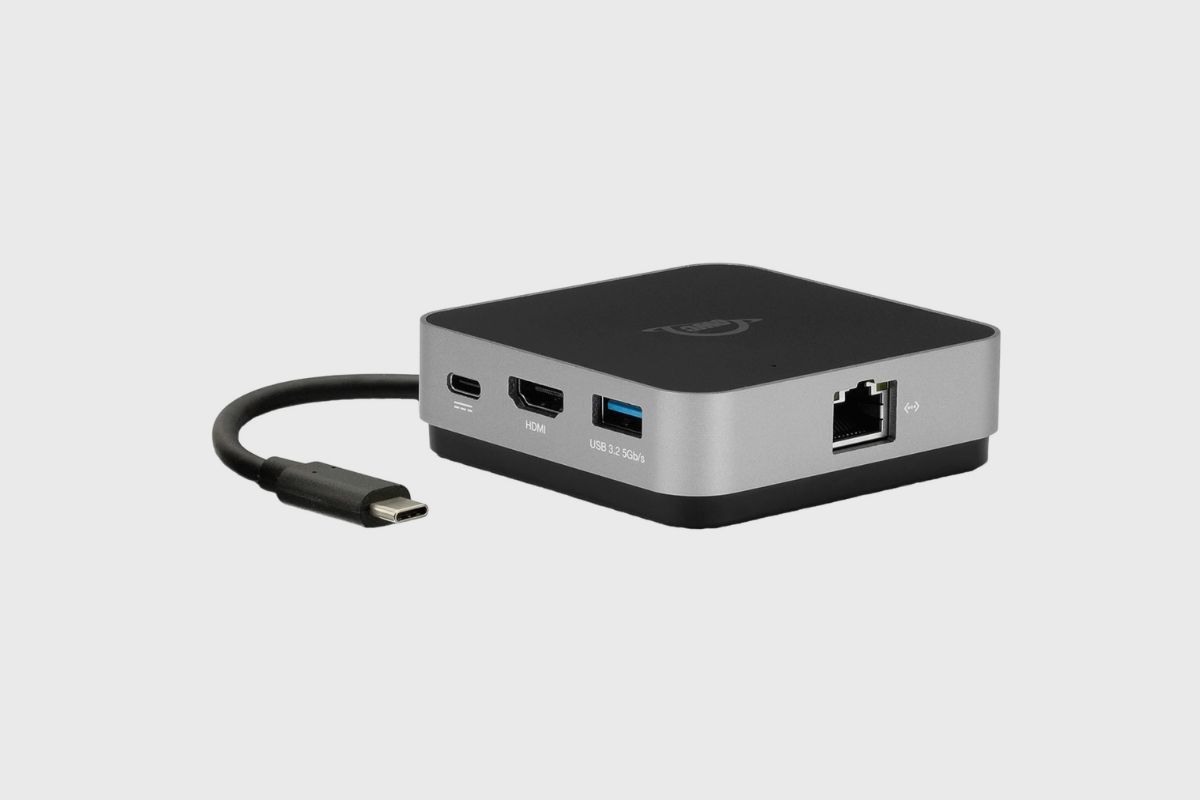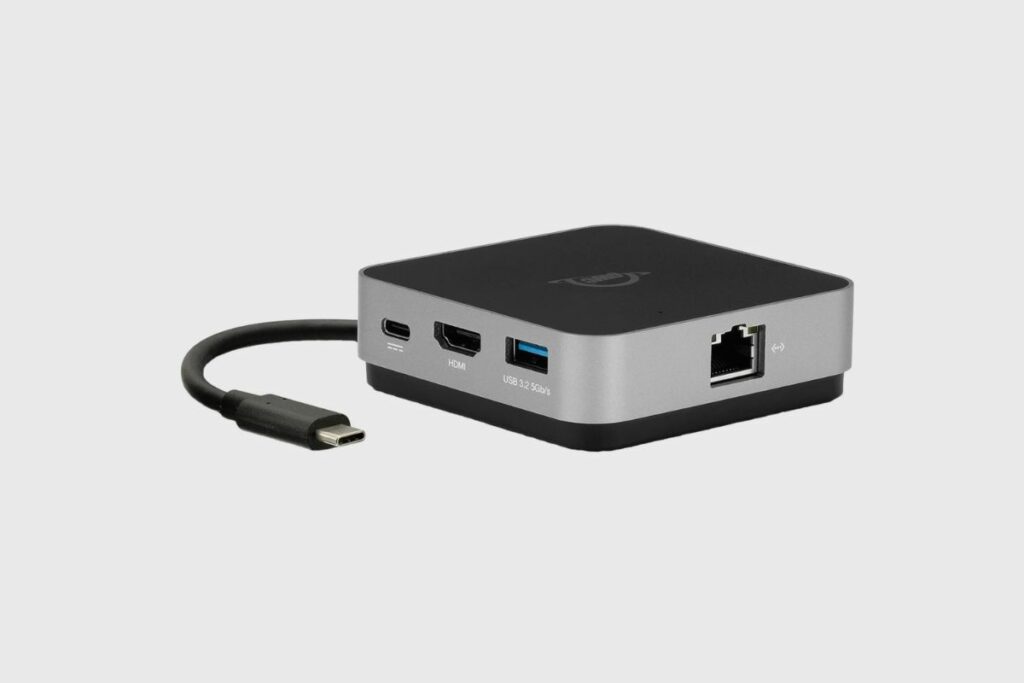 4. The OWC USB-C Travel Dock E
If you're looking for something portable, the OWC USB-C Travel Dock E is a good option. It is a compact dock that enables customers to connect a variety of gadgets to their laptops while they are on the go. It doesn't have a tonne of ports, but it has just enough to increase the functionality of any USB-C laptop.
By enabling you to transmit data across devices, connect several USB-A peripherals, including a keyboard and mouse, and connect an external monitor with a resolution of up to 4K at 60Hz to your laptop, this dock can help you be more productive while you're on the move. To connect to fast-wired networks, it also contains an Ethernet connector.
The dock can be used anywhere because it is portable and tiny enough to fit in most backpacks. You get the best of both worlds because it features a 100W USB-C PD connector that can transmit up to 92 watts to the host laptop when plugged in. The USB-C port on this dock can only be used for power input; data transfer is not supported.
Price on Amazon: $60
Pros:
It is very affordable
Mobile and small
It has a great selection of ports
There is no need for external power
Cons: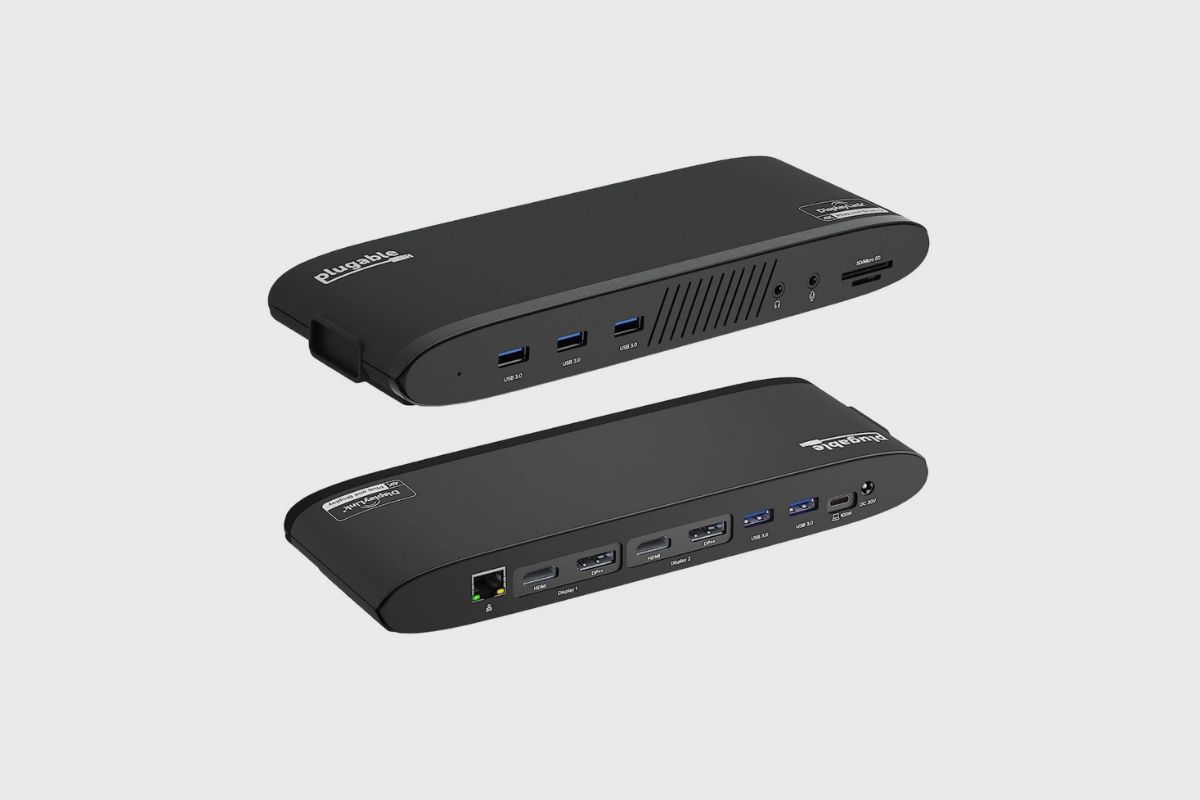 5. The Plugable UD-6950PDH USB-C Dual 4K Docking Station
Your laptop can be connected to the Plugable UD-6950PDH USB-C Dual 4K Docking Station, which adds 12 ports of connectivity at a significantly reduced cost. If you're on a tight budget but still need a way to connect your laptop to numerous 4K @ 60Hz screens, SD cards, external speakers, and a tonne of USB-A accessories, this is a terrific option.
On Windows and macOS laptops, including the most recent M1 and M2 MacBooks, it supports two extended 4K screens at 60Hz thanks to DisplayLink technology. The dock enables you to add two more screens for increased productivity by connecting two monitors via HDMI, DisplayPort, or a combination of the two.
Several connectivity choices are available with the UD-6950PDH, including five USB-A ports for peripherals, an Ethernet port, SD and microSD card slots, and two audio slots for headphones and microphones. Furthermore, the supplied AC adapter supports 100 watts of power output, making it appropriate for laptops with high power requirements. For its price range, the UD-6950PDH delivers a good selection of features overall.
Price on Amazon: $200.
Pros:
Affordable price
It has the option of DisplayPort or HDMI
On both Mac and Windows, multiple monitors can be used in extended mode.
100W laptop charging
Cons:
It lacks downstream USB-C ports.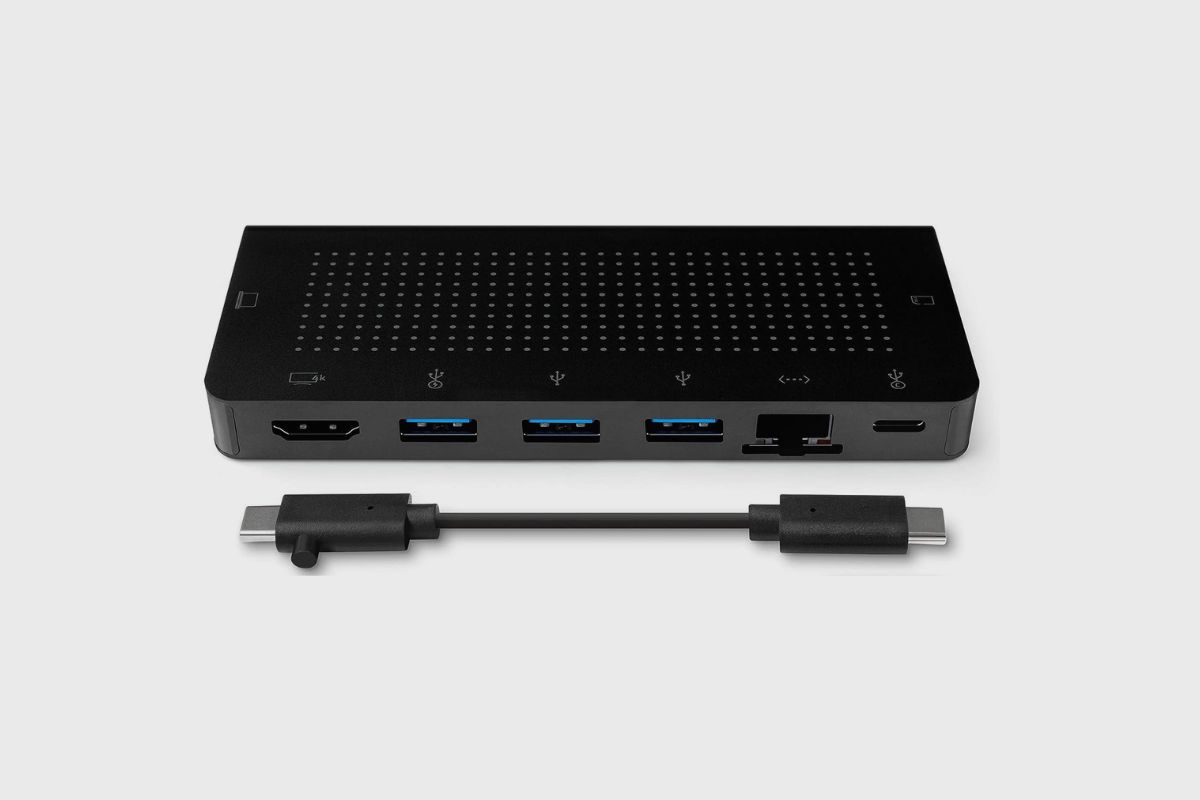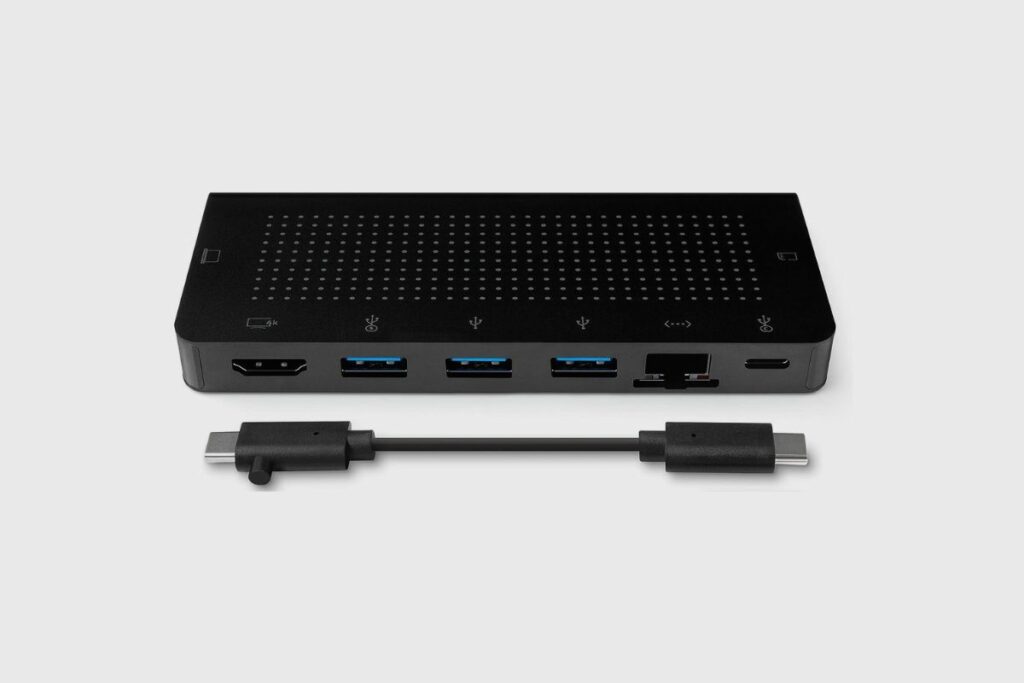 6. The Twelve South StayGo USB-C Hub
By referring to itself as merely a hub, this small, light USB-C dock undersells its capabilities. Concerning portability and functionality, the Twelve South StayGo is a very capable dock that fits in your pocket.
Although it lacks a power supply of its own, you can still use it to pass through charge at up to an astonishing 85W by connecting it to your laptop's charger or another. It contains three USB-A connections, including one for charging your phone, an SD Card reader for adding easy and inexpensive backup storage, Gigabit Ethernet, and all the essentials plus more.
You can attach an external display (4K at 30Hz) through HDMI, and it has all the basic features as well. In addition to a 1m USB-C cable for standard desktop use, it even comes with a tidy, compact travel USB-C cable that is stowed for protection.
Price on Amazon: $100.
Pros:
It has nine ports
It's Portable
85W power pass-through
Cons:
Ports are slightly underpowered.
5Gbps to the laptop
There is no power source; hence, a USB-C charger is needed.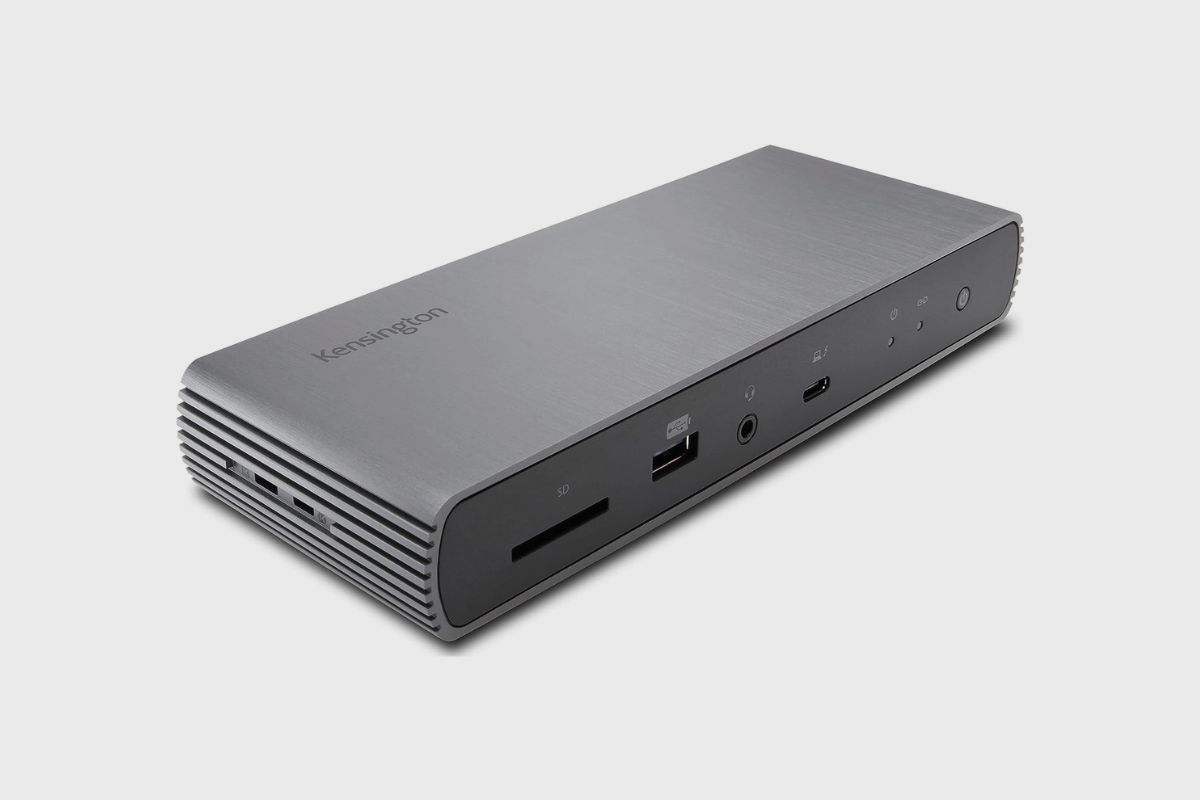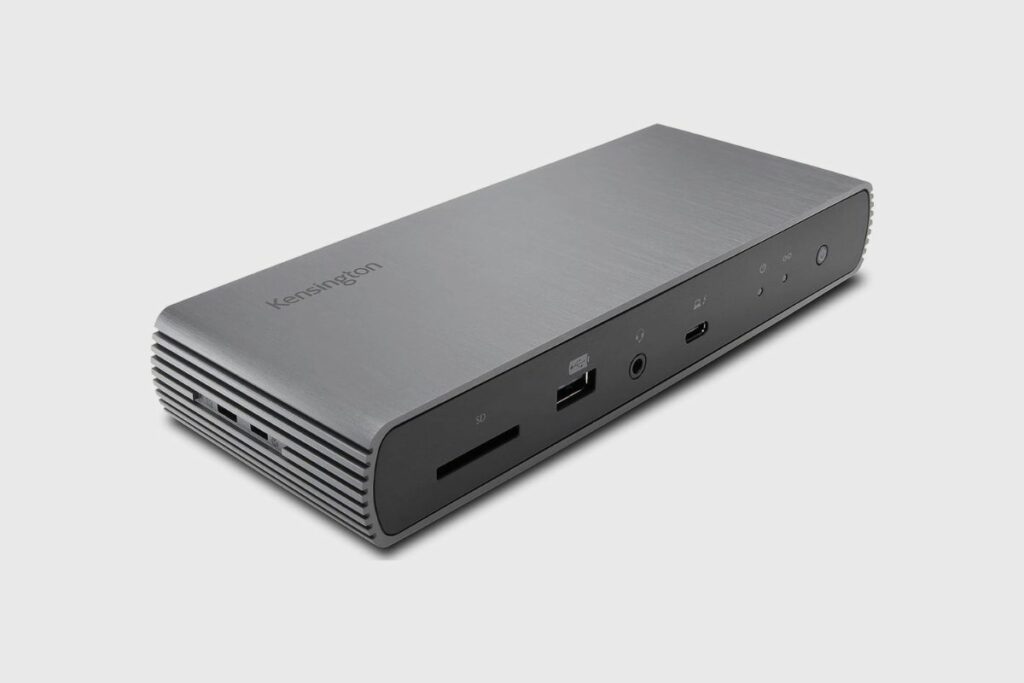 7. The Kensington SD5700T Thunderbolt 4 Docking Station
The Kensington SD5700T Thunderbolt 4 Docking Station offers the best of both worlds by providing everything a dock ought to and being compatible with the most recent Thunderbolt 4 connection standard, which is also backwards compatible with Thunderbolt 3 and USB-C.
It's ideal to connect to a Thunderbolt 4 dock like this one if your laptop has one. The power supply is the most we've observed in our hub and dock tests at 180W, which is excellent if you need to power several devices that are docked.
Price on Amazon: $251.
Pros:
It has one upstream Thunderbolt 4 port
It has four downstream Thunderbolt 4 ports
40Gbps to TB laptop, 10Gbps to USB-C
Cons:
It only has 4.5-watt USB-A ports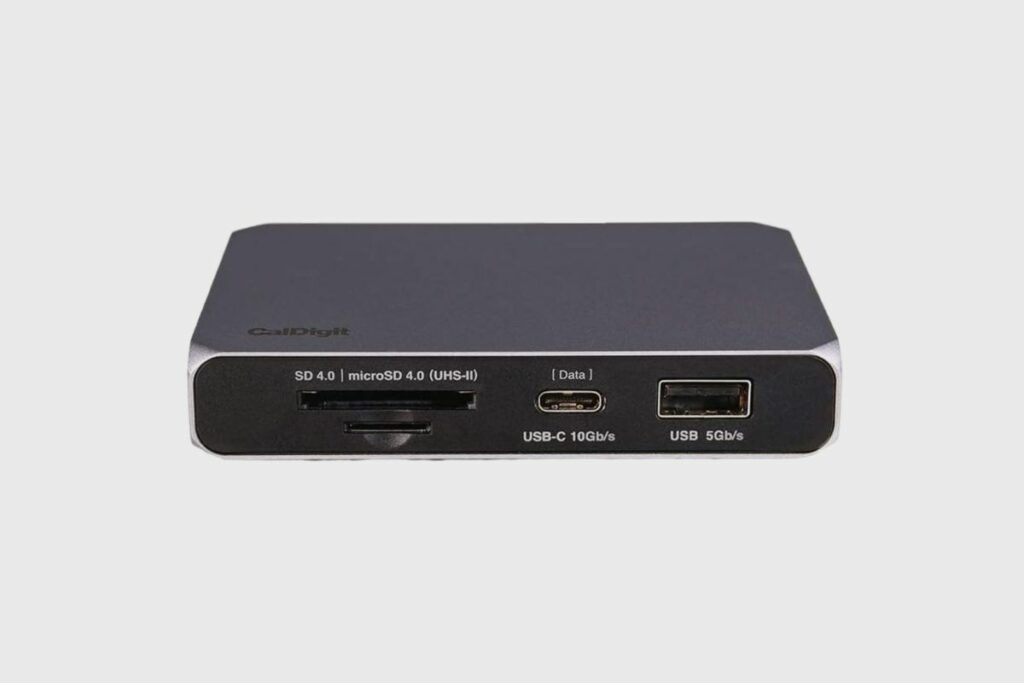 8. The Caldigit USB-C SOHO Dock
Once again, Caldigit outperforms rival USB-C docks with its diminutive SOHO (Small Office Home Office) Dock by enabling an external 4K monitor at 60Hz as opposed to the lower-quality 30Hz constraint typically found with USB-C.
This is made possible by having separate lanes for USB and video, allowing it to deliver 10Gbps USB throughput and a stable 4K 60Hz display.
The USB-A and USB-C ports on the SOHO Dock are the quickest you'll ever find, with 10 Gbps bandwidth ratings as opposed to 5 Gbps on many other docks. Additionally, it has DisplayPort 1.4 and HDMI 2.0 connections, so you can add an external display to your laptop with flexibility.
The Twelve South StayGo has more USB ports than the SOHO Dock does, but if you only need one of each and speed is vital to you, the SOHO Dock is difficult to top.
For wired Internet access, take note that there is no Gigabit Ethernet port. Since this dock isn't equipped with a power source of its own, power delivery to the laptop would be obtained by connecting your wall charger to the dock; therefore, it depends on the charger's capacity.
Price on Amazon: $79.
Pros:
It is very portable
It has ten fast USB ports (10 Gbps) for the laptop
Two display ports (4K at 60Hz)
Cons:
There is no power supply, so it requires a USB-C charger
Few USB ports
No Gigabit Ethernet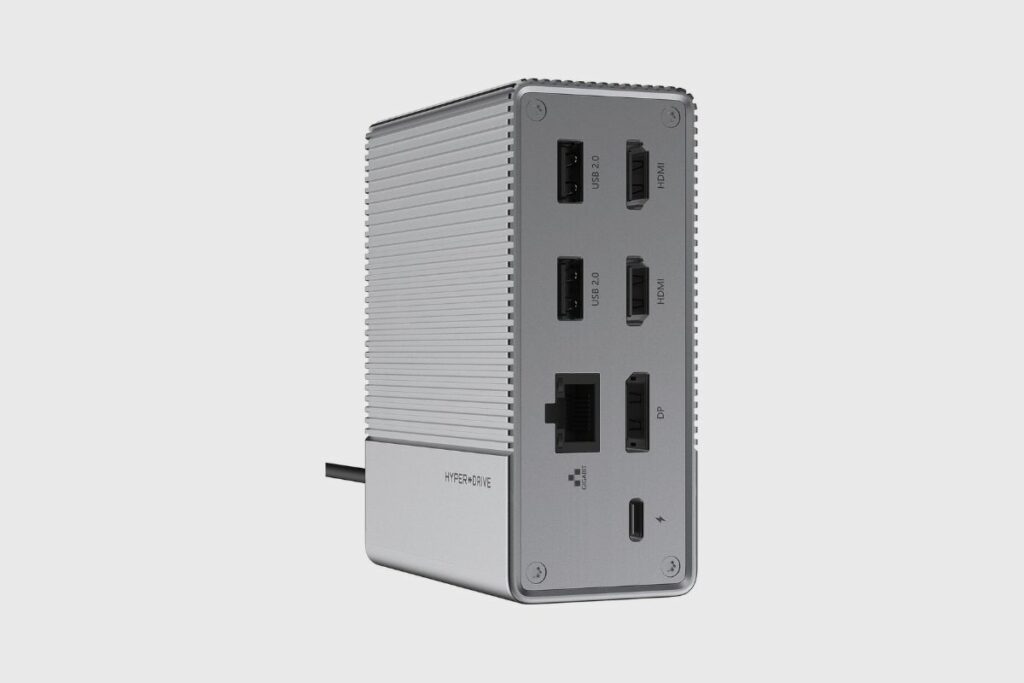 9. The HyperDrive GEN2 12-Port USB-C Dock
Based on speed and bandwidth, USB-C is available in a variety of flavours, ranging from Gen 1's 5 GBps standard to Gen 2's 10 GBps. With 12 ports, the HyperDrive Gen2 USB-C Dock offers excellent value. There is no power source included with this docking station; therefore, you will need to bring your own USB-C wall charger (up to 100W).
It adopts the popular metal pro-look compact form factor for Thunderbolt 3 docks while bringing USB-C's multi-port versatility to the USB-C standard. It has two USB-A ports that can handle 10 Gbps speed; however, the other two are far slower than the 480 Mbps USB 2.0 connectors.
Two HDMI and one DisplayPort are available for video, although Mac users should be aware that over USB-C, they can only use one external monitor unless they obtain DisplayLink third-party drivers.
Price on Amazon: $126
Pros:
Three display ports
It has twelve fast USB ports (10 Gbps) for the laptop
Cons:
There is no power supply, so it requires a USB-C charger
It is a bit limited for Mac users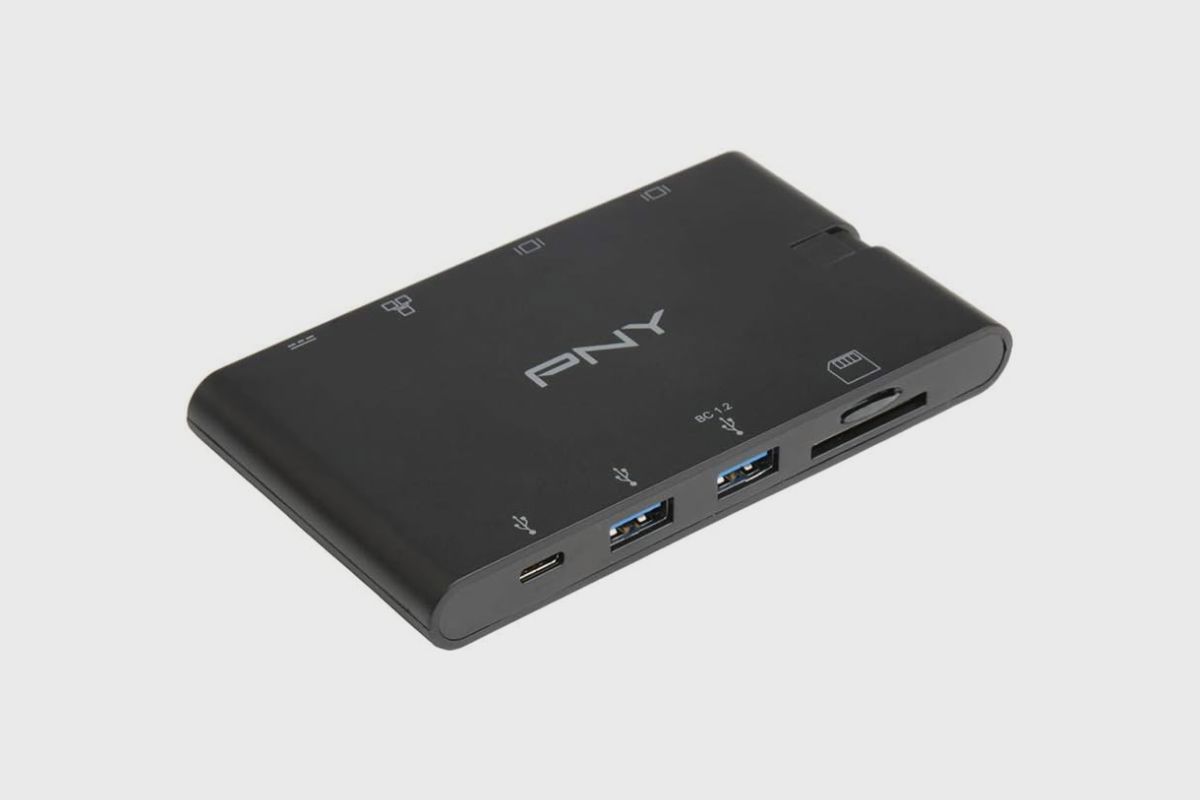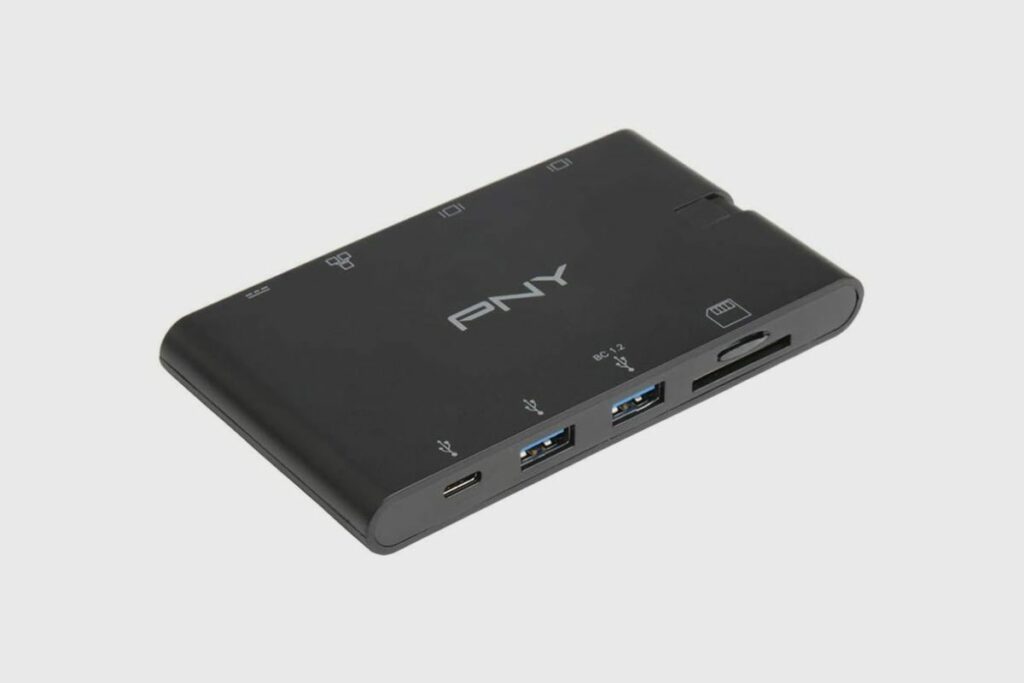 10. The PNY All-in-One USB-C Dock
You don't need to bring a separate cable to connect to your laptop because it comes with a short, integrated USB-C cable that meets all of your connectivity needs.
It weighs significantly less (107g vs. 151g) and is slightly shorter but also slightly longer than comparable travel docks.
Although the Twelve South StayGo has one additional USB-A port and can read SD and microSD cards simultaneously, while the PNY can only read one card at a time, these differences will rarely cause an issue for the majority of users. The ports and power are also comparable. It does have a VGA connector, which could be useful for projectors or older displays.
Although neither of the two provided cables is integrated, we do prefer the StayGo's because one has a convenient 1-metre length compared to the PNY's very pitiful 12cm. That said, people who travel to multiple countries and have a variety of display options may be tempted by its incredible lightness and VGA.
Price on Amazon: $80.
Pros:
It's very Portable
100W power pass-through
It has two display ports
Cons:
5Gbps to laptop
There is no power supply, so it requires a USB-C charger
Final Thoughts
While the Lenovo ThinkBook 14s Yoga may not be a creator-focused laptop, the addition of any one of the docking stations I have listed here will instantly turn your ThinkBook into a CreateBook and boost your productivity 10 fold. All of these docks provide their own unique differences and come with their own pros and cons, so make sure to go through the list properly and find what works for you. If you have any questions, feel free to drop them in the comment section, and I'll get to them as soon as possible. Once again, I'd like to thank you for reading this article.
Related Posts:
Resources: