Due to their Keyless convenience, keypad door locks are constantly replacing traditional door locks. With keypad door locks, going out and coming in is keyless and effortless. Keypad door locks have gained success and popularity in recent times in both commercials and public and private settings as they replace the use of traditional and strenuous door locks.
The best keypad door locks ensure security with various options on how to lock and unlock a door. Keypad door locks with handles are essential for convenience and safety.
Some important factors to consider when selecting the best keypad door locks with handles are:
Connectivity: Some keypad door locks have smart features, which means they can connect to Wi-Fi, Bluetooth or a smart home hub which gives you greater control over the lock, allowing you to lock and unlock the locks remotely, add and remove user codes, access user logs, and even set when codes are and aren't active. Installation is also easy as it does not require the services of an expert.
Battery life: This should also be considered when looking to buy a keypad door lock because some use batteries, and the battery life is dependent on the keypad lock and how often it is used
Extra security features: Although there is a basic setup that allows you to open a lock with a code, one can look out for the ones that offer features to enhance protection like automatic locking, which flips the lock after about 30 seconds to ensure that one doesn't accidentally leave a door unlocked. Some door locks disable the keypad after a series of failed attempts or even set off an alarm to scare away would-be intruders.
Price: There is a keypad door lock to fit every budget, from the basic ones of $50 to the mid-tier of about $100, up to the high-end upgraded locks, which may cost about $300.
Power source: Unlike most commercial settings that have a constant power source, one has to choose between rechargeable batteries or swappable batteries spec.
Security grade: There are 3 different grades according to the ANSI (American National Standards Institute) ratings for keypad door locks with handles. Although not all locks have ANSI ratings, it is recommended that you get a keypad door lock with an ANSI grade before installation.
Screen interface: Is it touchscreen or button? However, each style has its pros and cons.
Having discussed the above, here are the 5 of the best keypad door locks with handles that I will be reviewing in this article:
Schlage Cam 609 ACC Keypad Entry
Kwikset Smartcode Keypad
Sifely Keyless Entry
Smonet deadbolt lock with keypad
SMONET ZNS-H001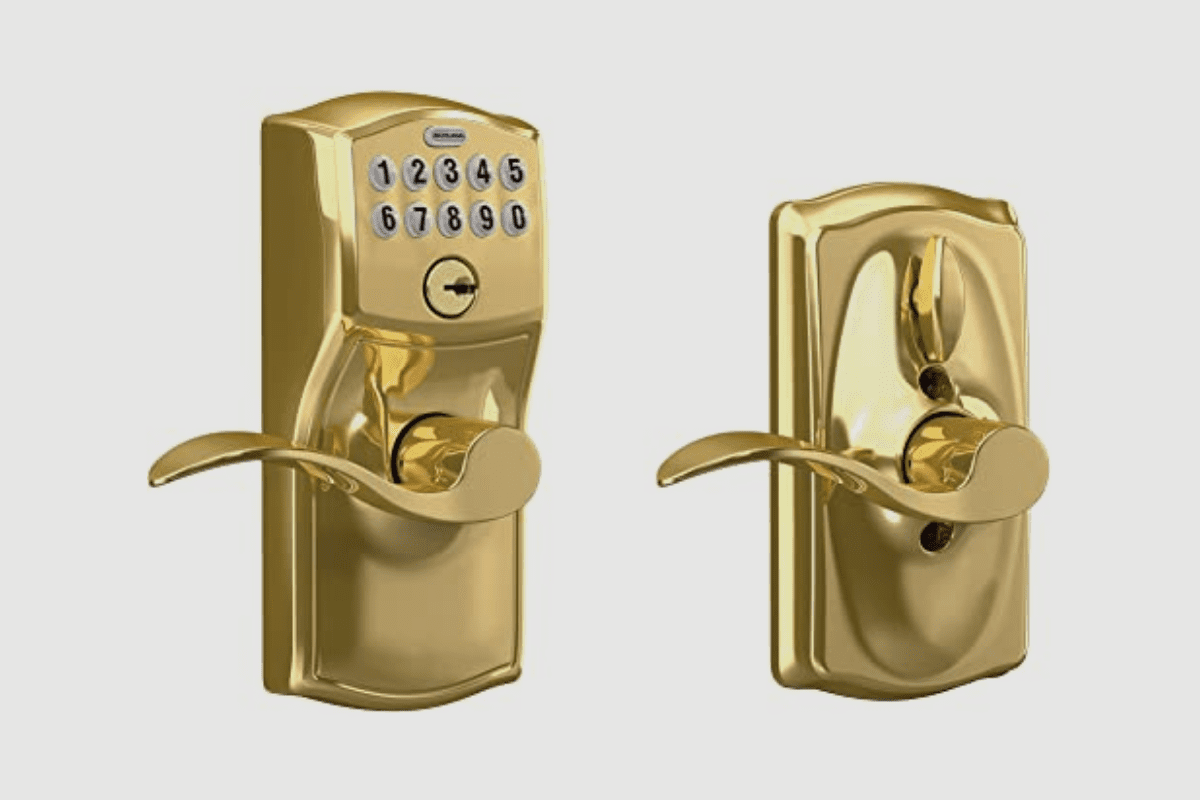 1- Schlage Cam 609 ACC Keypad Entry
This is a grade 2 lock that is affordable if you are on the lookout for a keypad lock with a handle that best suits your budget. This door lock allows users to change their lock settings with ease. It is built with commercial-grade materials, and the door lock boasts of a reversible handle, making it work with both right-hand and left-hand opening doors. It may tend to wear down batteries, so having spare batteries will come in handy.
DESIGN
The Schlage Cam 609 ACC Keypad Entry is a Camelot design with an accent lever, and it has 7 finishes in antique brass, antique pewter, aged bronze, matte black, satin chrome, satin nickel and bright brass.
It has a 9-volt battery type, swappable batteries as the door lock power source, and the battery has a 3-year average life. The lock includes 2 pre-set codes, but it can store up to 19 individual PINS/user codes.
It has a 6 digit programming code and 4 digit user codes pre-set at the factory. It has a silicon rubber, wear resistance button interface and grade 2 security and 2 emergency keys as a backup.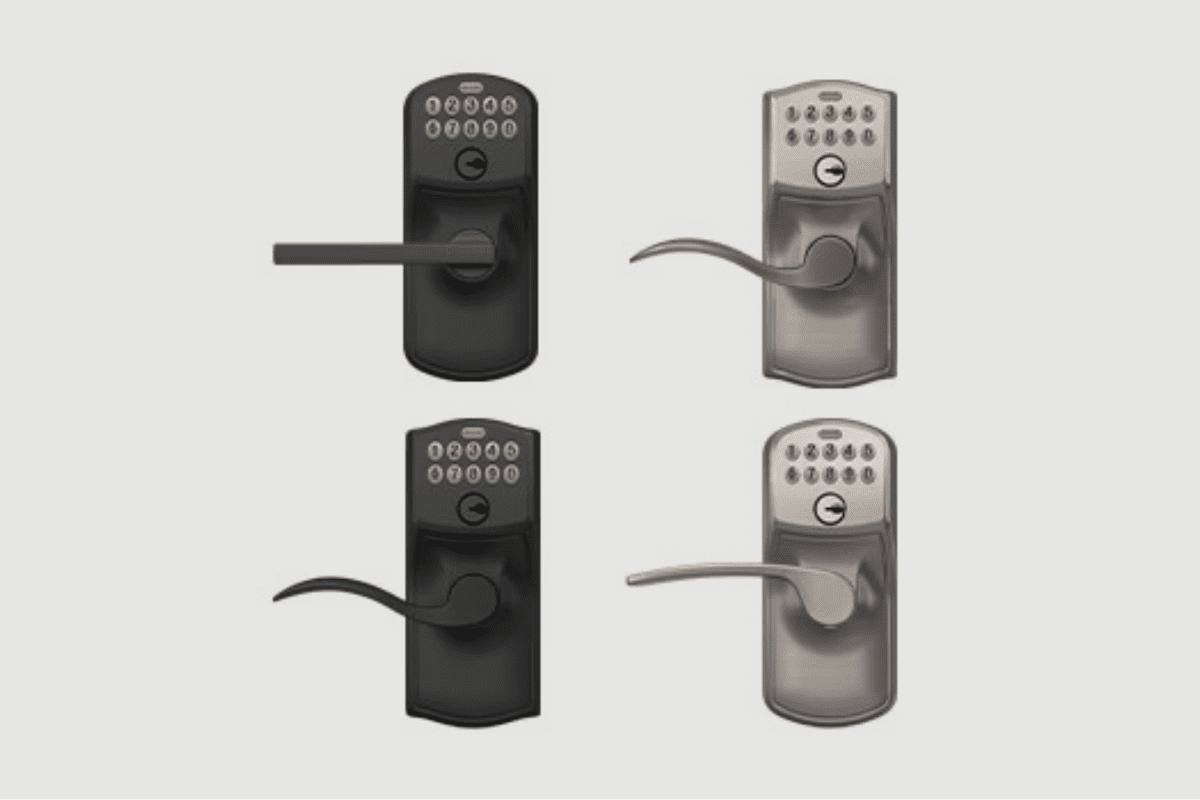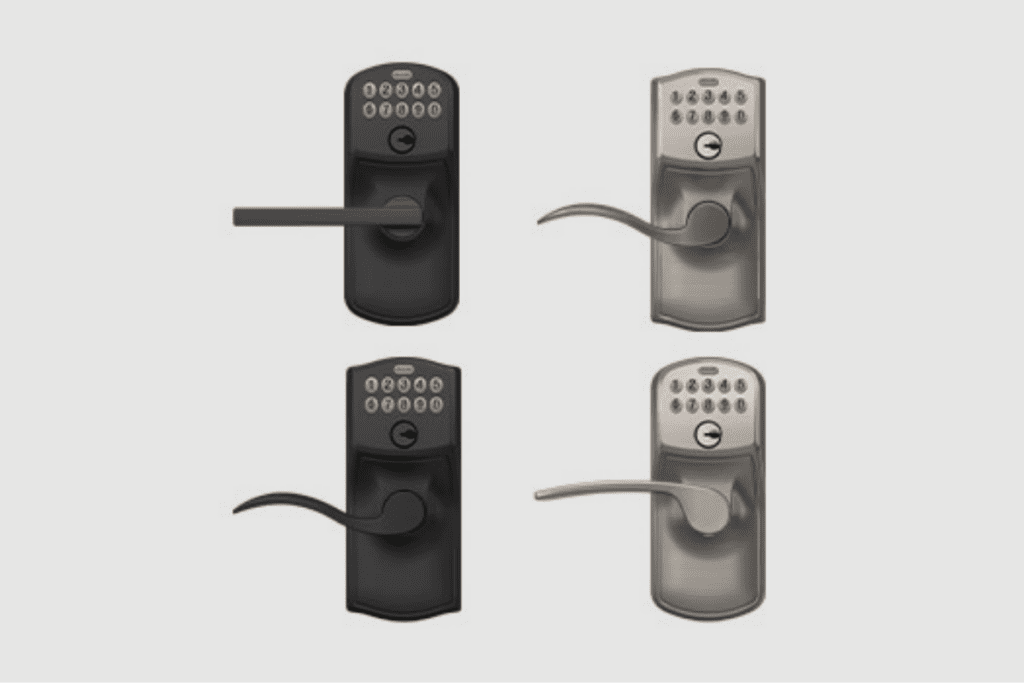 FEATURES
Auto-lock feature, it automatically relocks after 5 seconds
Constructed as commercial grade. ANSI/BHMA Grade 2 certified
Easy to install and lock
Best budget
Right and left-hand opening door
Premium durability and performance
Two emergency keys as a backup.
CONS
PRICE
It costs $117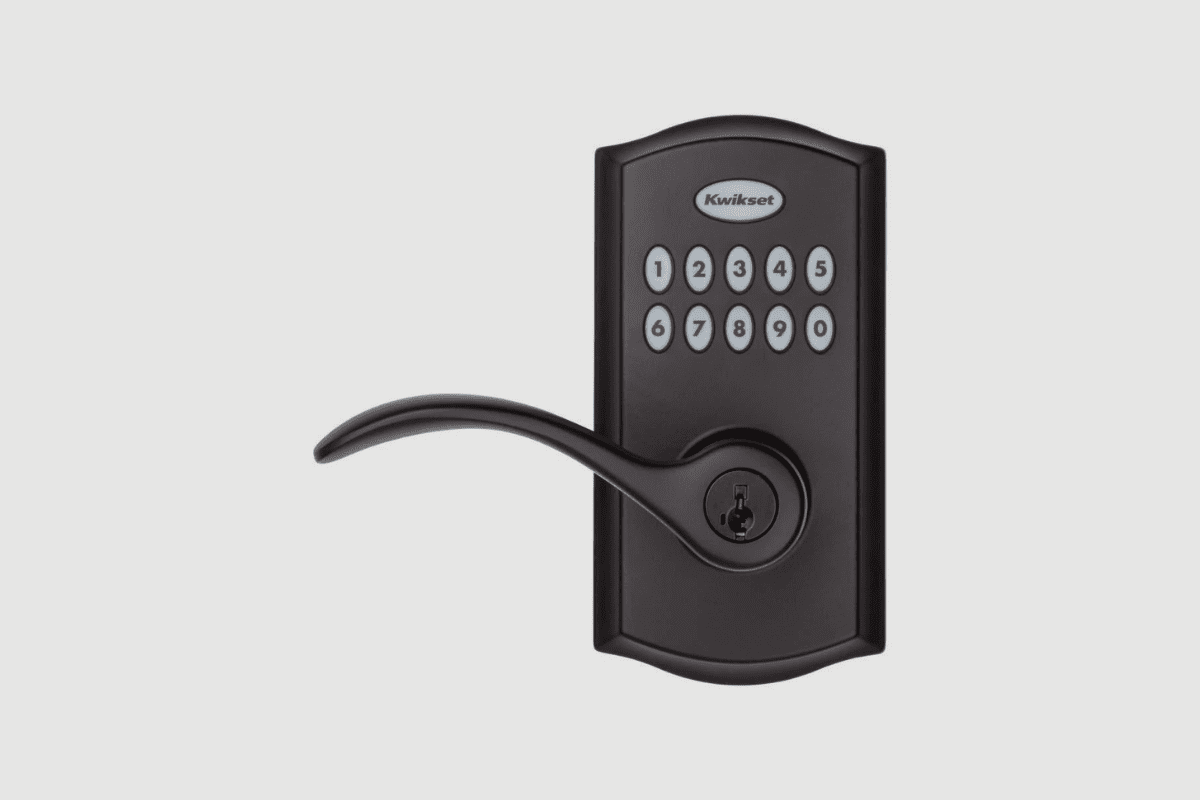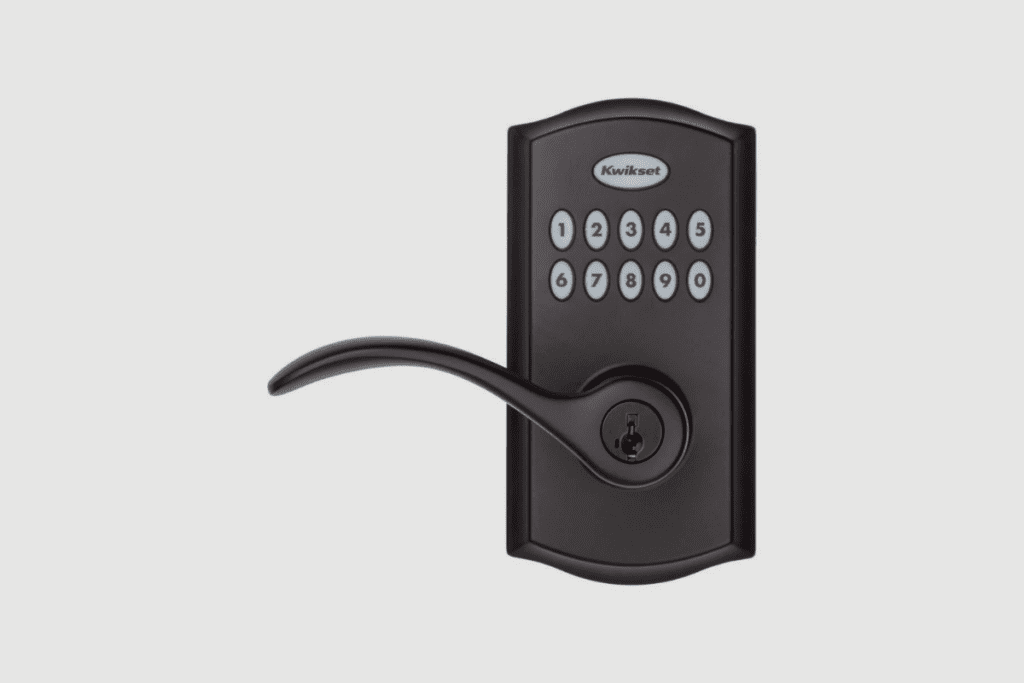 2- KWIKSET 955 SMARTCODE PEMBROKE LEVER
The 955 Smartcode is a keypad electronic door lock perfect for small businesses, utility rooms, public restrooms, interior garage doors, storage closets, and vacation rental properties. Although designed for commercial use, it is durable for home use also. It is BHMA certified and is majorly known for its finish, durability and security.
DESIGN
This keypad lock, keyed on one side, has a robust metallic design, uses a Button interface, and has 4 different finishes in Matte black, Venetian bronze, satin chrome, and satin nickel.
It can be easily installed in minutes with just a screwdriver on a standard door.
It uses a 9V battery type and lasts up to 3 years, depending on lock usage. Its power source is a swappable battery, and it has a reversible lever to fit right and left-hand doors. A grade 2 in security grade. It has 3 lock settings: auto-lock, unlock and disable passage mode.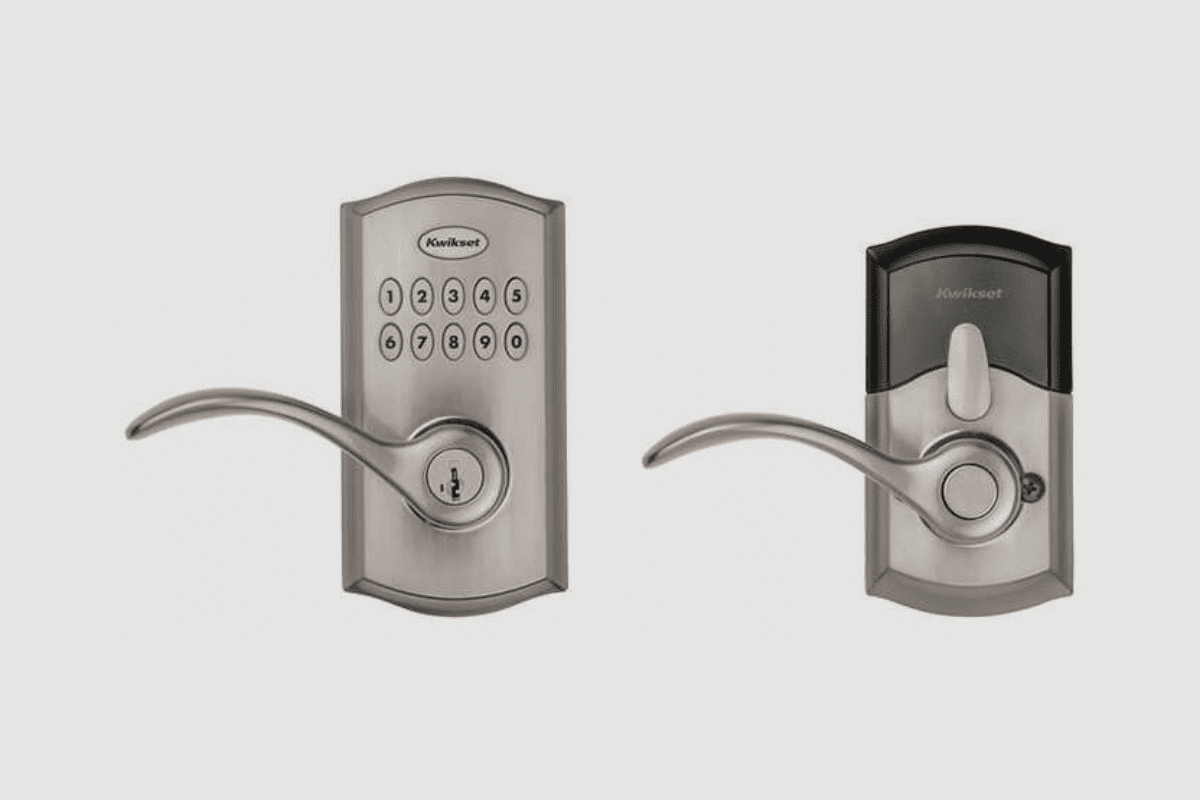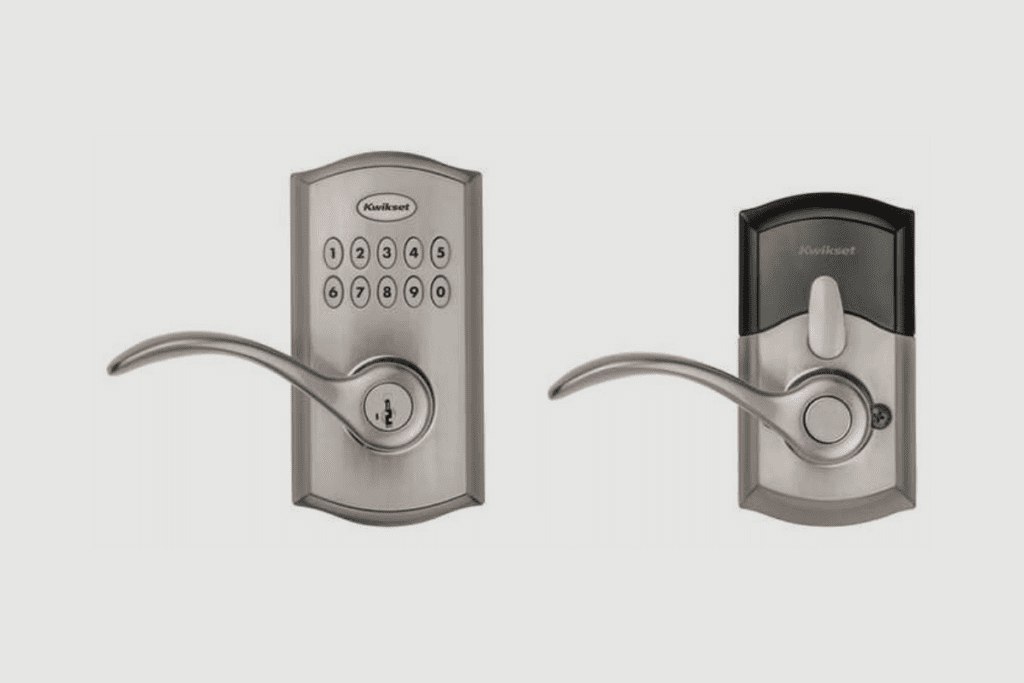 FEATURES
Holds over 30 codes
It comes in 4 finishes to complement the outdoor decor
Switch between 3 entry modes
Emergency user code which is an optional one-time access code for emergencies
The keypad can be disabled, and Keys can be used only for long periods of inaccessibility
CONS
Inconvenience of the Auto-lock function process.
PRICE
The Kwikset Smartcode Keypad Electronic Door Lock costs $94. However, prices vary based on the finish/colour.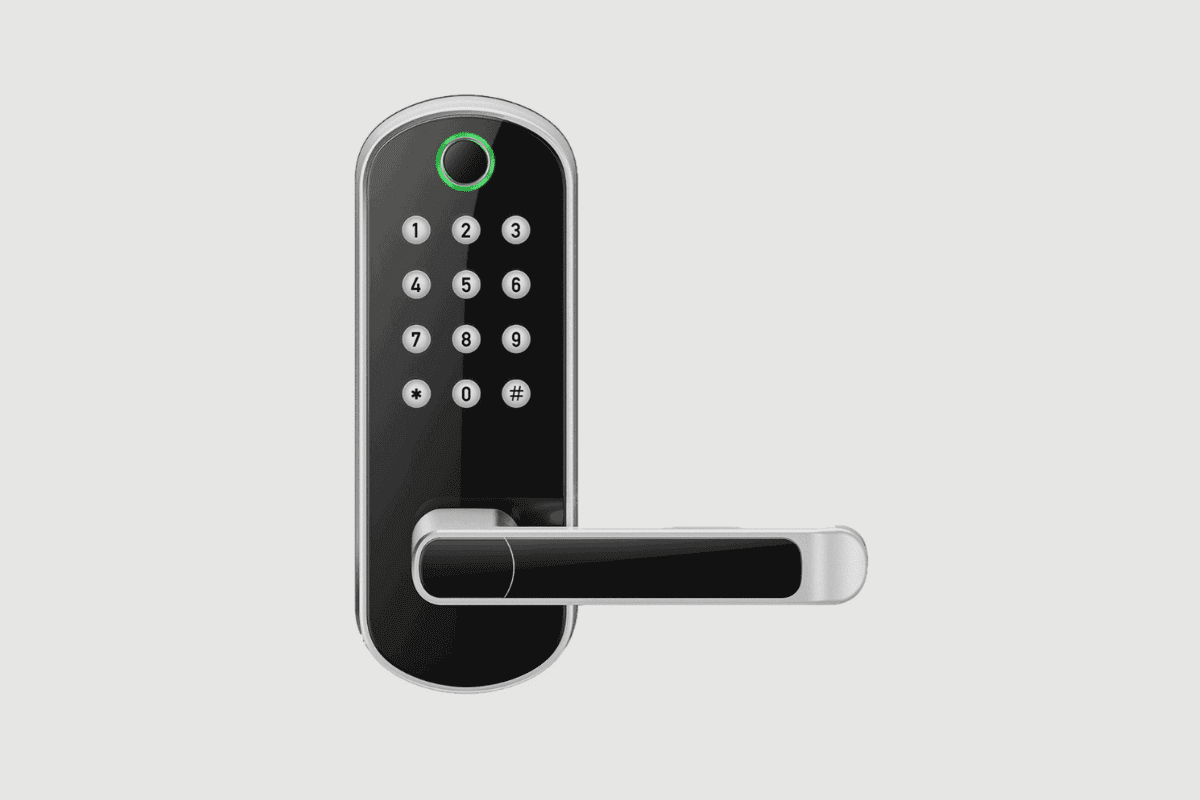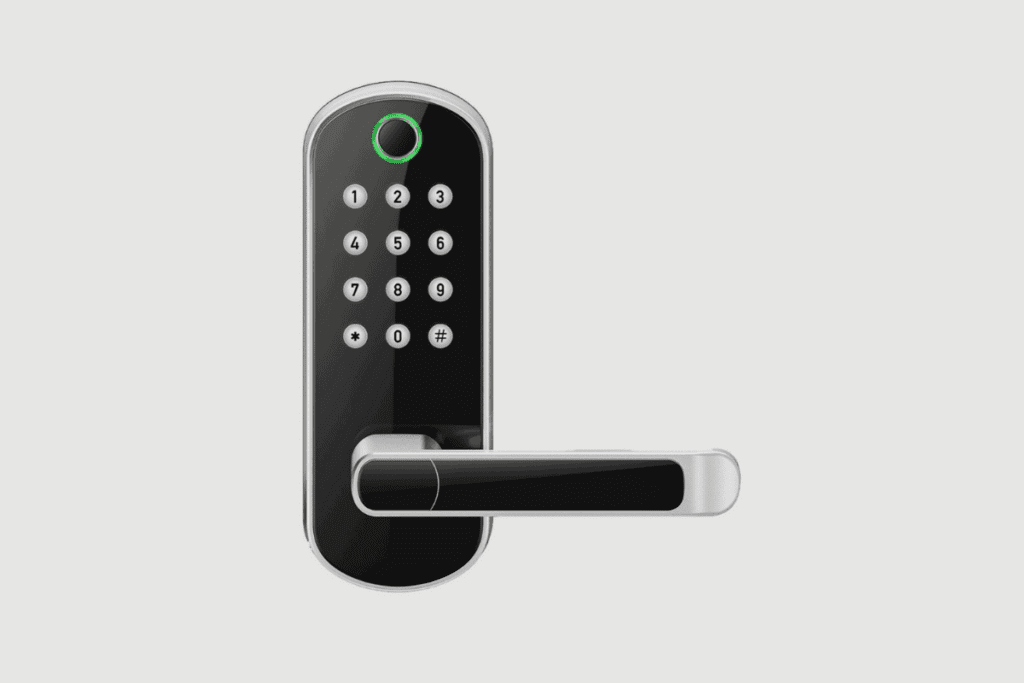 3- SIFELY KEYLESS ENTRY DOOR LOCK
The Sifely Keyless Entry Door lock features smart technology with five different ways to unlock a door, through a keypad, fingerprint, fob, smartphone or a key. Users can create keypad codes through the app to allow visitors in. There is also an "eKey" that can be sent to the email address of trusted family members and friends.
Sifely keyless entry door lock can also communicate with Amazon Alexa and Google Assistant to provide control of the lock. An additional option to this is a remote control paired with the manufacturer's Wi-Fi gateway, which is sold separately. It is a great purchase for those with rental properties as they can generate passcodes remotely and share them with visitors.
DESIGN
It has a touchscreen interface, an upgraded model for security with swappable batteries as its power source and 1-year battery life. It uses zinc as a material. The SIFELY dimension is 7 x 3 x 1.12 inches and works with doors of 33mm- 50mm door thickness, and It has about 150+ passcodes, 200+ fingerprints and 200+ key fobs. It has a reversible handle for both left and right doors.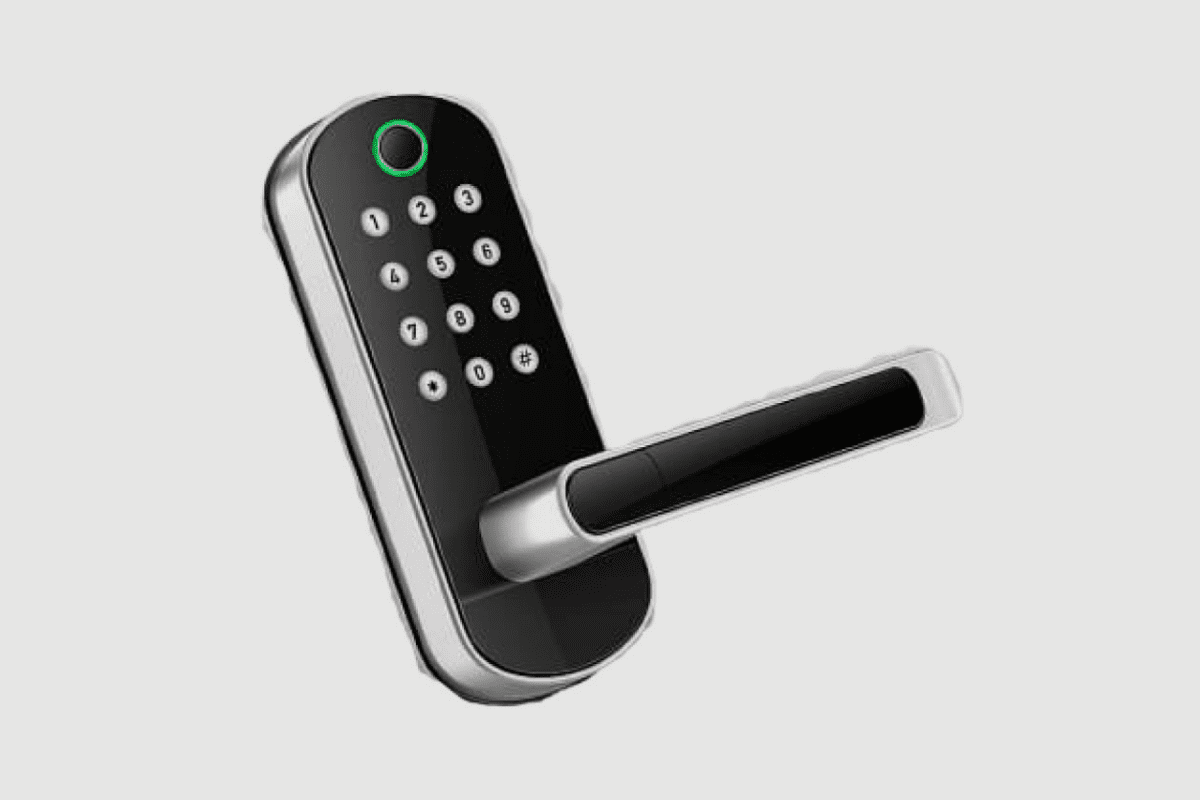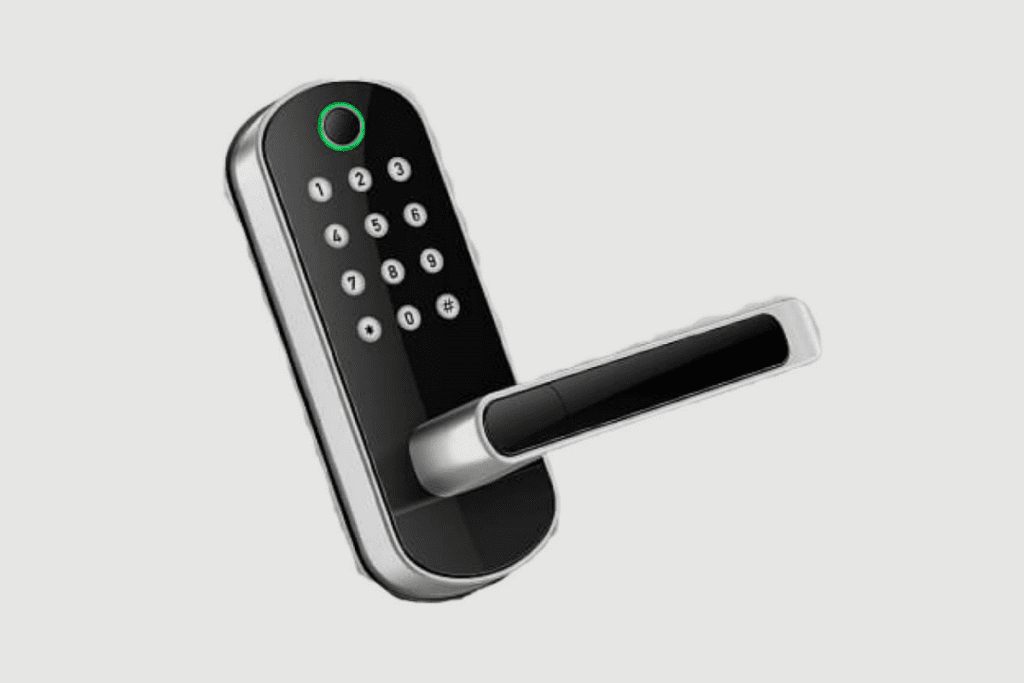 FEATURES
Multiple ways to unlock with the Advanced 5 in 1 keyless smart door lock, keypad, fingerprint, smartphone, fob, and key unlocking
eKey remote unlocking
Compatible with remote control, which is sold separately
Compatible with Amazon Alexa and Google Assistant
Easy installation, no drilling is required to install the door lock.
Emergency battery charge with power bank
Value for money
1-year warranty and 30 days money-back guarantee
CONS
No security grade awarded
Batteries not included
PRICE
The Sifely Keyless Entry Door Lock costs $159.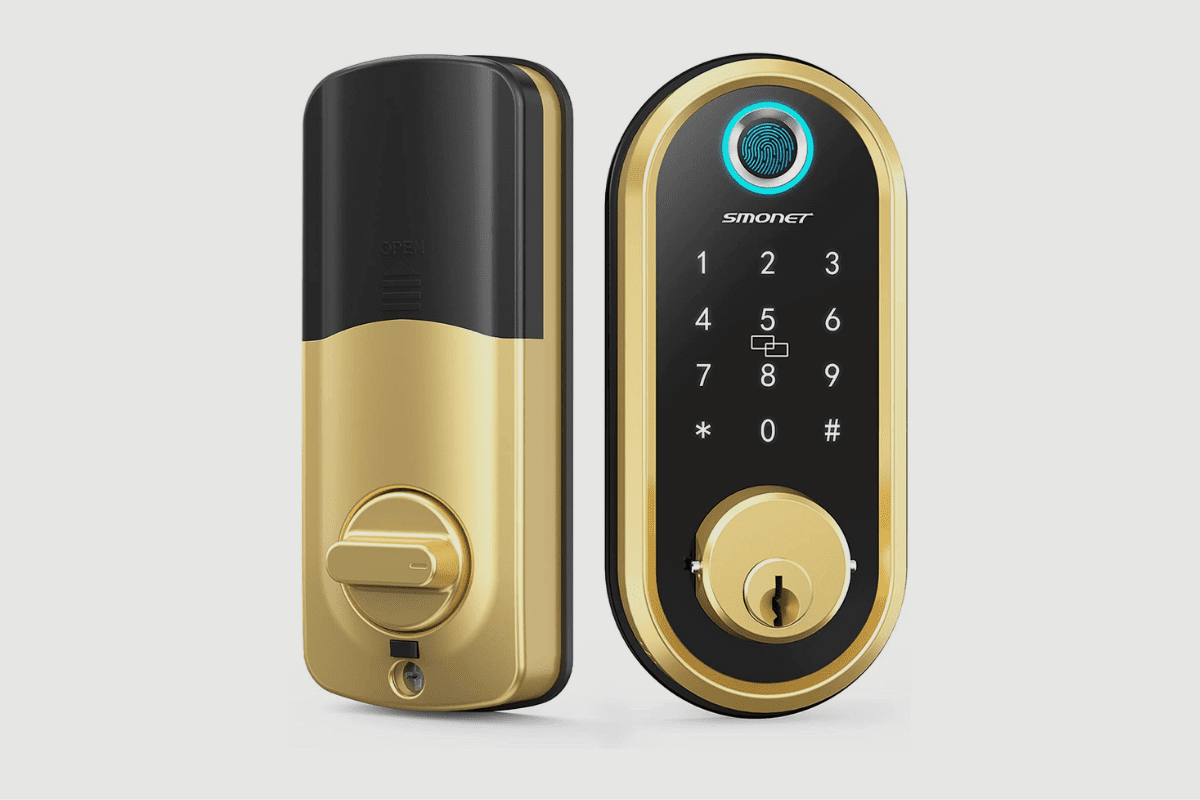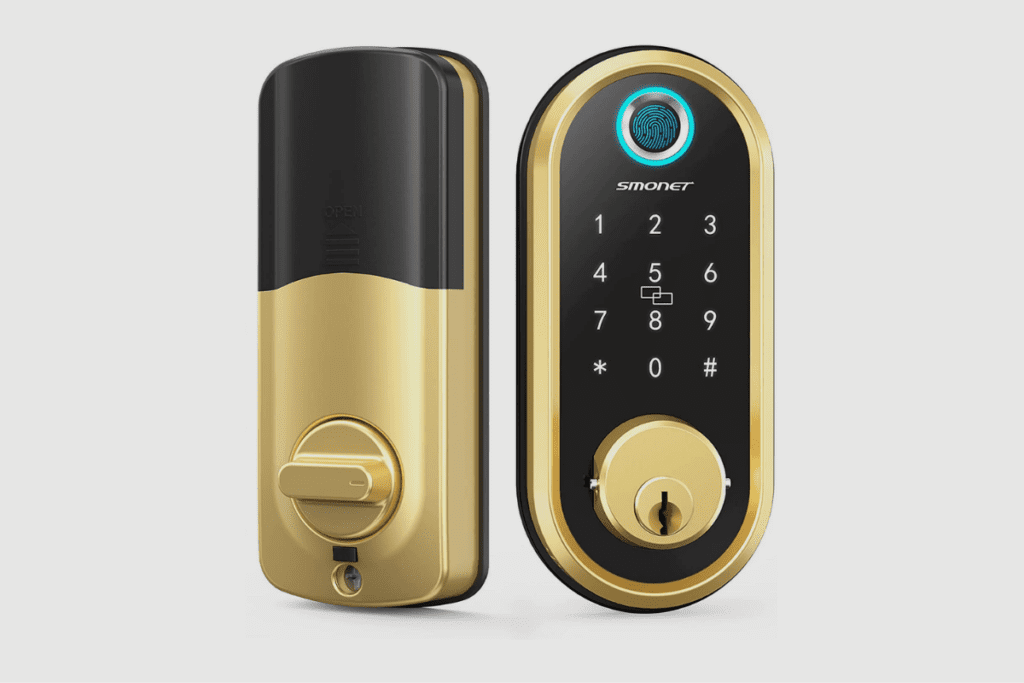 4- SMONET DEADBOLT LOCK WITH KEYPAD
An essential home security lock for every home, hotel, apartment, etc. Wide compatibility for 150+ passcodes, 250+ fingerprints, 1000+ IC cards and 1000+ authorised admin. Enter your home within 0.2s by using your fingerprint, getting rid of forgetting the keys
DESIGN
The Bluetooth door lock made of zinc alloy material is suitable for harsh environments with a waterproof level of IP65.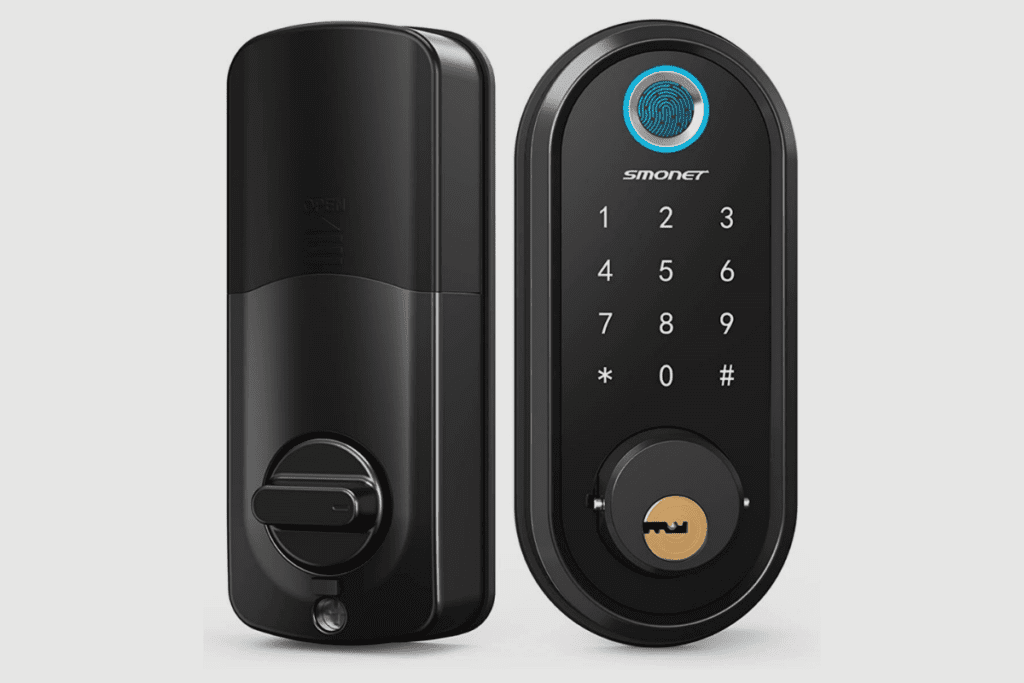 FEATURES
5 in 1 smart deadbolt, Advanced Fingerprint & IC card & Passcode & TTLock APP control & Mechanical Key
Reversible Left and right door levers
Remote Voice control with Alexa and Google assistant (need a G2 gateway, sold separately
15-minute installation No need to hire a locksmith, SMONET keyless entry door lock is easy to install with a screwdriver(Included) in a short time, just by following the user manual or a short installation video
PRICE
It costs $149.97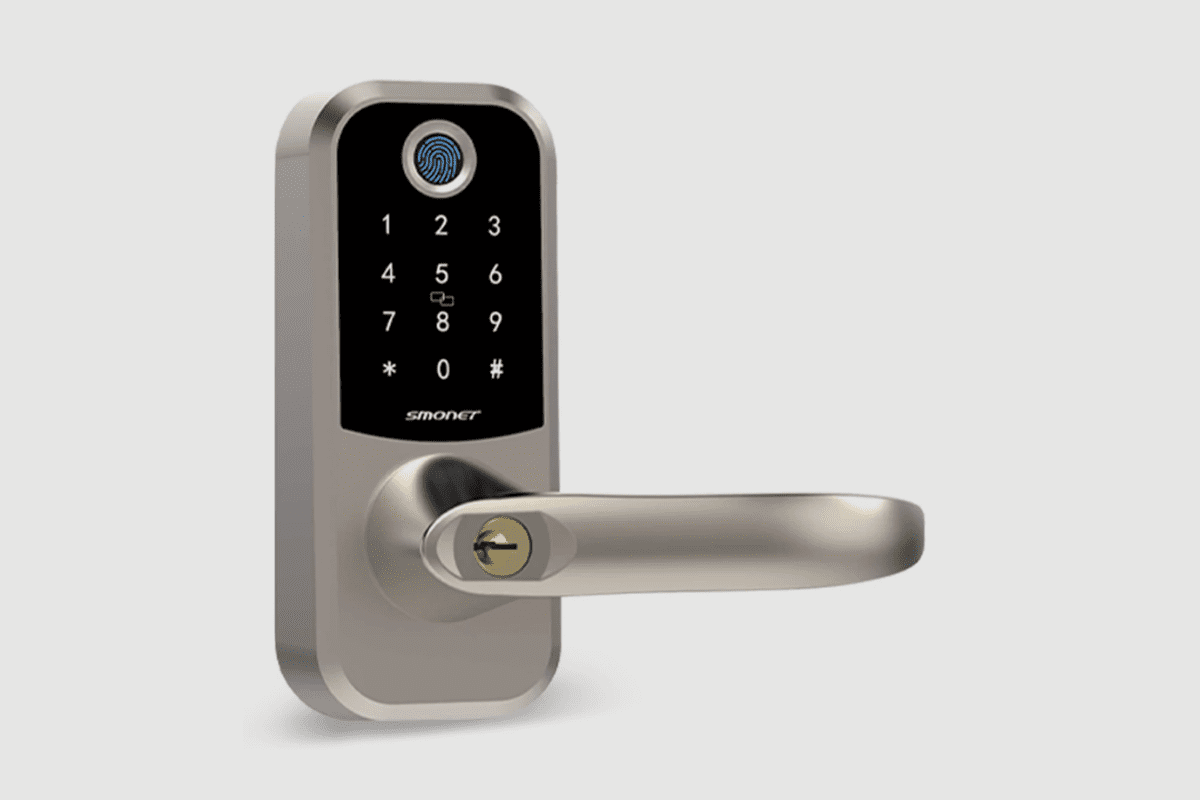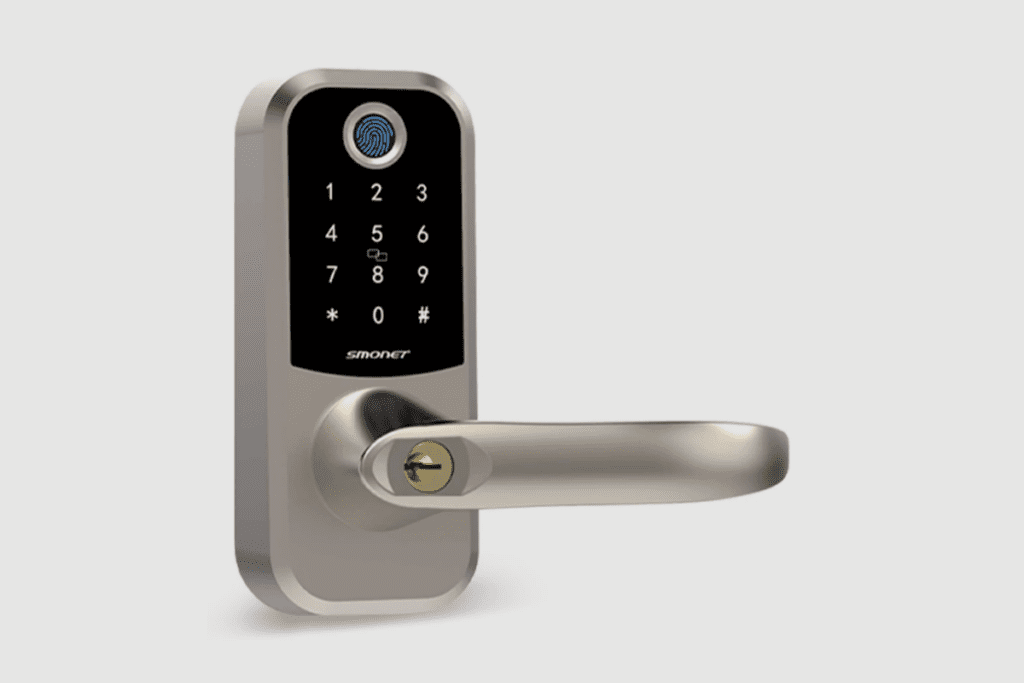 5- SMONET ZNS-H001
The SMONET is perfect for homeowners and tenants and allows you to view door opening records. It gives access to guests, friends, employees, and so on and generates up to 500 passcodes, including permanent, one-time and customised passcodes from anywhere.
DESIGN
It has 2 colours or finishes in Silver or Black made with Zinc alloy material. The size of the finishes differs. While the Silver is 6.22 x 2.65 x 1.21 inches (l x w x h) and weighs 4.51 pounds, the Black is 20 x 2.67 x 1.20 inches (l x w x h) and weighs 4.55 pounds.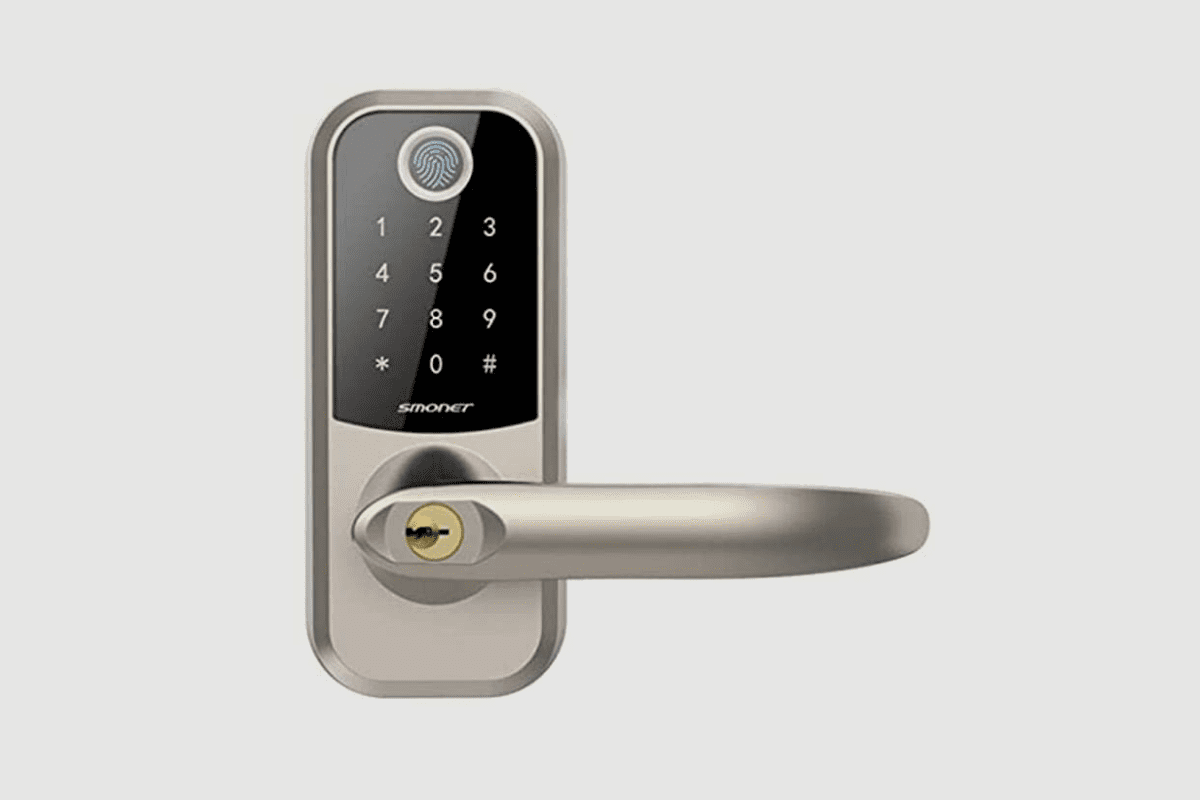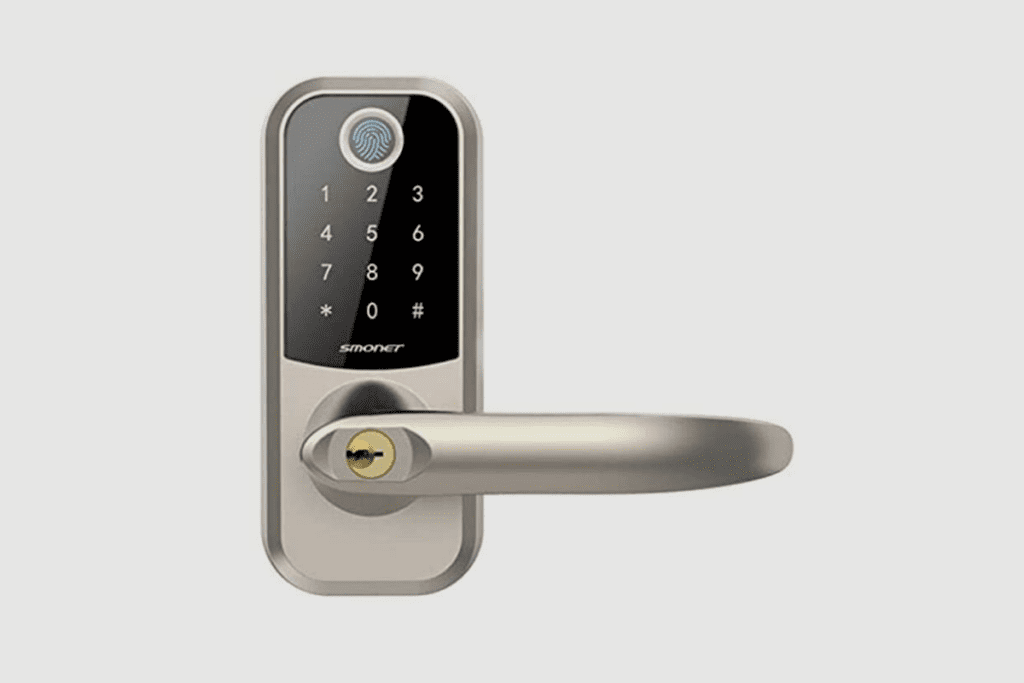 FEATURES
Reversible touchscreen keypad lock
4pc AA Batteries
Voice control with Alexa Bluetooth speaker
7 in 1 ways to unlock with smartphone app, passcode, fingerprint, Bluetooth, IC card, Wi-Fi Gateway, or mechanical keys. This Smart Lock works with Alexa/Google Home and Apple Watch.
eKey function
Touchscreen interface
PRICE
The Smonet keyless smart lock with handle costs $139
Conclusion
In conclusion, keypad door locks with handles make a place more secure because they automatically lock the door when you accidentally forget to flip the bolt.
Also, keypad door locks are one of the safest ways to secure your homes and offices because of their ease of use, preventing unauthorised access.
Product Image Gallery