The Lenovo ThinkBook 14s Yoga and Yoga 9i demonstrate that whenever an organisation releases more than one version of a certain product, both items are inevitably compared to determine which one deserves our hard-earned money and undivided attention. After all, Lenovo is one of the most successful tech companies in the world. They have produced two new third-gen 2-in-1 convertibles this year.
The Lenovo ThinkBook 14s Yoga Gen 3 and The Yoga 9i are great business laptops, but since they have both been released in the same year, both laptops must be compared against each other. So, I thought it would be a great idea to compare both laptops and see which one is better, as well as give you my own opinion on which might be best for you and what you need.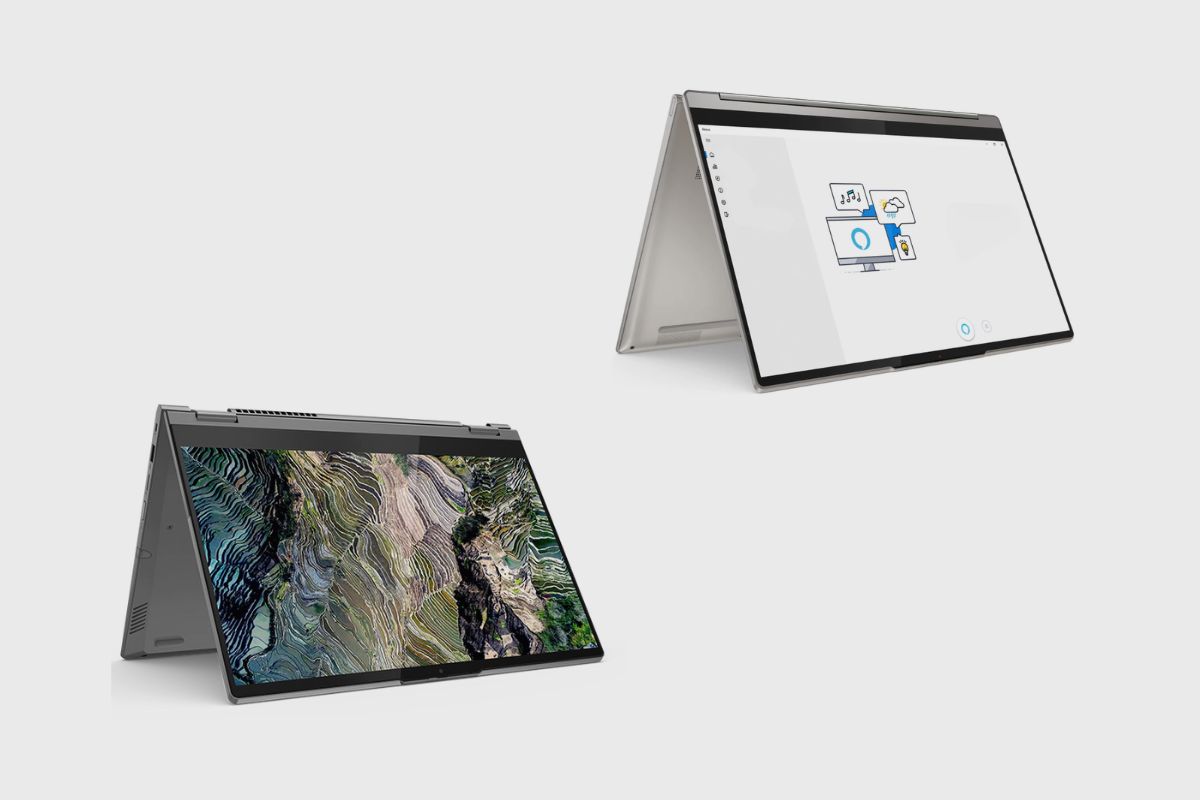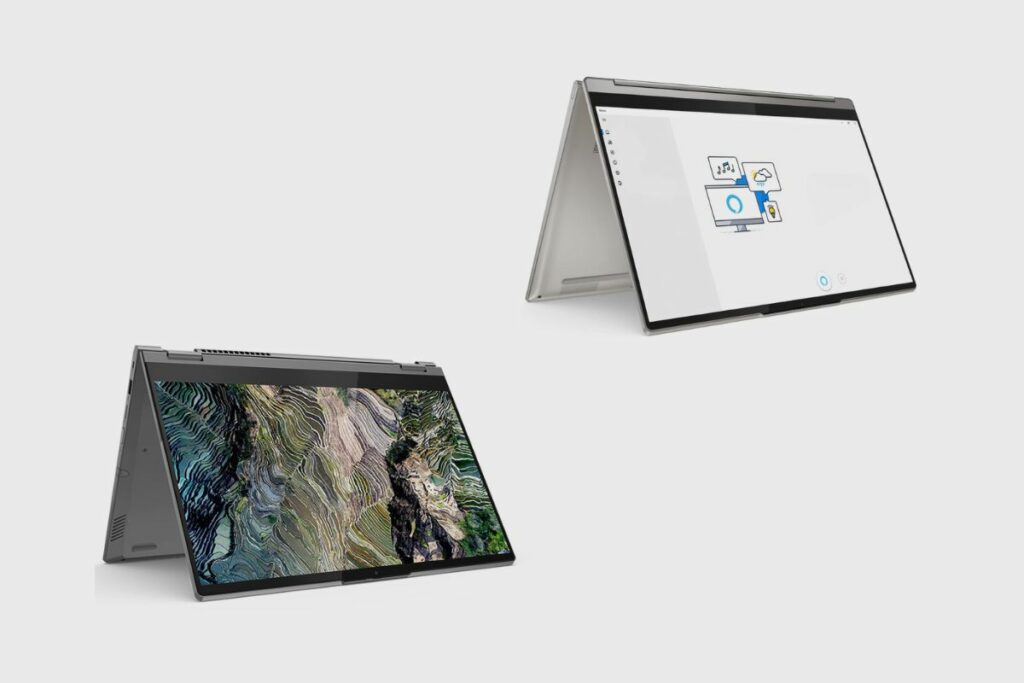 Specs
When comparing two devices, the best place to start is with a quick recap of each of their specs to have a brief look at how they stack up against each other.
| | | |
| --- | --- | --- |
| Category | ThinkBook 14s Yoga Gen 3 | Yoga 9i 2023 |
| Display | 14-inch (1,920 by 1,080) 60Hz FHD | 14-inch (2880 by 1800) 90Hz OLED |
| Processor | Intel Core i5-1335U | Intel Core i7-1360P |
| GPU | Intel Iris Xe Graphics | Intel Iris Xe Graphics |
| Battery Life | 12:48 | 14:05 |
| RAM/Storage; | 16GB/512GB SSD | 16GB/512GB SSD |
| Dimensions (HWD) | 0.67 by 12.6 by 8.5 inches | 0.6 by 12.5 by 9.1 inches |
| Weight | 3.3lbs | 3.09lbs |
| Wireless Networking | 802.11ax (Wi-Fi 6) Bluetooth 5.1 | Wi-Fi 6E, Bluetooth 5.1 |
| OS | Windows 11 Pro | Windows 11 Home |
Design and Build Quality Comparisons
From a design standpoint, both laptops share a few similarities; they are both 2-in-1 convertible laptops. However, they also have a few key differences that make each laptop stand out.
The body panels of the ThinkBook 14s are composed entirely of aluminium. This makes the device rather stiff and resistant to flex. Especially when the display is protected by Gorilla Glass, another flex-resistant material. The machine itself weighs 3.3 lbs (1.50 kg), which is not bad considering its size. Furthermore, it has a 16.9mm profile. This makes it easy to handle in your hands, and, as an added plus, it takes up minimal space inside your backpack.
Its lid opens with one hand, which is unusual for convertibles. The display features a rather broad bottom bezel due to the 16:9 aspect ratio, while the rest are on the small side. (Lenovo cites an 86% screen-to-body ratio.) On the plus side, a 720p (or optional 1080p) Web camera with a privacy shutter is located above the display. I'd have to say that I quite fancy the ThinkBook 14s Yoga Gen 1 design, and the choice of abyss blue as its main colour component is really impressive.
The Yoga 9i, on the other hand, has a more rounded design than earlier generations. There are also contrasting aspects like the polished surrounding borders and the display hinge, which also contains a portion of the sound system. A silver-coloured model is available in addition to the Storm Grey of our test gadget.
Despite the 16:10 panel, the display's bottom edge is still somewhat wide, which has a detrimental influence on both the screen-to-body ratio (78%) and the total depth of the casing. Furthermore, when the laptop is folded, the two portions of the case are not totally flush with each other.
I have no issues with the workmanship or stability because they are both excellent. Particularly well-adjusted and holding the relatively large lid extremely securely in place is the centre hinge. The matte metal surfaces don't particularly have a problem with dirt or fingerprints. The design of the Yoga 9i is very elegant and distinct, with different design choices coming together to make a very impressive-looking machine.
The combination of polished rounded edges and a bead-blasted finish on the lid, keyboard deck, and chassis underside make it a true delight. The rounded corners ensure that there won't be any sharp edges on the palm rest, and the thin laptop is just as easy to carry in tablet form.
Port Diversity and IO
The ThinkBook 14s has a distinct advantage in terms of port availability, sporting an outstanding variety of connectors all over the notebook. On the left side of the laptop, there are two USB Type-C ports—one Thunderbolt 4 and the other USB 3.2 Gen 2—along with an audio jack and an HDMI port for an external monitor. The power button, a second USB-A 3.2 port, a microSD card slot, a security lock slot, and a storage barrel for the slim 4.25-inch stylus pen are all located on the right side of the device.
Although I'm a little sad that the Yoga 9i lacks an HDMI port, I won't be too upset because the designers still managed to include frequently overlooked interfaces like USB-A and a headphone jack. Two Thunderbolt 4 ports and one USB-C 3.2 Gen 2 port are located next to each other on the left and right, respectively.
Although it isn't the most complete set of ports we've seen, it is still superior to many high-end models that have chosen a minimalist approach. I certainly expect to see a few more ports on the future Yoga 9i, even if that means it will be a little chunkier than before, as the lack of actual port diversity is disheartening.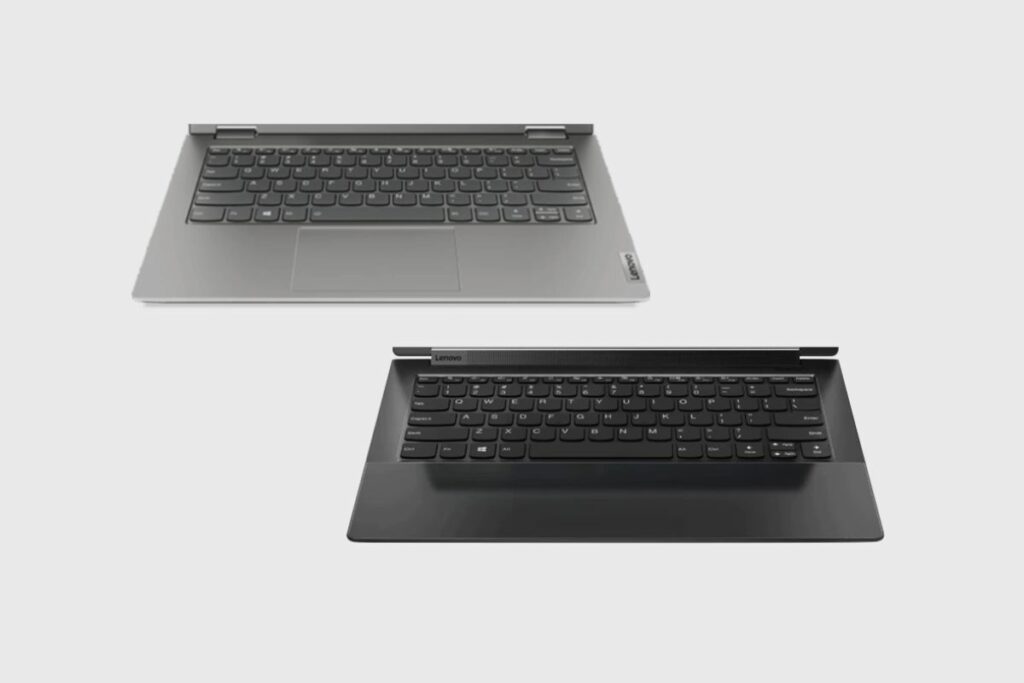 Keyboard and TrackPad Comparisons
The backlit keyboard on the ThinkBook 14s Yoga is excellent; it has quick key travel and contrasts nicely with the dark blue/black of the aluminium casing that surrounds it. The Ctrl key is located correctly, Lenovo didn't add any unnecessary features to the keyboard, and you can switch between special functions (such as volume, brightness, communications, and so on) and standard operations in the function row.
The somewhat small touchpad is also quite good, and even though I eventually disabled 3- and 4-finger gestures, I had no accuracy or misclick difficulties. I wish touchpads everywhere were this little.
The Lenovo Yoga 9i's keyboard, on the other hand, offers a luxurious typing experience with soft yet strong feedback and sufficient depth for pleasant key travel. The brightness can be adjusted, which is nice, but it suffers from a typical issue where soft white backlighting doesn't contrast well with light-coloured keycaps, ironically making the keys less visible in well-lit spaces. Naturally, the problem can be fixed by just turning off the backlight.
Lenovo labels a few of the additional keys down the right side of the keyboard "1-Click Function Keys." These keys have capabilities pre-programmed into them, including a fingerprint reader for secure logins, changing the colour mode of the display (like Windows dark mode), blurring the background on the webcam, switching audio profiles, and switching power profiles.
These are single-function buttons, even though the additional functions are in some ways useful. Additionally, since Lenovo removed the default power profiles from the Windows 11 settings, attaching performance modes to Lenovo's unique keys and proprietary software may confuse the ordinary user when they begin investigating a battery or performance issue.
A sizable button-free touchpad is located immediately below the keyboard. The 3.1 by 5.3-inch glass-surfaced pad is a comfortable width. Every time a button is pressed, the clickable pad makes a clear click, and it tracks multitouch movements perfectly.
Audio Comparisons
The ThinkBook 14s Yoga's bottom-mounted speakers deliver decent sound that is neither harsh nor tinny despite not being particularly loud. Bass is noticeably lacking, as it is on almost all budget laptops, but you can hear overlapped recordings. The Dolby Access software includes an equaliser as well as presets for music, movies, games, voices, and dynamic content.
However, I think the Bowers & Wilkins speaker bar built right into the Yoga 9i hinge is very impressive. Inside that slim speaker bar are two speakers, with another two subwoofers built into the chassis, giving you rich audio in whatever orientation you have the Yoga in, from tent mode to tablet mode.
The rotating speakers are a clever solution to the problems that come from making audio work well on both a laptop and a tablet, and they succeed in delivering clear sound in any orientation. And, to match the display's HDR capability, the speakers support Dolby Atmos audio.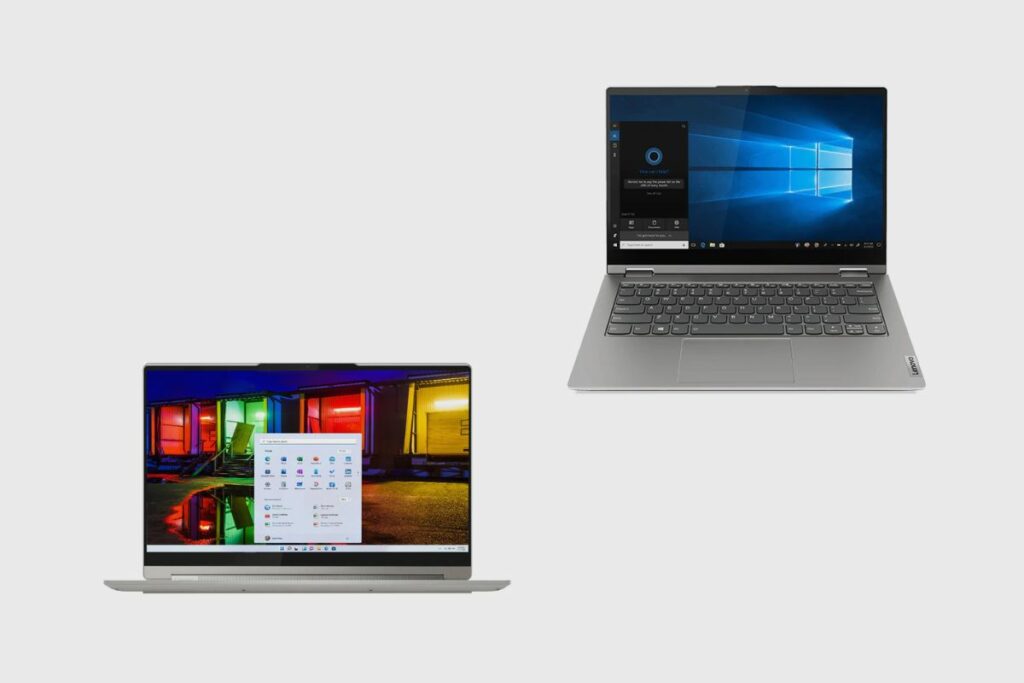 Display Comparisons
The ThinkBook 14s has a touchscreen Full HD IPS panel with the model number LEN140FHD (LEN889B) as its display. It has a refresh rate of 60Hz. It has a 14.0′′ (35.5 cm) diagonal and a 1920 x 1080p resolution. Additionally, the pixels have a 0.16 x 0.16 mm pitch, a 157 ppi pixel density, and a 16:9 aspect ratio.
When seen from a distance of at least 56 cm, the screen can be deemed retinal (at this distance, the typical human eye cannot discern the individual pixels). This provides a wonderful viewing experience and makes it enjoyable to observe images on a screen.
The maximum measured brightness, with a maximum deviation of 15%, is 335 nits (cd/m2) in the centre of the screen and 307 nits (cd/m2) on average throughout the surface. At maximum brightness on a white screen, the related colour Temperature is an average of 6750K.
The Yoga 9i's striking, supremely powerful display, however, is superior to that of the ThinkBook 14s Yoga Gen 3. The Yoga 9i has a 14-inch OLED display with 2,880 by 1,800 pixels.
Moving images are handled effectively by this, although the 2.8K OLED also shows a moiré effect, which is a faint grid (not evident on the subpixel image). This is especially obvious at close seating distances and on bright surfaces. At typical viewing distances, this shouldn't be an issue, but if you want to be safe and avoid this occurrence, you should pay an additional $250 for the 4K panel.
The two panels' fundamental characteristics are similar, with a maximum SDR brightness of about 380 cd/m2 and a maximum in HDR mode of about 570 cd/m2. However, Windows' HDR implementation still needs to be improved.
The colour management also stops working when HDR mode is manually enabled in the settings. The black level is exceedingly low, as one might anticipate, producing a very high contrast ratio. OLED panels do not exhibit backlight bleeding, although PWM at a frequency of 360 Hz begins to operate at a brightness of 86% or below.
The 14-inch display, which supports Dolby Vision HDR, offers the perfect balance of wide colour representation, respectable brightness, and OLED's renowned pure blacks, whether you're making notes or tapping and swiping across the screen in tablet mode. With a refresh rate that is higher than typical (90Hz), Lenovo also improves the quality.
It's a slight improvement, but it gives the impression that everything is moving more smoothly. This won't be as noticeable as the 120Hz or 240Hz screens we've seen on certain gaming laptops, but it's still a nice touch for a general-use laptop like this.
Personal Thoughts
The OLED display on the Yoga 9i is outstanding and provides users with an unparalleled viewing experience. The colours are deep and very nicely balanced, giving an almost perfect picture quality. However, while the display on the 9i is very good, I think it would have been even better if it had a 120Hz panel. However, perfection is fleeting, and this laptop's display gives a lot more than it takes. I think the ThinkBook 14s Yoga's display is good, but it is clearly not as good as the Yoga 9i.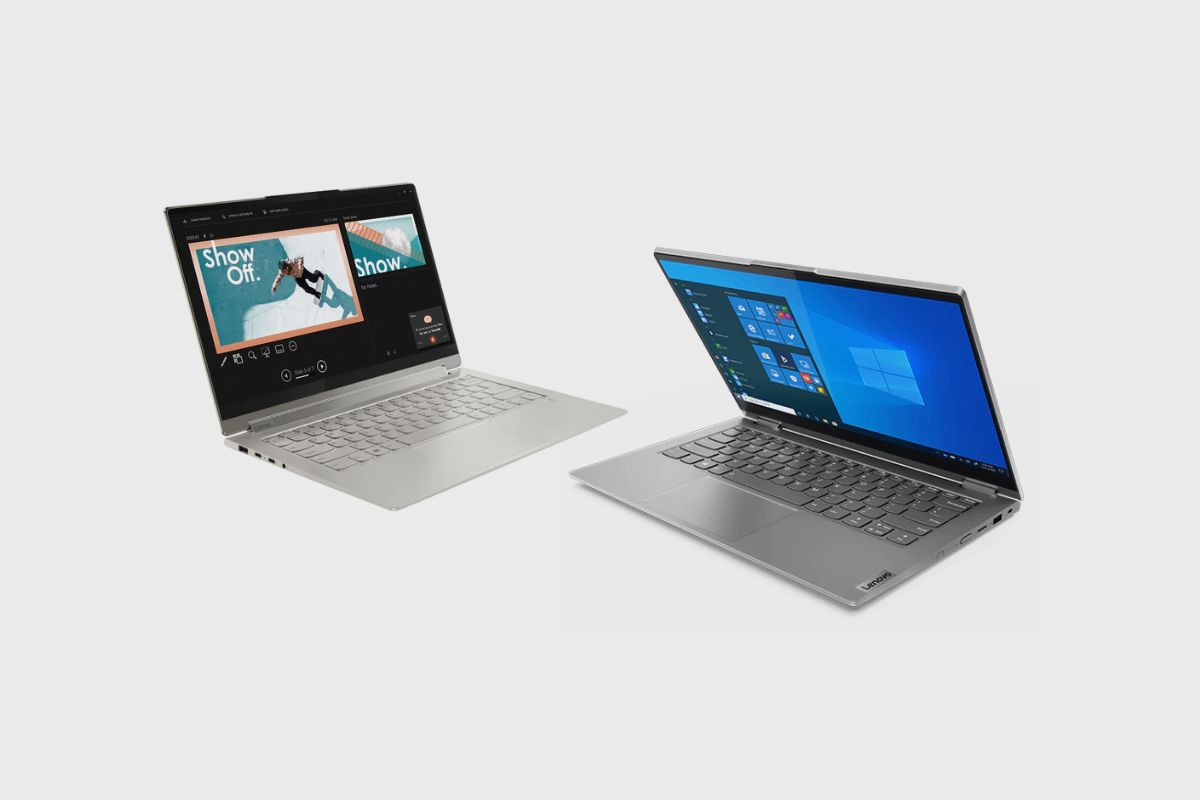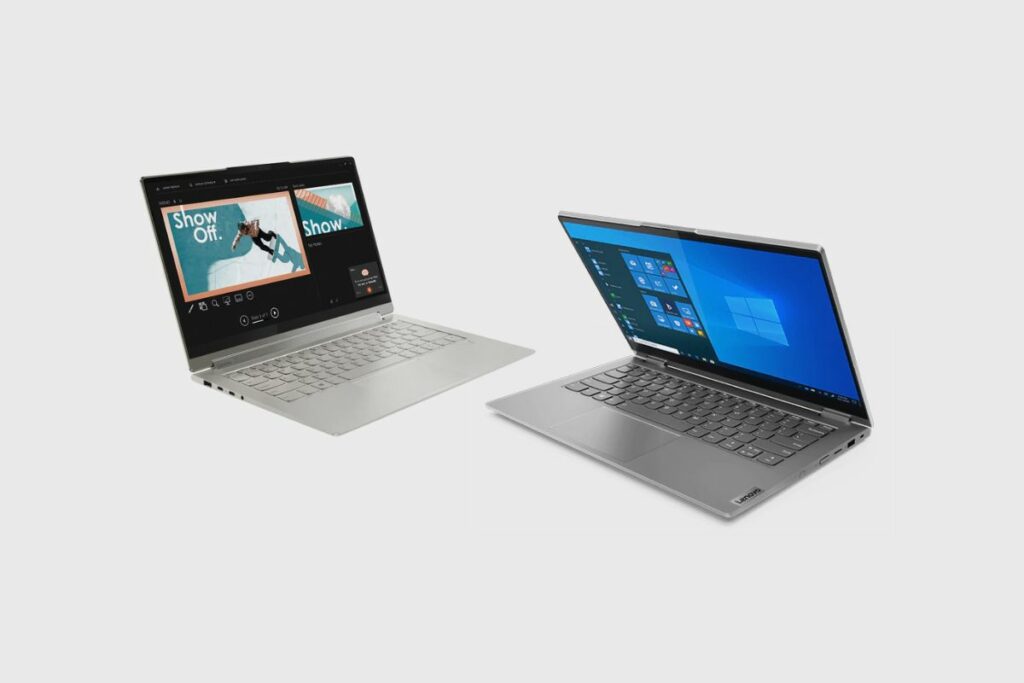 Performance Comparisons
On the performance side of things, both systems come with Intel 13th-generation chips, which makes each laptop a powerhouse in its own right. However, the CPU architecture for each laptop is very different, and that makes for very different levels of performance for each laptop. However, they also come with Intel's Iris integrated graphics chips, which are good but not great for optimal gaming performance. However, given their impressive CPU, they should be able to compensate for the lack of dedicated graphics cards and still produce some impressive figures during testing.
The only components now available for the new Yoga 9i 14 G8 are the new Intel Core i7-1360P and 16 GB of LPDDR5-5200 RAM. Only the hard disc capacity is available in 512 GB and 1 TB sizes. The U and P series of the Raptor Lake generation have not been altered significantly from the previous Alder Lake models, in contrast to the new mobile HX CPUs. The new Core i7-1360P is similar to the old Core i7-1260P (4 performance cores and 8 efficiency cores), except for a slightly higher maximum clock.
I also have a direct comparison here because the Yoga 9i 14 G8 (as in the predecessor) operates at up to 64 watts intermittently and at up to 38 watts continuously. With an 8% advantage over the Core i7-1260P in the previous Yoga 9i 14, the Yoga 9i 14 could once again be among the fastest Raptor Lake P notebooks this year. This also implies that, in Cinebench R23 Multi, for instance, the new Raptor Lake is only marginally faster than the outdated AMD Ryzen 7 6800U and the little Apple M2 Pro (10 cores), although the M2 Pro with 12 cores is noticeably quicker.
In my Cinebench R15 multi-loop, the new Raptor-Lake mobile processor's advantage quickly disappears, and it is only very slightly faster than the previous Yoga 9i 14 with its Alder-Lake processor. At least in battery mode, performance is steady. To exclude the influence of the internal display, I also looked at the efficiency of the new Raptor Lake Core i7-1360P using an external display for the measurement. The efficiency has also increased slightly, both in single-core and multi-core testing, as we've already shown that the Core i7-1360P delivers a little bit better performance than the Core i7-1260P in the old Yoga 9i 14 with identical power constraints.
On the other hand, the most recent 13th Gen Intel CPUs installed in the ThinkBook 14s Yoga Gen 3 all perform wonderfully, as does the Core i5-1335U CPU I'm currently testing. I'm still a little miffed that this laptop, like the one from the year before, lacks an EVO certification. The primary benchmark of UL's PCMark 10 evaluates overall performance for office-focused applications, including word processing, spreadsheets, web surfing, and videoconferencing, by simulating several actual productivity and content-creation tasks. To evaluate a laptop's storage throughput and load times, I also run it through PCMark 10's Full System Drive test.
The ThinkBook performed admirably in the productivity and creative benchmarks of PCMark 10 and PugetBench, giving it a reliable solution for routine business operations and easy content production but not for strenuous workstation workloads. This laptop is not meant for highly specialised positions needed to supply premium assets or commodities to consumers and clients but rather for the great majority of employees inside a business.
Graphical Comparisons
The new Raptor Lake mobile CPUs on the Lenovo Yoga 9i are a letdown when it comes to the integrated graphics card because they continue to use the well-known Iris Xe Graphics G7 with 96 EUs, which I am already accustomed to from the previous Tiger Lake processors. Although the maximum clock has increased significantly, the advantage over the Core i7-1260P in the previous Yoga 9i 14 is still modest at 1-2% in the synthetic benchmarks. Both AMD's integrated Radeon 680M GPU and Apple's current M2 Pro GPUs are faster than Intel in this area.
The latest iGPUs from AMD are expected to be released in the upcoming months, but the Xe Graphics G7 is still adequate for daily use and can stream high-resolution videos without any problems. In terms of gaming, the Xe Graphics G7 falls well short of the integrated Radeon 680M, and many games do not support more than medium details. With the Intel GPU, modern and demanding games (like Cyberpunk 2077) are essentially unplayable.
When you're not working on it, the ThinkBook may be able to get away with merely casual gaming and video streaming—no fast-twitch action. I would never consider using this laptop for anything other than business. However, it too falls prey to the lack of a dedicated graphics card, making it hard to properly enjoy the latest gaming titles on the market.
Personal Thoughts
As far as I'm concerned, both laptops provide users with great levels of performance and should both be considered impressive laptops with even more impressive processors. They both have impressive testing scores and will easily outperform other laptops within their categories. However, their distinct lack of dedicated graphics cards makes them a liability in the gaming department, especially with more recent titles like God of War Ragnork and Cyber Punk 2077.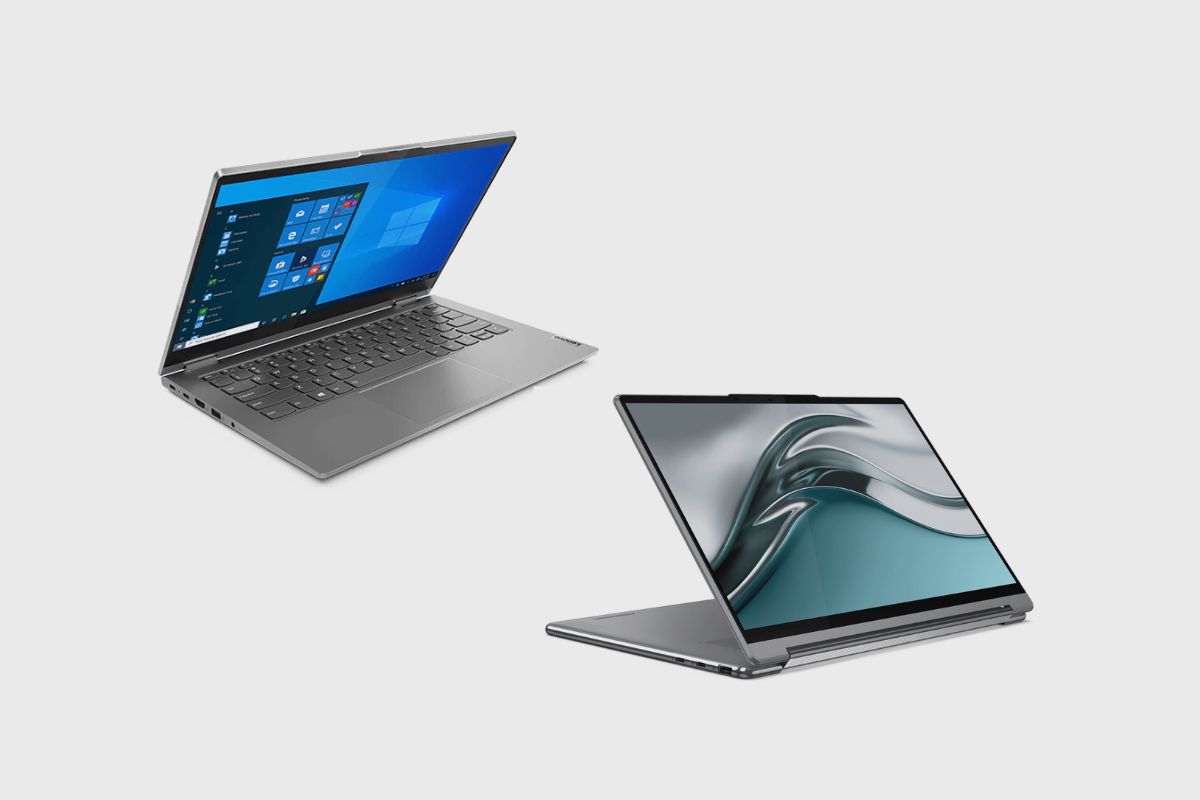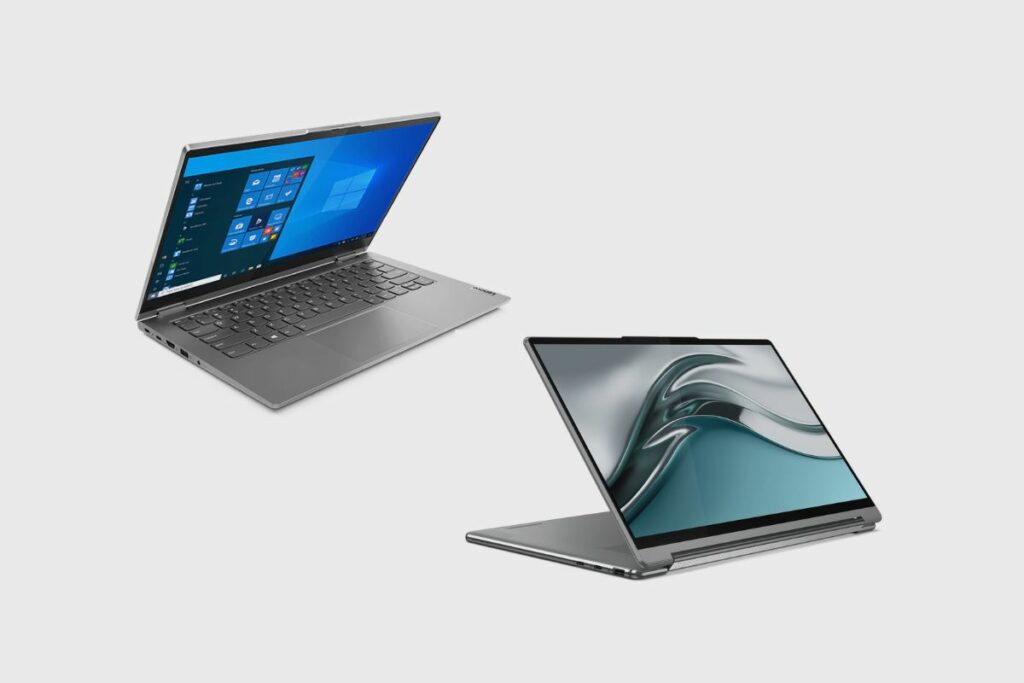 Storage and Memory Comparisons
Both laptops come with fairly similar RAM capacities; each laptop sports an internal 16GB of RAM, which allows them to be multitasking machines. However, there is a slight difference in their storage capacities, as the Lenovo Yoga 9i has a 1TB SSD variant and the ThinkBook 14s Yoga Gen 3 only comes with a 512GB SSD.
Battery Life Comparisons
Both Laptops have considerably longer battery lives. Each Laptop provides well over 10 hours of battery life on a single charge, and that is very impressive. I played a locally stored 720p video clip (the free Blender movie Tears of Steel) while setting the display brightness to 50% and the audio volume to 100% to test the battery life of the Lenovo ThinkBook 14s Yoga Gen 3. Before the test, I turned off the Wi-Fi and the keyboard lights and verified that the battery was completely charged. The laptop did really last me a reasonable 12 hours, which is a good rating.
However, I played a locally stored 720p video clip (the free Blender movie Tears of Steel) while setting the display brightness to 50% and the audio volume to 100% to evaluate the Lenovo Yoga 9i's battery life. Before the test, I turned off the Wi-Fi and the keyboard lights and verified that the battery was completely charged. I was able to use the laptop for a whopping 14 hours, which is a fantastic rating.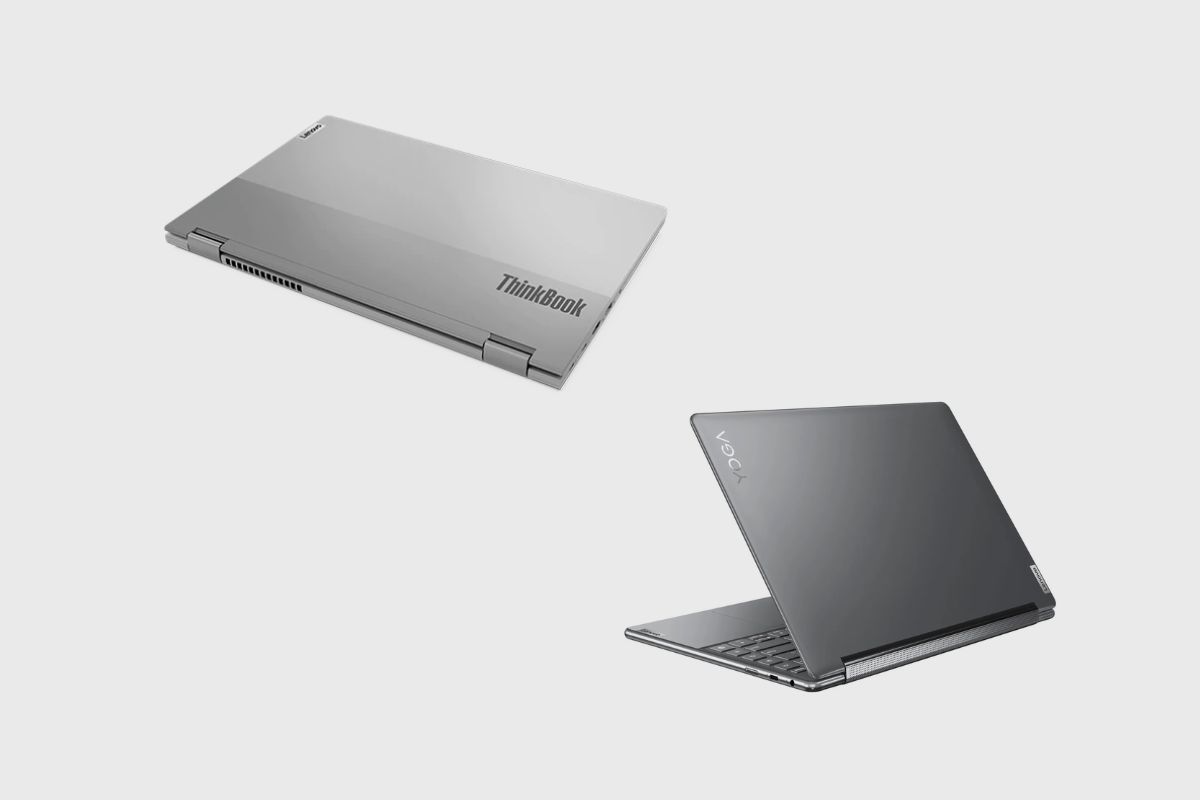 Price comparisons
The $1,420 base model from Lenovo comes with Windows 11 Home, 8GB of RAM, and a respectable 256GB NVMe solid-state drive. On Lenovo.com's online configurator, the device I'm assessing costs $1,700 and comes with Windows 11 Pro, 16GB of memory, and 512GB of storage.
There are Intel Core i7 and IT-friendly vPro processors, as well as 1TB and 2TB SSDs, but no higher-resolution display choice is offered. While Lenovo includes a Windows Hello-compatible fingerprint reader integrated into the power button, the webcam lacks IR facial recognition.
The Lenovo Yoga 9i 83B1001WUS, a 14-inch laptop with a 2,880-by-1,800-pixel OLED touch screen and an integrated Lenovo Precision Pen 2, served as my test device. On Lenovo's website, the Lenovo Yoga 9i Gen 8 has a starting price of $1,700, but as of this writing, Best Buy has it listed for $1,399.99. The Intel Core i7-1360P processor, 16GB of RAM, Intel Iris Xe integrated graphics, and a 512GB SSD are the components of this system's base configuration.
Given that they are both relatively recent launches, it is safe to assume that both laptops are about the same price and should be extremely easy to find. You might, however, wait for summer sales from retailers like Amazon and Best Buy if you want to acquire them a little less expensively.
Final Thoughts
Both laptops seem very even on paper, and it is hard to tell which one is better. They both have 13th-generation Intel processors, which match up fairly nicely; their keyboards are great, and they have both been built well. However, I think the superior display, battery life, and increased storage on the Yoga 9i give it the edge in this battle, but not by much. In the end, these are two great laptops, and you won't be disappointed with anyone you choose to buy.
Thank you so much for reading this article. Please feel free to leave all of your questions in the comment section, as well as tell us if you plan on buying any of these laptops. Also, if you've already got one, tell us how it's working out for you and if you love it. And for anything else you want to talk about, you can always find me in the comments section.
Related Posts:
Resources: