The Lenovo ThinkBook 14s Yoga and Yoga 7i serve as an example of how anytime a company makes available more than one version of a given product, the two are invariably compared to determine which one is deserving of our hard-earned money and undivided attention. This year, they made two brand-new third-generation 2-in-1 convertibles.
Both the Lenovo ThinkBook 14s Yoga Gen 3 and the Lenovo Yoga 7i are excellent business laptops, but as they both came out in the same year, were made by the same company, and do a lot of the same things, they must be compared to one another to see which is better and more worthwhile, and that's exactly what I'm going to do in this article.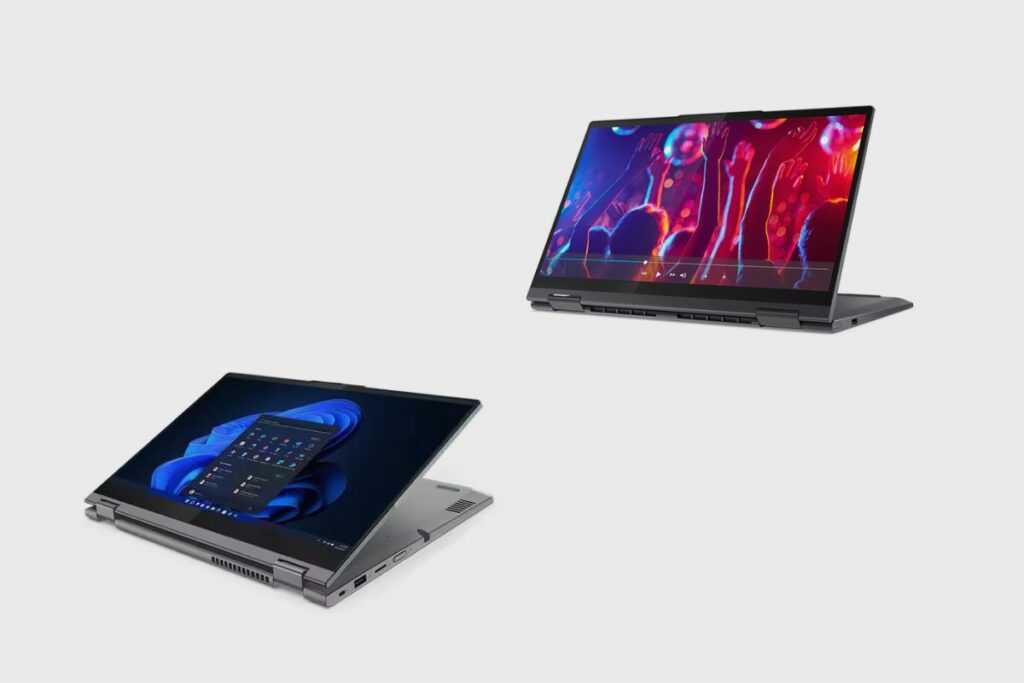 Specs
When comparing two devices, the best place to start is with a quick recap of each of their specs to have a brief look at how they stack up against each other.
| | | |
| --- | --- | --- |
| Category | ThinkBook 14s Yoga Gen 3 | Yoga 7i 2023 |
| Display | 14-inch (1,920 by 1,080) 60Hz FHD | 16-inch 1920 x 1200, Dolby Vision touchscreen |
| Processor | Intel Core i7-1335U | Intel Core i7-1355U |
| GPU | Intel Iris Xe Graphics | Intel Iris Xe Graphics |
| Battery Life | 12:48 | 12:30 |
| RAM/Storage; | 16GB/512GB SSD | 16GB/512GB SSD |
| Dimensions (HWD) | 0.67 x 12.6 x 8.5 inches | 14.3 x 9.8 x 0.67 inches |
| Weight | 3.3lbs | 4.49lbs |
| Wireless Networking | 802.11ax (Wi-Fi 6) Bluetooth 5.1 | Intel Wi-Fi 6E AX211, Bluetooth 5.1 |
| OS | Windows 11 Pro | Windows 11 Home |
Design and Build Quality Comparisons
From a design standpoint, both laptops share a few similarities; they are both 2-in-1 convertible laptops. However, they also have a few key differences that make each laptop stand out.
The ThinkBook 14's body panels are made entirely of aluminium. As a result, the object is very rigid and has flexible resistance. especially if Gorilla Glass, another flex-resistant glass, shields the display. Given its size, the machine's weight of 3.3 lbs (1.50 kg) is not terrible. Its profile measures 16.9 mm in addition. Because of this, it is simple to hold in your hands, and, as a bonus, it takes up little room in your backpack.
Its convertible lid opens with one hand, which is unique for convertibles. Because of the 16:9 aspect ratio, the display has a very broad bottom bezel, while the rest are on the tiny side. (According to Lenovo, the screen-to-body ratio is 86%.) A 720p (or optional 1080p) Web camera with a privacy shutter is situated above the display, which is a plus. I'd have to say that I quite fancy the ThinkBook 14s Yoga Gen 1 design, and the choice of abyss blue as its main colour component is really impressive.
The Yoga 7i, on the other hand, has a classic notebook design that is, to put it mildly, dull. The Yoga moniker is emblazoned on the dark grey lid of an uninspiring aluminium chassis. Fingerprints are easily picked up, but they can be removed with a cloth. The camera bump, which is easy to remove the lid with, is perhaps the only other remarkable feature. The 16-inch model appears particularly basic, with dimensions of 14.3 x 9.8 x 0.67 inches and minimal branding.
The tiny bezel around the screen and keyboard deck is visible when the laptop is opened. It's also the time when you'll notice the laptop's rounded corners, which seem great but end at the keyboard deck, where they're squared off.
The Yoga is a 2-in-1 convertible computer with a 360-degree hinge that enables you to use the keyboard and display separately to use the computer as a tablet. The keyboard may also be turned upside down and used as a display, or you can make it into a "V" shape. Although I think a tablet with a screen size of 16 inches is a bit awkward, it's evident that the concept appeals to some people.
The Yoga 7i weighs 4.49 pounds, which is more than other 13 or 14-inch U and P-class laptops, which are more common in this category. In general, larger screen sizes give you greater weight. The ThinkBook 14s weighs 3.31 pounds, the Yoga 9i Gen 8 is 3.09 pounds, the HP Spectre x360 13.5 is 3.01 pounds, and the MacBook Air with M2 is 2.7 pounds.
All in all, it's hard to compare both laptops against each other in terms of design because they both have excellent designs. However, I think the ThinkBook 14s has a slightly better design, but not by much.
Port Diversity and IO
The ThinkBook 14s has a distinct advantage in terms of port availability, sporting an outstanding variety of connectors all over the notebook. On the left side of the laptop, there are two USB Type-C ports—one Thunderbolt 4 and the other USB 3.2 Gen 2—along with an audio jack and an HDMI port for an external monitor. The power button, a second USB-A 3.2 port, a microSD card slot, a security lock slot, and a storage barrel for the slim 4.25-inch stylus pen are all located on the right side of the device.
An HDMI port, two Thunderbolt 4 connectors, and a headphone jack are located on the Yoga 7i's left side, while the two USB-A ports, a microSD card slot, two USB-C ports, and the power button are located on its right side. The port diversity on the Yoga 7i is a breath of fresh air, and the microSD card slot is a welcomed addition. It's becoming a rarity to see a device with a microSD card slot, but I'm grateful it's here. However, I would have been more surprised to see it omitted, given that this is a 16-inch laptop.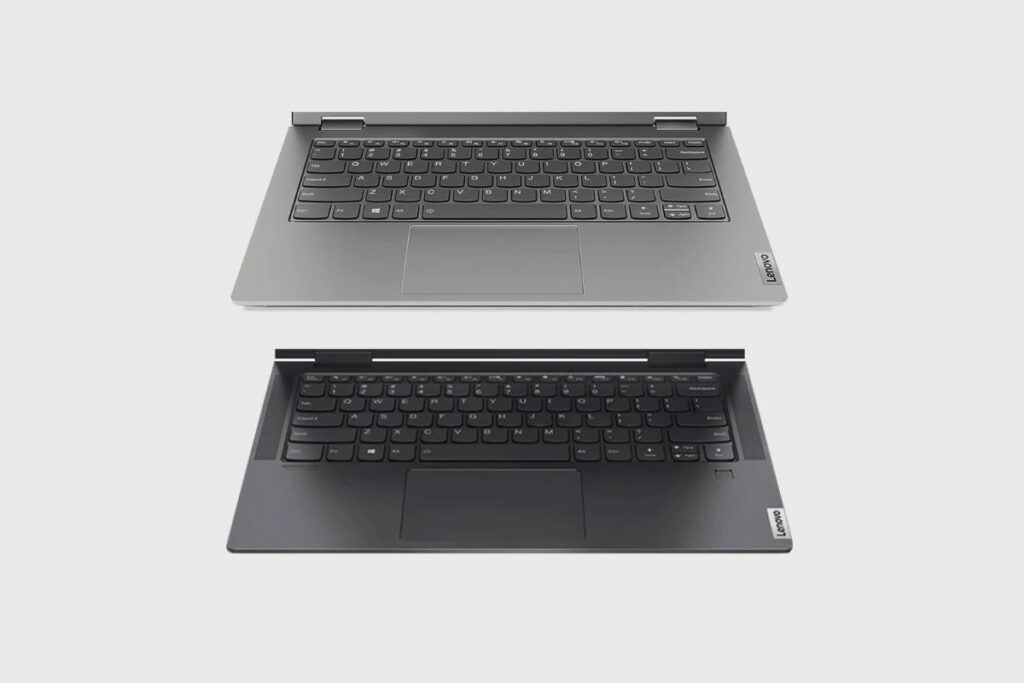 Keyboard and TrackPad Comparisons
The backlit keyboard on the ThinkBook 14s Yoga is excellent; it has quick key travel and contrasts nicely with the dark blue/black of the aluminium casing that surrounds it. The Ctrl key is located correctly, Lenovo didn't add any unnecessary features to the keyboard, and you can switch between special functions (such as volume, brightness, communications, and so on) and standard operations in the function row.
The somewhat small touchpad is also quite good, and even though I eventually disabled 3- and 4-finger gestures, I had no accuracy or misclick difficulties. I wish touchpads everywhere were this little.
Anyone who has used one of the company's business-oriented ThinkPads or other consumer laptops will be familiar with the Yoga 7i's scallop-shaped keys. Even though it doesn't feel like Lenovo's best keyboard, it is still functional.
I wish the keys had a little more bounce or feedback, specifically. However, that didn't stop me from typing quickly. On the MonkeyType test, I was able to type 112 words per minute with 97% accuracy. However, I did periodically bottom out, which isn't a pleasant sensation.
Although the number pad on the keyboard has keys, they are not as large as the letters. Even so, it will be appreciated by people who use Excel frequently, and it makes good use of the keyboard. A fingerprint reader that works with Windows Hello is located below the keys and is similar to the IR camera in that it allows you to log in.
With Lenovo's design, I have a few minor issues. To make each key easier to discover, I would much rather see Lenovo go to half-size left and right arrow keys for an "inverted T" arrangement. I also wish the media keys were closer to the volume keys, even though I welcome their addition. In comparison to where they were originally placed, that would make more sense.
The spacebar is to the left of the touchpad. In general, I had no problems using Windows 11 gestures and navigating programs, albeit occasionally, it felt plasticky and my fingers dragged.
Lenovo's Precision Pen 2 is compatible with the Yoga 7i and allows users to use a stylus on the touchscreen. You'll need to set aside an additional $60 for it because one wasn't included in the box with my inspection unit.
Personal Thoughts
While the keyboard on the Yoga 7i may be bigger and have a number pad, it is still not nearly as comfortable as the keyboard on the ThinkBook 14s. The ThinkBook 14s Yoga has a better keyboard and trackpad combination, and it is much easier to type on.
Audio Comparisons
Despite not being very powerful, the bottom-mounted speakers on the ThinkBook 14s Yoga produce a decent sound that is neither harsh nor tinny. Bass is clearly lacking, as it is on almost all inexpensive laptops, although overlapped recordings can be heard. Dolby Access software comes with an equaliser as well as presets for music, movies, games, voices, and dynamic content.
A grille above the keyboard houses two 2W, top-facing speakers on the Yoga 7i. They have passable sound quality but fall short of the soundbars on the more expensive Yoga 9i. My flat was filled with the sound of Gold Link's "Zulu Screams" from his second album, Diaspora Deluxe Edition, but it wasn't balanced. The song's powerful talking drums were less prominently featured than the vocals.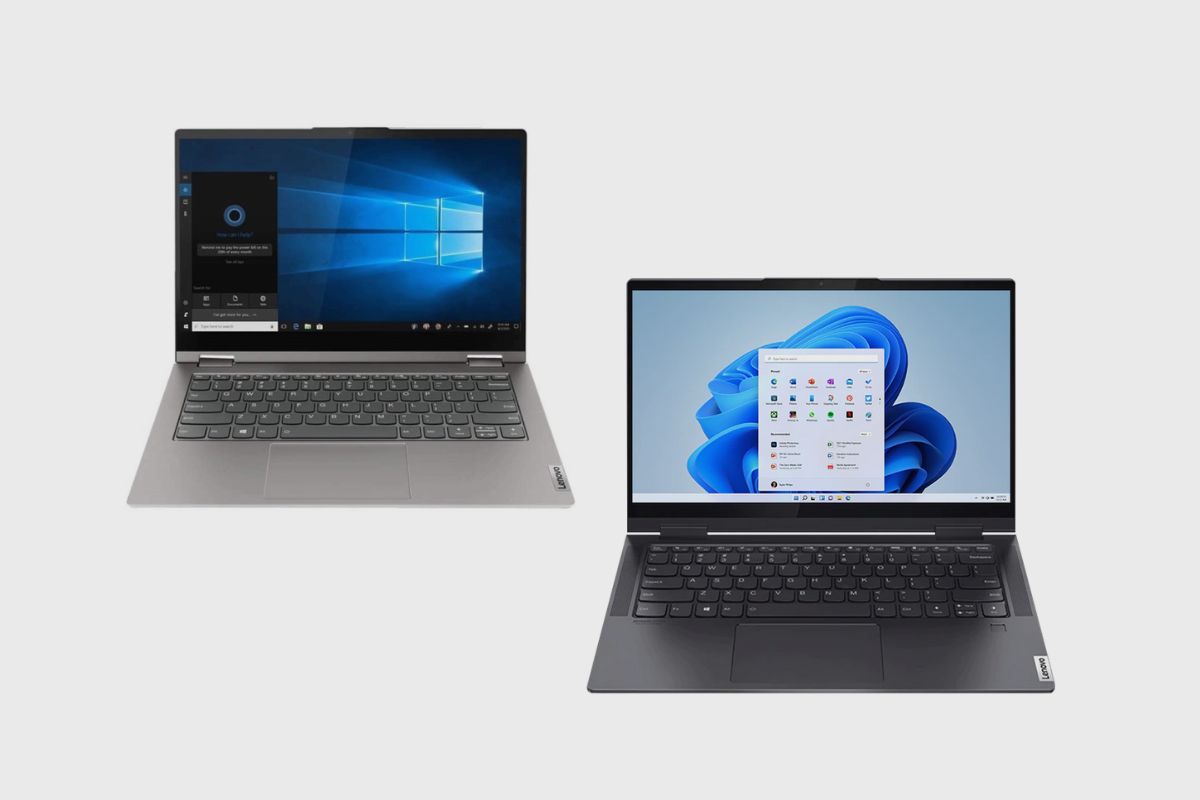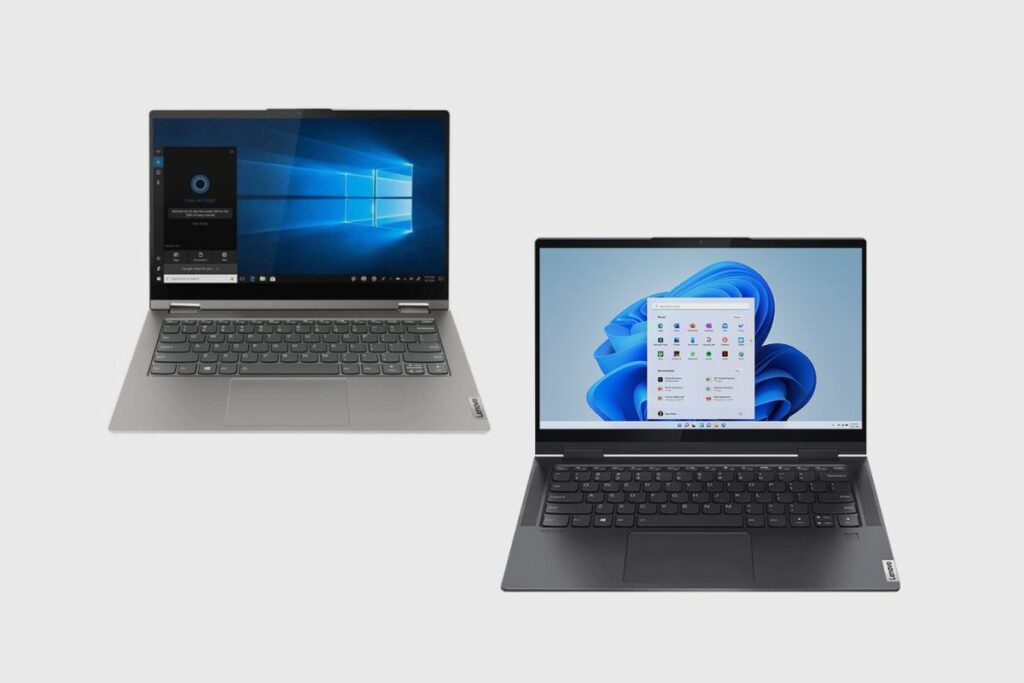 Display Comparisons
The ThinkBook 14s display is a touchscreen Full HD IPS panel with the product number LEN140FHD (LEN889B). It has a 60Hz refresh rate. It features a diagonal of 14.0′′ (35.5 cm) with a resolution of 1920 x 1080p.
Furthermore, the pixels have a 0.16 x 0.16 mm pitch, a pixel density of 157 ppi, and a 16:9 aspect ratio. When seen from a distance of at least 56 cm, the screen is considered retinal (the typical human eye cannot detect individual pixels at this point). This delivers an excellent viewing experience and makes observing images on a screen enjoyable.
The maximum measured brightness, with a maximum deviation of 15%, is 335 nits (cd/m2) in the centre of the screen and 307 nits (cd/m2) on average throughout the surface. At maximum brightness on a white screen, the related colour Temperature is an average of 6750K.
However, I have to say that I am quite disappointed with the display on the Yoga 7i. The 16-inch display is somewhat dull. I didn't have any trouble, but I kept the brightness at its maximum most of the time. The colours aren't really appealing.
When I saw the Blue Beetle clip, the colours of Palmera City were great but not as lovely as they were on other screens. An early view of the skyline included blazing purples, reds, and blues against a night sky, but none of them stood out. When the hero lands on the ocean after falling from the sky, all of the colours mix together. It's obvious, but nothing stands out.
Simply put, the screen on the Yoga 7i falls short of some competitors. With a maximum brightness of 267 nits, you'll want to keep it fully illuminated at all times. It only covers 65% of the sRGB colour space and 45.8% of the larger DCI-P3 colour space.
That's a significant reduction compared to its competitors, who are undoubtedly more expensive. The MacBook Air has a brightness of 489 nits and covers 107% of the sRGB spectrum and 75.9% of the DCI-P3 gamut. The Yoga 9i Gen 8 has a more vibrant OLED display, yet the MacBook Air's screen is still brighter.
Personal Thoughts
The display on the Yoga 7i is not what I expected to see on a 16-inch laptop within its price range. Its dim display and lack of colour balance are very annoying and disappointing. It doesn't match up to the ThinkBook 14s Yoga, and I'm not happy about it.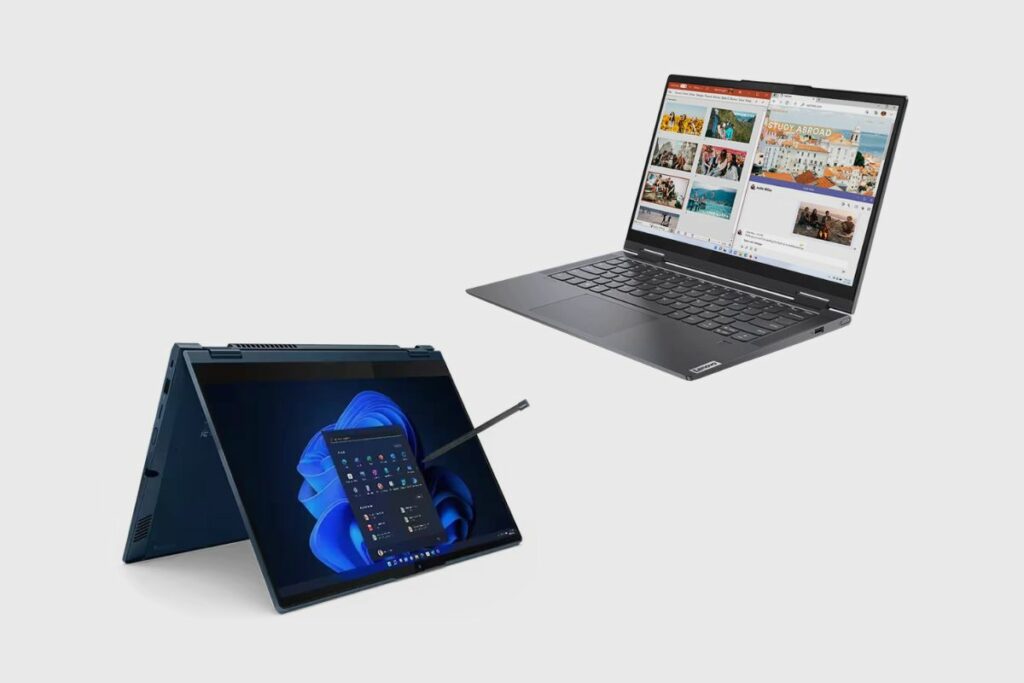 Performance Comparisons
On the performance side of things, I have to say that this is one of the first times I have been genuinely surprised by a pair of laptops. This is because they both have the same Intel Processors.
While other factors affect performance, like heat and temperature dispersion, these two laptops still share the same CPU and integrated Chips. So their performances should be very similar. Both laptops share the same Intel Core i7-1355U, and it is going to be interesting to see what kinds of different levels of performance we will get.
One of the first laptops to include Intel's 13th Gen U series CPUs is the Lenovo Yoga 7i. It is an Intel Core i7-1355U, specifically, with 16GB of RAM and a 512GB PCIe Gen 4 M.2 SSD from Lenovo.
The Yoga 7i scored 1,810 for single-core performance and 8,663 for multi-core performance on Geekbench 5. Although you're also dealing with a larger chassis here, their scores improved over last year's Spectre (1,667/7,243). Only the Yoga i9 (1,669.29 MBps) was faster than the Yoga 7i (1,380.11 MBps) when it came to moving 25GB of data.
In my Handbrake test, it took 10 minutes and 30 seconds to transcode a 4K movie to 1080p. That was much slower than the M2 and only 3 seconds faster than the Core i7-1255U in the Spectre from last year.
I ran 20 runs of Cinebench R23 on the Yoga 7i to put it under a lot of strain. The Yoga began at an impressive high of 9,927.63 before plummeting to 7,987.79 on run two and remaining there for the duration of the trade. The audience put forth extra effort, but once they got going, the show mostly held its own. The efficiency cores of the CPU averaged 2.28 GHz, while the performance cores ran at 3.12 GHz on average. The processor's operating temperature was 66.72 degrees Celsius on average.
The most recent 13th Generation Intel CPUs installed in the ThinkBook 14s Yoga Gen 3 work admirably, as does the Core i7-1335U CPU I'm now testing. I'm still irritated that this laptop, like the one from the previous year, lacks EVO certification. UL's PCMark 10's principal benchmark analyses overall performance for office-focused programs such as word processing, spreadsheets, web browsing, and videoconferencing by simulating a variety of actual productivity and content-creation tasks. I also run PCMark 10's Full System Drive test to measure a laptop's storage throughput and load times.
The ThinkBook fared brilliantly in PCMark 10 and PugetBench productivity and creative benchmarks, making it a dependable tool for ordinary business operations and simple content creation but not for heavy workstation demands. This laptop is not intended for highly specialised positions required to provide premium assets or commodities to customers and clients but rather for the vast majority of employees inside a company.
Personal Thoughts
As far as I'm concerned, both laptops provide users with great levels of performance and should both be considered impressive laptops with even more impressive processors. They both have impressive testing scores and will easily outperform other laptops within their categories. However, their distinct lack of dedicated graphics cards makes them a liability in the gaming department, especially with more recent titles like God of War Ragnork and Cyber Punk 2077.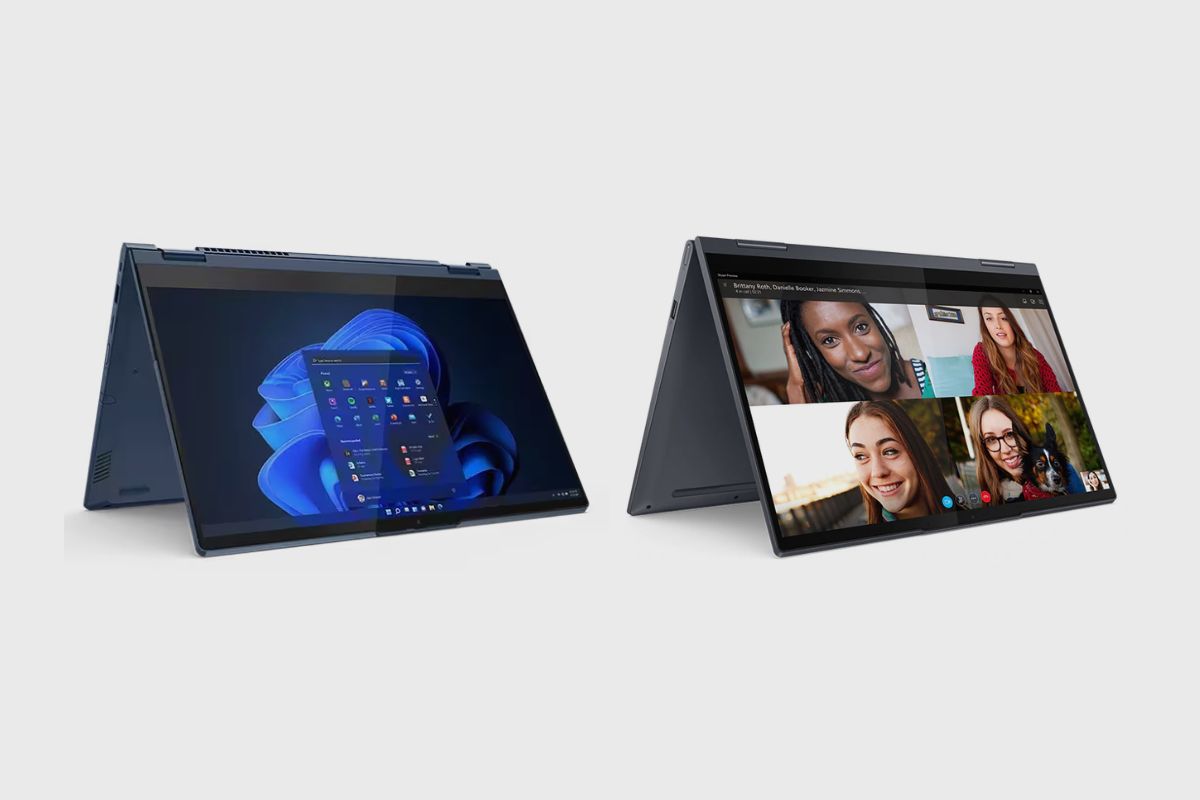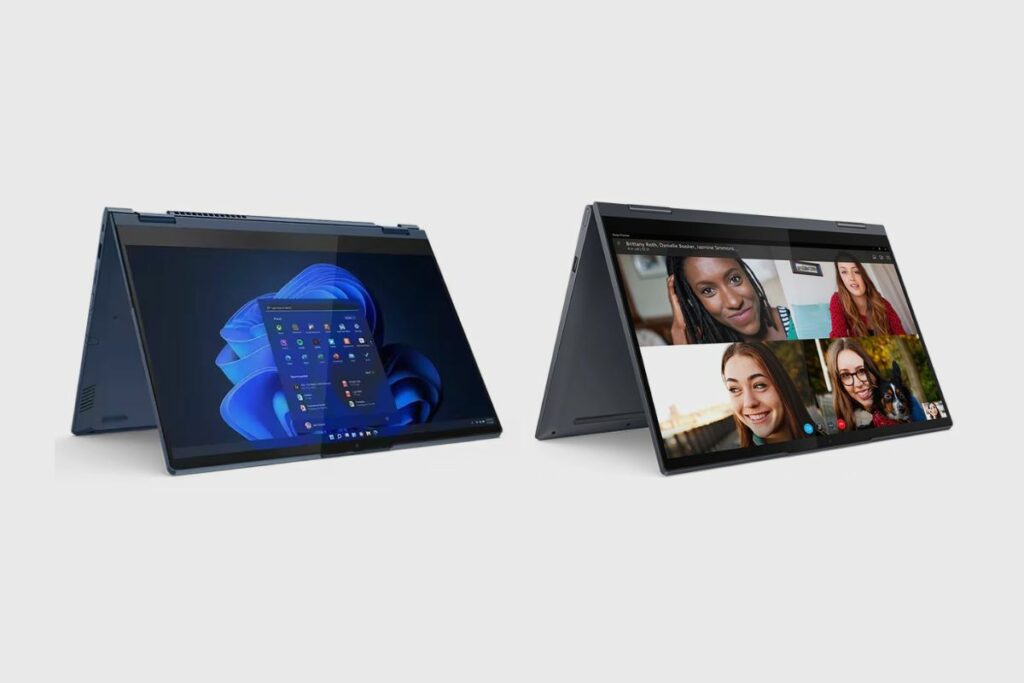 Storage and Memory Comparisons
Both laptops come with fairly similar RAM capacities; each laptop sports an internal 16GB of RAM, which allows them to be multitasking machines. However, there is a slight difference in their storage speeds, as the Lenovo Yoga 7i comes equipped with the new Gen 4 m.2 2242 SSD variant, and the ThinkBook 14s Yoga Gen 3 only comes with a base-level SSD slot.
Battery Life Comparisons
Both Laptops have considerably longer battery lives. Each Laptop provides well over 10 hours of battery life on a single charge, and that is very impressive. I played a locally stored 720p video clip (the free Blender movie Tears of Steel) while setting the display brightness to 50% and the audio volume to 100% to test the battery life of the Lenovo ThinkBook 14s Yoga Gen 3.
Before the test, I turned off the Wi-Fi and the keyboard lights and verified that the battery was completely charged. The laptop did last me a reasonable 12 hours and 48 minutes, which is a good rating.
On a single charge, the Lenovo Yoga 7i 16-inch convertible should last you all day. It lasted 12 hours and 30 minutes on our battery test, which involved browsing the web, streaming video, and running OpenGL benchmarks in the browser while set to 150 nits with no Wi-Fi on.
Personal Thoughts
It is fair to say that both laptops have the same battery life, and that is also very strange to see. However, I still think the ThinkBook 14s has the edge here, but it is a very minor difference.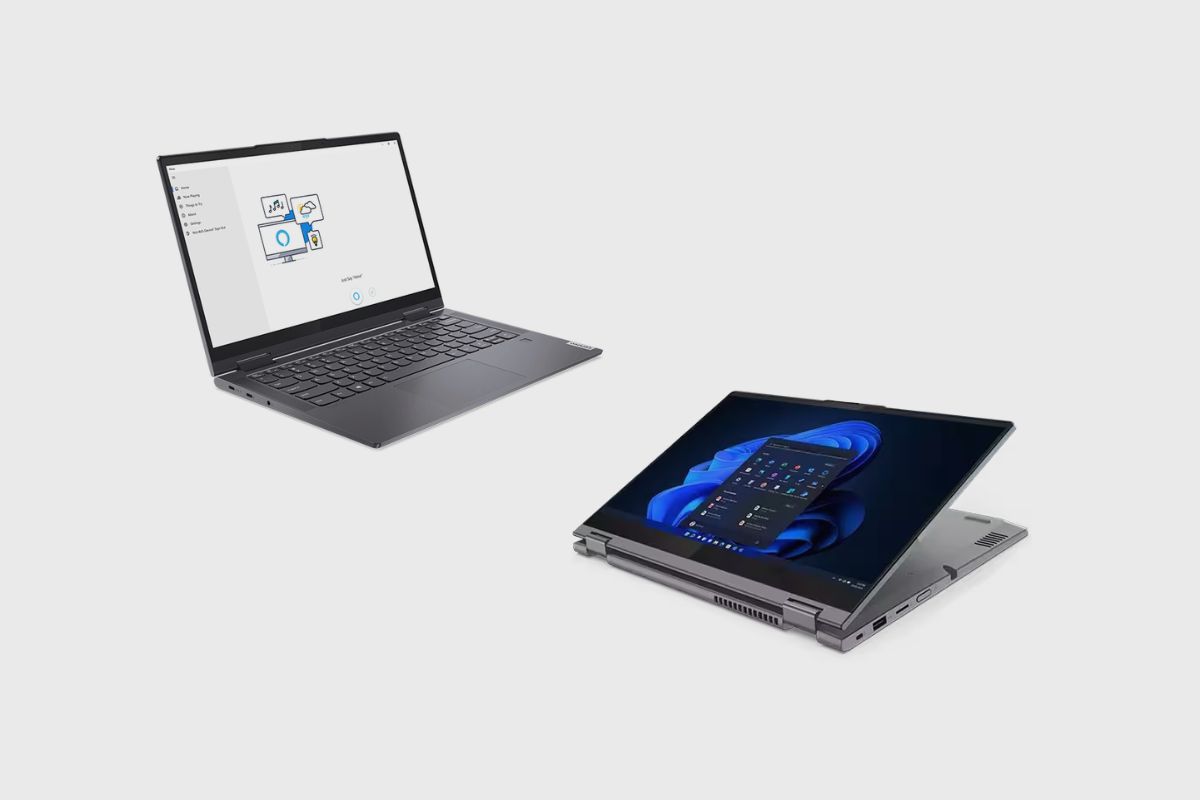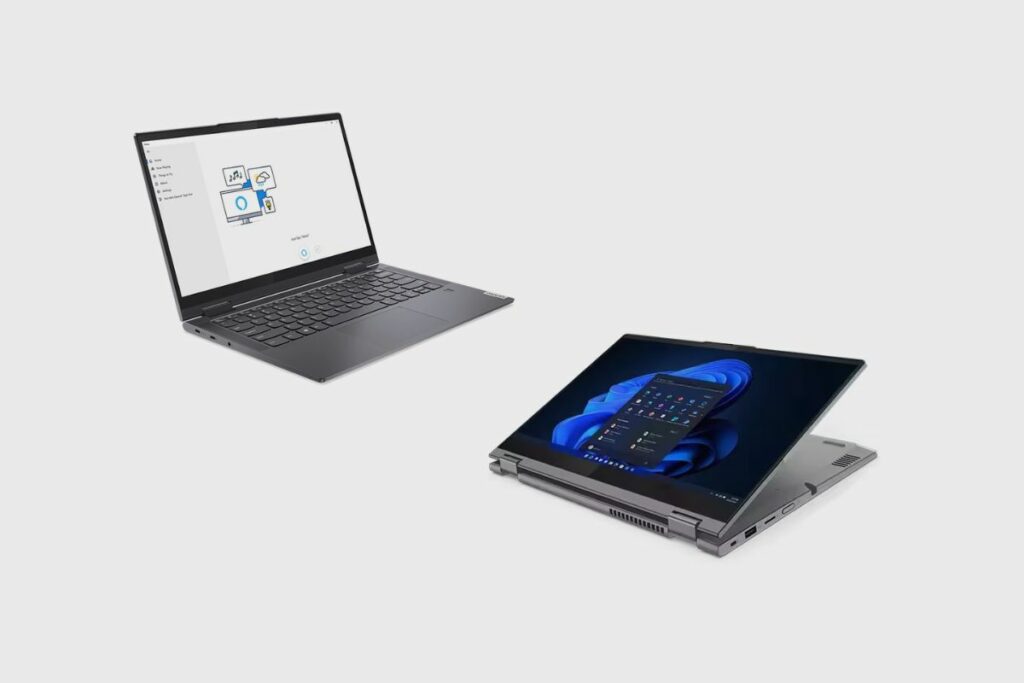 Price comparisons
The $1,420 base model from Lenovo comes with Windows 11 Home, 8GB of RAM, and a respectable 256GB NVMe solid-state drive. On Lenovo.com's online configurator, the device I'm assessing costs $1,700 and comes with Windows 11 Pro, 16GB of memory, and 512GB of storage.
There are Intel Core i7 and IT-friendly vPro processors, as well as 1TB and 2TB SSDs, but no higher-resolution display choice is offered. While Lenovo includes a Windows Hello-compatible fingerprint reader integrated into the power button, the webcam lacks IR facial recognition.
I put the Lenovo Yoga 7i through its paces using an Intel Core i7-1355U processor, 16GB of LPDDR5-5200 RAM, and a 512GB PCIe Gen 4 m.2 2252 SSD. Best Buy sells this version for $849.99.
Lenovo sells the laptop with both U and P-series processors on its website. The cheapest model costs $752.25, and it includes a Core i5-1335U processor, 8GB of RAM, 512GB of storage, and the same 1920 x 1200 display. The top-tier model costs $1,134.99 and has a Core i7-1360P processor, 16GB of RAM, 1TB of storage, and a higher-resolution 2560 x 1600 display.
Final Thoughts
On paper, both laptops are fairly similar; nonetheless, it is easy to discern which one is superior. They might have the same 13th-generation Intel processors, which makes for a good match. However, the ThinkBook 14s Yoga Gen 3 has the advantage in this match due to its superior display, keyboard, battery life, and design.
Finally, these are two excellent laptops, and you will not be disappointed buying either of them. However, If you choose the i7, you'll have to put up with a mediocre display.
Thank you so much for reading this article. Please feel free to leave all of your questions in the comment section, as well as tell us if you plan on buying any of these laptops. Also, if you've already got one, tell us how it's working out for you and if you love it. And for anything else you want to talk about, you can always find me in the comments section.
Related Posts:
Resources: