The Lenovo ThinkBook 14s Yoga Gen 1 is the first ThinkBook 14s released by Lenovo, and it is the original ThinkBook 14s that has spawned all the new versions that have come after it. Think of the ThinkBook 14s Yoga as the base model design that subsequent models have further upgraded and improved upon.
Since this is the original version, it is easy to see this version as one that comes with all the bells and whistles from which the rest take their inspiration and adaptation. It would be best to explore the original design's features to see what the latter versions were based on.
Exploring the Features of the Lenovo ThinkBook 14s Yoga Gen 1
So, in this article, I'll be taking a look at all of the main features of the Lenovo ThinkBook Yoga Gen 1. This will help establish a baseline to see how all the other models were designed.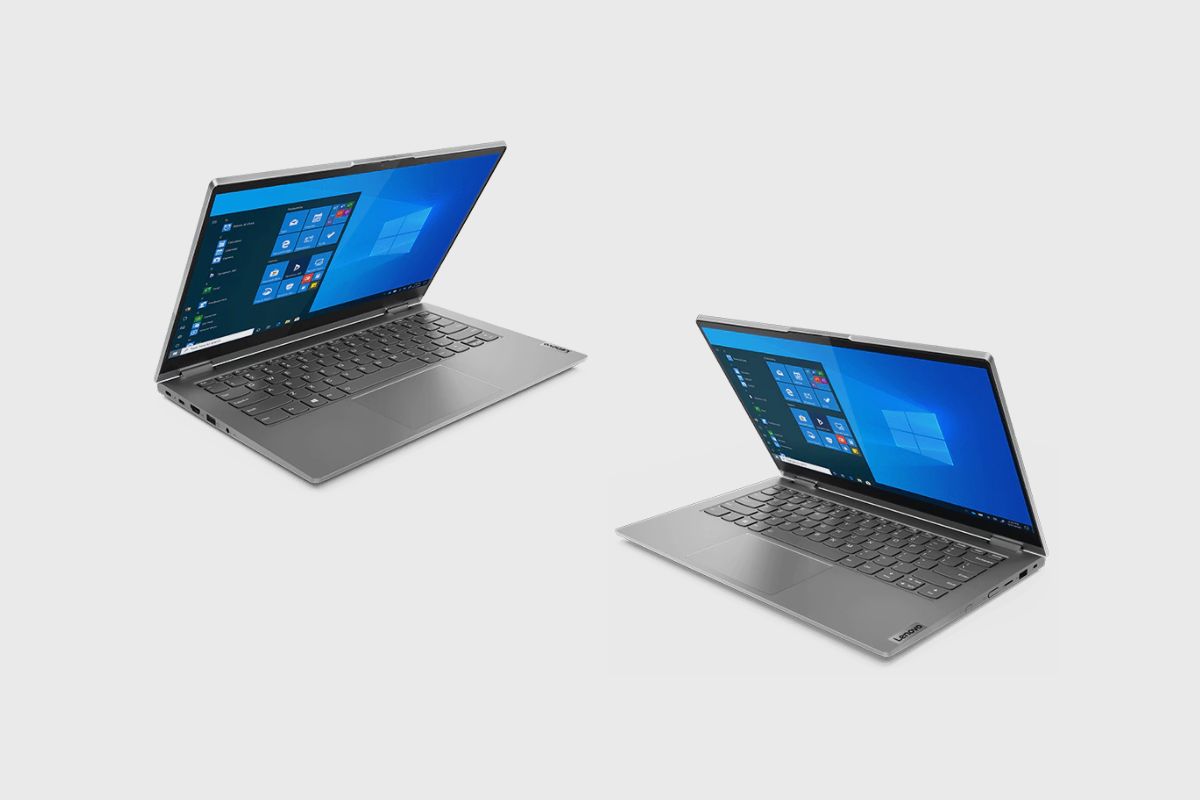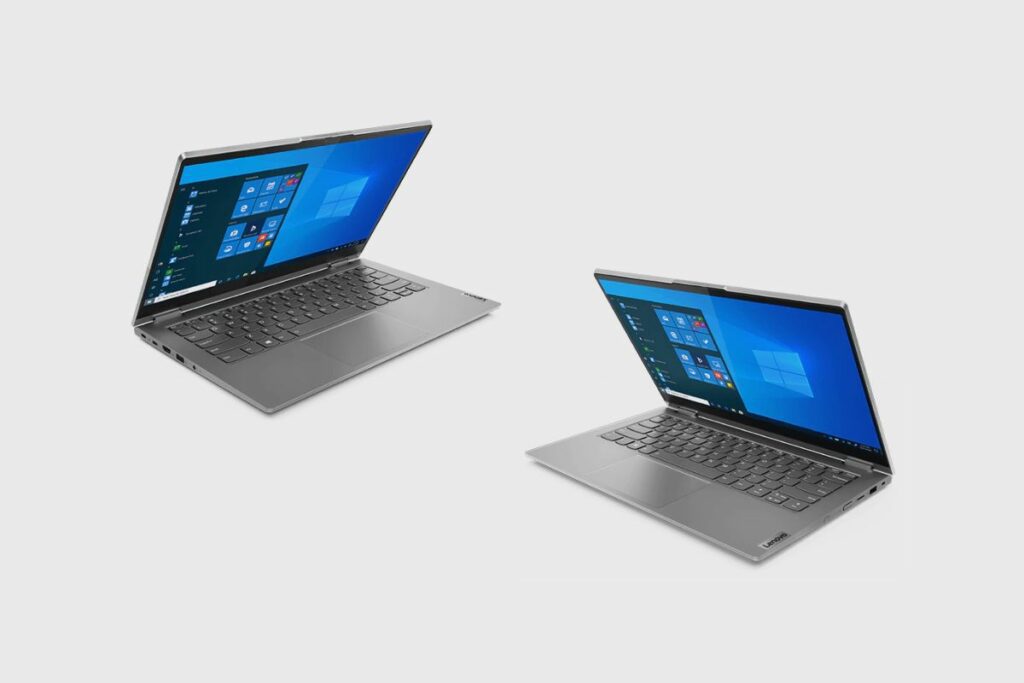 Design
The ThinkBook 14s Yoga Gen 1 from Lenovo has an Abyss Blue aluminium frame and is slightly larger than the Latitude (0.59 by 12.6 by 7.9 inches) but smaller than the more consumer-focused Asus VivoBook Flip 14 (0.72 by 12.8 by 8.7 inches). In tablet mode, it weighs 3.3 pounds, which is a little heavy to carry in your hands rather than on your lap, but it's not too heavy in a briefcase.
A two-tone colour scheme and a sizable ThinkBook logo are present on the fingerprint-prone lid. When lifted, a 1,920 by 1,080-pixel display with minimal top and side bezels is visible. (Lenovo claims a screen-to-body ratio of 86 per cent.) The top border has a sliding shutter that turns off the webcam.
When you tap the display when it is in laptop mode, two hinges allow you to flip and fold the screen back into the tablet, presentation kiosk, or tent modes with a little wobble. There isn't much flex if you grab the screen edges or press the keyboard deck, even though the ThinkBook hasn't passed the MIL-STD durability tests granted to ThinkPads.
The ThinkBook 14s Yoga Gen 1 lacks the HP Spectre x360 14's flashy features, such as CNC machining, gem-cut edges, and gold hinges with logo stamps, but it makes up for it with a winning blend of durability and portability. On some low-cost versions, an all-plastic casing could flex in your hand or give way under your typing fingers. The ThinkBook 14s Yoga's all-metal chassis gives it a touch of luxury and a sturdy feel that should withstand the demands and dents of business travel.
Ports and IO
On the right side, there is a power button that also functions as a fingerprint reader, a USB 3.2 Type-A connector, a microSD card slot, a security lock slot, and a stylus pen holder. You'll find a further USB-A 3.2 port, a USB-C 3.2 port (used by the AC adapter), a Thunderbolt 4/USB4 port, an HDMI connector for an external monitor, and an audio jack on the left.
Speakers
The sound from the downward-firing speakers of the ThinkBook 14s Yoga Gen 1 is a little hollow; it has adequate volume to fill a small space, but the bass isn't very strong, and overlapping records seem uninteresting. You can select from a variety of settings for music, movies, games, and voice using the Dolby Audio program.
The audio output can be loud enough to cover a small space, but there is no discernible bass response. For music playing, the tinny sound will make you seek out your headphones, but it's good enough for Zoom calls.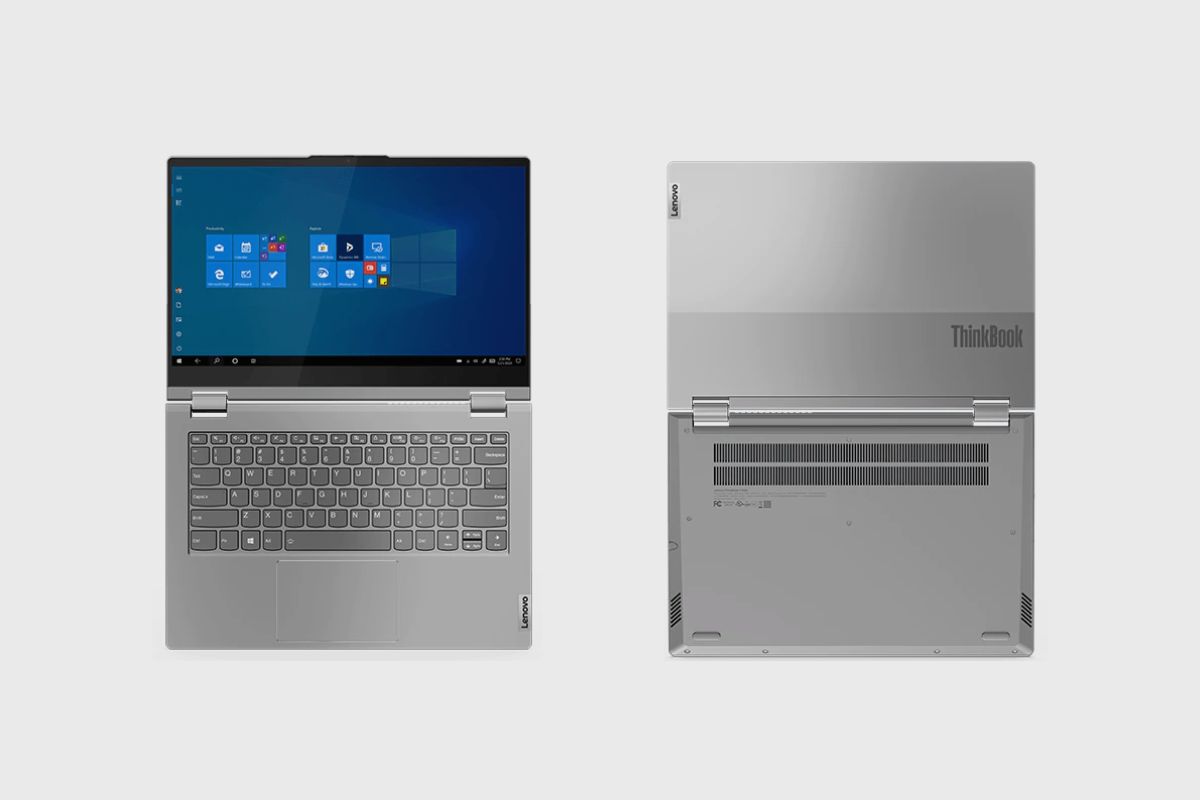 Keyboard and TrackPad
The Fn key and the cursor arrows must be used in conjunction to perform the Home, End, Page Up, and Page Down operations on the backlit keyboard; the latter are arranged in an odd, HP-style row rather than the correct inverted T. Even for a loud keystroke like this reviewer, the Escape and Delete keys are small and feel sharp when hit.
They have deeper travel than I anticipated for such a slim laptop, which was a pleasant surprise. They are, however, far from mushy and have a similar feel to the superb keyboards generally found on Lenovo's ThinkPads. The ThinkBook's flat keys, as opposed to the slightly concave ones on more expensive ThinkPads, are the most noticeable change.
By today's standards, the trackpad is a little on the small side, measuring 4.1 by 2.8 inches. Lenovo had little space to work with because the wristrest beneath the keyboard is so small. It registered my taps, swipes, and gestures precisely and has a matte texture for easy sliding.
Display
Gorilla Glass covers the full HD touch display, which is encased in tiny bezels on all four sides. Gorilla Glass has a glossy texture, which can reflect light and generate distracting glare, which is made worse by how dark the display is.
The ThinkBook 14s Yoga's display, which has a maximum brightness rating of 300 nits, falls short of the 400-nit display on Lenovo's Yoga C940 14 and the 500-nit display on the Dell XPS 13 2-in-1. It worked well in artificial lighting, but in all circumstances, I had the brightness set to its maximum. I would advise investing a little more for a brighter display if your job frequently requires you to work outside or in an area that gets a lot of sunlight.
The touch screen seems to be precise and responsive. With the included pen, I felt right at ease writing and drawing on the display. The ThinkBook 14's Yoga tablet functionality is diminished by the keyboard's warmth while the display is in tablet mode.
The 16:9 aspect ratio also seems a little constrained. With a squarer 16:10 or 3:2 aspect ratio, you can scroll around your online browser, Word documents, and Excel spreadsheets with much more ease.
The Stylus Pen
The stylus pen's 4.5-inch length allows for 4,096 levels of pressure sensitivity. After being parked in its storage compartment for five minutes, Lenovo claims it is fully charged. Although it occasionally skipped while I was doodling and annotating screenshots, it demonstrated strong palm rejection and should be adequate for daily note-taking and scribbling.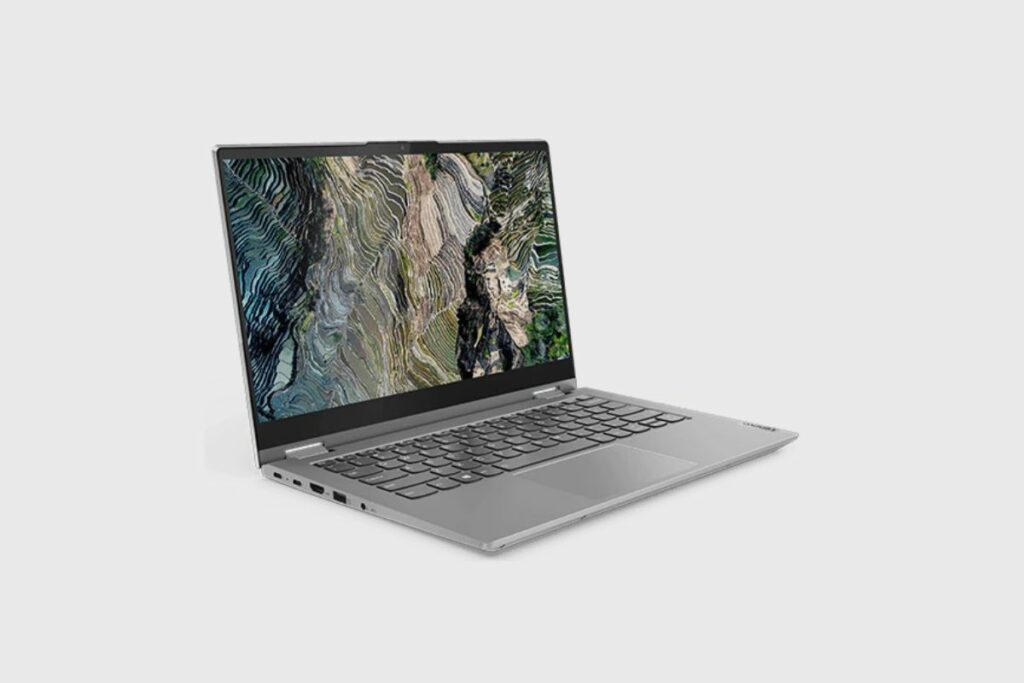 Performance
The ThinkBook 14s Yoga Gen 1 performs at a midrange or higher level, making it a solid worker bee. I compared it with the identical Core i7 CPU-equipped Dell XPS 13 2-in-1 and HP Spectre x360 14. A 10th-generation Core i7 CPU is present in the Lenovo Yoga C940.
I also included two conventional clamshell laptops with 11th-generation CPUs: the ThinkPad E14 Gen 2 and the Acer Swift 3X, both of which have the same Core i7-1165G7 as the ThinkBook 14s Yoga. Except for the Yoga C940 14, which has 12GB of RAM and Intel's older Iris Plus graphics, all of the computers have integrated Intel Xe graphics and 16GB of memory.
My first test is PCMark 10, which evaluates how well a computer performs in common computing tasks like online browsing, video chatting, and office productivity tasks. Other than the Acer Swift 3X, the ThinkBook 14s Yoga led the field and had the highest overall score. Anything up to 5,000 is remarkable, but anything below 4,000 is acceptable in my book.
In the centre of the pack on my HandBrake test, which entails encoding a sizable 30GB movie file, the ThinkBook 14s Yoga came in. The CPU and cooling system are strained to their limits during this test, which subjects laptops to persistent, high loads. Due to the ThinkBook 14s Yoga's Gen 1 tiny chassis and subtle cooling, it was presumably held back since it had to occasionally throttle the CPU to control thermals during the lengthy encode.
Cinebench is a sprint in comparison to HandBrake's marathon. This test renders a challenging 2D scene in a brief amount of time. The ThinkBook 14s Yoga ended in the centre of the pack once more; its sprint speed was neither quicker nor slower than its marathon pace. Even though the scores, except for the Yoga C940 14's, were extremely closely grouped, it performed best on a single core.
Gaming Performance
I use the game simulations 3DMark and Superposition to gauge the relative graphics power of Windows PCs. The first has two DirectX 11 subtests that are appropriate for high-end gaming rigs and ordinary PCs with integrated graphics, respectively. These are Sky Diver and Fire Strike. The second renders and pans around a complex 3D scene using the Unigine engine. The results are measured in frames per second (fps); while 60fps or more is preferred by ardent gamers, 30fps is typically regarded as a reasonable aim for smooth animation.
The ThinkBook 14s Gen 1 finished in the middle of the pack, outperforming the integrated graphics of 2-in-1s with CPUs from the 10th Generation but falling short of its 11th-generation competitors. Iris Xe clearly represents an improvement over previous-generation Intel UHD integrated graphics technologies, but the ThinkBook 14s Gen 1 didn't exhibit the same level of performance as the HP Spectre and Lenovo Yoga 9i models. Although clearly designed for daily productivity and streaming entertainment rather than intense 3D action, it works fine for casual gaming.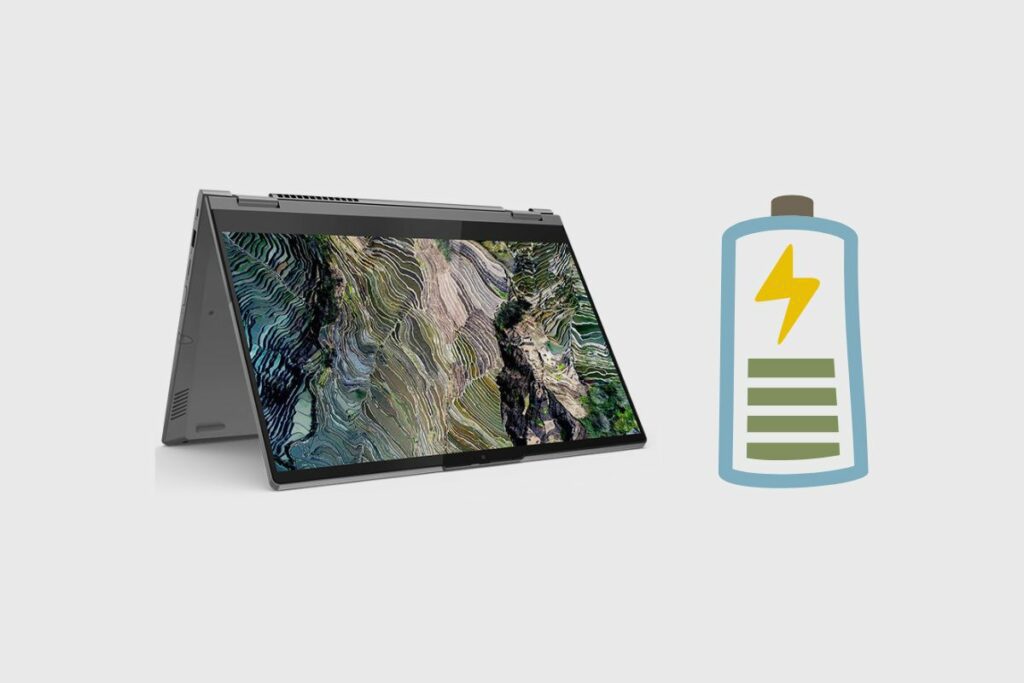 Battery Life
In preparation for our unplugged video rundown test, I fully recharged the laptop, put it up in power-save mode (instead of balanced or high-performance mode), when available, and made a few additional battery-saving adjustments. (Wi-Fi is also turned off, and aeroplane mode is activated on the laptop.)
In this test, the screen brightness is set to 50%, and the volume is set to 100% while a video—a locally stored 720p file of the Blender Foundation short film Tears of Steel (opens in a new window)—plays continuously until the computer shuts down.
It won't be an issue for the ThinkBook to work all day and then watch Netflix or listen to Spotify in the evening. Although it didn't last as long as the Dell Latitude 9410, 15 hours of endurance is still quite a bit.
Webcam and Microphone Quality
The 14S' webcam and microphone are just adequate, with nothing, particularly noteworthy. The webcam's 720p resolution makes it possible to have basic and clear online meetings and video conferences.
The Lenovo ThinkBook 14S's microphone is likewise straightforward and offers good sound quality. The 14S's microphone was clear and audible during my testing, but it was very base-heavy when I used it to speak with my editor.
Simply download the Lenovo Vantage app to gain access to and customise these capabilities. You may customise the camera and microphone settings in the app to suit your tastes. You can modify the resolution, focus type, and noise-cancelling capability of these features with only a few mouse clicks.
Don't expect the Lenovo ThinkBook 14S to make you look like Oscar Isaac or Beyoncé during your Zoom sessions, but the webcam and microphone quality make it a good option for someone who relies extensively on video conferencing and online communication.
Final Thoughts
Instead of a 13.3-inch display, the ThinkBook 14s Yoga Gen 1 has a 14-inch screen, faster processing, longer battery life, and HDMI and Thunderbolt 4 connectors. Additionally, it is hundreds of dollars less expensive than more expensive 2-in-1s with no higher productivity potential. That is a potent combination for professionals who work in small offices. I want to thank you again so much for reading this article. Any questions you might have are welcome to post in the comments section, and I'll answer them as soon as I can.
Related Posts:
Resources: