When you have been producing laptops as long as Lenovo has, you get into the habit of releasing a bunch of laptops within similar release windows. Take the Lenovo ThinkBook 14s Yoga Gen 3 to the Lenovo ThinkPad X1 Yoga Gen 8. It is the age-old rivalry over which is better, ThinkBooks or ThinkPad.
In this article, I'm going to be comparing the latest and greatest Think laptops Lenovo has to offer to see which one is better so that we can finally put an end to the greatest battle for supremacy in the Lenovo library. I'm going to be comparing the ThinkBook 14s Yoga Gen 3 to the ThinkPad X1 Yoga in a battle of the Yogas to see which laptop will come out on top and which will be left behind forever. Or at least until Lenovo releases a new set next year, and we have to do this dance all over again.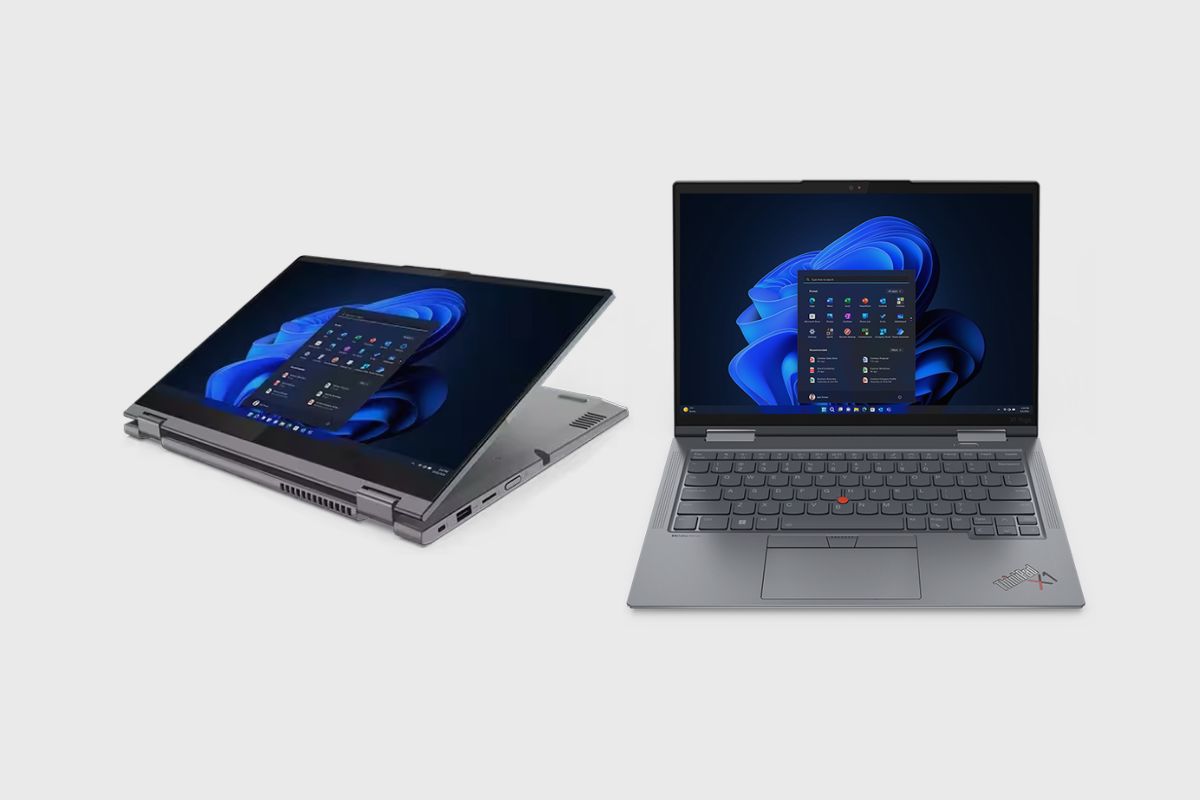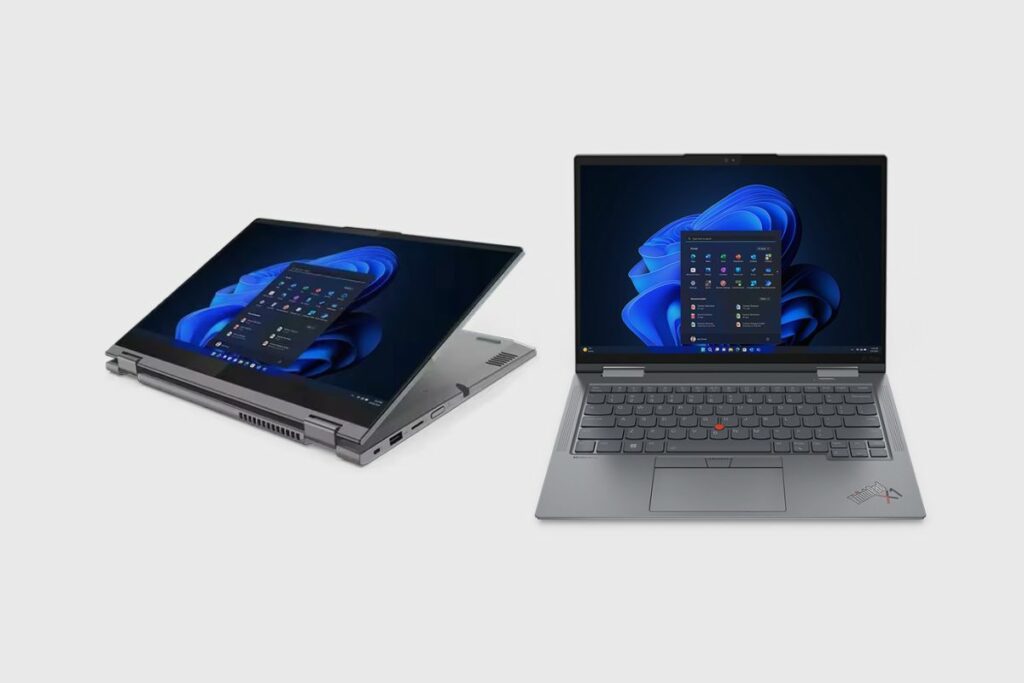 Specs
When comparing two devices, the best place to start is with a quick recap of each of their specs to have a brief look at how they stack up against each other.
| | | |
| --- | --- | --- |
| Category | ThinkBook 14s Yoga Gen 3 | ThinkPad X1 Yoga Gen 8 |
| Display | 14-inch (1,920 by 1,080) 60Hz FHD | 14-inch, 1920 x 1200 |
| Processor | Intel Core i7-1335U | Intel Core i7-1335U |
| GPU | Intel Iris Xe Graphics | Intel Iris Xe Graphics |
| Battery Life | 12:48 | 14:05 |
| RAM/Storage; | 16GB/512GB SSD | 16GB/512GB SSD |
| Dimensions (HWD) | 0.67 x 12.6 x 8.5 inches | 0.61 x 12.38 x 8.75 inches |
| Weight | 3.3lbs | 3.12lbs |
| Wireless | 802.11ax (Wi-Fi 6), Bluetooth 5.1 | Wi-Fi 6E AX211, Bluetooth 5.2 |
| OS | Windows 11 Pro | Windows 11 Pro |
Design and Build Quality Comparisons
From a design standpoint, both laptops share a few similarities; they are both 2-in-1 convertible laptops. However, they also have a few key differences that make each laptop stand out.
The ThinkBook 14s' body panels are made completely of aluminium. This makes the device rigid and flex-resistant. Especially when Gorilla Glass, another flex-resistant glass, is used to cover the display. The machine weighs 3.3 lbs (1.50 kg), which isn't bad for its size. In addition, it features a 16.9mm profile. This makes it comfortable to hold in your hands, and it also takes up little room within your backpack.
Its convertible lid opens with one hand, which is unique for convertibles. Because of the 16:9 aspect ratio, the display has a very broad bottom bezel, while the rest are on the tiny side. (According to Lenovo, the screen-to-body ratio is 86%.) A 720p (or optional 1080p) Web camera with a privacy shutter is situated above the display, which is a plus.
The Lenovo ThinkPad X1 Yoga Gen 8 contrasts this by placing a strong emphasis on quality. The scratch- and fingerprint-resistant, spotless aluminium casing is relatively durable. It's not necessarily a negative thing that the ThinkPad Yoga series' overall design hasn't changed in a while. It is continuing because it is so excellent. The form factor is excellent for both commercial use and productivity.
But everything I'm going to say today, I've already said since Lenovo chose a design for Gen 8 that virtually doesn't change. The laptop's dimensions are the same; it is still entirely composed of aluminium, and despite its robust design, it weighs only 3.04 pounds.
Lenovo, like the majority of significant PC producers, is giving sustainability more attention than ever. I love that the laptop's package has no plastic at all and that the computer itself is constructed of recycled aluminium. Even some of the plastic parts, such as the enclosures for the speaker and batteries, use recycled materials.
Convertible laptops must be structurally sound, which is not a problem in this case. The lid has very little flex when handled, and the hinges are secure but allow for a smooth transition between tablet, stand, and tent modes. It has gone through the typical MIL-STD 810H durability certification process because it is a ThinkPad to ensure that it can weather a rigorous life outside of typical workplace environments.
Port Diversity and IO
The ThinkBook 14s offers a noticeable advantage in terms of port availability, with an impressive array of ports located throughout the notebook. There are two USB Type-C connections on the left side of the laptop, one Thunderbolt 4 and the other USB 3.2 Gen 2, as well as an audio jack and an HDMI port for an external display. On the right side of the device, you'll find the power button, a second USB-A 3.2 port, a microSD card slot, a security lock slot, and a storage barrel for the compact 4.25-inch stylus pen.
The native port choices are sufficient for you to delay using a top-tier Thunderbolt docking station, but trust me, you will eventually need one. The HDMI port and dual Thunderbolt 4 ports may support three different external monitors while simultaneously running the built-in screen for regular office use. Additionally, there are two USB-A 3.2 (Gen 1) ports for peripherals, a 3.5mm audio plug, and a Kensington lock slot for security in a busy office.
Personal Thoughts
All in all, the design of the ThinkPad X1 Yoga is timeless, even though Lenovo hasn't made any significant changes to the design of the laptop for the past 5 years. It is still an outstanding laptop with an impeccable design and form factor that may only be beaten by the MacBook Pro. So, while the ThinkBook 14s Yoga Gen 3 puts up a good fight and makes a valiant effort, it is still not as stylish as the X1 Yoga 8.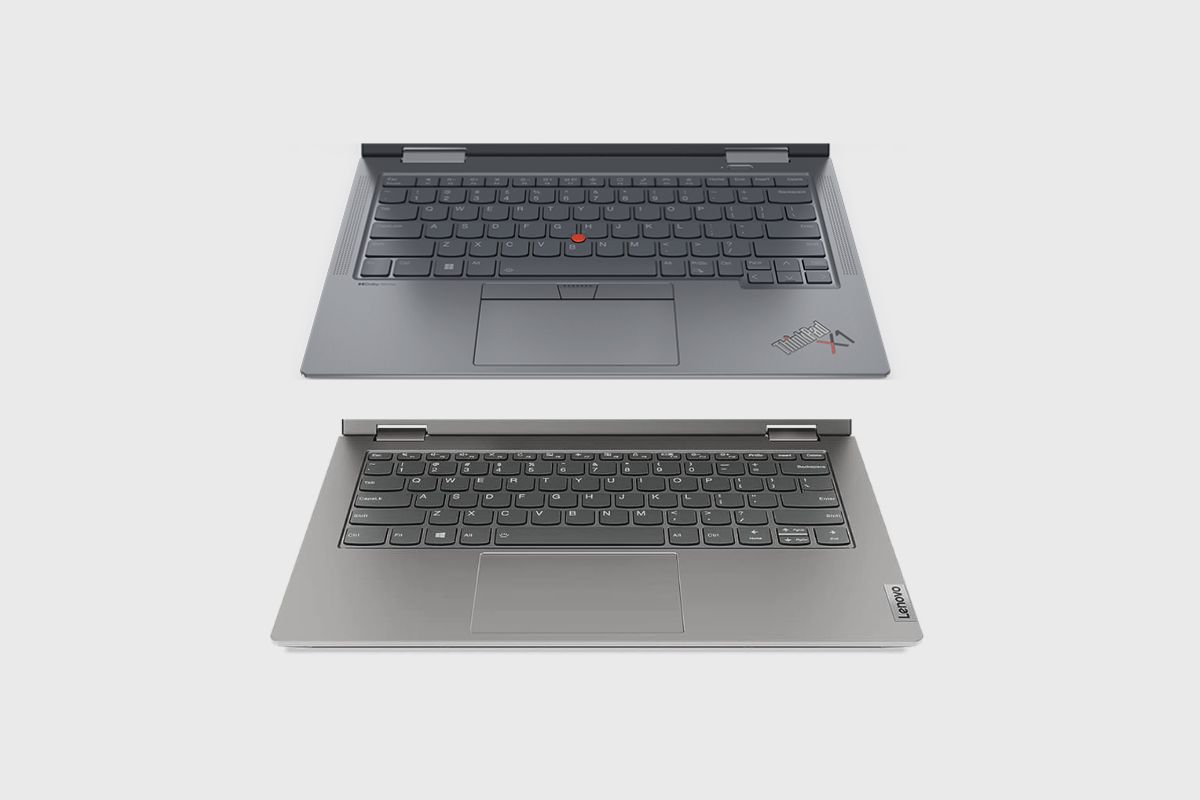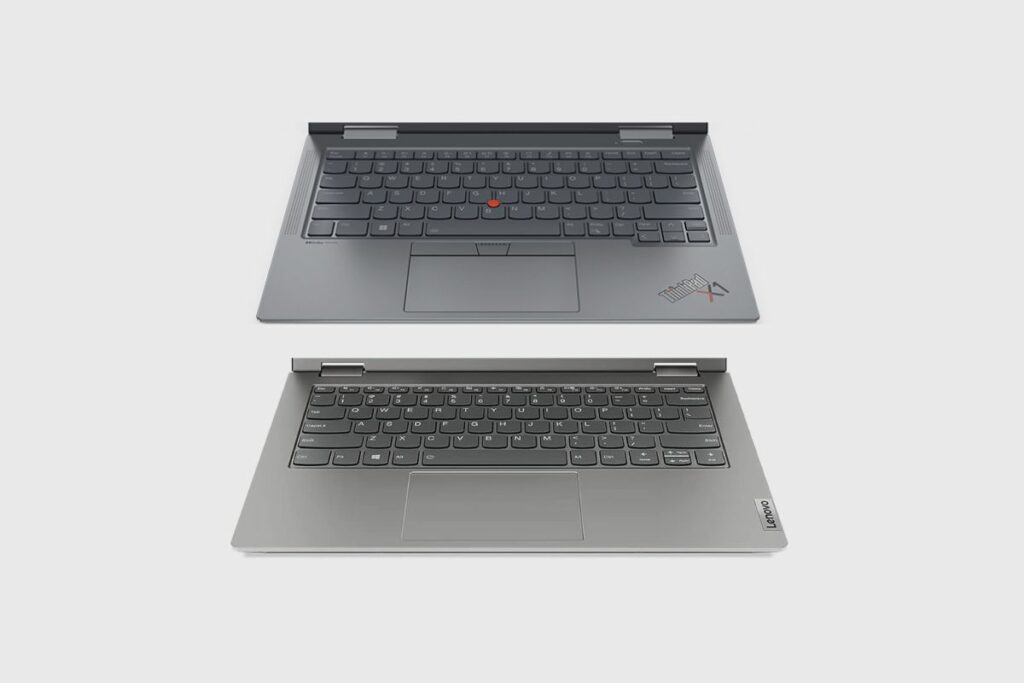 Keyboard and TrackPad Comparisons
The ThinkBook 14s Yoga's backlit keyboard is outstanding; it has rapid key travel and contrasts wonderfully with the dark blue or black of the surrounding aluminium shell. The Ctrl key is well placed, Lenovo didn't add any extraneous functionality to the keyboard, and the function row allows you to choose between specialised operations (such as volume, brightness, communications, and so forth) and common operations.
Even though I eventually removed 3- and 4-finger motions, the slightly small touchpad is surprisingly good, and I had no accuracy or misclick issues. I wish touchpads were this small everywhere.
It's no secret that Lenovo produces some of the best keyboards available, and this is still the case in this instance. To save space, thin laptops typically compromise the keyboard, yet Lenovo has been able to maintain 1.5mm of key travel. The keycaps have a slight cup, are nicely spaced, and when the lighting is on, it is easy to see.
The dedicated navigation keys that don't require the Fn shortcut will be appreciated by those who type thousands of words per day. During the testing period, I wrote a few pieces on this laptop, and switching back to a device like the MacBook Air M2 is a significant adjustment.
The touchpad's size, 4.33 inches (110mm), is more than adequate. However, the physical buttons for the TrackPoint system reduce the available vertical area. I am aware that ThinkPad purists would never accept the removal of the tiny red nub and physical buttons, but I just wish they didn't take up so much touchpad real estate. Smooth and precise tracking is possible on the glass surface.
Audio Comparisons
The ThinkBook 14s Yoga's bottom-mounted speakers deliver decent sound that is neither harsh nor tinny despite not being particularly loud. Bass is noticeably lacking, as it is on almost all budget laptops, but you can hear overlapped recordings. The Dolby Access software includes an equaliser as well as presets for music, movies, games, voices, and dynamic content.
On the other hand, two of the ThinkPad X1 Yoga's four speakers, each housing two 0.8-watt tweeters behind a pinhole grille, are located on either side of the keyboard. You can feel the bass on your desk thanks to the dual 2W woofers that connect these two. To hear coworkers clearly in phone calls and video conferences, there is more than enough sound, even at a 50% level. The speakers I heard seemed to be good enough to stand on their own, but Dolby Atmos is available if you want to push things to the next level.
Since the laptop has four far-field microphones, it can pick up the sound surrounding it. These microphones are drilled into the front or top edge of the display lid. AI tuning eliminates background noise, and Dolby Voice compatibility is available if you want an extra boost.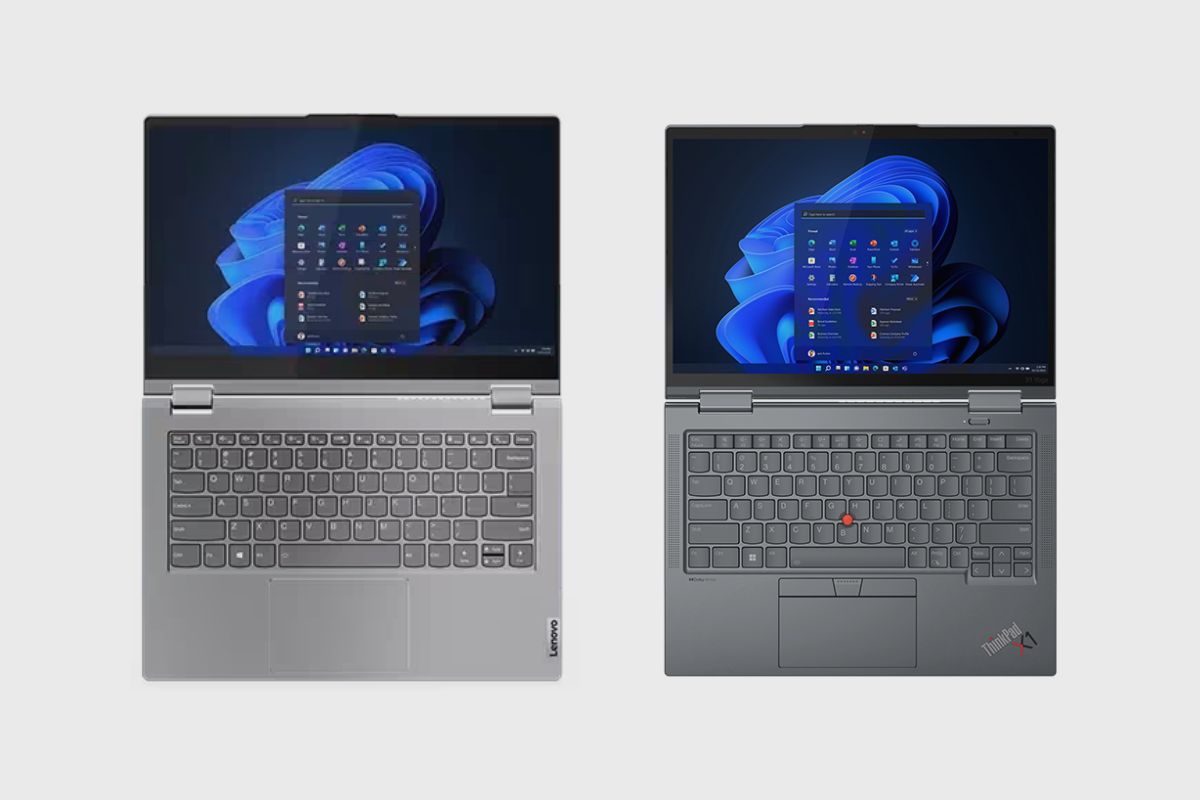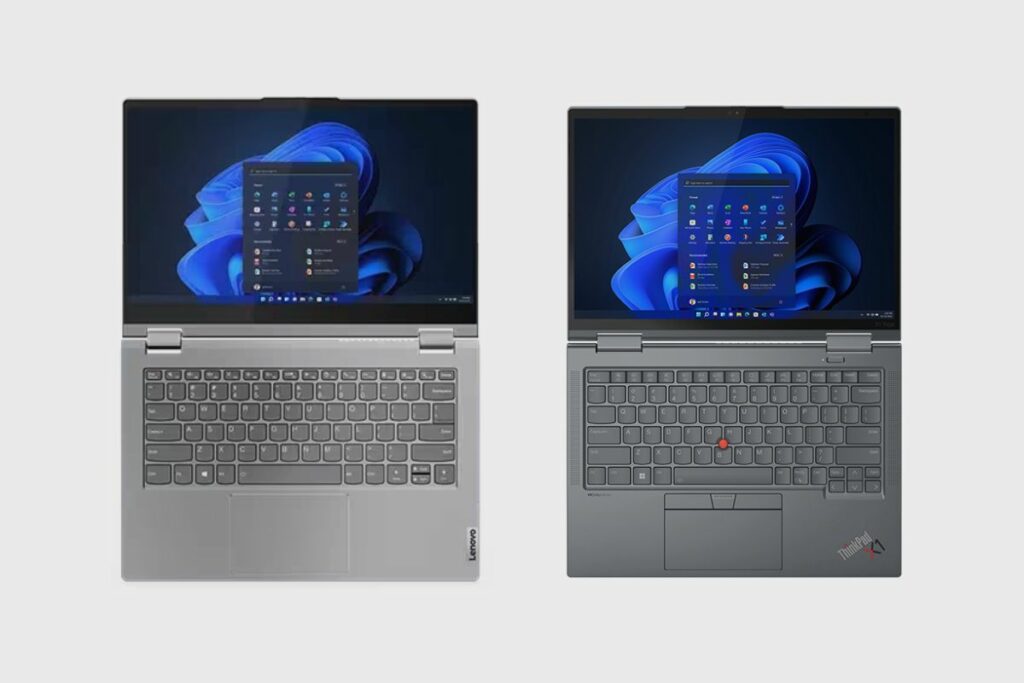 Display Comparisons
The ThinkBook 14s display is a touchscreen Full HD IPS panel with the product number LEN140FHD (LEN889B). It has a 60Hz refresh rate. It features a diagonal of 14.0′′ (35.5 cm) with a resolution of 1920 x 1080p. Furthermore, the pixels have a 0.16 x 0.16 mm pitch, a pixel density of 157 ppi, and a 16:9 aspect ratio.
When seen from a distance of at least 56 cm, the screen is considered retinal (the typical human eye cannot detect individual pixels at this point). This delivers an excellent viewing experience and makes observing images on a screen enjoyable.
The maximum measured brightness, with a maximum deviation of 15%, is 335 nits (cd/m2) in the centre of the screen and 307 nits (cd/m2) on average throughout the surface. At maximum brightness on a white screen, the related colour Temperature is an average of 6750K.
Its colour accuracy is also an impressive feature of the 14-inch display. Thanks to the Dolby Vision feature, images and videos are rendered with greater contrast, vividness, and detail. The display can also support 100% of the sRGB colour gamut, which makes it an ideal choice for creatives and anyone who needs colour precision.
On the other hand, my ThinkPad X1 Yoga (Gen 8) evaluation unit has one of the more basic touch displays available. It boasts a 1920×1200 (FHD+) resolution that corresponds to the 16:10 aspect ratio, an anti-glare coating, a low power certification, and is Eyesafe certified.
There aren't many drawbacks to a professional laptop. I used my SpyderX Pro colourimeter to test colour and brightness, and the results were 100% sRGB, 78% AdobeRGB, and 80% DCI-P3 colour. In terms of brightness, it was able to reach a maximum of 418 nits. I've enjoyed utilising the display, and the appeal is increased by the fact that I can always take out the garaged pen for a satisfying inking experience.
There are a few other FHD+ screen options available from Lenovo. One has a 500 nit brightness and the ThinkPad Privacy Guard, while the other is identical but for an anti-reflective and anti-smudge coating.
With an OLED panel, anti-reflection coating, 100% DCI-P3 colour, Dolby Vision, DisplayHDR 400, low power status, and Eyesafe certification, you can go all the way up to a 3840×2400 (UHD+) resolution. If you frequently work with colour-sensitive content, like photo editing, then this makes sense. Otherwise, the FHD+ screens look sharp and will be sufficient for productivity tasks.
Personal Thoughts
If you can afford the X1 Yoga 8 that comes with an OLED panel, then you have bought a laptop with a vastly superior display. However, that comes with the slight drawback of paying a lot more money for it, but it is justifiable if you are a photographer because you can use that display to edit photos. However, if you are not into photography, then sticking with either of the FHD displays on either laptop would be a suitable option for you. I don't think I could pick a clear winner between either laptop's main display, so I think it's a draw.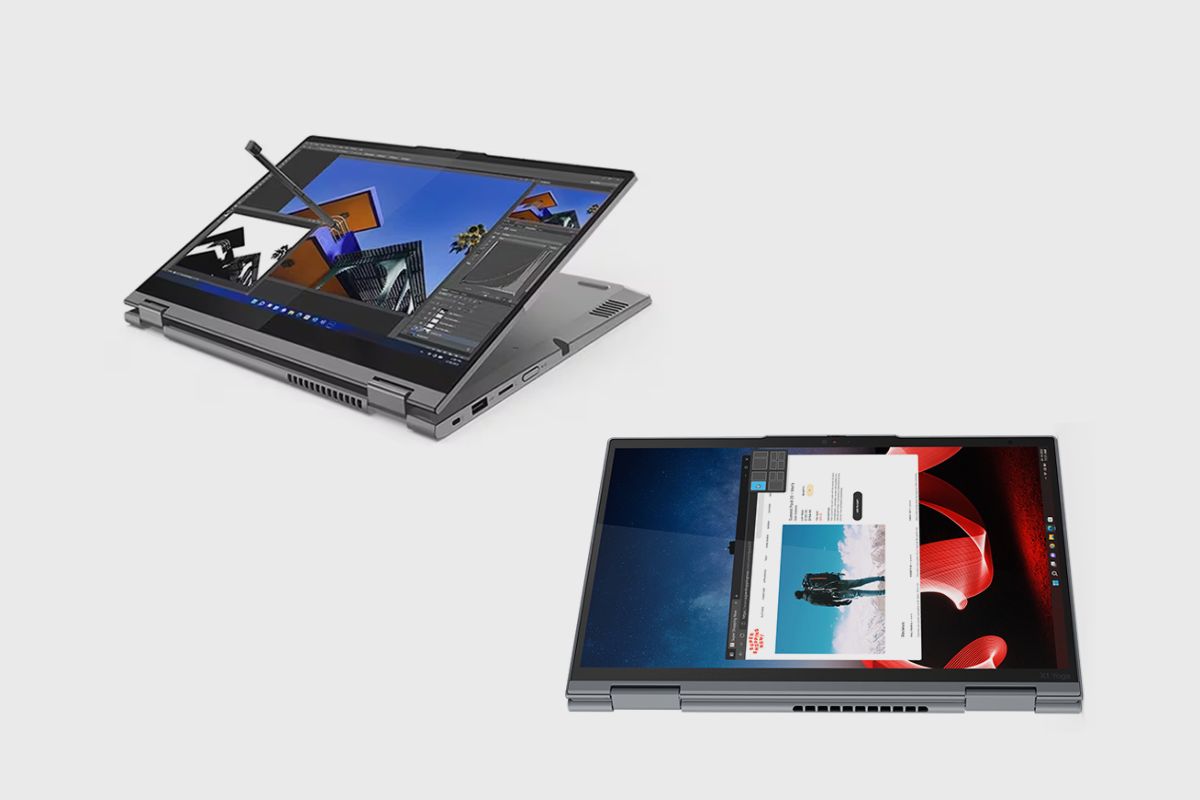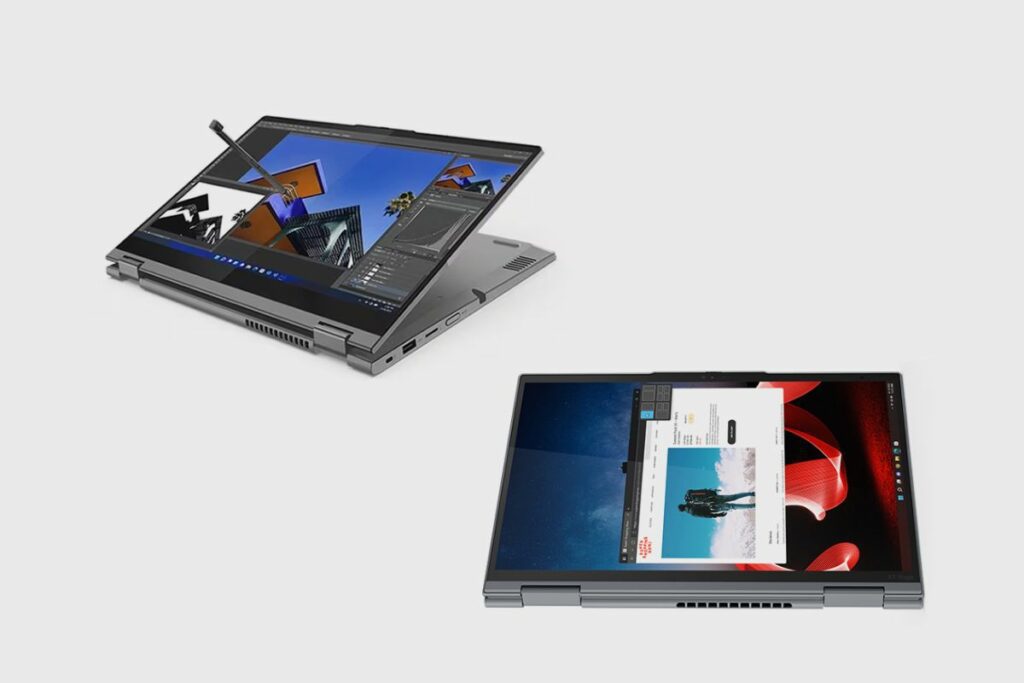 Performance Comparisons
The same Intel 13th-generation CPUs are used in both systems, giving them identical performance and making each laptop a powerhouse in its own right. These two laptops share the same CPU and integrated Chips, so their performances should still be somewhat comparable, even though other factors affect performance, such as heat and temperature dispersion.
They also include Intel's Iris integrated graphics chips, which are adequate for gaming performance but not fantastic. They should be able to make up for the absence of dedicated graphics cards thanks to their powerful CPU, though, and still provide some outstanding testing results.
The ThinkBook 14s Yoga Gen 3 Performance
The most recent 13th Generation Intel CPUs installed in the ThinkBook 14s Yoga Gen 3 work admirably, as does the Core i7-1335U CPU I'm now testing. I'm still irritated that this laptop, like the one from the previous year, lacks EVO certification. UL's PCMark 10's principal benchmark analyses overall performance for office-focused programs such as word processing, spreadsheets, web browsing, and videoconferencing by simulating a variety of actual productivity and content-creation tasks. I also run PCMark 10's Full System Drive test to measure a laptop's storage throughput and load times.
The ThinkBook fared brilliantly in PCMark 10 and PugetBench productivity and creative benchmarks, making it a dependable tool for ordinary business operations and simple content creation but not for heavy workstation demands. This laptop is not intended for highly specialised positions required to provide premium assets or commodities to customers and clients but rather for the vast majority of employees inside a company.
The ThinkPad X1 Yoga Gen 8 Performance
Lenovo chose a Core i7-1355U chip for the Gen 8 model I'm examining since it uses less power and generates less heat. To see the change in cooling capabilities with the new CPU, I immediately ran a stress test.
While running Windows 11 in Performance mode, there was some throttling during Intel's Turbo surge period, but after that, things stabilised, and the processors sat at roughly 90 degrees Celsius (down from 100 degrees at peak) without any throttling. I then switched to Windows 11's Balanced mode and ran the complete system stress test once more. There was no obvious thermal throttling this time.
Under full load, temperatures stayed at about 60 degrees Celsius. In Performance mode, the laptop's bottom became rather warm, to the point where you wouldn't want it sitting on your lap. There were no problems in Balanced mode, and the idle core temperature was 40 degrees Celsius.
In comparison to last year's P-series CPUs, the U-series chips are considerably better suited for a laptop this thin, and because of Intel's Raptor Lake advancements, you don't lose much performance.
You can choose to use 13th-generation P-series CPUs in the most recent X1 Yoga, but I don't advise it. For my everyday requirements, which include Photoshop, Word, intensive web browsing, Spotify, and more, the Core i7-1355U offers more than adequate power.
Graphical Comparisons
Given that the integrated Iris Xe 96 EUs GPU has not altered, graphic performance is unchanged from the model from last year. On the newer model, though, performance might be lower because of the system's propensity to throttle.
The Xe Graphics G7's gaming performance is much inferior to that of the integrated Radeon 680M, and many titles only support medium details. Modern, demanding games (like Cyberpunk 2077) are practically unplayable with the Intel GPU. Frame rates would frequently fluctuate between 50 and 90 FPS, while Witcher 3 was idle because of unstable GPU clock rates. Returnal is one of the games that failed to launch.
The ThinkBook might be able to get by with only light gaming and video streaming when you're not working on it—no fast-twitch action. I would never think to use this laptop for purposes other than work. However, it is also hampered by the absence of a specialised graphics card, making it difficult to fully appreciate the newest video games available.
Personal Thoughts
Both laptops, in my opinion, give excellent performance and should be regarded as remarkable laptops with much more impressive processors. They both have excellent testing results and will easily surpass rival laptops in their respective categories. However, their absence of dedicated graphics cards makes them a liability in the gaming arena, particularly with current titles such as God of War: Ragnork and Returnal.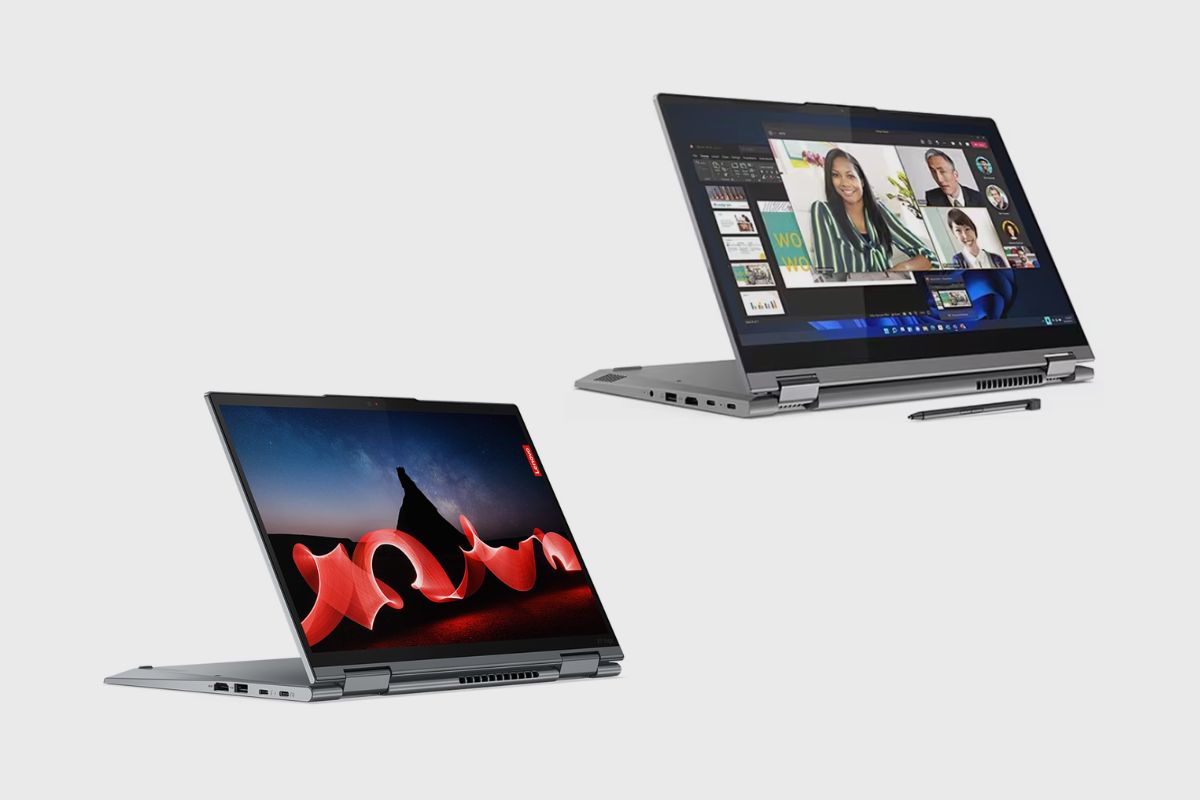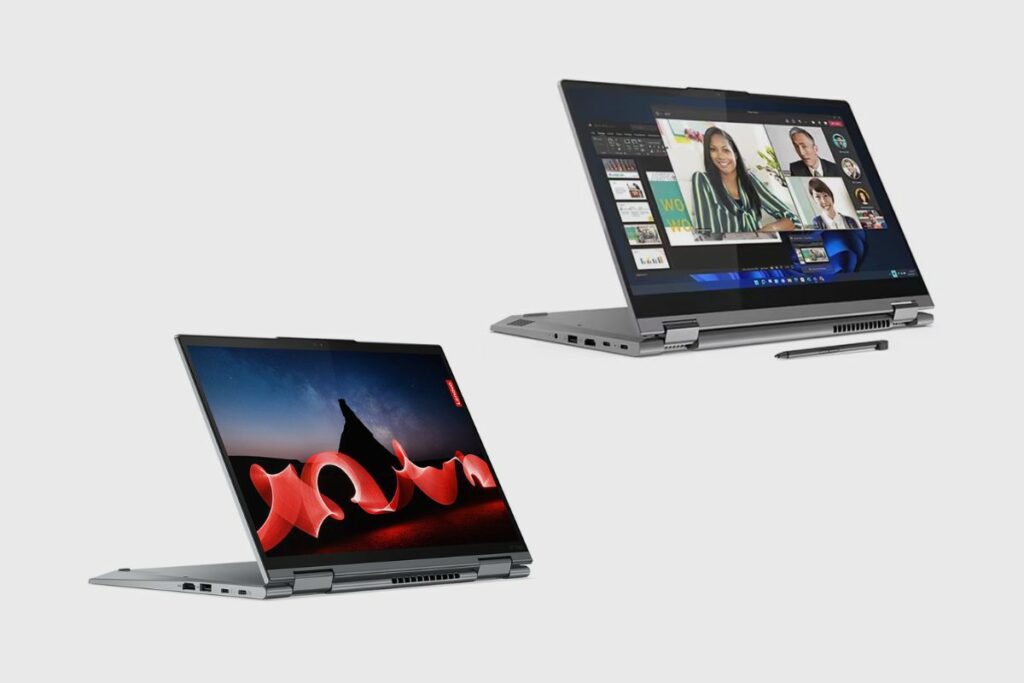 Storage and Memory Comparisons
Both laptops come with fairly similar RAM capacities; each laptop sports an internal 16GB of RAM, which allows them to be multitasking machines. However, there is a slight difference in their storage speeds, as the Lenovo ThinkPad X1 Yoga Gen 8 comes equipped with the new Gen 4 m.2 2242 SSD variant, and the ThinkBook 14s Yoga Gen 3 only comes with a base-level SSD slot.
As anticipated, the M.2 PCIe 4.0 NVMe SSD worked flawlessly for me. In CrystalDiskMark testing, the read side reached 6,902MB/s while the write side reached 4,494MB/s. Although RAM is soldered to the board, the SSD can be upgraded by removing the bottom panel. Lenovo ships their laptops with up to 64GB of memory, so you should be able to obtain what you require.
Battery Life Comparisons
Both Laptops have considerably longer battery lives. Each Laptop provides well over 10 hours of battery life on a single charge, and that is very impressive. At least for U-series processors, the 57 Wh battery is a perfect complement. With just 20 or 30 minutes of charging time when hooked into a docking station, I was able to use the X1 Yoga (Gen 8) occasionally for roughly two days.
I used PCMark 10's Modern Office battery test to see how the most recent Lenovo ThinkPad X1 Yoga and ThinkBook 14s Yoga models stack up. Running on the Balanced power plan with the screen brightness set to roughly 50%, the ThinkPad X1 Yoga laptop achieved a runtime of 13 hours and 44 minutes, while the ThinkBook 14S Yoga laptop ran for 12 hours and 24 minutes while being used in the same manner. Although they aren't entirely representative of actual battery life, it appears that the X1 Yoga has a little bit more battery life than the ThinkBook 14s Yoga.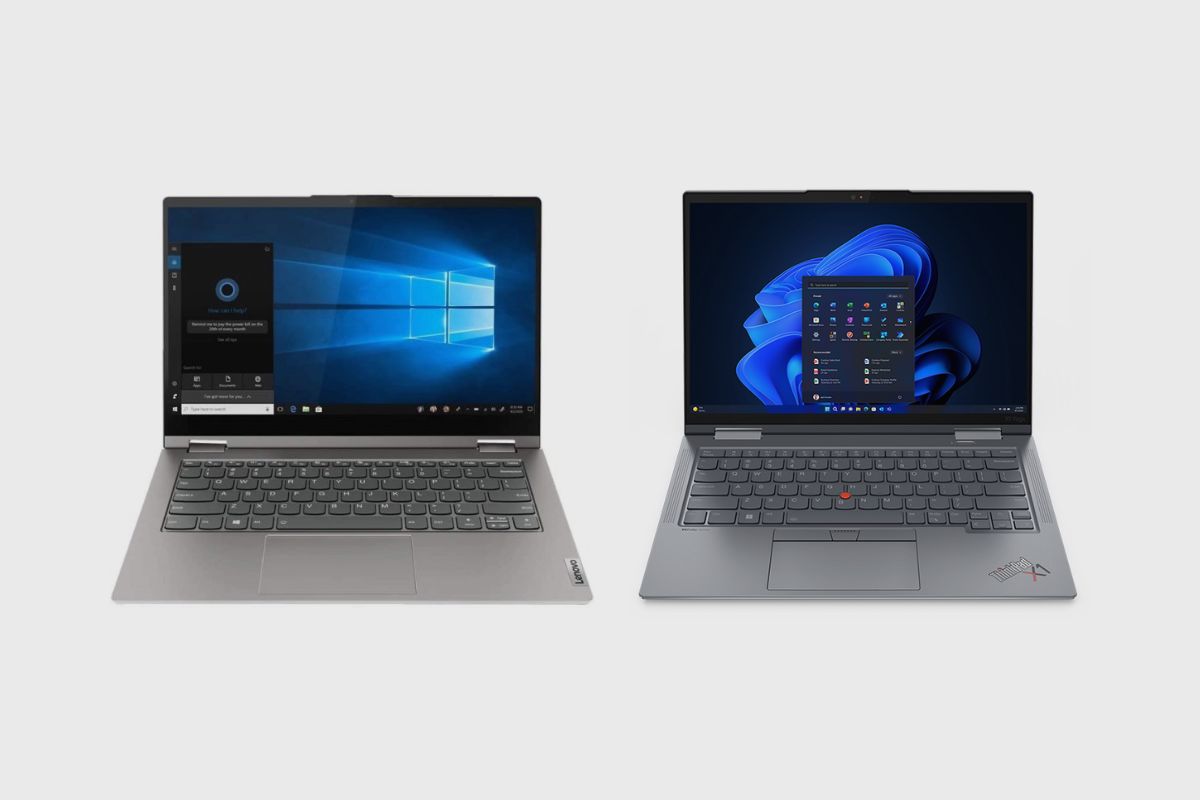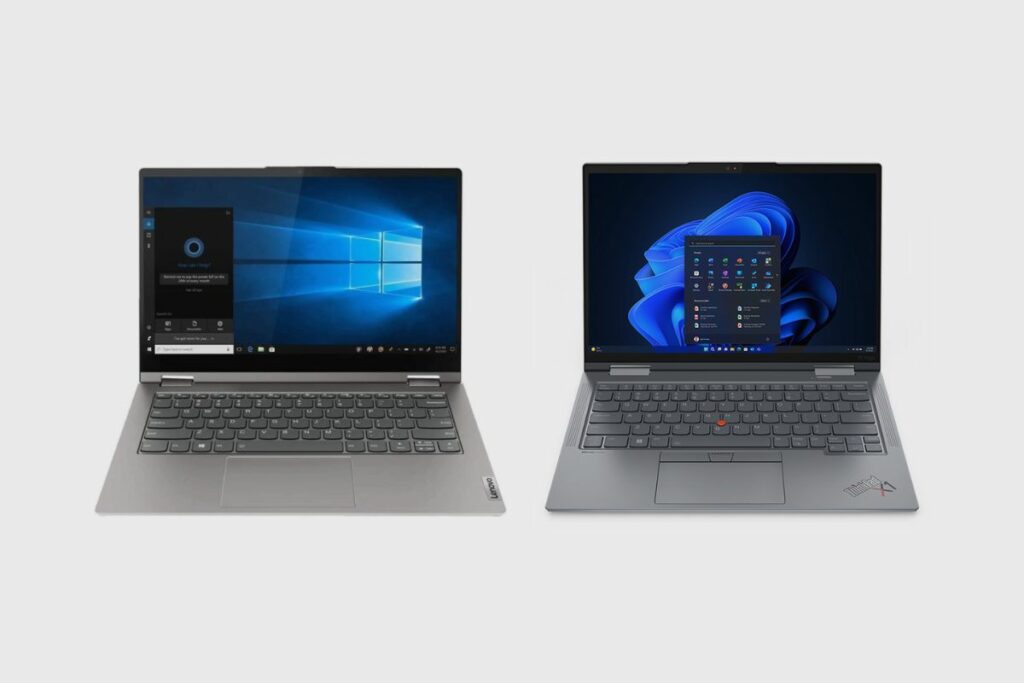 Price comparisons
The $1,420 base model from Lenovo comes with Windows 11 Home, 8GB of RAM, and a respectable 256GB NVMe solid-state drive. On Lenovo.com's online configurator, the device I'm assessing costs $1,700 and comes with Windows 11 Pro, 16GB of memory, and 512GB of storage.
There are Intel Core i7 and IT-friendly vPro processors, as well as 1TB and 2TB SSDs, but no higher-resolution display choice is offered. While Lenovo includes a Windows Hello-compatible fingerprint reader integrated into the power button, the webcam lacks IR facial recognition.
The ThinkPad X1 Yoga (Gen 8) from Lenovo, which was first revealed in late 2022, is currently available. Prices start at around $2,000 on the Amazon website before any reductions.
Fortunately, you can visit the Lenovo official store because there is often a sale going on. Prices are frequently reduced by 50% or more, which causes significant volatility. I advise waiting for a sale if you're purchasing from the official website, which has numerous configuration possibilities.
The device I'm examining costs roughly $2,387 on Amazon before any discounts, and it has a Core i7-1355U processor, 16GB of LPDDR5 RAM, 512GB of M.2 PCIe 4.0 NVMe solid-state drive (SSD), and a 14-inch FHD+ touch display.
Final Thoughts
On paper, both laptops look pretty equal, yet it is clear which one is superior. They may share 13th-generation Intel processors, making them a great match. However, because of its superior display, keyboard, battery life, and design, I believe the ThinkPad X1 Yoga Gen 8 has the advantage in this duel. Finally, both of these laptops are fantastic, and you will not be dissatisfied with either one.
Thank you so much for taking the time to read this post. Please share any queries in the comments section, as well as your plans to purchase any of these computers. Also, if you already have one, please let us know how it is working for you and whether or not you enjoy it. And if you have any further questions, you can always reach me in the comments area.
Related Posts:
Resources: