This Logitech C920 HD Pro Webcam Review will be based on the design, features, pros, cons and overall performance of the webcam. Your PC webcam is usually not good enough if you do a lot of video meetings on Skype, FaceTime or any other video calling app because of the webcam's low quality so it is always good to have an external webcam. The C920 HD webcam is a reasonable choice that makes you and your videos look more like a professional with a consistent FHD 1080p quality which is much clearer and sharper than PC webcam. It is a 1080p widescreen video calling and recording camera for desktops and laptops. Below is an in-depth Logitech C920 HD Pro Webcam review that reveals all that you need to know about it.
Logitech C920 HD Pro Webcam, Full HD 1080p/30fps Video Calling, Clear Stereo Audio, HD Light Correction, Works with Skype, Zoom, FaceTime, Hangouts, PC/Mac/Laptop/Macbook/Tablet - Black
Last Amazon price update was: December 7, 2023 9:56 am
Design
The Logitech C920 is a chunky webcam with a matte black plastic body and a premium glass panel protecting the camera lens. There are grilles on both sides of the glass that look like speakers, but it actually holds two omnidirectional microphones for smooth stereo sound. It is attached to universal rubber clips that fits perfectly over the laptop screen or monitors and it measures 3.7inches at its widest.
The Logitech webcam holds two blue lights on each side that alerts you when your webcam is on. The webcam stand might cover a small part of your screen if used with your PC or if your monitor has thin bezels. You also have the option of screwing the C920 to a standard tripod if you wish to change to a different angle using the in-built mount as the webcam itself cannot be rotated.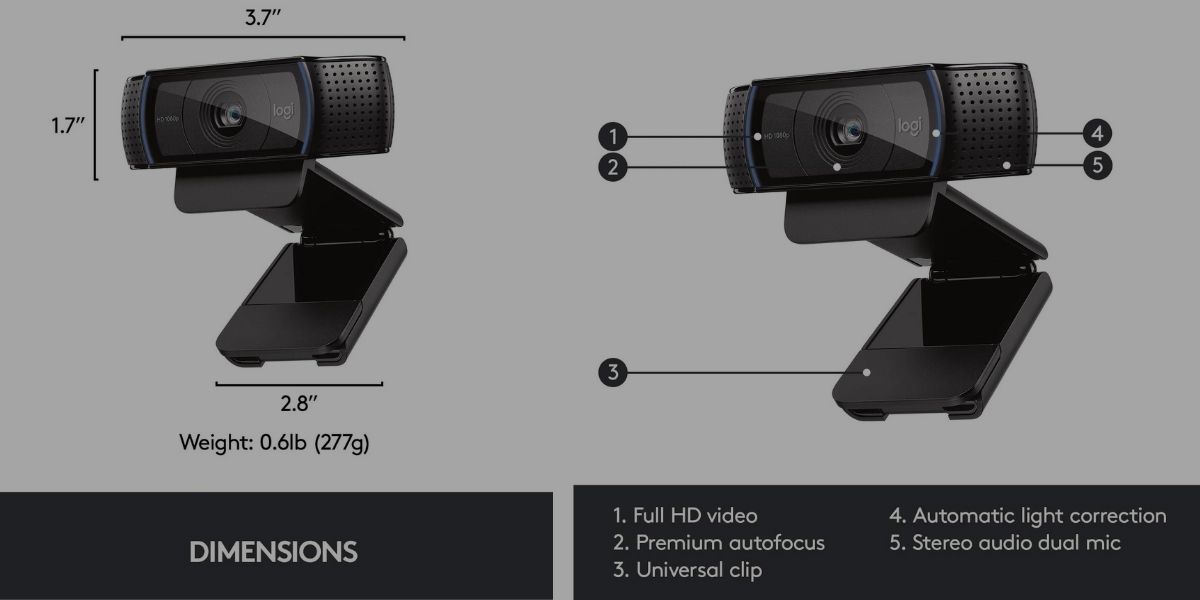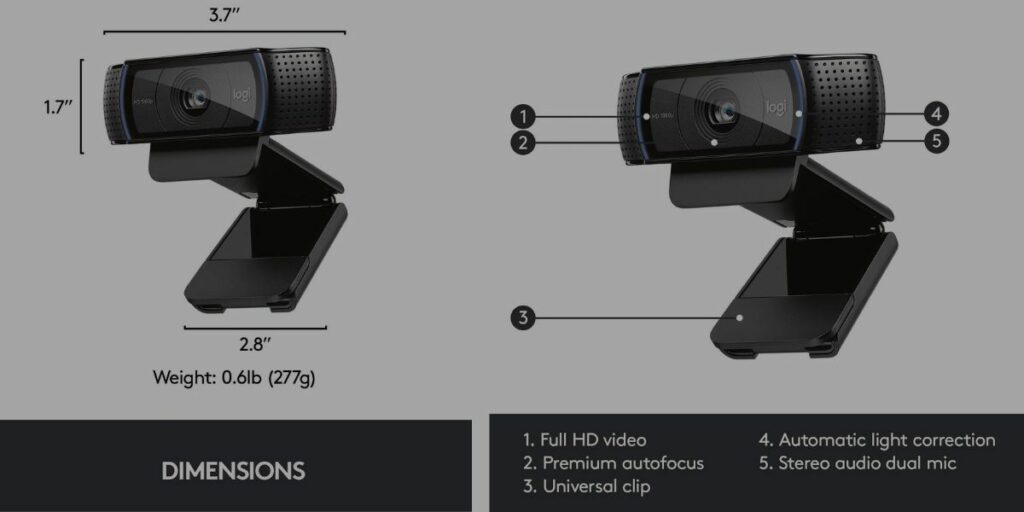 Performance
The Logitech HD Pro webcam has an outstanding image quality and Full HD video quality of 1080p on Skype and 720p for FaceTime and other video call apps. It provides you with sharp and crystal clear video and audio with the dual built-in omnidirectional microphones.
The C920 HD webcam doesn't require much setup in Windows 8 or Windows 10. You just need to plug in the 1.5mm USB cable to your device and the Logitech camera app/software that is required is automatically downloaded. The Logitech software lets you zoom the camera, capture HD video and photos and configure your webcam settings such as brightness, white balance, contrast, saturation, etc. to your taste.
Features
1. It has a universal clip fit for monitors or laptops.
2. Video and call recording in Full HD.
3. It has light correction for different lighting conditions.
4. Automatic autofocus.
5. Premium HD glass lens.
6. Built-in dual omnidirectional microphones with automatic background noise reduction.
7. H.264 video compression.
Specifications
Brand:
Logitech
Connection:
USB 3.0
Compatibility:
Windows 7,8,10 or later, macOS 10.10
or later, Android version 5.0 or above, Chrome OSVideo resolution: 1080p@30fps, 720p@30fpsPicture resolution: 1920 x 1080pView Range: 78°Dimensions: 3.7 x 1.7 x 2.8 inchesWeight: 3.99 ouncesColor: Black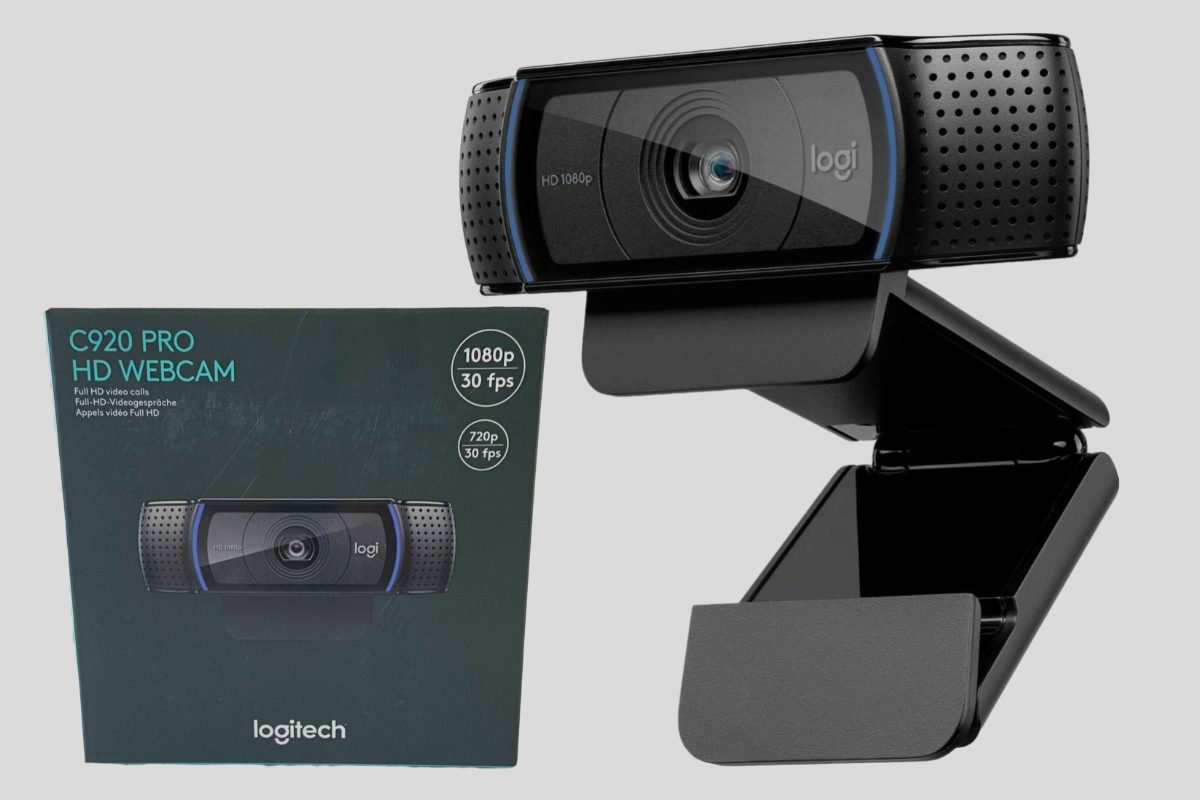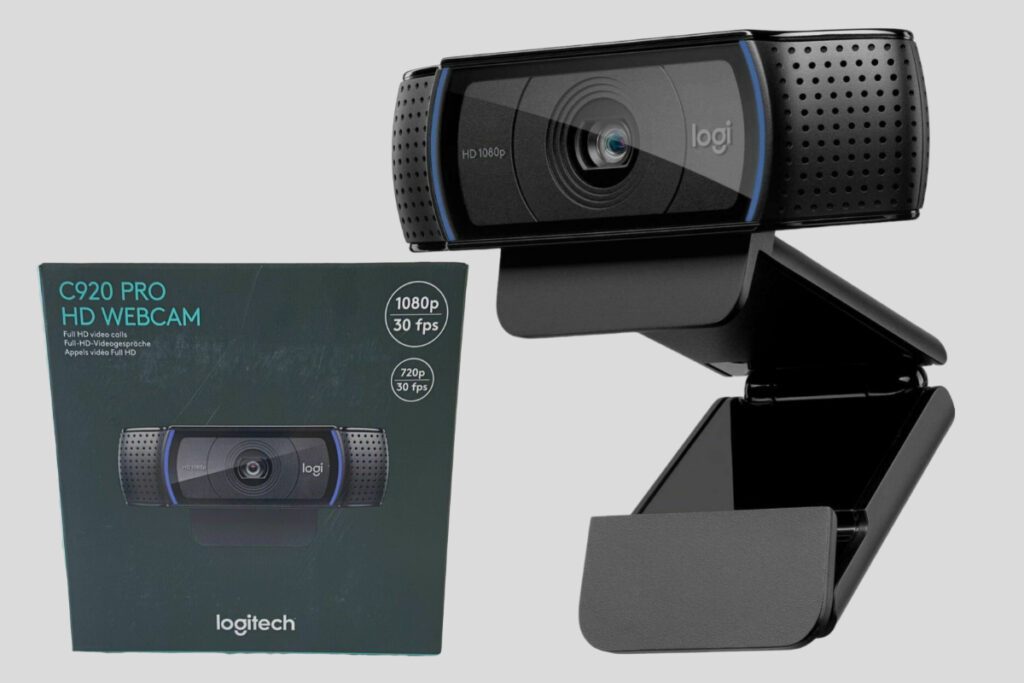 Pros
1. Crisp and clear video and audio quality.
2. Autofocus and light correction.
3. It is affordable.
Cons
1. Camera does not swivel.
How much is Logitech C920 HD Pro Webcam?
The Logitech C920 webcam with all the features it offers and it's functionality costs only $75 on Amazon which is much cheaper compared to some other vendors. Just $75 to get one just like it for yourself.
Logitech C920 HD Pro Webcam Available series
The Logitech C920 HD Pro Webcam is an excellent choice for everyone and anyone who needs extra help shooting sharp and clear videos without having to rely solely on their PC's low quality in-built webcam. Here is a list of some of the Logitech C webcam series; C922, C930e, C920s, C270, C925e, C310, C110, C170, C505e.
Buying Guide
The C920 is an affordable external webcam that offers detailed functionality. It produces amazing details and clarity thanks to the Full HD 1089p resolution, dual microphone for natural sounds with great quality and a precisely tuned autofocus. If you're looking for a great camera with a wide view range for video conference, streaming and chatting, this is one of the best choices you can get out there.
Is Logitech C920 HD Pro Webcam worth buying?
The Logitech C920s HD Pro is an excellent choice and one of the best webcam for anyone who wants quality, simplicity, and affordability. It is worth every penny.
Conclusion
Most laptops come with low quality grainy webcams and with a lot of people working from home now more than ever before, a good webcam is important. The Logitech C920 HD Pro is an impressive webcam which is certainly a better choice/upgrade over the built-in webcam on your computer with good video and audio quality and I would recommend it for situations where video-call quality matters. Are you tired of streaming with grainy webcams? Do you want to look like a professional in your next meeting? Check out this product.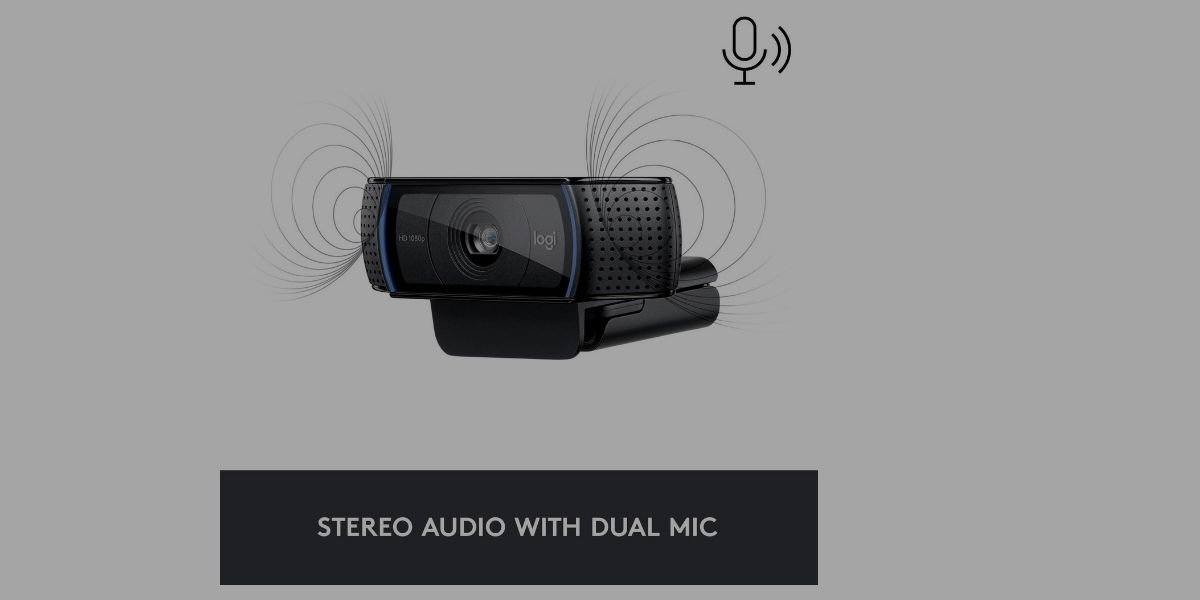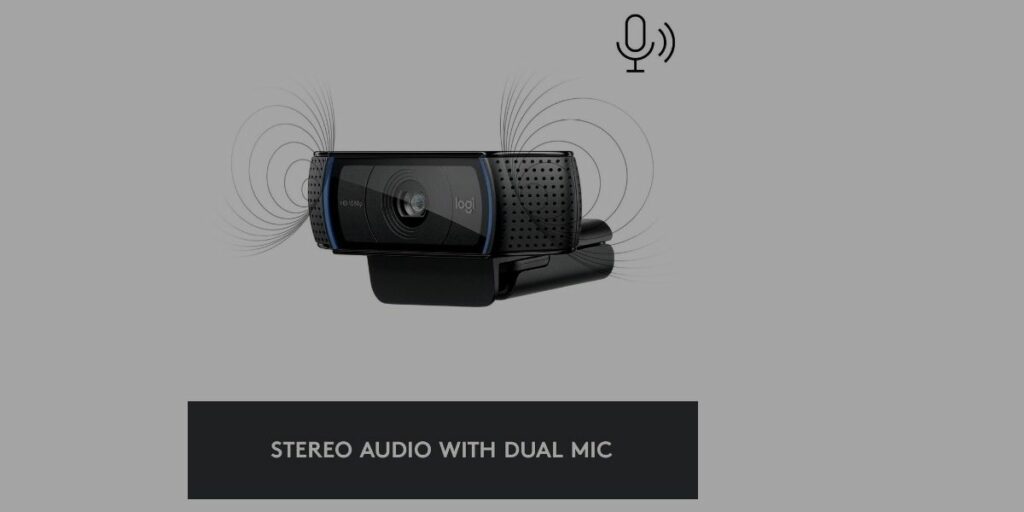 FAQ – Logitech C920 HD Pro Webcam
Q1. What are the differences between the Logitech C920 HD pro and the Logitech C910 HD pro?

A1. Both cameras have similar specifications but they differ in terms of price. The Logitech C920 HD Pro is priced at $75 while the Logitech C910 HD Pro is priced at around $100. However, both models offer high definition video and sound as well as autofocus and image stabilization.
Q2. How do I know if my laptop has a webcam?
A2. Most modern laptops will have a webcam integrated into them. You should be able to see it when you open up the device's settings menu.
Q3. Is the Logitech C920 compatible with Mac computers?
A3. Yes! This model works perfectly fine with any operating system including Apple Macintosh.
Q4. Can I use the Logitech C920 with Skype?
A4. Yes.
Q5. Will the Logitech C920 fit inside my laptop case?
A5. Yes, the Logitech C920 fits easily within most cases.
Q6. Which version of Windows 7 supports the Logitech C920?
A6. All versions of Windows 7 support the Logitech C920.
Q7. Where can I buy the Logitech C920 online?
A7. You can purchase the Logitech C920 directly from Amazon.com. They also sell refurbished units too.
Q8. Does the Logitech C920 work with other devices such as tablets or smartphones?
A8. Yes, the Logitech C920 does work with all types of mobile devices.
Q9. Why should I choose the Logitech C920 instead of another brand?
A9. We chose the Logitech C920 because we wanted something simple yet powerful. With its 1080P Full High Definition Video Camera, Dual Microphone, USB 3.0 port, easy setup and intuitive webcam software, the Logitech C 920 delivers outstanding performance.
Product Image gallery